Best Knives of 2020
Written by Blade HQ Staff Writer Logan Rainey on 01/08/2021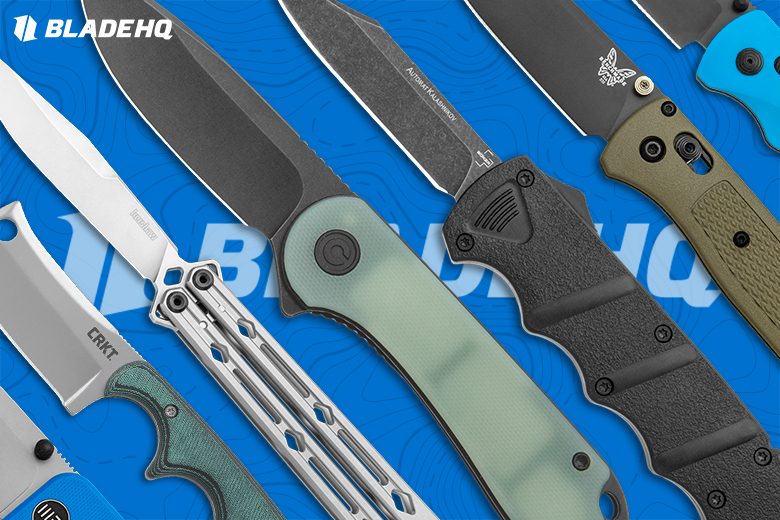 While 2020 was a wild ride and there was plenty to be upset about and unsure of, we saw some amazing new knives come about and gain popularity during the year. From EDC fixed blade knives to affordable OTF's there were plenty of great new knives to be excited about. In this "Best Of" we break down the Best Knives of 2020. Read on to see if your favorites made the list. Let's get to it!
---
CRKT Minimalist

Carrying a fixed blade knife for light-duty tasks and everyday activities gained quite a bit of popularity over the duration of 2020. While many fixed blades are large and cumbersome, they offer simplicity and ease that isn't found with most folding knives. The CRKT Minimalist is an amazing combination of size and utility. It features an easily maintained 5Cr15MoV blade and a comfortable G-10 handle, which are both perfect for everyday use. The CRKT Minimalist is available with several different blade shapes and can be found for a limited time as a Blade HQ Exclusive with a D2 blade and Natural G-10 handle. Check it out by clicking below.
---
WE Knives Banter

The "brain child" of Ben Petersen, one of the most influential people to grace the cameras of Knife Banter, the WE Knives Banter is arguably one of the best EDC knives from end to end. It features a slim profile, "slicey" blade and an amazing action. Its blade is made from premium S35VN stainless steel which is both durable and easy to maintain. Its G-10 handle is comfortable in hand and grippy enough for maintaining grip during bigger tasks. The WE Banter comes standard with a deep carry pocket clip. Get yours today by clicking below.
---
Kershaw Lucha

The Kershaw Lucha is the first balisong in the Kershaw product line. It features stainless steel handles with internal stop pins and precision KVT pivot bearings. Its Sandvik 14C28N blade offers durability and superior resistance against chipping. The Kershaw Lucha is on the bigger end of things when it comes to balisongs, but has incredible balance and performance. Check it out by clicking below.
---
CIVIVI Elementum

It should come as no surprise that the CIVIVI Elementum is one of the Best Knives of 2020. Initially introduced in 2019, the Elementum saw many improvements and iterations this last year including the addition of premium handle materials and blade steels. Some of our favorite variants for this last year include: Brass, Copper, Shred Carbon Fiber and Natural G-10. Check out the Elementum by clicking below.
---
Benchmade Bugout

Is it really any wonder that the Benchmade Bugout continues to be one of the best knives each year? This amazing everyday carry knife is lightweight, easy to use, and built for #anything. The Bugout features a slim profile and boasts a weight of only 1.8oz. It features a CPM-S30V stainless steel blade, polymer handles and the infamous Benchmade AXIS Lock. A mini deep carry clip makes this knife easy to slip into a pocket without making it obvious that you have a knife. Add this knife to your collection by clicking below.
---
SOG Flash AT-XR
SOG really stepped up their EDC knife game for 2020. The SOG Flash got a major update with the addition of a reliable spring-assisted action and XR lock system. The Flash features a cry-treated D2 blade and a lightweight GRN handle. Rounding out this awesome knife is a two-way reversible pocket clip. Pick up this awesome EDC pocket knife by clicking below.
---
Boker Kalashnikov OTF

Last but not least is the Boker Kalashnikov OTF. This new addition to the Boker automatic lineup features some of the same looks and feel you've come to know with the original Kalashnikov but now with an out-the-front action. The Kalashnikov OTF features a D2 blade, aluminum handle and a deep-carry pocket clip. Check it out by clicking below.
---
Final Thoughts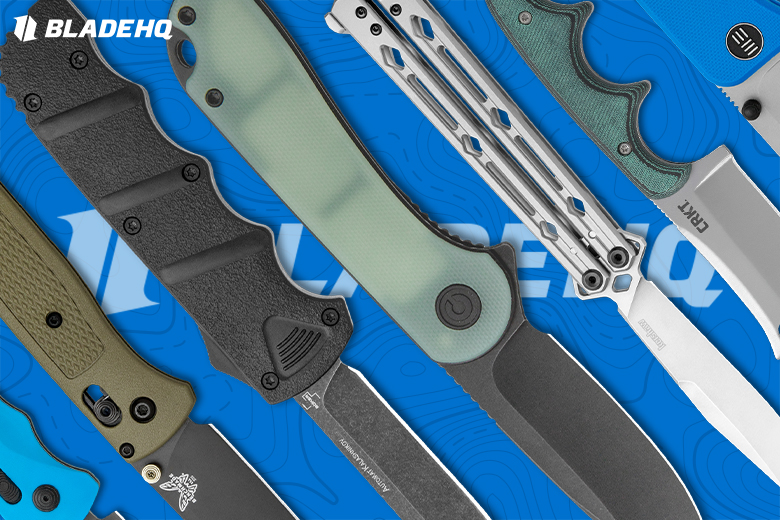 We've seen some great knives rise out of the ashes of 2020. Each has added something unique and valuable to the knife industry. We are excited about each of these great knives and are stoked to see what comes our way for 2021. The knives in this article are only a few of the Best Knives of 2020. Click below to check out our full selection of knives and other tools.
Blade HQ has way more knives than those featured here! There's bound to be another knife you need for your growing collection. Give our wares a browse, and find the perfect knife to suit your needs!
---
Learn More
In this episode of Knife Banter Kurt and Zac take a look at some of the Best Knives of 2020 and a few of their personal favorites. Did your favorite knives make the cut? Watch below to find out!
---
Other Best Knife Guides
Still in that information gathering phase? We've got a whole bunch more lists of all the best knives! Happy hunting and may you find the knives of your dreams!
*As our inventory fluctuates regularly, the availability of some products may change. Sign up for our wishlists and check back regularly for current pricing and availability.