Best Leatherman Multi-Tools
Updated by Blade HQ Staff Writer Logan Rainey on 10/06/2020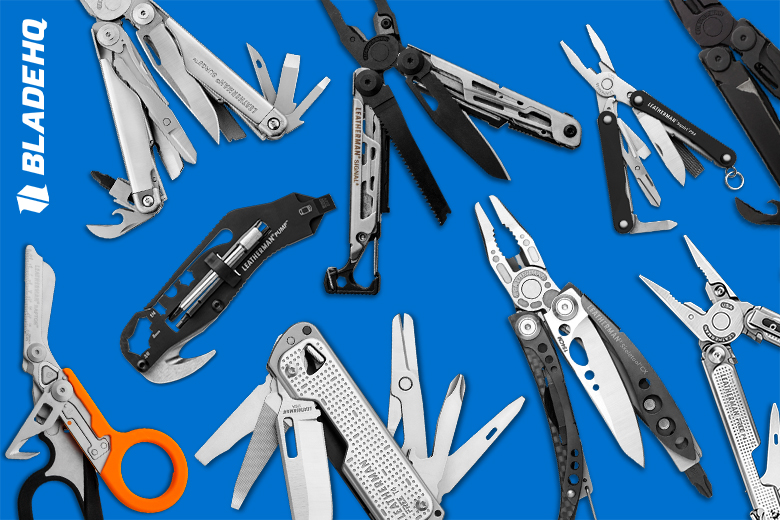 Have you ever been working on a project and thought to yourself, "Man, I really wish I had a [insert tool name here]."? Or maybe you're just tired of carrying around a knife, prybar, wrenches, a screwdriver and a bottle opener? In either situation, Leatherman has you covered. Their line of purpose built multi-tools is designed for anyone who needs essential tools when a huge toolbox would be overkill. This article features some of Leatherman's most popular tools and compares what makes each one great.
Shop Leatherman multi-tools
---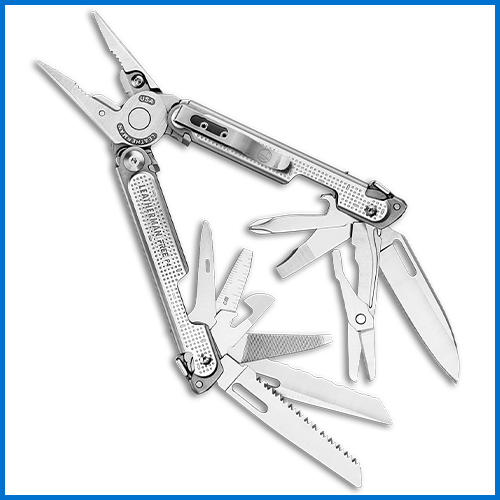 1. Leatherman FREE P4
If you've ever handled a Leatherman multi-tool you know how they can be difficult to open when both of your hands aren't available. The Leatherman FREE series eliminates the need for your other hand by utilizing a unique magnetic latch system. You can open and close the tools with one hand. How great!
As for the P4, it features 21 different tools including a knife, needle nose pliers, wire cutters and a bottle opener. A deep carry pocket clip makes it easy to take the P4 wherever you go, but if you feel like the multi-tool is too bulky, it comes with a nylon sheath.
4.25" Closed Length
21 Tools
8.60 oz. Weight
One Hand Opening

Peter H. says...
"The P4 Free makes the fifth Leatherman in my stable and is probably the best yet for me. I highly recommend owning at least one of the Free. The biggest advantage by far is accessibility of the many on board tools without opening the tool. Also having the tools pivot opposite of the pliers pivot seems to make the tool feel even more secure. I was leery about the magnet before purchase but after using this tool I really appreciate it's application and it's well thought out. Way to go Leatherman and Blade HQ! Great product from a great supplier. Definitely a home run with me"
Shop Leatherman Free P4 Multi-tools
---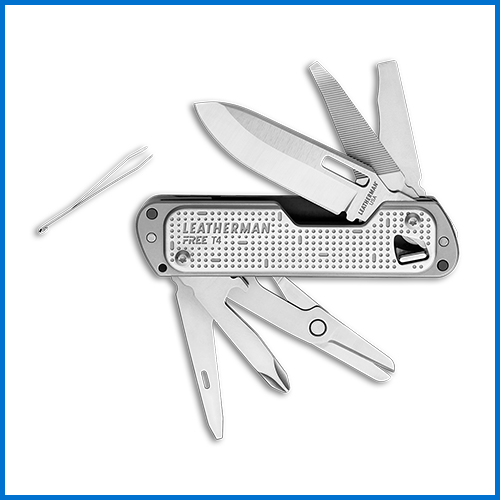 2. Leatherman FREE T4
Like the Leatherman Free P4, the T4 is designed to be opened with one hand. It features 12 convenient tools including a knife, scissors a file and tweezers. It's like a Swiss Army Knife on steroids! If you are looking for a multi-tool without the extra bulk, this might be the one for you. This pocket friendly Leatherman is a unique addition to any EDC and works great for small tasks.
3.60" Closed Length
12 Tools
4.30 oz. Weight

Michael P. says...
"Great little utility tool, with very convenient one hand operation. I removed the pocket clip as it will chew up your pocket edge pretty quickly. I also carry this in the pocket as I have an EDC knife that rides in the pocket clip location. Overall it has a nice quality feel as you would expect from a Leatherman, and takes a good beating."
Shop Leatherman Free T4 Multi-Tools
---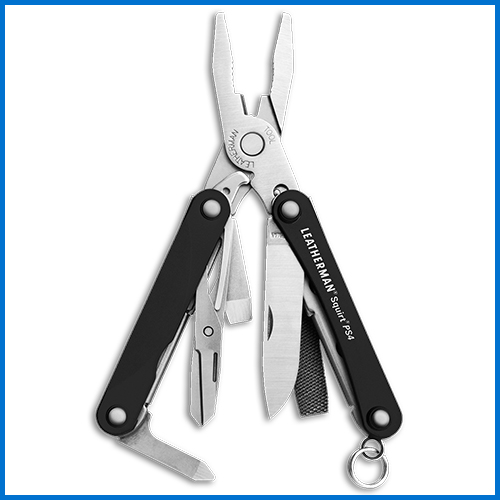 3. Leatherman Squirt PS4
The Leatherman Squirt PS4 is a slimmed down version of Leatherman's other popular multi-tools. It features nine essential tools, including a knife, pliers, scissors and screwdrivers, designed to help you out in a pinch. Despite its small size, this Leatherman is built well and made to last. The Squirt PS4 is a great knife to clip to a keychain or bag as a backup knife or tool. Available in red, blue, and black!
2.25" Closed Length
9 Tools
2.00 oz. Weight

Tyler B. says...
"My small Leatherman tools are arguably the most valuable ones in my EDC. I use them more than my normal EDC blade. This tool practically disappears in pocket and can become a lifesaver as soon as you need it."
Shop Leatherman Squirt multi-tools
---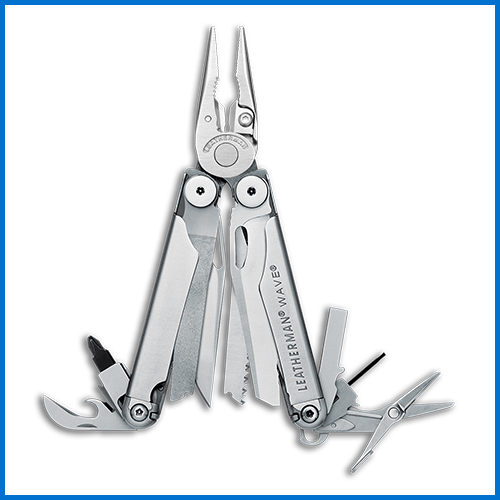 4. Leatherman Wave Plus
If we had to choose a Leatherman to carry every day, the Wave Plus could quite possibly be that Leatherman. Its iconic design and incredible quality have made it the standard for multi-tools for over 20 years. This mid-sized tool features 17 tools, most notably a clip point knife, needle-nose pliers and a diamond coated file. The Leatherman Wave+ is one of the best multi-tools money can buy. We love its design and construction and would recommend it to anyone who is looking for a great all-around pocket tool. Check out the Wave Plus by clicking the button below.
4.00" Closed Length
17 Tools
8.50 oz. Weight

Izzy F. says...
"Everyone and their aunt Lynda has a Wave. You have been holding out because "Its expensive", "What is its too heavy", and "I've made it this long without it." My dude, I'm and RA in a college dorm and i use my Wave all the time to adjust beds, fix washers, and fix anything the students breaks. I couldn't do my job without it. Give it a shot, m8."
Shop Leatherman Wave+ multi-tools
---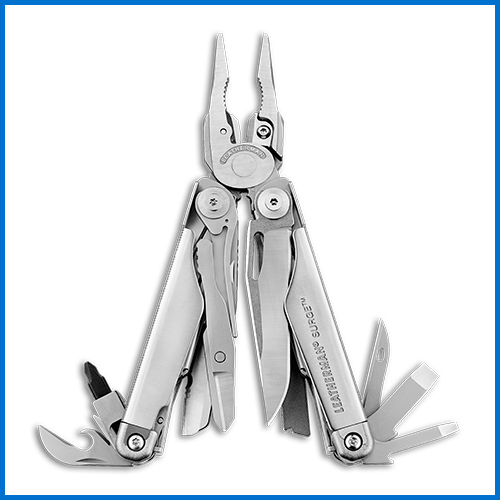 5. Leatherman Surge
It doesn't get much better than this. The Leatherman Surge is a full-sized pocket multi-tool with large pliers, bigger blades, replaceable wire cutters and a unique blade exchanger. The multi-tool features a whopping 21 unique tools! We'll be honest here… the Surge is a beast, but the extra bulk isn't in vain. Whether you are an electrician, a contractor, a mechanic or a survivalist, the Leatherman Surge is built to hold up to the rigors of heavy day-to-day use. IF you happen to break your Surge, Leatherman has an awesome warranty.
4.50" Closed Length
21 Tools
12.50 oz. Weight

Mike R. says...
"This thing is a beast! It should be 22-in-1 because it's also a door stop if needed. Love the size, but specifically for the size and durability of the tools that it packs. Very happy with the bit tool, and the swappable saw blade - genius! It has easily handled every task I've thrown it at. I wish the standard nylon sheath accommodated the tool kits you can use with this."
Shop Leatherman Surge multi-tool
---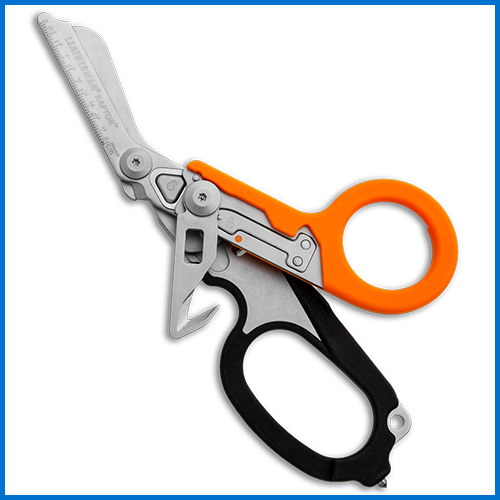 6. Leatherman Raptor
If you're looking at this and wondering why a pair of scissors made this list, you're probably not alone. This amazing Leatherman multi-tool isn't for everyone, but it is certainly important for the first responders, EMT's and medics who serve the rest of us Average Joes. The Raptor is a folding emergency shear equipped with a strap cutter, a ring cutter, a glass breaker, an oxygen tank wrench and a ruler. It is a versatile and straightforward tool that does its job and nothing more.
5.00" Length
Collapsible Design
5.80 oz. Weight

Be the first to leave a review!
Shop Leatherman Raptor multi-tools
---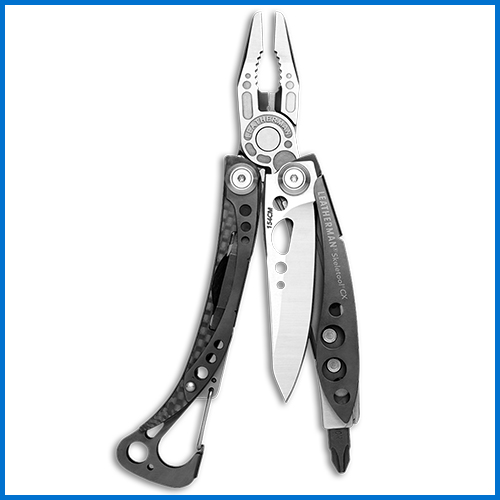 7. Leatherman Skeletool CX
The low profile design of the Leatherman Skeletool CX is what makes this multi-tool shine. Where some Leatherman multi-tools are bulky and cumbersome, the Skeletool CX is streamlined and simplified. It features the essentials: a knife, pliers, a bit driver and a bottle opener. This multi-tool is designed to be there when you need it and practically disappear when you don't. Its carabiner clip makes it easy to clip to a bag or belt loop allowing for a more secure carry. It may not be the beefiest Leatherman out there, but for what the Skeletool CX lacks for in size, it makes up for with versatility and weight savings. Check them out by clicking the button below.
4.00" Closed Length
7 Tools
5.00 oz. Weight

Fred H. says...
"I've been carrying it for a week now and it's perfect! The blade is sharp with no blade play. The Pliers are strong. And I love the handle."
Shop Leatherman Skeletool multi-tools
---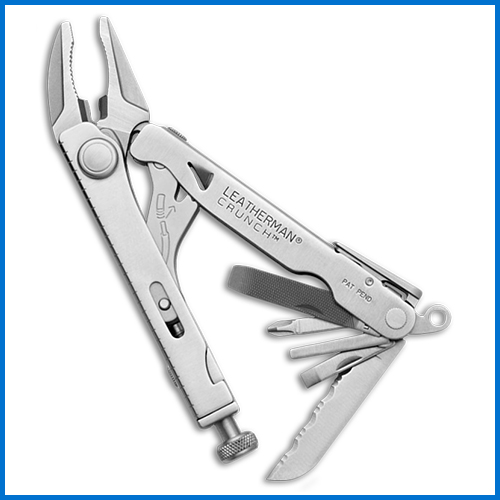 8. Leatherman Crunch
Some jobs are much easier with a pair of vice grips/locking pliers. The Leatherman Crunch is a multi-tool and locking pliers all wrapped into one. It features 15 unique tools including a knife, a file, screwdrivers and a hex bit driver.
4.00" Closed Length
15 Tools
6.90 oz. Weight

Jake S. says...
"Seems like a James Bond gadget! I think it's the slickest looking closed multi-tool there is. It is capable and I would gladly pick this over any other multi-tool out there any day. It has some really nice features for work With wires as far as crimping and stripping goes..."
Shop Leatherman Crunch multi-tools
---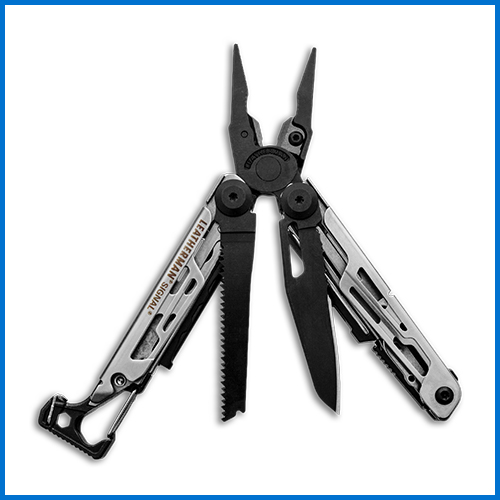 9. Leatherman Signal
Whether you're camping often or just like cool stuff, the Leatherman Signal is a great addition to anyone's outdoors setup. It was designed with survival in mind. With 19 unique tools including a ferro rod, a survival whistle and a diamond-coated sharpener, the Signal is a great companion for weekend adventures and pretty much everything else. This multi-tool is a great backup for camping and the right size for someone looking to carry a multi-tool every day.
4.50" Closed Length
19 Tools
7.56 oz. Weight

Jonathan W. says...
"I honestly can't compliment this thing enough. Build quality is top-notch, you can tell this thing can take a beating. The Cerakote looks great, the tools are useful and well thought-out, the hammer especially is more useful than you'd think on a multi-tool, and the carabiner is absolutely perfect for simply clipping onto your belt loop. It's light enough that I honestly forget it's there. Made in the USA, built like a tank, replaceable wirecutters, and it looks great to boot. What more can you ask?"
Shop Leatherman Signal multi-tools
---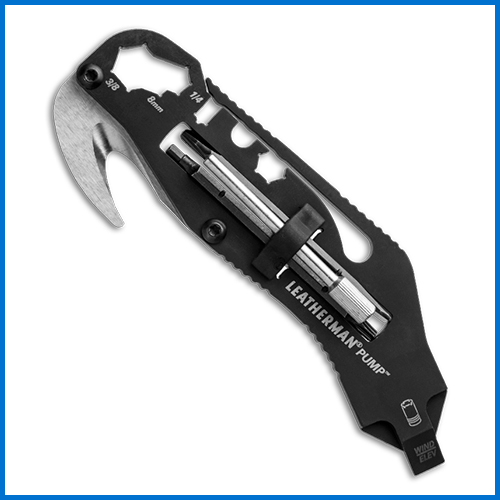 10. Leatherman Pump
This Leatherman is nearly nothing like the other multi-tools on this list. The Pump was made specifically for shotgun maintenance. It features durable heat treated, stainless steel construction and 11 tools for adjusting your shotgun and taking care of other needs on the fly. It's the perfect size to slide in a pocket and take with you when other tools may be too bulky.
4.80" Length
8 Tools
2.90 oz. Weight

Be the first to write a review!
Shop Leatherman Pump multi-tools
---
EXTRA LUXURIES
Replaceable Wire Cutters: For some Leatherman tools, the wire cutters are replaceable. Simply loosen a screw, swap the wire cutting blade, and tighten the screw. Easy. This is a huge feature for anyone who uses their Leatherman for cutting and stripping wire. What an awesome feature!
Spring Loaded Pliers: This feature is exclusive to the Leatherman One-Hand-Tool. It allows you to open and actuate the pliers with just one hand. When the pliers are locked into position, the handles are then free to move and work as they would on a regular Leatherman multi-tool.
Pocket Clip: Did you know some Leatherman multi-tools feature a pocket clip? Well they do! No need to carry your multi-tool in a pouch on your belt. You can slide it right in your pocket like you would one of your other favorite knives. Click HERE to find out more about pocket clips.
---
CONCLUSION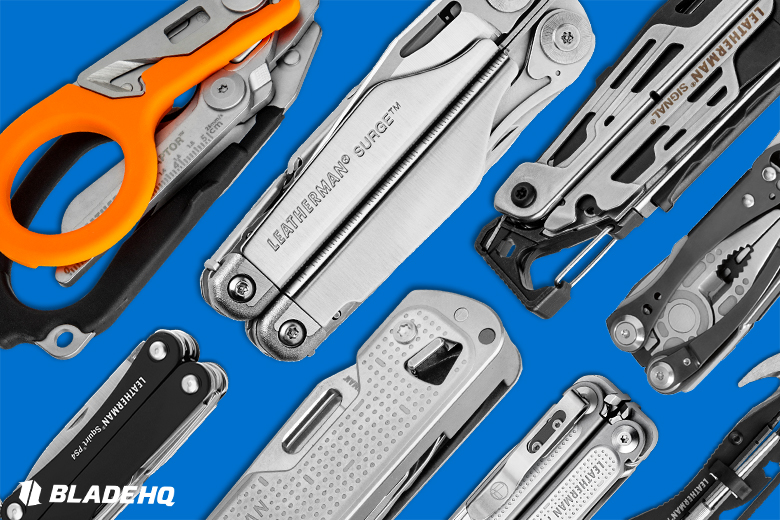 The Leatherman multi-tool in all its variations is one of the most successful pocket multi-tools ever. Whether you find yourself going to your toolbox regularly for a different tool for the job you're doing, or you have a simple task to complete just once, Leatherman has you covered. To learn more about Leatherman and their tools, check out our videos. If you want to see more about one of the Leatherman tools listed above, click the button below its description.
You already know Blade HQ has all the knives. Make it happen, unbox a new Leatherman multi-tool of your choosing and then be sure to post a picture with #bhqcollection. We regularly choose collections to show on Knife Banter!
---
LEARN MORE
It can be hard to decode all the multi-tools that Leatherman has to offer. Luckily for you, you don't have to! Check out our Knife Banter video below highlighting the many Leatherman multi-tools available at Blade HQ. If you would like to expand your search to a wider selection of multi-tools check out our Top Multi-Tools article for more info.
Shop Leatherman multi-tools
---
OTHER BEST KNIFE GUIDES
Still in that information gathering phase? We've got a whole heap of guides on many different styles of knives! Happy hunting and may you find that one special knife of your dreams.