Best Left Hand Knives
Written by Blade HQ Staff Writer Logan Rainey on 12/22/2020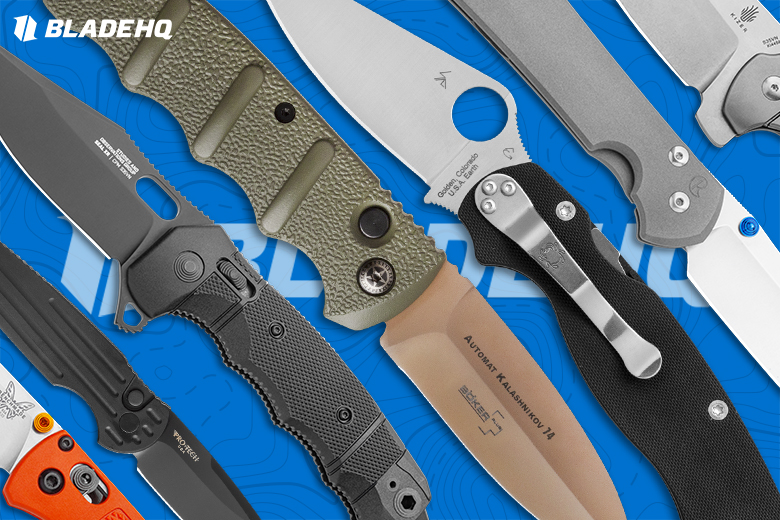 While there are tons of knives out there deemed ambidextrous, many still work better when used in the right hand and leave something to be wanted for lefties and the like. Whether you're left-handed or prefer having a knife to carry on your off-hand, this list of knives covers some of the Best Left Hand Knives we have at Blade HQ. We break down some left hand specific knives and a couple ambidextrous knives because they're truly ambidextrous. Let's get to it!
---
1. Boker Kalashnikov LH

Everything you've come to know and love about the regular Boker Kalashnikov is now available as a lefty. This snappy automatic knife features a durable aluminum handle, a deep carry pocket clip and a great AUS-8 steel blade. Its handle is ergonomically designed for optimum grip and helps keep things secure during hard use. The Boker Kalashnikov LH is truly a great knife for lefties looking for a simple yet effective everyday carry automatic knife. Check it out by clicking below.
---
2. SOG Seal XR Flipper

Something that is rarely mentioned when talking about the SOG Seal XR Flipper is how the knife is ambidextrous by design. By simply switching the pocket clip from one side to the other, one can choose to carry the knife in their left or right pocket. Thanks the SOG XR lock, the knife can be opened and closed with one hand and with either hand. This knife features a 3.875" CPM-S35VN blade and a grippy FRN handle. Click below to get yours today!
---
3. Chris Reeve Large Sebenza 31 LH

When it comes to premium knives, the Chris Reeve Sebenza could quite possibly be the best of the best. Its smooth action, elegant looks and simple construction are the perfect combination of luxury and practicality. With 10% of the world's population being left-handed, it makes sense that the amazing people at CRK would make some knives for lefties. The Chris Reeve Left-Hand Large Sebenza 31 is essentially a mirrored version of the right-handed version. It features a 3.625" CPM-S35VN blade and a milled titanium handle. If you're in the market for an extremely well made knife, click below to get your Sebenza LH today.
---
4. Kizer Sheepdog LH

Everything about the Kizer Sheepdog is just uniquely amazing. From its cleaver blade shape to its milled titanium pocket clip the knife is just plain gorgeous. The left hand version of the Kizer Sheepdog is a tank just like the right hand version. It features a titanium handle, bronze pivot bearings and a CPM-S35VN blade. Get yours by clicking below.
---
5. Spyderco Paramilitary 2 LH

Spyderco knives are known for their unique innovations and purpose driven designs. The Spyderco Paramilitary 2 LH is the left-handed version of the popular PM2 and comes standard with all the same features that has made the knife such a great success. The PM2 LH features a slender CPM-S30V blade and a G-10 handle. What really makes this knife amazing is the compression lock mechanism which has been reversed for left hand use. This is one of the best all-around everyday carry knives. Add a Spyderco Paramilitary 2 LH to your collection by clicking below.
---
6. Pro-Tech TR-3 LH

The Pro-Tech TR-3 LH is one of the highest quality automatic tactical knives to date. It rides on an aluminum chassis and features a snappy push-button automatic action. The TR-3 features a stout, 3.50" 154-CM drop point blade which has been DLC coated for added durability. This knife is perfect for everyday carry or hard use, and comes standard with Pro-Tech's limited lifetime warranty against defects in materials or workmanship. Learn more about the Pro-Tech TR-3 LH by clicking below.
---
7. Benchmade Mini Bugout

The Benchmade Mini Bugout is a nice change of pace in a world of oversized and large everyday carry knives. This downsized version of the Benchmade Bugout features the same great looks and feel but in a much more subtle size. Its reversible pocket clip and AXIS lock mechanism combine to make the knife perfect for lefties. Simply swap the pocket clip to the other side and forget about it. The Benchmade Mini Bugout features a 2.625" CPM-S30V blade and a grivory handle. Click below to get yours.
---
Final Thoughts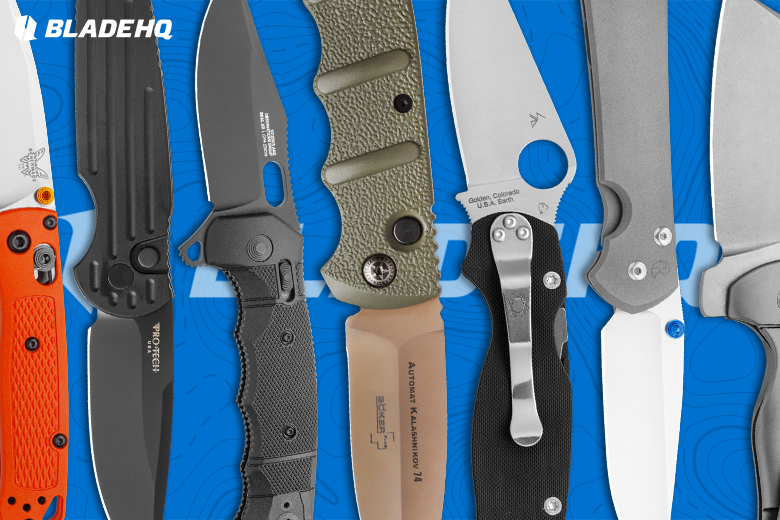 Well, there you have it; our list of the Best Left Hand Knives at Blade HQ! With the knife industry continually expanding and seeing new innovations to knife designs and technology it's only a matter of time before we see even more great left hand knives. Though we only covered a handful of left hand knives, we have plenty more to choose from. Check out our full selection by clicking below. Thanks for reading!
Blade HQ has way more knives than those featured here! There's bound to be another knife you need for your growing collection. Give our wares a browse, and find the perfect knife to suit your needs!
---
Other Best Knife Guides
Still in that information gathering phase? We've got a whole bunch more lists of all the best knives! Happy hunting and may you find the knives of your dreams!
*As our inventory fluctuates regularly, the availability of some products may change. Sign up for our wishlists and check back regularly for current pricing and availability.