Best Machetes
Written by Blade HQ Staff Writer Logan Rainey on 12/8/2020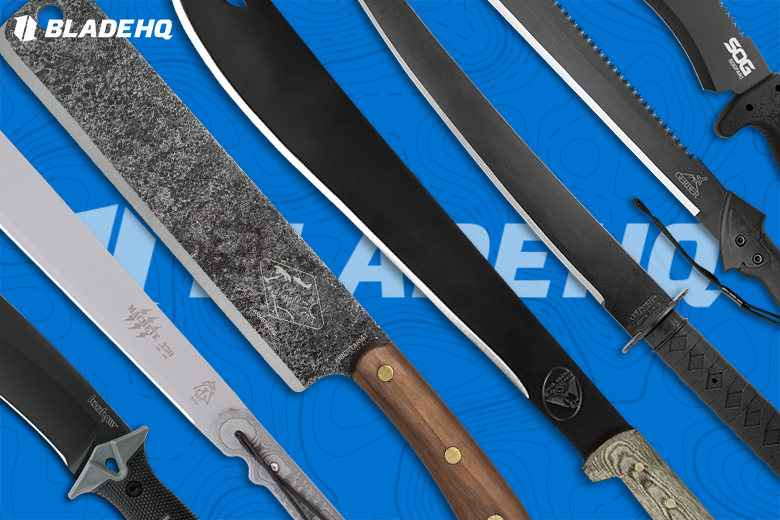 Whether you're a true survivalist or just like playing Rambo on the weekend, the machete is one of the most useful blades to add to your arsenal. While some are built for hacking through the thickest jungles while others are better suited for chopping pig carcasses in half, it can be said that machetes are some of the toughest knives out there and they offer uncompromised utility in most situations. Check out our list of Best Machetes to see which knives made the cut. Let's get to it!
---
1. ESEE Expat Libertariat Machete

The ESEE Expat Libertariate Machete is a lightweight tropical survival knife with all the right stuff needed for the rigors of the jungle. It features a full-tang SAE 1075 steel blade with a rugged Condor Classic finish and a beefy, tapered walnut handle. This limited run machete features a 90 degree spine for more efficient ferro rod use, a convenient draw knife hole in the blade, and a canvas sheath for comfortable carry. If you're serious about survival, the ESEE Expat Libertariat Machete is a serious knife for chopping and hacking through the thickest jungle thatch and thickets.
---
2. Cold Steel Tactical Wakizashi Machete

Part katana, part machete, the Cold Steel Tactical Wakizashi Machete is built for the most brutal of survival moments. It features an 18" 1055 high carbon steel tanto blade with a black anti-rust finish and a durable injection molded handle. The Wakizashi Machete comes standard with a durable Cor-Ex sheath for convenient carry and fast deployment.
---
3. Gerber Gator Machete

Gerber's line of survival tools has continued to grow and improve over the last few years. The Gerber Gator Machete is one of those tools that offers a great deal of value to survivalists and weekend warriors alike. It features a unique dual purpose blade with a plain edge for chopping and slicing, and a sharp serrated spine for sawing. Its Gator Grip handle is a unique rubber compound that offers superior grip and durability over other similar polymers. Measuring in at about 26", this machete carries a lot of power when used and can help make quick work of camp chores and trailblazing. Check out the Gerber Gator Machete by clicking below.
---
4. Kershaw Camp 10 Machete

It might come as a bit of a surprise that a Kershaw knife is on this list of Best Machetes, but we absolutely love this one! The Kershaw Camp 10 Machete is a Kukri style knife with rock solid construction and incredible performance. It features a 10" 65Mn steel blade with a black powder coating. Its comfortable rubber handle provides exceptional grip under heavy use and works well in both gloved and bare hands. The Kershaw Camp 10 comes standard with a molded GFN sheath for easy and convenient carry while out in the field. Pick up a Kershaw Camp 10 Machete by clicking below.
---
5. SOG Knives SOGfari Kukri Machete

From chopping wood to cutting vines, the SOG SOGfari Kukri Machete is the knife that seemingly does it all. Made from hearty 3Cr13MoV blade steel, this knife is made to be used and easily maintained in the field. It features a 12" plain edge blade with a serrated spine that's useful for chopping and sawing through trees. The SOGfari comes standard with a durable Kraton polymer handle that provides ample grip and comfortable handling during use. A convenient fabric sheath comes standard with the SOGfari. Check it out by clicking below.
---
6. TOPS Knives MACHETE .230

TOPS knives are some of the best when it comes to survival and outdoor exploration knives. Their unique MAC-230 Machete is a light, fast, and practical general use knife with a comfortable handle and the right blade thickness to handle tough camp chores with ease. It features a robust 1095 steel blade and grooved Micarta scales. A custom ballistic nylon sweaty is also included.
---
7. Condor El Salvador Machete

We couldn't write an article called "Best Machetes of 2021" without including the Condor El Salvador Machete. Its design is patterned after the traditional machetes of Latin America but adds the strength and durability of 1075 high carbon steel, a black epoxy powder coating, and a burly micarta handle. This unique machete is comfortable, well balanced and amazing to use. Rounding out the package, the Condor El Salvador Machete comes standard with a black leather sheath. Get yours today by clicking below.
---
Final Thoughts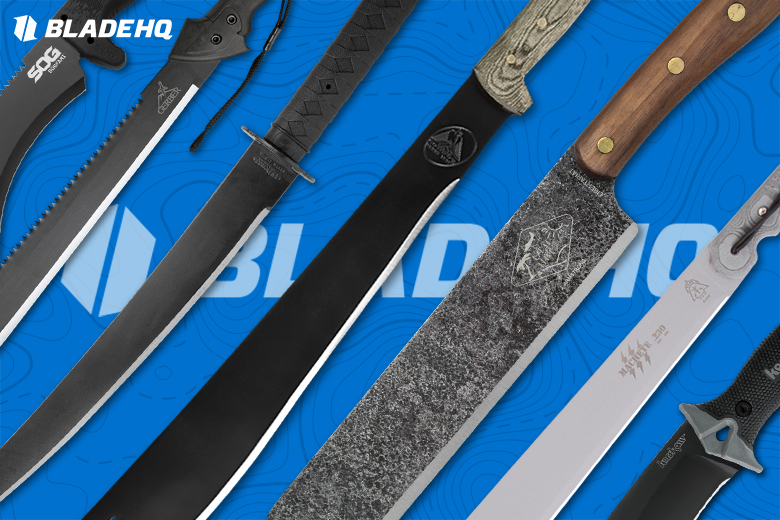 Having a machete when you head out into the wild can make a huge difference when the situation goes awry and they generally add value if you plan on bushwhacking or building a shelter. Their size and weight tend to help them carry more force through branches and vines making them much better than other fixed blades in those same situations. Check out our full selection of machetes by clicking below. Until next time, thanks for reading!
Blade HQ has way more knives than those featured here! There's bound to be another knife you need for your growing collection. Give our wares a browse, and find the perfect knife to suit your needs!
---
Other Best Knife Guides
Still in that information gathering phase? We've got a whole bunch more lists of all the best knives! Happy hunting and may you find the knives of your dreams!
*As our inventory fluctuates regularly, the availability of some products may change. Sign up for our wishlists and check back regularly for current pricing and availability.