Best Multi-Tools
Written by Blade HQ Staff Writer Logan Rainey on 10/20/2020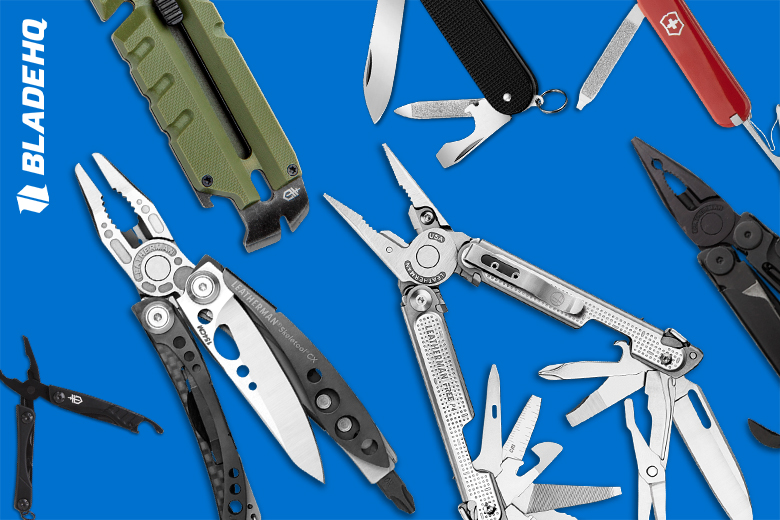 Not having the right tool for the job can in many ways feel like getting caught with your pants down: embarrassing and inconvenient. Multi-tools are a great way to carry the tools you use regularly without the need for an extra bag, loose things in your pockets or whatever other method people use to transport their small tools. In this Best Knives article, we look at the Top 7 Multi-tools at Blade HQ, what makes them an awesome addition to any everyday carry and why everyone should have one (or two!). Without further ado, let's go!
In addition to an overview of the specs and details of each knife, I'll also be featuring a review of each knife left by one of our customers.
---
1. Victorinox Classic SD

Its simple design and iconic look have made the Victorinox Classic SD one of the most purchased and sought after multi-tools of all time. This no-frills Swiss Army Knife features a simple knife blade, a pair of scissors, a nail file with screw driver (SD) tip, tweezers and a toothpick. With a closed length of 2.28" the Classic SD is the perfect size to throw in the coin pocket of your bluejeans or to attach to your car keys. If you don't own a Victorinox Classic SD are you really a knife enthusiast? Buy one today! Check out our Victorinox Classic SD review to learn more about this sweet multi-tool.
Total Tools: 7
Closed Length: 2.28"
Blade Length: 1.50"
Blade Material: Stainless Steel
Handle Material: Polymer
Weight: 0.80 oz.
Country of Origin: Switzerland

Mike R. says...
"I can't remember the first time I got one of these... Classic is an understatement. It's the perfect keychain knife, I cant tell you how useful having a toothpick, tweezers, and mini scissors are. I've got these in nightstands, tool boxes, glove boxes, first aid kits, edc kits, airport confiscation dumpsters, and between couch cushions! Great gift too. Makes me want to pick up another!"
---
2. Gerber Prybrid

When I first picked up a Gerber Prybrid, I was amazed by its simple yet effective way of adding more value to a traditional utility knife. This unique multi-tool is designed to be the perfect addition to a tool belt with its built in pry bar, nail-puller and bottle opener, but could just as easily make its way into your pocket as an everyday carry multi-tool. The Gerber Prybrid features a standard-sized razor blade which can easily be replaced when it becomes dull. It also features a comfortable G-10 handle scale for added grip and style. This little multi-tool is an awesome addition to any EDC rotation and well worth the purchase. Get yours by clicking below.
Total Tools: 4
Overall Length: 4.25"
Blade Material: Stainless Steel
Handle Material: G-10
Weight: 2.90 oz.
Country of Origin: China

Bradley C. says...
"I really like this little pocket multitool. The lack of ability to use different utility blades is an issue but maybe can be addressed on a future update. I have used every attachment on this tool and they work great. Has held up well to some moderate use by me in my garage/workroom and doing projects around the house. Overall for the price they have produced a nice product and i have already recommended it to friends."
---
3. Leatherman Free P4

The Leatherman Free series of multi-tools was introduced to users the ability to manipulate their multi-tool with one hand allowing for their other hand to do whatever else it needs to do. The Free P4 is Leatherman's 21-in-1 multi-tool with pliers, a knife blade, bottle opener, scissors screwdrivers and a handful of other tools. By using a unique locking system, the blade and other tools can be opened and closed safely with one hand. The Leatherman Free P4 features a deep carry pocket clip and comes standard with a cloth pouch if you don't want to put it in your pocket. Learn more about the Leatherman Free P4 by clicking below.
Total Tools: 21
Closed Length: 4.25"
Blade Length: 2.75"
Blade Material: Stainless Steel
Handle Material: Stainless Steel
Weight: 8.60 oz.
Country of Origin: USA

Ryan M. says...
"This tool has surpassed any expectations I had. The one hand use of it has saved the job I've been working on countless times. The pocket clip is a much needed addition to a tool this size. I have found a use for nearly every single tool and have not had a complaint about a single one. Thank you Leatherman!"
---
4. Gerber Dime

The Gerber Dime is one of those multi-tools you might overlook in a room full of other multi-tools, but in many ways it may be the most versatile and valuable. This micro-sized tool features 10 tools including: pliers, knife, wire cutter, package opener, scissors, screwdrivers, a bottle opener, tweezers and a file. All this in a package measuring under three inches!! This is one of the best additions to an everyday carry setup. The Gerber Dime can be added to a set of keys without adding much weight or just as easily thrown in the pocket of a backpack. Check it out by clicking the button below.
Total Tools: 10
Closed Length: 2.75"
Blade Material: Stainless Steel
Handle Material: Stainless Steel
Weight: 2.20 oz.
Country of Origin: China

Ralph D. says...
"Works well enough to replace my full size Gerber multi tool and shaved some weight off my pack in the process. The tweezers have came in handy and my big Gerber didn't even come with those."
---
5. Leatherman Skeletool CX

The Leatherman Skeletool CX is a barebones multi-tool meant to provide maximum utility in the lightest weight package possible. It features seven purpose built tools that almost anyone would find themselves using regularly. Like other Leatherman multi-tools, the Skeletool CX features pliers with built-in wire cutters, but also comes with a 154CM knife blade, bit driver, and a bottle opener. Adding to this tools convenience factor is its unique carabiner style clip that helps it attach to belt loops, backpack straps and many other things. This lightweight multi-tool is great for anyone who counts ounces but needs the right tools for the job. Learn more by clicking below.
Total Tools: 7
Closed Length: 4.00"
Blade Length: 2.60"
Blade Material: 154 CM Stainless Steel
Handle Material: Stainless Steel
Weight: 5.00 oz.
Country of Origin: USA

Travis S. says...
"Skeletool packs the most used tools in an easy to carry lightweight tool. The 154 cm knife blade is a nice upgrade over the 420 usually used in the other tools they make. I wish Leatherman would include this blade steel in some of their other models."
---
6. Victorinox Cadet Alox

Like the Victorinox Classic SD, the Victorinox Cadet Alox is a simple yet effective way to carry a few useful tools without weighing down your pockets. It features 9 simple tools for tackling everyday tasks with ease. If you aren't familiar with Alox series Swiss Army Knives, they feature stamped then anodized aluminum handle scales that help give them a slim profile and lightweight feel. They are also more durable than the plastic scales found on standard Victorinox Swiss Army Knives meaning they won't break or fall off. The main trade off to the durability and weight savings is the lack of tweezers and toothpick found on other versions. The Victorinox Cadet Alox features a knife, screwdriver, bottle opener, nail file and a wire stripper. Check it out by clicking the button below.
Total Tools: 9
Closed Length: 3.30"
Blade Length: 2.50"
Blade Material: Stainless Steel
Handle Material: Stainless Steel
Weight: 1.60 oz.
Country of Origin: Switzerland

Jack B. says...
"Home during covid my edc changed. This light little multitool is just a perfect. Light, nice to touch, with just the tool set you need. A little big for the keychain, although it could find a home there. For now it resides either in my pocket or on my desk. Everyone should have one, I think."
---
7. Leatherman Wave Plus
Last but not least is the Leatherman Wave Plus. This popular multi-tool is known for combining convenience and functionality with its 17-in-1 design. It features strong pliers, a stainless steel body, easy-open blades, and replaceable wire cutters. Additionally the Leatherman Wave Plus features two different files, a bottle opener and a bit driver with included bits. If you're after a capable and reliable multi-tool, the Leatherman Wave Plus is a safe option and in all honestly one of the best values when it comes to multi-tools. Learn more by clicking the button below.
Total Tools: 17
Closed Length: 4.00"
Blade Length: 2.90"
Blade Material: 420HC Stainless Steel
Handle Material: Stainless Steel
Weight: 8.50 oz.
Country of Origin: USA

Jozef J. says...
"Multitools are a unique thing to carry. They typically aren't an EDC unless you work a specific type of job. I've got a job that makes this thing useful about 50% of the time. However to have around the house to fix random issues that pop up a multitool is a game changer. The wave is no exception. The wave has all the tools you need and none that you'll never use. Solid construction. Changable wire cutters. Just get one of these. You won't regret it. Throw it in a drawer away in an area of your house you don't keep your tools and you'll use this thing all the damn time. Carry it when you do yard work and it'll pay for itself."
---
Final Thoughts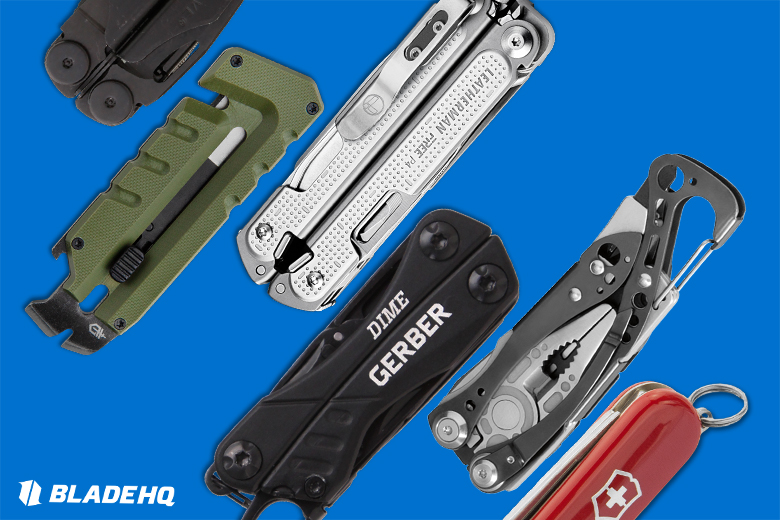 There you have it! Our list of the Top 9 Multi-tools. Whether you're the guy who has to have all the cool gadgets and gear or someone who's prepared for anything, a solid multi-tool is money well spent. These are just a sampling of what we have to offer at Blade HQ. To see more multi-tools, click the button below.
Now you've got all our recommendations, but Blade HQ has got way more knives than those featured here. Give our wares a browse, and find the perfect knife to suit your needs!
---
Learn More
In this episode of Knife Banter Zac walks us through 21 of the finest Leatherman Multi-tools. Pull up a chair, get a snack and cold beverage and tune in. This is a great way to learn what Leatherman has to offer. Watch it below.
---
Other Best Knife Guides
Still in that information gathering phase? We've got a whole bunch more lists of all the best knives! Happy hunting and may you find the knives of your dreams!
*Customer reviews may be condensed for clarity and edited for grammatical errors. You know we have to make our high school English teacher proud. Check product listings for current pricing.