Best New Knives of 2021
Written by Blade HQ Staff Writer Logan Rainey on 02/05/2021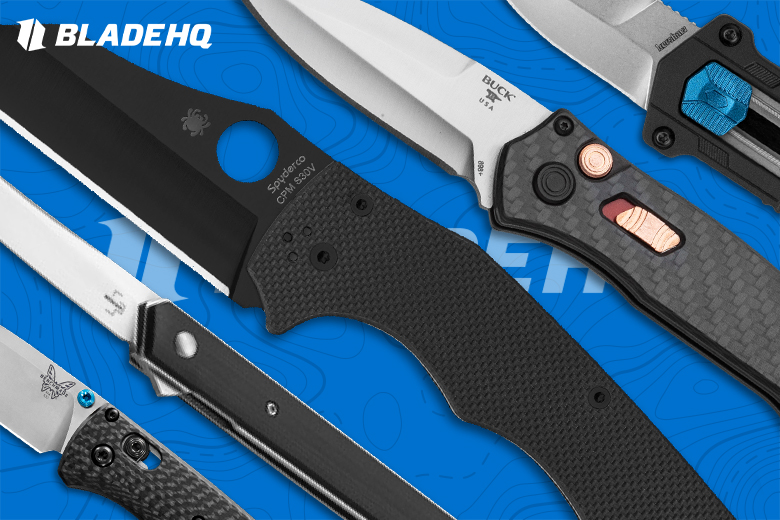 We're well on our way into a new year and many exciting things are happening in the knife industry. Despite challenges caused by the Covid-19 many knife producers have developed and released some amazing new products for this year. In this "Best Of" we take a quick peek at some up-and-coming knives from some of our favorite brands. Let's get to it!
---
Boker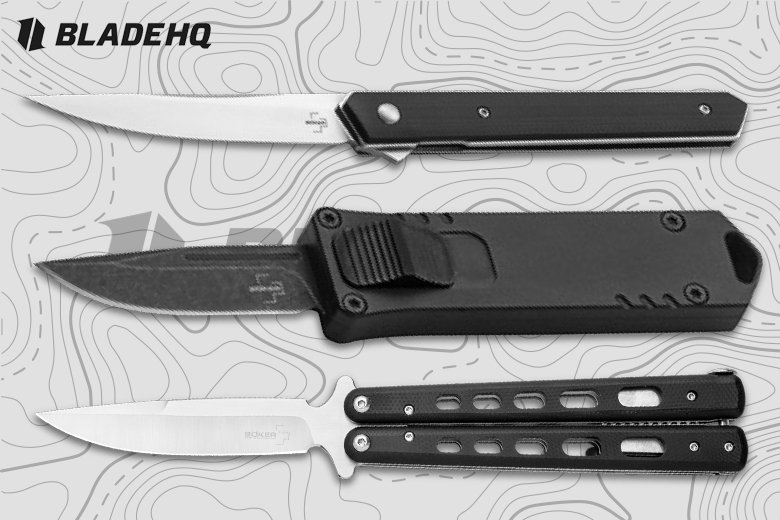 Kwaiken Air
The Lucas Burnley-designed Kwaiken has been on a serious diet during quarantine! Joking aside, the Kwaiken Air is a slimmed down version of the original Kwaiken featuring similar looks and styling. Its slim profile makes it easy to throw in a suit coat pocket or a small purse. Check it out HERE!
USB OTF
Sometimes it just doesn't make sense to carry a large pocket knife, but it's always nice to have something for light duty tasks. The Boker USB OTF is a new addition to our California-legal automatic knife selection. It features a D2 steel blade, a great action, and subtle looks. Learn more about the Boker USB OTF by clicking HERE.
G-10 Balisong
As people have been stuck at home more, many people have been learning to flip a balisong. The Boker Plus G-10 Balisong is made for anyone looking to get into flipping without breaking the bank. It features a durable D2 steel blade and a grippy G-10 handle. This is the perfect knife to practice your skills with a live blade before you move into a more expensive balisong. Check it out HERE.
---
CRKT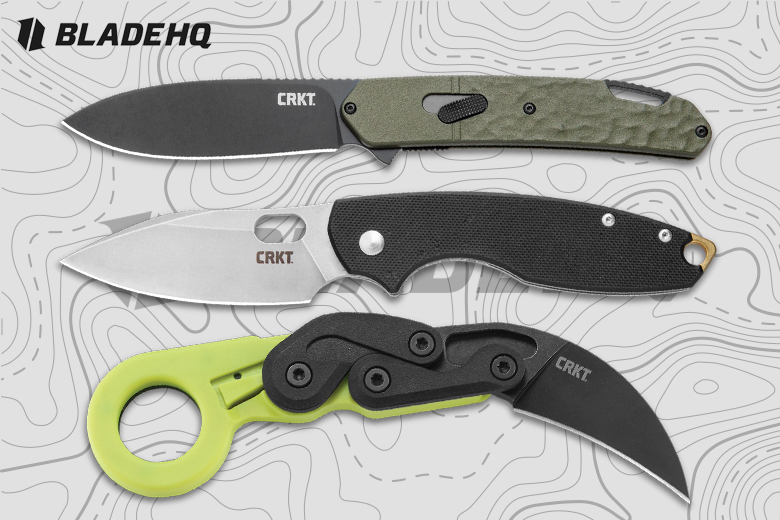 Provoke Zap and Provoke Orange
With the success of the Provoke Kinematic Karambit, CRKT brings us two new additions in the Provoke line: Zap and Orange. These knives are built with the same Kinematic action and ergonomics as the original Provoke, but feature a Grivory handle and a 1.4116 steel blade. This awesome knife is great for first responders and anyone who needs a knife they can access and deploy quickly with one hand. Learn more HERE.
Pilar III D2
The saga of the CRKT Pilar continues with the newly released Pilar III. The largest of the Pilar family, so far, the Pilar III features a longer handle, improved ergonomics and a silky smooth IKBS ball bearing pivot system. If you're looking for a new full-sized everyday carry knife to add to your rotation, the CRKT Pilar III is well worth a look. Check it out HERE.
Bona Fide
The CRKT Bona Fide is a no-nonsense everyday carry pocket knife built for those who actually use their stuff. This knife features a unique drop point blade great for slicing and fine detail work. Additionally, the Bona Fide features Field Strip Gen II technology making it easy to take the knife apart for cleaning and maintenance. Learn more about the CRKT Bona Fide by clicking HERE.
---
Benchmade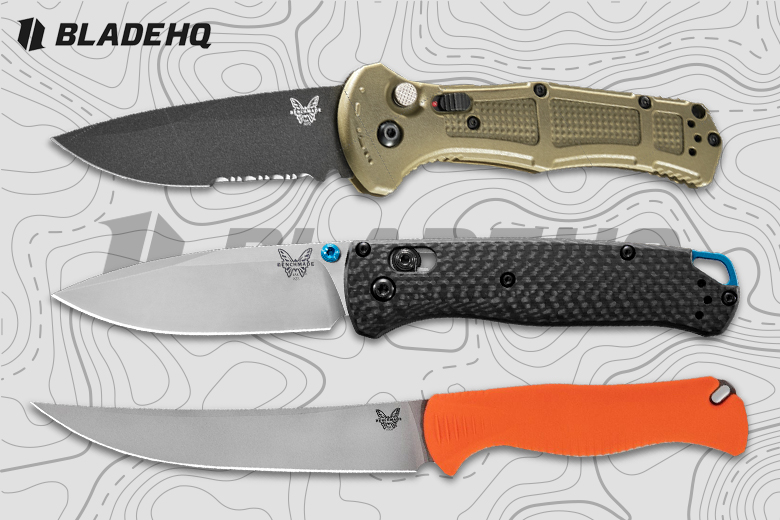 Claymore
Built to take a beating, the Benchmade Claymore offers automatic speed and efficiency to any load out without sacrificing weight and space. This knife features a heavy-duty grivory handle made for the use and abuse of tactical and everyday carry scenarios. Its push button automatic action makes one-handed opening a breeze and also features an integrated safety to minimize the chance of accidental deployment. D2 blade steel and a reversible deep carry pocket clip give the Benchmade Claymore everything it needs to be a fast favorite for 2021. Check it out HERE.
Premium Bugout
The Bugout just got even better! In its fourth year of production the Bugout is finally getting the premium treatment. While other versions have been released as exclusives this knife has stayed pretty consistent with polymer handle scales and an S30V blade. The new premium Bugout features upgrades including M390 or S90V blade steel and Aircraft Aluminum or Carbon Fiber handle scales. These incredible upgrades, while maybe adding a little weight, give the Bugout freshness and excitement. Check them out HERE.
Meatcrafter
For many of us, the tools we have in the kitchen are just as important as the tools we carry out in the field or throughout our day. With advancements in knife design, construction and production, it only makes sense that Benchmade would introduce a dual-purpose hunting and cooking knife. The Benchmade Meatcrafter is such a unique addition to the Benchmade lineup. While it may look like a regular old boning knife, the Meatcrafter is made from materials often found on your typical hunting knives. Its blade is made from CPM-154 stainless steel and its handle is Santoprene for excellent grip and easy clean-up. Learn more HERE.
---
Spyderco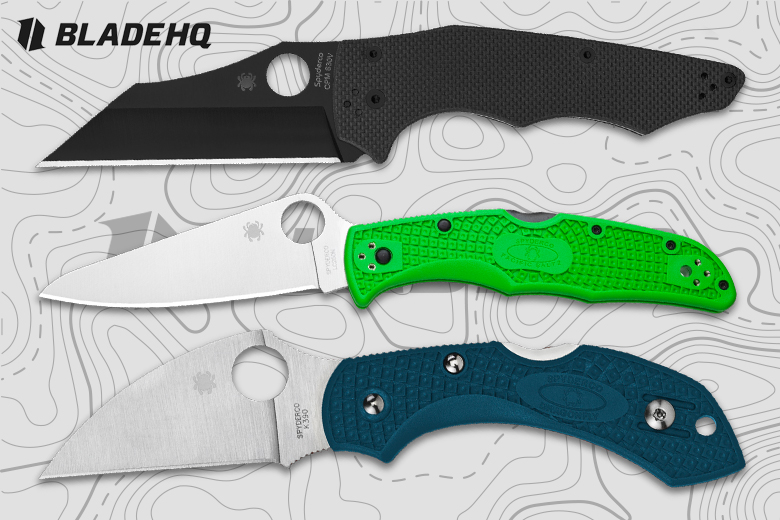 YoJumbo
For years the Spyderco Yojimbo has been a sought after for tactical carry and some EDC. Its performance oriented design has seen a few updates and changes over the years, but has never been scaled up until now. The Spyderco YoJumbo features a long, 4" Wharncliffe blade made from CPM-S30V stainless steel. Its ergonomic handle features G-10 scales with aggressive texturing for added grip. The iconic thumb hole and compression lock round out the features of this awesome knife. Check out the YoJumbo HERE!
Pacific Salt 2 LC200N
The new year brought many updates and expansions to the Spyderco Salt Series of knives. Exciting new colors, some new models and updated blade steels are finding their way onto the Salt knives and we couldn't be more thrilled. The Spyderco Pacific Salt 2 caught our attention thanks to its EDC friendly size and new LC200N blade. This knife is virtually rust proof and features a grippy FRN handle with incredible texture. This knife is perfect for anyone who works on or near water, and offers both strength and utility to any everyday carry rotation. Learn more by clicking HERE.
Dragonfly 2 K390
The Dragonfly 2 got another exciting update from Spyderco with the addition of Bohler K390 steel. This little knife has been an incredible lightweight EDC knife for anyone looking to carry something useful but not cumbersome. With the addition of this special blade-steel, the Dragonfly 2 becomes an even more EDC friendly platform as it needs even less maintenance when compared to other models with other blade steels. Bright blue handle scales and a wire pocket clip round out the features on this simple yet effective little knife. Check it out HERE.
---
Buck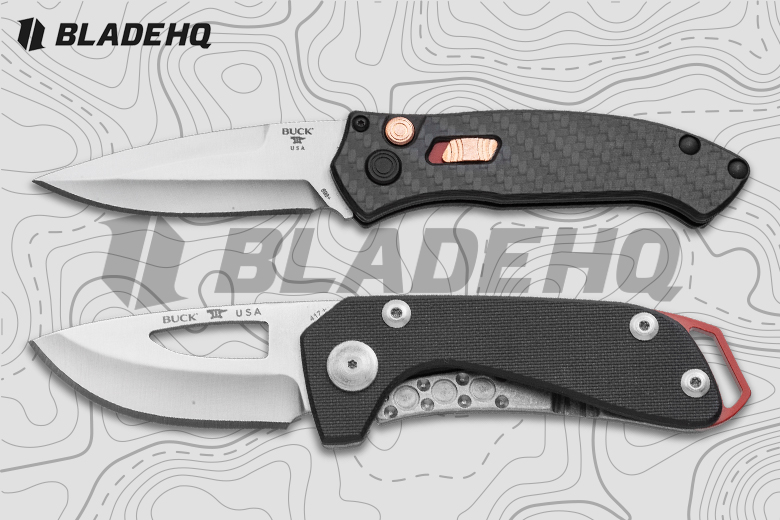 Impact Pro Auto
The result of years of research and development, the Buck Impact Pro Auto answers many customer's pleas for a Buck tactical automatic knife. This push-button automatic knife features some of the best quality materials available at a price many can afford. Its drop point blade is made from premium CPM-S35VN blade steel making it great for regular use. Its handle is constructed from handsome carbon fiber and offers ample grip and stability during use. Additionally, the knife features a copper button, safety switch and back spacer for a little flash and character. Learn more about the Buck Impact Pro Auto HERE.
Budgie
As Buck continues to grow, they continue to develop more knives with modern looks and features. The Buck Budgie is an EDC friendly frame lock knife with premium S35VN blade steel and a grippy G-10 handle scale. This knife is designed for regular use as it's tough, convenient and lightweight. At just over two ounces, this one is bound to make it into your EDC rotation. Check it out HERE.
---
Kershaw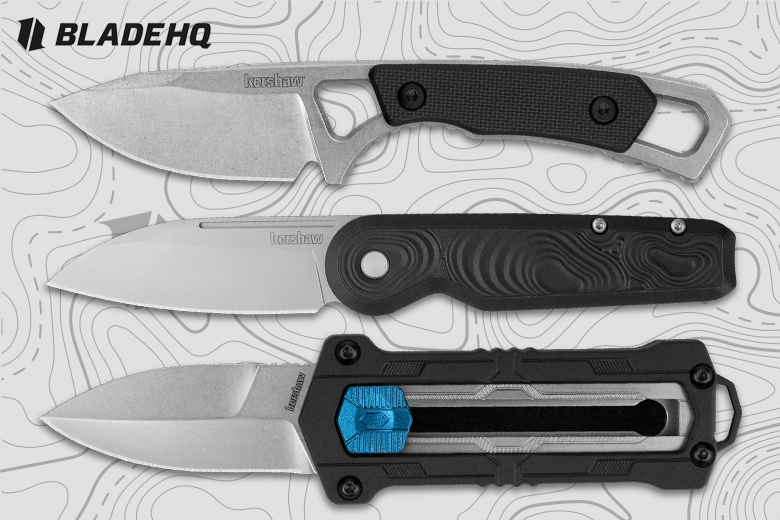 Kapsule
More innovative things are on the way from Kershaw this year. The Kershaw Kapsule is a fresh addition to Kershaw's line of knives and tools. It features a unique manual button-slide-operated OTF action which allows for easy one-handed opening and closing. Its GFN handle makes the Kapsule both lightweight and durable, and a deep carry pocket clip helps this knife seemingly disappear in your pocket. Did we mention that it's also a Jens Anso design? Learn more about the Kershaw Kapsule by clicking HERE.
Platform
Finding pocket tools that meet your day-to-day needs can be easy for some (think anyone who works a trade job), and more difficult for others (desk jockeys and the like). The Kershaw Platform offers the right amount of utility for those of us who don't have the privilege of using our tools as much as we'd want others to believe. This unique tool is a handsome slip-joint knife with a built in nail clipper and file. Maybe you're not a hand model, but simply having a knife and something too groom yourself with is more than enough for the Average Joe. 8Cr13MoV steel and a black GFN handle make the Kershaw Platform a simple and effective daily carry tool. Check it out HERE!
Brace
Kershaw isn't particularly known for having the most comprehensive fixed blade knife selection, but this knife could really change that. The Kershaw Brace is an everyday carry fixed blade designed to be lightweight and effective when needed. Measuring just under 5-inches, the Brace can be carried as a neck knife or attached to a belt with considerable ease. Its unique design provides maximum comfort and utility for light duty tasks. The Brace is easily maintained thanks to its 8Cr13MoV blade steel and GFN handle scales. Learn more HERE!
---
Final Thoughts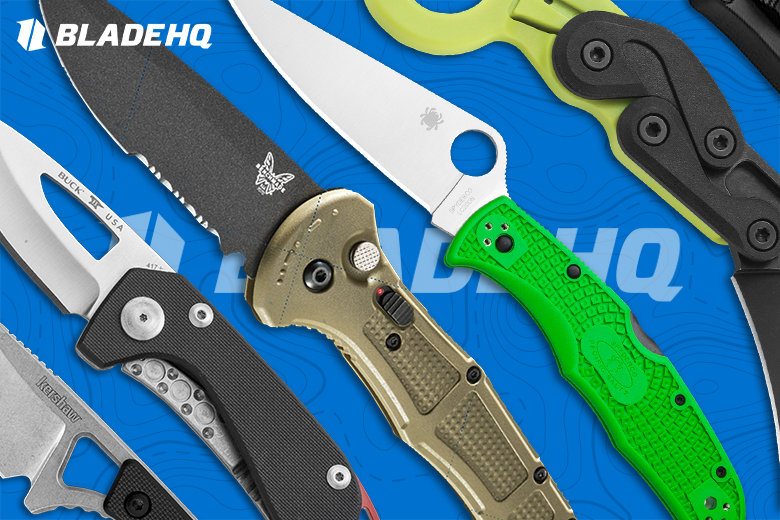 Considering the limitations placed on the world and the knife industry because of Covid-19, we are really pleased to see these additions to some of our favorite brands. Each knife has its own individuality and purpose. They may not all be the knife for you, but maybe some of these and others that didn't make the list will find their way into your growing collection this year. For more of the Best New Knives of 2021, click the button below. Until next time, thanks for reading!
Blade HQ has way more knives than those featured here! There's bound to be another knife you need for your growing collection. Give our wares a browse, and find the perfect knife to suit your needs!
---
Learn More
Some truly exciting new knives are on their way this year. From practical pocket knives to functional fixed blades, there's a little something for everyone. Check out this episode of Week One Wednesday to learn about more awesome 2021 knives.
---
Other Best Knife Guides
Still in that information gathering phase? We've got a whole bunch more lists of all the best knives! Happy hunting and may you find the knives of your dreams!
*As our inventory fluctuates regularly, the availability of some products may change. Sign up for our wishlists and check back regularly for current pricing and availability.