Best OTF Knives
Updated by Blade HQ Staff Writer Logan Rainey on 11/03/2020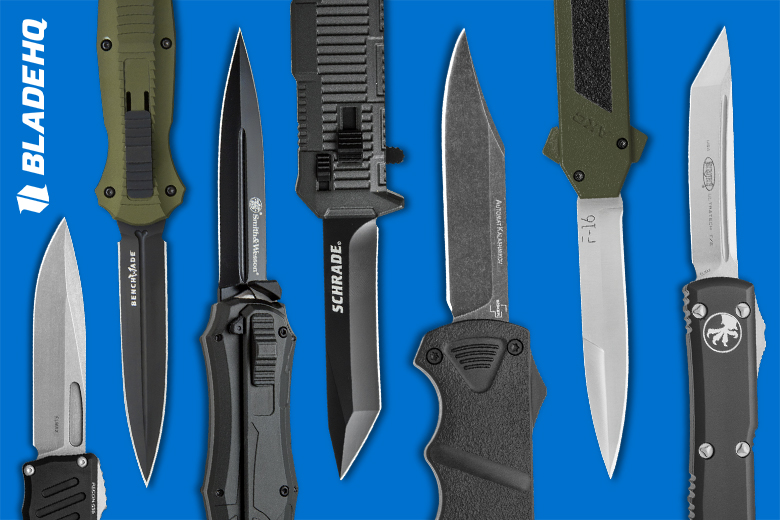 It's time to add an OTF knife to your collection. From the budget friendly Schrade, to the lust-worthy Microtech, and the newcomer Guardian Tactical, we've got all the best Out the Front knives for your viewing pleasure.
After we break down the specs and details of each knife, I'll drop in a review from one of our many amazing customers.
---
1. Microtech Ultratech OTF Knife

When you step up to the plate and put down your hard-earned money for a Microtech knife, you know you're going to get an OTF with perfect fit-and-finish, quality materials, and a distinctive design philosophy that others can only imitate. If you're able to catch the Ultratech of your color preference in stock, you can't go wrong adding one to your collection. Click below.
3.44" Bohler M390 Drop Point Blade
6061-T6 Aluminum Handle Scales
3.60 oz. Weight
Made in USA

Zach F. says…
"This is my 4th Microtech OTF. It feels great in your hand, and you can barely tell you're wearing it when it's clipped onto your pocket. The double action is strong and smooth. The blade is razor sharp like all my other Microtechs. The Ultratech is the perfect size and is really convenient to deploy the second you need it. As with all my other Microtech knives, I couldn't be happier. You won't be disappointed. I'm a Microtech customer for life."
---
2. Benchmade Infidel OTF Knife

Kind of like USA at the Olympics, Benchmade kicks butt in every category within the knife industry. The Infidel OTF knife is a beastly tactical tool (and you can even snag one in a mini form-factor). From EDC to SEAL Team, the Benchmade Infidel is ready for action and up to any challenge. Pick up this legendary OTF knife by clicking below.
3.91" CPM-S30V Dagger Point Blade
6061-T6 Aluminum Handle Scales
4.90 oz. Weight
Made in USA

Randy J. says…
"I have tried several different OTF's in the last couple months. I went through at least 3 or 4 before I found the one. And it is definitely the infidel... a little costly but well worth it!!! The double edge d2 blade is sharp as a razor. The action in and out is spectacular. I'd recommend it to anyone looking for a great knife!! Thank you Benchmade and Blade HQ."
---
3. Smith & Wesson OTF Knife

Let's be real (and we've said it before)… The Smith & Wesson OTF Assist Finger Actuator may be the apex of great knives with terrible names. I will die on this soapbox. But don't let this Finger Actuator scare you away. This single-action OTF deploys hard, has a ridiculously rigid lockup, and best of all, it won't break the bank. See more about this OTF by clicking below.
3.25" AUS-8 Spear Point Blade
Aluminum Handle Scales
6.09 oz. Weight
Made in China

James V. says…
"Solid OTF at a reasonable price. If you are on a budget and want a solid, nicely made OTF then look no further. Rapid deployment, feels good in the hand, and has that cool look factor. A bargain at this price level. Order one now from Blade HQ. You will not be disappointed. I know I was not."
---
4. AKC F-16 OTF Knife

Italians have been making awesome switchblade knives for close to a hundred years, if not more. You can sense that storied foundation with the AKC F-16. This double action OTF has clean lines and functions beautifully with a reliable, satisfying action. Pick up this sweet OTF by clicking below!
3.375" 440A Bayonet Point Blade
Aluminum Handle Scales
3.15 oz. Weight
Made in Italy

Richard G. says…
"Overall, I am rather impressed with this knife. The action is smooth and fires hard. The fit and finish is much better than its price tag would lead you to think. There is the expected blade play, but it is very minimal. The blade was sharp and the 440A should make it easy to maintain. Should be good for light duty use. I initially wanted to try this knife out and decided to get this olive drab version since it was the least expensive one. But now that I have it, I'm probably going to get more of them. Compared to other inexpensive OTF's in the same price range, I feel this one is at the top!"
---
5. Guardian Tactical RECON-035 OTF Knife

When the Guardian Tactical RECON-035 dropped, I was eager to see what this OTF was all about. Could it possibly stack up against Microtech? Featuring a patented ceramic ball slider system, these knives have raised the bar in terms of OTF action. Try the RECON-035 if you're looking for a knife that performs, but also possesses that major fidget factor. Learn more by clicking below.
3.375" CPM-154 Drop Point Blade
Aluminum Handle Scales
3.81 oz. Weight
Made in USA

Mike W. says…
"First off, my wife said I shouldn't buy it because she knows I have the tendency to spend a lot of money at BHQ. Naturally, I bought it because she told me not to... Couldn't be happier, I can't put this thing down. I own a few Microtech Ultratechs and UTX-85s. I have to say, this is right up there with them. If not better. Don't listen to the wife, buy the knife."
---
6. Schrade Viper Assisted OTF Knife

Schrade has built its legacy on offering value-driven pieces to the masses. When you buy a Schrade, you know you're going to get a dependable and well-engineered knife, be it a fixed blade, side-opening automatic knife, or, of course, this Viper OTF. The functionality of this knife is comparable to the previously featured Smith & Wesson, so it all comes down to your personal taste and style. Get yours today!
3.375" Stainless Steel Tanto Blade
Aluminum Handle Scales
4.53 oz. Weight
Made in China

Matthew B. says…
"First off, I am beyond satisfied! The knife is everything promised and more! Smooth crisp action with zero blade wobble. Purely perfect in every way. Shipping was faster than promised and I'm one happy man. 10 out of 5 stars. Blade HQ will be my only source for cutting tools—everyday carry, self-defense and work alike. Good job guys!! Proud to be a returning customer!"
---
7. Boker Kalashnikov OTF Knife

Last but certainly not least, the Boker Kalashnikov OTF is a rock-solid automatic knife with great ergonomics, an awesome acton and quality materials at a great price! The Kalashnikov OTF features a black, stonewash finished D2 steel Bowie blade and a generous thumb slide for that sweet, sweet double-action snap. A strong, deep carry pocket clip keeps the Kalashnikov OTF secure in your pocket. Check it out by clicking below.
3.50" CPM-154 Tanto Point Blade
Aluminum Handle Scales
4.75 oz. Weight
Made in USA

Timothy C. says…
"I've been on the fence about wanting an OTF. Mostly wanting one for the cool factor, and as a collector not having one. I didn't want to take the cheapest route and couldn't justify the more expensive. The D2 blade came sharp enough to shave arm hairs. Wouldn't use it on the face! The action was pretty stiff at first. But, that smoothed out. It fires and retracts fast and hard. I can't personally say how blade wobble compares to other OTF. I would say it seems minimal and totally acceptable to me."
---
Final Thoughts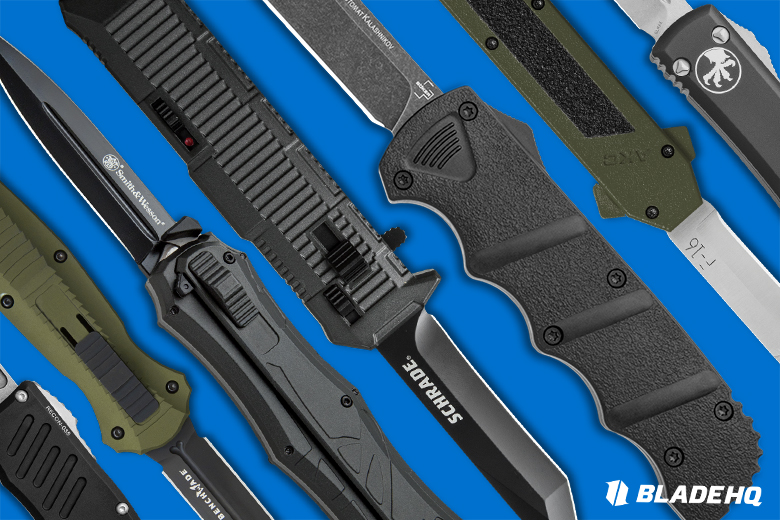 otf knife overview
OTF knives are awesome in that they combine ultimate knife functionality with a fidget factor that will make you feel like it's Christmas morning every time you push the switch. Some guys get super into watches—they appreciate the internal working mechanisms and design that goes into each piece. Out the Front knives are the same. You can't go wrong with any of our top picks. Just choose the piece that speaks to your heart.
So now you've got all our recommendations, but Blade HQ has got way more OTF knives than just the 7 featured here. Check out our Best Knives of 2020 article for more of the very best pocket knives. Give our website a browse, and find the best out the front for yourself. Once you've got your knife situation dialed in, email me a picture and few words about your bushcrafting philosophy at [email protected] We'll feature the best submissions on our Instagram, Facebook, and Twitter.
---
Learn More
TLDR? If you're still unsure of which OTF to drop your hard-earned cash money on, check out our Knife Banter video on Out the Front knives. We go in-depth on many of the most popular models available today and what makes them so great.
---
Other Best Knife Guides
Still in that information gathering phase? We've got a bunch more lists of all the Best Knives! Be sure to check out our How to Choose an OTF Knife article for more information on our favorite OTF knives. Happy hunting and may you find that one special knife of your dreams.
*Customer reviews may be condensed for clarity and edited for grammatical errors. You know we have to make our high school English teacher proud. Check product listings for current pricing.