Best Pro-Tech Knives
Written by Blade HQ Staff Writer Logan Rainey on 01/02/2020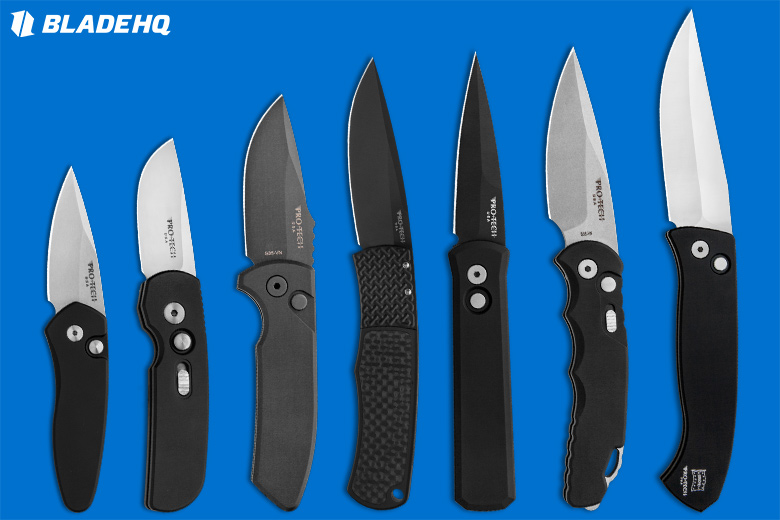 Pro-Tech is known for making some of the best automatic knives on the market. Their commitment to excellence has helped them turn out incredible products for the last 20 years. From snappy everyday carry knives to beefy tactical folders, Pro-Tech knives have been a top choice for LEO and military personnel.
Check out our top 7 Pro-Tech knives below and read a review from one of our beloved customers after each break down.
---
1. Godson

Following in the footsteps of the hugely popular Pro-Tech Godfather, the Pro-Tech Godson is a slimmer more streamlined version of the Godfather. Its T6-6061 aluminum handle and 154-CM blade are built to hold up to the use and abuse of everyday and tactical carry. Like other Pro-Tech knives, the Godson has an amazing push-button automatic action. Its sleek design and amazing feel make it a great addition to any knife collection.
7.56" Overall Length
3.15" Blade Length
154-CM Blade
Aluminum Handle
Plunge Lock

Bryan L. says...
"They are right when they say that Pro-Tech has certain snap. This thing is mean. The quality is amazing. The blade comes razor sharp out of the box, and holds an edge. I love the aluminum smooth handle. Very slick. I consider this my gentleman's EDC."
---
2. Sprint

The Pro-Tech Sprint is one of Pro-Tech's pint sized performance knives. This California legal knife has a short and stocky 1.95" blade. Its automatic action is lightning fast and locks up well even after heavy use. The Sprint features a grippy aluminum handle and a CPM-S35VN blade for excellent edge retention.
5.00" Overall Length
1.95" Blade Length
CPM-S35VN Blade
Aluminum Handle
Plunge Lock

Theodore B. says...
"Amazing action. Absolutely beautiful fit and finish. I love the size and blade. It's razor sharp. Pressing that button you can feel the strength of the spring."
---
3. SBR

Based on other knives in the Les George Rockeye series, the SBR (Short Bladed Rockeye) is a stout automatic folding knife built to take a beating and keep on going. This knife features a beautifully designed drop point blade with thumb jimping on the spine. A large finger choil and textured aluminum handle provide ample grip and control while using the knife. Finally, the SBR has an incredible automatic action that gives a satisfying "thwack" when deployed. This knife is bound to impress even the pickiest knife nut. Not convinced? Check out our Pro-Tech SBR Review for more information on this impressive Pro-Tech auto.
6.50" Overall Length
2.625" Blade Length
CPM-S35VN Blade
Aluminum Handle
Plunge Lock

Darren H. says...
"Perfect size for EDC. I really like this knife. Great size to carry everyday or when you want something a little smaller. Pro-Tech hit this one out of the park."
---
4. TR-5

The Pro-Tech TR-5 is a pocket friendly version of the popular Pro-Tech TR-4. Its slimmer design makes it a great option for anyone looking for a well-built automatic tactical folding knife for everyday carry. Its CPM-S35VN blade offers incredible performance and edge retention, while its ergonomically designed handle feels great in hand and has minimal hot spots while used. TR-5 features a push button automatic action with a safety switch allowing for secure pocket carry and easy deployment. A deep carry pocket clip and lanyard loop offer multiple convenient ways to carry the TR-5.
7.625" Overall Length
3.25" Blade Length
CPM-S35VN Blade
Aluminum Handle
Plunge Lock with Safety Switch

June E. says...
"This knife is very well made. It's definitely ready for a hard use. The blade is solid, sharp and straight. The handle is very sturdy. You can't go wrong with a Pro-Tech knife."
---
5. Magic BR-1 "Whiskers"

If you haven't had a chance to pick up or handle this unique knife, you are really missing out! The Pro-Tech Magic BR-1 "Whiskers" is an automatic folding knife with a hidden release to deploy the blade. This unique knife offers the performance of a tactical knife in a dressed-up package. Its slim profile and deep carry pocket clip make it practically disappear in your pocket.
7.25" Overall Length
3.125" Blade Length
154-CM Blade
Aluminum & Carbon Fiber Handle
Hidden Release Bolster Lock

Kevin C. says…
"Not a single person I showed this to could figure out how to open it. The slide is a little stiff, which is how it should be. That keeps it from accidentally opening in your pocket. It fires fast and strong, but it's not so much that it jumps out of your hand. The blade takes a good edge and keeps it. This is one of the best knives I own."
---
6. Brend 3

The Walter Brend designed Pro-Tech Brend 3 is an all-around automatic folding knife. Its blade shape and ergonomics make this knife great for just about anything you could need a knife for. Its slender profile is great for carrying in the front pocket of a pair of pants. The Brend 3 features a sleek 6061-T6 aluminum handle and a deep carry pocket clip for comfortable and convenient carry. Like other Pro-Tech knives, the Brend 3 has an incredible action and lock up.
8.75" Overall Length
3.75" Blade Length
154-CM Blade
Aluminum Handle
Plunge Lock

Clifford B.
"I thought the extra length of this knife might make it uncomfortable to carry, but no. I hardly notice it's there when clipped in my jeans pocket. That bit of extra length combined with the shape of body provide an excellent grip for a pocket knife. I don't feel the need for any textured surfaces. The overall quality is outstanding and the design is brilliant."
---
7. Calmigo

The final knife on our list of Best Pro-Tech knives is the Pro-Tech Calmigo. This small automatic folding knife is California legal and great for small hands or discrete carry. Calmigo's plain edge, drop point blade makes it great for simple cutting tasks. Its handle jimping and shallow finger groove help give you better grip and control while using the knife. The Calmigo is a great option for anyone looking for a high-end lightweight automatic knife for everyday carry. If you have smaller hands, this knife will be a great fit.
5.49" Overall Length
1.99" Blade Length
154-CM Blade
Aluminum Handle
Plunge Lock with Safety Switch

Cameron P. says...
"Feels sturdy. Action very strong. Been playing with it for a year and it still feels brand new. Highly recommend."
---
Conclusion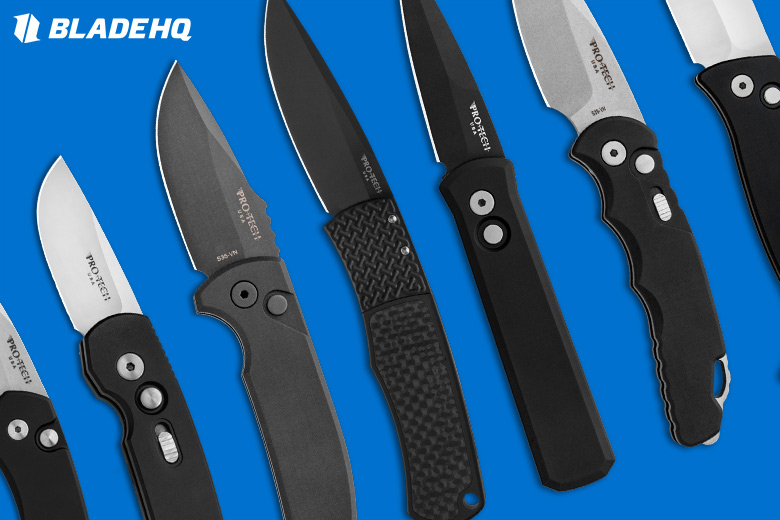 Pro-Tech automatic knives are some of the best money can buy. Whether you are someone with a taste for high-quality things or someone who demands the best from their tools, Pro-Tech knives have a great line of products for any need.
If you have the opportunity to handle or use a Pro-Tech knife, make the most of it. They are absolutely amazing. Check out more Pro-Tech knives! Leave a review and follow us on Instagram, Facebook, and Twitter for all your knife updates.
Learn More
Still deciding on a Pro-Tech? For more information, check out our YouTube video where Ben and Austin discuss nine of the best Pro-Tech knives you can buy.
---
Other Best Knife Guides
Still in that information gathering phase? We've got a whole bunch more lists of all the Best Knives! Happy hunting and may you find that one special knife of your dreams!
*Customer reviews may be condensed for clarity and edited for grammatical errors. You know we have to make our high school English teacher proud. Check product listings for current pricing.