Best Short Blade Knives
Written by Blade HQ Staff Writer Logan Rainey on 12/20/2019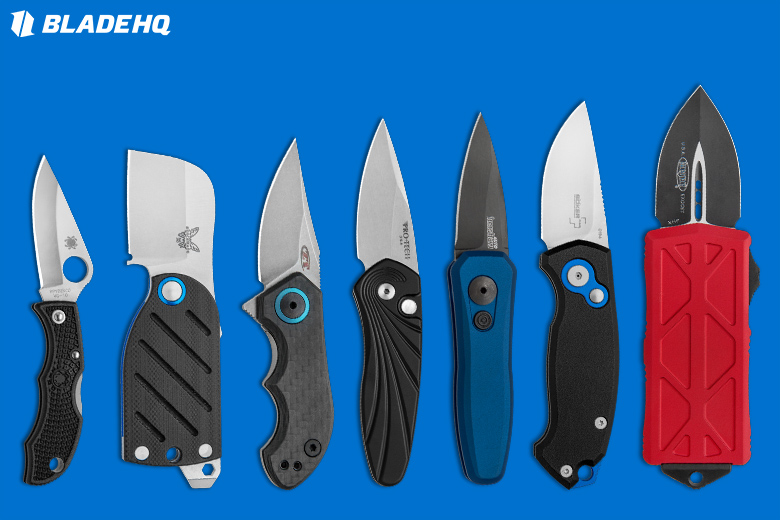 Big knives are great, but big knives are just that… BIG! They take up more space, draw more attention and aren't always the best for everyday carry. Short blade knives provide better concealment at the cost of some utility. They are great for everyday carry and make more sense in situations where a big knife just wouldn't, and most are legal to carry and own everywhere. Read on to find the best short blade knives from brands like Spyderco, Benchmade, Boker, and more!
In addition to an overview of the specs and details of each knife, we will feature a review of each knife left by one of our beloved customers.
---
1. Kershaw Launch 4
When it comes to short blade knives, there are few as fun to use and easy to carry as the Kershaw Launch 4. Its overall size, aluminum construction and snappy push-button automatic action make it a perfect everyday carry knife. These little guys are available in many different color combos so you can find one that fits your needs and style. Check out our comprehensive Launch 4 review to see what makes this series so great.
Overall Length: 5.10"
Blade Length: 1.90"
Blade Material: CPM-154
Handle Material: Aluminum
Locking Mechanism: Plunge Lock

Bryan L. says...
"This is such a slick little knife. Fits perfectly in the little pocket on jeans. 154 is really easy to sharpen, and holds an edge fairly well. I use this mainly for boxes, but also in any situation that I wouldn't want to abuse my more expensive knives, and it's always my secondary carry for that reason!"
---
2. Microtech Exocet

One of the newest knives in Microtech's lineup, the Microtech Exocet is a new take on OTF knives. This unique knife combines a stout Cali-legal OTF automatic knife with a money clip. The short blade is great for office and other simple tasks. The money clip makes keeping track of your cash and cards much easier. If you carry a knife and a smaller wallet, why not combine them with this awesome new knife?!
Overall Length: 5.625"
Blade Length: 1.98"
Blade Material: CTS-204P
Handle Material: Aluminum
Locking Mechanism: Double-action OTF

Art R. says...
"Beside Microtech quality, the Exocet Dagger fits perfect in any shirt pocket, pant pocket or conceals perfectly in your hand. Love it!"
---
3. Victorinox Super Tinker

Get yourself a knife that can do it all! The Victorinox Super Tinker is a great pocket-sized multi-tool with a 1.5" knife blade and 13 other tools. This iconic Swiss Army Knife includes a can opener, screwdrivers and a pair of scissors. This short blade knife may not be the most robust, but it has a ton of extras that make it amazing.
Overall Length: 3.48"
Blade Length: 1.50"
Blade Material: Stainless Steel
Handle Material: Polymer
Locking Mechanism: Slip Joint

Alan F. says...
"I have owned one for around 30 years! I have a lot of more exciting knives, but this is the one I always try to remember to throw into my suitcase when I travel. Small and light enough to carry all of the time, but big enough to be usable."
---
4. ZT 0022

This impressive short blade knife has it all. The ZT 0022 has a titanium frame lock, carbon fiber scale and a razor-sharp CPM-20CV blade. This buttery smooth flipper is perfect for everyday carry and fits well in a front pocket or coin pocket. If you love small knives or have a tough time carrying larger knives, this is an amazing knife for simple tasks and everyday carry.
Overall Length: 4.875"
Blade Length: 1.875"
Blade Material: CPM-20CV
Handle Material: Carbon Fiber/Titanium
Locking Mechanism: Frame Lock

Scott L. says...
"Like a tiny replica of a perfect ZT. I love it. I think this is my new "suit" knife. Small, light, but with that perfect flip. Big difference from the 0456 I carried for most of last week."
---
5. Protech Sprint

The Sprint from Protech is a snappy, California Legal automatic knife that looks as great as it performs! This awesome short blade knife features a lightweight aluminum handle, snazzy mother of pearl inlay button, and a crazy sharp CPM-S35VN blade. It's the perfect size for everyday carry and feels great in hand.
Overall Length: 5.00"
Blade Length: 1.95"
Blade Material: CPM-S35VN
Handle Material: Aluminum
Locking Mechanism: Plunge Lock

Garrison E. says...
"Awesome knife! It was perfect for a California legal auto knife! Action was smooth and fast, and blade came very sharp. I would highly recommend this knife."
---
6. Benchmade Aller

Aller from Benchmade is a stout friction folder knife that's perfect for travel and everyday carry. This short blade knife features a CPM-S30V sheepsfoot blade, a pry tip/screwdriver and a bottle opener. Its G-10 handle feels great in hand and provides the user with confidence while using the knife for cutting tasks. Its unique pocket clip doubles as a money clip.
Overall Length: 4.48"
Blade Length: 1.60"
Blade Material: CPM-S30V
Handle Material: G-10
Locking Mechanism: Friction lock

No reviews yet!
Be the first to write a review!
---
7. Spyderco Ladybug

When it comes to short blade pocketknives it is easy to overlook the Spyderco Ladybug. Despite its size, the Ladybug is great for small cutting and slicing tasks. Its lock back design is simple to use and gives the knife great lockup. The Ladybug features a VG-10 blade, a grippy FRN handle and a useful lanyard hole that allows the knife to be attached to a keyring.
Overall Length: 4.375"
Blade Length: 1.94"
Blade Material: VG-10
Handle Material: FRN
Locking Mechanism: Lock Back

Dan S. says...
"You can get serious grip on this tiny knife. It's super solid and nearly weightless. I'm actually shocked by how good it feels in hand. This thing can handle your EDC needs and then some no problem."
---
8. Boker Kompakt

If you've been looking to add a short blade automatic knife to your edc rotation or collection, it doesn't get much better than the Boker Kompakt designed by Jesper Voxnaes. This knife has amazing ergonomics and feels great in the hand. Its 1.875" California legal, drop-point blade is easy to control and maintain. This knife features a durable aluminum handle with unique blue inlays and a blue back spacer. A deep carry pocket clip rounds out this feature rich little knife.
Overall Length: 5.25"
Blade Length: 1.875"
Blade Material: AUS-8
Handle Material: Aluminum
Locking Mechanism: Plunge Lock

Peter J. says...
"The Kompakt is a beautiful knife, that's the first thing I noticed. Secondly, it is super fast to open and very sharp. Last but not least, it's a Boker. Great company and great knives. Did I mention it's a great looking knife?"
---
Conclusion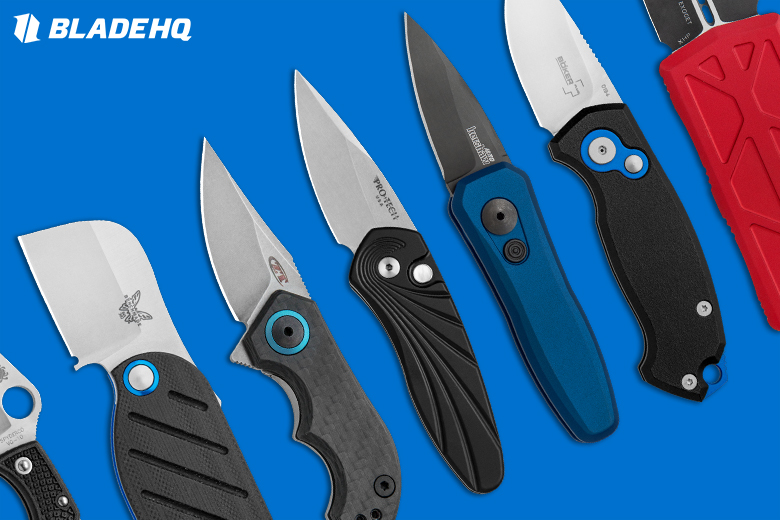 Whether you're limited to carrying only short blade knives or you prefer knives that are easier to conceal, this list of knives should be a good starting point if you are having a tough time knowing what to get. Generally, short blade knives are designed for simple tasks. Each has their own unique characteristic that makes them great. If you're looking for a short blade knife, keep in mind that they tend to be small. If you have big hands, or prefer bigger knives, you'll probably want something else. To browse a wider selection of pocket knives hop over to our Best Pocket Knives article.
Keep in mind that these are just seven recommendations from our huge selection. Once you find the best short blade knife out there, leave a review and tell us why it's the best! Follow us on Instagram, Facebook, and Twitter for all your knife updates.
---
Other Best Knife Guides
Still in that information gathering phase? We've got a whole bunch more lists of all the Best Knives! Happy hunting and may you find that one special knife of your dreams!
*Customer reviews may be condensed for clarity and edited for grammatical errors. You know we have to make our high school English teacher proud. Check product listings for current pricing.