Best Slim Pocket Knives
Written by Blade HQ Staff Writer Logan Rainey on 12/5/2019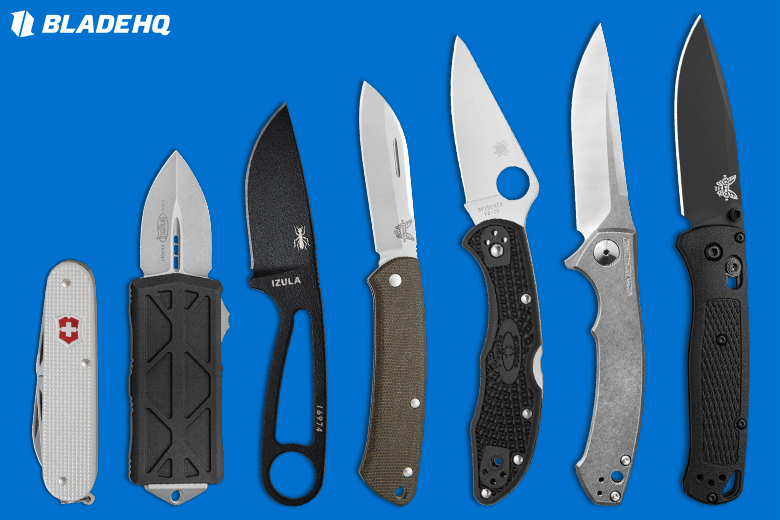 As funny as it may sound, clothing trends can influence knife trends. With the slimmer, more streamlined look of what people wear these days, the big and bulky pocket knives we have come to love don't quite fit in our pockets as well. Slim profile pocket knives are finding their way into pockets and staying there. The following list breaks down some of the best slim pocket knives and what makes them so great! Read on to find the best picks from brands like Spyderco, Benchmade, Victorinox, and more!
In addition to an overview of the specs and details of each knife, we will feature a review of each knife left by one of our beloved customers.
---
1. Benchmade Bugout

What doesn't the Benchmade Bugout do?! This knife is an amazing EDC knife for a number of reasons. At just under half an inch, the Bugout takes up less pocket space than comparable pocket knives. Its blade is strong, durable and sharp making it great for common everyday tasks. It features a mini deep carry clip allowing for more discrete carry that couples well with its slim profile. Check out our comprehensive Bugout Review to see what makes it so great.
Overall Length: 7.46"
Handle Thickness: 0.42"
Blade Material: CPM-S30V
Handle Material: Grivory
Locking Mechanism: AXIS Lock

Preston T. says...
"This is my EDC knife and I'm obsessed, deep pocket carry, lighter than my PEN. There's nothing not to love about this knife!"
---
2. Microtech Exocet

Chances are you probably carry a wallet and a knife every day. The Microtech Exocet was designed with utility and convenience in mind by combining a double-action OTF knife with a money clip. The Exocet's unique design makes it one of the best ways to minimize how much stuff you need to carry while maintaining the ability to take care of all your cutting and slicing needs when they arise. It's a great California legal OTF that fits slimly with any pocket, inside or clipped on.
Overall Length: 5.625"
Handle Thickness: 0.35"
Blade Material: CTS-204P
Handle Material: 6061-T6 Aluminum
Locking Mechanism: Double-action OTF

Art R. says...
"Beside Microtech quality, the Exocet Dagger fits perfect in any shirt pocket, pant pocket or conceals perfectly in your hand. Love it!"
---
3. Benchmade Proper

Traditional and slip joint knives have always been intended to be carried in-pocket rather than clipped on or carried in a sheath. The Benchmade Proper is a modern take on a traditional folder. It combines modern materials with the classic, slip joint design. It features a durable CPM-S30V blade with either a clip-point or drop point blade shape. Its slim design is perfect for everyday carry, especially for anyone with slim fit pants or small pockets.
Overall Length: 6.69"
Handle Thickness: 0.41"
Blade Material: CPM-S30V
Handle Material: Micarta
Locking Mechanism: Slip Joint

Juby T. says...
"I carry this knife any time I feel it not appropriate for a clip to be hanging out of my pocket. I know I will have a sturdy knife with a great blade anytime I pull it out and stays razor sharp. Lightweight and slim enough to disappear in the pocket with my keys."
---
4. Spyderco Delica

The Delica is a locking back folder that fits well in the pocket thanks to its slim profile and lightweight design. This knife features a premium, Japanese VG-10 stainless steel blade and grippy FRN scales. Delica is known for being an easy knife to control and handle thanks to its thumb ramp and spine jimping. The iconic Spyderco thumb hole and phosphor bronze washers make this knife a breeze to open.
Overall Length: 7.125"
Handle Thickness: 0.40"
Blade Material: VG-10
Handle Material: FRN
Locking Mechanism: Lockback

Chris W. says...
"This thing is great! Everyone should own a Delica! It is super lightweight, slim, good blade steel that is not too hard to sharpen while still retaining a good edge, and just a great all around knife for the price. I carry to work every day and even with thick gloves I can get it open."
---
5. Zero Tolerance 0450

Few knives are as smooth, well-built and easy to carry as the ZT 0450. The combination of a 0.40" handle thickness and lightweight materials make this slim folder practically disappear in pocket. Its titanium frame lock construction gives this knife a solid feel in hand when used. The 0450 comes standard with a CPM-S35VN blade and a super-smooth KVT ball-bearing pivot. And let's not fail to mention it's a design from the always exciting and inspired Dmitry Sinkevich. Check out our comprehensive ZT 0450 Review to see what else makes this knife so great.
Overall Length: 7.375"
Handle Thickness: 0.40"
Blade Material: CPM-S35VN
Handle Material: Titanium
Locking Mechanism: Frame Lock

Austin C. says...
"This has an excellent minimal profile for everyday carry. Thin profile with a long well crafted blade. Locks up really well and comes razor sharp out of the box. The red standoff accents are a nice touch as well."
---
6. ESEE Izula

Most fixed blade knives are big, difficult to carry and overbuilt for everyday tasks. The ESEE Izula is a wonderful fixed blade knife for everyday carry. Its size makes it easy to slip in a pocket or carry discretely on a belt. Its drop point, flat ground blade is great for slicing and dicing. Thanks to its 0.16" blade stock, this knife is the slimmest knife on our list, but it is by far the most robust. The Izula comes standard with a polymer sheath.
Overall Length: 6.25"
Handle Thickness: 0.16"
Blade Material: 1095 Stainless Steel
Handle Material: Stainless Steel
Sheath: Polymer

William M. says...
"I carry this vertical on the hip every day and it is a perfect edc knife. Great quality and perfect size for me. Keep it oiled and it will take basically anything you throw at it. It is easy to sharpen and will take a great edge."
---
7. Victorinox Cadet

When it comes to everyday carry pocketknives, the Victorinox Cadet could quite possibly be the most bang for your buck! This slim multi-tool features 9 great tools and a lightweight aluminum body. Its size is perfect for attaching it to a key chain or lanyard, but it fits well in most pants pockets and takes up very little space. You can't go wrong working a Victorinox Swiss Army Knife into your EDC rotation. This knife is perfect for small everyday tasks.
Overall Length: 7.46"
Handle Thickness: 0.30"
Blade Material: Stainless Steel
Handle Material: Aluminum
Locking Mechanism: Slip Joint

Eric B. says...
"The Cadet is a great swiss army knife to carry with you on a daily basis. It's (super) slim profile lets it disappear in your pocket, and also isn't intimidating to others. It contains all the necessary tools while maintaining a small yet effective package. The blade's size is perfect and highly usable, in addition to being razor sharp. In the short period that I've owned it, the Cadet has far exceeded my expectations and I would definitely buy it again!"
---
Conclusion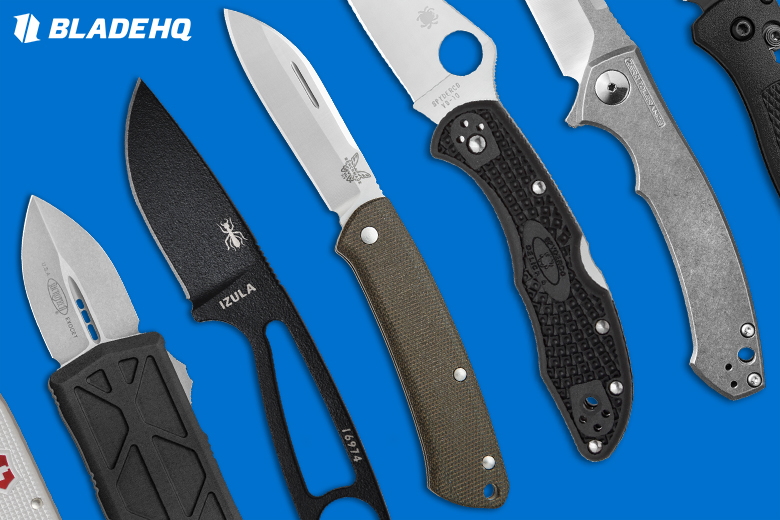 To put it plainly, some knives are just TOO big to pocket carry comfortably. If you carry a pocketknife everyday you know how cumbersome it can be to pull other things out of your pocket when there's a knife in there too. This list of slim pocketknives should give you a good idea for what knives fit well in pockets and what to look for when choosing your next pocketknife. Not every knife on this list is perfect for everyone, but these are some of our favorites. For a broader selection of pocket knives, check out our Best Pocket Knives article.
Keep in mind that these are just seven recommendations from our huge selection of lightweight knives. Once you've found that perfectly slim knife that will fit in any pocket, leave a review and tell us why it's the best! Follow us on Instagram, Facebook, and Twitter for all your knife updates.
---
Other Best Knife Guides
Still in that information gathering phase? We've got a whole bunch more lists of all the Best Knives! Happy hunting and may you find that one special knife of your dreams!
*Customer reviews may be condensed for clarity and edited for grammatical errors. You know we have to make our high school English teacher proud. Check product listings for current pricing.