Best Spring Assisted Knives
Written by Blade HQ Staff Writer Andrew Hamilton on 11/16/2018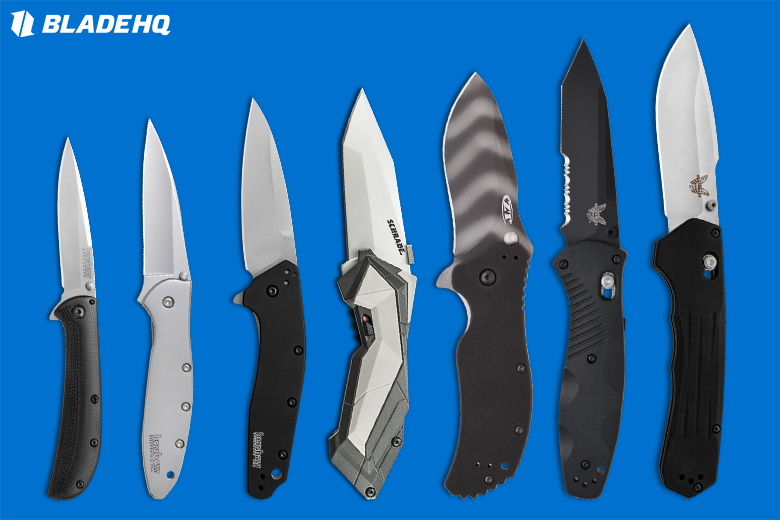 Spring assisted knives are not given enough respect, and it's our personal mission today to DESTROY any doubt. Spring assisted knives are legal in a wide variety of jurisdictions, open intuitively, and usually come in at a lower price point than their automatic counterparts. Blade HQ is the best place to grab a new knife and you know we're about to drop the knowledge on the top 7 spring assisted knives of fall 2018.
After we break down the specs and specs of each knife, I'll drop in a review from one of our many amazing customers.
---
1. Kershaw Dividend Bohler M390

If you tend to act in a pragmatic way, the Kershaw Dividend is probably the perfect knife for you. No other knife offers Bohler M390 blade steel (read about why it's so great) in such an inexpensive package. You get durable, lightweight aluminum handle scales, a dependable SpeedSafe assisted opening mechanism, and the whole thing is made in USA. That's pretty hard to beat.
3" Bohler M390 Wharncliffe Blade
Aluminum Handle Scales
2.95 oz. Weight
Made in USA

Jamie D. says…
"Great EDC knife. I own both this and the Link. Both are great knives for a variety of tasks. What sets the Dividend apart is its size and slim profile. It fits in the pocket easily and you probably will forget it is there. It is a wonderful slicer as the blade stock is very thin and the wharncliffe shape offers great utility. Fit and finish is outstanding as all Made in USA Kershaws tend to be. Awesome value."
---
2. Zero Tolerance 0350

ZT is part of the Kershaw family, so you already know that their spring assisted knife game is on point with that SpeedSafe assisted opening mechanism. The 0350 features a big-bellied blade made from premium steel along with bombproof G-10 handle scales. This knife opens easily with the flipper tab or thumb stud.
3.25" CPM-S30V Drop Point Blade
G-10 Handle Scales
6.20 oz. Weight
Made in USA

Matt H. says…
"Strongest pocket knife I own! I ordered this from Blade HQ after I received a fake from the internet and returned it (lesson learned, always trust Blade HQ!). This ZT is a monster! The TS pattern is awesome and when I pull it out to use it everyone knows I mean business. This 0350 will not disappoint if you want a hard working EDC knife that you can rely on! Thanks Blade HQ for answering my questions on the fake (from another company) and leading me to the real ZT that is now a part of my collection."
---
3. Benchmade Barrage Tanto

The Benchmade Barrage is wildly popular among blue collar workers. If you need a tough, burly knife that will deploy no matter the conditions, you're going to love the Barrage. Wedged into a crawl space with no light or wearing greasy gloves, this knife will never let you down.
3.60" 154CM Tanto Blade
Polymer Handle Scales
4.20 oz. Weight
Made in USA

Philip L says…
"2 years of edc and action still smooth as butter. This has been my favorite EDC knife of all time. Its rounded edges don't scratch things that I run into or scrape. The action is still so smooth and the blade stays sharp for so long! I love Benchmade because of this knife."
---
4. Kershaw Leek

Ken Onion, inventor of the SpeedSafe assisted opening technology, really hit a winner with the utilitarian, affordable Kershaw Leek. With stainless steel handle scales and a minimalistic design aesthetic, the Leek is a well-loved EDC carry for students and professionals.
3" 14C28N Wharncliffe Blade
Stainless Steel Handle Scales
3 oz. Weight
Made in USA

Jonathan W. says…
"Great little knife. I have had this knife for over 8 years. It's a great EDC knife for my work. I've enjoyed it so much I've given the same knife as a gift to friends. It's extremely easy to open with one hand by the flipper. I always enjoy using this knife."
---
5. Kershaw Al Mar AM-3

Slicey, lightweight, and affordable, you really can't go wrong adding the Kershaw Al Mar AM-3 to your knife drawer. Whether your love of knives is newly budding or you're already a seasoned veteran of the trade show floor, it's easy to enjoy all the little things this spring assisted knife has got going on. With a 3" blade and G-10 handle scales, there's a lot to love.
3" 8Cr13MoV Spear Point Blade
G-10 Handle Scales
2.51 oz. Weight
Made in China

Sean E. says…
"A great knife. It does its job of being a tool and cutting. It also has style and a sleek feel as the G-10 handle scale with red back spacers gives it contrast to the almost matte black stainless steel. Oh and it sharpens very easily."
---
6. Benchmade Vallation

The fully ambidextrous Benchmade 407 Vallation represents one of the best values for a quality, made in USA knife and it just so happens to sport a beefy blade pushing up close to four inches. Sleek and refined aluminum handle scales support that lengthy CPM-S30V blade. This knife is a favorite among law enforcement and military personnel.
3.70" CPM-S30V Blade
Aluminum Handle Scales
6.38 oz. Weight
Made in USA

Michael M. says…
"Quality Knife. This is a great knife. Super sharp out of the box, solid assist snaps into place. Everything feels solid on this blade. I also love the glass breaker on the butt of the knife. I can't seem to put it down!"
---
7. Schrade SCHA3 Magic

This Schrade MAGIC may be the cheapest knife on the list, but it also happens to feature one of the greatest spring assisted mechanisms ever made. If this knife appeals to your aesthetic tastes, you won't be disappointed with aluminum handle scales, a tanto blade, and safety switch on the handle.
3" 4034 Tanto Point Blade
Aluminum Handle Scales
4.90 oz. Weight
Made in Taiwan

Jarod J. says…
"Feels like an auto, plain and simple. When opening it, there's almost no pressure needed for the spring to fire. I've compared the speed/snappiness to that of a Kershaw Launch 4 and Launch 7, and it's pretty on-par with them in both regards. This knife does its job well, and that safety lock is MMMMM top notch!"
---
Conclusion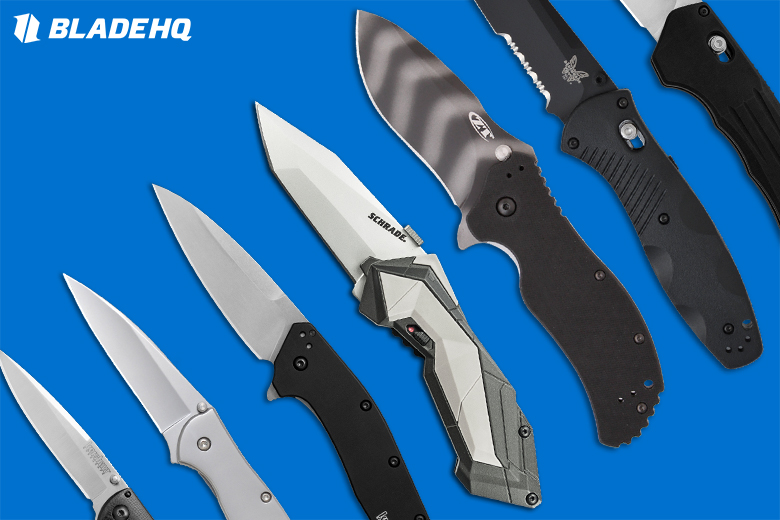 Spring Assisted Knife Overview
With so many awesome options, it might be hard to pick just one. You can't go wrong with any of the Kershaw spring assisted knives to the degree that our whole list could have been populated with only Kershaw and Zero Tolerance products. If you've never had a Benchmade in your life, now might be the time.
You can't afford to wait any longer. We've got all the best spring assisted knives ready to ship at the best prices, right here at Blade HQ. Once you've got that new knife, email me a picture and a few words about what went into your decision (AHamilton at BladeHQ.com). We'll feature submissions on our Instagram, Facebook, and Twitter.
Learn More
TLDR? If video is more your speed, check out the two below. They feature overviews of the spring assisted knives that occupy our one and two spots.
---
Other Best Knife Guides
Still in that information gathering phase? We've got a whole bunch more lists of all the Best Knives! Happy hunting and may you find that one special knife of your dreams!
*Customer reviews may be condensed for clarity and edited for grammatical errors. You know we have to make our high school English teacher proud. Check product listings for current pricing.