best survival knives
Written by Blade HQ Staff Writer Andrew Hamilton on 1/29/2019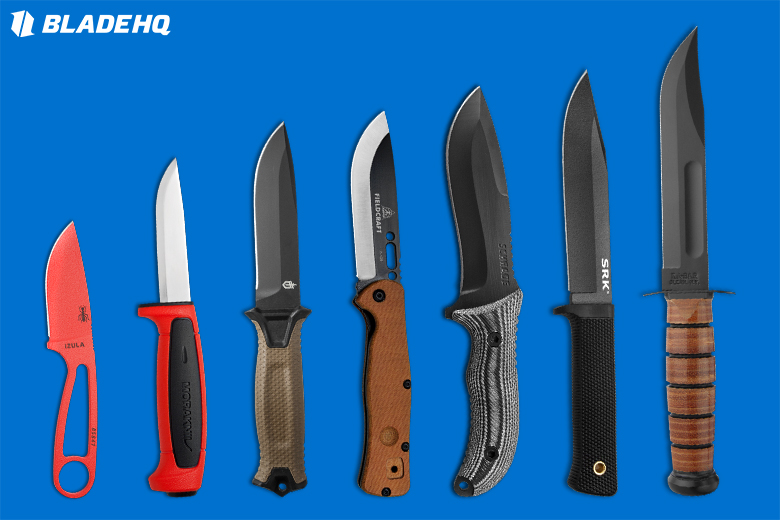 We all want our gear to be strong, but in life-or-death survival situations, gear has to be dependable. If you're looking for a knife to go in your truck, bug-out bag, or camping kit, we've got you covered with 7 of the toughest and best survival knives of 2019.
In addition to an overview of the specs and details of each knife, I'll also be featuring a review of each knife left by one of our beloved customers.
---
1. ESEE Izula

If weight is a factor and you're trying to keep your loadout small, look no further than the Izula. Clip it to your bag or pack, wear it as a neck knife, or rock it in pocket. From preparing tinder for a fire to striking fire steels and meal prep, the Izula is ready to stand up to anything you throw at it. For a small knife, the ESEE Izula really packs a punch. Because of its overall versatility, the Izula takes our spot as the best survival knife.
6.25" Overall Length
1095 Drop Point Blade
1095 Handle
1.90 oz. Weight
Made in USA

Cameron S. says...
"I keep this knife in my survival kit. It feathers sticks with little effort, despite its small stature. The red color really makes it an eye catcher as well! Thanks BHQ for your great customer service as well!!"
---
2. Morakniv Basic 511

The Scandinavian design of the Morakniv Basic shines brightest when tackling bushcraft and survival duties. A utilitarian blade shape and handle ensure comfortable use long after other knives give you hot spots and cramps. At less than $10, these knives are perfect for keeping on hand for emergency situations.
8.00" Overall Length
High Carbon Steel Clip Point Blade
Molded Polymer Handle Scales
2.79 oz. Weight
Made in Sweden

Liam G. says...
"You'll be hard pressed to find any brand that offers the same value for the money as Morakniv, and this is no exception. While this installment is marketed to a craftsman, it can be easily used for the outdoors. You will need to file the spine for fire-starting though, since it will not be optimal for that usage. Just watch the Dutch Bushcraft Knives review on this to see how truly ROBUST this knife is!"
---
3. Ka-Bar USMC Fighting Utility

The Ka-Bar USMC has been utilized by the US military for generations as a tool perfectly designed for fighting and survival. Clearing out brush, building shelter, starting fire, and even paddling down the river in a homemade boat—the Ka-Bar USMC really does it all.
11.875" Overall Length
1095 Cro-Van Clip Point Blade
Leather Handle
11.20 oz. Weight
Made in USA

Will B. says...
"If you want a combat/survival knife, this is the classic. You cannot go wrong with the Ka-Bar 1217. It's a sturdy and reliable knife that will last even the most abusive tasks. 1095 Cro-Van steel is a great choice too. Keeps an edge well and is easy to touch up. And lastly, support the Marines with the Ka-Bar 1217. Classic knife. Classic choice."
---
4. Schrade Extreme Survival SCHF10

Some knives are nimble, lightweight, and compact. Other knives are big, bruteish, and overbuilt. If your interests lie in the latter category, give Schrade Fixed Blades a chance. The SCHF10 is made for chopping, hacking, and bashing that you might not feel comfortable subjecting other knives to. These knives are affordable and can really take a beating.
10.50" Overall Length
8Cr13MoV Drop Point Blade
Micarta Handle Scales
13.50 oz. Weight
Made in China

Nathan M. says...
"Used it to chop some sticks/branches that fell in my yard a few days ago and it just powered through it all. 8Cr13MoV isn't all that bad and since I'll be using this knife for really gritty, hard, and honestly abusive work, I'm not too concerned of it losing its edge or chipping a small piece off. I mean, it was only $25. You get what you pay for and I gotta say you get a lot for what you pay for. Good job Schrade. If this knife breaks years in the future, I'll just buy another one."
---
5. Cold Steel SRK

When it comes to making knives tougher than tough, there's really no brand with a better reputation than Cold Steel. With a 6" blade, the SRK really blurs the lines between machete chopper and utility, survival fixed blade. The SRK's clip point blade shines at piercing strikes and the Kray-Ex polymer handle is comfortable even under the hardest use.
10.75" Overall Length
SK5 Clip Point Blade
Polymer Handle
8.20 oz. Weight
Made in Taiwan

Daniel K. says...
"I bought this knife more as a bushcraft knife, and it's awesome. For around ~40 bucks you get pretty great fit and finish with an amazing sheath. Seriously, this is the best sheath you'll find on a fixed blade in this price range. It's basically kydex, and I especially like how you can snap it into place without securing the strap, if you're accessing the knife frequently."
---
6. TOPS BOB Fieldcraft Folder

If you've seen the movie 'The Hunted' then you're already familiar with how tough and battle-ready TOPS knives really are. With a 1095 Scandi blade, you can easily field sharpen this TOPS BOB Fieldcraft folder against any sharpening stone or even a smooth river rock. Grippy micarta handle scales ensure a reliable grip and stainless steel liners beef up the sturdiness factor.
9.875" Overall Length
1095 Drop Point Blade
Micarta Handle Scales
8.50 oz. Weight
Made in USA

Jimmy W. says...
"This knife has been a 3 year wish lister for me. Now it's in my hands. Fit and finish exactly what I expected from Tops. Top Quality. No pun intended. American made from tip to butt. Folder function is tight, but just got it and understand the break in will occur as used. Blade centered well. Tight lockup. It's worth the wait. Can't wait for the 154 cm model with Rocky Mountain tread someday. Until then. This is my EDC."
---
7. Gerber StrongArm

Over the past 10 years, no knife has seen more time in active combat than the Gerber StrongArm. Soldiers need their knives to be durable, easy to maintain, and above all else, they need to put in work. The Gerber StrongArm is a perfect tool for a bugout bag because it combines a lengthy blade, moderate weight, and a utilitarian design into an affordable package.
9.75" Overall Length
420HC Drop Point Blade
Molded Polymer Handle
7.10 oz. Weight
Made in USA

Baldemar G. says...
"This is the only knife I take with me when I go camping, and I've never felt like I need anything else. It's strong, sharp, and it carries awesome because of its well thought out sheath. Love this knife."
---
Conclusion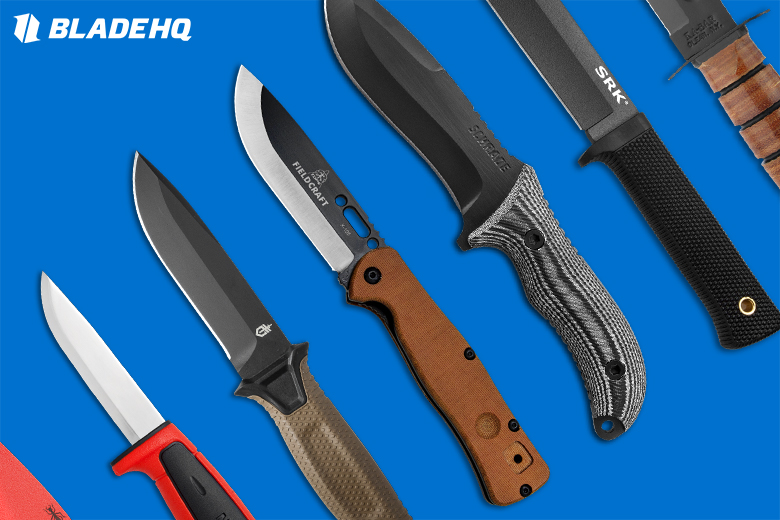 survival knife overview
You can't go wrong picking up any of these survival knives for your disaster kit. Be prepared! You never know when a crisis or emergency will hit. What's your excuse for being ill-equipped? All the knives on this list are affordable and could be the difference between protecting your family versus being in serious trouble.
So now you've got all our recommendations, but Blade HQ has got way more knives than just the 7 featured here. Give our website a browse, and find the best survival knife for yourself. Once you've got your survival knife situation dialed in, email me a picture and few words about your bushcrafting philosophy at AHamilton@BladeHQ.com. We'll feature the best submissions on our Instagram, Facebook, and Twitter.
Need more knives? Check out our American Made fixed blade knives Knife Banter video below for more knife goodness.
Learn More
Still not sure of the best survival knife for your needs? No sweat. This video shows more of our best-selling survival knives, each of which are amazing for most needs.
---
Other Best Knife Guides
Still in that information gathering phase? We've got a whole bunch more lists of all the Best Knives! Happy hunting and may you find that one special knife of your dreams!
*Customer reviews may be condensed for clarity and edited for grammatical errors. You know we have to make our high school English teacher proud. Check product listings for current pricing.