BEST SWISS ARMY KNIVES
Updated by Blade HQ Staff Writer Logan Rainey on 9/14/2020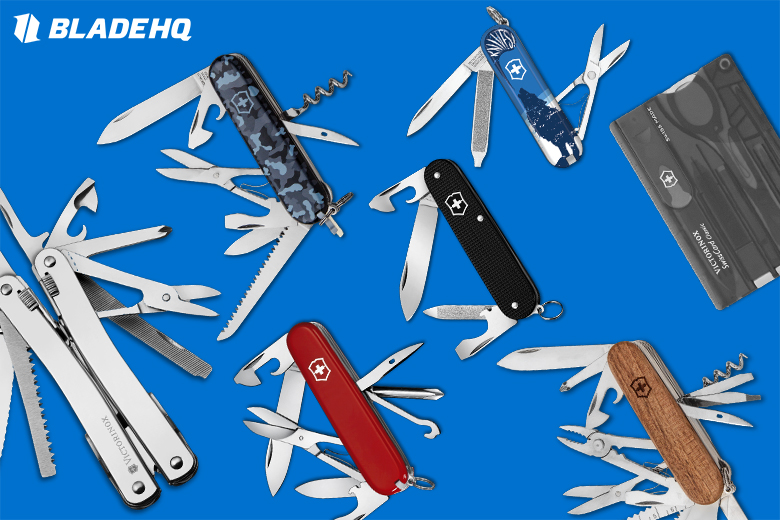 We've all seen a Victorinox knife before, but which Swiss Army knife is the best of the best? Read this guide and we'll review all of our favorite Swiss Army Knives, including the Classic SD, the Cadet, and more.
Keep in mind that everybody's taste and use-case is going to be different. The right tool for me might not be the #1 choice for you. Make sure you think about your lifestyle and pay consideration to how you will carry the tool. Some pieces ride much better on your keys while others carry better in your pocket or bag. The Victorinox knives with a large blade make great knives in the camp kitchen, along on a hike with salami and cheese, or during a picnic in the park. The smaller blades make great letter openers and key ring options.
Let's jump straight into our top seven Victorinox knives of 2020.
---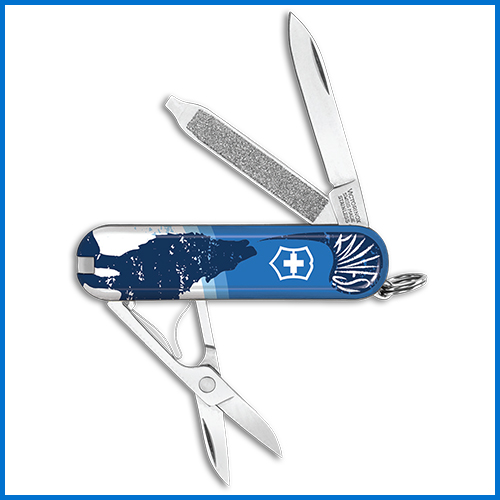 1. Classic SD
The Classic SD is compact, keychainable, and ultra-handy. The Classic SD has fewer tools than any other Swiss Army knife on this list, but its six components were well selected. A 2.25" pen knife, nail file, scissors, tweezers, toothpick, and keyring leave little more to be desired. Even if you carry a Victorinox with more tools, the Classic SD is an amazing option to keep on your keys or in the center console of your car. These small knives fit perfectly into Altoids survival tins as well.
Fun fact: The SD stands for screwdriver! The tip of the file works great as a flat head.
Check out our Classic SD Review to learn more!
1.50" Blade
3 Tools
0.80 oz. Weight
Made in Switzerland

Dutch A. says...
"The scissors alone make this a must-have multi-tool. It comes in handy almost every day. There are so many situations where scissors, a tweezer, or a toothpick would make life so much easier and the Victorinox Classic has it all. It's the perfect size for a key chain and at $15 there's no good reason not to get one."
---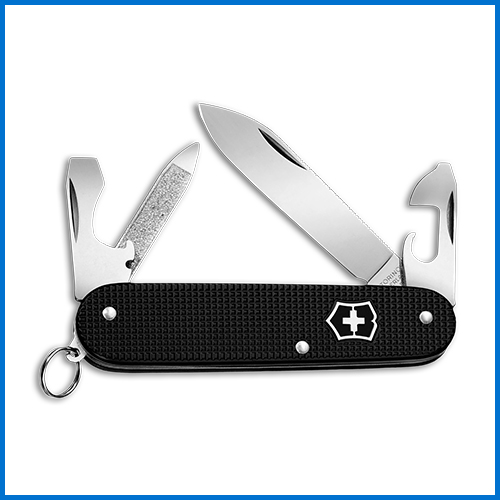 2. Cadet
When you see Alox in the title of a knife, it means aluminum scales. The aluminum scales really class up the knife without adding any weight. The Cadet features a nice variety of tools while maintaining a very slim profile. With a large blade, these knives do not work as well on a keychain, but they excel as a picnic knife in the same way you would use a Opinel or Laguiole.
2.50" Blade
4 Tools
1.60 oz. Weight
Made in Switzerland

Todd M. says...
"The black Alox scales give this knife a really nice look and feel. Nobody looks at you like you're a crazy person when you carry a straight forward, unintimidating slip joint like this. I've even used the screwdriver and the bottle opener. It's a wonderful little knife, especially for the price."
---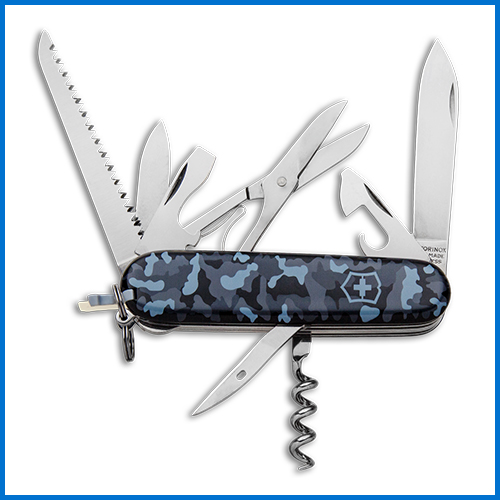 3. Huntsman
True to its name, the Huntsman model from Victorinox features all the tools a modern hunter needs to get outside and have some fun. A saw, awl, and corkscrew make this tool perfect for your next hunting trip or campout. Bring along a solid Mora fixed blade and a Victorinox Huntsman and you're all set for adventure.
2.75" Blade
13 Tools
3.50 oz. Weight
Made in Switzerland

David K. says...
"I have the red version of this and it's excellent. It speaks for itself. You won't be disappointed buying one."
---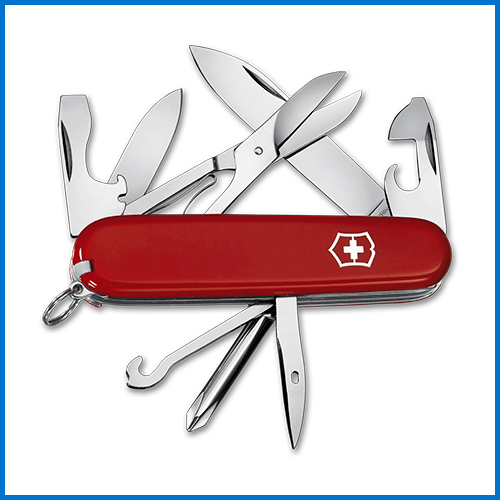 4. Super Tinker
When you think about a classic larger-sized Victorinox knife, the Super Tinker is most likely what comes to your mind. Two blades, a Phillips screwdriver, awl, package carrier, of course, scissors and more, the Super Tinker is really a workhorse Swiss Army knife.
1.50" Blade
14 Tools
2.40 oz. Weight
Made in Switzerland

Andrew O. says...
"If you are looking for a slightly larger Victorinox, this is a good bet. It has lots of tools, and at a great price. That said, depending on what tools you need, take a look at the pioneer or pioneer X instead! They come in Alox and have served me a little better."
---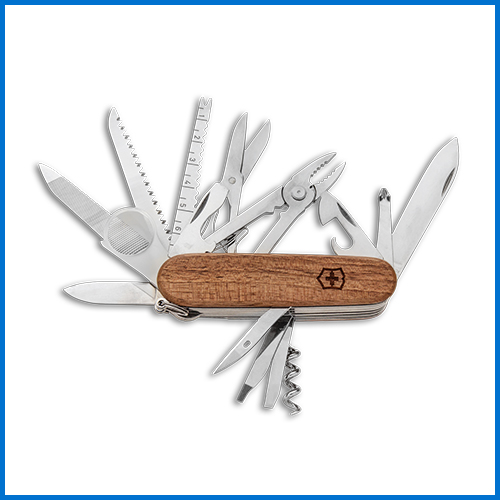 5. SwissChamp
Are you the type of person that always needs to be a little bit extra? That's okay. There's nothing wrong with that. I'm happy to let you know that the SwissChamp is the perfect Swiss Army knife for you. Featuring multiple blades, corkscrew, a wood saw, a metal file, a nail file, a multi-purpose hook (AKA the parcel carrier), pliers, wire cutters, wire stripper, wire crimper, magnifying glass, Phillips screwdriver, mini screwdriver, fish scaler, ruler, hook disgorger, and key ring. Wow. I think The SwissChamp might be robust enough to get you an A in a Nutnfancy gear check all on its own.
2.75" Blade
29 Tools
6.50 oz. Weight
Made in Switzerland

Austin P. says...
"Bought one for my dad and he loves it."
---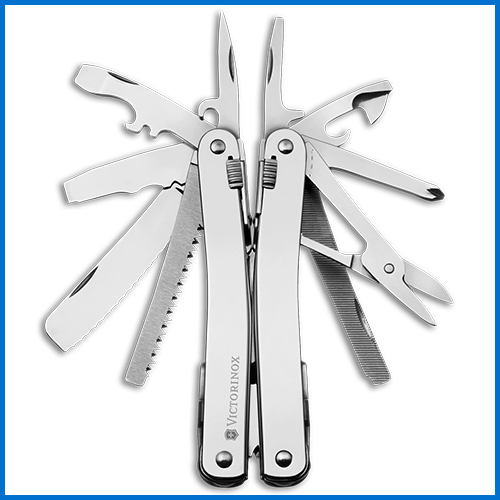 6. SwissTool
If you already own a more traditional Swiss Army Knife, it's probably time to consider expanding your collection. That means picking up one of these beautiful SwissTool Spirits. Similar to the style of Leatherman multi-tools, The SwissTool utilizes two folding segments to hold a massive number of tools. I love the ergonomic hand feel on this beast and every tool functions perfectly.
4.10" Closed Length
20 Tools
7.30 oz. Weight
Made in Switzerland

Baldemar G. says...
"This is the most well built tool I own. Everything about it screams Swiss quality. It opens like butter and clicks into place with confidence. I use this tool all the time and have never felt like I needed something else. If you're looking at buying this over a leatherman, DO IT."
---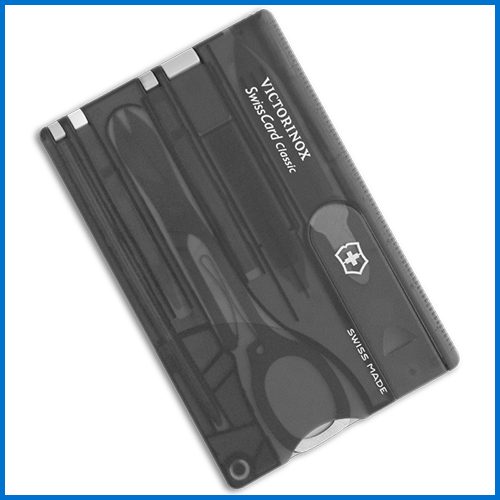 7. SwissCard
The Victorinox SwissCard sure is nifty! This slim multi-tool easily fits into your pocket or even the credit card slot of your wallet or purse. You might be surprised to hear this tool includes 10 implements to save the day. A blade, scissors, straight pin, tweezers, toothpick, ballpoint pen, ruler, and nail file with screwdriver make for a beefy set of features at just one ounce. If you're hiking the Pacific coast trail or just going into work for the day, this tool is an absolute must for every loadout.
3.19" Closed Length
10 Tools
1.00 oz. Weight
Made in Switzerland

William M. says...
"I've had one of these bad boys for about 20 years now, gifted in boy scouts. It does fit in your wallet and is about 3 credit cards thick. The most useful tools are the scissors (which are pretty good) and the tweezers. Having a last ditch pen and ruler are useful too."
---
CONCLUSION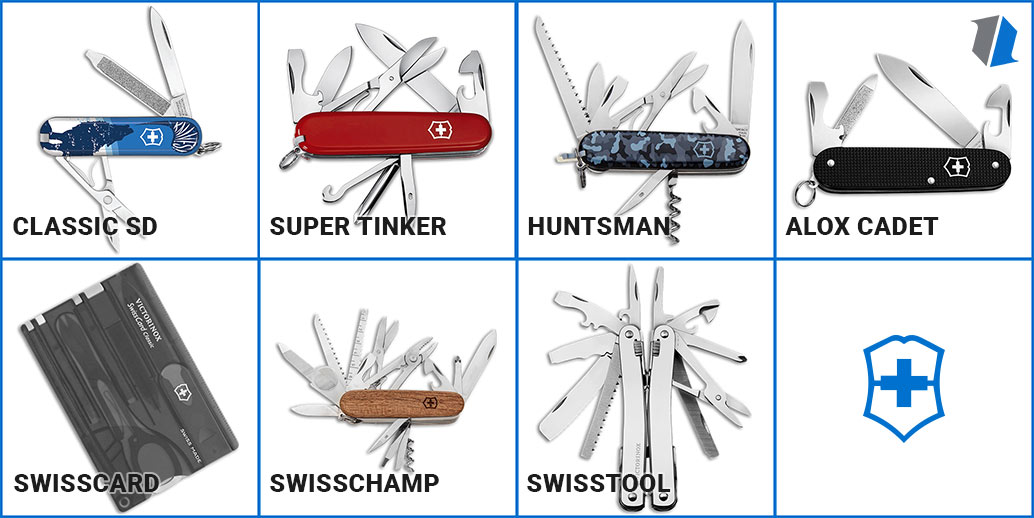 Everyone loves Victorinox! It's an incredible thing when you can get an awesome multi-tool for just a few bucks. The features are so handy and it's honestly the type of thing where you don't realize how much you need one of these in your life until you own it, carry it, and live with it. At an office job, these Swiss Army multi-tools do such a great job at all the little tasks you encounter throughout your day. Pick up one of our recommendations and don't hesitate to click through and look at all our different options.
You already know Blade HQ has all the knives. Make it happen, unbox a new Swiss Army knife of your choosing and then be sure to post a picture with #bladehq. We regularly repost on our Instagram story!
LEARN MORE
It can be hard to decode all the Swiss Army knives Victorinox has to offer. Luckily for you, you don't have to! Check out our video below with the man, the myth, the legend, The Sak Collector. Watch as him and Zac talk about what to look for in a Swiss Army knife and review the best models here at Blade HQ. If you'd like to continue your search into pocket tools check out our Best Multi-Tools article for more info.
Here at Blade HQ we like to work hard and play harder. In this episode, we pit Taylor from customer service up against Jacob from product as they go head to head in our Epic Swiss Army Knife challenge! Check it out to see the Victorinox Compact in action and to see who gets to take home one of their own!
---
OTHER BEST KNIFE GUIDES
Still in that information gathering phase? We've got a whole heap of guides on many different styles of knives! Happy hunting and may you find that one special knife of your dreams.