Best TOPS Knives
Written by Blade HQ Staff Writer Logan Rainey on 07/13/2020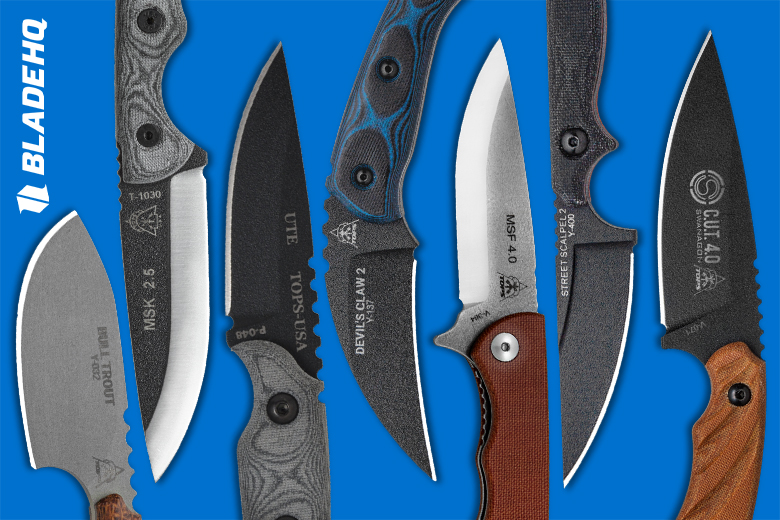 TOPS knives are some of the most well known and appreciated knives used by military members, survivalists and knife nuts alike. They're built to last from durable materials and designed to perform in some of the most strenuous circumstances knives can exposed to. With over 20 years in the survival and hunting knife world TOPS knives have set the bar high for innovation and performance. Read on to learn more about our picks for Best TOPS Knives!
In addition to an overview of the specs and details of each knife, I'll also be featuring a review of each knife left by one of our customers.
---
1. Bull Trout

The TOPS Bull Trout is a compact EDC fixed blade that was designed for fishermen by a fisherman. It is the result of TOPS 3rd annual employee design challenge. Shipping manager and avid fisherman Martin Murillo won the EDC category with this stout and versatile fixed blade knife. It features a deep bellied, drop point 154CM blade, a large finger choil and grippy micarta handle scales. The TOPS Bull Trout was designed for fishing and that's really its strongsuit. The knife is slicey and easy to handle. Whether you're looking for a small but capable edc fixed blade or a great knife to throw in your tackle box, the TOPS Bulltrout is a great choice! Check out our sweet Bull Trout Review for more information on this impressive fixed blade from TOPS Knives.
6.125" 154CM Drop Point Blade
Micarta Handle Grip
3.01 oz. Weight
Made in USA

Ian D. says...
"Just a great lil fixed blade. I have used it to clean fish, baton tinder, break down boxes, and it just keeps going. the ergos rock, and it fits perfectly in my hand. I want to invest in a horizontal sheath, and that will be the icing on the cake."
---
2. Street Scalpel

TOPS Knives have streamlined their popular Street Scalpel design with a slightly lighter and slimmer build with the Street Scalpel 2.0. The handle has been improved with ergonomic finger contouring and a large choil for secure use. The sheath offers increased versatility with belt straps that can be configured for appendix, IWB, OWB, or scout carry. Add a trusty tactical EDC fixed blade to your rotation with the Street Scalpel 2.0!
3.13" 1095 Drop Point Blade
Micarta Handle Scales
4.60 oz. Weight
Made in USA

John W. says...
"The knife arrived sharp out of the box. Love the ergonomics. It has a great grip. I imagine, wet or dry, gloves or not, this is a knife that is not slipping from you. It's a chunk of steel in the hand and a fine blade at the other end. Very nice design. My first 1095 steel knife. Looking forward to see how it holds up over time."
---
3. TOPS B.O.B. Fieldcraft

The Brothers of Bushcraft (B.O.B.) Fieldcraft knife by TOPS is a great midsize knife to add to your camping gear. Its heavy-duty construction makes it great for the day-to-day tasks of camping and bushcrafting. The 1095 blade touts a 56-58 RC hardness rating and features a modified Scandi grind for easy skinning, carving and woodwork. This knife was designed with comfortable ergonomics and features an extended choil and top side jimping for maintaining a consistent grip. A canvas micarta handle rounds out the comfort features and provides heaps of grip even in a gloved hand. If you're looking for a rough and rugged camping knife built to stand up to the rigors of camp life for generations to come, this is the knife for you.
4.625" Drop Point 1095 Blade
Micarta Handle Scales
9.73 oz. Weight
Made in USA

Ryan S. says...
"I have several fixed blade knives from TOPS, Benchmade, OKC, and Ka-Bar. The TOPS B.O.B. is my favorite knife to use for camping or just a day in the woods. It holds an edge well, is easy to sharpen, comes with a great sheath. What more can I say?"
---
4. C.U.T. 4.0

The Tops C.U.T 4.0 offers a versatile design that functions as a combat fixed blade and a utility knife. Designer Joshua Swanagon is a fan of tactical ring style combat knives, but as an avid outdoorsman he appreciated the simplicity of a good utility knife. The Combat Utility Tool provides the best of both worlds, offering tactical and EDC applications.
2.875" 1095 Drop Point Blade
Steel Handle
1.90 oz. Weight
Made in USA

Kurt S. says...
"Incredible ergos. And keep in mind this is not a small piece, but fits better in abdomen carry than others much smaller. Once you hem up the iwb loops for your belt size, this thing isn't going anywhere. Really impressed with the entire offering. Fit/ finish, ergos, kydex fit, iwb configuration... and especially price point. If you like a fixed blade for EDC, do yourself a favor. I haven't been this impressed in a while. Well done, Tops... and Swanagon... best collab I've seen in a long time."
---
5. TOPS Devil's Claw 2

The Devil's Claw 2 offers a longer and more effective update to the original TOP's Devil Claw design. This model offers an extended karambit ring handle with layered G-10 handle scales. The blade is made from 1095 steel with a black traction coating. TOPS quality and a proven knife shape have made this one of the most popular TOPS knives on the market to date. Add a clean karambit design to your arsenal with the TOPS Devil Claw 2.
3.15" 1095 Hawkbill Blade
G-10 Handle Scales
7.20 oz. Weight
Made in USA

No reviews yet!
Be the first to write a review!
---
6. Mini Scandi Folder

The TOPS Mini Scandi Folder is an everyday carry beast! This high performance flipper is built with tan micarta handle scales and a tumbled Bohler N690Co Scandi blade. A ball bearing pivot provides smooth flipping action for rapid blade deployment when draw time is critical. Item includes a stainless steel pocket clip that is reversible for left or right hand carry. Meet the newest addition to your EDC rotation, the TOPS Mini Scandi Folder.
3.25" Drop Point Bohler N690 Blade
Micarta Handle
3.50 oz. Weight
Made in Italy

Jeff P. says...
I wanted an elegant Italian built EDC knife and this fits the bill exactly. Fit and finish are flawless. Handle slightly lighter than pictured but imagine it will darken over time. Smooth as butter opening and razor sharp out of the box. Included bottle of knife oil is a nice extra. Pocket clip is reversible with the appropriate star screw driver bit. Very pleased with it.
---
7. UTE Hunters Point

The UTE, or Utility Tool Edge, is a streamlined fixed blade knife with a 3" black traction coated 1095 steel Hunter point blade. The full tang handle has linen Micarta scales with thumb notches up top and an index finger groove below for what a great feel and control during use. Whether you're an avid hunter field dressing game, or a fixed blade aficionado, the UTE is bound to impress. It comes standard with a black Kydex sheath w/steel spring clip.
3.00" Clip Point 1095 Blade
Micarta Handle
3.90 oz. Weight
Made in USA

Jake G. says...
The blade is thick, sharp and capable of larger tasks than you'd think. The handle is small but comfortable and easy to index. The kydex sheath is well made, the clip allows any angle of carry, and the overall package disappears on your belt.
---
8. Mini Scandi 2.5

Following in the same tradition as the Finnish sami knife, the Mini Scandi 2.5 knife provides a smaller fixed blade with a zero-ground edge with all its inherent advantages, namely strength. TOPS' Mini Scandi complements the Brothers of Bushcraft, doing smaller chores with ease. It has black linen Micarta scales and a two-tone blade with the scandi grind satin finished. Includes a Kydex sheath on a ball chain neck chain.
2.75" Drop Point 1095 Blade
Micarta Handle
2.37 oz. Weight
Made in USA

Jake G. says...
The blade is thick, sharp and capable of larger tasks than you'd think. The handle is small but comfortable and easy to index. The kydex sheath is well made, the clip allows any angle of carry, and the overall package disappears on your belt.
---
9. Frog Market Special (FMS)

The Frog Market Special is a departure from traditional TOPS Knives with its 1/16" thick steel blade. The Frog Market Special is a design of Steven Dick from Tactical Knives, modeled after the knives he saw while in Hanoi, Vietnam. It's proficient in slicing and chopping thanks to the thin blade; the wide section is geared toward deep cuts, while the sharp, thin point is valuable for boning cuts and other precision cuts. Whether you use the Frog Market Special in the kitchen, at camp, or on the hunt you'll appreciate the comfortable tan canvas Micarta handle. Includes a Kydex sheath with metal clip.
4.875" 1095 Blade
Micarta Handle
3.50 oz. Weight
Made in USA

Aaron V. says...
The blade tip is what really makes this knife shine, and this is my "go to" kitchen knife for trimming the membrane from skirt steak, quartering poultry, and butterflying meats. It was ready to go to work right out of the bag, but a bit of stropping really improved the keenness. After using, I wash it with hot soapy water, lightly hone and strop it, then store with a thin coating of cooking oil.
---
Conclusion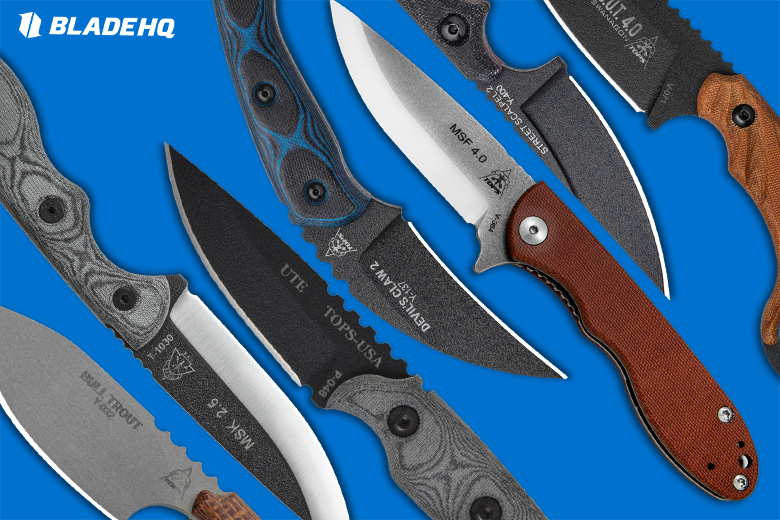 From the forests of the Rocky Mountains to the sands of the Kalahari, TOPS knives are built to do it all. Innovations in blade shapes, handle materials and coatings have made TOPS knives some of the best. If you're after a beefy fixed blade or a rugged folding knife, there's bound to be a TOPS knife for you. Check out other TOPS knives by clicking below!
Now you've got all our recommendations, but Blade HQ has got way more knives than those featured here. Give our wares a browse, and find the perfect knife to suit your needs!
Learn More
This year at SHOT Show, we had the opportunity to take a look at what's up and coming from TOPS. In this video, Zac meets with TOPS to learn more about new materials, knife patterns and updates. Check it out below!
---
Other Best Knife Guides
Still in that information gathering phase? We've got a whole bunch more lists of all the best knives! Happy hunting and may you find the knives of your dreams!
*Customer reviews may be condensed for clarity and edited for grammatical errors. You know we have to make our high school English teacher proud. Check product listings for current pricing.