best tactical knives
Updated by Blade HQ Staff Writer Andrew Hamilton on 12/21/2018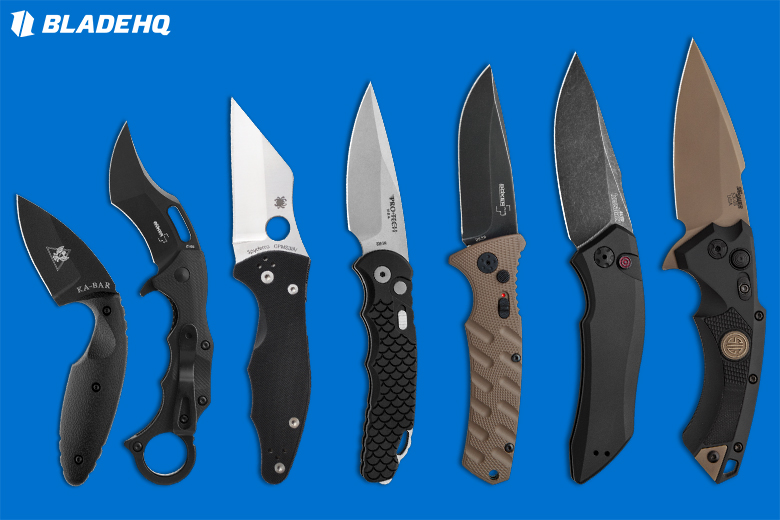 Is your tactical knife game weak AF? You can never go wrong adding a little bit of extra strategic style to your daily EDC loadout. We've put together a list of the 7 best tactical knives in Fall 2018 from awesome brands like Spyderco, Protech, Boker, and more! You'll find the best tactical knife for your needs below. Keep in mind "automatic knife" and "switchblade" are interchangeable in this context.
After we break down the specs and details of each knife, I'll include a review from one of our beloved customers.
---
1. Boker Plus Strike Automatic Tactical Knife: $40

The Boker Plus Strike automatic knife is a solid, well-built folder with its aluminum handle scales and beefy drop point blade. Put this knife to work and it'll never let you down. The Boker Strike represents an amazing value, as you get an awesome automatic knife with a safety slide lock and a tactical black stonewash blade. Because of its affordability and ease of use, the Boker Strike Auto gets our award for the best tactical knife for most consumers.
3.25" AUS-8 Drop Point Blade
Aluminum Handle Scales
4.70 oz. Weight
Made in Taiwan

Lucas S. says…
"Got two of these in different colors for my brothers for Christmas. They are great knives with very powerful and fast deployment. They open so fast they almost have a little recoil. Make sure you have a good grip on it when you click the button. Love the size, perfect for carrying. I also think this is the best-shaped knife I have ever seen. Highly recommend this knife!"
---
2. Spyderco Yojimbo 2 Tactical Knife: $141

Calculated, unique, and usable. The Spyderco Yojimbo 2 was designed by Michael Janich to be the perfect tactical combat knife. This manual folding knife delivers maximum power from heel to tip during cutting. The blade comes to an aggressive point that is ideal for stabbing strikes. The ergonomic handle suits a variety of tactical grip options.
3.125" CPM-S30V Wharncliffe Blade
G-10 Handle Scales
4.00 oz. Weight
Made in USA

Jake W. says…
"I thought the Yo2 would make a cool conversation piece, and that I'd carry it every now and then to change it up. Turns out, it makes it into my pocket several times a week, often beating out much more popular and expensive options. The ergos are awesome for my hands, and the compression lock operates like a dream. It carries very well thanks to the tapered handle shape, and I've found the blade shape to be incredibly useful for EDC tasks. If you want to look cool on Instagram while carrying a knife that is actually easy to love in real life, I recommend the Yojimbo 2."
---
3. Kershaw Launch 1 Tactical Knife: $110

If you're shopping with a $100 budget, it's hard to beat the Kershaw Launch 1 switchblade. This precision-engineered knife is a masterpiece born from KAI's Tualatin, Oregon factory. A blackwashed blade complements grippy coated aluminum handle scales. Make your tactical dreams come true.
3.375" CPM-154 Clip Point Blade
Aluminum Handle Scales
3.95 oz. Weight
Made in USA

Jamel B. says…
"USA-made magic. I have truly been a Kershaw fan for years, whether it be their budget-friendly models or the always sweet Zero Tolerance line. But this knife is so smooth, so snappy, so razor sharp, that I have to own the whole line of Kershaw Launch Autos. If you don't have one, get one ASAP. It's worth every dollar."
---
4. Boker Plus Wildcat Karambit Tactical Knife: $100

Most of us here at BHQ carry simple, utilitarian EDC-style knives. That said, the tactical utility of the Boker Plus Wildcat Karambit is hard to beat in self-defense and combat situations. If you're looking to add a piece to your kit that could save your life someday, keep this knife in mind. Unfortunately the exact model featured has been discontinued, but similar variants are available.
2.875" D2 Tanto Point Blade
G-10 Handle Scales
4.43 oz. Weight
Made in China

Russell S. says…
"Very nice knife for the price. D2 is underrated steel because of its lower corrosion resistance, but it holds an edge like Super Steel. The knife feels very secure in the hand and the flipping action is quick and very smooth. The blade is extremely solid, and it locks up very strong. The knife looks really tough and cool too!!"
---
5. Protech TR-5 Tactical Knife: $200

Protech has long been a favorite brand of the employees at Blade HQ, and recently it seems like they've taken their game to new heights with breathtaking material combinations and collaborations with some of the finest knife designers the world has ever seen. The Protech TR-5 (Tactical Response 5) is lightweight, ergonomic, and ready to rock and roll. This switchblade knife might just blend tactical functionality with EDC-ability better than any other knife on this list.
3.25" CPM-S35VN Drop Point Blade
Aluminum Handle Scales
3.50 oz. Weight
Made in USA

Hunter K. says…
"This is my second Protech (other is Protech Emerson CQC7) and I'm really enjoying their knives. I really like this fish scale handle. It adds a slight texture and just a different look and feel. The clip is easy to clip on but doesn't feel like it's cheap or will slide off. The ergonomics of the handle on the TR5 feels really good in my hand. Everyone should at least try one out at some point. The blade came SUPER SHARP, so that's always a plus!"
---
6. KA-BAR Small TDI Tactical Knife: $40

This Ka-Bar TDI is a purpose-built tool designed to help keep you alive under serious threat of injury. In any tactical application, this fixed blade will do the job. But to be honest, it would also function like a champ with jobs like cutting straps and opening boxes.
2.31" AUS-8A Drop Point Blade
Zytel Handle Scales
5.60 oz. Weight
Made in Taiwan

Kevan P. says…
"Great EDC! I have three of these knives in different colors and one with a serrated blade. They are on my belt and pack every time I deploy for disaster recovery. Great for self-defense and general use too."
---
7. Hogue Sig Sauer X5 Tactical Knife: $213

Hogue has long been a fixture in the gun scene as manufacturers of some of the most revered grips in the industry. Coupling 50 years of experience in manufacturing with the brilliant designs of Allen Elishewitz was a brilliant move. The manual flipper X5 has a massive Cerakote coated blade and a sliding safety lock. The review on this auto says it all!
3.50" CPM-154 Spear Point Blade
6061-T6 Aluminum Handle Scales
4.54 oz. Weight
Made in USA

Justice H. says…
"Love it! This isn't just a knife, oh no, this knife is literally a gift to man from the heavens! Sturdy, powerful, light as air, and sharper than the wit of Han Solo himself! If you are looking for the finest blade of your life, look no further than this. I would give it two thumbs up, but I already lopped off my left one on accident. Bravo Hogue, bravo!"
---
Conclusion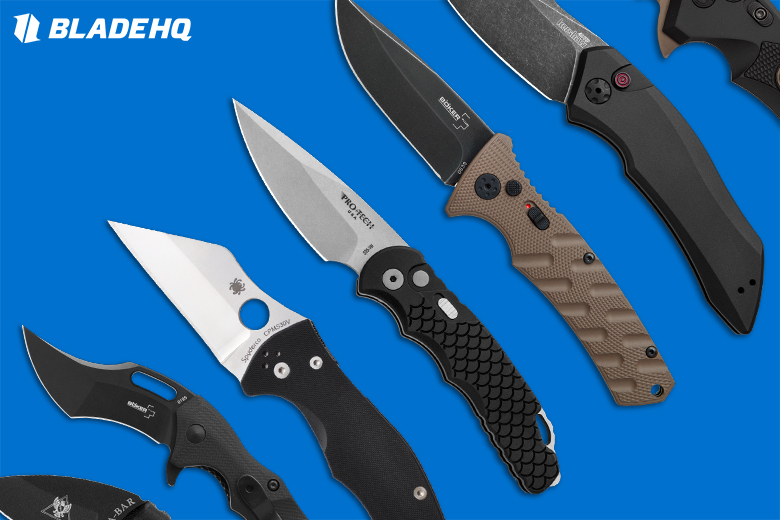 tactical knife overview
What are the ideal characteristics that make the best tactical knife? Tactical knives should be tough and durable, quick to deploy, able to be gripped in a variety of different ways, capable of both stabbing strikes and slicing cuts, and last but not least, it helps when the parts are tumbled or coated to minimize light reflection. It can be difficult to find a knife that checks all of those boxes, but you can't go wrong with any of our top recommendations in this list.
You can't afford to wait any longer. We've got all the best tactical (or is it tacti-cool?) knives ready to ship at the best prices, right here at Blade HQ. Once you've got that new knife, email me a picture and a few words about what went into your decision (AHamilton at BladeHQ.com). We'll feature submissions on our Instagram, Facebook, and Twitter.
Learn More
It's no secret automatic knives make great tactical tools. If the switchblades above whisper sweet nothings to your heart, check out this video highlighting more of our favorite autos.
---
Other Best Knife Guides
Still in that information gathering phase? We've got a whole bunch more lists of all the Best Knives! Happy hunting and may you find that one special knife of your dreams!
*Customer reviews may be condensed for clarity and edited for grammatical errors. You know we have to make our high school English teacher proud. Check product listings for current pricing.