Best Tactical Pens
Written by Blade HQ Staff Writer Logan Rainey on 01/26/2021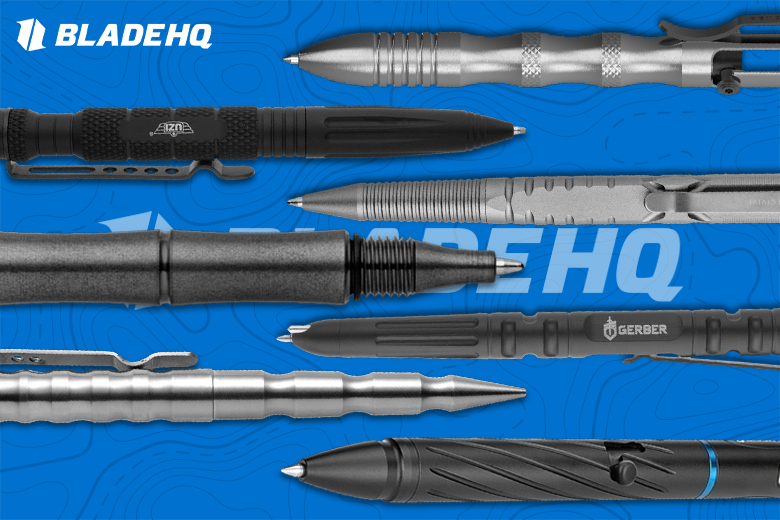 Pens come in many shapes and sizes, but not all pens are created equal. While many everyday carry pens look cool and can write, theyíre often too dainty or fragile for people who are hard on their gear. Whether youíre busy filling out paper work on your beat, or just someone who prefers beefier tools, a tactical pen is a great addition to your setup. In this ďBest OfĒ we look at some of the Best Tactical Pens at Blade HQ and what makes them great. Letís get to it!
---
UZI Tactical Defender

Tactical pens typically offer more utility than your run-in-the-mill crapper pen. They feature additional tools, stronger construction and features that give users more to work with than regular pens. The UZI Tactical Defender Pen is full of awesome features. Itís made from quality aluminum and comes standard with a glass breaker and a hand cuff key. The UZI Tactical Defender is ready for action! Check it out below.
---
CIVIVI C-Quill

The CIVIVI C-Quill is a rugged, bolt-action tactical pen. Itís made from durable aluminum and features an ergonomic design that makes it easy to write with whether wearing gloves or not. C-Quill comes standard with a deep carry pocket clip and a glass breaker. Click below to learn more.
---
WE Syrinx

Next up is the WE Syrinx. This unique tactical pen offers excellent ergonomics and quality that few other pens offer. The Syrinx is made from anodized titanium and, if the situation warrants it, can be used as a striking tool. The WE Syrinx comes standard with two extra ink cartridges. Get yours by clicking below.
---
Benchmade Longhand

It shouldnít be much of a surprise that the Benchmade Longhand 1120 is one of the best tactical pens we sell at Blade HQ. The Longhand is made with a brushed 303 stainless steel casing and features grippy knurling. This particular pen, features an AXIS style bolt action opener, and comes standard with a Benchmade mini deep carry clip. Learn more by clicking below.
---
Gerber Impromptu

The Gerber Impromptu pen offers some of the best quality and durability available in tactical pens. Itís unique design, stainless steel construction and durable Cerakote finish helps it stand up to the use and abuse of everyday life. It features a click mechanism for easy one-handed use and a stainless steel pocket clip for convenient carry. An integrated glass breaker rounds out this feature-packed pen. Get the Gerber Impromptu by clicking below.
---
Olight O'Pen

Some people carry a pen and a flashlight with them everyday, but for most of us, the extra item can weigh down our pockets. The Olight Oípen makes having a light and something to write with a breeze. Itís unique design combines a bright, 4-mode rechargeable LED flashlight with a versatile pen. The Oípen is made from high-grade aluminum and features a bolt-action mechanism for easy opening and closing. Learn more by clicking below.
---
Boker Multi Purpose Pen

Last on our list of useful tactical pens is the Boker Multi Purpose Pen. Its aluminum construction and utilitarian design makes it a great choice for anyone looking to maximize the abilities of their everyday carry. The Multi Purpose Pen features a touch pad stylus, a glass breaker, a pocket clip and a Fisher Space Pen cartridge. Get yours by clicking below.
---
Final Thoughts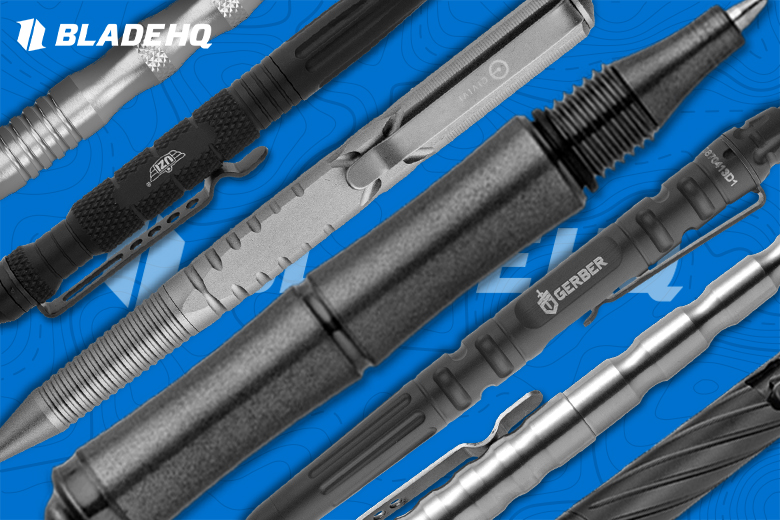 Sometimes the pen really is mightier than the sword. Whether youíre looking to make the most of the items you carry or you just need a pen thatíll stand up to your day-to-day activities, tactical pens have you covered. This list features some of our Best Tactical Pens but doesnít cover everything we have at Blade HQ. Click below to see more great tactical pens.
Blade HQ has more pens than those featured here and don't forget, we have knives too! There's bound to be another knife you need for your growing collection. Give our wares a browse, and find the perfect knife or pen to suit your needs!
---
Other Best Knife Guides
Still in that information gathering phase? We've got a whole bunch more lists of all the best knives! Happy hunting and may you find the knives of your dreams!
*As our inventory fluctuates regularly, the availability of some products may change. Sign up for our wishlists and check back regularly for current pricing and availability.