Best Tanto Knives
Written by Blade HQ Staff Writer Logan Rainey on 10/02/2020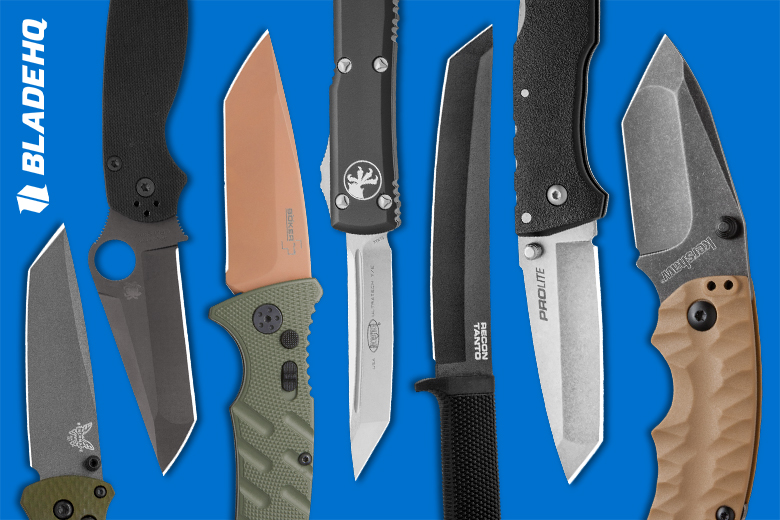 Tanto knives find their origin in the Land of the Rising sun. In Japanese, the word tanto means short-sword or knife. In modern times like ancient times, a tanto blade was distinguished by its multi-faceted grind and prominent secondary edge. In this article, we look at some amazing tanto knives from some of our best brands, why you would use them over other knives with other blade shapes and what makes each one unique to itself. Read on to see our Best Tanto Knives. Let's go!
In addition to an overview of the specs and details of each knife, I'll also be featuring a review of each knife left by one of our customers.
---
1. Benchmade Bailout

We're kicking things off right with one of the best all-around tanto knives in the world. The Benchmade Bailout does tactical, everyday carry and seemingly everything else with poise and power. This slim knife features a handsome looking tanto blade with a unique wedge grind and wicked secondary edge. Available with either a CPM-S30V or CPM-M4 steel blade, the Bailout is built to tackle the toughest tasks on or off duty. The lightweight, grivory handled version of the knife comes with sturdy construction and a generous strike pommel while the heavier-duty aluminum handled version comes with a glass-breaker point built into the strike pommel. Either way you choose to slice it, the Bailout is one heck of a tactical knife. Get yours today!
Overall Length: 8.07"
Blade Length: 3.38"
Blade Material: CPM-M4
Handle Material: Aluminum or G-10
Weight: 2.70 oz.
Country of Origin: USA

Garrett S. says...
"My new favorite for every day. Love my Bugout, but had to upgrade the scales. This Bailout has a nice slim profile, perfect amount of heft, and just that little extra length to the handle that fits perfectly in my hand. Factory edge on the M4 steel is wicked sharp."
---
2. Spyderco Paramilitary 2 Tanto

The Spyderco Paramilitary 2 is known for being a heavy-duty folding knife built for whatever you throw at it. Its comfortable ergonomics and quality construction have made in a fan favorite for many years and it's about time they released a tanto version of the knife. This Blade HQ exclusive Paramilitary 2 features the same great PM2 handle design and action, but with a beautiful tanto blade. The blade features a unique hollow grind that gives the blade both strength, slicing capability, and an aggressive look. Rounding things out, the blade is made from CPM-S30V and has been DLC coated for added durability. This thing won't last long, so get one before they're gone!
Overall Length: 8.25"
Blade Length: 3.50"
Blade Material: CPM-S30V
Handle Material: G-10
Weight: 4.20 oz.
Country of Origin: USA

Eric G. says...
"This one is a little beefier than my other PM 2, but the build quality is still there...out of the box sharp, perfect blade centering, smooth operation, and a solid lockup. If a Tanto style blade is what you need, buy this one!"
---
3. Boker Strike

Boker is known for producing some of the most consistent, affordable knives on the market, and the Boker Strike is no exception. This budget friendly automatic knife features a snappy push-button action and a beefy aluminum handle. Its tanto blade is made with either AUS-8 or D2 steel (Mini-Strike models) making it both durable and easy to maintain. The Strike comes standard with a two-way reversible deep-carry pocket clip for either right hand tip-up or tip-down carry. If you're after a great, reliable automatic knife with a tanto blade, the Boker Strike is an incredible option for the price. Check it out below!
Overall Length: 7.875"
Blade Length: 3.25"
Blade Material: AUS-8
Handle Material: Aluminum
Weight: 4.75 oz.
Country of Origin: Taiwan

Scott W. says...
"Great knife for the price! Opens smoothly with the push of a button. Seems well built, almost no noticeable play in the blade when in the open locked position. Also this thing comes hair popping sharp. No complaints."
---
4. Cold Steel Recon Tanto

Some knives are just too cool to put words to, but I have to or I would get fired… so here it goes. The Cold Steel Recon Tanto is a tank of a knife. It's been battle tested and beat to death by SWAT teams and spec-ops units the world over proving that it is up to the challenges posed in the worlds harshest, most intense situations. The Recon Tanto features a 7-inch SK-5 blade built for cutting, chopping and slicing with ease. Its textured Kray-Ex handle gives it both durability and uncontested grip, and provides users with the right amount of purchase to take care of business with a gloved or bare hand. Included is Cold Steel's sturdy Secure-Ex sheath making it easy to carry the Recon Tanto on a vest or pack. Check it out by clicking the button below.
Overall Length: 11.75"
Blade Length: 7.00"
Blade Material: SK-5
Handle Material: Kray-Ex
Weight: 8.80 oz.
Country of Origin: Taiwan

Scott W. says...
"I've had mine for about eight months, and use it around my property for bushwacking and goofing off in woods. It sharpens easily and stays sharp OK. The sheath is great. Not gonna kill this thing. Restart civilization with it if you needed to. Forty bucks is a steal."
---
5. Microtech Ultratech Tanto

Few knives have the reputation or history that Microtech knives have. Their attention to detail and workmanship has solidified them as one of the top producers of knives in the United States and it looks like it will stay that way for a long time. The Microtech Ultratech in all its forms is an amazing knife for many reasons, but tanto bladed versions are particularly important because they provide the most utility for tactical applications. Thes knives are wicked sharp out of the box and built to last. Coupled with Microtech's double-action OTF mechanism, the tanto blade gives the Ultratech the speed and utility needed to act fast in situations when time really matters. The Ultratech features a beefy deep carry pocket clip and a stout ball-bearing glass breaker. Learn more about the Microtech Ultratech in our full review or by clicking below.
Overall Length: 8.50"
Blade Length: 3.44"
Blade Material: Elmax
Handle Material: Aluminum
Weight: 3.60 oz.
Country of Origin: USA

Travis S. says...
"I cant say enough good things about this knife! Feels great in the hand. The action is fast and firm. Sharp as can be out of the box! The glass breaker is an awesome feature and super handy for those of us on patrol. If you're in law enforcement or just want a solid OTF knife then this is it."
---
6. Cold Steel Pro Lite Tanto

It can be hard to spend a lot of money on a knife you know you'll use and abuse. Well-built knives tend to cost a lot, while inexpensive knives aren't always the most durable. The Cold Steel Pro-Lite Tanto is the right blend of durability and affordability. It features a grippy GFN handle that's designed to take a beating, a 4116 cryo quenched stainless steel tanto blade, and the rock-solid Cold Steel Tri-Ad lock mechanism. This knife is a beast and ready for everyday carry and everyday duty. Get yours today!
Overall Length: 8.00"
Blade Length: 3.50"
Blade Material: 4116
Handle Material: GFN
Weight: 3.20 oz.
Country of Origin: Taiwan

Nathaniel S. says...
"This knife is very light and the Tri-Ad lock gives it unbelievable strength. No frills, just a tough little workhorse. I cannot imagine a knife from any other maker that outperforms this one at this price point. I have several expensive knives and I find myself going to this one more and more for work/EDC. No regrets whatsoever."
---
7. Kershaw Shuffle II

The Kershaw Shuffle II is one of those surprising knives that many people would over look. This small knife was designed with everyday carry in mind and made to take on tasks that anyone would see in their day-to-day. It features a comfortable GFN handle with an awesome looking rock texture for added grip, and a stubby tanto blade that has a great hollow grind and generous secondary edge for added utility. The Shuffle II is great if you're looking for a pocket knife to do more than open boxes and cut sandwiches in half. It comes with a built-in bottle opener and a sturdy pry tool for all your bottle opening and prying needs. This small tanto blade knife is an affordable way to switch up you everyday carry and actually does a great job at taking on tasks a regular knife couldn't. Check it out below.
Overall Length: 6.25"
Blade Length: 2.50"
Blade Material: 8Cr13MoV
Handle Material: GFN
Weight: 3.00 oz.
Country of Origin: China

Reece O. says...
"I love this knife and how small it is! Feels very comfortable in my hand and is a good companion knife to my other bigger knives."
---
Final Thoughts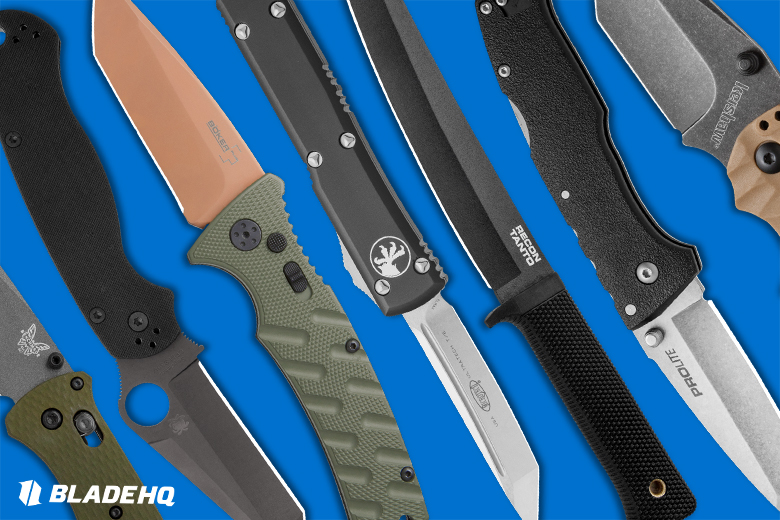 Though tanto knives are predominantly viewed as tactical knives and knives designed for combat, they actually have an incredible amount of utility value. They tend to have more strength behind the edge making them great for hard use and tasks other blade shapes would struggle with, and provide users with a different level of control than they would see with other knives. Some would shy away from tanto knives because they can be more difficult to maintain, but I am quick to say that these knives are well worth owning and putting in the extra effort to take care of. Whether you're a tactical operator who needs a knife that'll perform under pressure, or an everyday Joe who needs a great tool for cutting box straps, tanto knives are great to add to your collection. Plus, they really just look cool. Thanks for checking out our Best Tanto Knives at Blade HQ, and we hope to see you next time!
Now you've got all our recommendations, but Blade HQ has got way more knives than those featured here. Give our wares a browse, and find the perfect knife to suit your needs!
---
Learn More
In this episode of Knife Banter, Kurt and Jamie take a look at some of the Best Tanto Knives at Blade HQ. They look at their specs, what makes them great and talk about why you should add them to your collection. Watch it below!
---
Other Best Knife Guides
Still in that information gathering phase? We've got a whole bunch more lists of all the best knives! Happy hunting and may you find the knives of your dreams!
*Customer reviews may be condensed for clarity and edited for grammatical errors. You know we have to make our high school English teacher proud. Check product listings for current pricing.