Best Zero Tolerance Knives
Written by Blade HQ Staff Writer Logan Rainey on 03/18/2021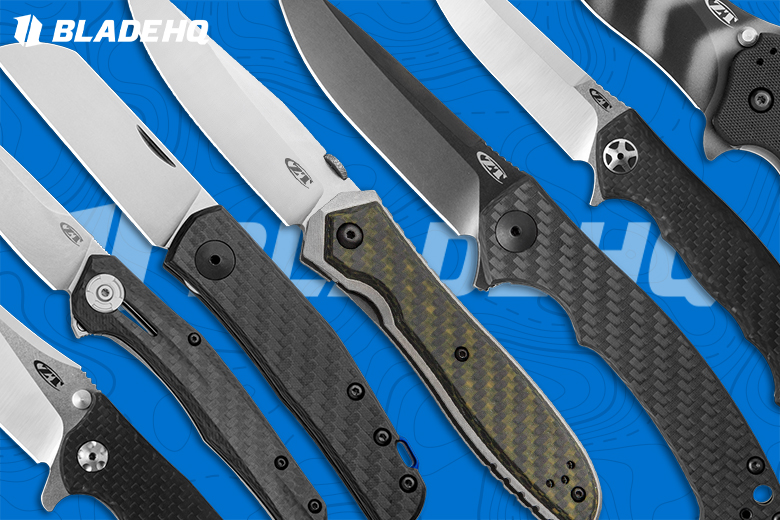 Zero Tolerance (or ZT) knives are known for making some of the highest quality knives on the market. ZT has a passion for knives and a commitment to excellence. They have elevated the standard for quality knives within the industry. These high-performance knives are a great addition to any everyday carry rotation or collection.
---
ZT 0707

The ZT 0707 is a slim and slender knife with all the stuff to make it a great EDC knife. It features a titanium frame and a carbon fiber scale like other ZT knives but adds some special new features for greater convenience and a smoother action. One new feature is the ZT Tuned Detent System (TDS) which allows the detent to be adjusted to your liking. It also features an upgraded CPM-20CV blade for optimal cutting performance. This is one awesome addition to the ZT line. Check it out by clicking below.
8.25" Overall Length
3.50" Blade Length
CPM-20CV Blade
Carbon Fiber & Titanium Handle
Frame Lock
---
ZT Sinkevich 0450

The ZT 0450 is a compact version of the 0454. This lightweight folder is designed to be the perfect everyday carry knife. It features super smooth KVT ball-bearing washers and beautiful titanium construction. The CPM-S35VN blade is razor sharp out of the box and ready for whatever you throw at it. This Dmitry Sinkevich designed knife is has the looks, the materials and the workmanship that give ZT knives its incredible reputation. Check out our review of the knife to see if it really is the perfect everyday carry.
7.375" Overall Length
3.25" Blade Length
CPM-S35VN Blade
Carbon Fiber & Titanium Handle
Frame Lock
---
ZT Sinkevich 0452

Like its smaller sibling the 0450, the 0452 is a slimmed down version of the ZT 0454. The Zero Tolerance 0452 is a great mid-sized folding knife for everyday carry. This knife features a buttery smooth action thanks to KVT ball-bearing washers and an ergonomic flipper tab. Its drop point CPM-S35VN blade makes it great for slicing and other simple tasks. The 0452 features a rock-solid titanium frame lock with a hardened stainless-steel lock bar insert. 0452 comes standard with a convenient deep-carry pocket clip and a carbon fiber handle scale.
9.27" Overall Length
4.10" Blade Length
CPM-S35VN Blade
Carbon Fiber & Titanium Handle
Frame Lock
---
ZT 0350TS

Take on anything with the ZT 0350TS. This beefy knife is built to handle the roughest, toughest situations. It features an ergonomic G-10 handle for optimum grip when it matters most. A tiger stripe tungsten blade coating gives the knife added hardness and cutting performance. 0350 has an insanely fast action thanks to SpeedSafe assisted opening technology. If you are looking for a well-rounded performance folder, this is an amazing choice.
7.625" Overall Length
3.75" Blade Length
CPM-S30V Blade
G-10 Stainless Steel Handle
Liner Lock
---
ZT Emerson 0640

The Ernest Emerson designed ZT 0640 could quite possibly be one of the best looking knives for sale today. Its unique design features the right combination of sharp lines and premium materials. Green and black carbon fiber handle scales make this knife stand out in a sea of seemingly identical knives. This knife features a high-quality CPM-20CV blade built for heavy use and abuse. This knife opens smoothly thanks to phosphor bronze washers and a knurled thumb disk. A tip-up, reversible pocket clip helps this knife sit well in pocket and allows for either left or right-handed carry.
8.50" Overall Length
3.75" Blade Length
CPM-20CV Blade
Carbon Fiber & Titanium Handle
Frame Lock
---
ZT Anso 0230

This year has been full of amazing designs from Jens Anso and we're happy to say ZT gets to share the love! The ZT 0230 may come as a surprise to many considering ZT is well known for frame/liner lock folding knives. This unique knife is the first slip joint knife ZT has offered. Its carbon fiber construction keeps it light, while its CPM-20CV sheepsfoot blade makes it a great slicer. This knife is perfect for people who live in places where knife laws are especially a challenge.
6.25" Overall Length
2.625" Blade Length
CPM-20CV Blade
Carbon Fiber Handle
Slip Joint
---
ZT Hinderer 0562

Rounding out our list of Best ZT knives is the ZT 0562. This sturdy slicer is a great companion for anyone who demands the best from their gear and expects it to perform no matter what. This knife is made with incredible attention to detail and workmanship. Its titanium construction makes it both strong and lightweight. Ultra-smooth KVT ball-bearing washers make opening this knife nearly addictive as it opens with authority every time. The 0562's wide-profile drop point blade give it excellent cutting and slicing abilities. For a knife of this caliber, there's not much that could make it any better; it's just THAT good.
8.25" Overall Length
3.50" Blade Length
CPM-20CV Blade
Titanium Handle
Frame Lock
---
Final Thoughts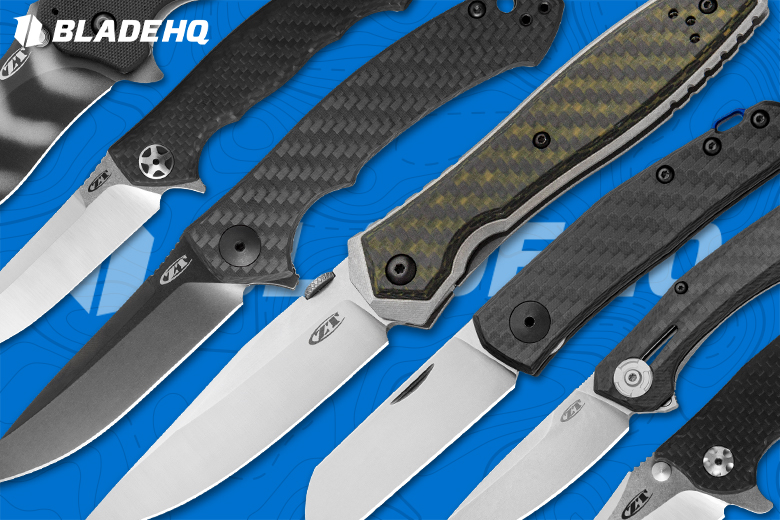 Zero Tolerance knives are some of the best knives you can get. Consistent quality right out of the box that features some of the best, most durable materials available. ZT knives also have a recognizable style that set them apart from a wide array of other knives and brands. ZT's commitment to excellence has made the brand what it is. Their knives are extremely well made and feature quality materials for the price.
Whether you're a seasoned knife afficionado or a budding knife nut, a ZT knife (or a few) is a must. Check out our full selection!
While these are our top ZT recommendations, Blade HQ has plenty more than the ones featured here. Leave a review of your favorite ZT knife. Follow us on Instagram, Facebook, and Twitter for all your knife updates.
Learn More
Still deciding on a ZT? For more information, check out our YouTube video where the guys break down the latest 2021 releases from ZT Knives.
---
Other Best Knife Guides
Still in that information gathering phase? We've got a whole bunch more lists of all the Best Knives! Happy hunting and may you find that one special knife of your dreams!
*Customer reviews may be condensed for clarity and edited for grammatical errors. You know we have to make our high school English teacher proud. Check product listings for current pricing.