BladeHQ Store 2008 Construction
July 3rd, 2008: Almost finished. We have some signage we have to hang up, a few things to tweak and we still have to put in our watch section, but the knife portion of the store is ready for business (we're planning to have an official grand opening sometime in August or September).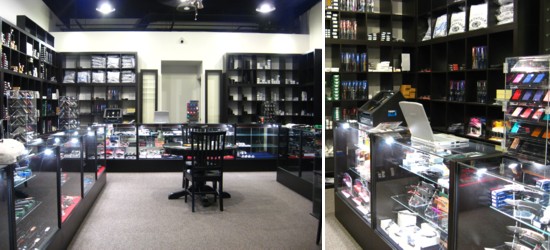 This is the current store front. We now occupy two spots in our complex. We're hoping to get the section next to us (on the right) early next year.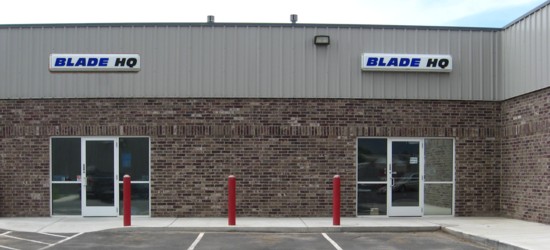 Some shots of our displays- we're not quite done with them yet. We just stuffed in a few knives to set the mood. You know the cases are working when you start lusting after your own products!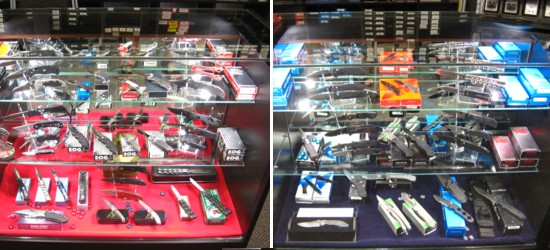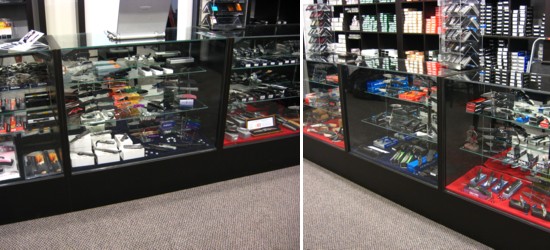 The cabinet lighting was a major pain the in butt. We ended up using two halogen strips in each corner of the case which does a nice job of lightning everything up. We had the cases made so the the front and top was glass to glass. With the side mounted lights there's nothing blocking the view on the front.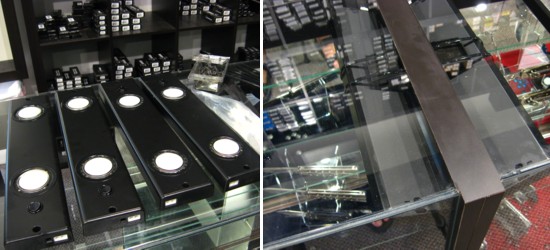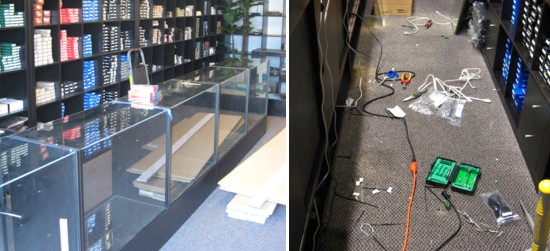 June 11, 2008: We're making slow but steady progress. The counters are halfway in now (we ended up having to have them custom made which took longer that we expected). The glass should arrive later this week. By early next week we'll be set up and ready to open to the public. Pretty exciting!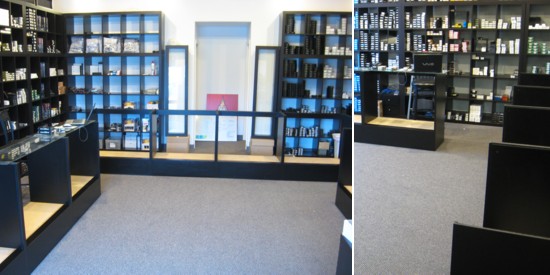 April 29, 2008: Here are some pictures of the new shop. The shelves are in and we've got most of our inventory transferred over. We're still waiting on counters (they will run around the store in front of the shelves). We built a funny mock up to give us an idea of how they will fit. There are two offices in the back of the new store as well.


April 25, 2008: The old store is gone- the shelves we removed and the room was turned into a receiving / outgoing package center. The current set up in the "new" front room is temporary. This has been way more work than we figured on.

April 05, 2008: Getting Close!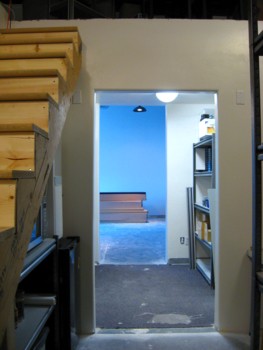 We're making good headway. Really at this point we're just waiting on carpet and then we can begin the shelf and counter installation. The entry way to the new store is finished up. Below are a couple of other constructions pictures.
March 8, 2008: We've secured the building next to us and we're busy getting the two connected together!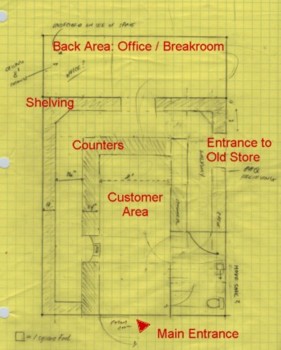 So far...
When we were originally offered the shop next door I did this rough drawing to determine how the space could be used. The bathroom wasn't movable, otherwise it would have been a no-brainer to put it in the back. All told, this will give us roughly four times the storage/retail space of our current retail set up.
Below you can see a picture of our back wall. This wall connects to the store next to us (the one we are expanding into). Kodiak Construction marked out the new entrances and cut us some nice new holes. This particular back wall has about everything running through it that you could imagine- electrical wires, phone lines, plumbing (it all has to be moved). The second picture shows the new hole they cut from warehouse 1 into warehouse 2 which then feeds into what will be the new retail shop. Warehouse 2 will become our receiving area. Once everything is finished I'll do a draw up of the entire building.
And Below these two pictures I will be adding a photo of the new shop in its current state (it was a hair salon before and we gutted it). You can see a hint of the new shop/ salon in the second picture set- there's a mural on the salon wall.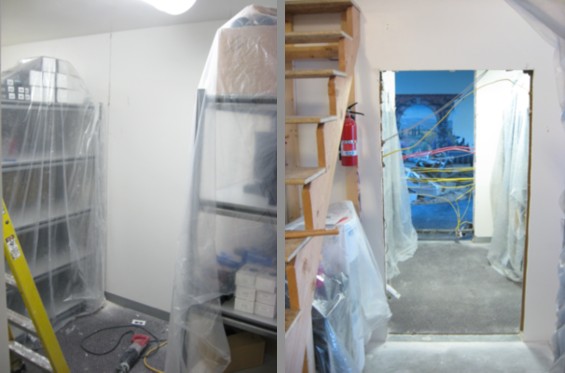 Here are a couple of links to pages you may have recently visited. You can use these to navigate back (if you want...we're not a high pressure kind of group).
Old 2008 Store Remodeling Pictures (March 2008 - July 2008)