BladeHQ Store 2008
April 13th, 2009: We're Moving... Again! Check out our NEW STORE PROGRESS. CLICK HERE! In 2008 we expanded our current store, but we've already outgrown it. We just signed on a new building and we'll be moving in later this summer (it's about 4 times the size of our current location). We'll post all the progress as the interior gets built and as we relocate. The new space will allow us to carry a much larger selection (space limitations have been our biggest obstacle) and serve you better!

Our Store (2008)
Below you can see images of our storefront in Lehi, UT. We carry products from an extensive list of manufacturers including Benchmade, Protech, SOG, Kershaw, Microtech, Victorinox, Lone Wolf, CRKT, Piranha, Spyderco, Schrade and more. We also carry a selection of Self Defense Products (e.g. Tasers), Flashlights (e.g. Surefire), and Watches (Swiss Army, Invicta, Timex, etc.). We've got unbeatable local prices, a huge selection of in stock, in the store, ready to go merchandise and knowledgeable, courteous and somewhat sarcastic staff.
So why a store? We're an Internet business so we should just run our things from a closet, right? While it's true that we're primarily on online retailer we feel that it's important to have a real store- it shows we're serious about what we do and reassures you that we're a real legitimate business operation. Our store provides a clean friendly atmosphere for our local walk in customers as well.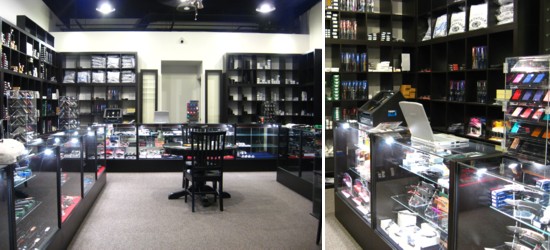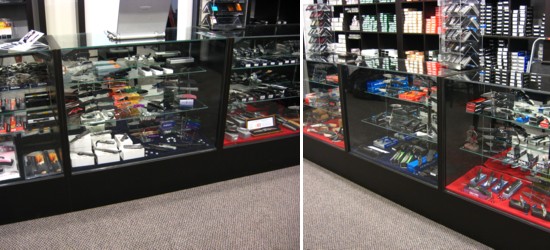 We now occupy 2.5 units of our complex (the two visible doors and some area behind the storefront on the right). The left unit is the new storefront. The right unit is a receiving / pickup area. The back of second building is warehouse space and a shipping center. Somewhere in the middle of the facility there's a a photo studio and Super Street Fighter II arcade machine that someone regrets getting :)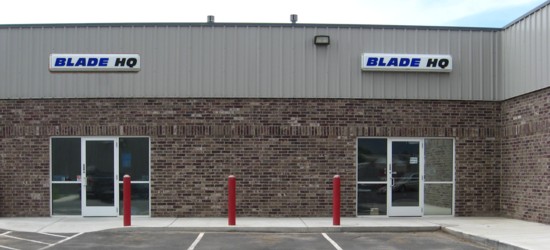 Below you can see some images of our old storefront (inside and out). The old store served us well, but got cramped very quickly. Having no counters made it hard to display things and the customers got a little too friendly with the merchandise!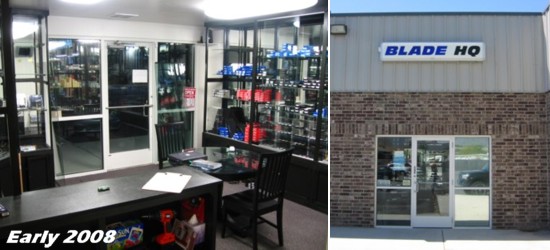 Below are a few links for anyone who may be interested in our company's physical evolution.
Old 2008 Store Pictures (July 2008 - April 2009)