BladeHQ Store 2011
2011 Store Picture - Our Store (Lehi, UT)
Below you can see images of our storefront in Lehi, UT. We carry products from an extensive list of manufacturers including Benchmade, Protech, Microtech, Spyderco, SOG, Kershaw,CRKT, Piranha, Tops Knives, Smith & Wesson and more. We also carry a selection of Self Defense Products (e.g. Taser Products), Flashlights (e.g. Fenix), and Watches (Swiss Army, Invicta, Timex, etc.). We've got unbeatable local prices, a huge selection of in stock, in the store, ready to sell merchandise and outstanding customer service

Our order fulfillment center & warehouse. Gathered, packed and shipped with speed, accuracy and love.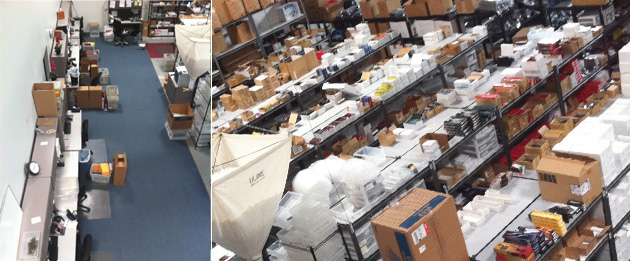 Our product, content & marketing and customer service departments (you can also see a hint of a ping pong table- possibly the most important part of our company).

Our current building was completed in June of 2009. We have over 7500 square feet of space making this building nearly four times the size of our last. The first floor has our storefront, warehouse, shipping center, customer service center, photo studio, and employee lounge. The second floor has our product, content & marketing and programming departments in addition to a conference room and offices (and the aforementioned ping pong table). We have had a couple years of considerable growth and we recently acquired the unit next to us so we can continue to expand (giving us over 10,000 square feet of space).

If you're interested in the history of our growth here are a few fun links:
2011 Store Pictures