Blade HQ 2013
2013 Store Picture - Our Store (Lehi, UT)
Congrats on finding this hidden history section! Welcome to Blade HQ! We carry knife products from an extensive list of manufacturers including Benchmade, Protech, Microtech, Spyderco, SOG, Kershaw, CRKT, Piranha, Tops Knives, Cold Steel and more. We also carry adventure and outdoor gear (Maxpedition & Vertix), Flashlights (e.g. Fenix & Surefire), and Watches (Casio, Timex, etc.). Gear up for adventure!

Our storefront in Lehi, UT. Our knowledgeable and dedicated retail staff is always ready assist you.

We stock over 60,000 products in our warehouse and store and have them ready to ship as soon as you order.

Our order fulfillment team gets orders out quickly and efficiently and our customer service department is ready to take your order or assist you with questions.

Our product department is always looking for awesome new gear and our marketing & IT departments are hard at work making sure products looks great and you know where to find them.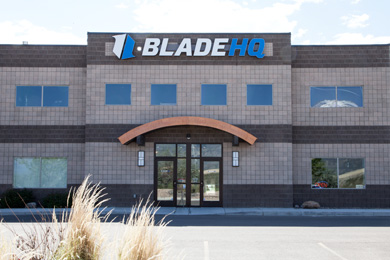 Our current building was completed in June of 2009. We currently occupy over 20,000 square feet of retail, office and warehouse space (and we're not done yet!).
If you're interested in the history of our growth here are a few fun links:
2013 Store Pictures