BOKER KALASHNIKOV REVIEW
Written by Blade HQ Staff Writer Andrew Hamilton on 6/6/2019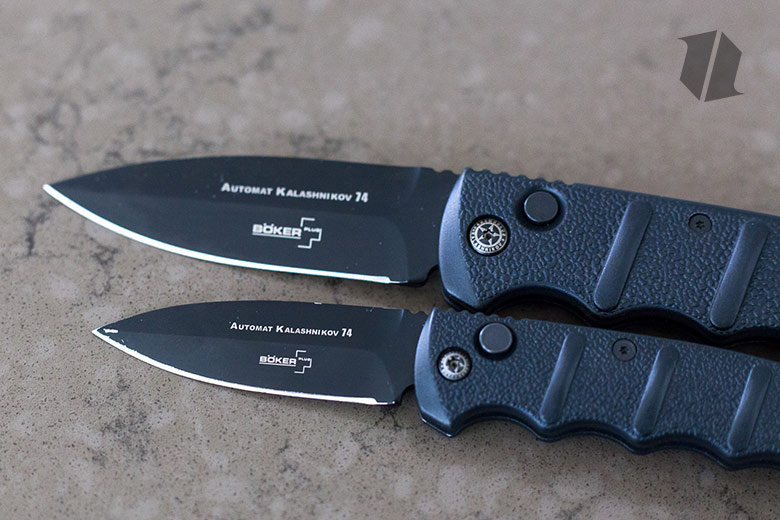 For over a decade now, the Boker Kalashnikov has reigned as King of the affordable automatic knife. And should we really be surprised with Boker having a history that stretches as far back as the 1700s?
Coming in at less than $30 for the mini version and less than $45 for the regular version, the Kalashnikov represents an unbelievable value for its quality. It is legitimate to acknowledge that these knives do not compare to the likes of Protech or Microtech, but they without a doubt compete favorably in the sub $50 class.
Without further ado, let's jump straight into a deep dive on everything you ever wanted to know about the Boker Kalashnikov automatic knife.
First let's run through the stats...
7.625" Overall Length
3.25" Blade Length
Dagger Blade
AUS-8 Steel
Aluminum Handle
3.70 oz. Weight
Plunge Lock
Automatic Action
Made in Taiwan
KNIFE LIFE SCORE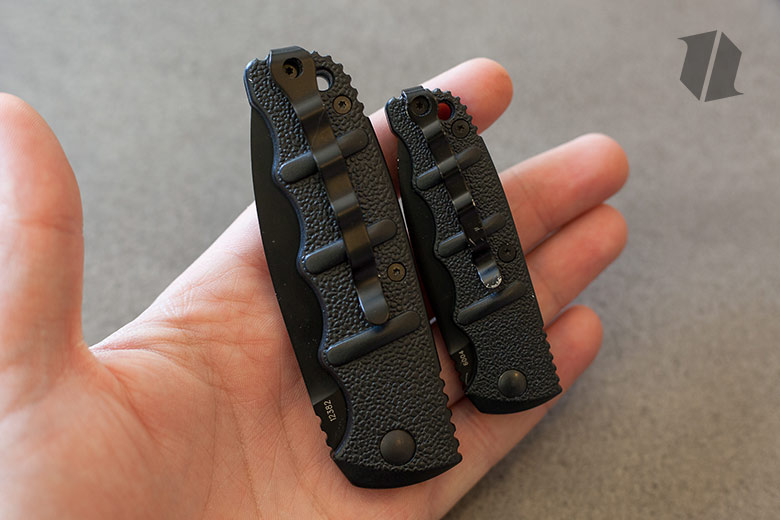 Knife Life is all about representing your personality and passion through the knife you carry in your pocket everyday. Quality and performance are key. Tasteful design and ritzy details are also important. You can be confident carrying any knife with a high Knife Life Score.
IMPORTANCE
Score: 10/10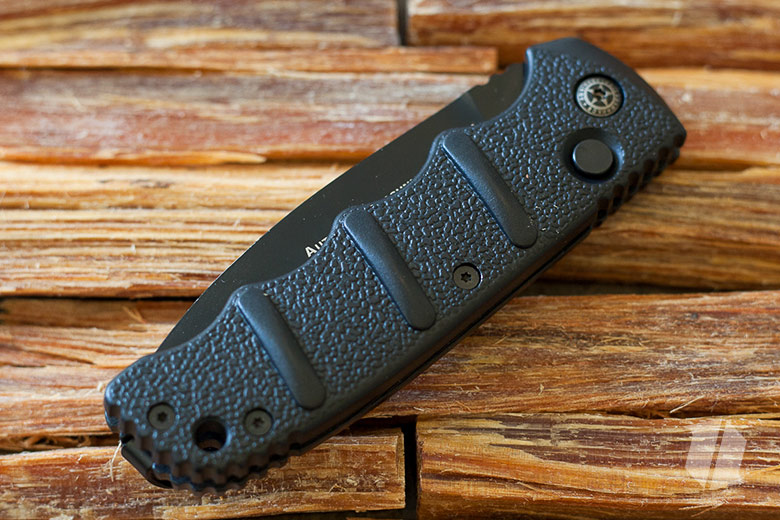 It's rare for a knife to be a top seller even a year or two after its release. For the Kalashnikov to still be such a best seller after more than a decade on the market is incredible.
For many people, the Boker brand represents an entry point into the world of quality knives. You may have a Microtech automatic knife in your future, but for now, a $30 automatic Boker Kalashnikov will be more than enough to impress.
FIT AND FINISH
Score: 8/10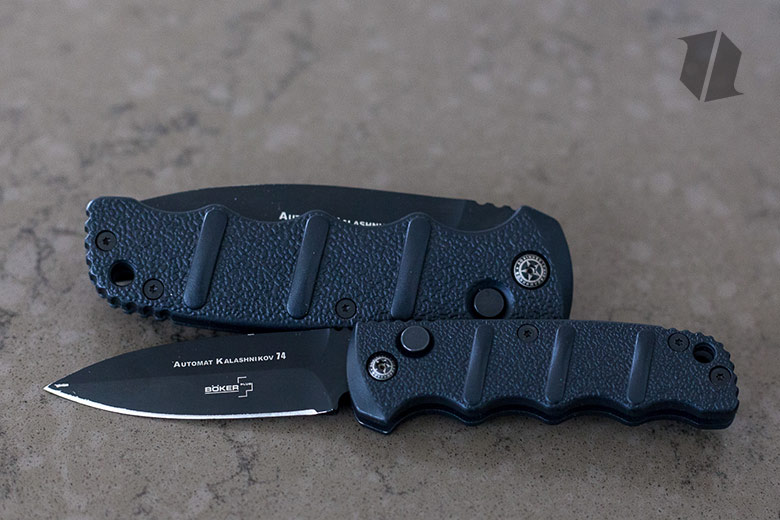 Gone are the days of terrible fit and finish on affordable knives. Thank you, thank you, thank you! I'm happy to say that although the Kalashnikov doesn't approach manufacturing perfection, the tolerance and finishing are definitely up to par no matter what standard you uphold.
DEPLOYMENT AND LOCKUP
Score: 10/10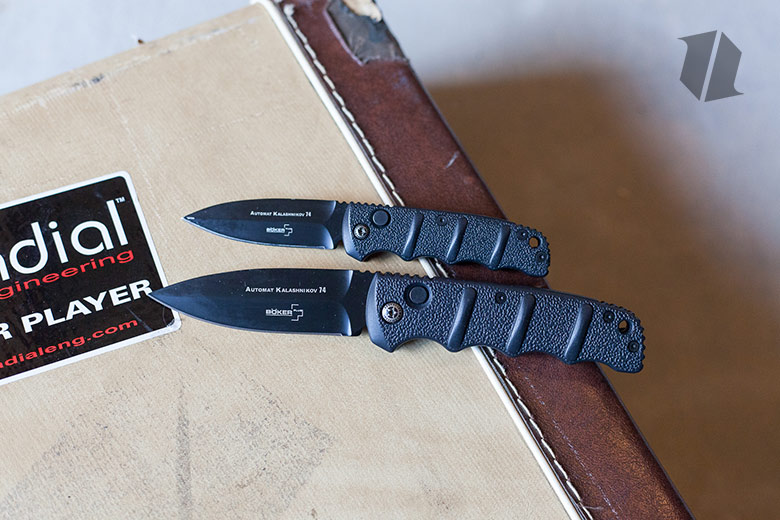 When it comes time to talk about the action on an automatic knife, we love using exaggerations and analogies. "It hits like a truck" or "lightning fast!" I'm sure you've seen us do it before. With that said, it's really something how much these bad boys pop. When you hit the button there's an absolute thunderous deployment of the blade and yes, I'm laughing right now as I write these words because it sounds so ridiculous, but honestly, the Kalashnikov is really that special in this price point.
Beyond the deployment of the blade, the Kalashnikov features a dialed in lockup with its button lock. These knives are built to last and can stand up to any abuse you might throw their way.
STYLE
Score: 8/10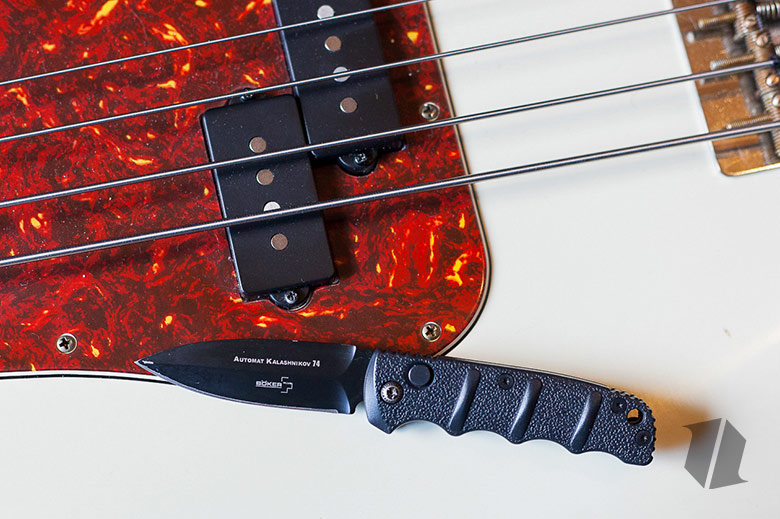 From the second you get your new Boker in the mail, the AK-style magazine shaped packaging is sure to make an impact. The inspiration behind this knife clearly comes from the gun community, and it's easy to pick up on the influence.
From the utilitarian blade shape to the grippy but not too grippy handles, I love this knife for its aesthetic and functional merits. The handle is designed to be held easily and the button and pivot screw are aesthetically pleasing. I'm not a huge fan of the markings on the blade, but it's an overall great looking knife.
EASE OF CARRY
Score: 9/10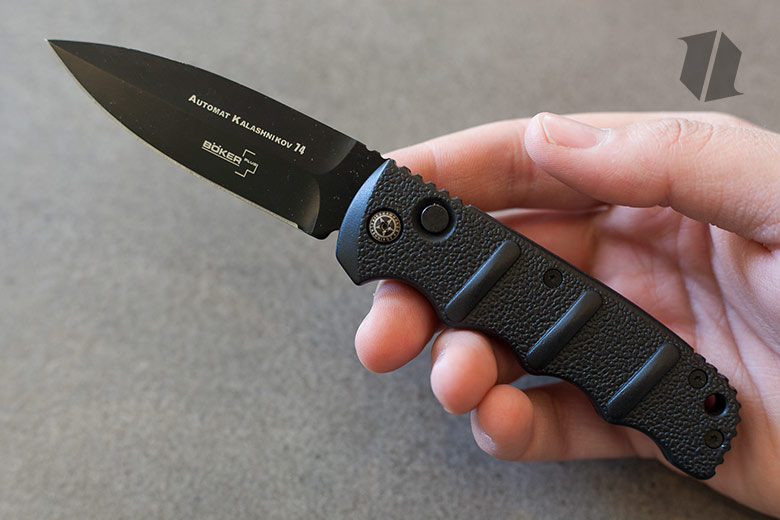 It's rare for a unique pocket clip to stand out in a good way. Why reinvent the wheel when so many fabulous designs already exist? I have to say, the retention of the pocket clip on the Boker Kalashnikov is really something. And by something, I mean it is aggressive, tight, and confidence inspiring. You'll never have to worry about losing your brand new pocket knife.
In the pocket, this knife is both minimal and unobtrusive. The best sign of a good EDC folding knife is that you don't think about carrying it, it just fits into your personal lifestyle perfectly without asserting itself in any offensive way. The Boker Kalashnikov is an absolute win in that regard due to the two sizes available.
BLADE AND STEEL
Score: 6/10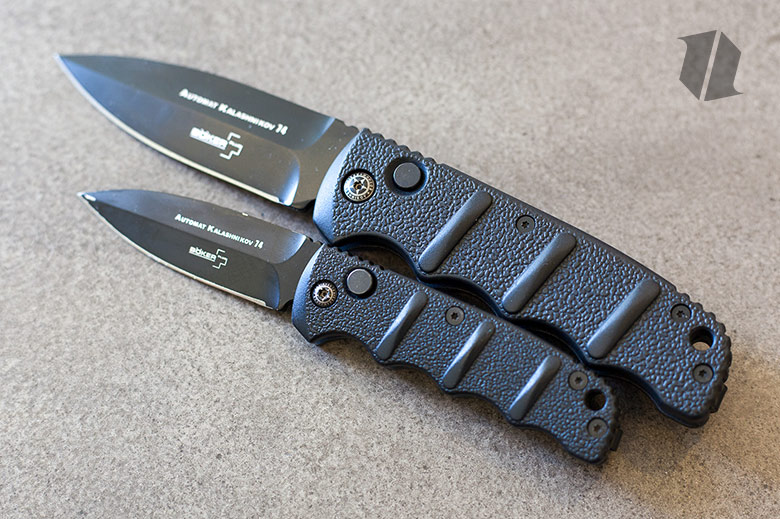 We've already talked about the blade, sharpening, and that dang AUS-8 steel, so there's no sense beating a dead horse. The Achilles heel of a stock Kalashnikov is without a doubt the blade steel. I would have loved to test the CTS-XHP version, but as it stands, I can't help but feel the AUS-8 steel quickly degenerated into an edge I can only call lacking. Muddy and unassertive at the tip and not sharp enough to glide through tons of cardboard, I was thankful to have some super steels in my arsenal.
That said, AUS-8 is a good budget steel that won't break the bank and can handle EDC tasks. You'll just have to touch it up more often. Read more about AUS-8 on our Steel Guide. I'm not a huge fan of the dagger blade (which is ironic because it is only sharpened on one side). The plus of the Kalashnikov blade is how easy it is to sharpen with even basic sharpeners.
MATERIALS
Score: 5/10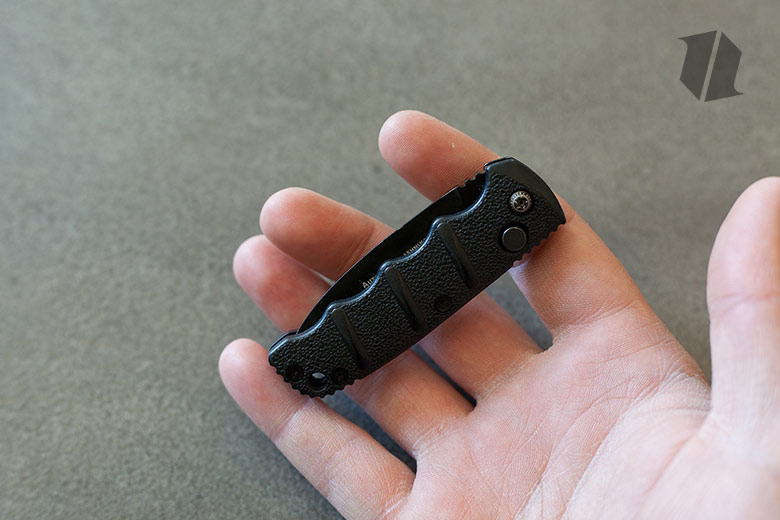 Thank goodness there are versions with upgraded steel and a variety of colors to choose from or who knows how low the score might be in the materials category. Budget materials Don't prevent this knife from being excellent, but you're not getting the best. We live in a world today where we're spoiled by super steels and countless different choices.
The aluminum handle is strong and blade coating is serviceable, but could use improvement. The color will wear off of both with use faster than a premium knife, but that's to be expected in this price range.
ERGONOMICS
Score: 8/10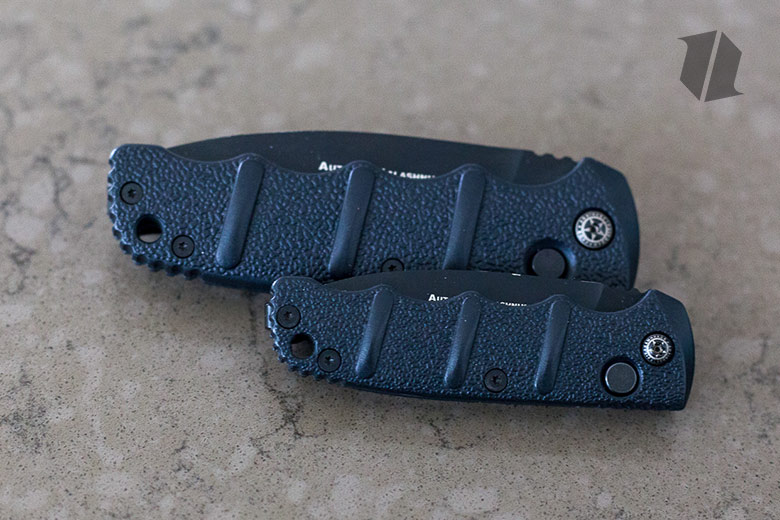 The Kalashnikov may be simple, but I really love the way it fits in my hand. While some knives employ deep index grooves for your fingers, the Kalashnikov instead fits to your hand more through its size and dimensions.
The design seems to work well regardless of hand size. My size large / extra-large hands work well with both the mini and standard versions. Others in the blade HQ marketing department seem to have a similarly positive reaction to the ergonomics.
CUT TESTS
Score: 7/10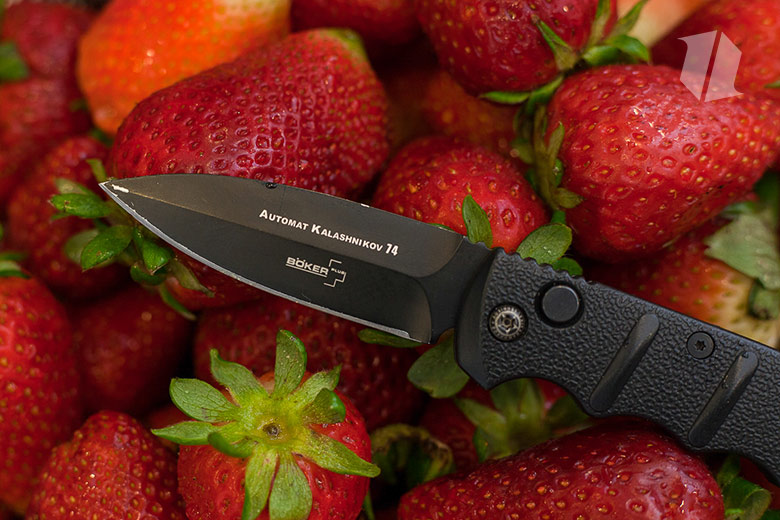 Simply put, AUS-8 steel is never going to win a knife competition. The world has moved on to bigger and better things, and you're lying to yourself if you think that budget steel is ever going to perform as well as the big dogs of the industry. Read more about said big dogs and our steel piece.
With that out of the way, I will say that for a budget knife there is nothing wrong with budget steel. If you've never taken knife maintenance into your own hands before, I find AUS-8 steel to be one of the easiest and most intuitive to sharpen. Don't make a fool of yourself trying to sharpen premium M390 steel before you're ready.
CTS-XHP versions of the Kalashnikov can be purchased through Blade HQ for less than $60. It's certainly going to be hard if not impossible to find any better of a deal than that.
POCKET JEWELRY
Score: 9/10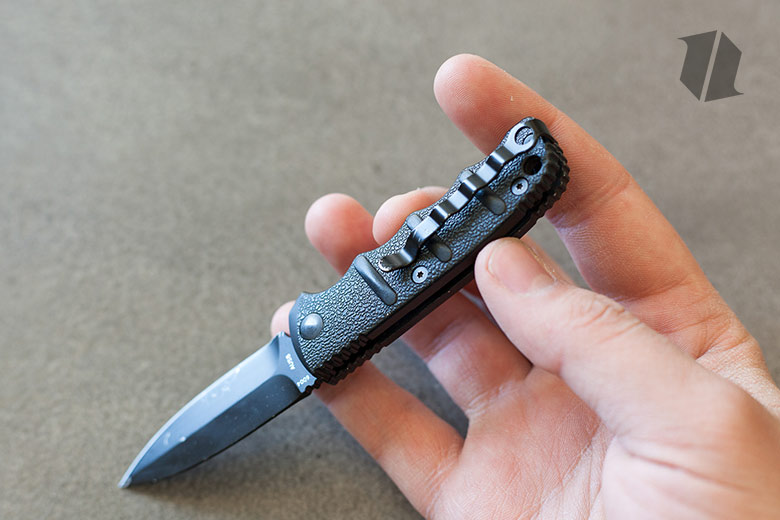 It's really something when such an affordable knife also manages to feel luxurious, special, and unique. With versions employing Damascus steel, picture coded blades, and handles in every color under the sun, it's very easy to find a Boker Kalashnikov that fits your personal style.
Despite the cheapness or should we say affordability of these knives, they are extremely fun to fidget with and I love the whole platform for its playful imaginative quality.
TOTAL KNIFE LIFE SCORE:
80/100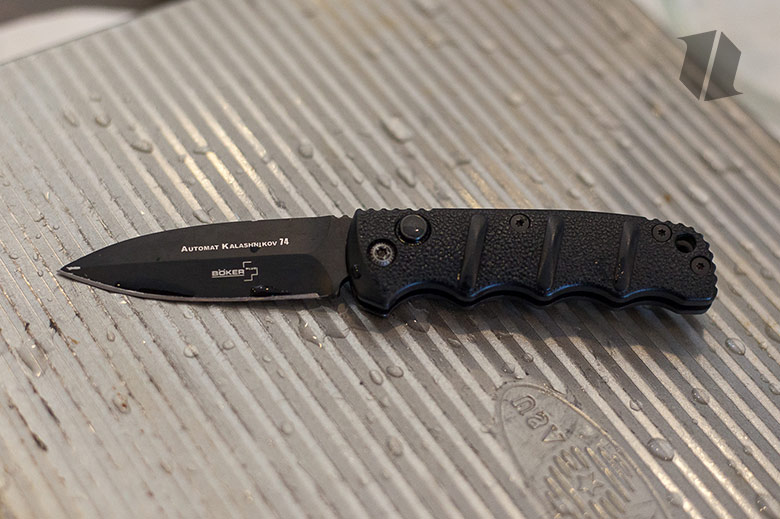 A score like that is honestly great for a budget switchblade knife. If you can accept the fact that you're not getting premium materials, you'll enjoy a good build quality and an action that will keep you entertained for years and years. Both sizes of Kalashnikov are great EDC options as long as they're legal in your area.
Check out our video below to see a Kalashnikov that has been through the ringer and is still firing like a champ!
MINI vs. FULL SIZE KALASHNIKOV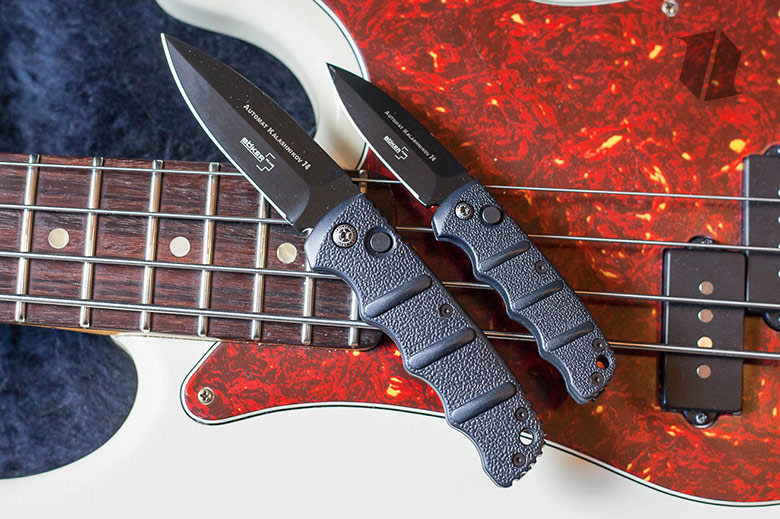 It may be obvious, but the only big difference between the two different Kalashnikov models is the size. The mini version is quite compact and meets the requirements of even some of the most stringent knife law states. The regular version is quite large and suits those well with a large hand. Both have the same materials, build quality, and action.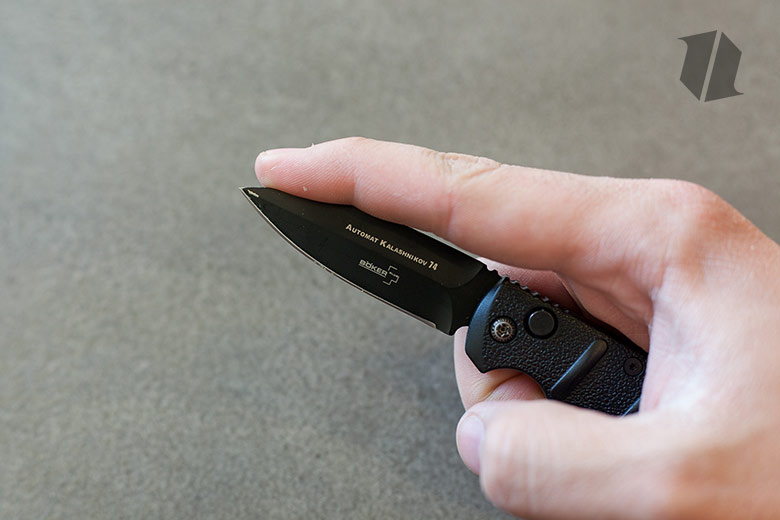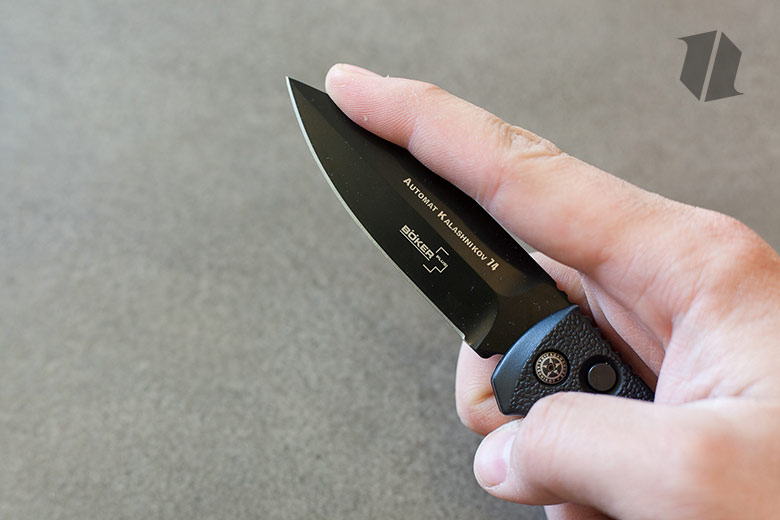 CONCLUSION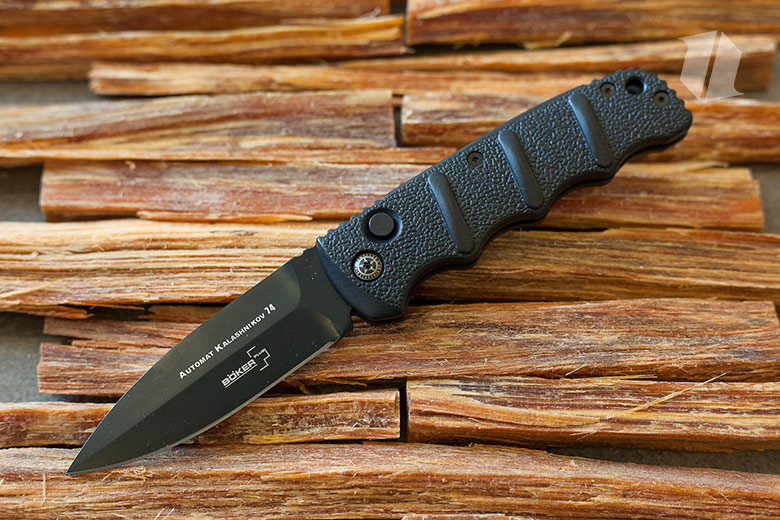 I must admit, before doing this review I never had the opportunity to carry a Boker Kalashnikov. I'm surprised by how much I enjoyed the time it was in my pocket. Sometimes it's nice to have a knife that you're not afraid to beat up. In the future I will probably keep a few of these on hand to give as gifts to friends that don't carry knives regularly yet. These knives have been carried by everyone from law enforcement officers, EMTs, to our military personnel. Like an apocalyptic roach, the Boker Kalashnikov may just outlive our human society as we know it. Be sure to check out our Best Boker Automatic Knives article for more awesome Boker Autos, or see the latest 2021 Boker releases in the Knife Banter episode below.