BEST BOWIE KNIVES
Welcome to the ultimate Bowie knife buying guide! This buyers guide is an informational resource for the famed Bowie knife. We will highlight the best Bowie knives and brands, Bowie types, what to look for, and weíll even touch on Bowie knife laws. Letís dig in, shall we?
---
Best Selling Bowie Knives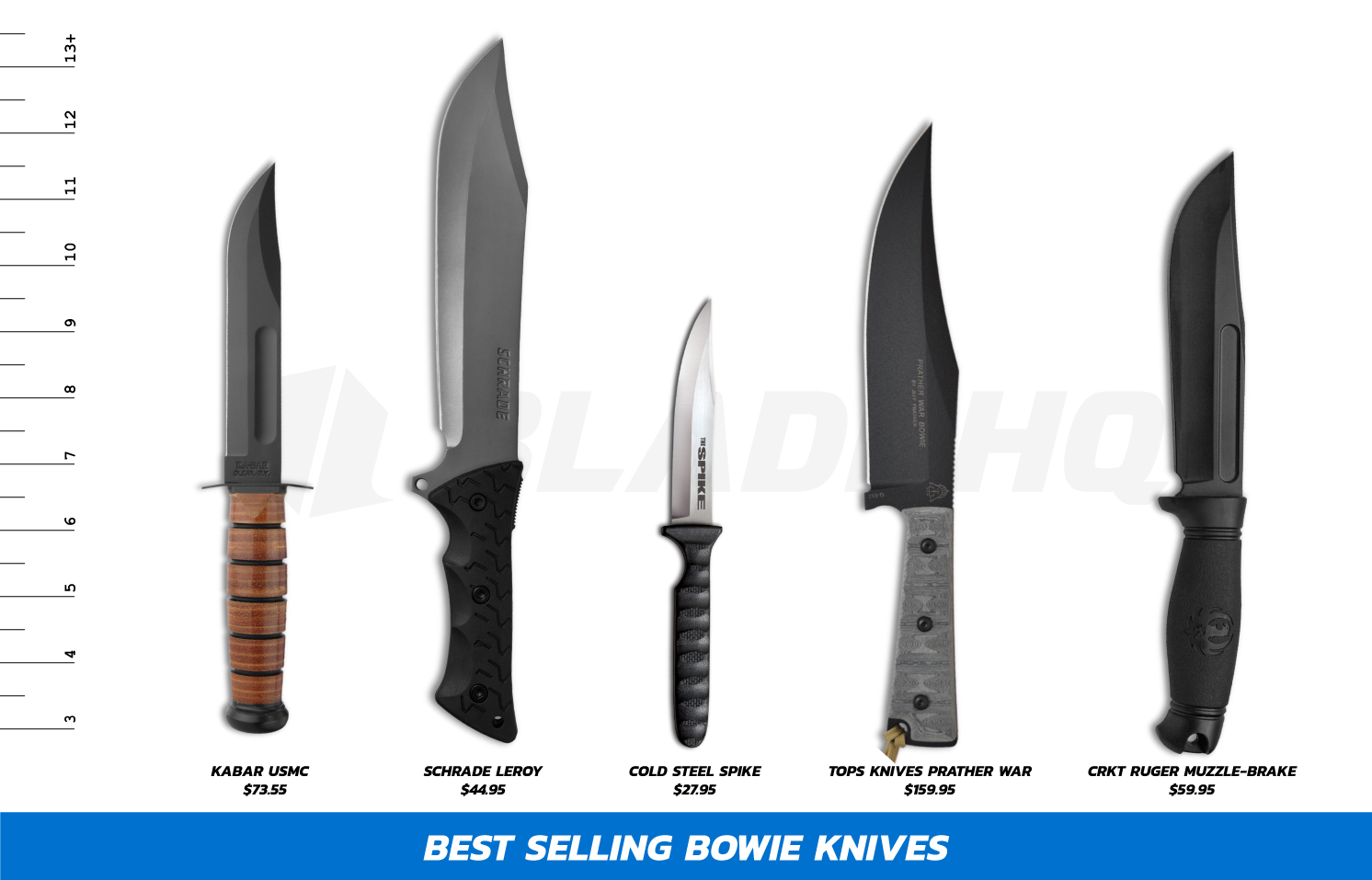 The rich history of this knife dates back to when it was designed for our troops in World War II. Over 50 years later, this knife is still going strong and is popular as ever. This knife is included with a USMC leather sheath. Buy It Here
The Leroy is full-tang, which means the metal of the blade extends to the bottom of the handle. It is a strong and comfortable knife that getís the job done. Besides, you canít beat the price tag for a knife of this size. Buy It Here
The Cold Steel Spike screams tactical with its strategic design. The Bowie blade on this bad boy features a satin finish that looks great with the black handle. Definitely not the biggest Bowie blade out there, but itís portable and big enough for anything it comes up against. Buy It Here
This knife sports an ergonomic design with a unique dropped blade that prevents hand slipping. The Prather War was designed by Jeff Prather, who is a former 7th Special Forces member, DEA Special Agent, and DIA Intelligence Officer, among other things. Buy It Here
CRKT and Ruger Knives teamed up with Ken Onion to create this beauty. Now thatís a winning trio. This knife infuses elements of a traditional Bowie knife with modern construction techniques. Fun fact: The GFN handle texture matches the Ruger American Rifle stock. This makes for a great tactical Bowie knife. Buy It Here
| | | | | | |
| --- | --- | --- | --- | --- | --- |
| | Ka-Bar USMC | Schrade Leroy | Cold Steel Spike | TOPS Prather War | CRKT Ruger Muzzle-Brake |
| Overall Length | 11.875" | 16.375" | 8.00" | 12.625" | 12.00" |
| Blade Length | 7.00" | 10.25" | 4.00" | 7.80" | 7.00" |
| Handle Length | 4.875" | 6.125" | 4.00" | 5.83" | 5.00" |
| Type | Fixed Blade | Fixed Blade | Fixed Blade | Fixed Blade | Fixed Blade |
| Blade Material | 1095 Cro-Van | 8Cr13MoV | 4116 | 1095 | 8Cr13MoV |
| Handle Material | Leather | Rubber | Polymer | Micarta | GFN |
| Weight | 11.20 oz. | 1 lb. 6.80 oz. | 2.30 oz. | 15.90 oz. | 11.08 oz. |
| Sheath | Leather | Polymer | Kydex | Kydex | Polymer |
| Best Use | Tactical | Camp/Hike | Tactical | Tactical | Camp/Hike |
| General Price | $73.55 | $44.95 | $27.95 | $159.95 | $59.95 |
---
Bowie Knife vs. Bowie Blade
The Bowie knife started as a fixed blade and is still known as that today. That said, there is a growing gray area in Bowie knives: The Bowie blade style. Manufacturers are introducing the Bowie blade into different styles of knives because of its iconic shape and popularity.
A true Bowie knife is a fixed blade. Just donít be alarmed when you see a folding or butterfly knife with a Bowie blade.
---
Bowie Blade Styles
While the Bowie knife is generally fixed blade, it has evolved into a blade style that can be found in many variations. Popular Bowie styles:
Fixed blade (most common)
Manual folding
Automatic
Spring assisted
Out the Front
Butterfly
As you can see, Bowie blades are well liked in the knife industry.
---
What to Look for in a Bowie Knife
Letís steer this buying guide in another direction. Look for these things before purchasing a Bowie knife.
Size
Bowie blades come in many sizes. If you need a Bowie for chopping or heavy-duty cutting, go ahead and rock that 10Ē+ fixed blade. If you just want a small knife for everyday carry, a 3Ē folder with a Bowie blade will suit your needs.
Style
We touched on knife styles in the previous section so now the pressure is on to find the perfect one.
Want to start hacking that tree that blocks your seaside view? Get a fixed blade Bowie. Do you like a little danger in your life? Take up butterfly flipping with a Bowie blade. Do you have a fast-paced lifestyle? An automatic Bowie should fit in nicely.
We could go on like this for hours. The point is, there is a Bowie knife style for whatever you use a knife for.
Blade and Handle Material
We werenít joking when we said Bowie knives come in various shapes and sizes. That means various materials as well. The list of steel types a Bowie knife could contain can be exhausting. Some popular steels are:
8Cr13MoV
420HC
1095
A-2
AUS-8
The list of handle materials is just as exhaustive as steel types. Popular Bowie handle materials:
Micarta
Polymer
Leather
Rubber
Wood
G-10
Every steel and handle material has their advantages. Some are made to complement bottom-tier knives and some are made to go on the high end Bowie knives. Price is often reflective of the quality of the knife.
Construction
Perhaps the most important aspect to strength is the tang on a fixed blade. Full tang simply means the metal of the blade extends throughout the handle. In most cases, there are two handle scales bolted or screwed into the tang on both sides. Full tang fixed blades are known for their high strength.
---
Bowie Knife Uses
There are many uses for Bowie knives. Because of their blade shape, fixed blade Bowie knives make great hunting companions. Their strength and practicality also make Bowie knives great defense and combat weapons. Another great use for Bowie knives is in survival situations.
---
Best Selling Bowie Knife Brands
Ka-Bar manufactures quality hunting, sporting, and military knives and products. They are well known for their military knives that are great for tactical uses.
Schrade knives are manufactured by Taylor Cutlery. Schrade puts emphasis on having high quality products offered at affordable prices. Schrade knives can be found in industries like hunting, law enforcement, fire safety, and more.
Cold Steel was founded in 1980 and set out to make the strongest, sharpest knives in the world. They are known to make attractive variations of the Bowie knife.
TOPS Knives are knives and tools designed by people with backgrounds in the military, martial arts, law enforcement, and the outdoors. Each TOPS knife is practical, quality, and well-designed.
Puma has been making knives in Germany for nearly 250 years. They pride themselves on using traditional techniques combined with new technology and processes.
CRKT teamed up with Ruger firearms to make a quality line of hunting knives. The CRKT Muzzle-Brake was born from a collaboration with Ken Onion. Need we say more?
Buck knows how to make a quality Bowie as theyíve been in business for over 100 years. They use state-of-the-art technology in their knives and have one of the best knife guarantees with their 4-Ever warranty.
Bark River designs their knives specifically for the outdoorsman who will need them in the field. Bark Riverís Bowie lineup features some of the most attractive weíve seen.
---
History of the Bowie Knife
The first Bowie knife was made in 1838 by Rezin P. Bowie, who is the brother of famous Alamo hero Jim Bowie. Rezin designed the knife in Louisiana to be used as a hunting knife, but then gave it to Jim Bowie for protection after Jim had been shot in a fight. The blade gained much of its fame after Jim used it in a large brawl dubbed the Sandbar Fight.
Bowie knives today actually look very different from early versions. The first Bowies had thick, butcher knife blades with flat tops and no hand guard. The clip point we often see today then later became popular as the clip was often sharpened on the back to inflict more serious wounds.
Bowie knives were popular throughout the Civil War even though some states like Tennessee had passed laws to suppress sales. Bowie knives were most popular among Confederate soldiers, but eventually replaced by bayonets as the war rolled on.
The original Bowie knife has been adapted and changed throughout the years and continues to be a popular option in many forms we see today.
---
Bowie Knife Laws
Time for a word of caution with this buyers guide. As we know, Bowie knives come in various styles. This means there are various laws. A Bowie knife does not have laws that pertain directly to it, but to the style of knife it is.
For example, an automatic knife with a Bowie blade will usually have more strict laws than a manual folder with a Bowie blade. You picking up what weíre putting down? Look up the laws for the state you live in. Thatís the only way you can know if a Bowie knife is legal for you to own and carry.
---
Recap
Bowie knives are popular for their unique blade shapes and countless options.
Bowie knives have a rich history in the United States and continue to be popular today. Traditional fixed blade Bowies are the most popular, although many manufacturers are adding Bowie blades to different knife styles. When buying a Bowie knife, watch for these things:
Size
Style
Blade and handle material
Construction
Price
Keep this buyers guide in mind when looking for your next knife. We wish you luck in your Bowie buying journey!