BUCK 110 AUTO KNIFE REVIEW
Updated by Blade HQ Staff Writer Logan Rainey on 8/18/2020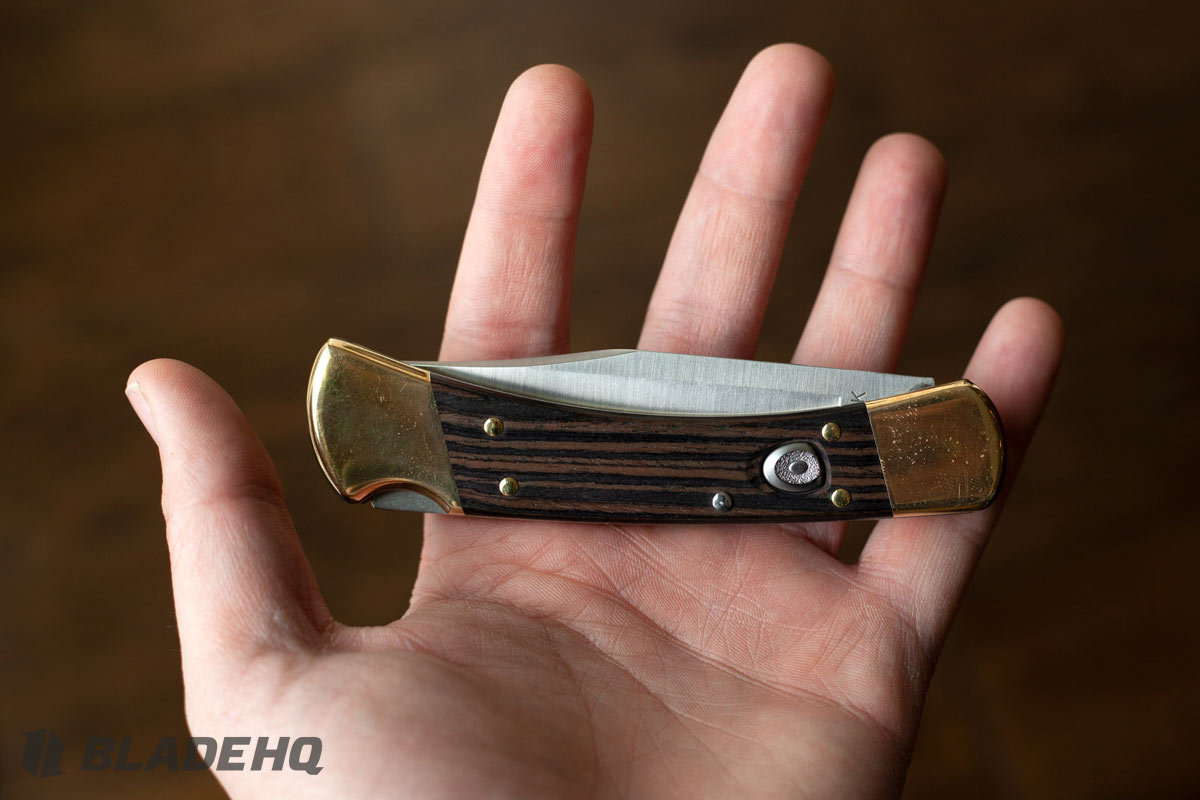 Al Buck first introduced the Buck 110 folding knife in 1963. In the 50+ years since, the Buck 110 has cemented itself as one of the most important and widely used pocket knives in the history of America. Known as the Folding Hunter, the Buck 110 is still one of the best-selling knives today.
Recently, Buck took the knife world by storm with the release of the 110 Auto. As the evolution of a proven classic, how would the automatic version stand up? Read on as we take a deep dive and review the pros and cons of the Buck 110 Auto knife!
First let's run through the stats...
8.625Ē Overall Length
3.75Ē Blade Length
Clip Point Hollow Grind Blade
420HC Steel
Ebony Dymondwood Handle Scales with Brass Liners and Bolsters
7.10 oz. Weight
Back Lock
Includes Leather Sheath
Made in USA

---
KNIFE LIFE SCORE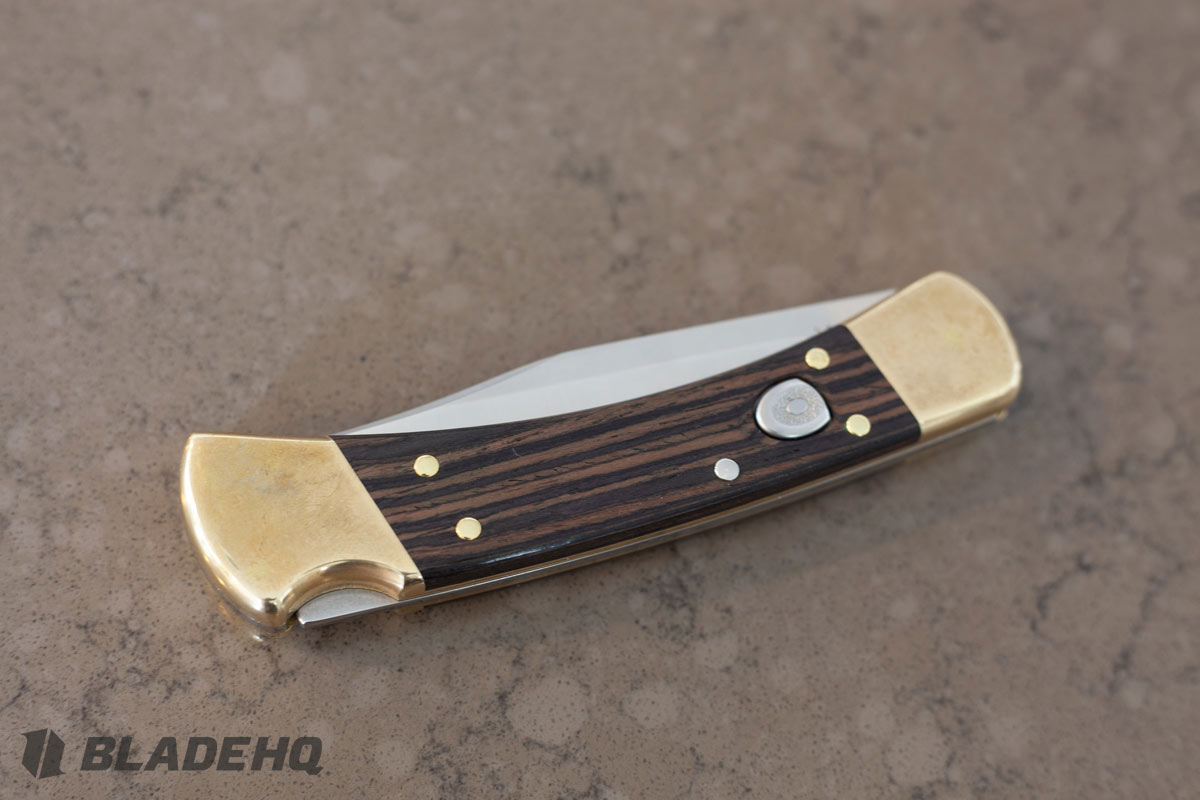 Knife Life is all about representing your personality and passion through the knife you carry in your pocket every day. Quality and performance are key. Tasteful design and ritzy details are also important. You can be confident carrying any knife with a high Knife Life Score.
UNIQUENESS / IMPORTANCE
Score: 10/10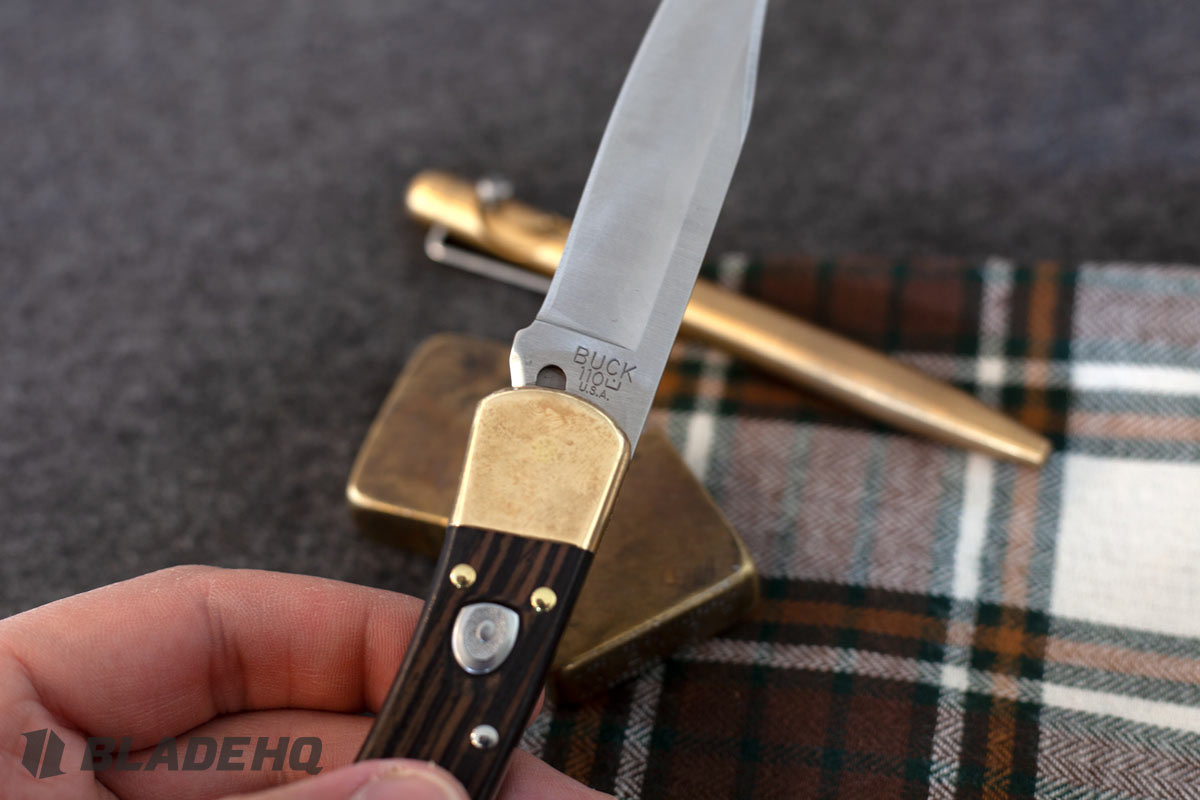 When it comes time to put pen to page and write a knife review, I try as hard as possible to remove individual bias from my ratings. That said, there was never a doubt in my mind that the Buck 110 would receive a perfect score in the ĎImportanceí category. Popular for over 50 years, the Buck 110 is America. Every knife designer has been inspired by the Folding Hunterís strong, traditional aesthetic. Without Al Buck and his design, who knows where the knife community would be today?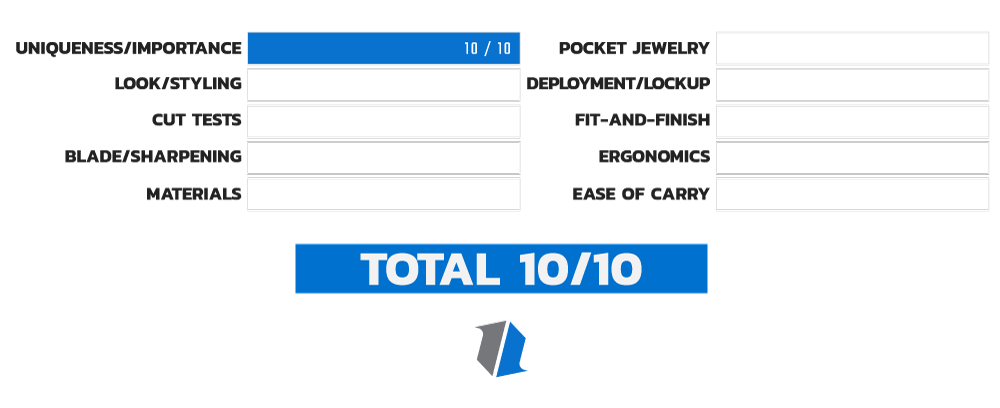 LOOK / STYLING
Score: 9/10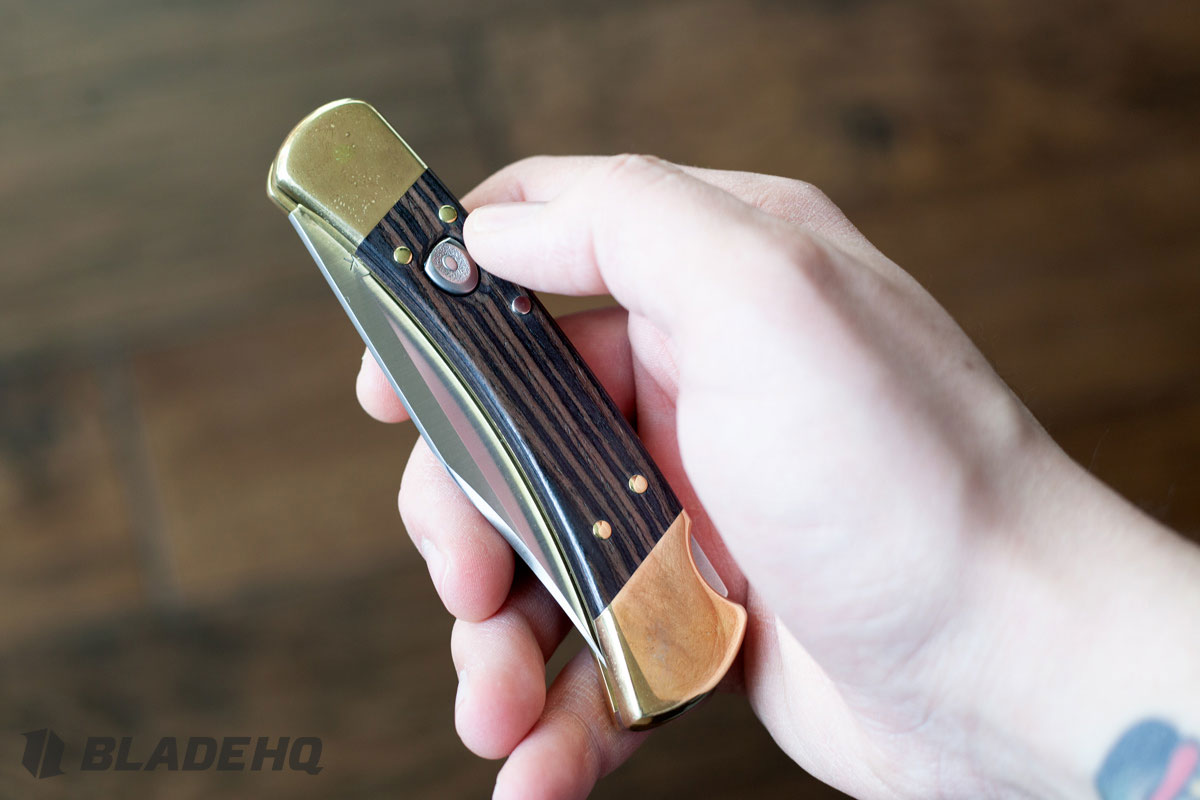 When a design works, it just works. Simple lines. A balanced mix of materials. A working man's clip point blade. The Buck 110 perfectly blends the history, tradition, and design cues of traditional knives with a bomb-proof, confidence-inspiring ruggedness.
Your Buck will look equally at home on your workbench, at the campsite, or in your pickupís glove box.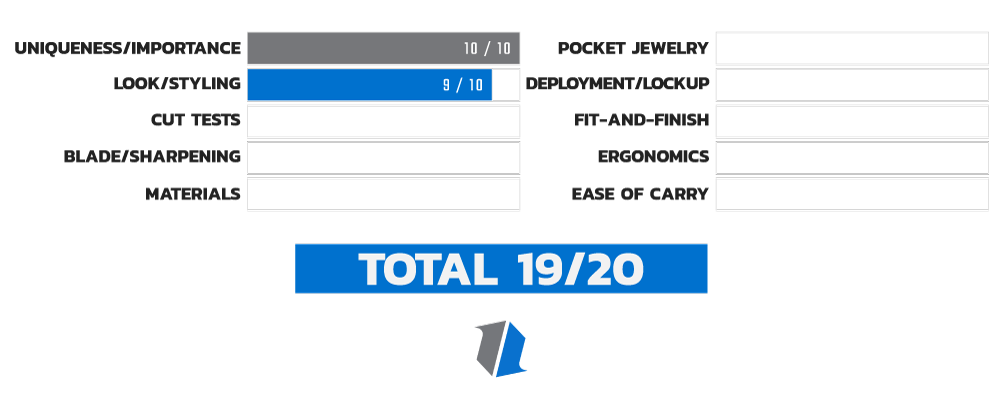 CUT TESTS
Score: 9/10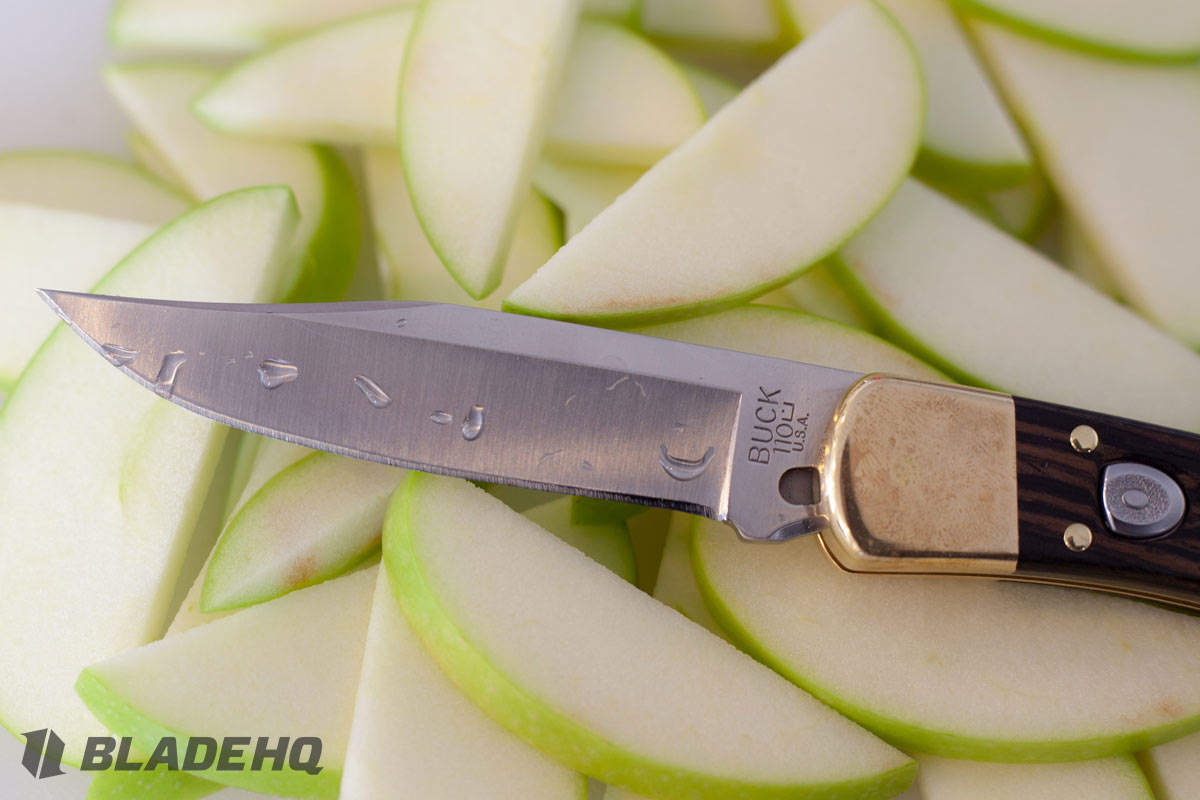 Alright. Iím aware. Itís 2019. Even cheap knives are coming standard with premium super steels. So how does a more budget-friendly steel like 420HC stand up to cut tests and daily EDC use?
If youíve read the Best Steel Guide I wrote, you already know that half of cutting performance (or maybe even more) comes down to edge geometry and heat treatment. Buck is world famous for having some of the most advanced and consistent heat treatment. Theyíve dialed in their 420HC and itís truly a satisfying experience to cut with the Buck 110 Auto.
With regards to geometry, the hollow grind on the 110 Auto is truly impressive! Thin behind the edge and absolutely razor sharp from the factory, I was able to cleanly slice through soft tomatoes, remove wedges out of apples, and jute rope was vaporized like hot butter.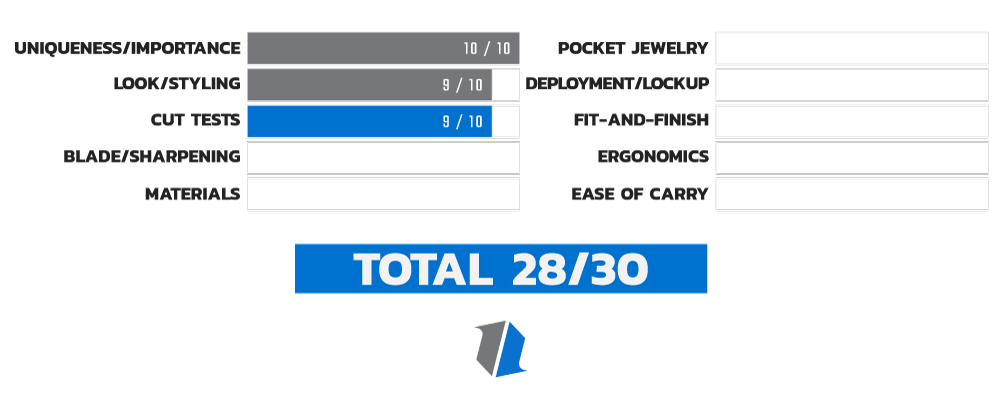 BLADE / SHARPENING
Score: 9/10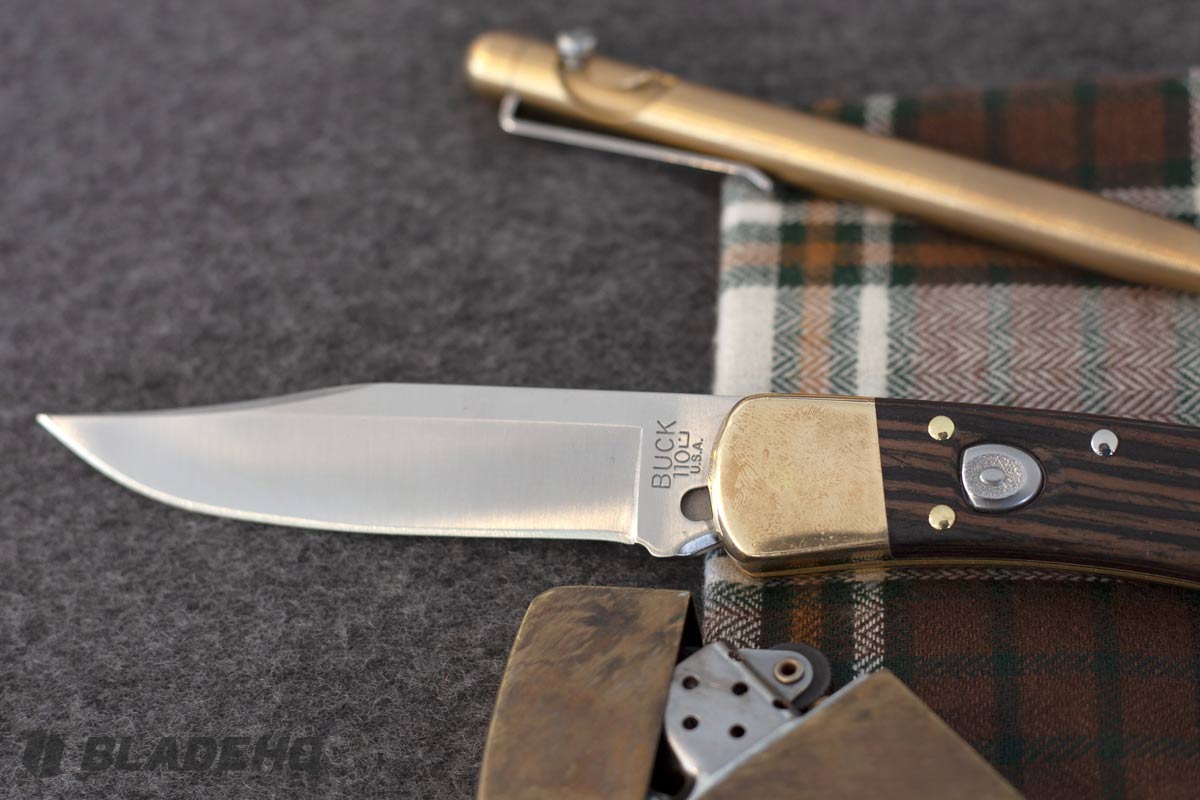 When evaluating a knifeís cutting performance, itís super important to think about the use-case the knife was designed for. The Buck 110 Auto is designed to process your hunt, ace through some light camp tasks, and live in your pocket from Monday to Friday on the job site cutting open boxes, feed bags, strapping, and all the other borderline abusive tasks that an EDC knife has to stand up to. No one is ever going to tell you that 420HC steel performs like M390, but that can sometimes be a good thing! Compared to steels with better edge holding, 420HC is much more easy to field sharpen when it comes time to process that prize elk.
I was able to quickly touch up my edge on the Spyderco Sharpmaker every three to four days. In less than 5 minutes my knife was back to Ďscary sharpí. By the end of my testing, I still had a pretty nice edge, but itís always fun to throw a knife onto the Edge Pro Apex and see what it takes to bring about a mirror edge. I can tell you that 420HC is quite the dream to sharpen. In less than 25 minutes, I had a beautiful mirror edge at about 3,000 grit with a quick stropping on leather. I canít recommend the Edge Pro Apex system enough. Knife maintenance is a hugely important part of owning a knife. I can proudly say that my Buck 110 Auto is so sharp that it makes me giggle when I use it, and I may or may not be rocking the gigantic bald spot on my forearm that so many knife guys seem to acquire along with a sharp blade.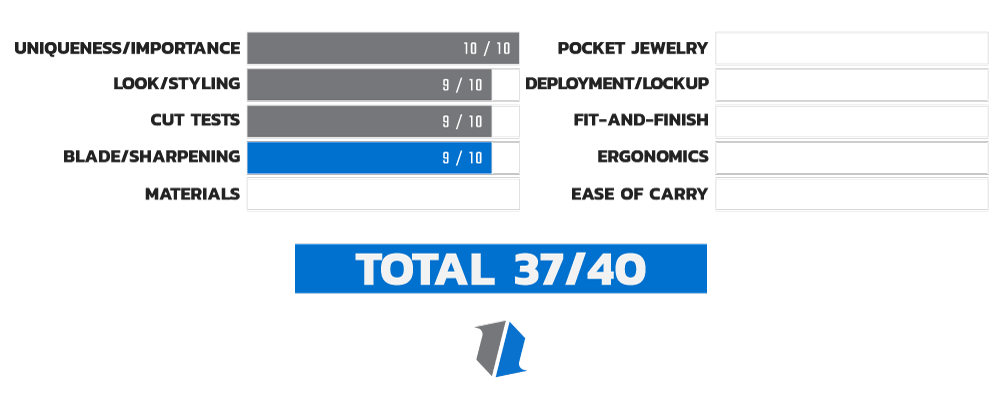 MATERIALS
Score: 8/10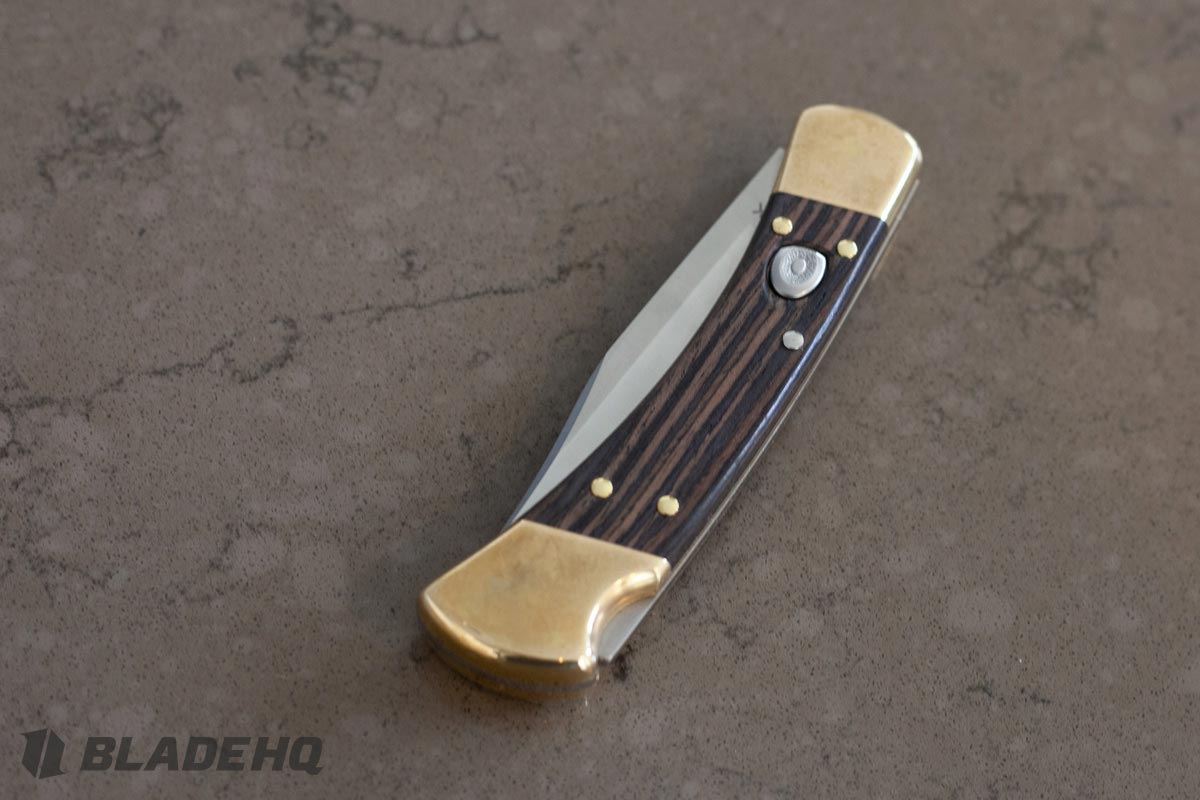 TRADITIONAL! The Buck 110 is not afraid of being traditional, and I am super okay with that. This thing has got so much brass on it that it should probably come with some stock holdings for BRSS (BRSS is up over 3% recently. Iím not saying itís because of the Buck 110, but Iím also saying maybe it is because of the Buck 110).
I love that this knife boldly blends brass, steel, and wood in an unapologetic way. Titanium and steel? Pshhhh we donít need any of that. Brass. Wood. Thatís what built this country. Good enough for me.
The Dymondwood scales are lacking a bit in the premium department, but should be durable for a lifetime or more.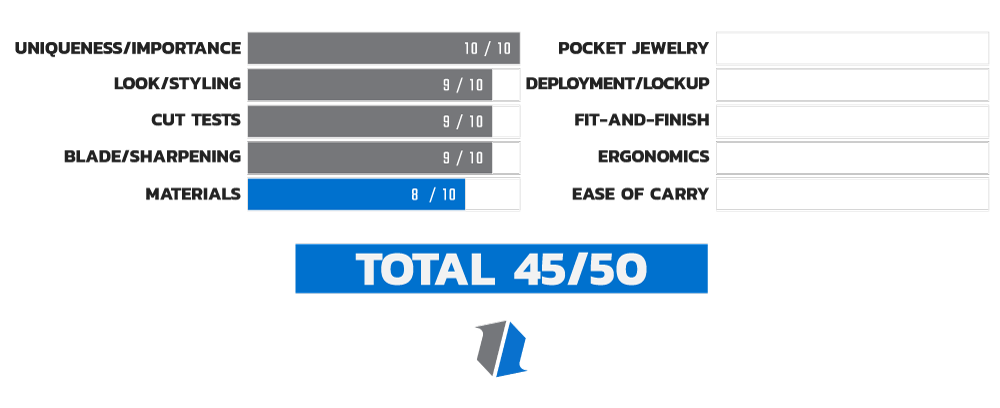 POCKET JEWELRY
Score: 7/10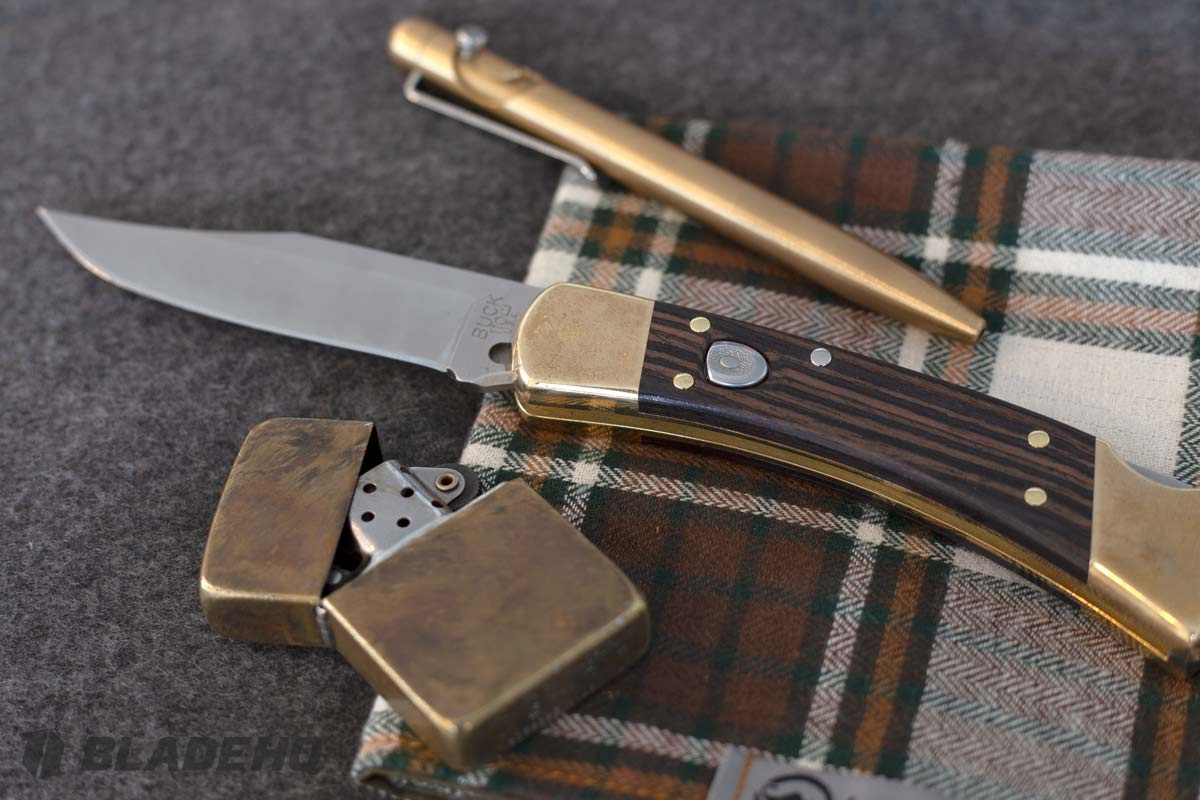 Some day Iíll get the chance to review a knife from Olamic or maybe a Marfione Custom or something. Those knives are 10/10 ĎPocket Jewelryí material. Iím not gonna lie to you and say that a Buck 110 should be compared against custom pieces like that.
That said, the Buck 110 Auto does seem to have a little magic in it. Iím envisioning a knolled out flat lay with a handkerchief and some bad to the bone brass accessories Ė maybe a pen and a zippo. Youíre guaranteed to pull some big Instagram like numbers with an image like that.
The Buck 110 has also long been a platform for modification and customization. Recently, SKBlades began offering official Buck knives in premium blade steels and with personalized detailing. Now the skyís the limit for your Buck. If you can dream it, it can be done!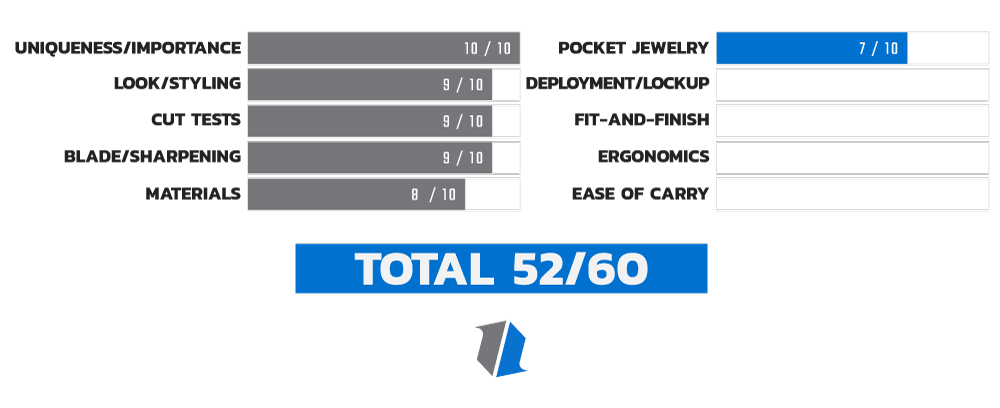 DEPLOYMENT / LOCKUP
Score: 7/10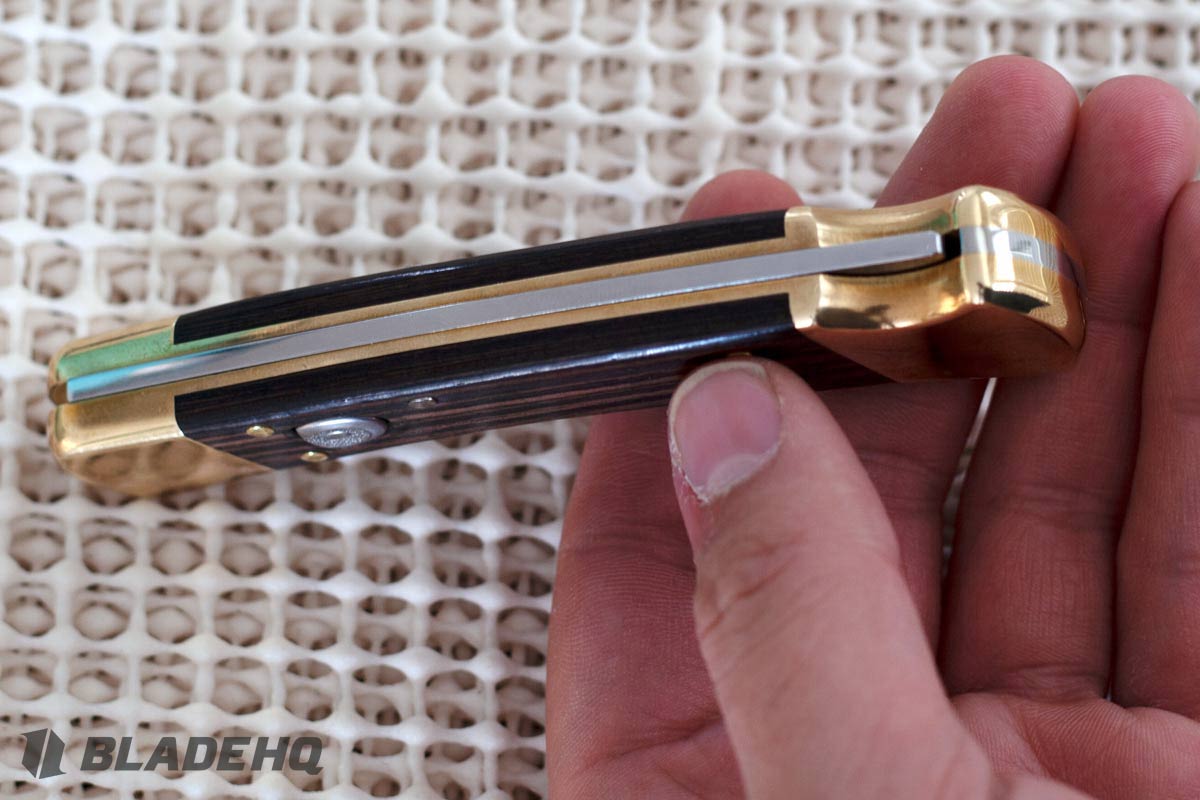 So the original Buck 110 was a two-handed deal. Pinch the blade with your off hand and open Ďer up. The automatic mechanism on the Buck 110 is a welcome addition, because now this classic can be opened easily one-handed. Iím happy to report that the deployment mechanism is reliable and consistent. This knife is so fun to play with, and in the thousand times (or more...) I opened it, it never failed a single time.
Is there a negative to the Auto 110? Unfortunately, the knife is still a lock back. It feels a little bit counter intuitive to fire the knife with the button only to close it with the lock back at the rear of the handle. Iím a big fan of back locks for strength, but it definitely cuts down on the vibes of this particular piece.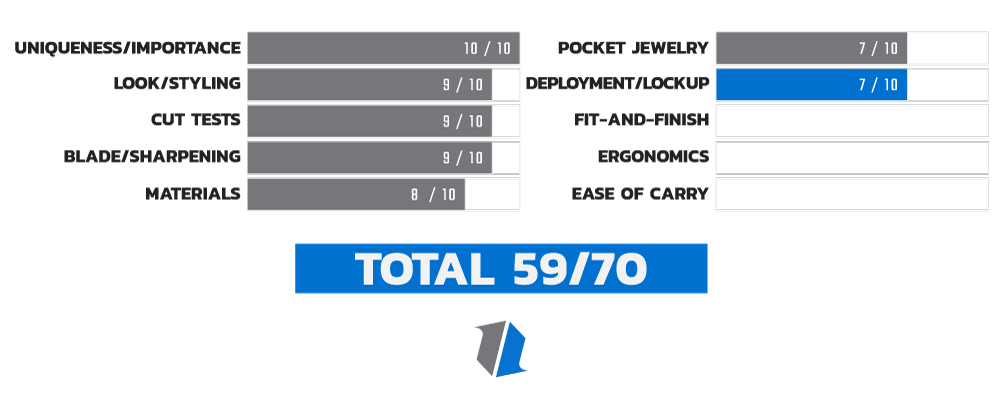 FIT-AND-FINISH
Score: 6/10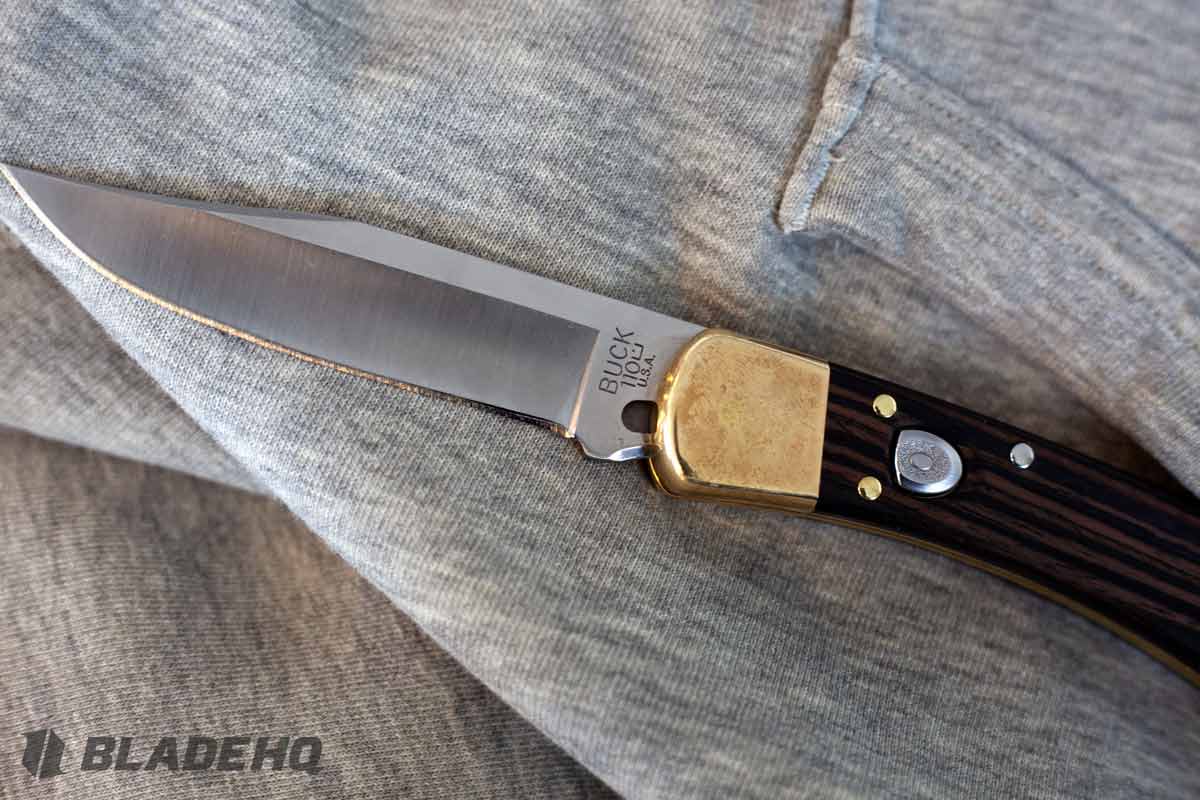 Maybe Iím being a little tough on this rating here. The Buck 110 Auto really doesnít leave anything to be desired in terms of fit and finish. The blade is well-centered and well-ground. All the pieces fit together properly without any gaps or play. The knife functions perfectly. That said, thereís just something about the whole affair that feels a little bit roughshod. This is a utilitarian piece. If your Buck 110 is in a glass case, youíre doing something wrong. Go beat your knife up. Sharpen it. Then go beat it up again. A 6/10 in this category is honestly a compliment. You go Buck.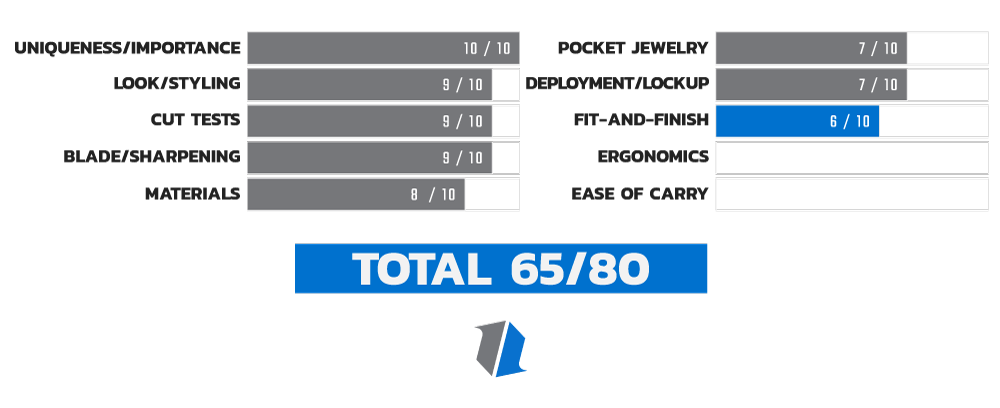 ERGONOMICS
Score: 5/10

The Buck 110 Auto is super comfortable. Fire the blade out. Cut up some stuff. Put the knife away. Itís a simple equation and Mr. Buck will never let you down. Okay but letís be real. This thing is stinking heavy! I really donít mind big knives, but you notice this knife in hand and in pocket. The Buck 110 Auto would not be my first choice for any hiking trips and donít try throwing this guy into your drawstring-less basketball shortsóyikes.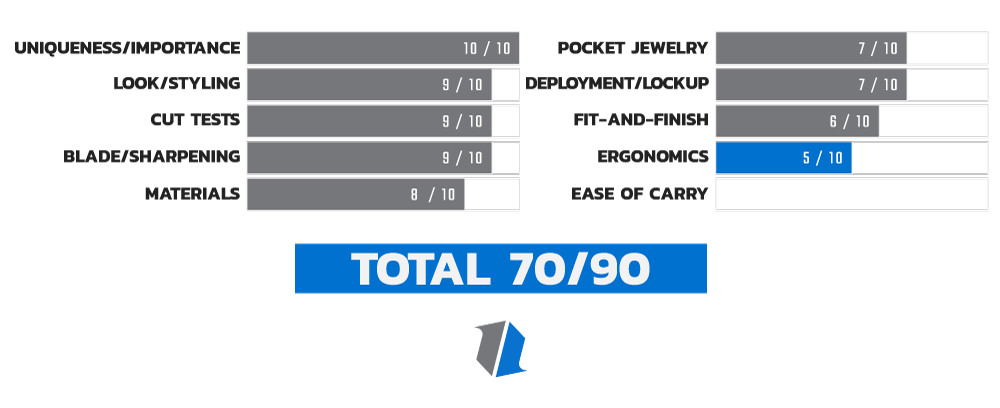 EASE OF CARRY
Score: 5/10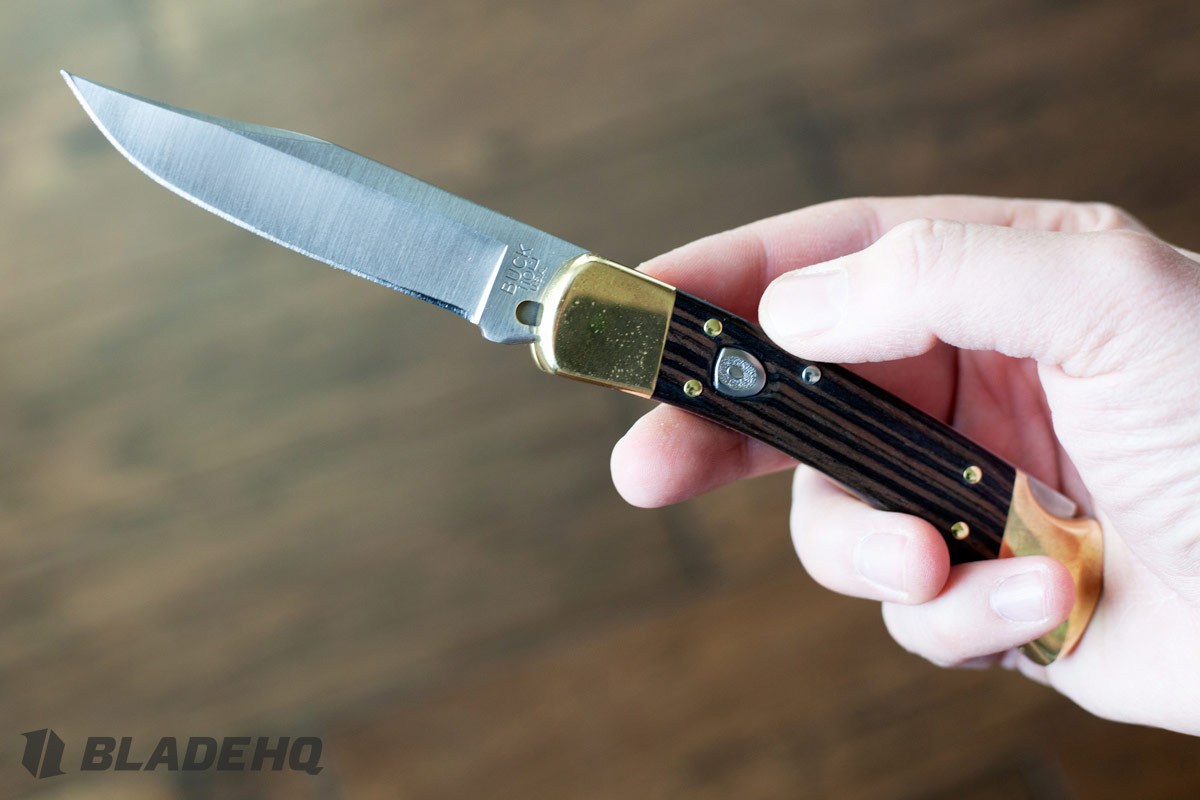 Itís 2019 and Iím reviewing a knife with no pocket clip. This category is usually just called pocket clip, but I had to change it up because the Buck 110 Auto has no clip so itís just ĎEase of Carryí Ė and ĎEase of Carryí should really be called ĎDifficulty of Carryí for this review. The Buck 110 is big and heavy. Iím glad they include a high-quality leather sheath, but I wouldn't personally carry this knife in its sheath.
My go-to with the Buck 110 Auto is to just leave it on my workbench or throw it in a bag. Thatís really the only way to go. Itís not a pocket carry piece for me.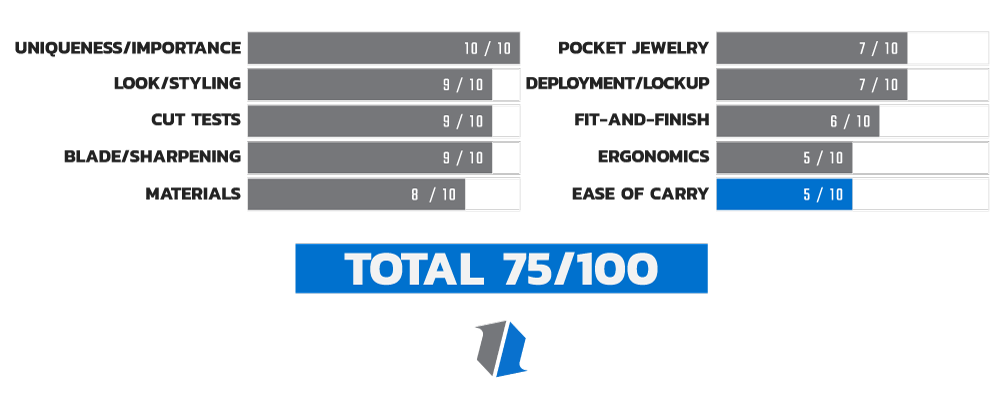 TOTAL KNIFE LIFE SCORE:
75/100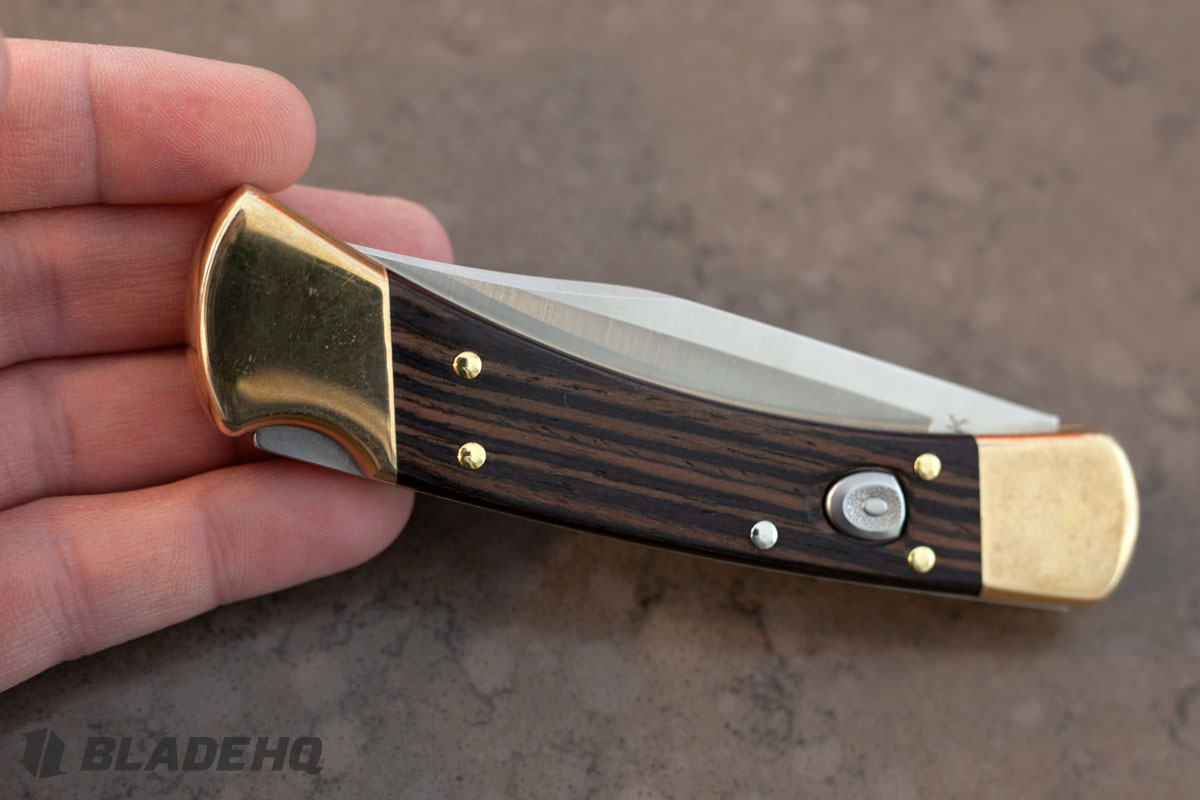 There you have it! The famous Buck 110 in automatic fashion scored a solid 75 on the Knife Life critique. Not bad for a folding knife that has roots back to 1964. If you want to see where the 110 Auto falls in our bestsellers of 2018, check out our video below.
---
AUTOMATIC VS. MANUAL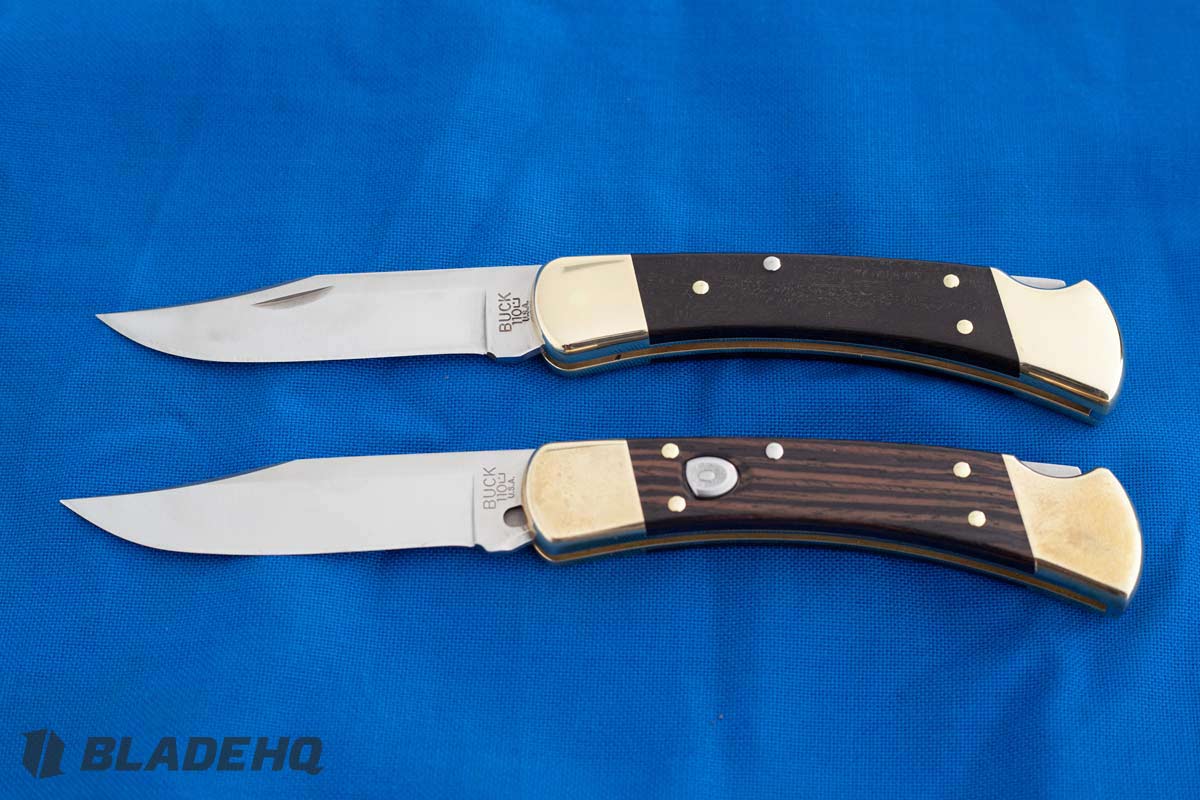 Which Buck 110 should you buy Ė automatic or manual? The manual is quite a bit cheaper! That said, I would still go for the automatic. You get all the charm of the original with the added bonus of one-handed operation. You really canít beat that! If you happen to live somewhere that autos are illegal then definitely donít hesitate to pick up the manual 110!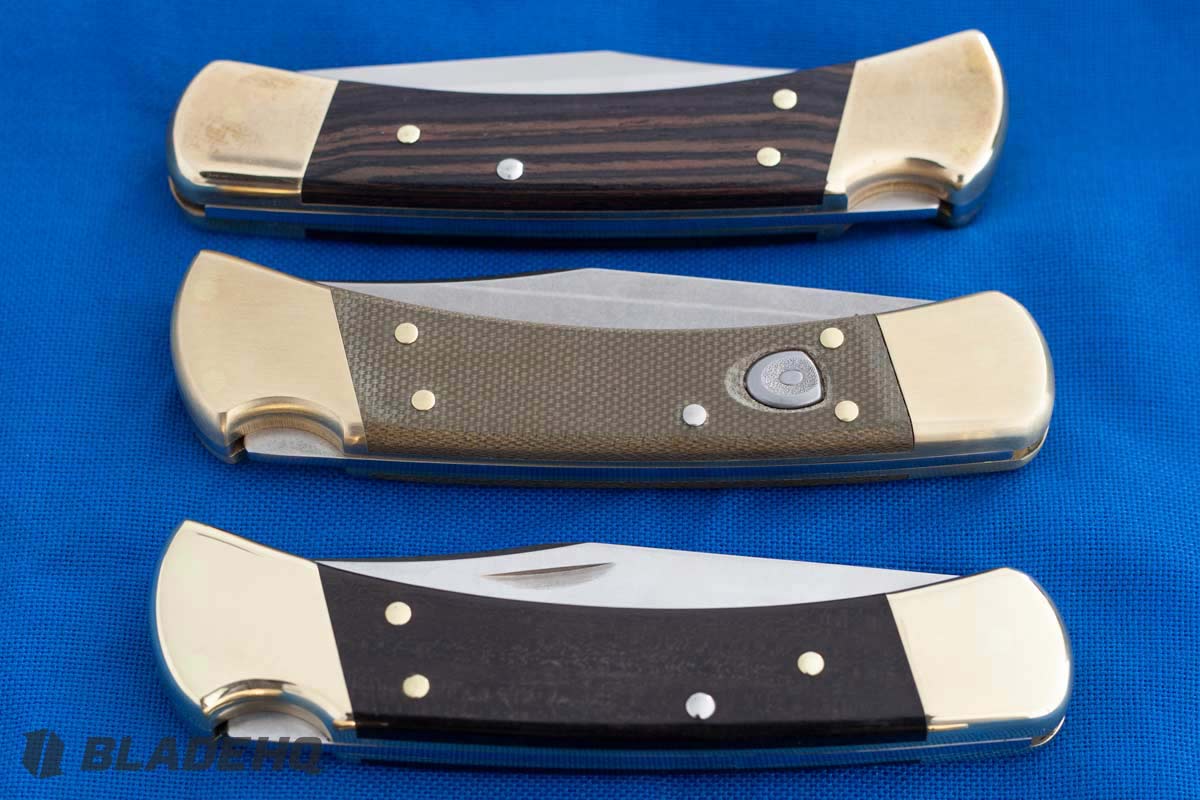 ---
110 VS. 112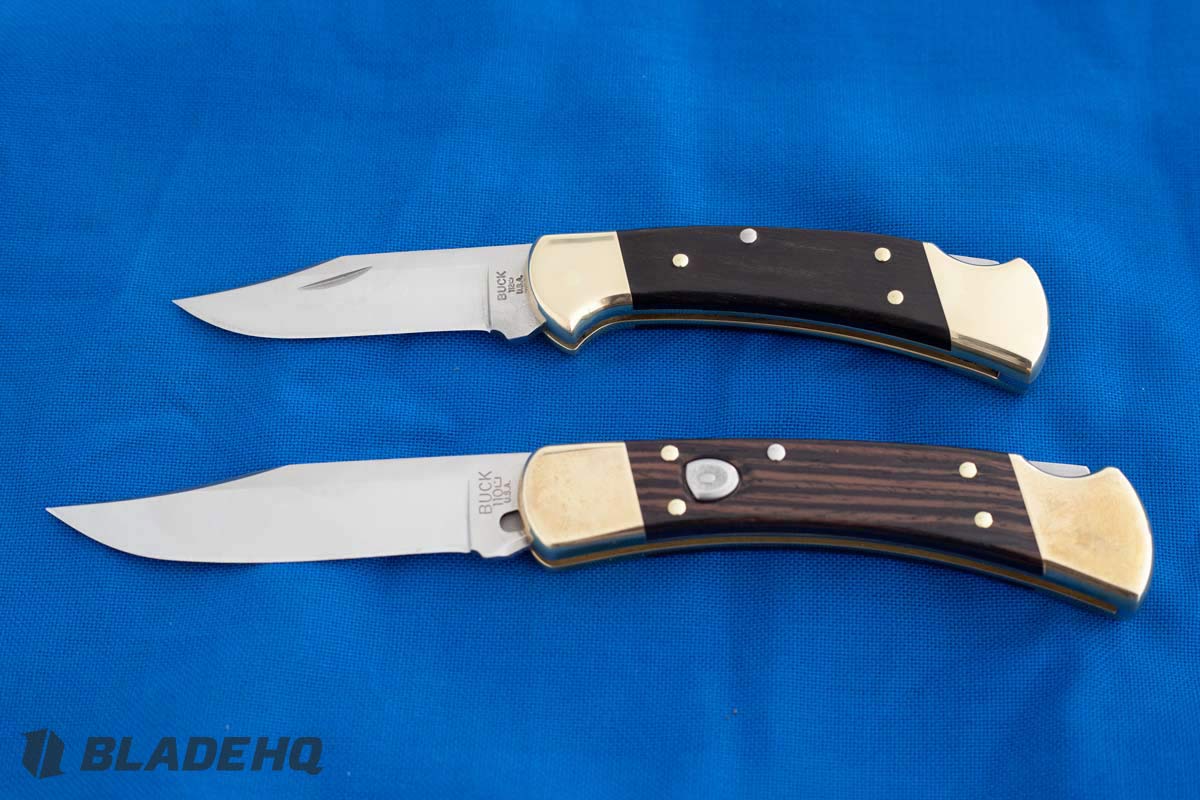 The Buck 110 is a big boy of a knife. The good news is, there's also a smaller version available! Check out the Buck 112 if you looking for a slightly more discreet carry option. The 112 is still big enough to get any of your hard-use tasks done, but it might be a better choice when weight is a factor. Throw a 112 in your bug out bag or add one to your EDC rotation.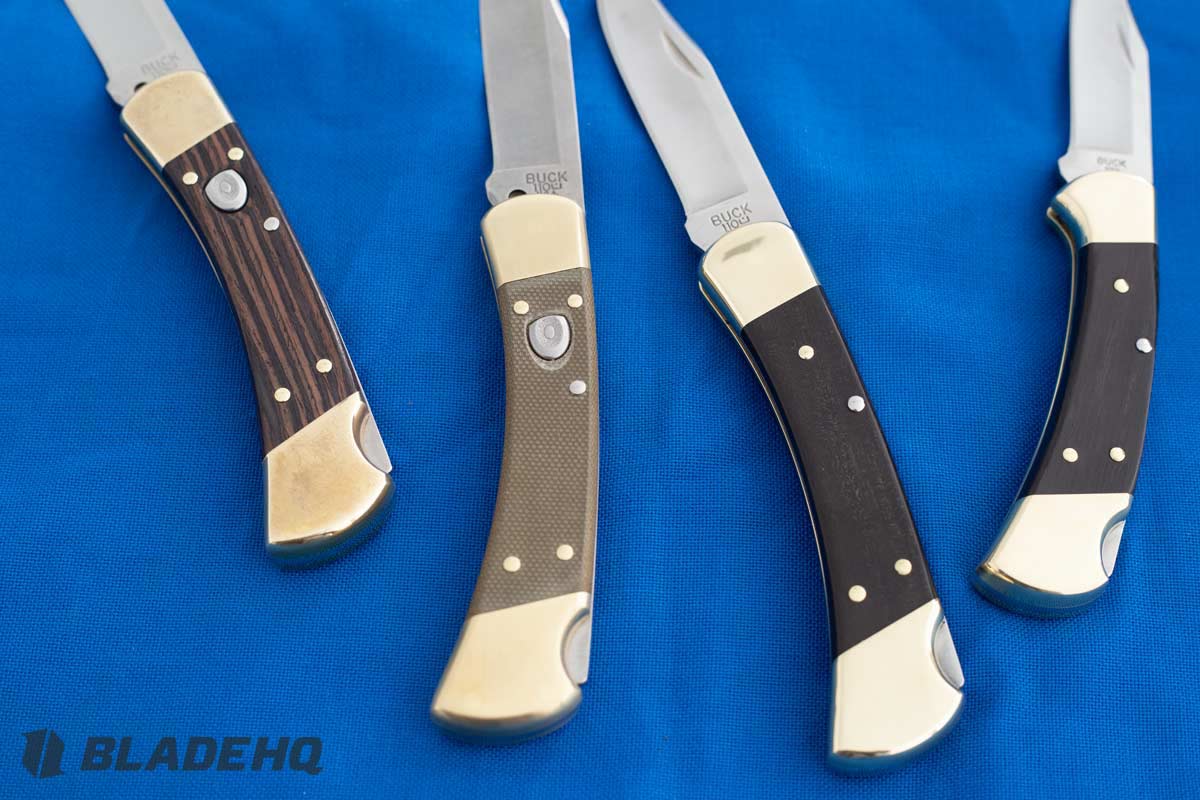 ---
Other 110 Variants
It should come as no surprise that the Buck 110 Auto got its start as a manual folding knife. Buckís reputation for producing quality folding and fixed blade knives has established their brand as one of the best in the industry. With its unique bowie shaped blade and strong lock back design, the Buck 110 is a classic knife built to stand the tests of time. Check out other versions of the Buck 110 below.
Buck 110 Auto Elite

Built on the same platform as the original Buck 110 Auto, the 110 Auto Elite takes performance and precision to the next level. With the introduction of premium CPM-S30V blade steel and grippy black G-10 scales, the 110 Auto Elite is even more durable and built to last. If you like the classic styling of the original 110 Auto, but need a knife with a little more heft, the 110 Auto Elite is the knife for you!
Buck 110 Slim

Letís face it, some knives can be heavy and cumbersome in pocket. Throw in a wallet, phone, keys and whatever else you need for the day and the weight starts to really add up. The introduction of the Buck 110 Slim comes at a time when lightweight carry and practicality are highly valued. GFN, G-10 or Micarta handle scales and a reversible deep carry pocket clip make the 110 Slim much easier to carry than its beefier brothers, but doesnít sacrifice any performance. The Buck 110 Slim is a modern take on a classic knife and well worth adding to your collection.
---
OTHER KNIFE GUIDES