Cold Steel Recon 1 Review
Written and Photographed by Blade HQ Staff Writer Logan Rainey on 12/11/2020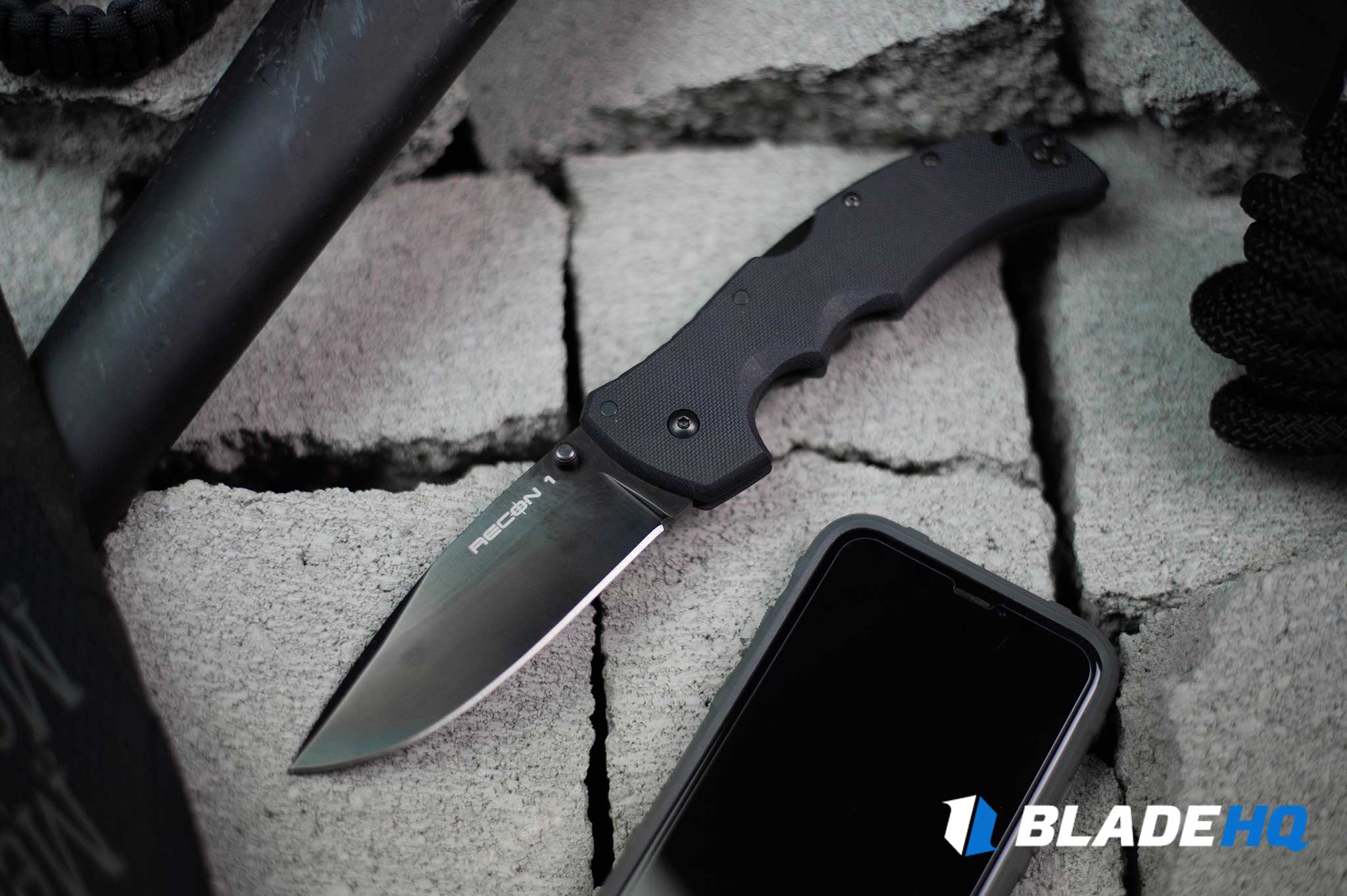 With so many knives to check out and review it might be a bit of a surprise to see the Cold Steel Recon 1 getting a full article to itself, but let me tell you now, this isnít just any old pocket knife. It could easily be described as an everyday tactical carry knife thanks to its rugged looks, seemingly indestructible construction and purpose-driven ergonomics. The Cold Steel Recon 1 is quite possibly one of the best heavy-duty folding knives on the market. Read on to learn more. Letís get to it!
First let's run through the stats...
Overall Length: 9.375Ē
Blade Length: 4.00Ē
Blade Shape: Spear Point
Blade Steel: CPM-S35VN
Handle Material: G-10
Weight: 5.06 oz.
Lock Mechanism: Tri-Ad Lockback
Made in Taiwan
KNIFE LIFE SCORE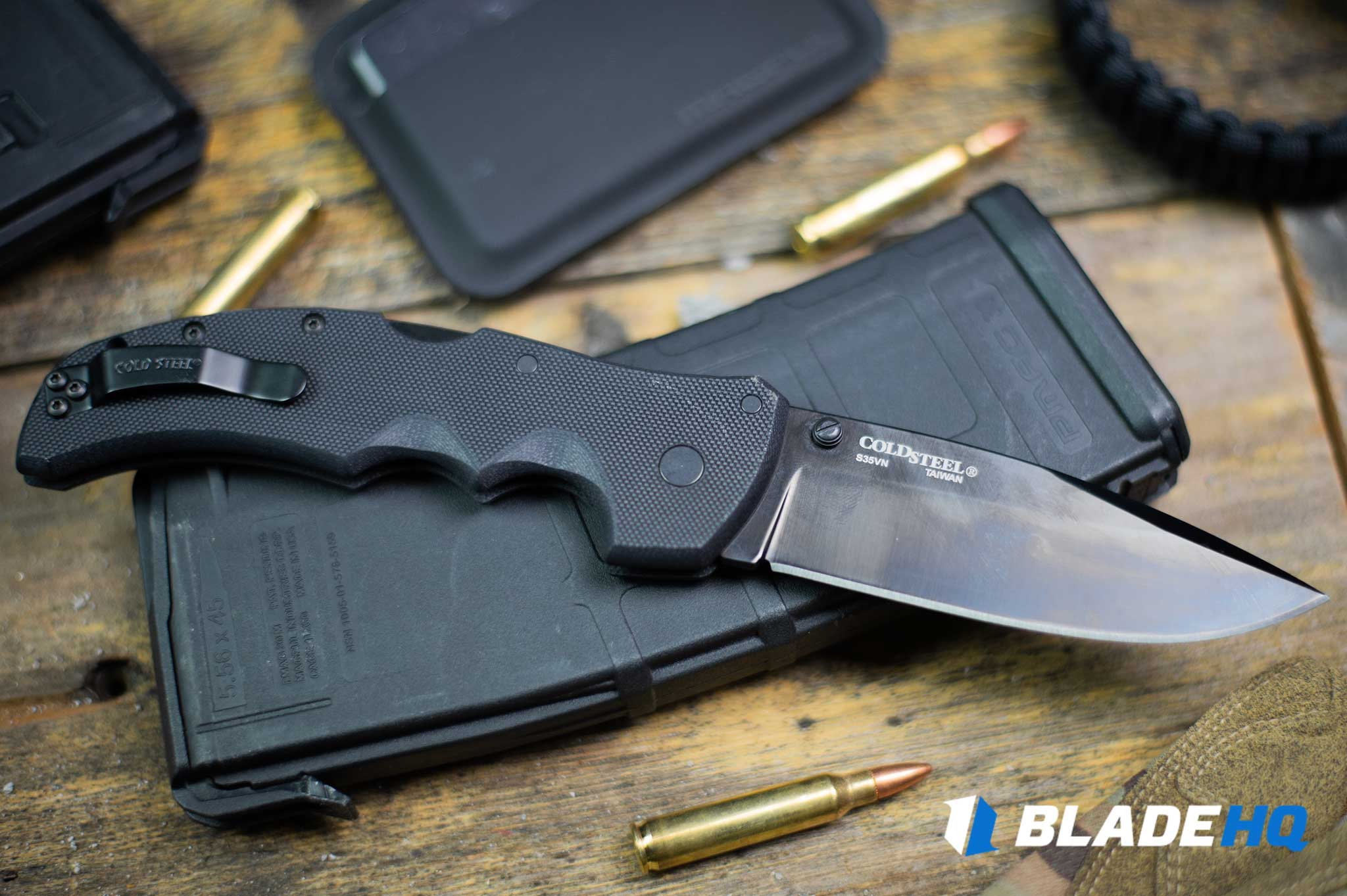 Knife Life is all about representing your personality and passion through the knife you carry in your pocket every day. Quality and performance are key. Tasteful design and ritzy details are also important. You can be confident carrying any knife with a high Knife Life Score. Each section is scored out of 10 with a grand total of 100.
UNIQUENESS / IMPORTANCE
Score: 7/10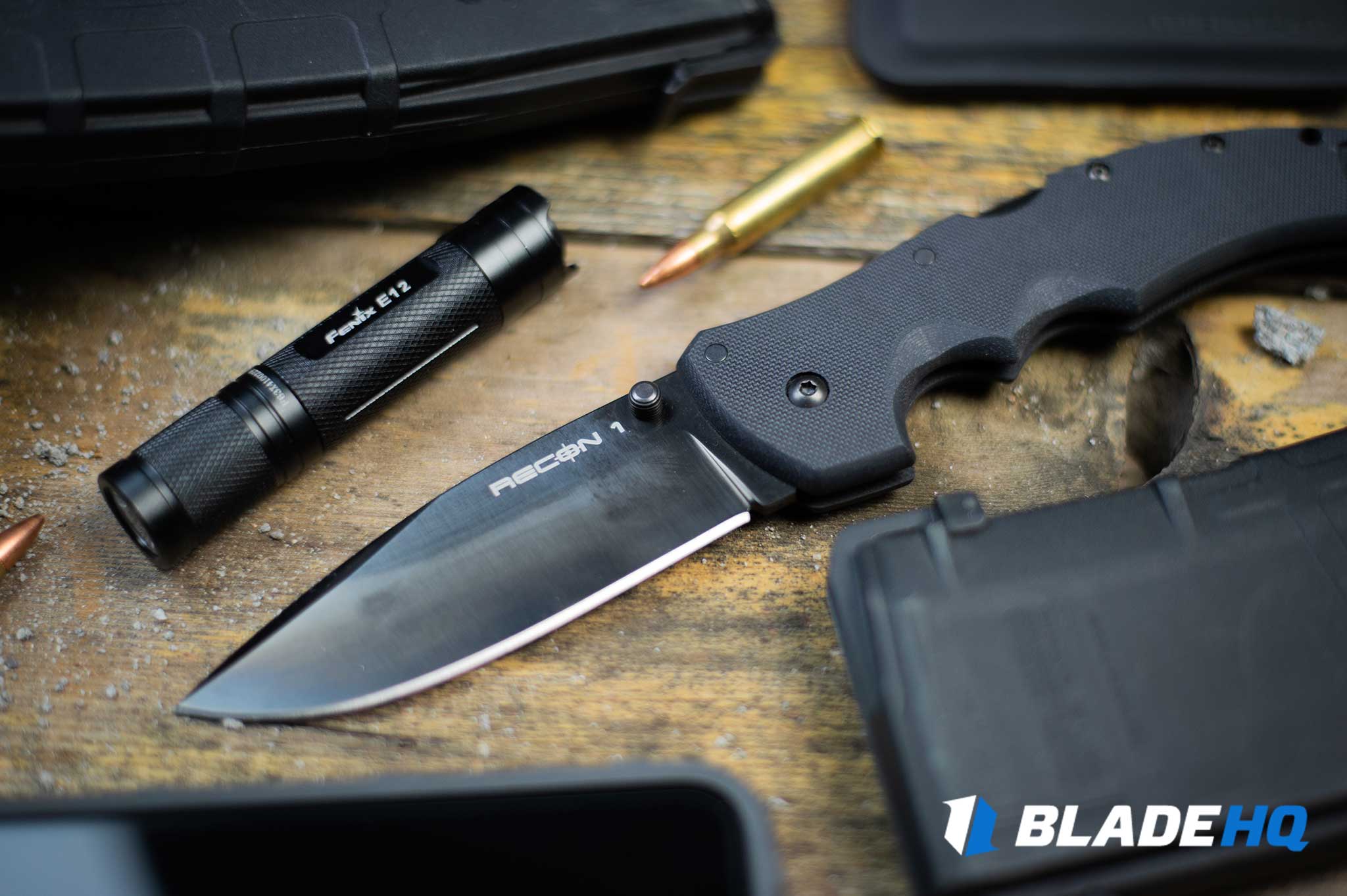 The Cold Steel Recon 1 is truly unique in the sense that it is one of the toughest folding knives you can buy. From the blade material to the lock design, the knife is rock solid and ready for action. This isnít necessarily a knife thatís going to appeal to the typical EDC enthusiast, but for someone who uses their knives well and expects them to withstand the rigors of a life of action, this knife is more than capable. The thing that really sets the Cold Steel Recon 1 apart from other tactical folding knives, and pocket knives in general, is its insanely strong locking mechanism. Weíll talk more on this later.
---
MATERIALS
Score: 8/10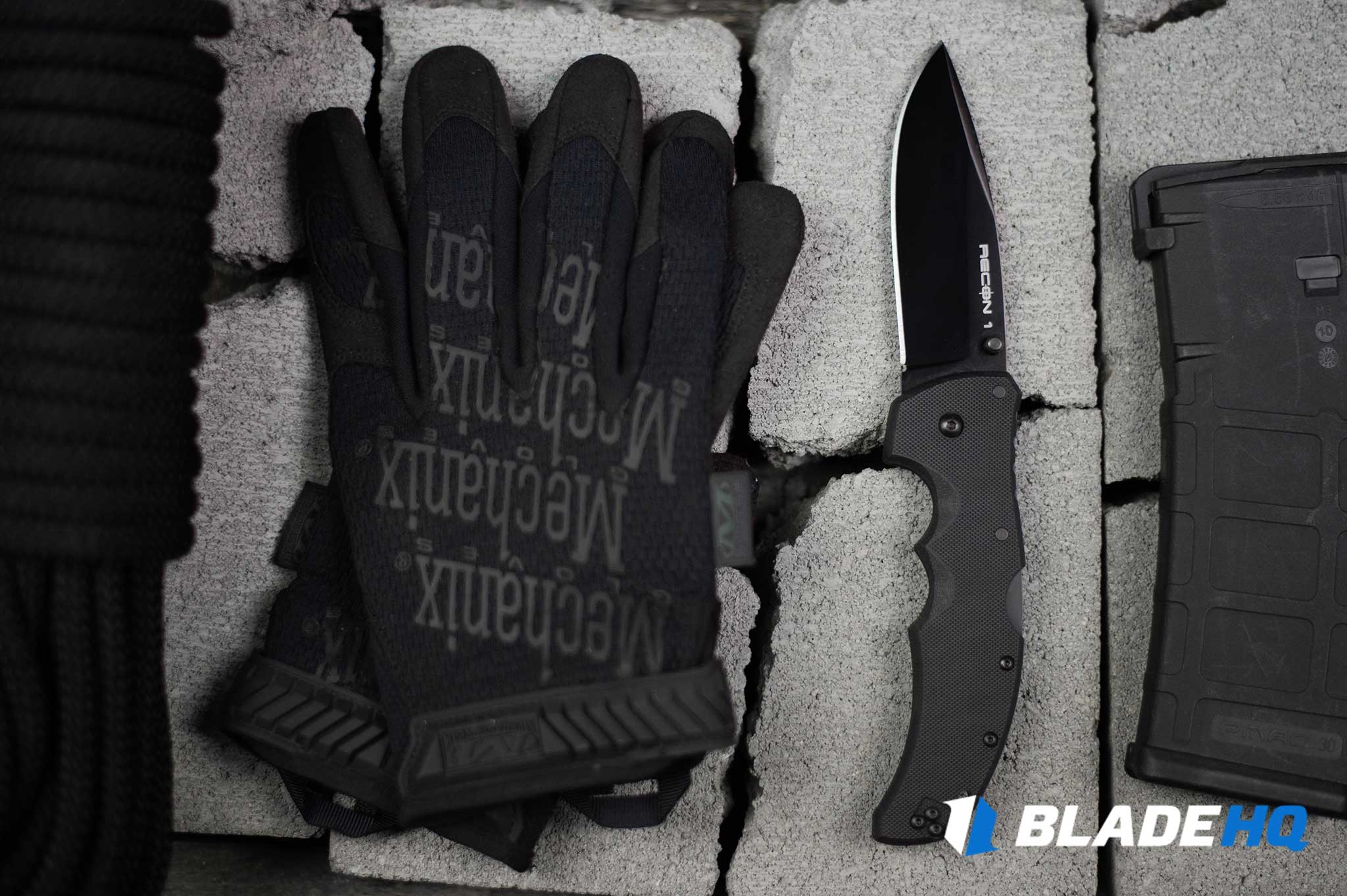 Material choice for the Cold Steel Recon 1 was spot on considering this knife is designed to be beat to hell and used well. This knife features a durable G-10 handle with great texture and comfortable contouring. Its blade is cut from CPM-S35V which gives the knife considerable durability and edge retention while remaining easy to maintain and resharpen.
---
LOOK / STYLING
Score: 7/10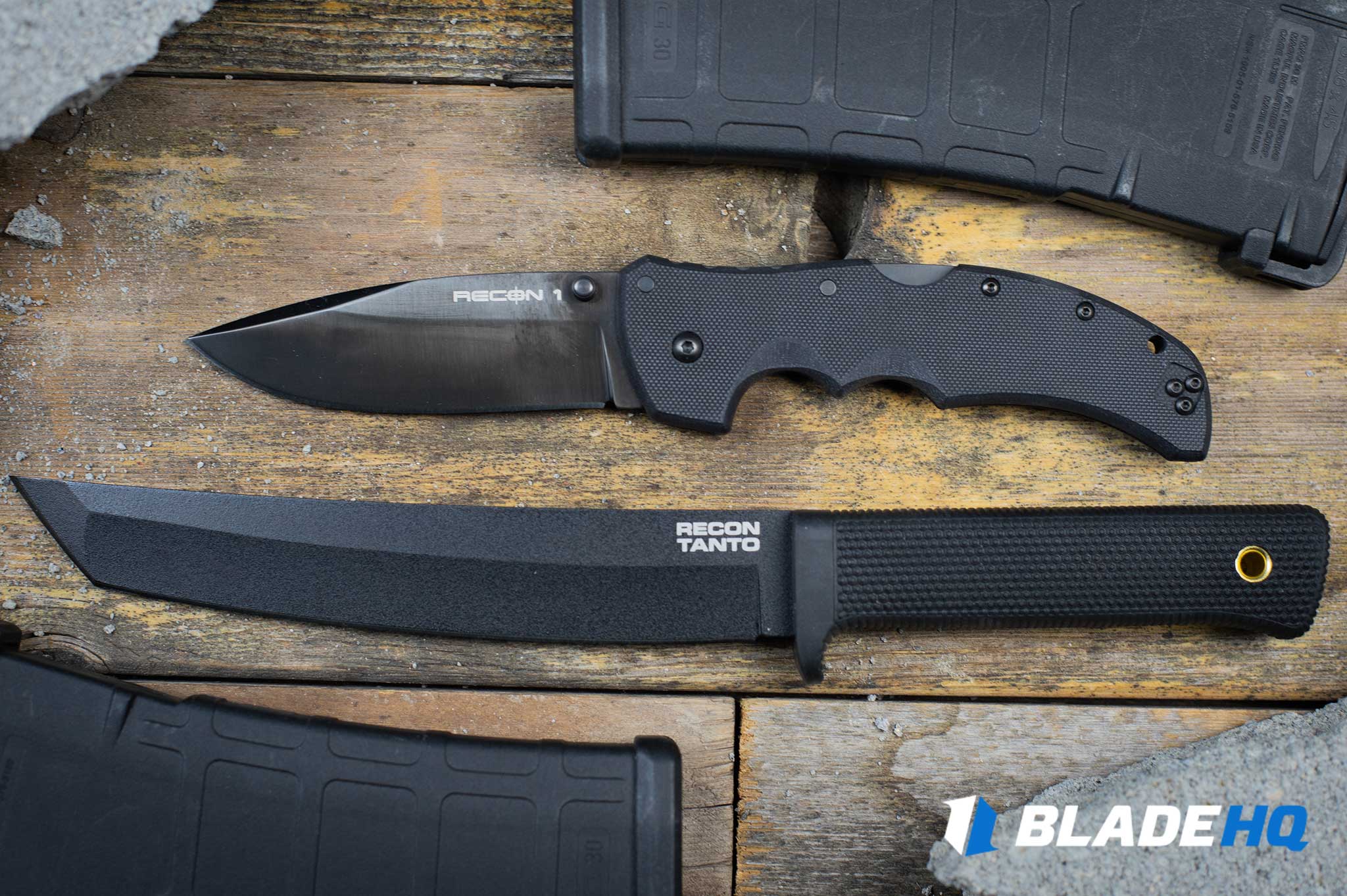 For this review, we opted for the black on black spear point version of the Cold Steel Recon 1. Overall the look of this knife is pretty much like anything youíd find thatís specifically designed as a hard use or tactical knife. This knife is available in standard black and satin, or black and black color ways. For tactical applications, the blackout version of this knife has more tactical advantage thanks to its less reflective blade. Overall, the looks are pretty average, but it is a generally cool looking knife and can be bought with several blade shape variants.
---
ERGONOMICS
Score: 9/10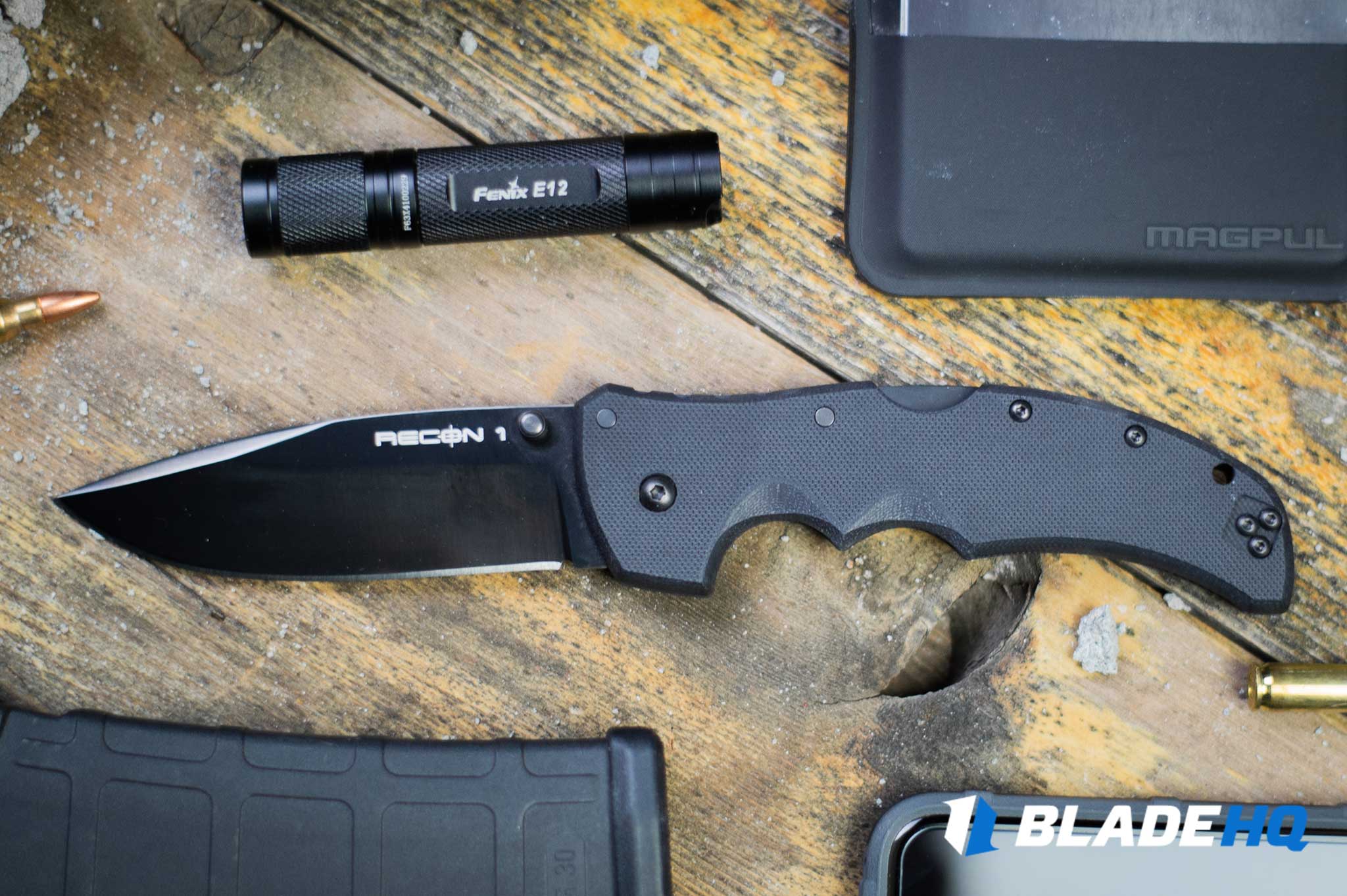 One area where the Cold Steel Recon 1 really excels is in comfort and ergonomics. This knife is so easy to grip and handle. It features two large forward grooves in the handle that let your index and middle finger lock in place and stay secure while using the knife. Its contoured G-10 handle provides both structural rigidity and excellent grip. I have a medium sized hand, and felt that this knife was big, but confidence inspiring, and I didnít have any hotspots when I used the knife for a few cut tests.
---
Deployment / Lockup
Score: 10/10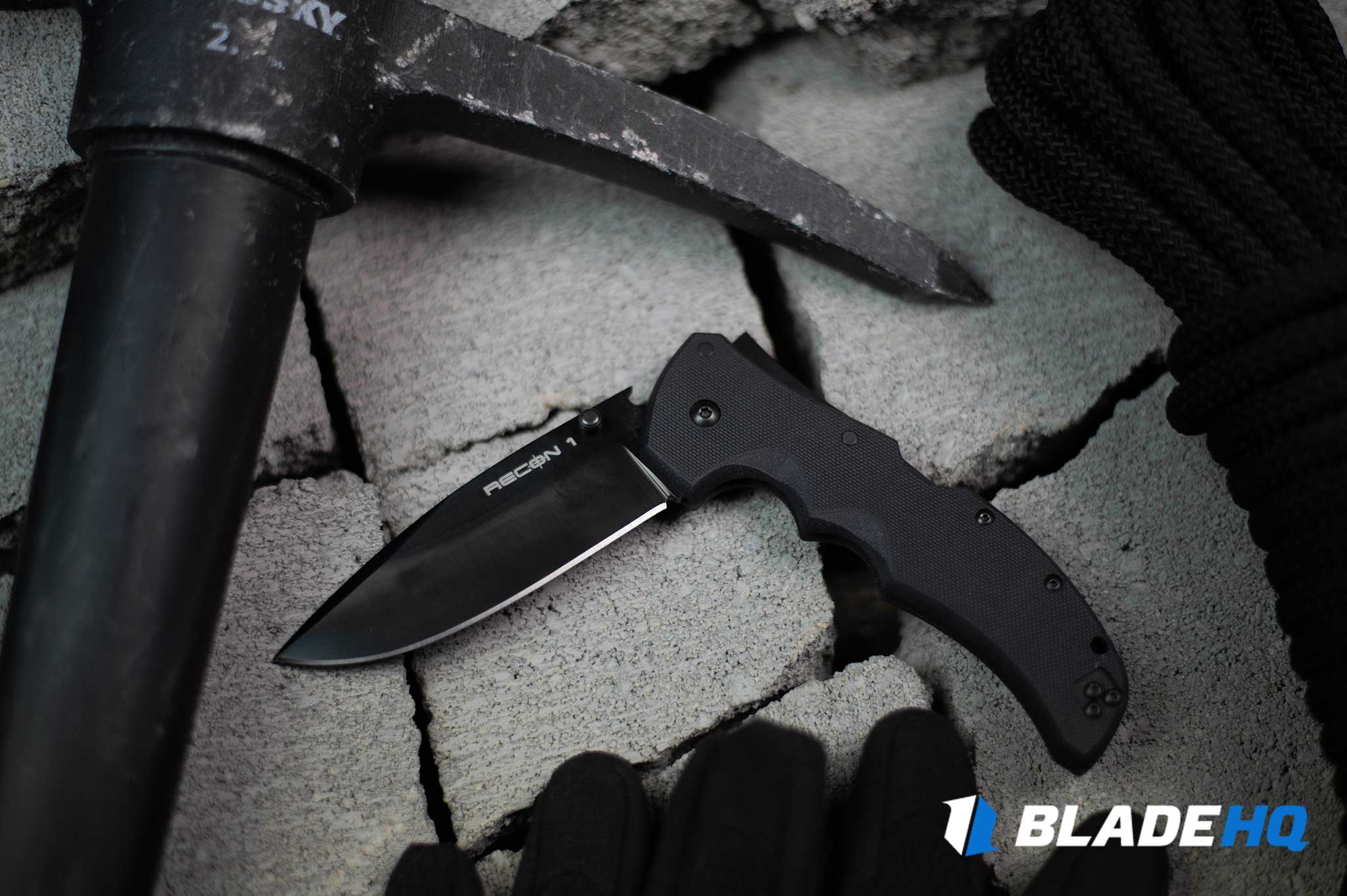 If youíre at all familiar with Cold Steel knives, youíre probably well aware of the strength of their knives especially their knives with the Tri-Ad lock. This unique lock back mechanism was developed with so much thought and engineering that it is by far one of, if not THE, strongest locks in the world. The Cold Steel Recon 1 features the Tri-Ad lock and I was pleasantly surprised with how secure it was. Out of the box, the lock was a little sticky and hard to release, but after a little work and use, the lock is much easier to disengage when I need to close it. The lockup of this knife is by far its most incredible feature and I was quite impressed when I watched this video.
---
BLADE / SHARPENING
Score: 10/10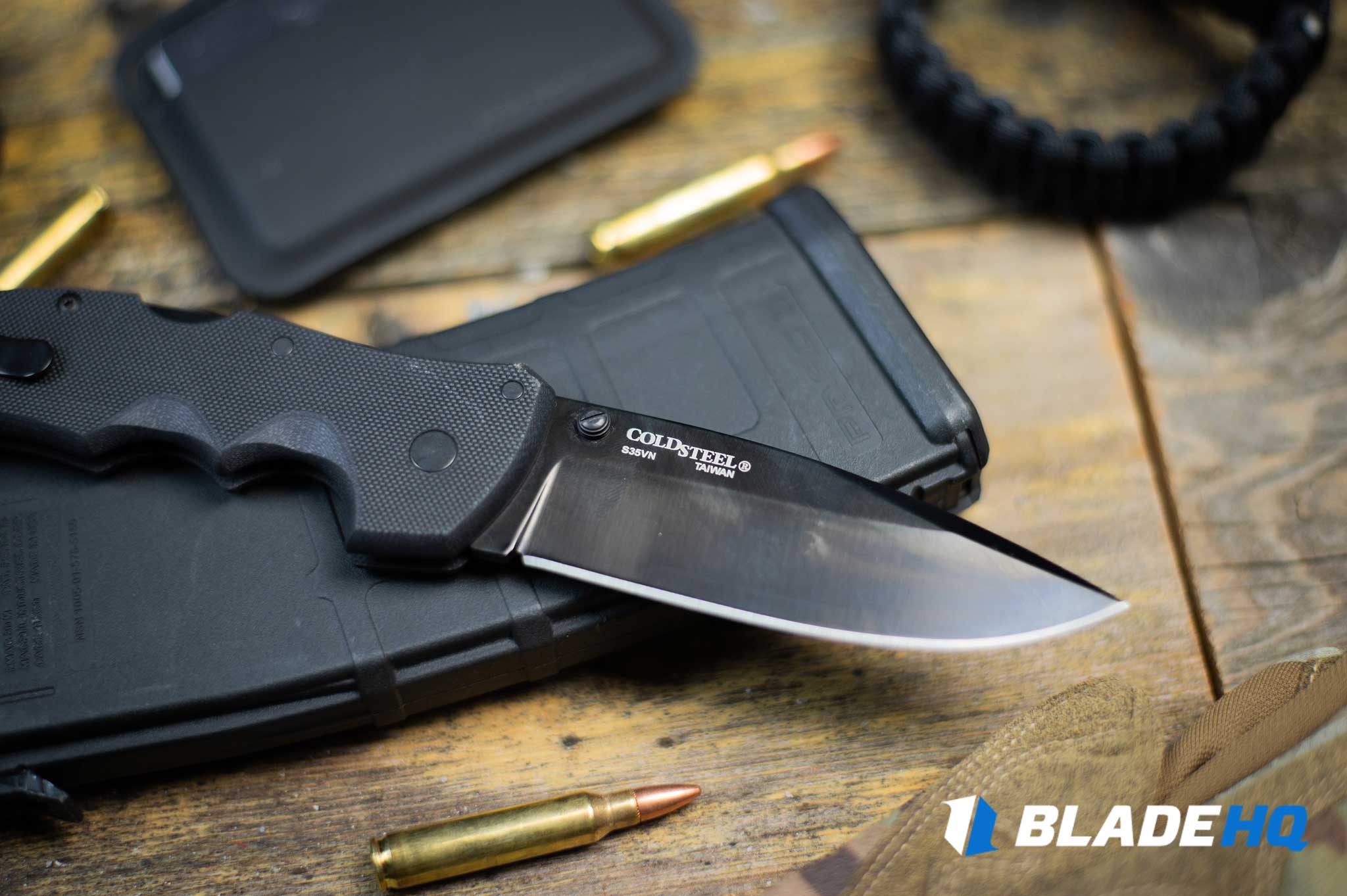 Like I mentioned briefly before, the blade on the Cold Steel Recon 1 is made from American S35VN steel giving it excellent edge retention and durability. The black blade version of this knife is DLC coated for added corrosion resistance. Itís length is four inches and is 3.5 mm thick making this knife great for everything from slicing nylon webbing to prying open paint cans. When sharpening this knife, it was easy to return it to its wicked factory sharp edge by simply running it a few times across a fine ceramic rod and a leather strop.
---
FIT-AND-FINISH
Score: 10/10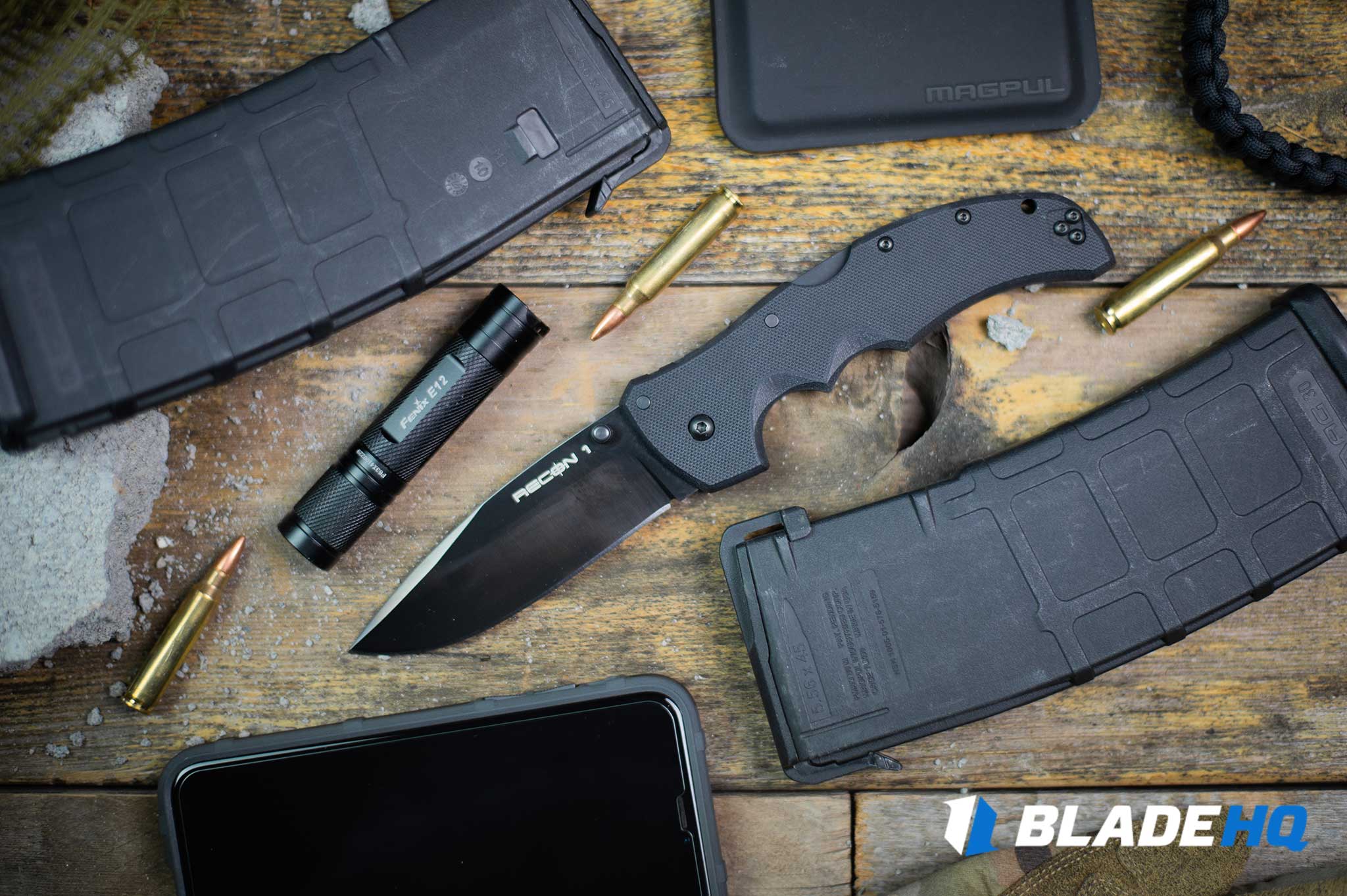 When I first pulled the Cold Steel Recon 1 out of the box, I was excited about how well everything looked and felt. It didnít have any odd burrs, scratches, dings or dents. The knife was assembled well and had great centering. Overall, the fit-and-finish of this knife is top notch and something to be quite proud of.
---
CUT TESTS
Score: 10/10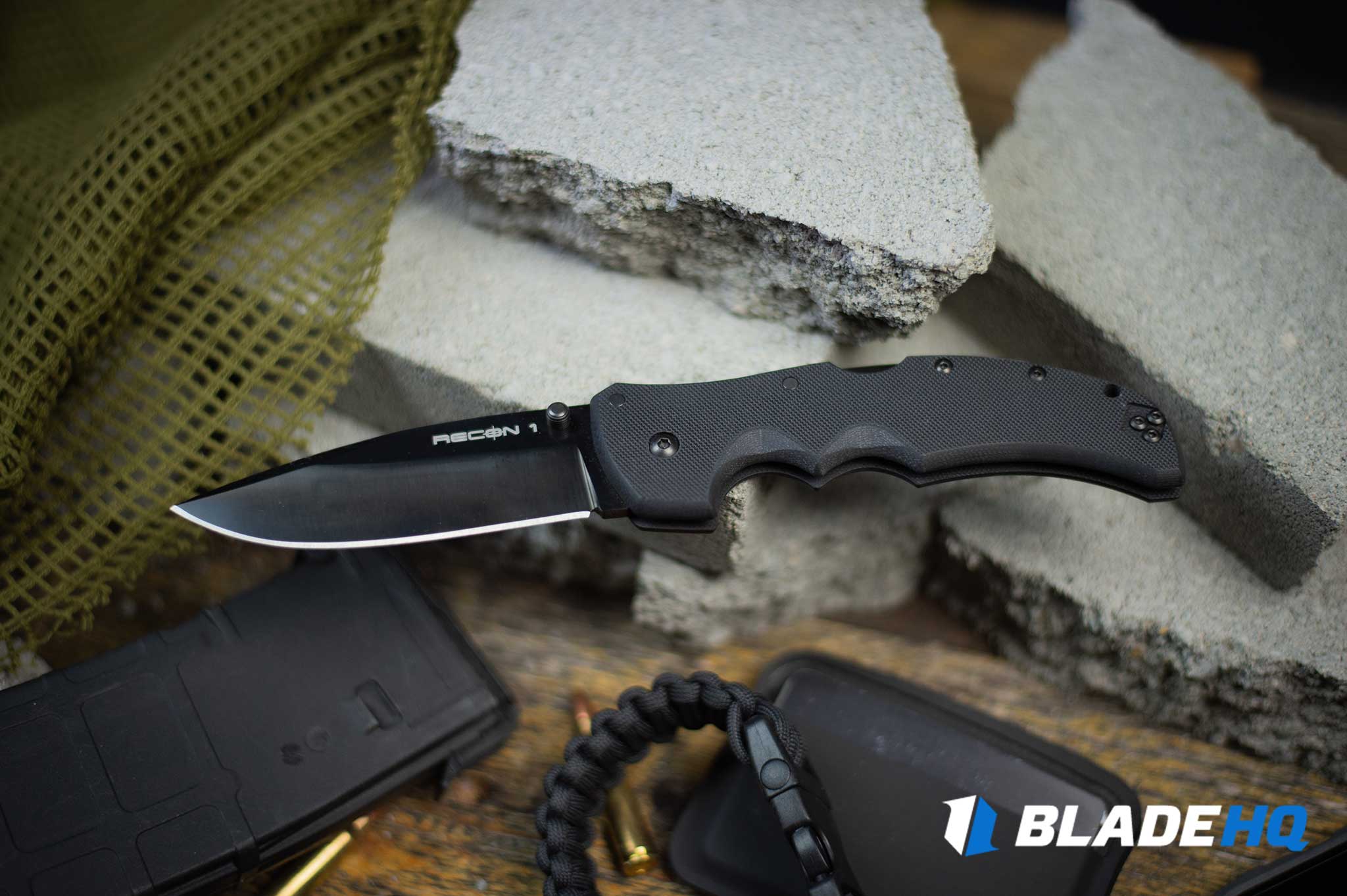 Our cut tests pale in comparison to the cut tests our friends at Cold Steel perform, but we did take the opportunity to literally put this knife through a few ropes and a few other things we could find lying around, and it did quite well. The Cold Steel Recon 1 is one of the biggest and baddest knives we sell at Blade HQ and it performs in a class all its own. This is truly one of the toughest knives Iíve ever handled, and I would love to take it out this next summer to see how it does camping.
---
Ease of Carry
Score: 6/10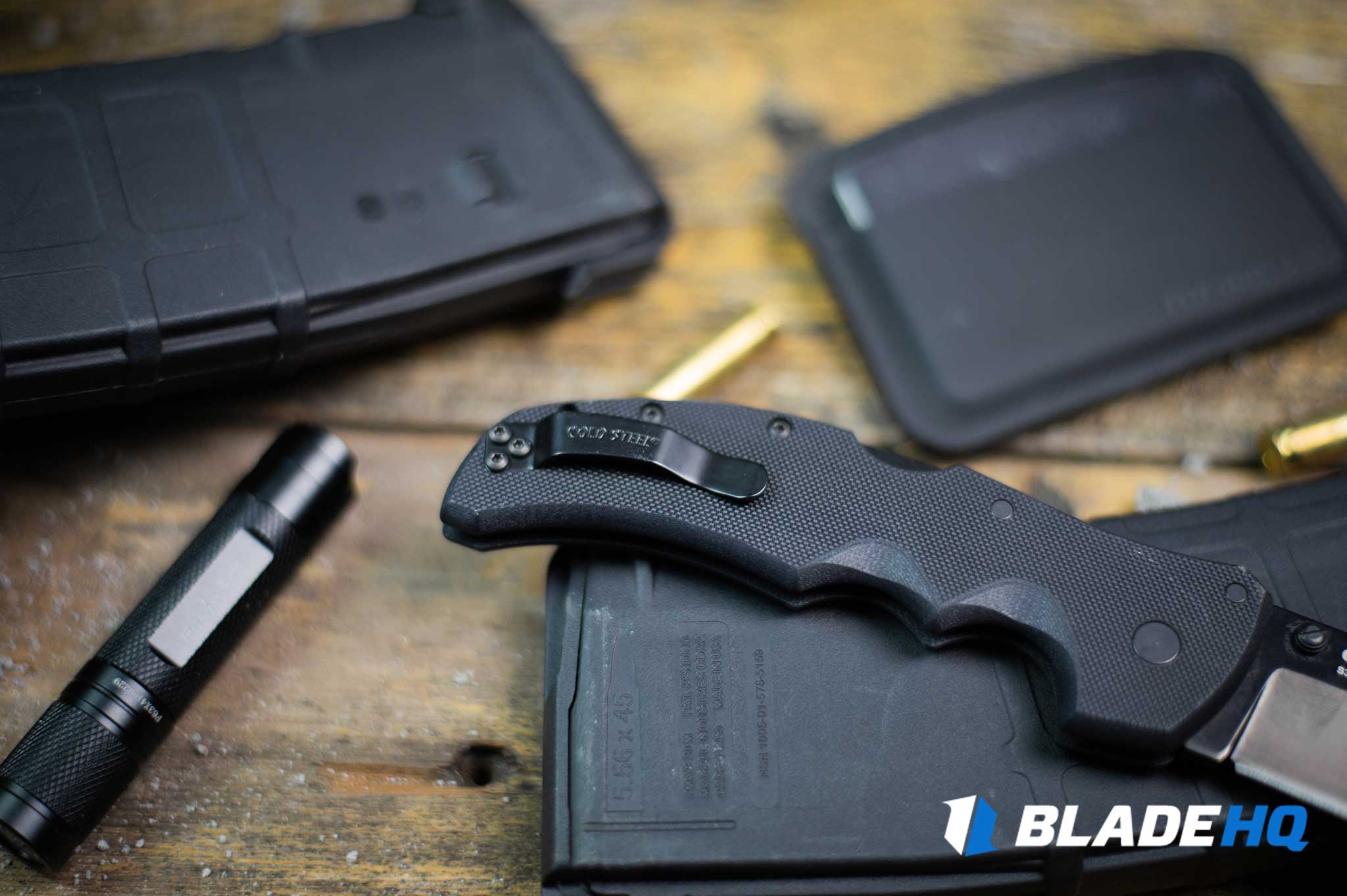 Where bigger size means better strength and performance, it doesnít necessarily translate well into everyday carry. For me, I tend to wear regular Leviís with regular pockets. I found that the knife didnít fit well with the other things I carry in my pockets, and noticed that I had to take it out of my pocket to sit comfortably in the car. In situations where people wear cargo pants or other tactically focused gear, the Cold Steel Recon 1 is going to be a much better fit. The other downside to this knife in terms of carry-ability, is that its pocket clip isnít deep carry. While this is a larger knife and having a little bit of the end sticking up can help it come out of the pocket a little easier, the knife didnít sit low enough for me and I kept feeling like it was in the way.
---
POCKET JEWELRY
Score: 6/10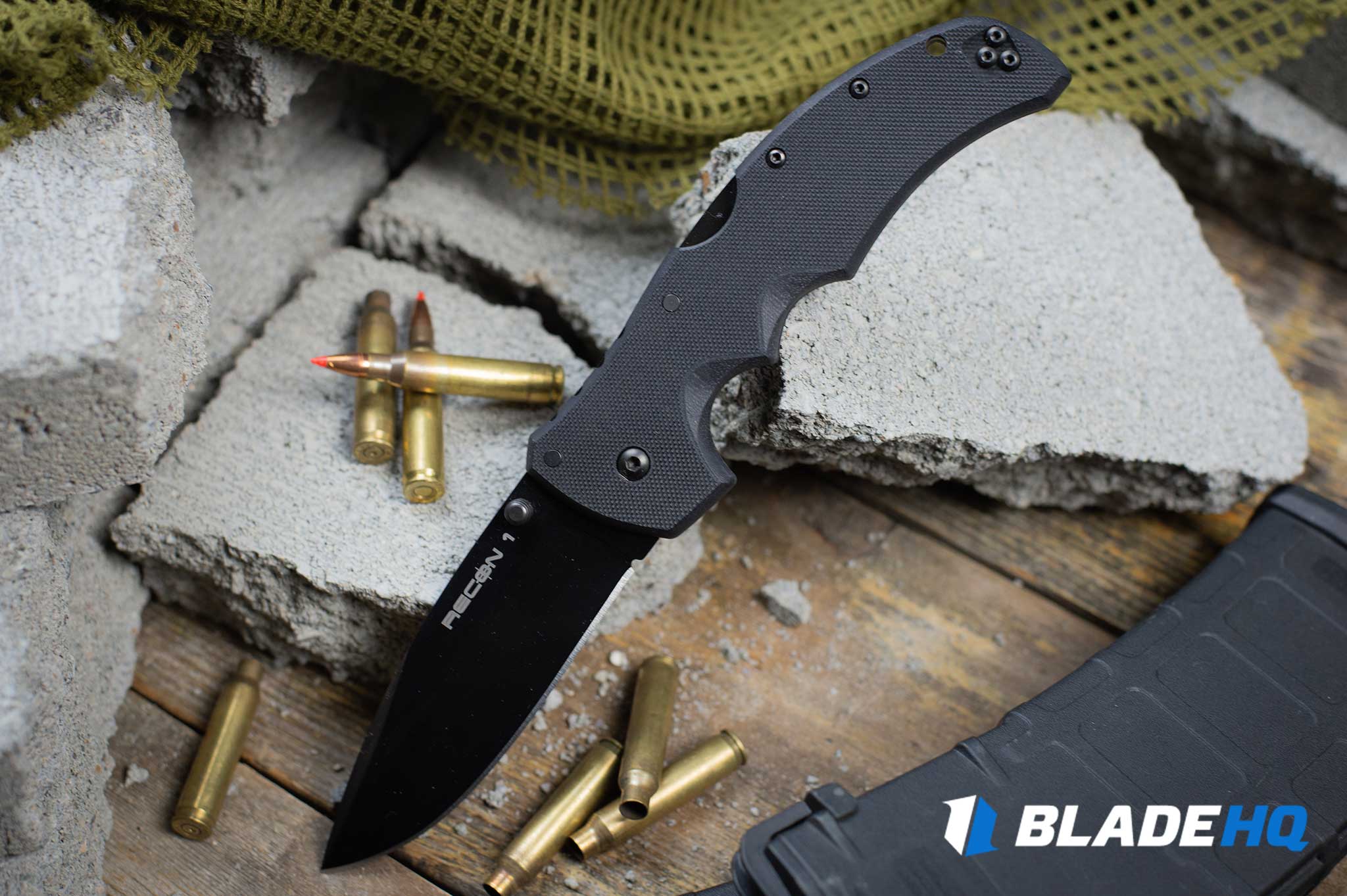 Though cool and unique in its own ways, the Cold Steel Recon 1 isnít the prettiest or awe-inspiring knife to look at. Itís alright at best. That said, however, the knife does draw attention. Itís something people who know knives will ask about or comment on. The knife isnít meant to be anything more than an incredible work knife. Its durability and construction are what set it apart from other knives and thatís how it was meant to be.
---
TOTAL KNIFE LIFE SCORE:
83/100

The Cold Steel Recon 1 is truly a unique knife in so many ways. Its lock strength, durability, simplicity and reputation are all reasons why it is such a popular knife. Whether youíre into bigger folding knives, need something durable for work, or are prepping a go-bag for the next zombie apocalypse, the Cold Steel Recon 1 is an excellent choice and well worth adding to your collection. To see a full spec sheet and more technical information about the Cold Steel Recon 1 click the button below. Until next time, thanks for reading!