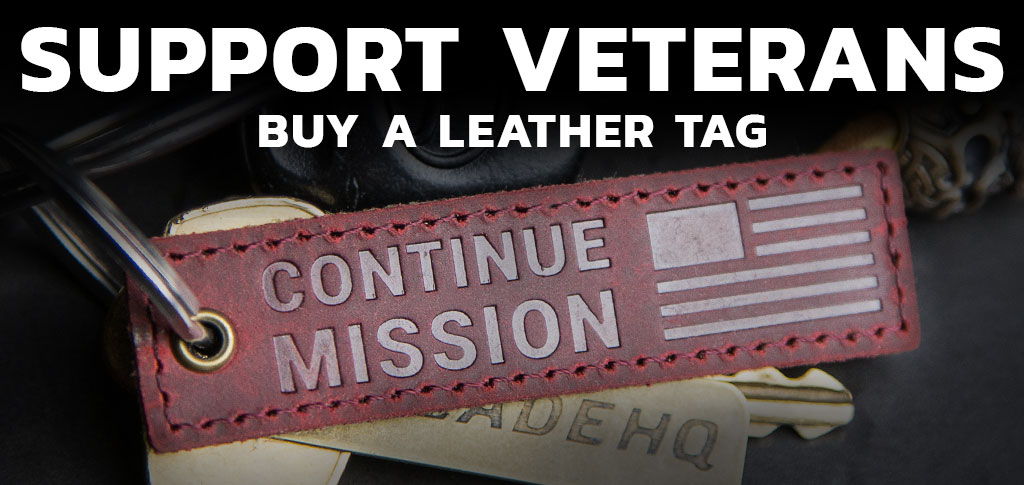 We've teamed up with Continue Mission and Protech knives to offer an amazing way to give back. Continue Mission is a non-profit that benefits war veterans in the United States of America. By buying a leather tag, you help their cause.
Contest Rules
Prize:
Protech TR-3 Automatic Knife
SUMMARY: Must be 18 or older to win. U.S. only, except where prohibited by law. Winner(s) will be selected 11/13/2018 at 10 a.m. MT and announced via Instagram/Email. To enter, buy a Continue Mission leather tag or mail in an entry with your contact information. Mail in instructions below.
DETAILS: NO PURCHASE OR PAYMENT NECESSARY TO ENTER OR WIN THIS GIVEAWAY. A PURCHASE OR PAYMENT WILL NOT INCREASE YOUR CHANCES OF WINNING. ODDS OF WINNING WILL DEPEND ON THE TOTAL NUMBER OF ELIGIBLE ENTRIES RECEIVED. VOID WHERE PROHIBITED BY LAW. AFFIDAVIT OF ELIGIBILITY / RELEASE OF LIABILITY / PRIZE ACCEPTANCE AGREEMENT MAY BE REQUIRED.
This Giveaway is sponsored by Blade HQ, Protech Knives, and Continue Mission.
Eligibility: Blade HQ "Protech TR-3 Giveaway" (herein referred to as "the giveaway") is open only to legal residents of one (1) of the fifty (50) United States or the District of Columbia who are eighteen (18) years of age and older. By entering this Giveaway, you are affirming that you meet these eligibility requirements. This Giveaway is void for residents of New York City, all 5 boroughs, and wherever else prohibited by law. Employees of Blade HQ ("Sponsor"), licensees and each of their respective parents, affiliates, subsidiaries, suppliers, distributors, retailers, advertising and promotion agencies, prize suppliers or any other persons or entities directly associated with this Giveaway (collectively, the "Giveaway Entities"), and each of their immediate family members and/or members living in the same household as such persons, are not eligible to enter this Giveaway or win a prize. For purposes of this Giveaway, immediate family members are defined as spouse, domestic partner, parents, legal guardians, in-laws, grandparents, siblings, children and grandchildren.
To enter, buy a Continue Mission leather tag (while supplies last) or mail in an entry (called an "alternate entry") with your contact information. Each leather tag OR alternate entry counts as 1 entry into the Giveaway. Participants are only eligible to win 1 Protech TR-3, and cannot win multiple prizes. By participating in the Giveaway, each entrant unconditionally accepts and agrees to comply with and abide by these "Official Rules" and the decisions of Sponsor, including the interpretation of these Official Rules and its exercise of discretion, which will be final and binding in all respects. Entries must be received before 11/12/2018 at 11:59 p.m. MST, and will be disqualified if they are late or incomplete.

Mail in entries should be mailed to the address listed below. Include "Continue Mission/Protech Giveaway", your name, address, email address, and birthday.

Blade HQ
Marketing Department
564 W 700 S #102
Pleasant Grove, UT 84062

Winner Selection and Prize Claiming: The potential winner will be selected through a random drawing from all eligible review entries received in accordance with these Official Rules. Sponsor will have sole and complete discretion over interpretation of the Official Rules, of administration of the Giveaway, and of selection of the winner(s). Decisions of the Sponsor as to the selection of the winner(s) will be final. The potential winner(s) will be notified via the platform which they used to enter. Notification is deemed to have occurred immediately upon sending of a Direct Message to the winner.
Odds: Odds of winning will depend upon the total number of eligible entries received.
Prizes: Protech TR-3 Prizes are non-transferable, with no cash redemptions, equivalents or substitutions except at Sponsor's sole and absolute discretion. All prize details not specified in these Official Rules will be determined in Sponsor's sole and absolute discretion. Prize details and availability are subject to change and prize provider's rules and restrictions, and in the event that Sponsor is unable to provide the winner with their prize, the Sponsor may elect to provide winners with the approximate value of such item in cash or award an alternate prize of comparable or greater value. All prizes are awarded "AS IS" and without warranty of any kind, express or implied (including, without limitation, any implied warranty of merchantability or fitness for a particular purpose). Prize winner(s) will be solely responsible for all federal, state and/or local taxes, and for any other fees or costs associated with the prize(s) they receive, regardless of whether it, in whole or in part, are used. Unclaimed prize(s) will be forfeited.
Suspension / Modification / Termination: In the event Sponsor is prevented from continuing with the Giveaway by any event beyond its control, including, but not limited to, fire, flood, epidemic, earthquake, explosion, labor dispute or strike, communications or equipment failure, utility or service interruptions, riot or civil disturbance (this is heavy stuff, folks!), terrorist threat or activity, war (declared or undeclared), interference with the Giveaway by any party, or any federal state or local government law, order or regulation, order of any court or jurisdiction, or other cause not reasonably within Sponsor's control (each a "Force Majeure" event or occurrence) Sponsor shall have the right to modify, suspend or terminate the Giveaway. Sponsor additionally reserves the right, in its sole and absolute discretion: (1) to modify, suspend or terminate the Giveaway should causes beyond Sponsor's control corrupt or interfere with the administration, integrity, operation, security or proper play of the Giveaway; or (2) to disqualify any entrant found to be, or suspected of: (a) tampering with the entry process or the operation of the Giveaway; (b) acting in violation of these Official Rules; or © acting in an un-sportsmanlike manner. In the event of any applicable modification, suspension or termination of the Giveaway, Sponsor reserves the right, in its sole and absolute discretion, to select the winner(s) from among all eligible, non-suspect entries received up to the time of such modification, suspension or termination, as applicable, or to proceed in such a manner as may be deemed fair and equitable by Sponsor in its sole and absolute discretion.
Waivers, Disclaimers and Releases: By participating in the Giveaway, entrants agree to release, discharge and hold harmless the Giveaway Entities, BLADE HQ and all social media platforms (together, "Releasees") from and against any and all claims, liability, costs, losses, damages or injuries of any kind arising out of or related to entrants' participation in the Giveaway and/or related to any prize (including, without limitation, losses, damages or injuries to entrant's or any other person's equipment or other property, or to their persons, related to participation in the Giveaway; or arising out of any violation of rights of publicity or privacy, or claims of defamation or portrayal in a false light; or based on any claim of infringement of intellectual property; or from any typographical, human or other error in the printing, offering, selection, operation or announcement of any Giveaway activity and/or prize).
Winners List/Official Rules: To obtain a copy of the winner list or these Official Rules, send a self-addressed, stamped envelope within sixty (60) days following the end of the Entry Period to: BLADE HQ "Continue Mission/Protech Giveaway" Rules/Winner List Request to Marketing Department, 564 W 700 S #102, Pleasant Grove, UT 84062. Please indicate whether you are requesting a winner list or the Official Rules.
Sponsor: Blade HQ 564 W 700 S #102, Pleasant Grove, UT 84062 USA. This Giveaway is not sponsored by any social media platform. BLADE HQ, Protech, and Continue Mission are the sole sponsors of the promotion.
Miscellaneous: The invalidity or unenforceability of any provision of these Official Rules or the Affidavit will not affect the validity or enforceability of any other provision. In the event that any provision of the Official Rules or the Affidavit is determined to be invalid or otherwise unenforceable or illegal, the other provisions will remain in effect and will be construed in accordance with their terms as if the invalid or illegal provision were not contained herein. Sponsor's failure to enforce any term of these Official Rules will not constitute a waiver of that provision. When terms such as "may" are used in these Official Rules, Sponsor has sole and absolute discretion. Entrants agree to waive any rights to claim ambiguity of these Official Rules. Headings are solely for convenience of reference and will not be deemed to affect in any manner the meaning or intent of the documents or any provision hereof. In the event there is a discrepancy or inconsistency between disclosures or other statements contained in any Giveaway-related materials, privacy policy or terms of use on any website and/or the terms and conditions of the Official Rules, the Official Rules shall prevail, govern and control and the discrepancy will be resolved in Sponsor's sole and absolute discretion.
Congratulations! You read all the rules! Best of luck in the giveaway.