BEST DIVE KNIVES
Welcome to the dive knives buying guide! This is the buyers guide for anybody looking to to buy or learn more about diving knives, such as popular examples, styles, what to look for, popular brands, laws, and more! Not only can these knives be used for divers, but anybody that is near water as well. Let's dive in.
---
Best Dive Knives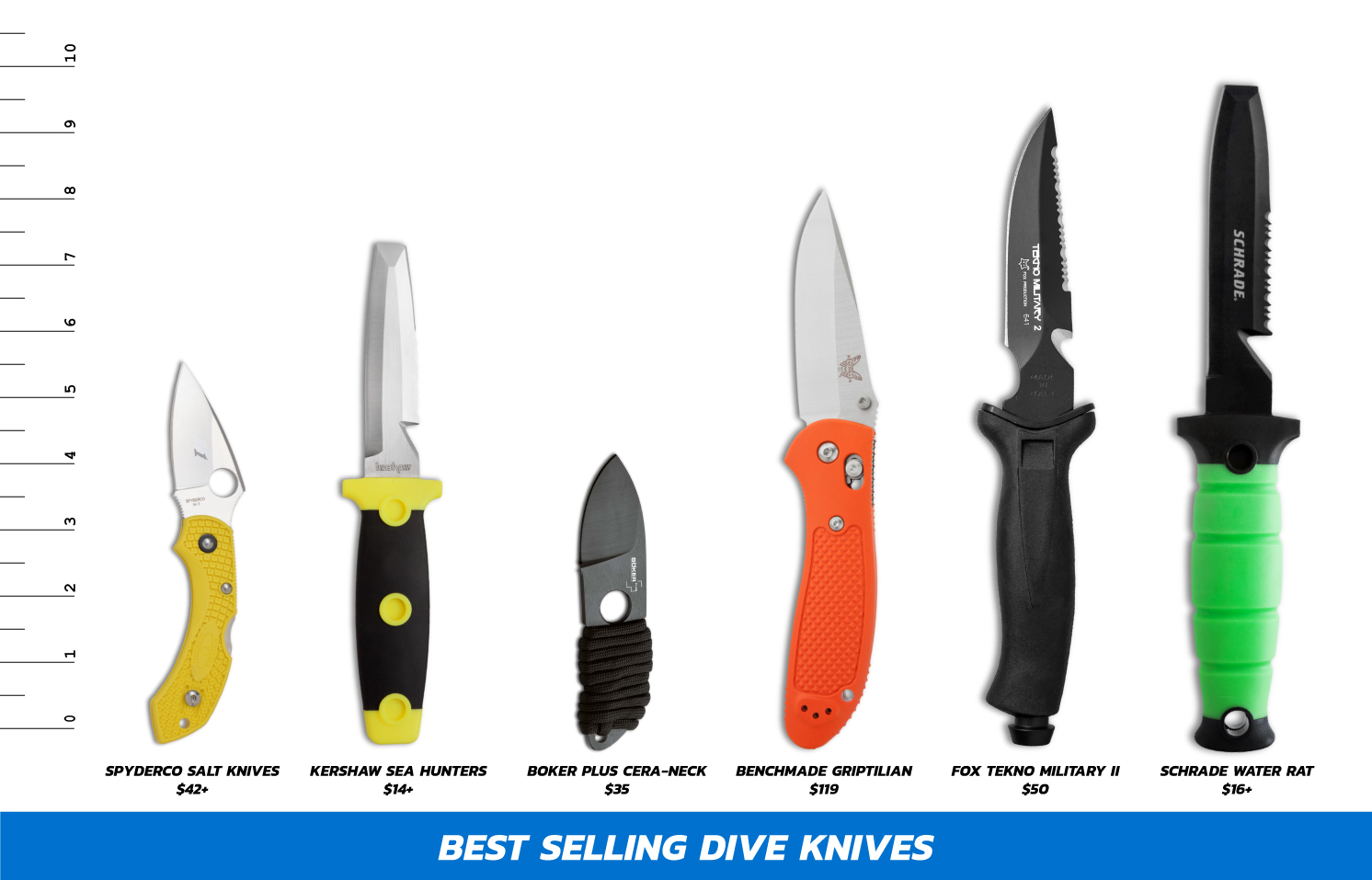 Spyderco Salt Manual Folders
Spyderco has many flavors of corrosion resistant knives in their Salt lineup. These knives range from small 1.9" blades to larger 3.81" blades. These Spydercos are far and away the most popular dive knives at Blade HQ because of their attractive Spyderco design and saltwater corrosion resistance. Check out all the specs in the table at the end of the section. Learn More >
Kershaw Sea Hunter Fixed Blades
The Sea Hunter comes in two varieties: A pointed serrated blade and a blunt tip straight blade. They also feature a notch on one side for cutting cords. These dive knives also boast a press-n-pull mechanism that locks the blade in the sheath regardless of your position in the water. Learn More >
Boker Plus Cera Neck Knife
The Boker Plus Cera is a small fixed blade neck knife that's perfect for packing with any scuba gear. The solid handle is wrapped in cord that can be used in an emergency. The blade is ceramic, which means it is nonmagnetic and has superior edge retention. Learn More >
Benchmade Griptilian 551H20
The H20 Griptilians are as sturdy as they are bright. Available in both straight edge and serrated, the Bohler N680 blades are extremely corrosion resistant. The bright orange polymer handles will be easy to spot underwater while diving. Learn More >
Fox Knives Tekno Military II
The Tekno Military II has a blade that is built for every situation. Straight on one side, serrated on the other with a cutting notch. It also sports an easy-grip rubber handle and steel pommel on the end. The ultimate survival dive knife. Learn More >
Schrade Water Rat Knives
The Schrade Water Rat lineup comes in two different styles. They both rock the serrated/straight blade with a cutting notch. The first knife is a smaller neck knife and the second is a larger fixed blade with a blunt tip. Both knives have their place in diving, depending on the divers needs. Learn More >
| | | | | | | |
| --- | --- | --- | --- | --- | --- | --- |
| | Spyderco Salt Series | Kershaw Sea Hunters | Boker Plus Cera | Benchmade Griptilian | Fox Tekno Military II | Schrade Water Rats |
| Overall Length | 4.30"-8.625" | 7.625"-7.75" | 4.25" | 8.07" | 9.50" | 6.80"-9.50" |
| Blade Length | 1.90"-3.81" | 3.50"-3.75" | 1.625" | 3.45" | 4.50" | 3.10"-4.75" |
| Handle Length | 2.20"-4.94" | 4.00"-4.125" | 2.625" | 4.62" | 5.00" | 3.75"-4.75" |
| Knife Type | Manual Folders | Fixed Blades | Fixed Blade | Manual Folders | Fixed Blade | Fixed Blades |
| Blade Material | H1, VG-10 | 420J2 | Ceramic | Bohler N680 | 420C | 9Cr14MoV, 7Cr17MoV |
| Blade Type | Straight, Serrated | Straight, Serrated | Straight | Straight, Serrated | Straight, Serrated | Straight, Serrated |
| Weight | 0.60-3.00 oz. | 3.00 oz. | 1.35 oz. | 3.82 oz. | 5.35 oz. | 2.80-4.44 oz. |
| Pocket Clip | Varies | Sheath | NA | Tip-Up | Sheath | Sheath |
| General Price | $42-$87 | $14-$18 | $32 | $119 | $50 | $16-$18 |
---
Dive Knife Types
Dive Knives come in two types:
Fixed blade
Manual folding
As you can probably guess, manual, spring assisted, and butterfly knives don't do so hot underwater. Even if they opened, the reliability would be questionable and the parts would wear much quicker. Fixed blades are great for their strength and folders are great for their compact size.
---
What to Look for in a Dive Knife
If you came to this guide wondering how to choose a scuba diving knife, you're in luck! Look for the following traits when shopping for dive knives.
Type
Do you need a strong dive knife for hard cutting? You'll want a fixed blade. Do you just need a compact knife to carry while diving? A folder is the route you want to take. Ask yourself how you plan to use your knife while diving.
Edge and Tip
You can find dive knives in both straight and serrated cutting edges. Serrated knives are good for cutting through dense things and sawing, and straight edges are good for your more precise cutting.
Dive knives can also be found with blunt and sharp tips. Blunt tips are dull on the end and are great for digging or prying. Blunt tips are also useful in tight situations because you won't accidentally stab anything that shouldn't be stabbed. Sharp tips have a long cutting surface that curves at the end. These are good for any situation that the horizontal cutting edge can't reach. Also to be noted are tanto blades.

Tanto blades are a hybrid between a blunt and sharp tip. The point is sharp, but there is a slightly curved leading edge of the blade that can be used as a flat tip.
Size
There is no perfect size for a diving knife. Just like there's no perfect explanation to where the phrase "Davy Jones Locker" comes from. Some divers prefer a longer fixed blade that can be carried in a sheath. Others prefer neck knives or folders that can be comfortably tucked away. The benefits of larger knives are their strength and cutting power. Portability is the main advantage of smaller knives.
Materials
The materials dive knives are made of are extremely important because they have to be corrosion resistant. Dive knives feature steels like H1 and Bohler N680. These steels offer great edge retention that can withstand the elements a diver faces.
Handle material is also important because it has to be grippy whether wet or dry. Popular handle materials include fiberglass reinforced nylon (FRN), polymer, rubber, and glass filled nylon (GFN).
Visibility
Dive knives are known to often be brightly colored. Believe it or not, manufacturers didn't design the knife to match your swim trunks. If you dropped your knife while diving, bright colors will stick out and be able to spot easily. If you need the knife in an emergency, the same logic applies.
---
Best Selling Brands
Spyderco currently makes the most popular dive knives with their Salt line. The different models in the Salt series are all corrosion resistant, compact, and great to carry on every dive.
Benchmade expanded their popular Griptilian line into the dive knives category, and needless to say they were successful. Benchmade also makes other models specifically made for diving.
Kershaw dive knives are popular because of their useful designs and affordable pricing. They offer knives with both blunt and sharp tips.
Gerber has a few models of dive knives that all offer great corrosion resistance, cutting ability, and craftsmanship.
Fox focuses on creating extremely useful dive knives that pack a punch. Their products feature serrated and straight edges as well as cutting notches and pointed tips.
Schrade has a few models that offer different advantages. Choose from either blunt or sharp tip blades. The size of these models range from a small neck knife to a larger fixed blade.
Boker lives in the scuba knife category with their compact neck knife. This knife is unique in that the handle is wrapped in paracord that can be used in emergency situations.
---
Dive Knife Laws
The laws around owning and carrying knives vary by state. Some states are very relaxed with their laws and some not so much. Some states have blade length restrictions and others ban certain types all together. The legality of a dive knife falls under the type of knife it is.
Look up the knife laws for your particular state. Doing so will allow you to know which styles of knives you can consider.
---
Recap
To recap this dive knives buyers guide, let's review the things to look for when purchasing a dive knife.
Type
Edges and tips
Size
Materials
Colors and visibility
By following this guide, you can find the perfect dive knife for your situation. We wish you luck in your many dives ahead!