EDC KNIFE BUYERS GUIDE
Your quest to find the best everyday carry (EDC) knife has led you to the jackpot. How does it feel? This buying guide is a resource with the best everyday carry knife options, what to look for in an EDC knife, knife laws, and more. Sit back, relax, and prepare to choose and cherish your next EDC.
A Guide to the Best EDC Knives
Weíll focus on some of the most popular knives used for EDC that are sold at Blade HQ. Before we start offending anybody because their favorite knife isnít shown, letís lay down some ground rules.
This isnít the end-all be-all to guide to EDC knives. Simply a list of some of the best options.
Weíll focus on manual folding knives. The comprehensive list for automatics, butterfly knives, etc. would be exhausting. Besides, manual folders are legal in most places in the United States.
Size: Many people prefer EDC knives to be around 3Ē, give or take. Some states have restrictions on carrying longer blades.
We chose knives that are made with quality to take EDC use, have locking mechanisms, and are just great everyday carry knives.
---
Best EDC Knives Under $50
This is a section that we can all appreciate. Who doesnít love a great knife under 50 bones?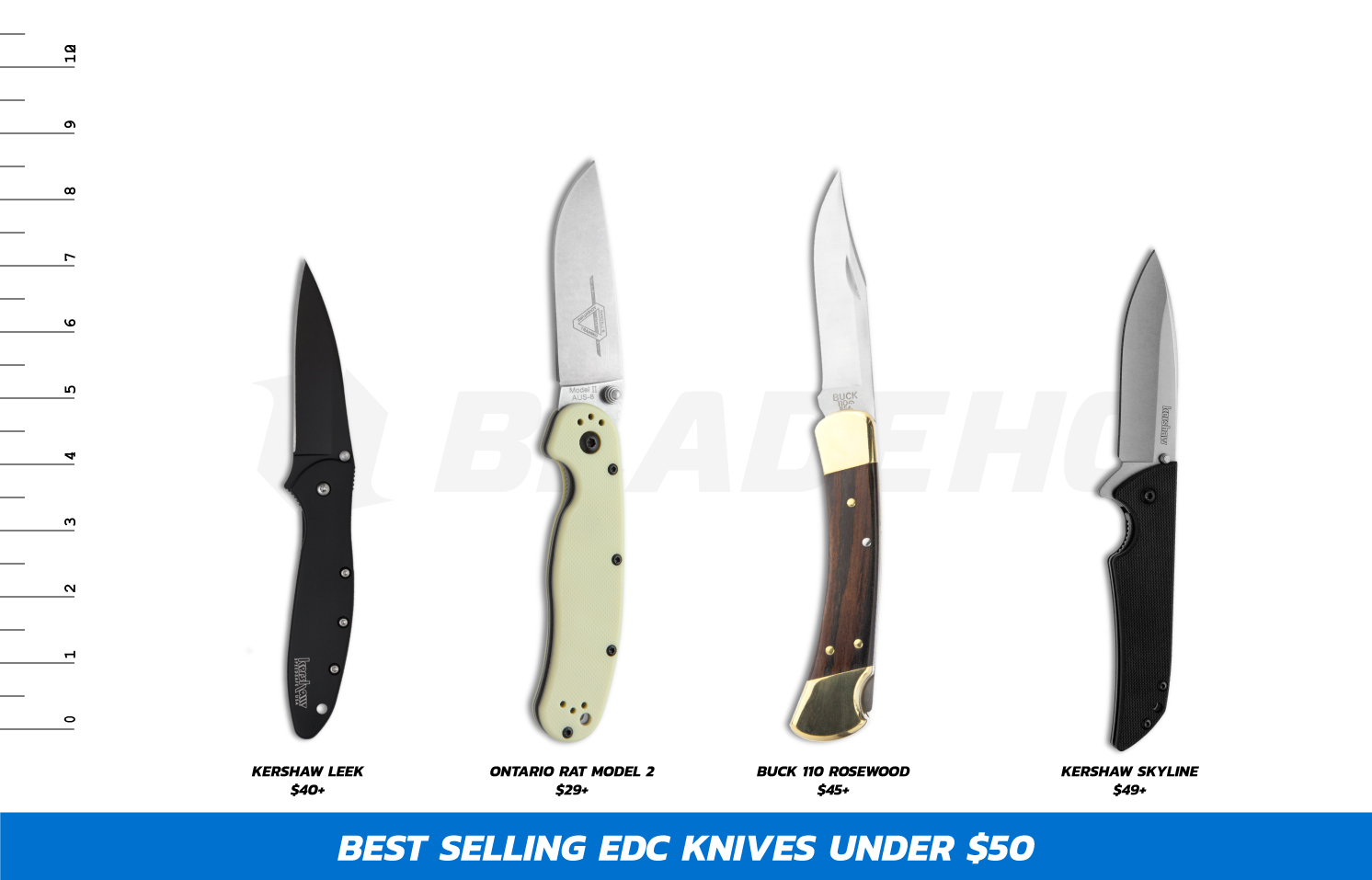 3Ē Blades and Under
Kershaw Leek
Not technically a manual folder as the Kershaw Leek is an assisted opener, but it often gets grouped with manuals in terms of laws. If we left the Leek off the best everyday carry list we wouldnít expect you to take this guide seriously. The Leek is slim, quality made, and comes in many flavors of colors. Go ahead and carry one. Youíll love it more than life itself. Learn More >
Ontario RAT Model 2
The Ontario Rat 2 is a scaled down version of the popular Ontario Rat Model 1. Theyíre affordably priced and built with quality materials that are great for everyday carry. Ontario offers these puppies in different color variations and made with different materials. Some say itís the greatest value since the invention of the dollar menu. Canít argue with that. Learn More >
Over 3Ē Blades
Buck 110
Maybe youíre a sucker for nostalgia. If youíre a fan of traditional knives, you can never go wrong with a Buck 110. It is unlike any other EDC knife on the list as it carries loosely in the pocket and opens with a famous nail nick on the blade. Itís easy to see why the Buck 110 has been a popular EDC knife for decades. Learn More >
Kershaw Skyline
The Kershaw Skyline makes the perfect EDC because itís slim, pocket-sized, and affordable. The design of the Skyline fits very nicely in the hand as well as the pocket. Each one is made with quality steel and handle materials and is a top-notch everyday carry. Learn More >
| | | | | |
| --- | --- | --- | --- | --- |
| | Kershaw Leek | Ontario RAT 2 | Buck 110 | Kershaw Skyline |
| Overall Length | 7.00" | 8.625"+ | 8.50"+ | 7.375" |
| Blade Length | 3.00" | 3.00"+ | 3.75"+ | 3.125" |
| Handle Length | 4.00" | 4.125"+ | 4.875"+ | 4.25" |
| Blade Material | CPM-154, S30V, D2, Damascus, Elmax, Sandvik Steels, ZDP-189 | AUS-8, D2 | 420HC, Stainless Steel | Damascus, Sandvik 14C28N |
| Handle Material | Aluminum, Carbon Fiber, G-10, Stainless Steel, Titanium | Carbon Fiber, G-10, GFN, Nylon, Walnut | Dymondwood, Rosewood, Ash, Carbon Fiber, Wood | Carbon Fiber, Titanium, Brass, Copper, G-10 |
| Weight | 2.41+ oz. | 2.75+ oz. | 7.10+ oz. | 2.50+ oz. |
| General Price | $40+ | $29+ | $45+ | $49+ |
Here are even more options sub $50 presented in an entertaining way only Ben and Austin can muster. See more EDC options under $50.
---
Best EDC Knives Under $100
As we get closer to the big leagues, you'll find these knives coming with higher quality materials.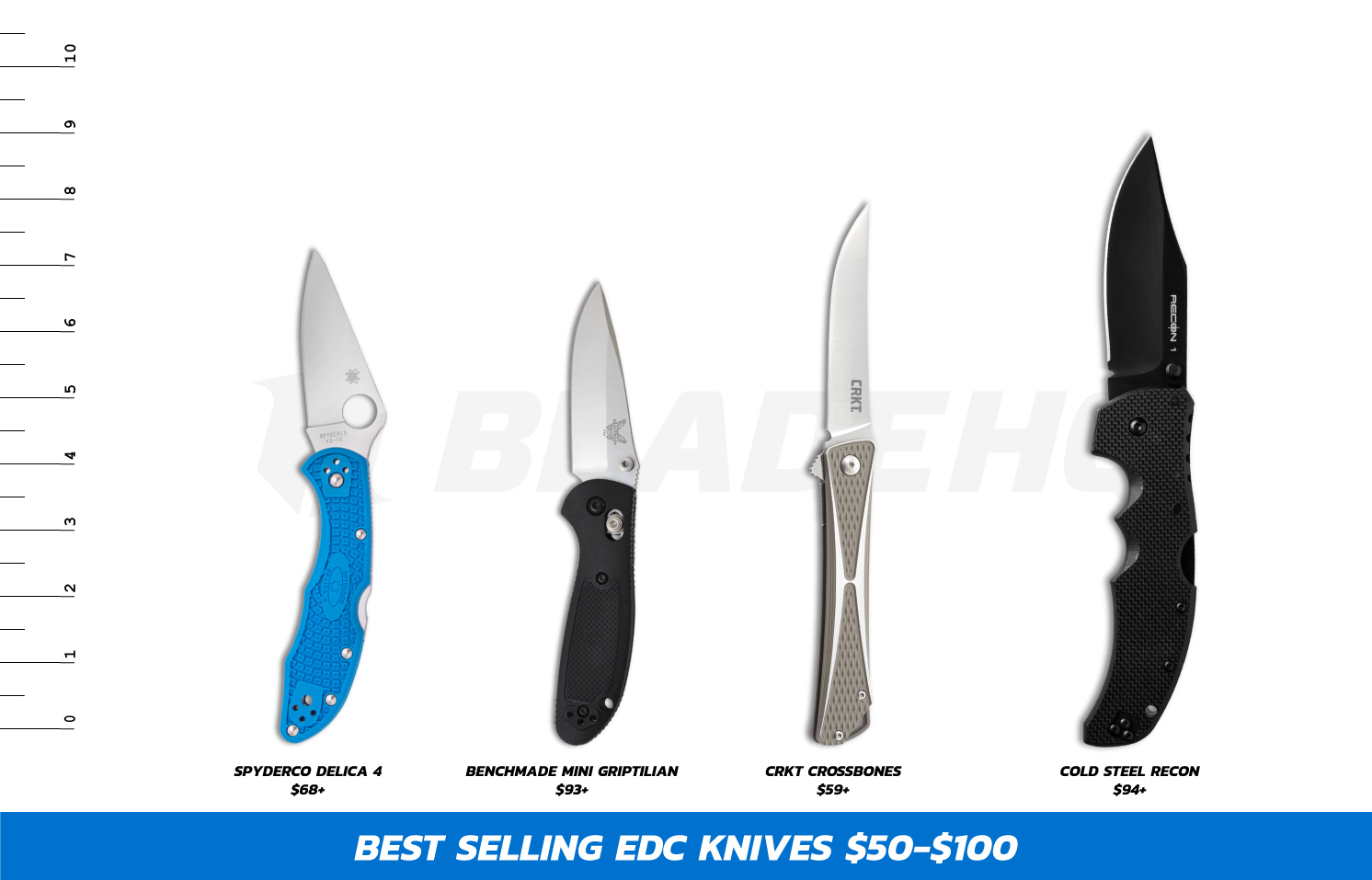 3Ē Blades and Under
Spyderco Delica 4
The Spyderco Delica, widely known as one of the best EDC knives in the game. It rocks a backlock and the coveted Spydey Hole that Spyderco is known for. There are many color variations and most sport VG-10 steel thatís easy to sharpen and holds an edge well. Donít just take our word, see for yourself why the Delica is one of the best EDC options available. Learn More >
Benchmade Mini Griptilian
The Benchmade Mini Griptilian is the smaller version of the Benchmade Griptilian. Both knives come in a wide variety and are built with the EDC user in mind. The AXIS locks on these bad boys make one handed closing a breeze and the slim profile fits nicely in the pocket. You canít go wrong with a Benchmade knife as they are backed by their amazing warranty and customer support. Learn More >
Over 3Ē Blades
CRKT Crossbones
The CRKT Crossbones made the list because of its slim design and versatile blade. The deep carry pocket clip keeps it secure in the pocket and the IKBS ball bearing pivot helps the blade to open quickly and easily. The Crossbones is a super lightweight knife that is an incredibly EDC option. Learn More >
Cold Steel Recon 1
The Cold Steel Recon series is built to be tough, durable, and effective. The Recon 1 comes in different blade styles and colors, along with the very strong Cold Steel Tri-Ad lock. The Recon series makes for a bigger everyday carry folder, but it is great for those that need a tough knife for heavier tasks. With a name like Recon 1, how can you not love it? Learn More >
| | | | | |
| --- | --- | --- | --- | --- |
| | Spyderco Delica 4 | Benchmade Mini Griptilian | CRKT Crossbones | Cold Steel Recon 1 |
| Overall Length | 7.125"+ | 6.78"+ | 8.06" | 9.375" |
| Blade Length | 2.875"+ | 2.91" | 3.54" | 4.00" |
| Handle Length | 4.20"+ | 3.87"+ | 4.52" | 5.375" |
| Blade Material | VG-10, AUS-6, Damascus, ZDP-189, Other Sprint Run Steels | 154CM, 20CV, S30V, M4 | AUS-8 | CTS-XHP |
| Handle Material | FRN, VG-10, Stainless Steel, Other Sprint Run Handles | G-10, Polymer, Titanium | Aluminum | G-10 |
| General Price | $40+ | $29+ | $45+ | $49+ |
---
Best EDC Knives Under $200
This is the sweet spot of quality and price for many knife enthusiasts. They feel that they can get the lasting quality they want at a price still under custom knife territory.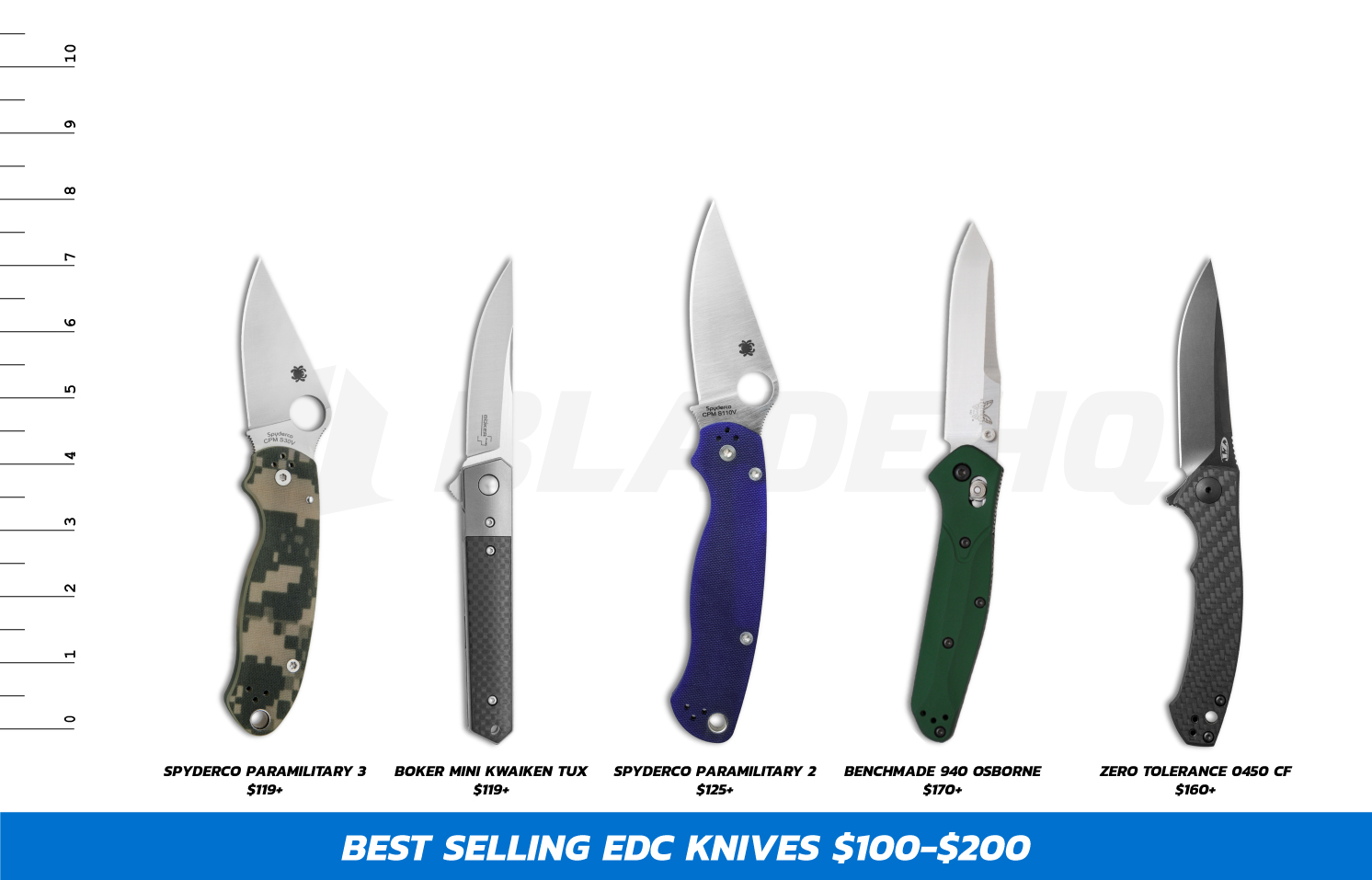 3Ē Blades and Under
Spyderco Para 3
The Spyderco Para 3 is quickly becoming an EDC favorite among knife owners. Itís known as the little brother of the popular Spyderco Paramilitary 2, with some minor handle and blade differences. The Para 3 is built to be tough and has different color options available. Learn More >
Boker Mini Kwaiken
The Boker Mini Kwaiken makes for a great EDC blade because of its unique shape and slim profile. The Kwaiken comes in both a full size version and a mini, each of which have many flavors to choose from. The front flipper is very unique and takes some skill to master opening. Go ahead and take a Mini Kwaiken for a ride. Youíll be hooked. Learn More >
Over 3Ē Blades
Spyderco Paramilitary 2
If it looks familiar, youíre not crazy. The Spyderco Para 3 you saw earlier in the list is just a scaled down version of the Paramilitary 2 (PM2) with a few subtle differences. The Paramilitary 2 has become famous in the knife world for being extremely sturdy and great for EDC. There are many varieties and sprint runs of this model so collect them all if you dare. Just know youíre treading into dangerous waters that can fuel a full-blown knife addiction. Learn More >
Benchmade 940 Osborne
Look at those lines. The Benchmade 940 Osborne is designed by none other than Warren Osborne himself. Itís incredibly lightweight and rests in the hand better than a remote control after you get home from work. Do yourself a favor and take a 940 along as an EDC. You wonít be disappointed. Learn More >
Zero Tolerance 0450
To tell you the truth, pretty much any Zero Tolerance could have made the cut. We chose the ZT 0450 because itís sleek and just a joy to handle. The handle and blade are long but slender, which makes them great for pocket carry. The action on the 0450 is so satisfying we guarantee you canít open it just once. Learn More >
| | | | | | |
| --- | --- | --- | --- | --- | --- |
| | Spyderco Para 3 | Boker Mini Kwaiken | Spyderco Paramilitary 2 | Benchmade 940 Osborne | ZT 0450 |
| Overall Length | 7.27" | 7.25" | 8.28" | 7.87" | 7.375" |
| Blade Length | 3.00" | 3.00" | 3.44" | 3.40" | 3.25" |
| Handle Length | 4.27" | 4.25"+ | 4.81" | 4.47" | 4.125" |
| Blade Material | CPM-S30V, CPM-S110V, CPM-S3VN, Other Sprint Run Steels | VG-10 | CPM-S30V, CPM-S35VN, CPM-S110V, Other Sprint Run Steels | CPM-S30V, CPM-S90V | CPM-S35VN, ZDP-189 |
| Handle Material | G-10, Other Sprint Run Handles | Carbon Fiber, Titanium, G-10 | G-10, Other Sprint Run Handles | G-10, Carbon Fiber, Aluminum | Carbon Fiber, Titanium, G-10 |
| General Price | $119+ | $119+ | $125+ | $170+ | $160+ |
---
Best Fixed Blade EDC Knives
Raise your hand if you cringed after every folding everyday carry knife came up. For those that like a good fixed blade EDC, weíve got you covered. Some people just like a knife they can carry in a sheath and quickly pull out in fast situations. Maybe they just want the added strength a fixed blade offers. Whatever the reason, here are the best fixed blade EDC knives.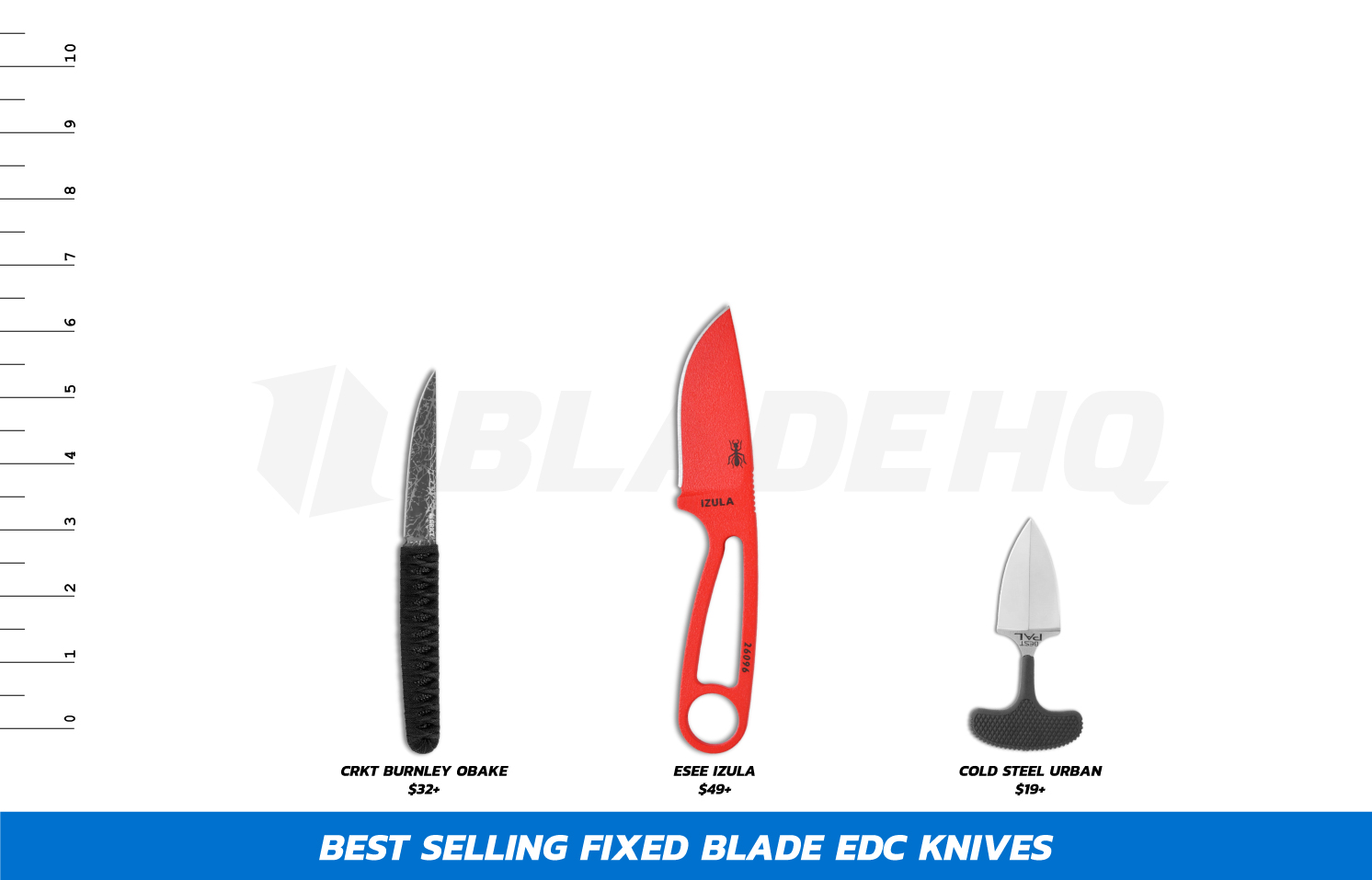 CRKT Burnley Obake
Lucas Burnley designed based on the classic Japanese Kwaiken blade. These fixed blades are very slim and fit perfectly in the provided sheaths. The full tang design and nylon or cord handle will leave users daydreaming about wielding a full-size Katana. Learn More >
ESEE Izula
Itís rumored that every knife person has to have an ESEE Izula in their collection. Each Izula is full tang and can be wrapped in paracord or have handle scales attached. The Izula is a go-to neck knife for those that need a dependable fixed blade EDC. Learn More >
Cold Steel Urban
Fixed blade EDC doesnít get much better than a Cold Steel Urban push dagger. Coming in different variations, the Urban is light, compact, and perfect for everyday carry. The grippy handles and tough construction make these great knives for heavier jobs. Learn More >
| | | | |
| --- | --- | --- | --- |
| | CRKT Burnley Obake | ESEE Izula | Cold Steel Urban |
| Overall Length | 5.38"+ | 6.25" | 3.125"+ |
| Blade Length | 2.41"+ | 2.875" | 1.50"+ |
| Handle Length | 2.97+" | 3.375" | 1.50"+ |
| Blade Material | 8Cr13MoV, 8Cr14MoV | 440C, 1095, Damascus | AUS-8A |
| Handle Material | Nylon, Cord | NA | Molded Polymer, Rubber, Kraton |
| General Price | $32+ | $49+ | $19+ |
---
What to Look for in an EDC Knife
With all the everyday carry knife options out there today, the choice can be a tough one. Go with a popular model or find a unique model to call your own? Look for these things when buying your EDC knife.
Type
Hereís the truth: You can use any type of knife for everyday carry you deem fit. Thatís as long as your local laws permit, of course. Aside from manual folders, you can look for automatics, fixed blades, spring assisted, OTF, etc. If youíre able, carry whatever your heart desires. Weíre not here to judge.
Size
This is all personal preference. Everybody has a sweet spot for the size of their favorite knife. For some, thatís around a 3Ē blade. Others prefer larger EDC knives that can take more abuse. Others wish they could but their laws restrict blade length.
Look for a knife that serves you well. Find an EDC that rides nicely in the pocket without taking up too much real estate. You may have to sacrifice a bigger blade in order to fit your keys in there. Test out different sizes and youíll be able to find that perfect companion that suits your style.
Construction
Blade play is the amount of movement in the blade when itís open. You donít like blade play. Look for an EDC that locks up solid and does not move around.
Blade centering is also key. This is the blade being in the center of the handles when closed. A centered blade will open smoother and not hit the sides of the handles when closing.
Materials
In todayís world of knife enthusiasm there are countless steel types available. If youíre a baller on a budget and donít care much about materials, a steel like 8Cr13MoV will do you just fine. Other knife enthusiasts may have tasted the dangerous savor of high-end CPM or Bohler steels and canít get enough. The tradeoff with higher-end steels is they are harder to sharpen but theyíll hold an edge longer. You get what you pay for in knife quality when buying your EDC.
Modern EDC knives sport an array of handle materials. Popular options today are aluminum, G-10, Micarta, FRN, titanium, and many more. Itís almost too many to keep track of, to be honest. Each material has pros and cons, but most knives today are built with the user in mind and can take EDC use. As with blade steels, you get what you pay for.
Shape
Shape plays a huge factor in the perfect everyday carry. Buy a slim knife if you want to carry it and forget itís in your pocket. Buy a larger knife if you donít care about pocket space and want the knife to feel sturdier in the hand.
Along with shape you need to look at the pocket clip. Deep carry pocket clips are becoming more and more popular as they conceal the whole handle of the knife. Thatís a necessity for some. Others donít mind the tip of the handle sticking out as it makes the knife easier to bring out quickly.
---
Best Selling EDC Knife Brands
Benchmade has established itself as one of the premier knife brands in the industry. Benchmade knives are known for their quality and outstanding warranty. Bottom line: You can find an amazing Benchmade EDC.
Spyderco is one of the EDC brand leaders with their large lineup of reliable folders. Spyderco boasts many of the best materials and pride themselves on building knives that last.
Kershaw has a wide variety of manual folders, automatics, assisted openers, and fixed blades. Kershaw offers more assisted opening knives than any other brand. Assisted knives make great everyday carry options because they are usually grouped with manual knives, but check your local laws to be sure.
Boker is a German knife company that has many great everyday carry options. The attention to detail in each Boker EDC is superb and they are some of the most reliable options.
Gerber is a tried and tested brand with many quality EDC options. Gerber has been making knives since 1939 and has become known for producing tough, reliable knives.
Schrade has gone from famous traditional knives to popular modern EDC options today. Schrade still produces many traditional knives that make good carry options.
Zero Tolerance knives have a fit and finish that will make you shrill with delight. Each ZT is put through the paces of meticulous design and outstanding quality control.
WE Knife Company is taking the EDC game by storm. WE is only one example that shows premium knives can come from China and go head-to-head with any other brand.
CRKT produces some of the best budget EDC knives in the market, along with many amazing higher-end knives. Buyers can choose from many unique designs when shopping for a CRKT.
Microtech is very well known for their popular OTF selection, but they make great EDC folders as well. Microtech produces premium knives that are built with quality materials to stand up to years of EDC use.
There are many, many brands that offer quality everyday carry knives. This is only the tip of the iceberg as to the best knife brands.
---
EDC Knife Laws
A big factor in choosing an everyday carry knife is the laws that surround it. Laws vary across the United States, usually at the state level. Some states allow all types of knives. Others only allow certain lengths or types. Many states are strict with automatic switchblades but are fine with manual folders.
Look up the laws for your area. This is the only way you can know if what you want to carry wonít get you in a heap of trouble.