BEST FISHING KNIVES
Welcome to the comprehensive fishing knife buying guide! This buyers guide is a review of Blade HQ's best fishing knives, types and styles, what to look for, laws, uses, and more! Let's dive in, shall we?
---
Best Selling Fishing Knives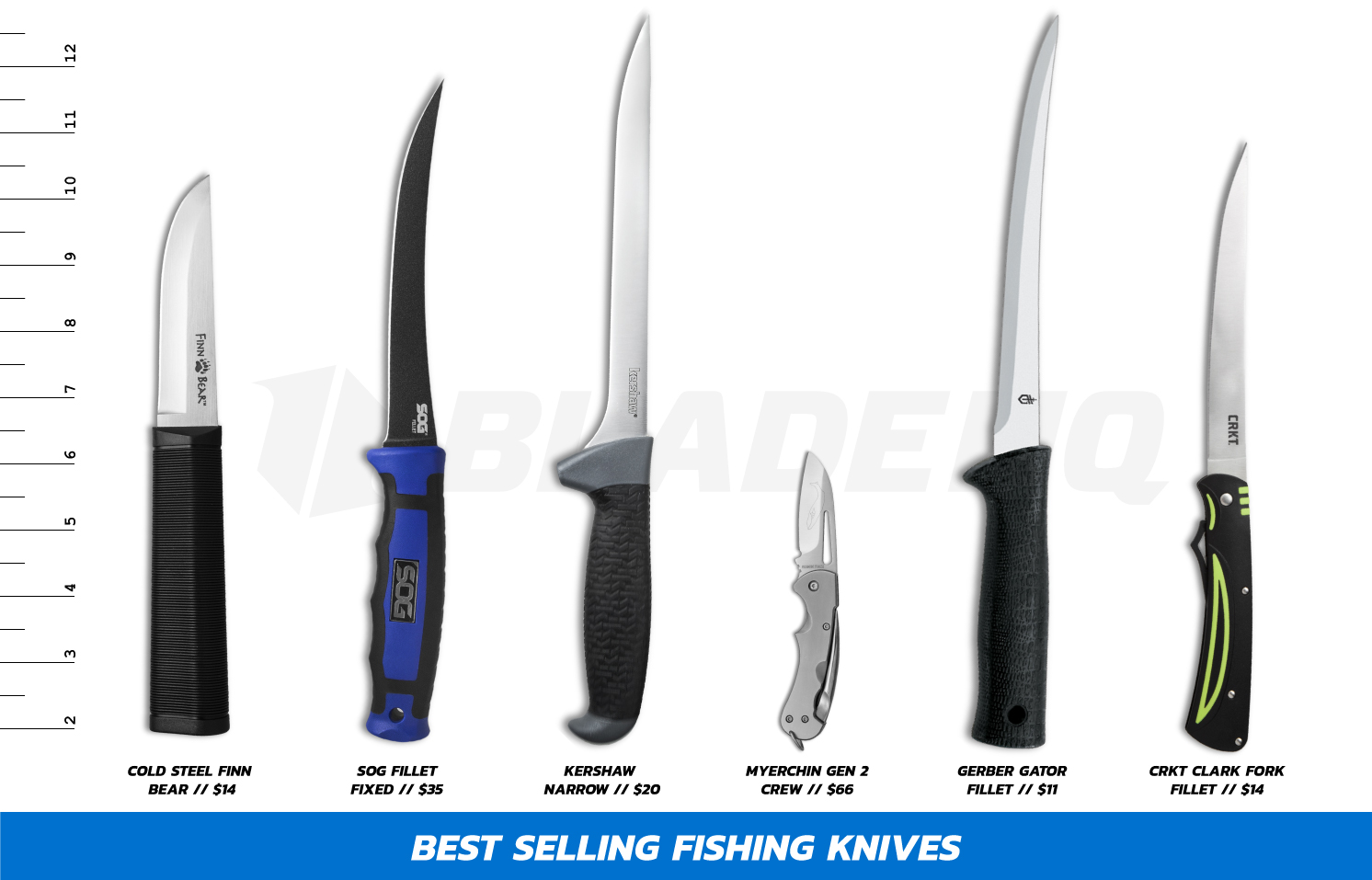 The Finn Bear is a more affordable version of Cold Steel's Sisu. It is great from not only fishing, but hunting and camping as well. This knife will hold a good edge and is easy to sharpen. It makes for a great companion out on the lake or river! Learn More >
The Fillet from SOG comes in two different options, one for smaller fish and the other for bigger fish. The sheaths that come with the knives include built-in sharpeners, line cutters, and water draining holes. SOG hit the nail on the head with these fishing knives. Learn More >
The blade is flexible and perfect for many sizes of fish. The glass-filled nylon (GFN) handle boasts Kershaw's exclusive K-Texture rubber overmold that is great for gripping in wet conditions. A blade protector is included for safe and easy storage. Learn More >
Myerchin is famous for making quality products to be used on the water. The Gen. 2 Crew is a more compact version of the Captain and is known to be one of the best rigging knives available. Some of the features are titanium handle, double frame lock, stainless steel blade, and an included nylon sheath. Learn More >
The Gerber Gator is a long, skinny knife with a stainless steel blade. It rocks a GFN handle that is grippy in all types of weather. The Gator is also available with a 6" blade, but the 7.5" blade is the most popular. Learn More >
CRKT makes one mean fishing knife with the Clark Fork. Part of the almost 6" blade folds inside the handle and the rest is covered by an extension that folds out of the handle. Tote this baby along on any fishing adventure. You know you want to. Learn More >
| | | | | | | |
| --- | --- | --- | --- | --- | --- | --- |
| | Cold Steel Finn Bear | SOG Fillet Knife | Kershaw Narrow | Myerchin Gen. 2 Crew | Gerber Gator | CRKT Clark Fork |
| Overall Length | 8.50" | 10.30", 11.75" | 12.75" | 6.125" | 12.20" | 11.00" |
| Blade Length | 4.00" | 6.00", 7.50" | 7.50" | 2.50" | 7.50" | 5.94" |
| Handle Length | 4.50" | 4.25" | 5.25" | 3.625" | 4.70" | 7.13" |
| Type | Fixed Blade | Fixed Blade | Fixed Blade | Manual Folder | Fixed Blade | Manual Folder |
| Blade Material | 4116 | 5Cr14MoV, 5Cr15MoV | 420J2 | Stainless Steel | 420HC | 5Cr13MoV |
| Handle Material | Polypropylene | GFN, Rubber | Rubber | Titanium | GFN | GFN |
| Weight | 2.80 oz. | 3.00, 3.20 oz. | 3.20 oz. | 2.47 oz. | 2.80 oz. | 1.80 oz. |
| General Price | $14 | $35 | $20 | $66 | $11 | $14 |
---
Fishing Knife Types and Styles
Fishing knives can be found in three main types:
Manual folder
Fixed blade
Multi-tool
---
What to Look for in a Fishing Knife
Like other knives, there are many things that set fishing knives apart. Keep the following in mind when searching for that perfect fishing companion.
Type
Do you want a strong knife that will stay with your fishing equipment. A fixed blade is best for you. Or do you need a more compact knife that's portable? A folding knife is best. Maybe you want a tool to do it all and a nice fishing tool with a blade would do. The type of knife will suit the needs.
Uses
Most fishing knives are fillet knives that are used in cleaning and preparing fish. Then there are knives for scaling, baiting, gutting, and other things. Myerchin produces awesome all around knives that have a few different functions. Maybe you don't want a knife and a good pair of fishing scissors/pliers (Splizzors) would do you some good.
Size
If you need a fillet knife, the blade will most likely be 4"-8". Folding knives and multi-purpose tools sport blades in the 2"-4" category. If you are planning on carrying your fishing knife in a pocket, obviously a smaller blade is going to be easier and more comfortable.
Materials
Fishing knives are made for simple tasks like cutting a line or gutting a fish. This is why they don't sport the most prestigious steels in the market. The most popular steels in a fishing knife:
420 steels
5Cr steels
7Cr steels
Stainless steel
The list isn't exhaustive, but it covers the majority of fishing knives.
The handle is also a big factor in fishing knives. You need one that will allow a solid grip when wet. The most popular handle materials:
Rubber
Polymer
Cork
Nylon
Micarta
G-10
GFN
All of the above textured handles provide a solid grip and will be sure to last.
---
Fishing Knife Brands
Cold Steel produces knives of many varieties. Their models in the fishing game have proven to be quality knives offered at affordable prices.
CRKT prides itself on making a wide range of knives. Their fishing knives live up to the quality CRKT stands for.
Kershaw has a large lineup of fishing knives to choose from. Whether you want a curved or straight blade, Kershaw has it. Want a spoon on the end of the handle? They have that as well.
Gerber threw their hand in the fishing game with the Gerber Gator. The Gator is affordable, usable, and comes in two sizes.
Myerchin specializes in quality rigging gear and knives. Myerchin offers different models and styles of knives specifically made for fishing tasks.
SOG dates back to the Vietnam war. The inspiration of knife designer Spencer Frazer came after he learned about the tactical knives carried by a US special ops unit. Their fishing knives later followed suit after many other types and styles.
Havalon makes a large fishing folder that's currently available in two colors. Havalon knives are sleek, comfortable, and usable.
---
Fishing Knife Laws
The thing about knife laws is they vary widely at the state level. Some states allow carry of any type of knife and others only allow knives of certain lengths. Other states have exceptions for fishing and hunting knives.
Check the fishing knife laws for your state. That's the only way to know if you can buy that new fillet knife for your upcoming fishing trip.
---
Recap
A fishing knife is an important piece of equipment for any fisherman. Look for these specs when determining which knife is right for you:
Type
Size
Use
Materials and construction
Price
We hope you found this buyers guide useful and wish you luck in catching those big ones.
You know those super sweet survival shows you see on TV all the time nowadays? Well, think of this video as one of those, but geared toward fishing! You're welcome.