Gerber StrongArm REVIEW
Written by Blade HQ Staff Writer Logan Rainey on 11/13/2019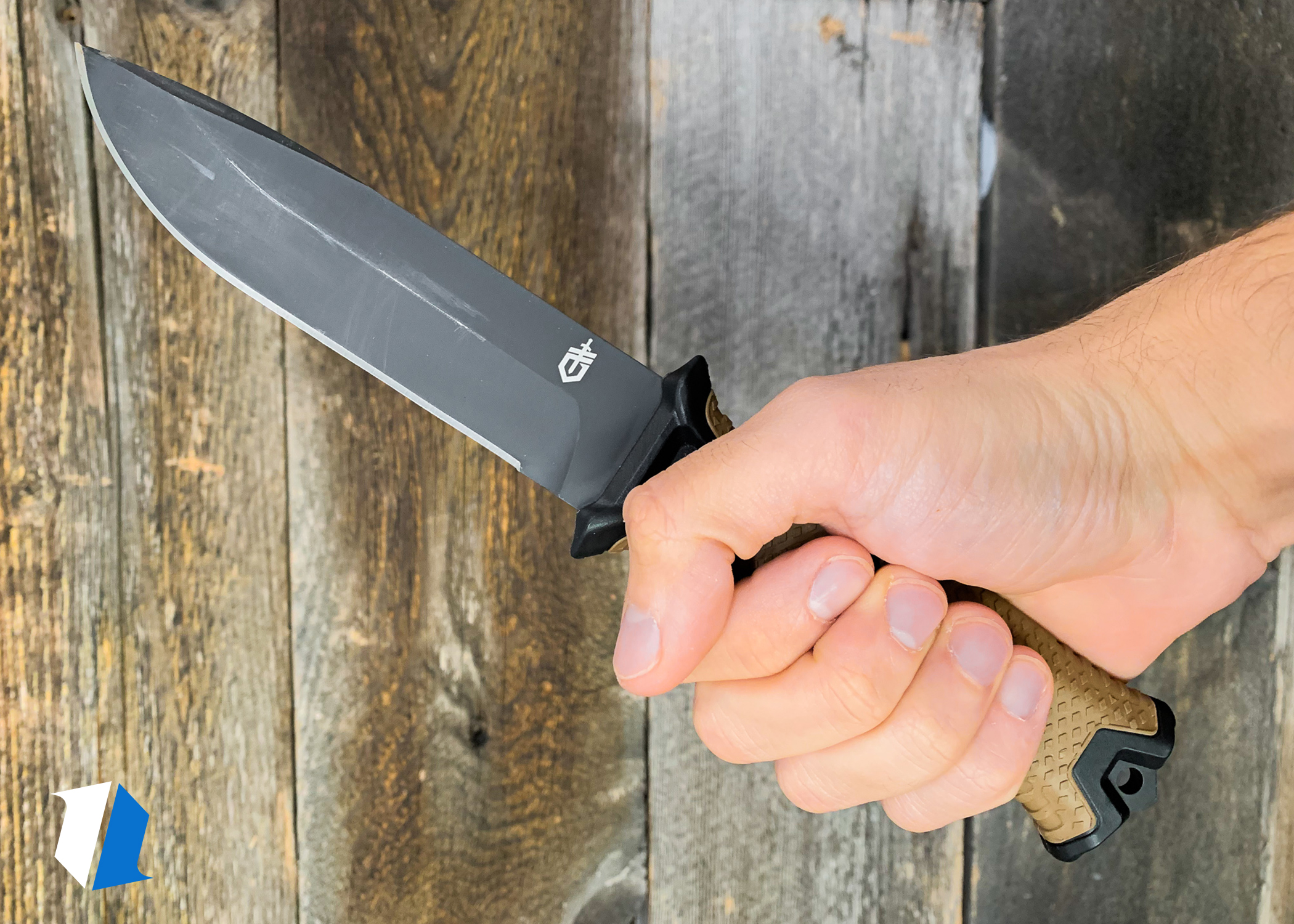 When it comes to fixed blade knives the Gerber StrongArm is built to take a beating, or ten. By now youíve probably seen videos of this knife being tortured and pushed to its limits. Somehow the result is nearly the same every time. This knife just wonít quit. I had the opportunity to carry this knife for a few weeks and I have to say it is one of the best fixed blade knives you can buy. Read on to find out why!
Before we start, here are the specs.
9.75" Overall Length
4.875" Blade Length
Drop Point Blade
420HC Blade Steel
Rubber Handle
5.00" Handle Length
7.10 oz. Weight
Fixed Blade
Made in USA

---
Versatility
Score: 6/10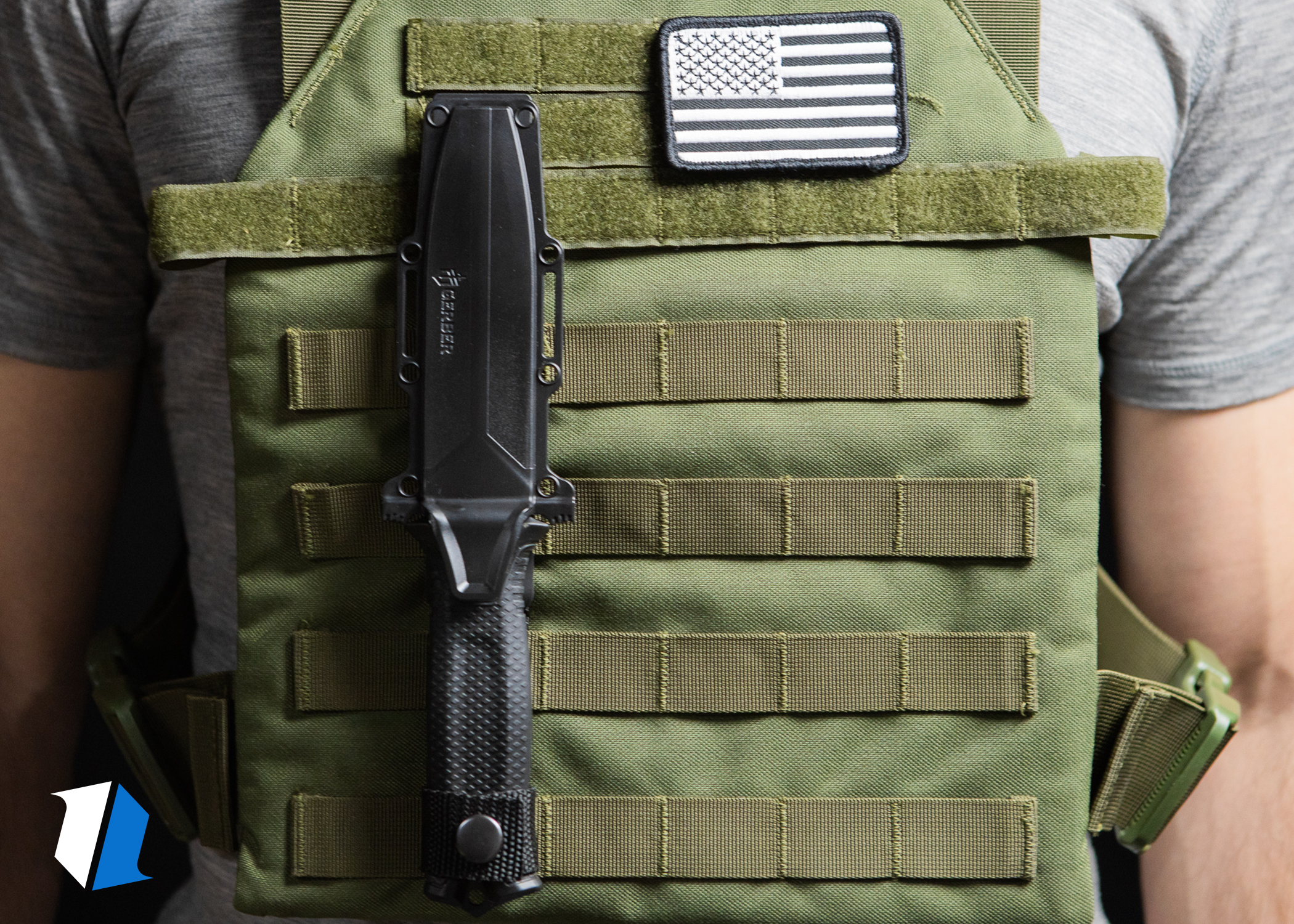 Gerber designed the StrongArm fixed blade around the fundamentals of military survival training. The materials, shape and construction of this knife exist with to give the user the right balance of performance and affordability. I canít say there is any one specific task this knife excels at. It performs well for heavy duty tasks, and adequately for small tasks. It gets the job done and does what it was designed to do.
Whether youíre someone who camps occasionally or someone prepping for deployment, the Gerber StrongArm is a versatile knife that can tackle anything from prepping fire making materials to hand-to-hand combat.
Fit and Finish
Score: 7/10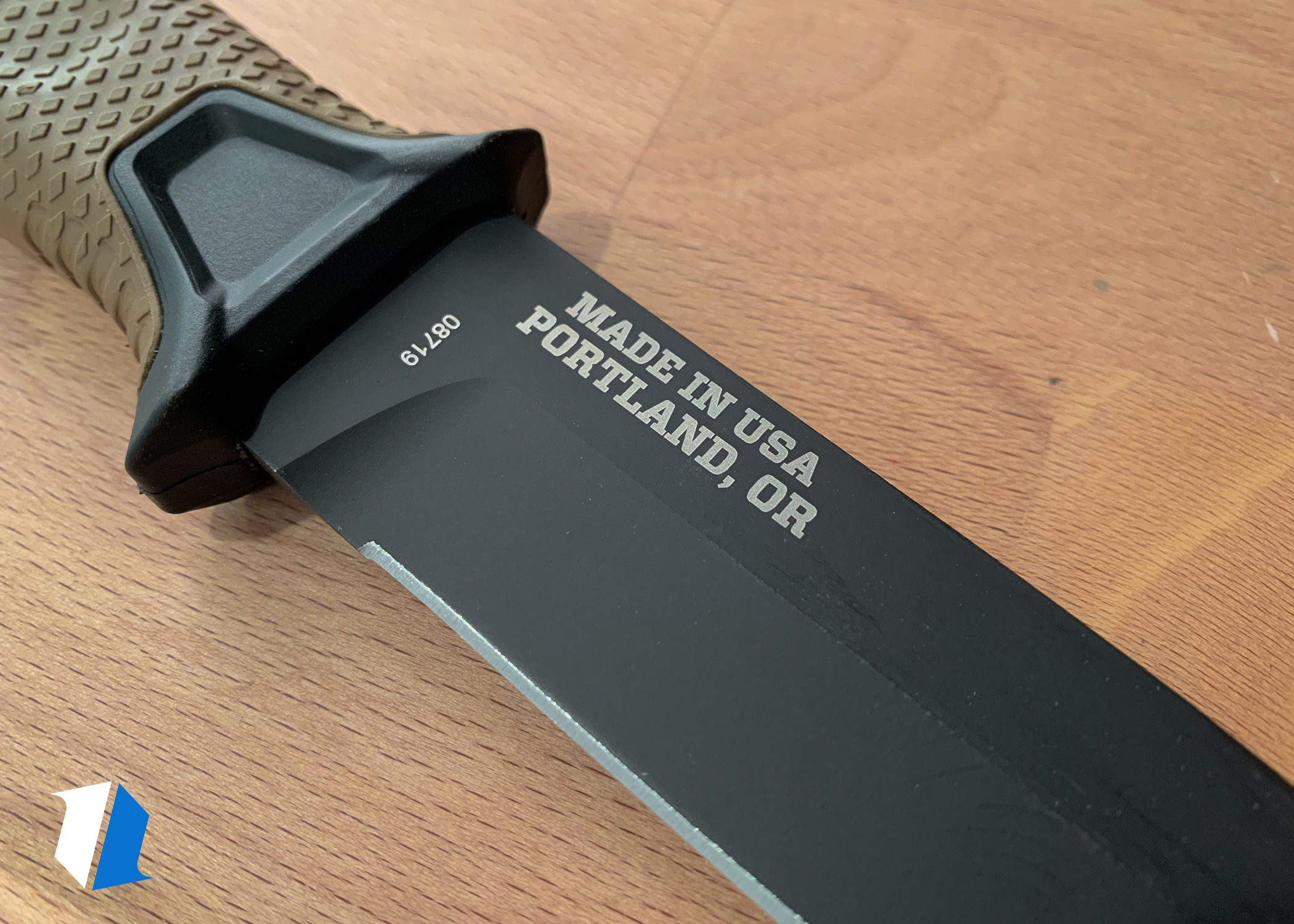 For a sub-$100 knife, the Gerber StrongArm is surprisingly well finished. This knife features a full tang blade with an injection molded polymer handle. Upon close examination, the handle on our StrongArm had a consistent texture and a nice feel. The black ceramic blade coating reduces the chance of glare off the blade providing a slight tactical advantage. Overall, the knife is well made and doesnít disappoint.
Durability
Score: 8/10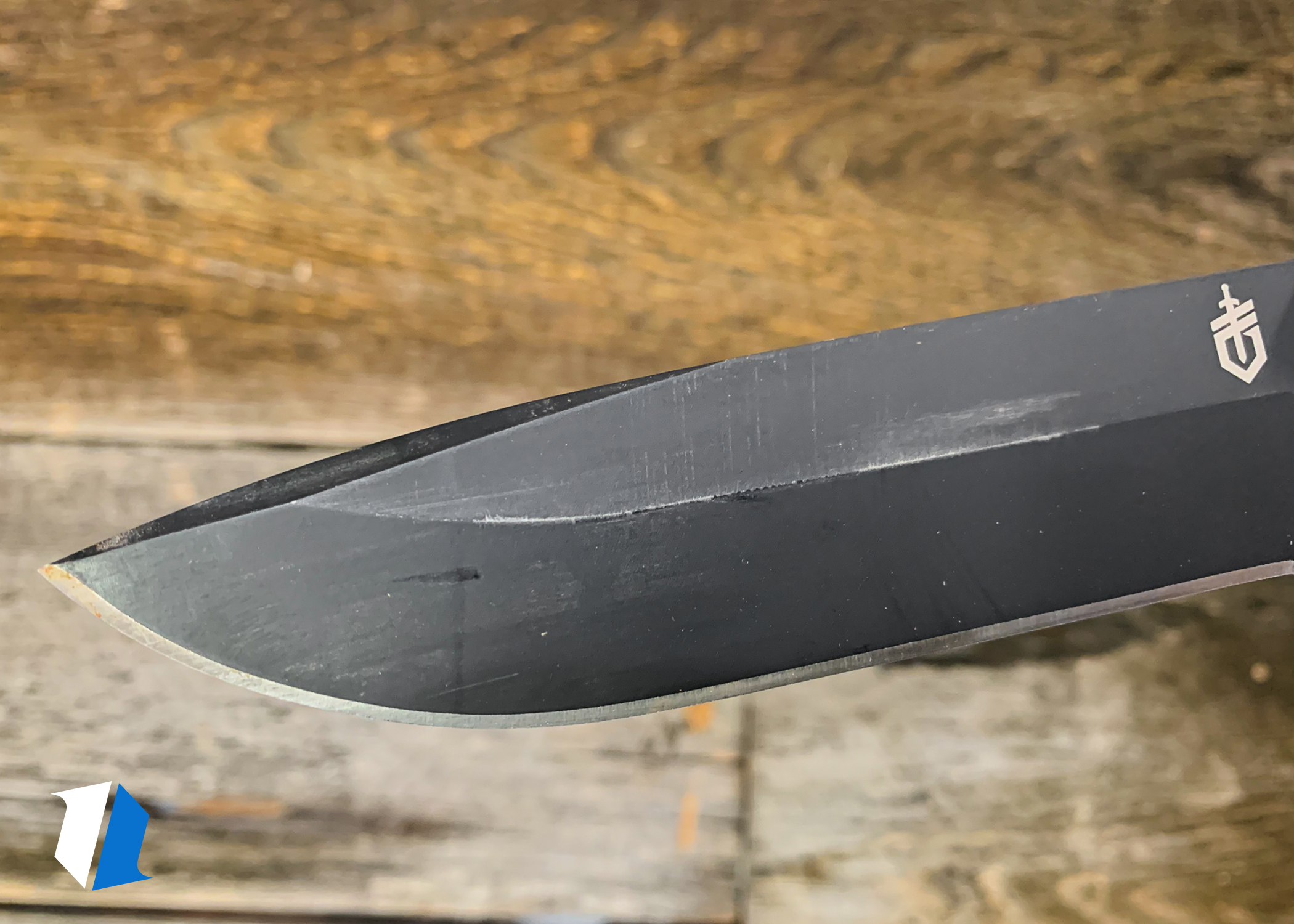 Fixed blade knives are built for work. The Gerber StrongArm is no exception as it was designed for the brutal conditions of military service in the Middle East. When I tested the knife for this review, I was impressed with how well it held up to hard use. Though the coating on this knife wears over time, it provides ample corrosion resistance for the blade.
The mid-range 420 HC stainless steel blade holds up well to chopping and batoning. I passed the knife off to someone who carries fixed blade knives nearly everyday and he was surprised how well the tip of the knife held up to the abuse he put it through. He mentioned that the heat treat of the knife was good enough to give this knife the durability it needed for heavy use without making it impossible to sharpen.
Style
Score: 6/10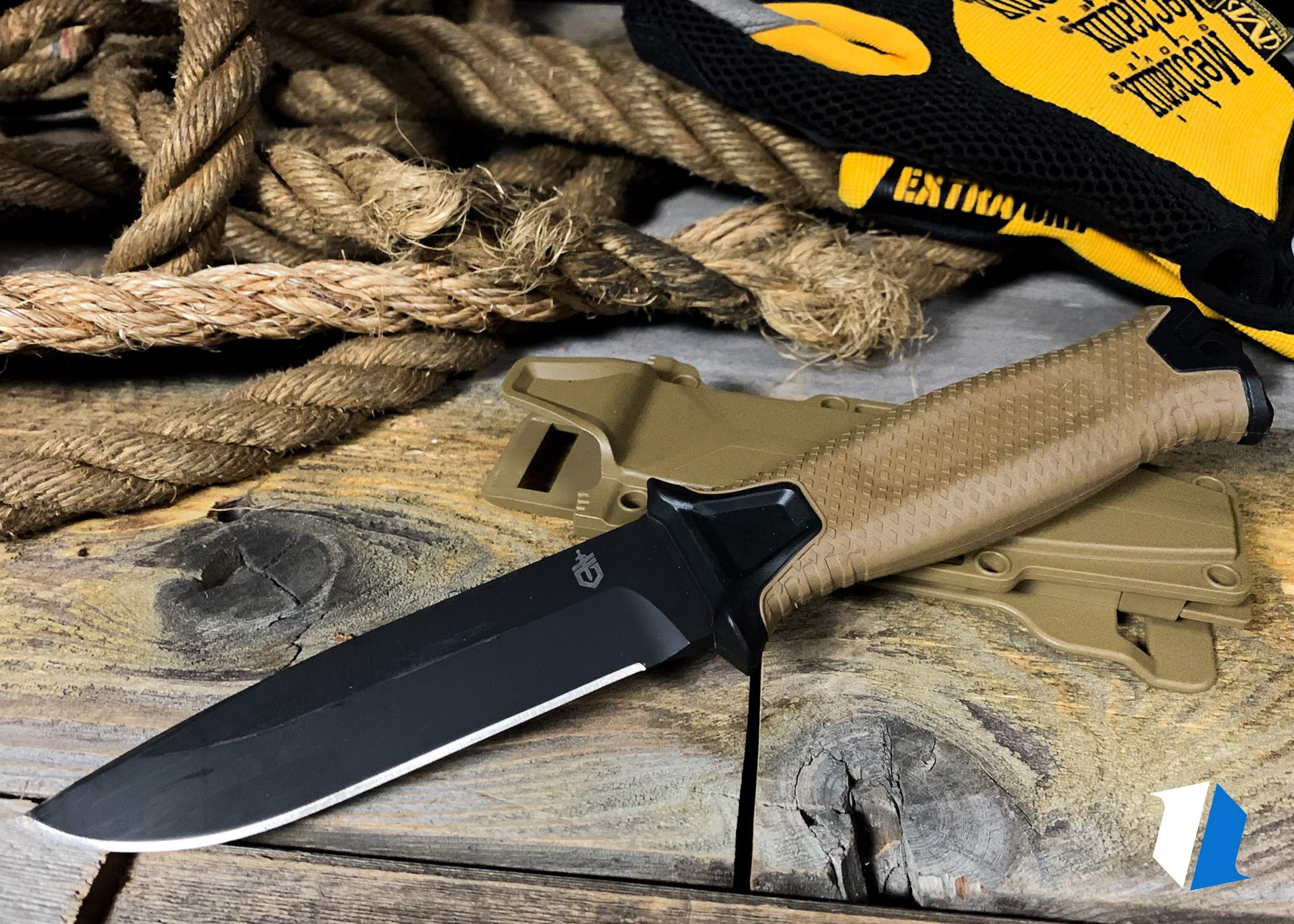 If you are seriously looking to buy a Gerber StrongArm, you most likely arenít the type of person who is too serious about the way a knife looks. Afterall, this knife is about as attractive as an M1 Abrams tank. This knife has that serious tactical look with hard angles and clean lines. Itís more rugged, because itís used that way. You might not get many style points carrying this knife as your civilian EDC, but it definitely adds to any rucksack or survival pack.
Carry-ability
Score: 10/10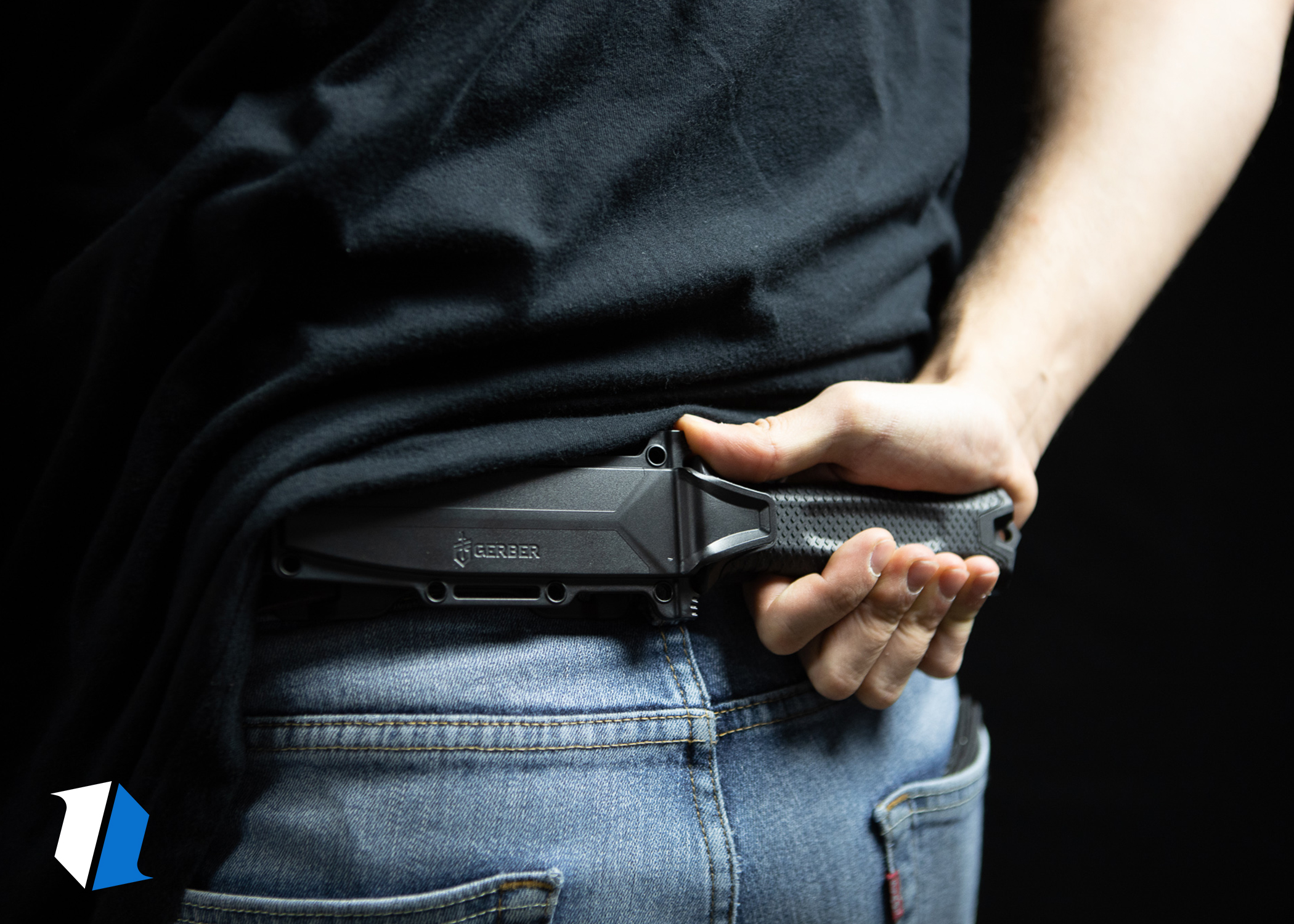 There are very few instances when a perfect score is well earned. This knife by itself would probably only get a 4/10 in the carry-ability category. The StrongArm is a bulky knife and really needs a solid sheath setup to accompany it. Fortunately, the StrongArm comes standard with an incredible sheath that features the right mounting points for easy traditional drop-leg carry, horizontal (scout) carry, or vertical MOLLE carry. The sheath has a solid lockup and detent that keeps the knife locked in tight and secure.
When I carried this knife, I preferred to carry it in the horizontal position on the small of my back. Despite its size, it was very easy to carry. The sheath distributed the weight of the knife evenly on my belt and I practically forgot the knife was even there overtime. The only time I really struggled with the knife on my back was when I was seated.
The perfect score in this category is well deserved as the sheath makes carrying this knife a much better experience. If all fixed blade sheathes were as well thought out as this one is, more people would carry a fixed blade knife every day.
Blade and Steel
Score: 8/10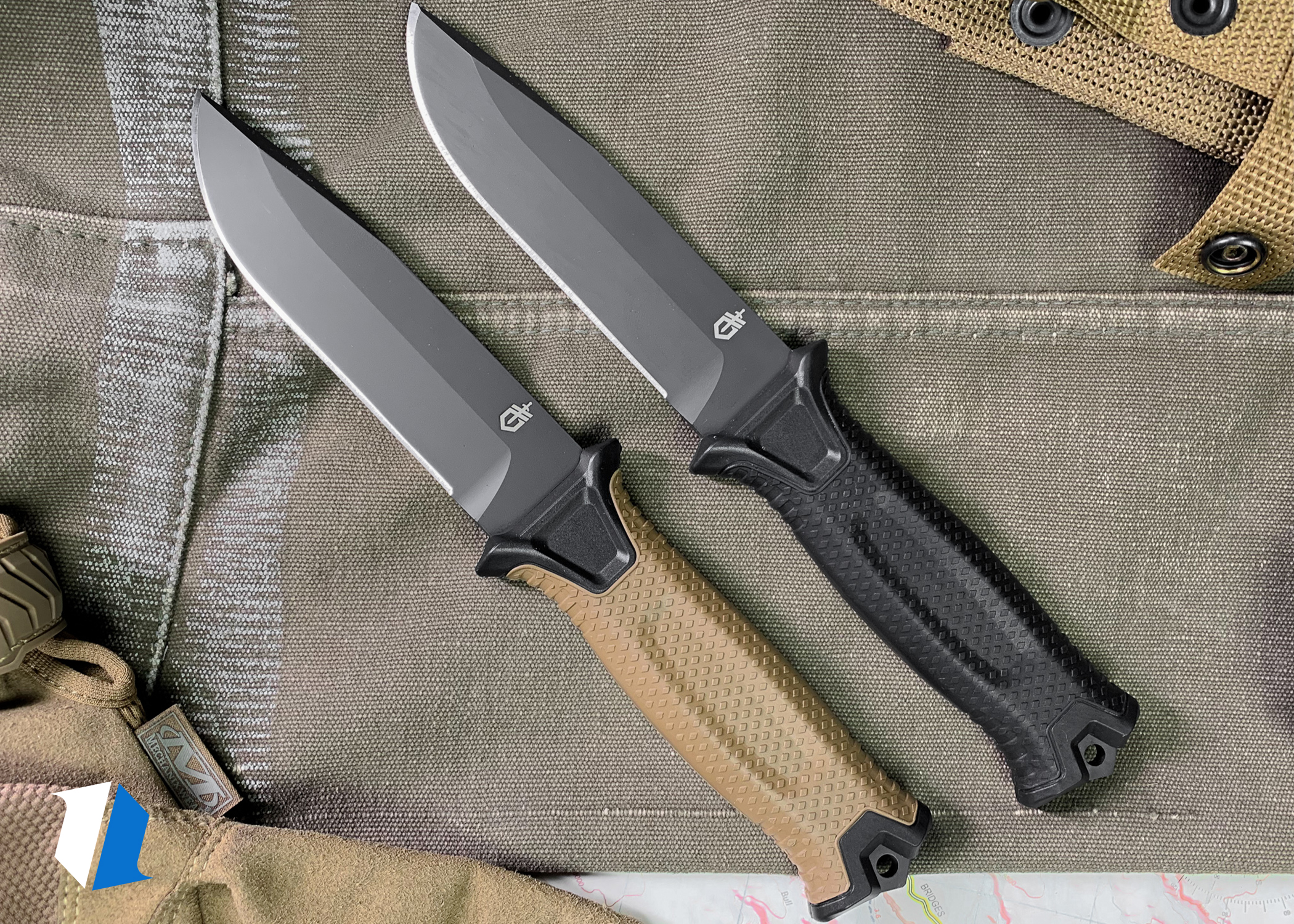 When looking at the stats sheet for the Gerber StrongArm, a lot of us at Blade HQ were skeptical about the blade shape and steel of this knife. We are used to handling and using knives with premium and super steels.
However, I was pleasantly surprised by the quality of the 420 HC from Gerber used for this knife. It was hard enough to chop with, but soft enough that I could put a quick edge on it to keep working with it. I didnít have to break out the special sharpening system or put extra effort into sharpening the knife. I simply grabbed a sharpening stone, put a quick edge on it and went back to work. For more on sharpening stones, check out our ďHow to Use a Sharpening StoneĒ guide.
Ergonomics
Score: 8/10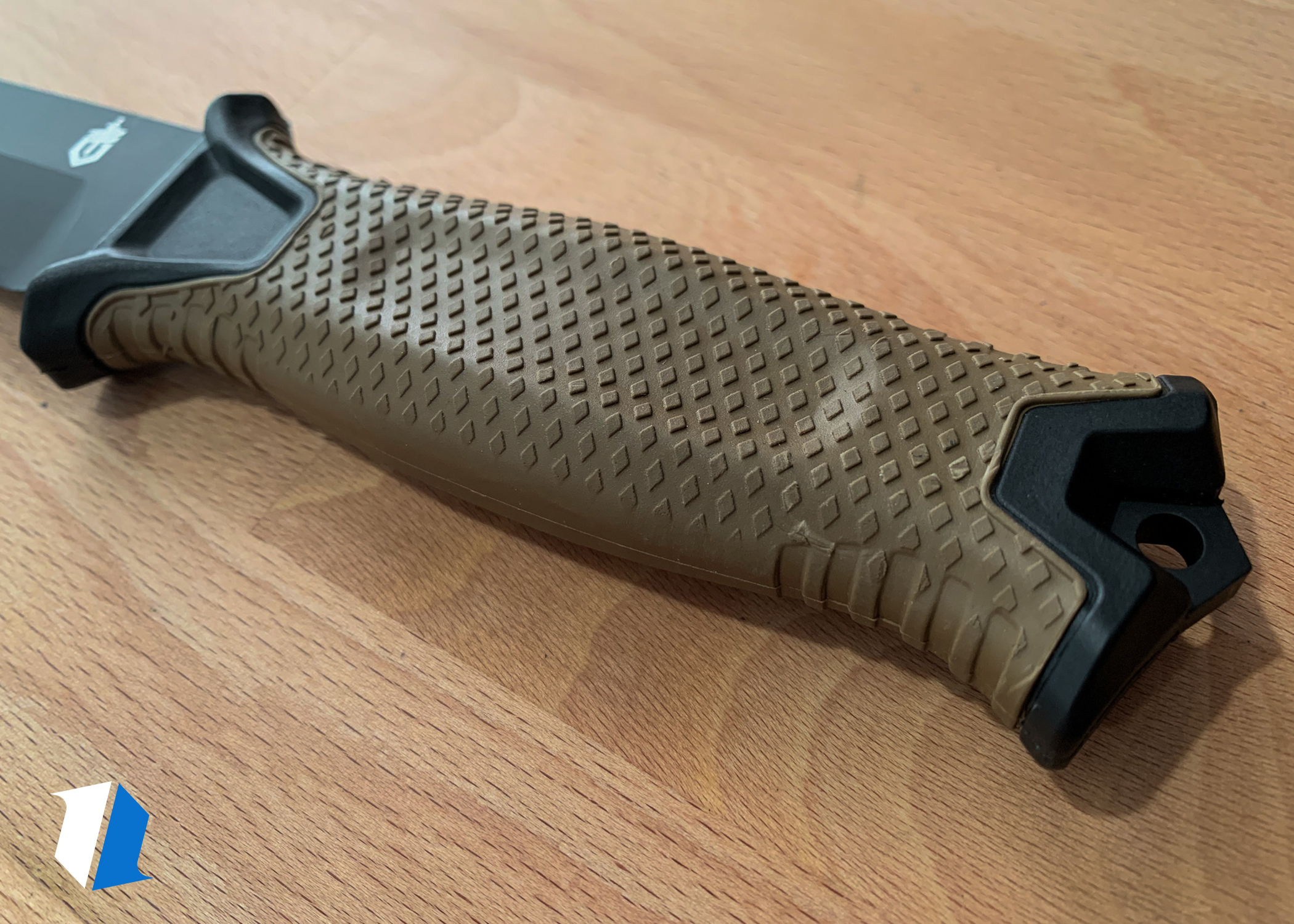 When I first picked up the StrongArm, I was impressed by the way it felt in my hand. The grip is amazing, the size is nice, and the weight is well balanced. It was easy to hold onto the knife while working and I felt confident that I wouldnít slip while using it. I used this knife both gloved and un-gloved and it was great either way.
My only complaint with the ergonomics and usability of the knife is the amount of vibration felt when chopping with the knife. Its full tang construction gives it strength, but it also gives it rigidity that can be felt through the handle during heavy use.
Cut Tests
Score: 7/10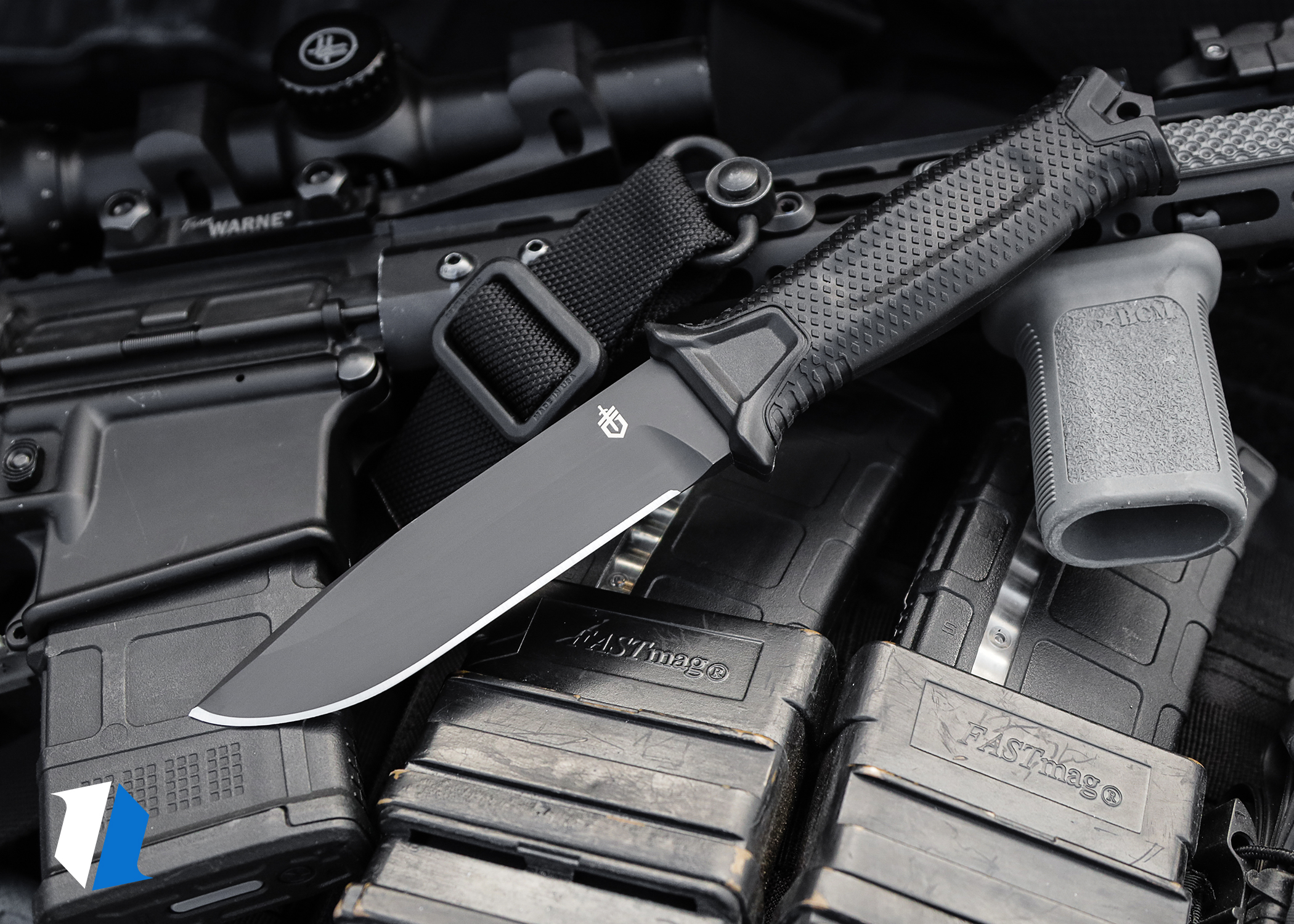 For this knife, we went beyond the standard workplace cut tests. We wanted to see what this knife could do and how well it would hold up to moderate to heavy use. I have to say the knife is amazing for a work knife. Because itís not an expensive knife compared to other fixed blade knives, thereís less stress involved in really beating on the knife and putting it to good use.
Materials
Score: 7/10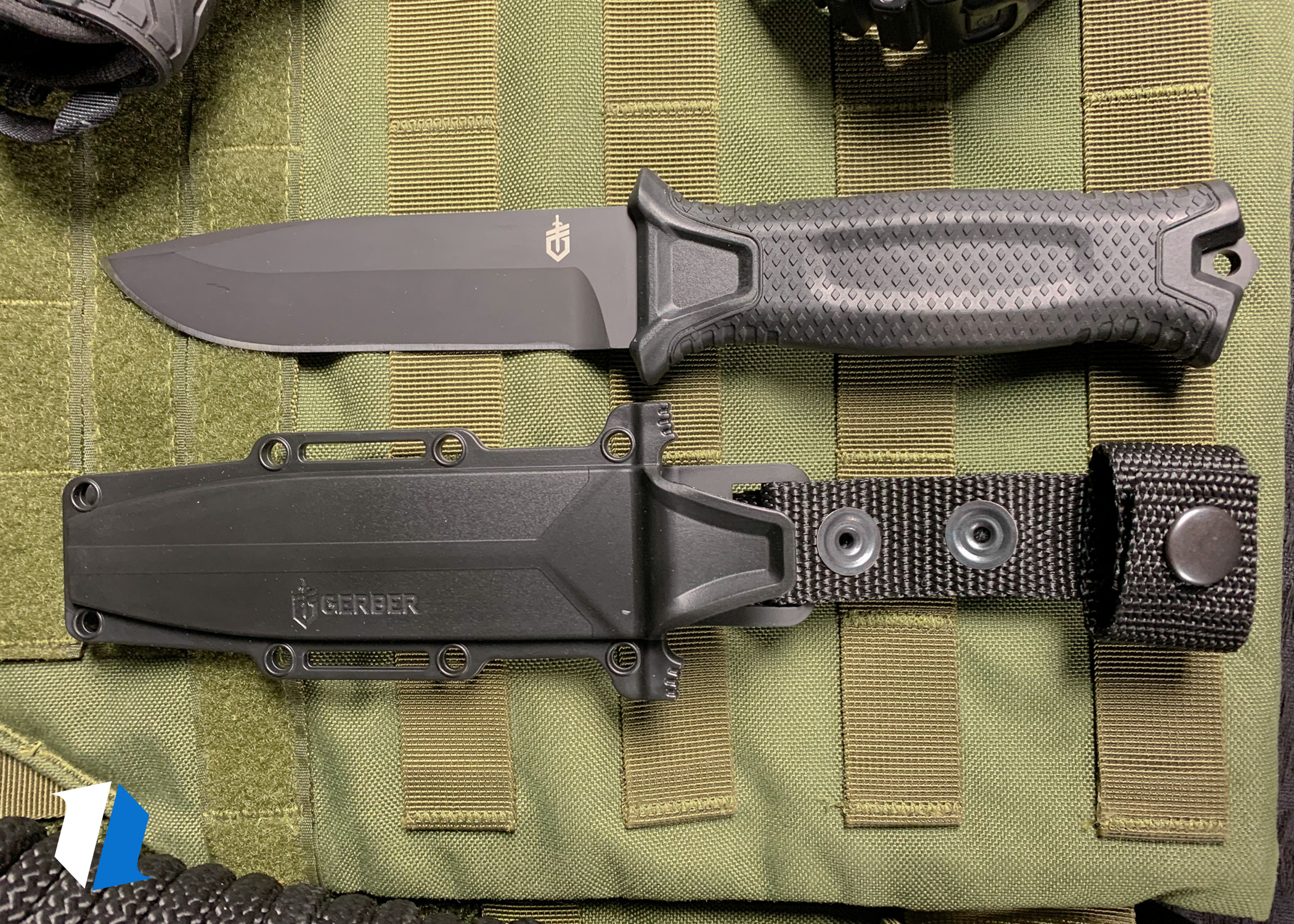 For a budget fixed blade knife, I was pleased with the materials. It doesnít necessarily have the most amazing materials in terms of exclusivity or rarity, but they did an amazing job making the simple materials on this knife look and feel awesome! The 420 HC blade performs as it should. The rubberized handle is grippy, wears well and is comfortable to handle. Overall, the materials of this knife and the included sheath are simple and good quality. The knife was built to do work. It meets the standard while maintaining durability and affordability.
Value
Score: 9/10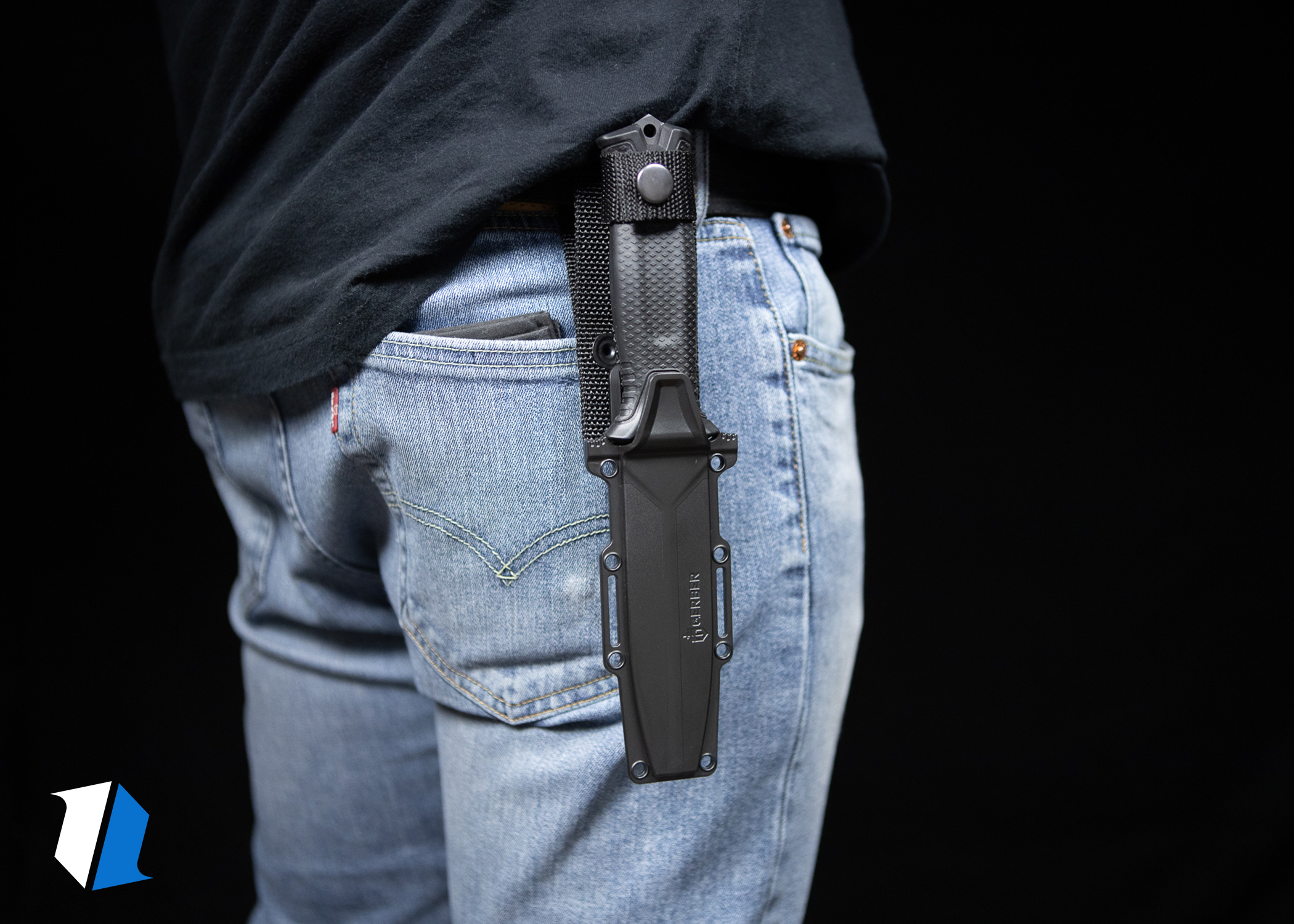 There are tons of fixed blade knives out there. For some, the price point isnít a big deal. But, if youíre like me, itís tough to spend tons on a knife that is meant to be used, battered and beat. The StrongArm is priced around $70 on our website and is worth every penny. The knife is well made, durable and performs better than some knives at higher price points.
For me the thing that sets this knife apart in terms of value is its sheath. Its modular design and overall quality are better than what most other sheaths have. Very few fixed blade knives come with a sheath you can actually use the way you want to. The sheath included with the StrongArm is amazing and honestly makes the knife that much better.
---
TOTAL KNIFE LIFE SCORE:
76/100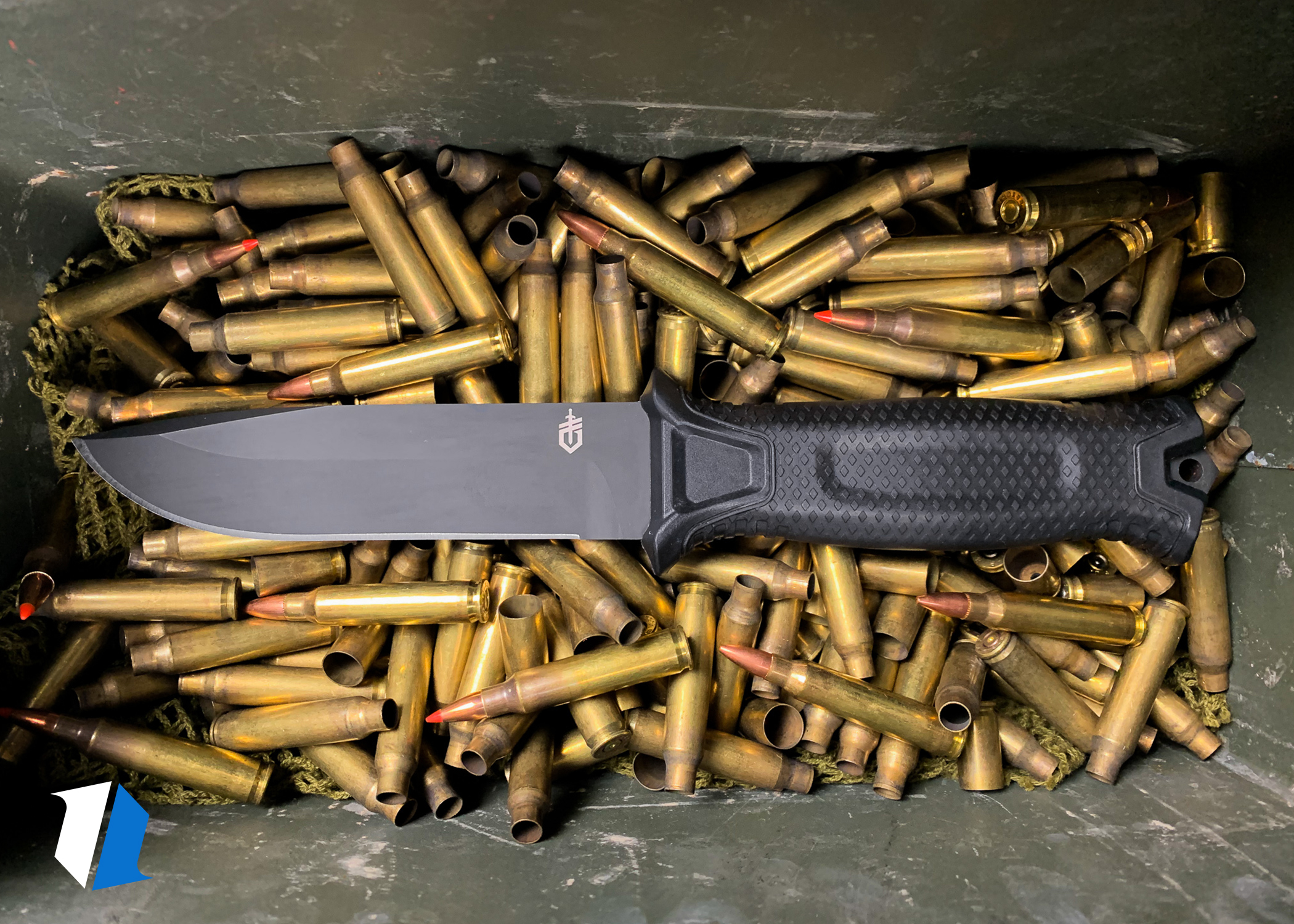 Initially I wasnít excited about the Gerber StrongArm. It is a bigger knife than what I am used to carrying and I didnít know what to expect. As I used the knife, I grew to like it. It has everything I need from a fixed blade knife to do camp chores and take care of heavy tasks. The knife has an incredible build quality and feels great in the hand. My favorite thing about the knife is the sheath. It worked well to carry it horizontally on my waist and fit perfectly on my backpack straps. If youíre looking for a great fixed blade knife built to take a beating while also being easy to carry and maneuver, this is it!

---
StrongArm vs. LMF II
Sometimes itís easy to wonder why some knives are introduced to the market when there are so many similar knives to choose from including others within the same brand. When I first picked up the StrongArm, I thought it looked very familiar.
The general shape and size of the StrongArm reminded me of the Gerber LMF II. Both knives are built for survival, feature the same blade steel, and come standard with a sheath, but where do they differ? For starters, the StrongArm is simply more compact and weighs in at 7.2 ounces. The LMF II on the other hand is a beast weighing in at 24 ounces. Second, the StrongArm is about an inch shorter than the LMF II making it much easier to carry and maneuver in sticky situations. The handle materials are slightly different with the StrongArm being an injection molded ruber handle and the LMF II handle being glass filled nylon. Both knives are great, but the StrongArm is my personal choice between the two.
---
OTHER KNIFE GUIDES