BEST HUNTING KNIVES
Welcome to the ultimate hunting knife buying guide! This buyers guide is an informative resource on different aspects of hunting knives, such as the best Blade HQ examples, styles, what to look for, uses, laws, and more. Letís kick it off with some popular hunting knives.
---
Best Selling Hunting Knives
Hunting knives come in a variety of styles and sizes. After checking out each example, be sure to check out the comparison table at the end of the section.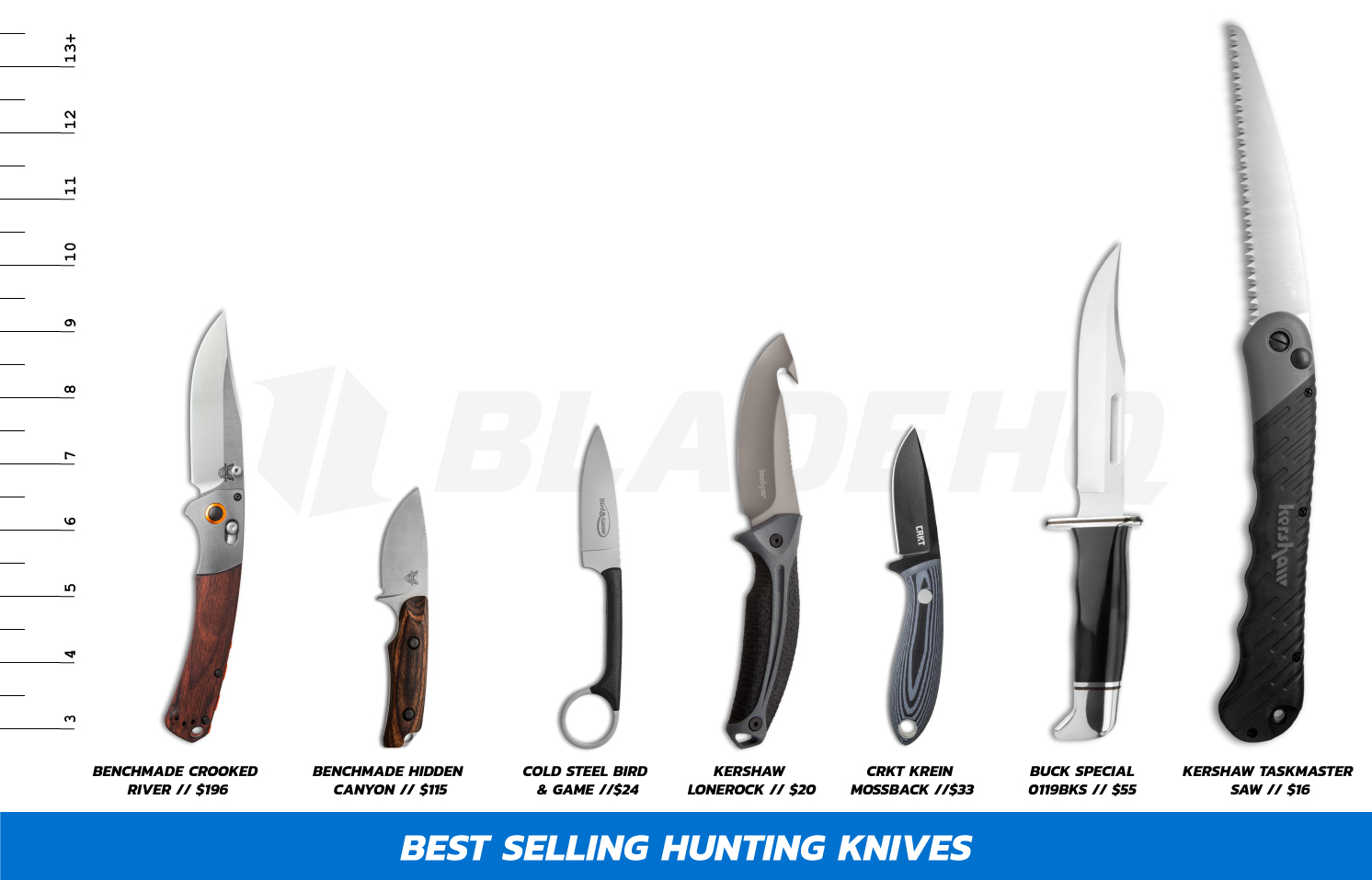 The Benchmade Crooked River is a very popular knife that comes from the Hunt series. This knife is made from quality materials and sports Benchmadeís famous AXIS lock. This knife sports a contoured handle that is made to fit the hand nicely. The Benchmade Hunt line features many of the best hunting knives with different styles. Learn More >
Benchmade Hidden Canyon Hunter
The Hidden Canyon Hunter is also a product of Benchmadeís Hunt lineup. This knife has been battle tested by hunters that love its strength and durability. The premium steel and quality build make the Hidden Canyon Hunter a must have for every avid hunter. Learn More >
This knife from Cold Steel rocks a very slim profile that is perfect to take on any hunting trip. Itís simple, lightweight, full tang, and very affordable. Not many hunting knives boast the portability of the Bird & Game. Learn More >
This Kershaw is a unique hunting knife thatís made for easy skinning. This knife was designed for maximum control and comfortable grip. This is a great knife for any and all hunters to have with them. Learn More >
A collaboration between CRKT and custom knifemaker Tom Krein results in great things. Take this Krein Mossback for example. Not only is it affordable, it features a layered G-10 handle, enlarged lanyard hole, black powder coated blade, and more. Learn More >
The iconic Bowie blade on the 0119 Special makes this a very useful hunting knife. The long clip point blade is satin finished with hollow ground bevels. Itís a big knife thatís ready for any hunting task you throw at it. Learn More >
Not technically a hunting knife, but we couldnít leave this one out. This folding saw from Kershaw is great to take camping, hunting, or anywhere in between. Learn More >
| | | | | | | | |
| --- | --- | --- | --- | --- | --- | --- | --- |
| | Benchmade Crooked River | Benchmade Hidden Canyon Hunter | Cold Steel Bird & Game | Kershaw LoneRock Gut Hook | CRKT Krein Mossback | Buck Special 0119 | Kershaw Taskmaster Saw |
| Overall Length | 9.30" | 6.32" | 7.25" | 9.375" | 7.25" | 10.50" | 16.25" |
| Blade Length | 4.00" | 2.67" | 3.50" | 4.25" | 3.19" | 6.00" | 7.125" |
| Handle Length | 5.33" | 3.65" | 3.75" | 5.375" | 4.06"+ | 4.50" | 9.25" |
| Type | Manual Folder | Fixed Blade | Fixed Blade | Fixed Blade | Fixed Blade | Fixed Blade | Manual Folder |
| Blade Material | CPM-S30V | CPM-S30V | AUS-8A | 8Cr13MoV | SK5 | 420HC | Carbon Steel |
| Handle Material | Dymondwood | Dymondwood | Rubber | GFN | G-10 | Polymer | GFN |
| Pocket Clip | Tip-Up | NA | NA | NA | NA | NA | NA |
| Weight | 5.41 oz. | 3.41 oz. | 1.40 oz. | 5.43 oz. | 4.40 oz. | 7.50 oz. | 9.40 oz. |
| User | Right/Left Hand | Right/Left Hand | Right/Left Hand | Right/Left Hand | Right/Left Hand | Right/Left Hand | Right/Left Hand |
| General Price | $196 | $115 | $24 | $20 | $33 | $55 | $16 |
---
Hunting Knife Types and Styles
Types of hunting knives:
Fixed blade
Manual folder
Automatic
Did you notice most of the first examples were fixed blade? Thereís a method to the madness. Fixed blades make great hunting knives because they are big, strong, and can cut through tough things. Fixed blades are also easier to clean and don't have pivots that you would have to worry about cleaning blood and other things out of.
Hunting knives are made to cater to a hunterís needs. With different needs comes different styles.
Hunting knife styles:
Curved blade - Great for skinning animals
Straight blade - Used for slicing meat
Full tang - Metal of the blade extends through the handle. Higher strength
Partial tang - Metal of the blade extends partly through the handle
Hooked - A hook at the top of the blade that is used in skinning
Gutting - Inversely curved blade with a blunt tip
And more...
Bottom line: There is a hunting knife style for every situation.
---
What to Look for in a Hunting Knife
To get the most out of a hunting knife, keep these things in mind when on the hunt for a knife purchase.
Type
Fixed blade hunting knives are stronger and easier to clean, while folding hunting knives are more compact. Or maybe you want an automatic knife. Just make sure to check your local laws first. Decide what you will use the knife for and which type will fit your needs.
Style
We touched on this topic a little in the previous section, but who doesnít need a good reminder once in awhile? For a general all-purpose knife, a regular curved blade hunting knife will do. If you plan on skinning game, there are knives for that as well. After you have decided on a type, find the best hunting style to fit your needs. Who knows, you may even need more than one.
Size
Hunting knives are known to be large. This is because large hunting knives are sturdy and can cut through thicker things. That said, you may need a hunting knife on the smaller side. Say you are skinning and cleaning a small animal. Itís going to be hard to get a long 8Ē blade to do the trick.
Number
Many hunters take pride in carrying more than one knife. They'll designate one to regular cutting tasks and the other to solely cutting meat. This is a great idea in preventing cross-contamination of any kind. Take it from knife addicts like us. You can never have too many knives.
Materials
Hunting knives come in a wide variety of materials, along with a wide price range. Knives in the sub $15 range will usually feature steels like 3Cr13MoV and cheap materials. More expensive knives like the Benchmade Hunt series feature CPM steels and Dymondwood handles. Itís all about personal preference, but remember, you get what you pay for with quality and materials.
---
Hunting Knife Uses
Hunting knives are used for anything hunting related such as:
Skinning game
Cutting rope, branches, etc.
Whittling tinder
Cutting and preparing food
Any other cutting tasks
Information is a hunter's best friend. Watch as Tyler, also known as TJack Survival, takes his talents to the woods and demonstrates some useful techniques.
---
Best Selling Hunting Knife Brands
Benchmade is sweeping the hunting game with their Hunt series. Honestly, we could have jam packed the ďPopular KnivesĒ section with only knives from Benchmade.
Buck makes hunting knives in the folding and fixed blade variety. Buck has many styles of hunting knives so a hunter can find the best one for their needs.
CRKT is known to make some very attractive hunting knives. They are produced with quality, and are known to be very durable and useful.
Cold Steel produces fixed blade hunting knives in different variations. Cold Steel is a company that set out to produce the sharpest, best knives in the industry.
Kershaw hunting knives are known to be practical and useful in many situations. Most Kershaw hunting knives have notches, saw blades, or other useful tools used for different tasks.
Ka-bar produces quality hunting folders that are compact and great to carry. These folders come in many different colors.
Puma has a large assortment of hunting knives that come in different shapes and sizes. Puma knives vary in appearance and materials used.
Gerber has an assortment of knives and tools. Along with knives, Gerber also produces saws, shears, and razors that are made for hunting.
---
Hunting Knife Laws
Knife laws in the United States are never easy to talk about. This is because laws vary by state and can change at any moment. Usually, state knife laws pertain to the type of knife, not the intended use for it. A folding hunting knife could have different laws than a fixed blade hunting knife. Are you catching our drift?
Look up the knife laws for your state. Then youíll know which knife you can take with you on your next hunting expedition or camping trip.
---
Recap
To recap this buying guide, hunting knives come in a variety of types, but they are most commonly found as larger fixed blades. Look for these things when buying a hunting knife:
Type
Style
Size
Materials
Use
Price
Take the examples and info in this guide and youíll be able to find the perfect hunting knife in no time.