OTF KNIFE BUYERS GUIDE
Welcome to Blade HQ's Out the Front (OTF) Knife Buyer's Guide! OTF knives fall under the general category of automatic knives, which also includes switchblades and Italian-style stilettos. These knives represent some of the most iconic weapons ever used in film and, ironically, it is this tough guy portrayal that landed automatics in a lot of trouble back in the 50s. To this day, automatic knives are highly regulated by state governments, so make sure to do your homework before you buy.
---
What is an OTF Knife?
Unlike the pivoting blades on a typical folding knife, OTF knives have a blade that deploys straight out of the handle with the push of a button or switch. Out-The-Front or OTF knives fall under the general category of automatic knives, which also includes switchblades and Italian-style stilettos. These knives have gained huge popularity over the years as some of the most iconic weapons ever used in film. From Who Framed Roger Rabbit and Dennis the Menace to Se7en and Blue Velvet, OTF knives have starred on the silver screen with fast and assertive deployment, one handed operation, and a unique design that is sure to stand out.
There are two basic types of OTF knives:
Double Action – Double action (D/A) OTF knives have a spring mechanism that automatically deploys and retracts the blade.
Single Action – Single action OTF knives have a spring that propels the blade out. The user must then manually retract the blade and reload the spring via a lever.
---
Best OTF Knives
What makes for the best Out-The-Front? There is a lot to consider when buying an OTF knife from usage, size, action, and price point. Check out all our recommendations from acclaimed brands like Benchmade, Microtech, Hogue, Guardian Tactical, and more… Let's jump right in!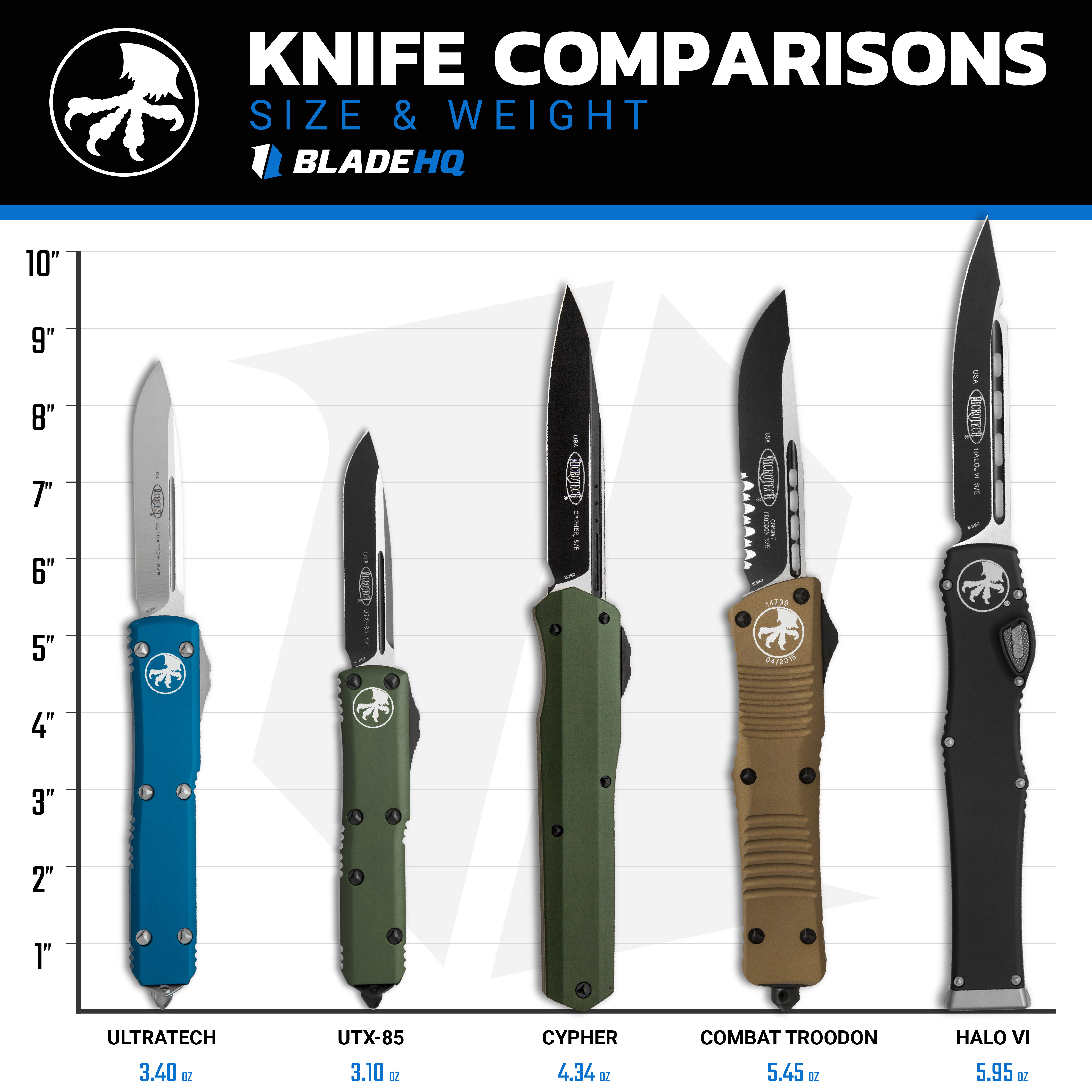 Microtech makes great OTF knives. While the Ultratech is perhaps the most popular model due to it's Goldilocks, "Just right", sizing there are many other models to consider. The UTX-85 (and even smaller UTX-70) are perfect for your EDC. The Combat Troodon and Halo are designed for hard usage in military and combat situations. The Cypher almost looks like a knife from a time far off in the future. You can't go wrong with any knife from Microtech. Made in USA craftsmanship, excellent materials and blade steels, and incredible automatic action make for a knife everyone needs in their collection.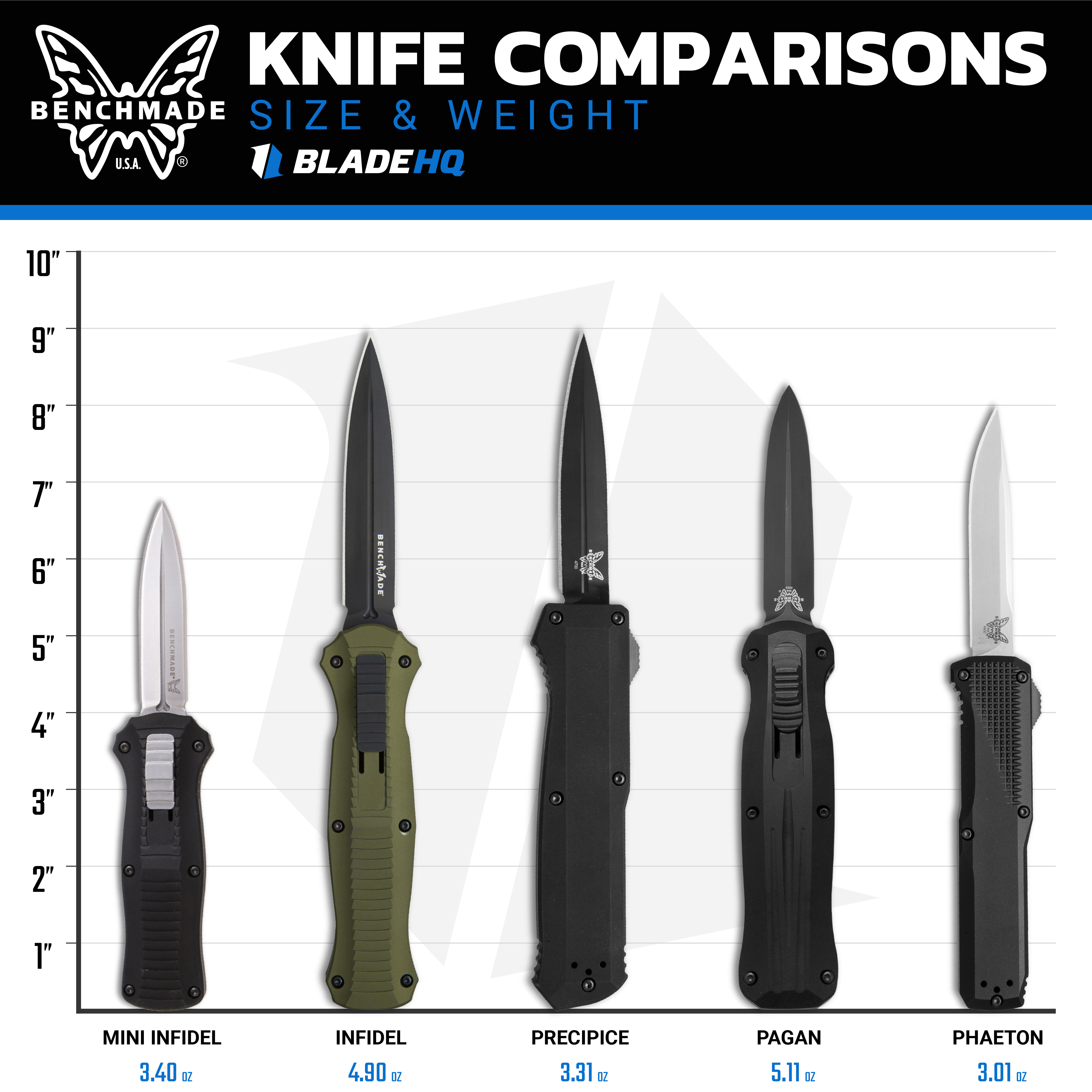 Benchmade is an impressive company—while many of us might think of the Osborne 940 or Griptilian models first, Benchmade has managed to produce five OTF models that rival any challengers on the marketplace. The Infidel and Mini Infidel feature a grippy trigger button with 'podium jimping'—I think Ben and Zac created that name, but it is fitting. The Pagan follows in a similar formfactor to the Infidel line. Some testers preferred the Precipice and Phaeton for their side button placement. Every Benchmade is crafted in Tualatin, Oregon, and with your knife purchase you'll also get an amazing warranty and LifeSharp.
Dark Horses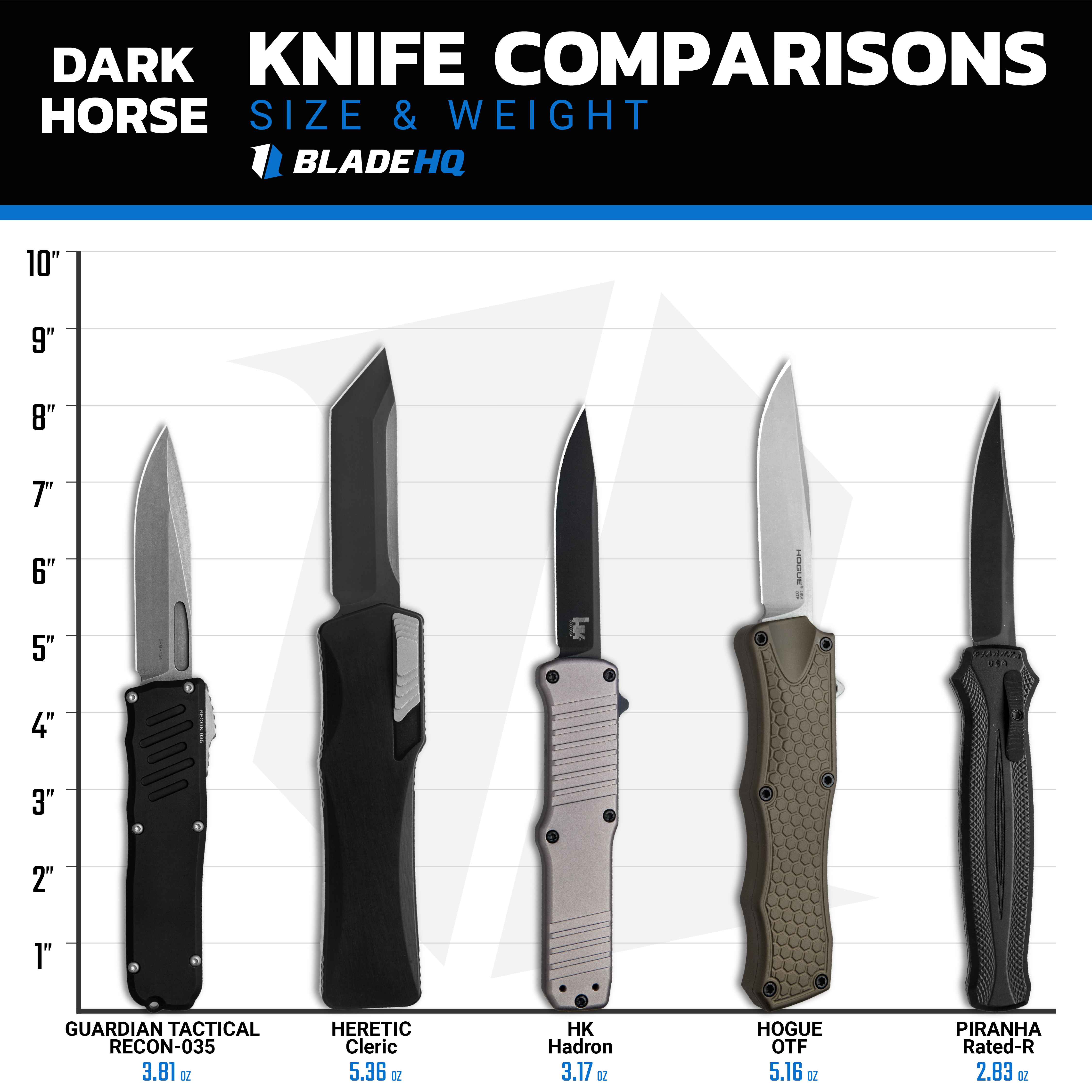 Benchmade and Microtech are awesome brands, but what about some love for smaller manufacturers? You can't go wrong choosing any of these knives as they are all made in USA from extremely premium materials.
The Guardian Tactical RECON-035 has, in my opinion, the best action of any knife in this Buyer's Guide. The Heretic Cleric comes in any color you could possibly dream of and utilizes a truly unique two-pronged pocket clip. The Hogue OTF, designed by Allen Elishewitz, is a unique, ergonomic OTF that fits any hand perfectly. Speaking of Hogue, they product the HK Hadron.A refined design speaks to the senses and begs for pocket time and gratuitous Instagram posts. Looking for a sleek and refined OTF? Consider the Piranha Rated-R.
Mid-Range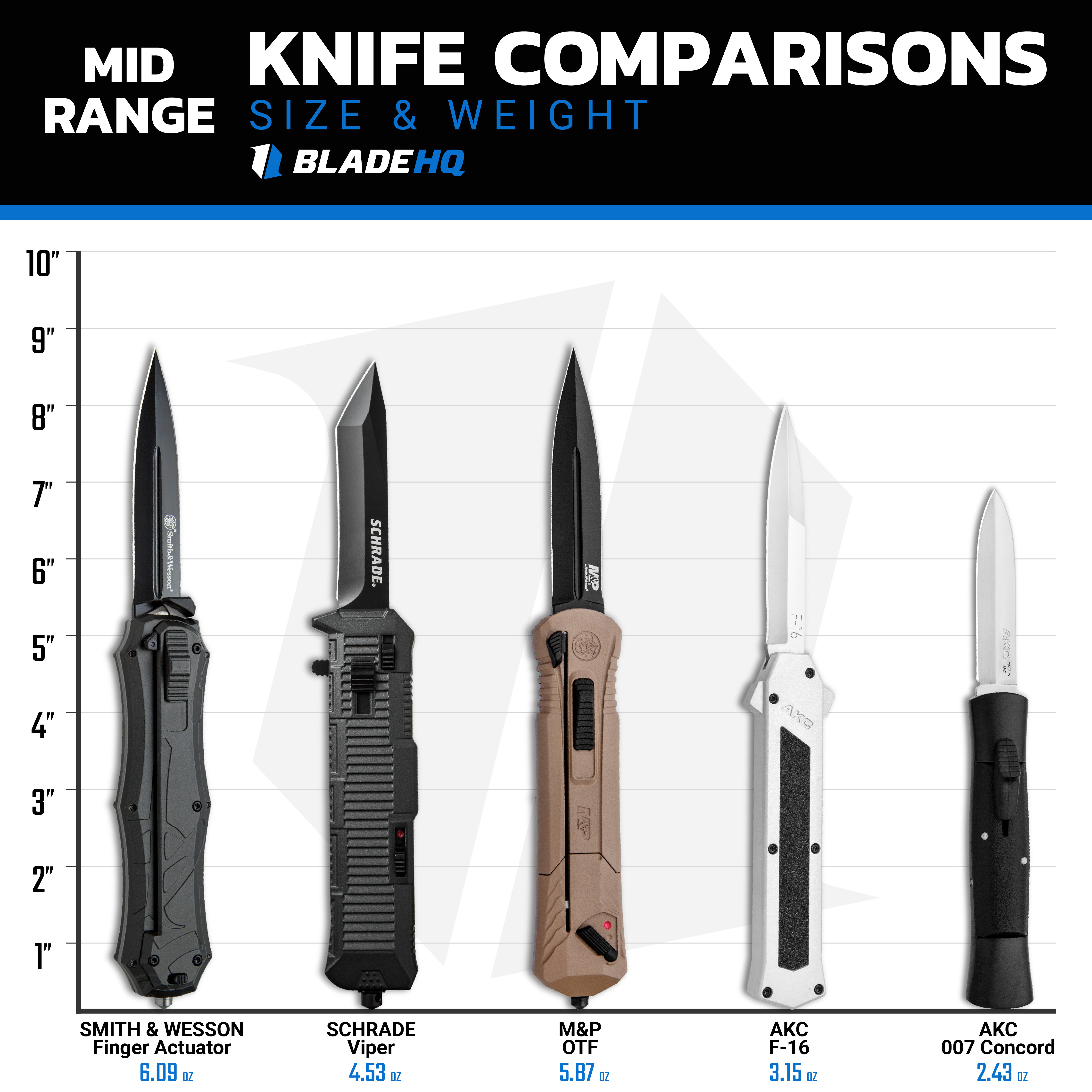 Getting a rad OTF doesn't have to break the bank. Here are some worthy options all with a price tag under $50.
Our first recommendation is the Smith & Wesson Finger Actuator. I know…it really rolls off the tongue. But don't let the name fool you—this knife is super solid and would perfectly compliment the firearm in your EDC. Next up is Schrade with their Viper OTF. I am a big fan of Schrade for making big, beefy knives that will stand up to a beating, and the Viper is no different. Next we've got the M&P OTF. The desert tan scales and contouring really differentiate this knife from other options on the market. Those first three Mid-Range OTFs are single action, but what if you're interested in double action on a budget? Italian knifemaker AKC (Automatic Knife Company) has got your back. The F-16 is a super OTF with its distinctive grip tape scale inlay and availability in any color you can think of. The AKC 007 Concord sports a compact formfactor. It's perfectly suited as a fidget toy on your desk, in the glovebox of your pickup truck, or in your toolbox.
Want a more in-depth look at the best OTFs? Check out our Knife Banter episode all about OTF knives.
---
OTF Knife Laws
Because most OTF knives are automatic knives, they often face restrictions across the United States. Some states are very lenient with their laws while others are very strict. Many see automatic knives as especially dangerous due to their fast blade deployment. It's important to remember to look up the automatic knife/switchblade laws for your particular state and area before purchasing any kind of knife.
And now, for something completely different. Ever heard of a Microtech Giant Halo 3X? No? Time to drop everything and watch this video! It features a custom, gigantic OTF you've got to see to believe.