Best Karambit Knives
Written by Blade HQ Staff Writer Logan Rainey on 04/15/2020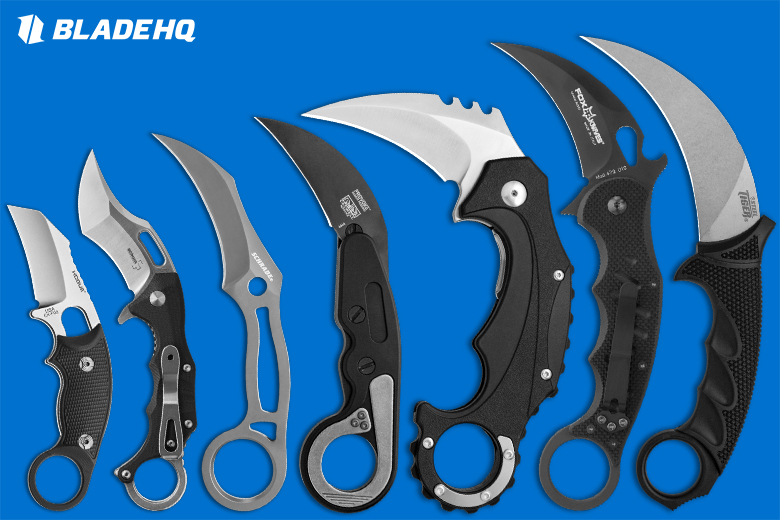 It goes without saying karambit knives are built for one purpose: self-defense. The Karambit knife originated in Indonesia as a farming tool and utility blade, but quickly found its way into the hands of fighters and soldiers. Karambits are known for their claw-like blade and ergonomic handle. They come in all shapes and sizes, and both fixed and folding variations.
Read on for the top seven karambit knives. We show you what they're made of and what makes them so great. Plus, find a review from one of our amazing customers below each breakdown.
---
Karambit Size Comparison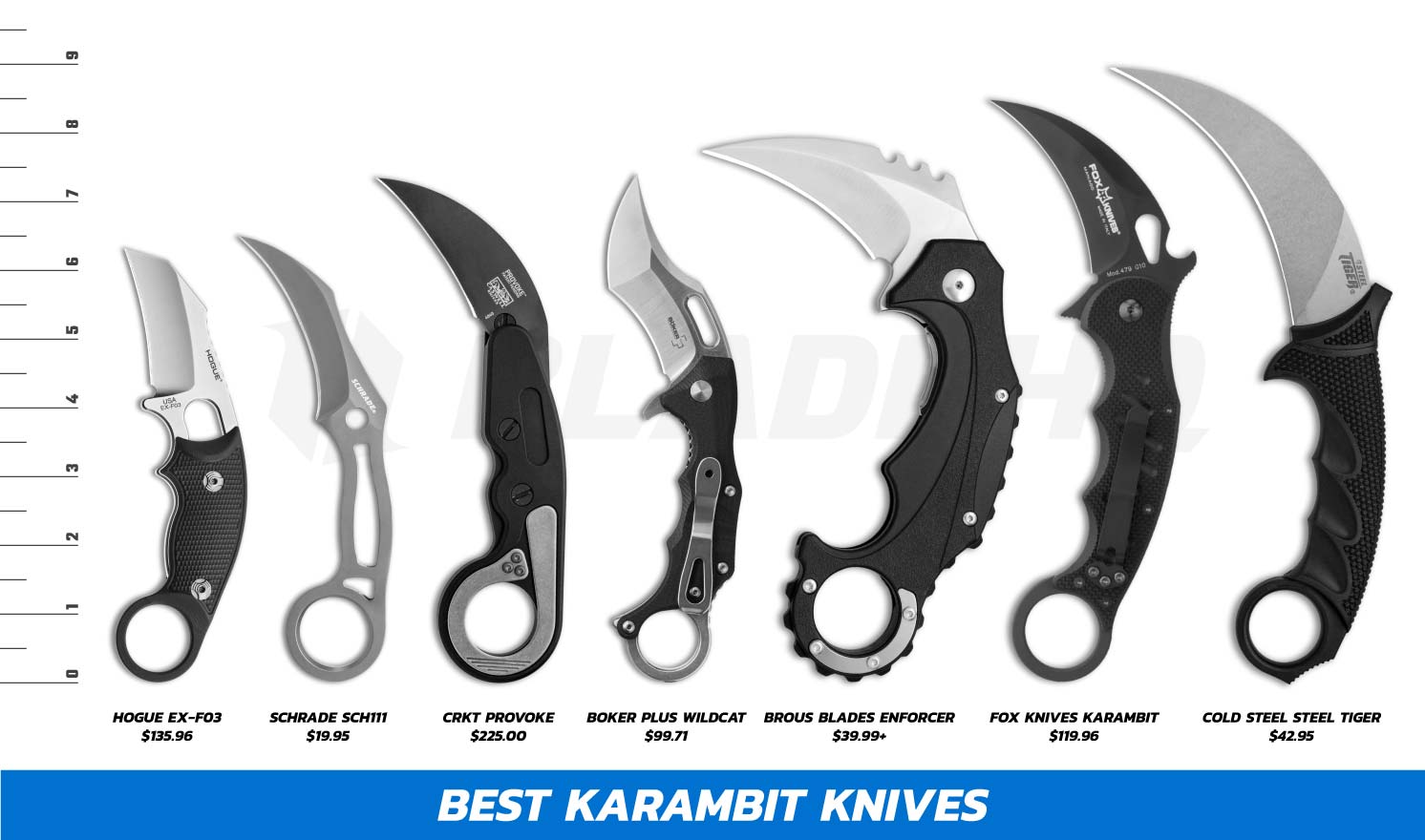 ---
1. CRKT Provoke

The CRKT Provoke starts off our list of Best Karambit Knives thanks to its innovative design and amazing construction. This unique karambit takes its design from karambit knives of the past and adds modern ingenuity with the first-ever kinematic folding action. The Provoke is designed to be a lightning-fast, one-handed opening karambit. It features a D2 blade, aluminum handle and low-profile pocket clip for easy in-pocket carry.
Blade: 2.41" D2 Hawkbill
Handle Material: Aluminum
Weight: 6.10 oz.
Country of Origin: Taiwan

Bin M. says...
"Purchased this knife last week after seeing videos of it on line. This has to be the coolest most practical self defense knife in my collection. Lightweight and easily deployed with one hand. The pocket clip takes a little getting used to but after a little practice, no problems. Plus it sits nice and low profile so its not easy to spot. Will carry this with me all the time."
---
2. Cold Steel - Steel Tiger

This solid fixed blade karambit knife from Cold Steel features a rugged grip and beefy blade designed to handle the tensest encounters with ease. The aptly named Steel Tiger features an AUS-8A hawkbill blade in a beautiful stonewash finish and a black Kraton polymer handle. This karambit comes standard with Cold Steel's innovative Secure-Ex sheath system that allows for easy pack or belt carry. Click below to buy the Cold Steel Steel Tiger.
Blade: 4.75" AUS-8A Hawkbill
Handle Material: Polymer
Weight: 5.40 oz.
Country of Origin: Taiwan

Leslie J. says...
"This knife is very solid and well made. Fun to use and extremely sharp! Cold Steel is great!"
---
3. Fox Knives Karambit

The Karambit Folder from Fox Knives is a super-premium self-defense tool. It features a black G-10 handle with finger ring and a black finished N690 hawkbill blade. The tactical black blade is outfitted with Emerson's patented Wave Opening feature, a flipper and thumb hole. The Karambit handle has steel liners, lock tab and a tip-up carry pocket clip.
Blade: 3.10" Bohler N690 Hawkbill
Handle Material: G-10
Weight: 4.20 oz.
Country of Origin: Italy

Caleb C. says...
"This knife is wicked. Super sharp. I ripped a hole in my pants because the blade caught it just a little. Love the wave technology. Lightweight."
---
4. Brous Blades - Enforcer

The Enforcer was the first folding Karambit design from Brous Blades and it became an instant hit. With this design, Jason created a wraparound-style handle that accommodates forward and reverse grips equally well. The handle consists of sturdy, skeletonized stainless steel liners, a notched gears backspacer, and 3D machined polymer scales. The D2 steel blade comes outfitted with the Brous Bearing System for smooth and fast deployment. This model comes from the Brous Blades Import line making it a more affordable option for everyday carry.
Blade: 2.50" D2 Hawkbill
Handle Material: Polymer
Weight: 5.17 oz.
Country of Origin: China

Kenneth V. says...
"Karambit is good and at least mine came set up for the left hand which was great as I didnt have to change the set up to my off hand for EDC. Makes a great backup/control tool and wears easy, solid lockup and good weight."
---
5. Schrade - SCH111

The SCH111 Karambit fixed blade from Schrade features a full-tang tactical design made from solid 9Cr18MoV stainless steel. Its lightweight skeletonized build makes it easy to carry, and its smaller size allows comfortable concealment. An over-sized finger ring offers a secure grip, and a faster draw from the included polymer sheath. Comes with a ball chain and length of paracord for neck carry options.
Blade: 3.00" 9Cr18MoV Hawkbill
Handle Material: Stainless Steel
Weight: 2.23 oz.
Country of Origin: China

Jet H. says…
"It's a good knife it came reasonably sharp it cuts well, it is very comfortable in hand, for reference I wear a medium size glove and additional paracord makes this a easy knife to use and hold."
---
6. Boker Plus - Wildcat

The Boker Plus Wildcat demonstrates designer Boris Manasherov's understanding of ergonomics and the importance of intuitive knife handling. The modified D2 blade of this karambit knife is powered by a ball bearing pivot and opens effortlessly with the use of either the thumb hole or flipper. A finger ring is left accessible above the pocket when carried for quick draw during critical moments.
Blade: 2.875" D2 Tanto/Hawkbill
Handle Material: G-10
Weight: 4.43 oz.
Country of Origin: China

Evan C. says...
"This knife is a great option for an everyday carry knife. I would usually not say that about a karambit because of the main use of them as a tactical knife in today's mindset. However this wonderful gem has a more utilitarian feel in use than some other karambits in my collection. Rides in the pocket well and has a reassuring presence about it."
---
7. Hogue EX-F03

Using the skeletonized EX-F03 platform as the base, this Hawkbill Fixed Blade Karambit from Hogue Knives features a contoured and textured black G-10 handle with finger ring for increased grip and utility. The EX-F03 is an Allen Elishewitz design and every detail of this fixed blade has been thoroughly thought out. The wide handle profile offers additional grip that a thinner design lacks. An auto retention sheath is included with this EX-F03 knife.
Blade: 2..25 154CM Hawkbill
Handle Material: G-10
Weight: 3.13 oz.
Country of Origin: USA

Brett Q. says...
"Hogue Knives are extremely underrated! This knife was bought specifically to use as a neck knife and versital utility knife. I find myself carrying around the house looking for a reason to use it!"
---
Conclusion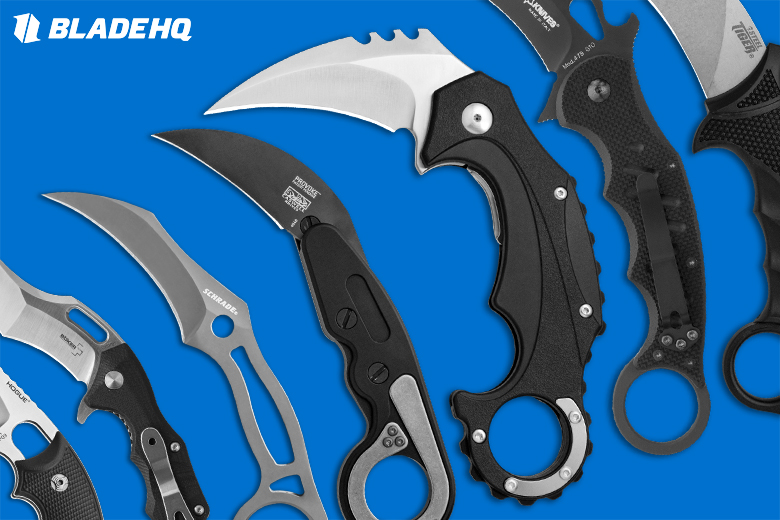 Karambit knives are known for their ergonomics and efficiency. They are built for self-defense but can be enjoyed by anyone who loves unique knives for their everyday carry. Though they aren't the most practical knife for every task, they excel in critical situations of life and death. Pick one of these bad boys up if you're looking to add a unique knife to your collection or need a reliable blade for your duty belt. Click the button below to see more Karambit knives.
While these are our top Karambit Knife recommendations, Blade HQ has got plenty more knives than the ones featured here! Leave a review of your favorite karambit knife and follow us on Instagram, Facebook, and Twitter for all your future knife updates.
Learn More
If you're on the fence about a karambit knife, it may be worth checking out our YouTube video highlighting karambit knives and their uses.
---
Other Best Knife Guides
Still in that information gathering phase? We've got a whole bunch more lists of all the Best Knives! Happy hunting and may you find that one special knife of your dreams!
*Customer reviews may be condensed for clarity and edited for grammatical errors. You know we have to make our high school English teacher proud. Check product listings for current pricing.