BEST KARAMBIT KNIVES
Welcome to the ultimate karambit knife buying guide! This buyers guide is an informational resource for anybody looking to learn more about karambits. Weíll touch on topics such as the best karambits and styles, what to look for, brands, history, and laws. Letís get into it.
---
Best Selling Karambit Knives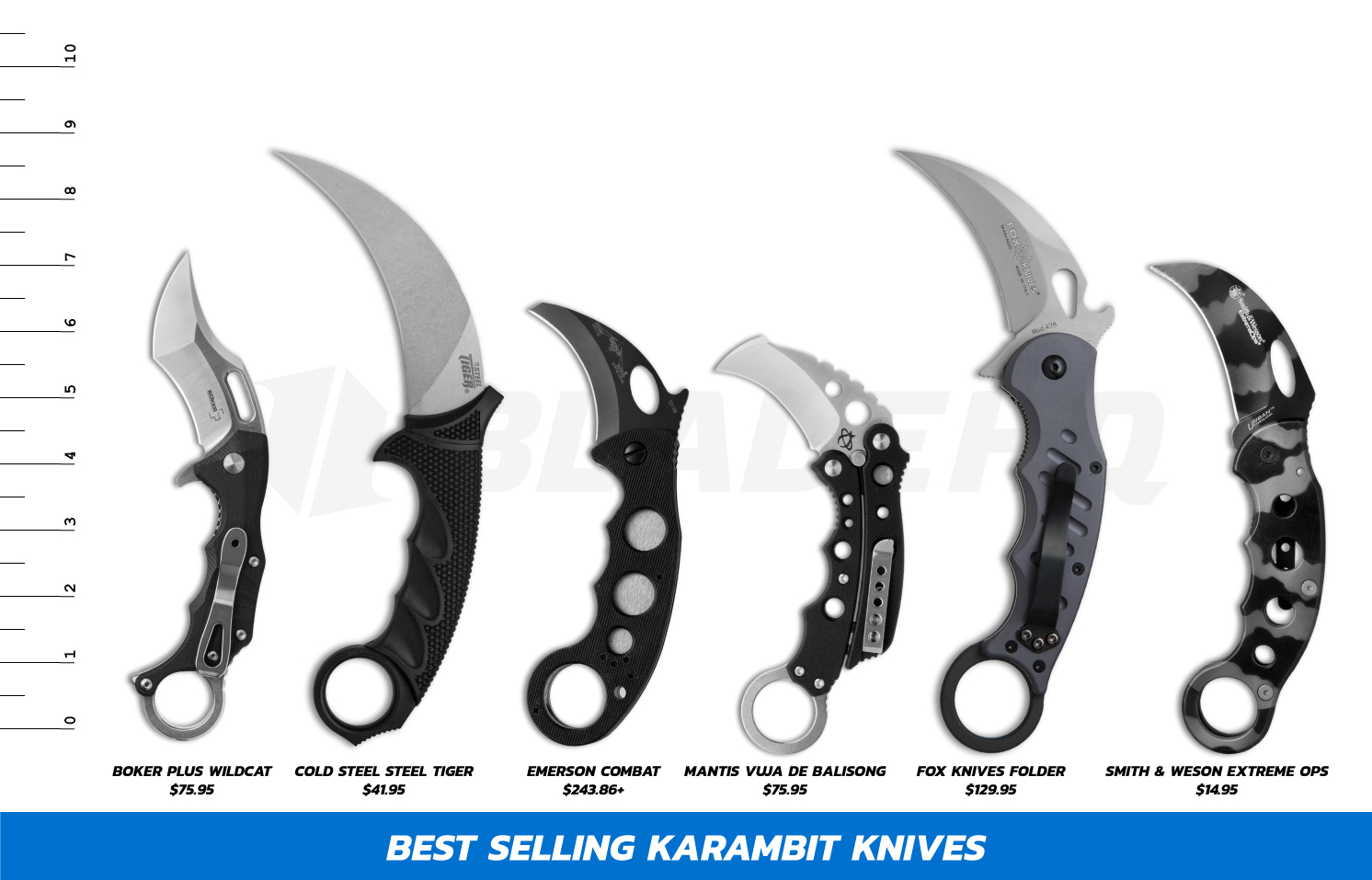 Designed by Boris Manasherov; the ergonomic style and unique design makes this a very appealing karambit. This knife has both a thumb hole and flipper, and opens seamlessly by a ball bearing pivot. The tactical karambit knife design set this apart. Buy It Here
Cold Steel hit this one out of the park as they took requests from customers and enlisted the help of Steve Likarich. The AUS-8A blade is vacuum heat treated and sub zero quenched for strength. If youíre looking for a karambit, the Steel Tiger isnít a bad place to be. Buy It Here
Emerson Knives is known to make some of the best karambits available. The Combat Karambit features a tactical design that comes in different options. Itís a manual folder that boasts the Emerson Wave opener. Buy It Here
Itís a birdÖ itís a planeÖ itís a crossover knife with a karambit body and skeletonized balisong handles. The hawkbill blade is satin finished and has thick jimping on the spine. The action is super smooth and ready to work. Buy It Here
This knife boasts the patented Emerson Wave opener alongside steel liners and a lock tab. The design is sleek and a great size for comfortable carry. Fox Knives know what theyíre doing when it comes to producing a great karambit. Buy It Here
Smith & Wesson Extreme Ops Karambit
This is a hard karambit to beat for the price. It boasts an urban camo gray titanium coated blade and handle. It is a very slim knife that is great for everyday carry and tactical uses. Buy It Here
| | | | | | | |
| --- | --- | --- | --- | --- | --- | --- |
| | Boker Plus Wildcat | Cold Steel Steel Tiger | Emerson Combat Karambit | Mantis Vuja De | Fox Knives Karambit | Smith & Wesson Extreme Ops |
| Overall Length | 7.375" | 9.00" | 6.75" | 6.00" | 8.50" | 7.375" |
| Blade Length | 2.875" | 4.75" | 2.625" | 2.00" | 3.20" | 2.75" |
| Handle Length | 4.50" | 5.00" | 4.625" | 4.00" | 5.30" | 5.00" |
| Blade Material | D2 | AUS-8A | 154CM | M-VX | Bohler N690Co | 7Cr17 |
| Handle Material | G-10 | Polymer | G-10 | G-10 | Aluminum | Stainless Steel |
| Karambit Type | Manual Folding | Fixed Blade | Manual Folding | Butterfly | Manual Folding | Manual Folding |
| User | Right/Left Hand | Right/Left Hand | Right/Left Hand | Right/Left Hand | Right Hand | Right Hand |
| Pocket Clip | Tip-Up | On Sheath | Tip-Up | Tip-Up | Tip-Up | Tip-Down |
| Weight | 4.43 oz. | 5.40 oz. | 4.50 oz. | 3.80 oz. | 4.60 oz. | 4.70 oz. |
| Country of Origin | China | Japan | USA | Taiwan | Italy | China |
| General Price | $75.95 | $41.95 | $243.86+ | $79.95 | $129.95 | $14.95 |
---
Karambit Knife Styles
As you saw from the examples earlier in the guide, these knives come in different styles. The three styles of karambits are:
Fixed Blade
Manual Folding
Butterfly
---
What to Look for in a Karambit
Karambits are unique in so many ways. Be sure to watch for the following when selecting your next karambit to add to the lineup.
Type
The type of karambit you want should be the first thing you decide. Are you going to be using it for everyday carry (EDC) in a pocket? If not, will a fixed blade with a sheath suit your style? Do you want a spin on the traditional butterfly knife? Answering these questions will point you in the direction of your perfect karambit companion.
Materials
With many different manufacturers comes many different blade steels. The most common steels currently found in karambit blades:
154CM
Bohler N690Co
Stainless steel
CTS-BD4P
CTS-XHP
CPM-S30V
CPM-S35VN
CPM-154
AUS-8
And the list goes on. With a wealth of steel types comes a wealth of handle materials. The most common karambit handles:
G-10
Stainless steel
Titanium
Carbon fiber
Micarta
Polymer
FRN
Aluminum
Size
Karambit blades range from less than 1Ē to over 6Ē. There are massive fixed blades that are great for heavy tasks and then there are compact ones that are great for EDC. The size you need all depends on how youíre going to use it.
Type of Opener
Folding karambits are opened in a variety of ways, including:
Itís all about personal preference here and finding the opener you like best.
---
Best Selling Karambit Brands
Boker has proven their quality by making knives for over 100 years. Boker started in Germany and has moved globally with locations in Argentina and Colorado, USA. You canít go wrong with a Boker Karambit.
Cold Steel is a company set on making the strongest, sharpest knives in the world. Their karambits are incredibly appealing at a fraction of the price.
Emerson karambits are widely known to be some of the best available. The prices are steeper than other brands, but you know you are buying quality with an Emerson karambit.
Fox Knives is an Italian company that produces both sporting and professional cutlery. Their karambits are all visually appealing and made with excellence.
Smith & Wesson knives are manufactured by Taylor Cutlery, which puts an emphasis on great quality and affordable prices. Smith & Wesson knives can be found in many industries like law enforcement and hunters.
Ontario knives have been around since 1942 and are a trusted supplier of the U.S. Armed Forces. They focus on developing new knife designs using cutting-edge technology.
Spyderco knives are known for their unique designs and quality builds. This is no different with their karambit knives. Each Spyderco karambit can be called out of a lineup easily. In a good way, of course.
Mantis Knives is a technology company at heart that loves to push the boundaries of conventional thinking. Mantis karambits are unique and well made. They are known for their butterfly karambits.
Schrade knives are also manufactured by Taylor Cutlery. Schrade puts emphasis on having high quality products offered at affordable prices. Schrade knives can be found in industries like fire safety, law enforcement, hunting, and more.
---
History of the Karambit
Karambits are believed to have originated in Indonesia during the 11th century. According to ancient folklore, the karambit was said to be inspired by the claws of cats like the tiger. The karambit design began to spread throughout Asia in countries known today as Cambodia, Laos, Malaysia, Myanmar, Thailand, and the Philippines.
Like many other styles of knives, the karambit was introduced as a fixed blade. The karambit was made to assist farmers with raking and cutting plants and weeds, and only started to be used as a weapon because of groups invading the farmersí land. Different cultures started picking up the design and implementing the long, fixed blade battlefield karambit.
Itís said that when ancient fighters would use karambits as weapons they would coat the blade in potent poison from spiders, snakes, frogs, and scorpions. This allowed shallow cuts to be very deadly in battle. The personal karambit, a smaller version of a battlefield or combat karambit, was then born and often utilized these deadly toxins.
The modern versions of the karambit are much different from the agricultural tool it once was. Karambits today are made of various materials, usually steel, and can have either a folding or fixed blade.
---
Karambit Knife Laws
A knife buying guide without touching on laws is like making a grilled cheese sandwich with no butter. Itís just not as good.
Karambits are currently regulated at the state level, which means there are a lot of varying laws around the country. Some states regulate karambits by the type of knife they are and others regulate by blade size. Look up the laws for your state. That will be your safest bet before buying.
---
Recap
The karambit has a rich history that dates back centuries. Karambits are popular for their unique curved blade shape and are used for tactical, self defense, collection, and EDC. When looking for a karambit, look at these things:
Style
Type of opener
Blade steel and handle construction
Size
Price
If youíre drawn to the self defense aspect of karambits, check out this video and pick up a karambit trainer. Nothing can up your cool points faster.
We hope you found this karambit buying guide useful and we wish you luck in your karambit quest!