KNIFE HANDLE MATERIALS GUIDE
Updated by Blade HQ Staff Writer Logan Rainey on 4/13/2019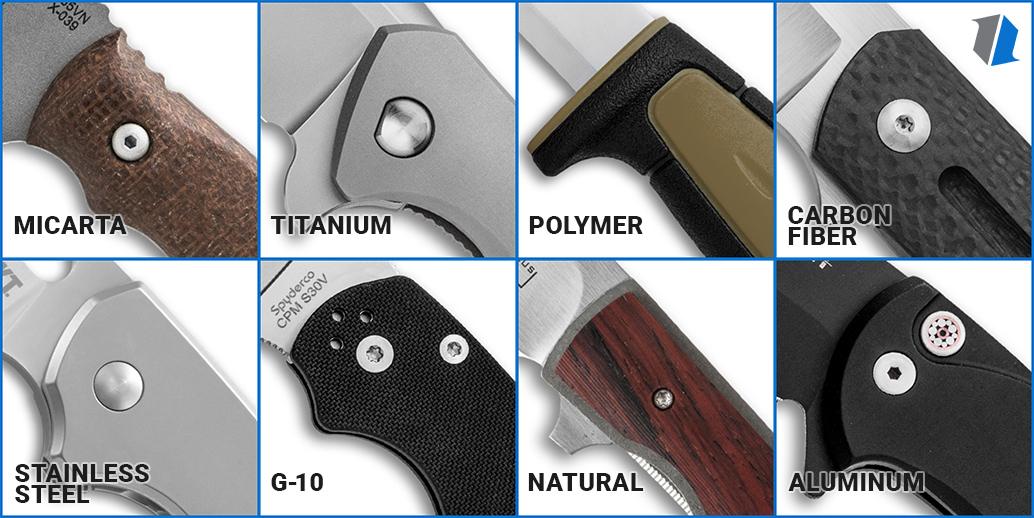 Are knife handle scales a mystery to you? From micarta to titanium and beyond, read on to learn what makes each of these knife handle materials so special.
---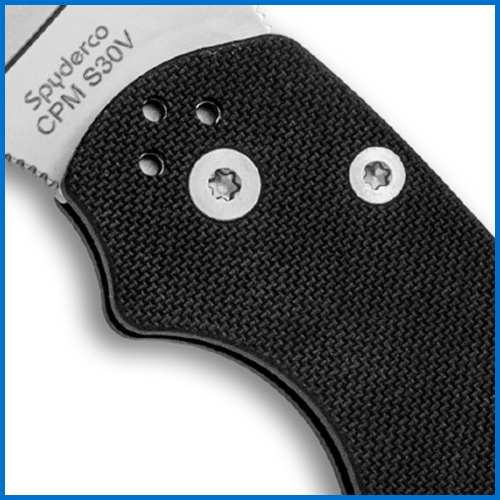 1. G-10 Handle Scales
G-10 knife handles are: lightweight, durable, and resist corrosion.
G-10 approaches absolute perfection in use for knife handle scales. A premium laminate of fiberglass and resin, G-10 can sustain a ridiculous amount of abuse from strikes and blows to torsion, chemical abuse, and high-moisture environments. In hand, G-10 is incredibly grippy even when wet or greasy. G-10 comes in a multitude of colors and combinations to suit any knife handle preferences.
Shop G-10 Handles
---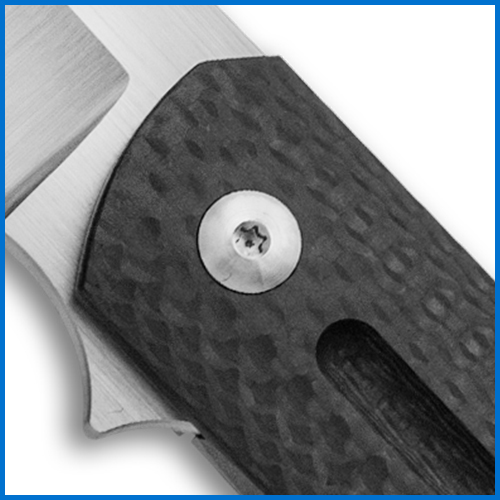 2. Carbon Fiber Handle Scales
Carbon Fiber knife handles are: premium, smooth, and lightweight.
Few materials ooze the class of carbon fiber. Popular in a multitude of industries from aerospace and automotive to technology and luxury goods, carbon fiber is a match made in heaven for knife handle scales. Traditionally found in a woven pattern, knives are also frequently offered in a marbled carbon fiber. More than just a pretty face, carbon fiber is durable and lightweight.
Shop Carbon Fiber Handles
---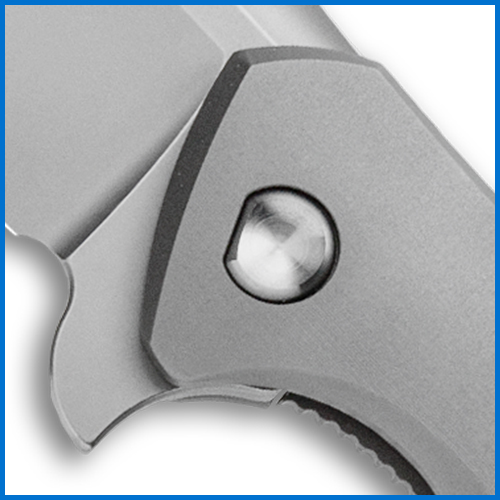 3. Titanium Handle Scales
Titanium knife handles are: strong, lightweight, and anti-magnetic.
Titanium has fast become the standard knife handle material among premium knife manufacturers. Amazing strength is paired with a naturally grippy, powdery texture in a lightweight package. Titanium can be anodized a vast array of colors from yellows and oranges to purples, greens, and blues -- whatever suits your heart's desires. Check out our How to Anodize Titanium Guide for more. Simply put, titanium is absolutely good to go on any knife handle!
Shop Titanium Handles
---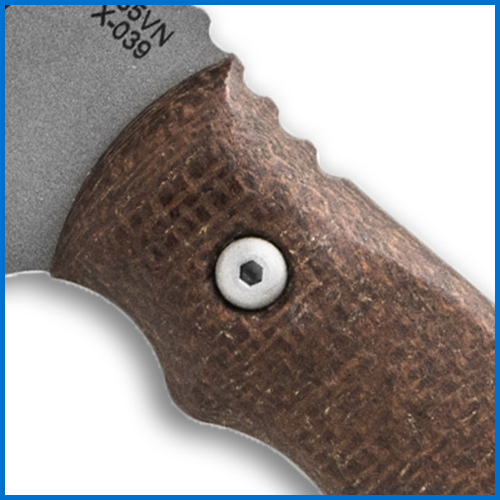 4. Micarta Handle Scales
Micarta knife handles are: grippy, durable, and organic.
Similar to G-10, micarta is a laminate of organic material such as paper or cloth that is pressed and dried in resin. Originally popularized by the Westinghouse company, micarta is revered for its grip and customization potential. Intricate designs can be achieved by layering the raw materials in pattern. Where G-10 typically possesses an aggressive grippiness, micarta typically has a softer feel in the hand. For an awesome read on the history of micarta, check out this micarta article. It has all you'd want to know about the Westinghouse micarta process through the early 1900s. Or learn to make your own micarta handle scales with our How to Make Micarta article.
Shop Micarta Handles
---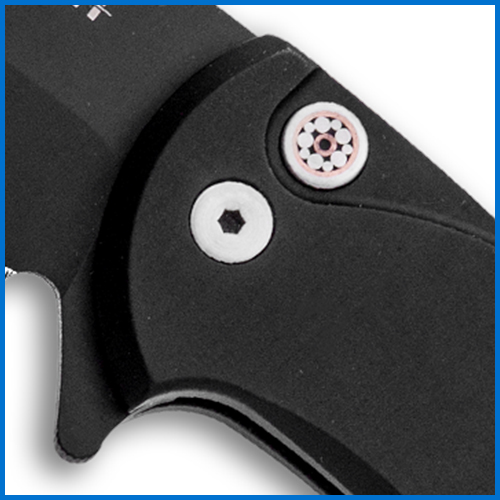 5. Aluminum Handle Scales
Aluminum knife handles are: anti-magnetic, affordable, and customizable.
Aluminum handle scales can be found on a wide variety of knives from premium customs all the way down to the most affordable, budget-friendly knives. Extremely popular, and for good reason, aluminum handle scales are lightweight and able to be anodized any color under the sun. Coated or anodized aluminum is known for its powdery and grippy feel.
Shop Aluminum Handles
---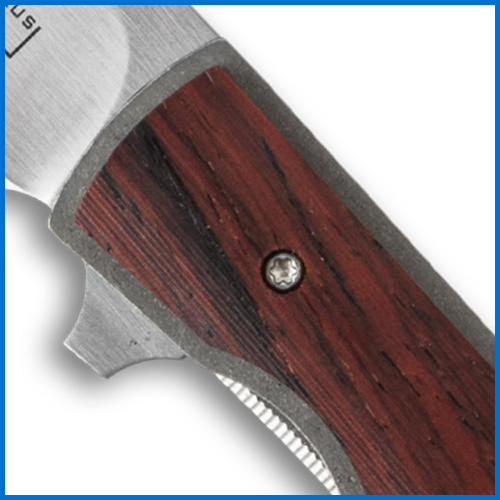 6. Natural Handle Scales
Natural knife handles are: organic, traditional, and customizable.
Natural handle scale materials include various types of wood, bone, horn, shells like abalone or mother of pearl, and many more. You'll frequently find natural handle scale materials on traditional knives like slip joints, fixed blades, and gentleman's knives. You might be surprised that materials like bone or horn have an incredible grippiness while wet that compares favorably to micarta or G-10.
Shop Natural Handles
---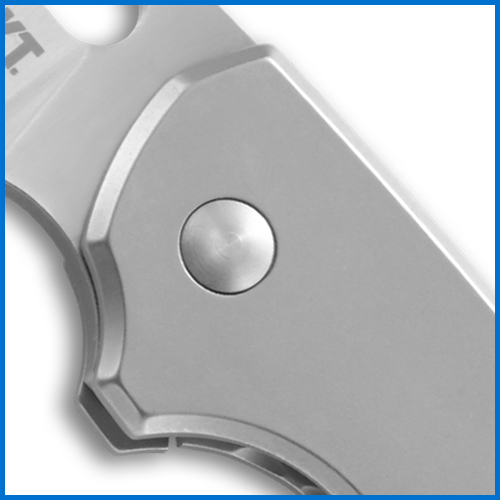 7. Stainless Steel Handle Scales
Stainless steel knife handles are: affordable, durable, and weighty.
If you're looking for a knife that is budget-friendly and has a significant, substantial weight to it, look no further than stainless steel. The properties of stainless steel handle scales are quite similar to aluminum or titanium with the primary differences being increased weight, magnetism, and decreased torsional strength. Stainless steel is a bombproof handle scale option to consider on your next knife.
Shop Stainless Steel Handles
---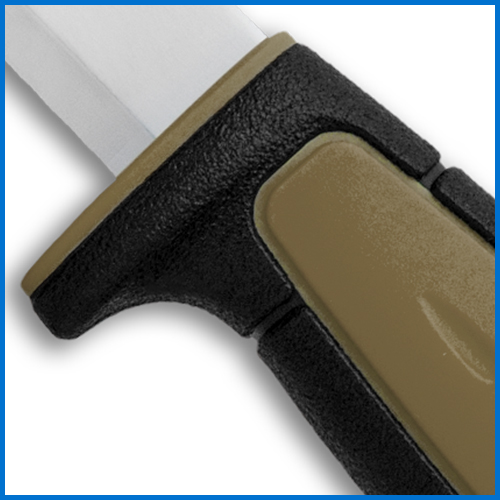 8. Polymer Handle Scales
Polymer knife handles are: lightweight, affordable, and practical.
Popular among many knife brands including Benchmade and Spyderco, polymer handle scales are an excellent lightweight, low-price option. Manufactures frequently label their version of polymer handle scales under a variety of names such as FRN (Fiberglass-Reinforced Nylon) or GFN (Glass-Filled Nylon), but all of these materials possess the same characteristics. Early this year, Benchmade introduced CF-Elite; a polymer with carbon fiber reinforcement designed to provide greater strength and rigidity while further reducing weight. Only time will tell how polymers continue to develop and advance. From a utilitarian viewpoint, you can't go wrong with polymer handle scales.
Shop Polymer Knife Handles
---
CONCLUSION
KNIFE HANDLE MATERIALS OVERVIEW
When we buy a new knife it's easy to consider the blade steel and shape, and rightfully so—the blade is what does the cutting! But use your knife enough and you start to realize the importance of a job specific handle material. Micarta makes for a great fixed blade handle scale whereas titanium or aluminum easily slide in and out of the pocket on EDC knives.
We would be remiss if we didn't mention that this list is not even close to all encompassing. Materials like brass and copper have recently shot up in popularity for their tendency to pick up attractive patina characteristics through use. High-end custom knives frequently implement materials like mokuti, a damascus/titanium material, or zirconium.
Follow us on Instagram, Facebook, and Twitter for the latest and greatest knives and everyday carry gear.
LEARN MORE
TLDR? Check out the videos below on two of our favorite handle materials. The first video features Zac as he makes custom Micarta scales for his Spyderco Shaman. The second will show you how to dye natural G-10 to make that classy Ben Blue color that takes your breath away.
Shop Knife Handle Materials Guide
---
OTHER BEST KNIFE GUIDES
Still in that information gathering phase? We've got a bunch more guides on many different topics! Happy hunting and may you find that one special knife of your dreams.