OTF KNIFE BUYERS GUIDE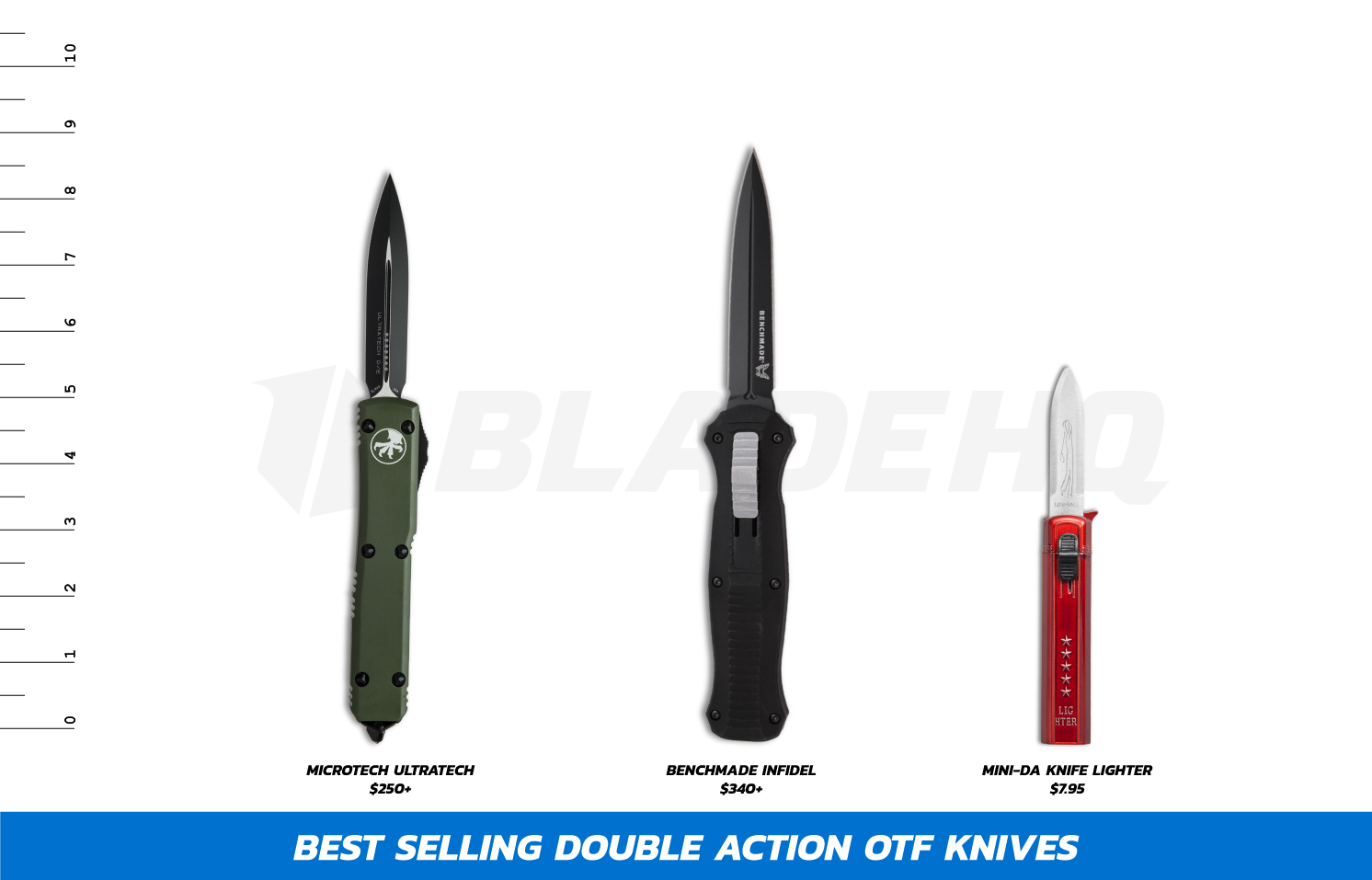 Welcome to Blade HQ's Out the Front (OTF) Knife Buyer's Guide! OTF knives fall under the general category of automatic knives, which also includes switchblades and Italian-style stilettos. These knives represent some of the most iconic weapons ever used in film and, ironically, it is this tough guy portrayal that landed automatics in a lot of trouble back in the 50s. To this day, automatic knives are highly regulated by state governments, so make sure to do your homework before you buy.
---
What is an OTF Knife?
Unlike the pivoting blades on a typical folding knife, OTF knives have a blade that deploys straight out the front of the handle with the push of a button or switch. A few OTF knives are manually deployed, such as the AKC Gravit-E, but this guide will focus on the most common automatic varieties.
There are two basic types of OTF knives:
Double Action – Double action (D/A) OTF knives have a spring mechanism that automatically propels and retracts the blade. These knives are great for situations where speed is the priority. Double action OTF knives are more popular than single action, but typically cost more.
Single Action – Single action OTF knives have a spring that propels the blade out. The user must then manually retract the blade and reload the spring via a lever or handle. Not as speedy as D/A knives, but usually less expensive.
---
Best OTF Knives
What makes an OTF knife the best? The answer to that question depends most on what you need from your knife. Consider usage, size, action, and—unless you have a money tree—price. Check out the top three OTFs in both the double and single action categories to help you find your perfect OTF match.

Classic design with a huge variety of blade and grip types to choose from. Microtech is known as one of the top shelf OTF brands and carries that reputation well. You can expect smooth action, great steel, and a long-lasting knife when you buy Microtech. The Ultratech is Microtech's most popular OTF model, but there are a wide range of sizes, fits, and styles to meet your needs.Buy It Here

The Infidel was designed to be used and carried by U.S. servicemen and women all over the world. Since its debut, it has proven itself worth the larger price tag it carries. The standard size has a total closed length of 5" and a blade length of 3.91", while the Mini Infidel has a total closed length of 4" and a blade length of 3.10". Buy It Here

Our best budget option, the AKC Minion Concord is a compact, dependable OTF. It comes in a ton of different colors, is very pocket friendly and, for the price, it really cannot be beat. The action is surprisingly smooth for the price point. The Minion comes out of the box pretty sharp, but will need regular sharpening with frequent use. Buy It Here
---
Single Action OTF
Single action OTF knives have some great advantages over double action with one logistical draw back. They typically have better lock out, better in-pocket safety, and fewer moving parts to maintain. The tradeoff for all these great features is that it takes two hands to close. Another great advantage is that single action knives are generally less expensive than their double action counterparts.

Asheville has a robust selection of blade types and handle shapes. These OTFs deploy in a hurry and the blade goes nowhere until you want it to. Smooth action and a great lockout make the Asheville a contender for one of the best single action OTF knives in the industry. Buy It Here

The Schrade Viper series features a line of assisted opening OTFs. Push the slide to get the blade started, then the assisted mechanism takes over and does the rest. The Viper is a great budget OTF option, has many blade styles to choose from, and also comes with a glass breaker on the butt of the handle. Buy It Here

With their single action Assist, Smith & Wesson brings the quality they are known for in the firearm world to the OTF game. Another great budget option much like the Schrade Viper, the S&M Assist has a powerful lock out, reliable safety, and solid feel in hand. Buy It Here
Want a more indepth look at the best OTFs? Check out our Knife Banter episode all about OTF knives.
---
Popular OTF Knife Brands
| | |
| --- | --- |
| | Microtech makes arguably the most popular OTF knives today. They turned the market upside down in 1994 with their smooth actions and innovative designs. There are many variations of Microtech Out the Fronts that customers love. |
| | Benchmade produces some of the best OTF knives available. Benchmade OTF's are made from top-of-the-line materials and have different patented mechanisms. The Benchmade Infidel series is very popular among OTF knives. |
| | Protech OTF knives are made in the USA and feature the Protech legendary automatic firing mechanism. Each Protech is visually appealing in its own way as there are many different variations. |
| | Piranha has many OTF knives that are very popular. Each one of their knives feature only the best materials and build quality. |
| | Schrade OTF knives are a go-to choice for the budget-conscious consumer. The Viper series offers different types of blades along with a safety and single action mechanism. |
| | Smith & Wesson makes an OTF knife line that is known to be very affordable. The price on them is hard to beat for what they offer. |
| | AKC is an Italian company that specializes in automatic knives. Their OTF knives are used for collecting and light everyday carry. |
---
OTF Knife Laws
Because most OTF knives are automatic knives, they often face restrictions across the United States. Some states are very lenient with their laws while others are very strict. Many see automatic knives as especially dangerous due to their fast blade deployment. It's important to remember to look up the automatic knife/switchblade laws for your particular state and area before purchasing any kind of knife.
And now, for something completely different. Ever heard of a Microtech Giant Halo 3X? No? Time to drop everything and watch this video! It features a custom, gigantic OTF you've got to see to believe.