OTF KNIFE BUYERS GUIDE
Welcome to the ultimate Out The Front (OTF) knife Buyer's Guide! Out The Front knives are a very popular style of automatic knife. This Buyer's Guide will walk through the OTF knife essentials, such as different styles, what to look for and popular brands and models. Just sit back, relax, and listen to the sweet sound of OTF knives locking up, which we're convinced may be the most satisfying sound ever.
---
Best/Most Popular OTF Knives
For starters, we're going to dive into this guide with three of the most popular Dual Action OTF knives: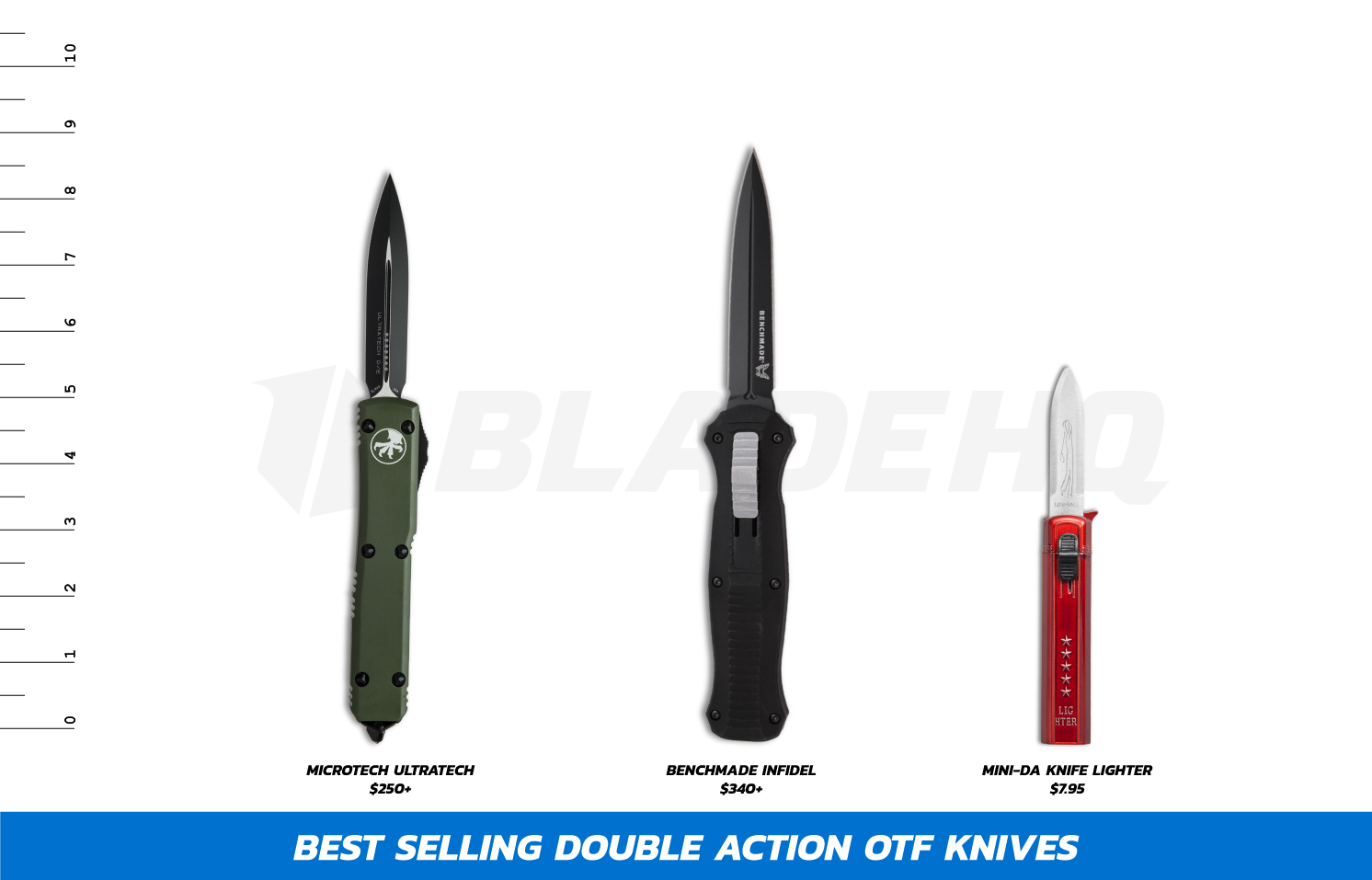 Classic design with a huge variety to choose from. As for sizing, the 3.4" blade is a nice fit, but for larger check out the Microtech Combat Troodon (3.8" blade) and for smaller, look into the Microtech Troodon (3" blade). Learn More >
Another classic design with a regular size (3.95" blade) and Mini Infidel (3.10" blade) to choose from. A deep carry clip and great button indexing make this an excellent choice. Benchmade OTF knives are known for their amazing fit and finish. Learn More >
Mini D/A OTF Knife and Lighter Combo
You think we're joking, right? Nope. This is a real thing. And it's delightful. As an entry-level, dual action OTF, you can't beat the Mini D/A. Learn More >
| | | | |
| --- | --- | --- | --- |
| | Microtech Ultratech | Benchmade Infidel | Mini D/A OTF |
| Overall Length | 8.35"-8.50" | 7.10"-8.95" | 5.40" |
| Blade Length | 3.375"-3.44" | 3.10"-3.95" | 2.10" |
| Handle Length | 4.625"-5.00" | 4.00"-4.80" | 3.30" |
| Blade Material | Most Elmax | D2 | Stainless Steel |
| Handle Material | Most Aluminum | Aluminum | Aluminum |
| Action | Double Action | Double Action | Double Action |
| Weight | 3.40-5.80 oz. | 3.40-5.00 oz. | 1.80 oz. |
| General Price | $250+ | $340+ | $7.95 |
---
And the three most popular Single Action OTF Knives: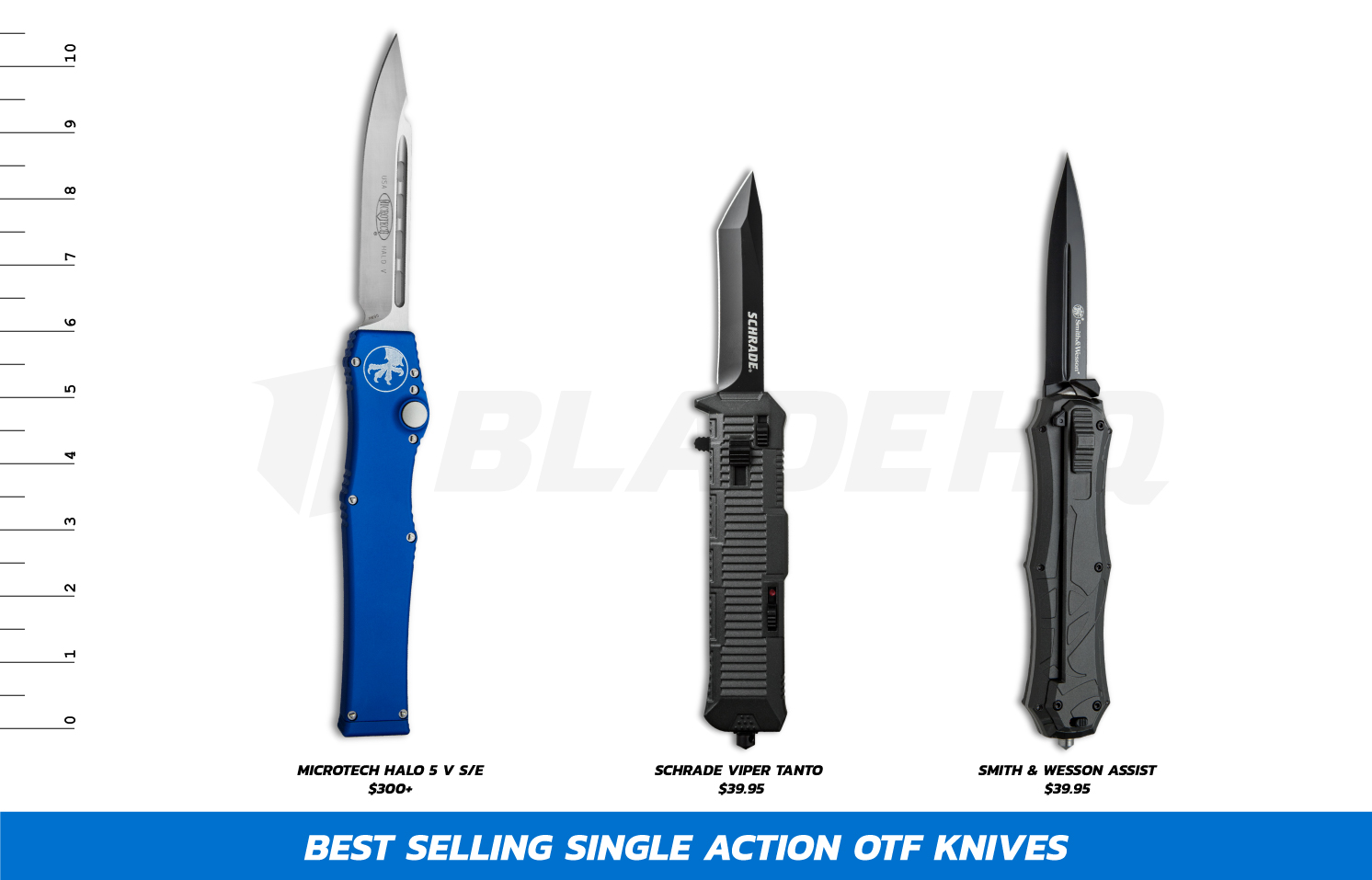 The Microtech Halo series has gone through some changes over the years. The current lineup is the Microtech Halo V. These knives stack up at almost 11"! They are known to hit hard, fast, and have a great lock-up. Learn More >
The Schrade Viper series features a line of assisted opening OTF's. Push the slide to get the blade started, then the assisted mechanism takes over and helps the blade do the rest. A Viper is a great budget OTF option. Learn More >
You want another great budget OTF? Enter the Smith & Wesson Assist. These knives are comparable to the Schrade Viper series and offer different blade styles and types. Learn More >
| | | | |
| --- | --- | --- | --- |
| | Microtech Halo | Schrade Viper | Smith & Wesson Assist |
| Overall Length | 10.50"-10.75" | 8.50" | 8.75" |
| Blade Length | 4.60"-4.625" | 3.375" | 3.25" |
| Handle Length | 6.125"-6.15" | 5.125" | 4.75" |
| Blade Material | Most Elmax | D2 | Stainless Steel |
| Handle Material | Varies Greatly | AUS-8 | AUS-8 |
| Action | Single Action | Single Action | Single Action |
| Weight | 5.25-10.00+ oz. | 4.35 oz. | 6.09 oz. |
| General Price | $300 | $39.95 | $39.95 |
---
What is an OTF Knife?
OTF knives have a blade that exits out the front of the knife via the push of a button or switch. Most are considered automatic knives, or switchblades, because of the button feature. There are a few knives like the AKC Gravit-E that are manual, but this Buyer's Guide will focus on the common automatics.
This buying guide will go over two types of OTF knives:
Double Action - Double action (D/A) OTF knives have a spring or springs inside that both propel and retract the blade automatically. These knives are great for rapid deployment and retraction for any situation that would need it. D/A knives are more popular than single action, but typically cost more.
Single Action - Single action OTF knives have a spring that propels the blade out. The user must then manually retract the blade and reload the spring via a lever or handle.
See the Automatic Knife Buyers Guide if side opening autos are more your thing.
---
OTF Uses
OTF knives and other automatic knives were primarily designed for the military, police, and EMT's. These knives are very simple and safe for first responders to open in an emergency. They are great for anybody that wants a quick-opening knife, so long as they are legal in their area (see OTF Knife Laws section).
OTF knives are great for light cutting tasks. Along with that, they are a popular knife for everyday carry (EDC).
Ask yourself: Am I looking for an OTF to add to a collection? Am I buying an OTF to keep in a car or with camping equipment? How am I going to use this OTF? These questions will get you on the right track to picking the perfect one.
An important thing to keep in mind is that an OTF blade can come off track if it hits something when deploying. This simply means that the blade can move freely back and forth until it is pulled back into the lock position.
---
What to Look for in OTF Knives
After you've determined your price point and if you prefer single or double action, now you get into the details of an OTF.
Blade Steel
What's a good buying guide without touching on steel types? Like other types of knives, OTF blades are made from a variety of steels. Some of the factors that influence the quality of a blade:
Edge retention and wear resistance
Toughness
Stain resistance
Sharpening ability
Popular steel types in OTF knives:
AUS-8 - This popular steel is used in many affordable knives. It is known to be able to sharpen to a razor edge, but it won't hold it for extremely long.
Elmax - Elmax is extremely popular in Microtech knives. Elmax has high wear resistance, strength, and superior corrosion resistance. It is a powder-made steel that works great in many types of blades.
D2 - D2 is a great tool steel that can be found in many quality OTF's, such as Benchmade and some Microtech knives.
154CM - This steel is great for edge retention and is often used in OTF knives from Piranha, Protech, Benchmade, and even some Microtechs.
Keep in mind this is only the beginning to the list of steel types. If you want to become a steel expert, check out our Steel Types resource.
Blade Shape
Many OTF knives are famous for using dagger blades that are sharp on both sides, but that doesn't mean that's all there is. OTF knives also feature drop point, clip point, tanto, kriss, and more. Pick a blade shape that matches your personality. If that's a scary thought for you, pick one that matches somebody else's. We won't judge.
Handle Materials
The overwhelming majority of OTF knife handles are aluminum, but there are a few other materials that are used. The next most popular types are carbon fiber and stainless steel. So, if you like aluminum handles or don't have a preference, the OTF field is wide open to you. If you are like many knife addicts and love the feel of carbon fiber, you may have to look a little harder. It's all about personal preference.
---
Popular OTF Knife Brands
Microtech makes arguably the most popular OTF knives today. They turned the market upside down in 1994 with their smooth actions and innovative designs. There are many variations of Microtech Out the Fronts that customers love.
Benchmade produces some of the best OTF knives available. Benchmade OTF's are made from top-of-the-line materials and have different patented mechanisms. The Benchmade Infidel series is very popular among OTF knives.
Protech OTF knives are made in the USA and feature the Protech legendary automatic firing mechanism. Each Protech is visually appealing in its own way as there are many different variations.
Piranha has many OTF knives that are very popular. Each one of their knives feature only the best materials and build quality.
Schrade OTF knives are a go-to choice for the budget-conscious consumer. The Viper series offers different types of blades along with a safety and single action mechanism.
Smith & Wesson makes an OTF knife line that is known to be very affordable. The price on them is hard to beat for what they offer.
AKC is an Italian company that specializes in automatic knives. Their OTF knives are used for collecting and light everyday carry.
---
OTF Knife Laws
Because most OTF knives are automatic knives, they face many strict laws across the United States. Some states are very lenient with their laws and some are very strict. Automatic knives are often seen as being more dangerous because the blade can be rapidly deployed. Consult your local laws. It's important to remember to look up the automatic knife/switchblade laws for your particular state and area before purchasing any kind of knife.
---
Recap
This Buyer's Guide is meant to be a useful tool for anybody wanting to learn more about OTF knives. In conclusion, OTF knives are great for many situations and are very reliable. When looking for an OTF, keep these things in mind:
Single or double action
Blade steel
Blade shape
Handle material and construction
Ever heard of a Microtech Giant Halo 3X? No? Time to drop everything and watch this video! It features a custom, gigantic OTF knife that you've got to see to believe.