Squid Industries Triton Review
Written and Photographed by Blade HQ Staff Writer Logan Rainey on 03/10/2021
With lots more downtime, weíve been seeing tons of people learning to flip a balisong. While balisongs arenít legal everywhere some great alternatives have presented themselves and weíre especially excited about the Squid Industries Triton Balisong Trainer. In this review we take a close look at the Triton, how itís constructed and what makes it such a great option for anyone looking to get into flipping. Letís get to it!
First let's run through the stats...
Overall Length: 9.75Ē
Blade Length: 4.25Ē
Blade Shape: Tanto Trainer
Blade Steel: 410 Stainless
Handle Material: 6061-T6511 Aluminum
Weight: 4.65 oz.
KNIFE LIFE SCORE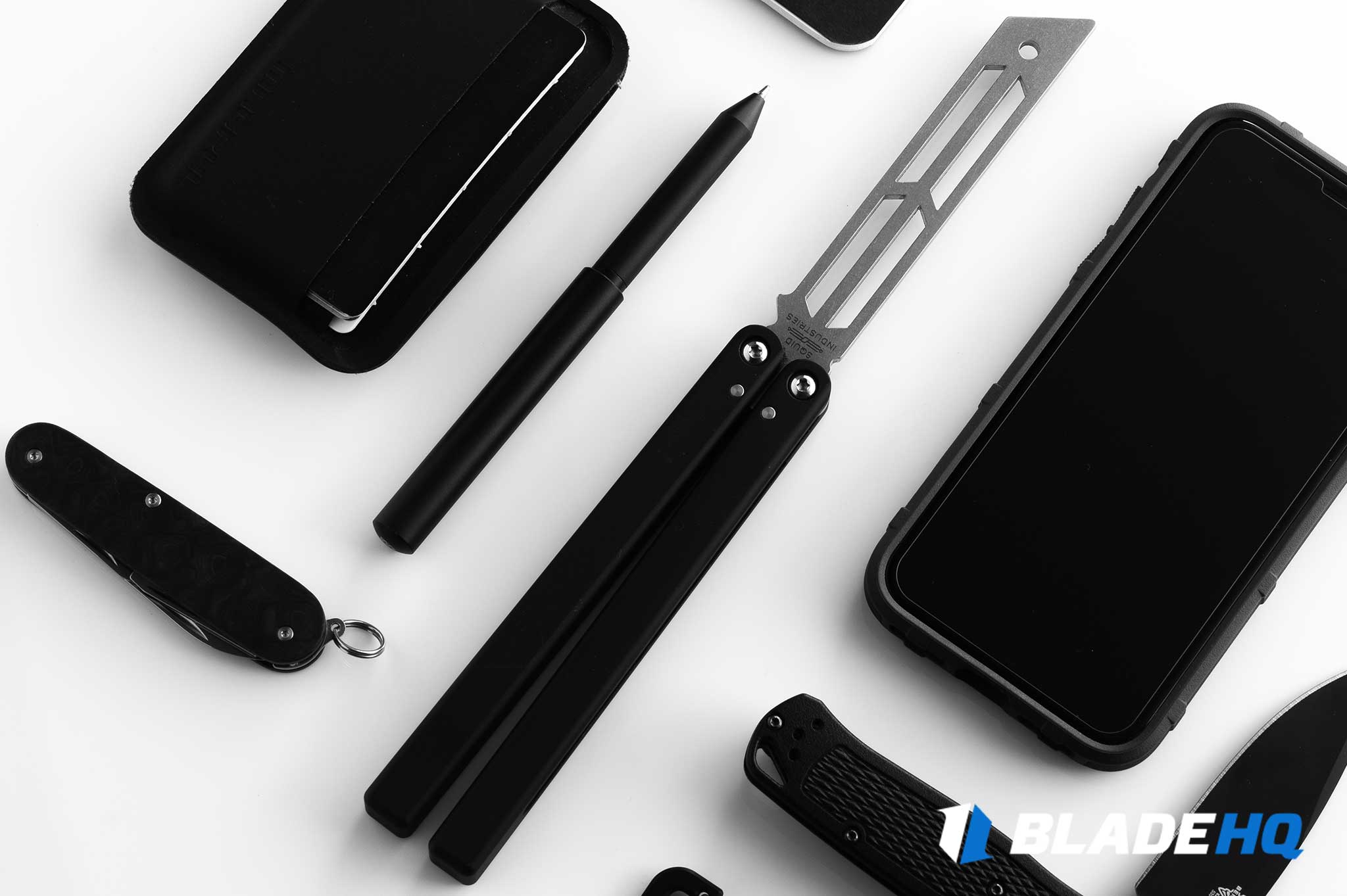 Knife Life is all about representing your personality and passion through the knife you carry in your pocket every day. Quality and performance are key. Tasteful design and ritzy details are also important. You can be confident carrying any knife with a high Knife Life Score. Each section is scored out of 10 with a grand total of 100.
UNIQUENESS / IMPORTANCE
Score: 7/10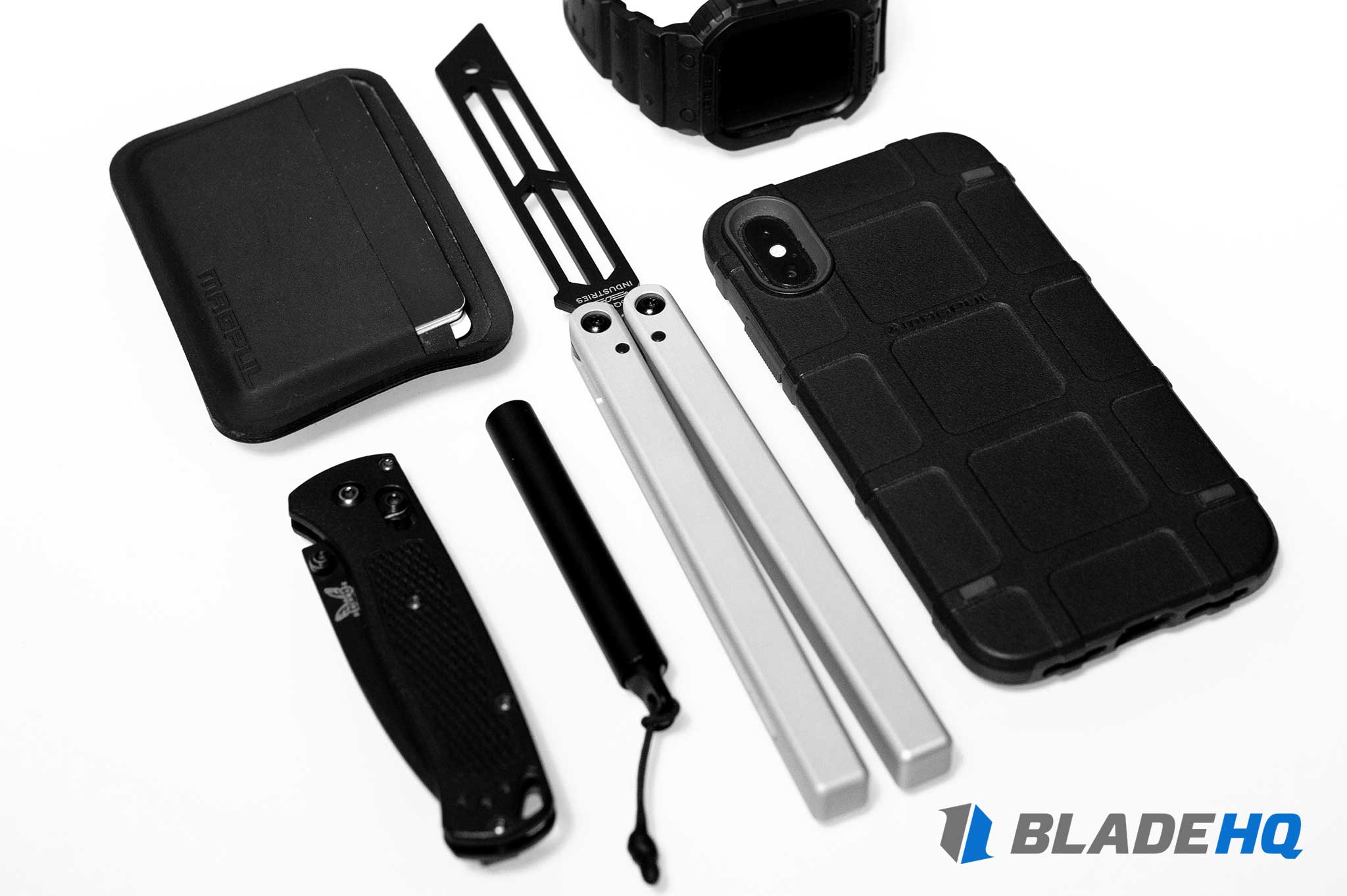 Though the Squid Industries Triton isnít necessarily going to end up in the hands of every knife enthusiast the world over, there are a lot of things about the balisong that make it particularly special to the balisong community. This trainer is particularly special thanks to its premium construction, incredible balance, and overall durability. It has all the things people look for in a quality live blade butterfly knife but offers a safer, more versatile option for people everywhere.
---
MATERIALS
Score: 10/10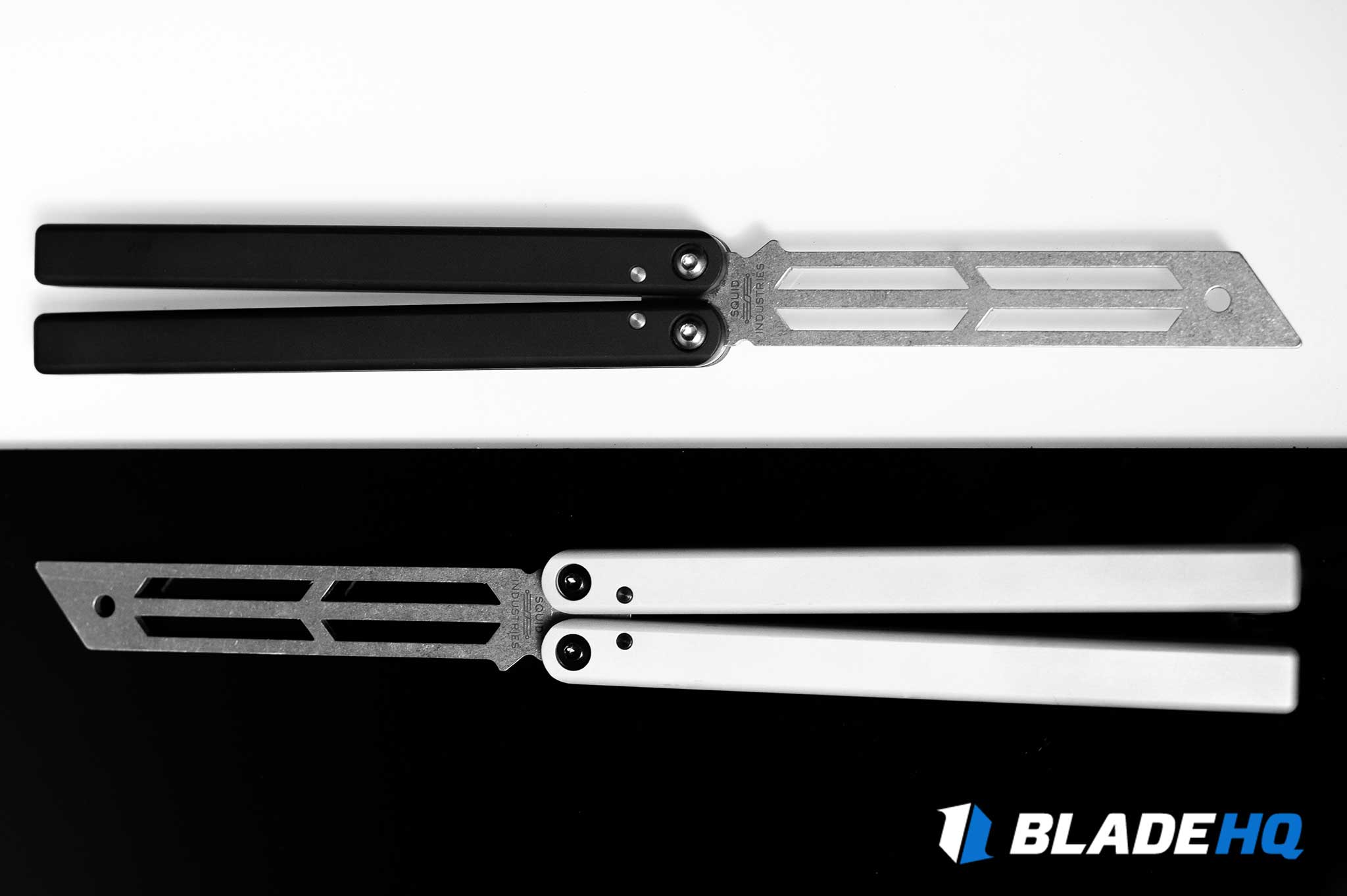 The Squid Industries Triton trainer is built with 6061-T6511 aluminum handles and a hardened 410 stainless steel trainer blade. This combination of materials makes it both well balanced and durable, and gives users the confidence they need to learn new tricks without worrying about inevitable drops and misses.
---
LOOK / STYLING
Score: 10/10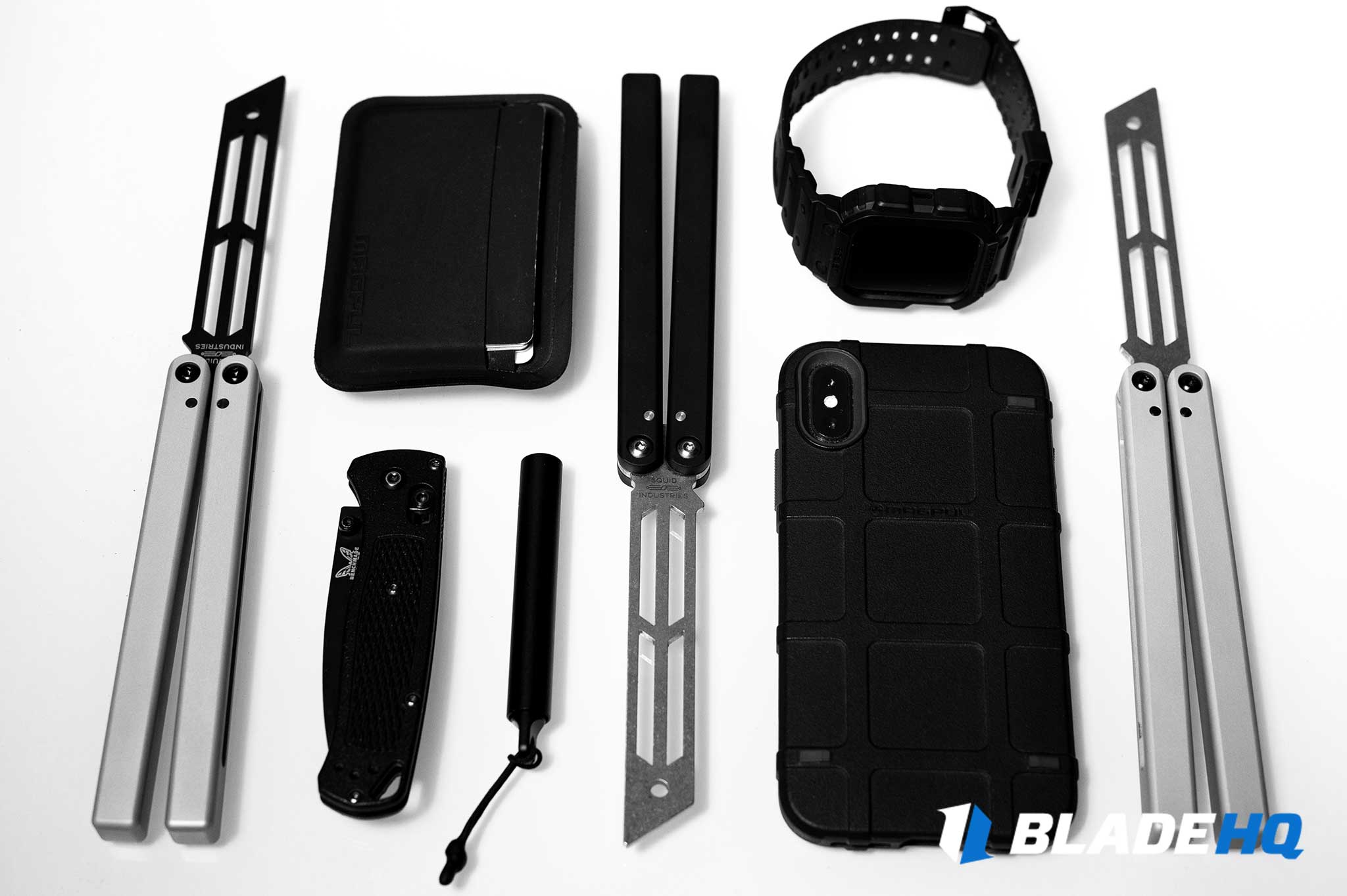 Like other Squid Industries products, the Triton features modern looks and a unique flare. It has attractive cutouts in the blade and a Ďfiní that indicates the which side of the blade is the Ďbiteí side. Additionally, the knife is available in a few variations of black and silver with more colors coming soon. Overall, this is a great looking balisong trainer that will fit well into any everyday carry setup.
---
ERGONOMICS
Score: 9/10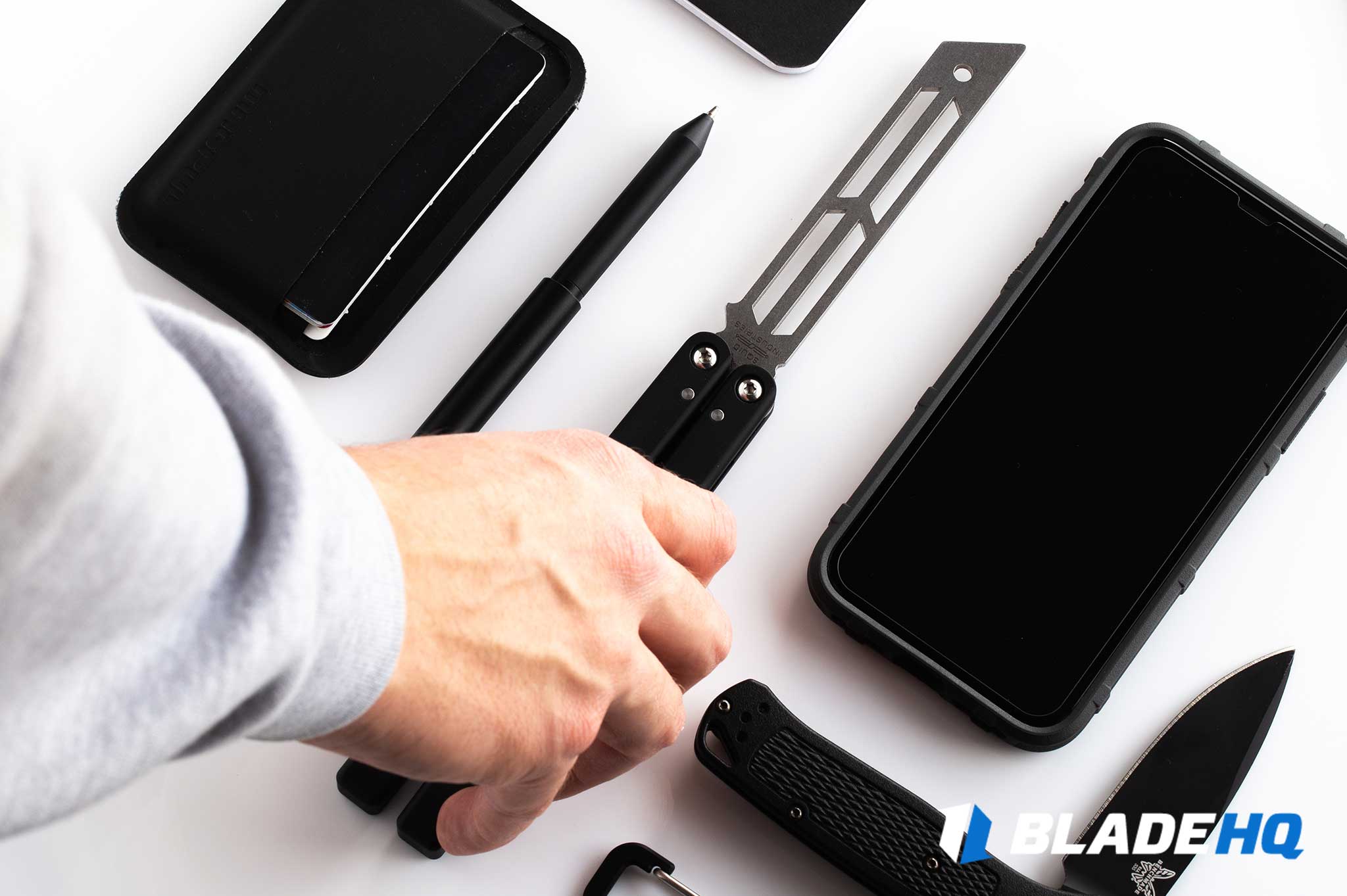 When considering a balisong itís important to find one that fits well in your hands and feels right to you. The Squid Industries Triton is seemingly perfect for anyone and everyone. The handles arenít too long or too short and have the right thickness to allow for ample grip when flipped. This trainer feels well balanced and easy to handle making it great for learning new tricks and improving skills.
---
ACTION
Score: 10/10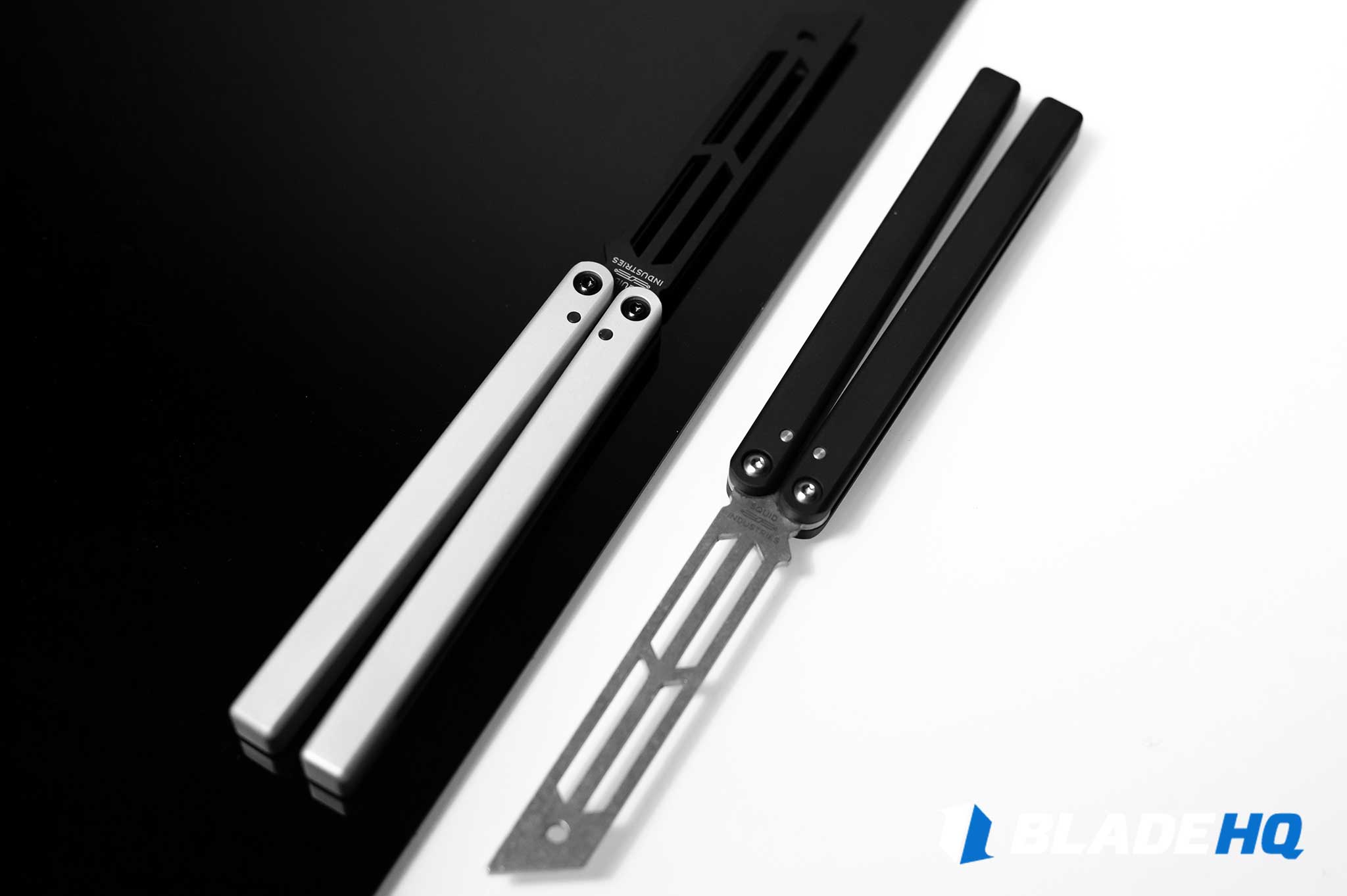 This could be one of the smoothest balisongs available on the market. Its phosphor bronze washers and zen pin design help keep things moving freely and reduce the likelihood of things getting loose over time (weíre looking at you tang pins). Additionally the tolerances on the Triton are incredible. Even after multiple drops the knife is still moving freely and precisely.
---
BLADE
Score: 9/10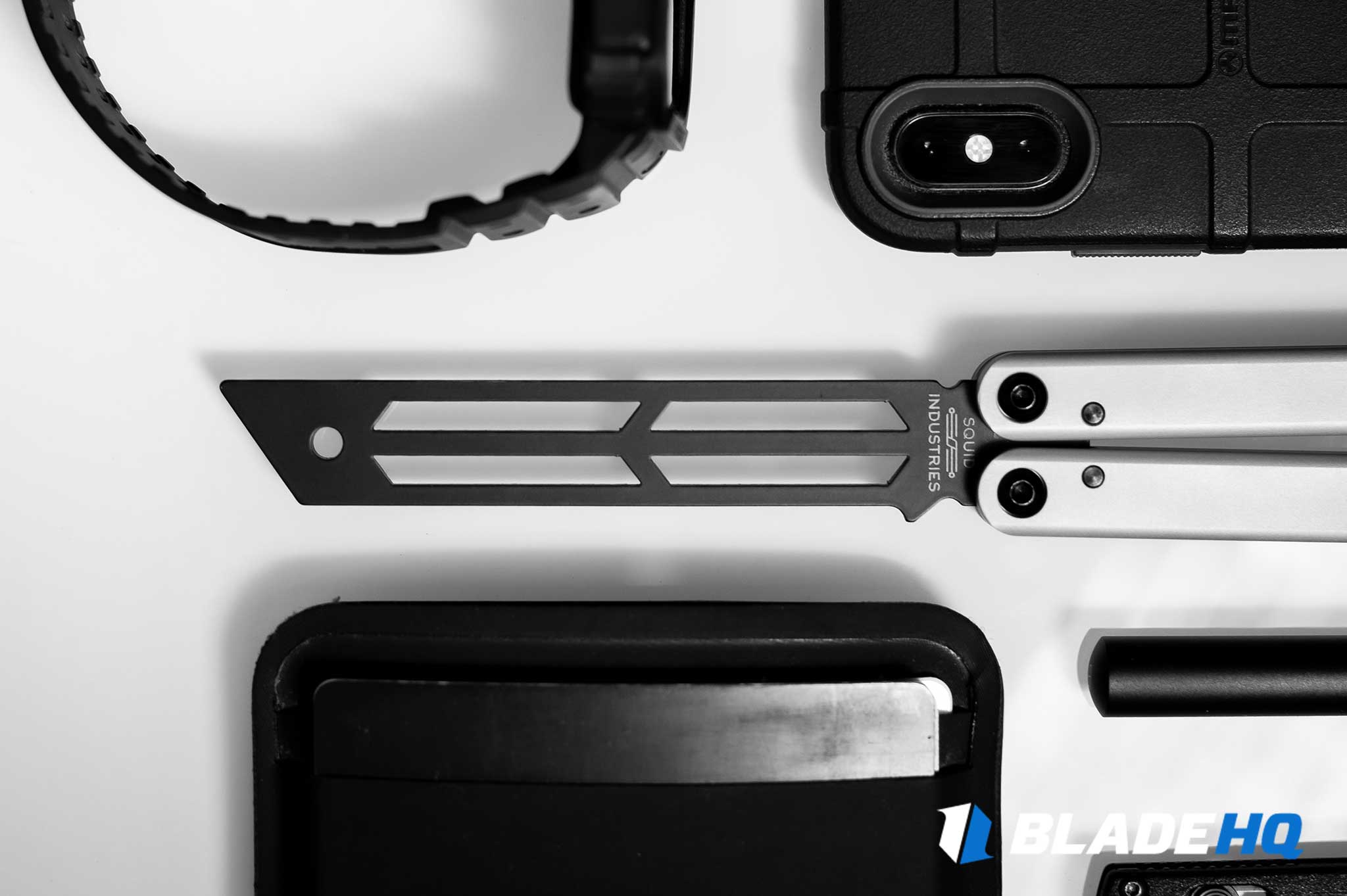 As this is just a trainer that doesnít cut, there was no need to try sharpening it, but there are some things to say about the Tritonís blade. First, the blade is extremely durable thanks to the choice of material and the thickness. When dropped thereís no fear of it chipping or breaking. Second, the edges arenít rounded but also not sharp enough to cut you. This is great for learning new tricks because you can practice with it like itís a live blade without the risk of cutting yourself. Last, the thing just looks cool. Itís a tanto, it has the unique cutouts, and it has a little fin to indicate which side is the Ďbiteí side. The blade is well balanced and the perfect size for this trainer.
---
FIT-AND-FINISH
Score: 9/10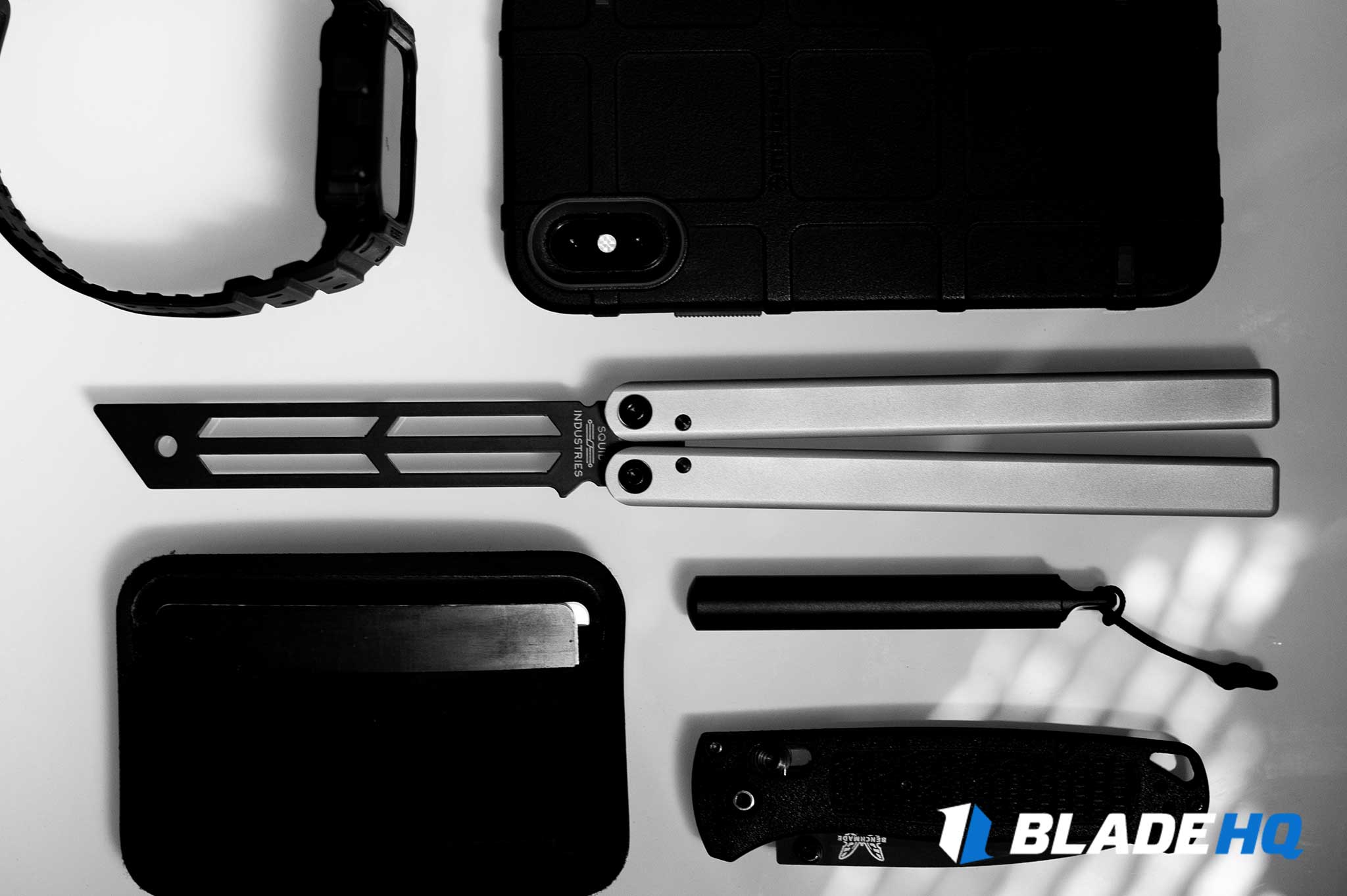 We are continually impressed with the quality we see coming out of Squid Industriesí factories. Each balisong is well made and finished with the utmost attention to detail. Our Squid Industries Triton has a perfect, consistent anodized finish and nothing seems out of place or unfinished. We looked at several others on the shelf and each one was exactly the same.
---
FLIP TESTS
Score: 10/10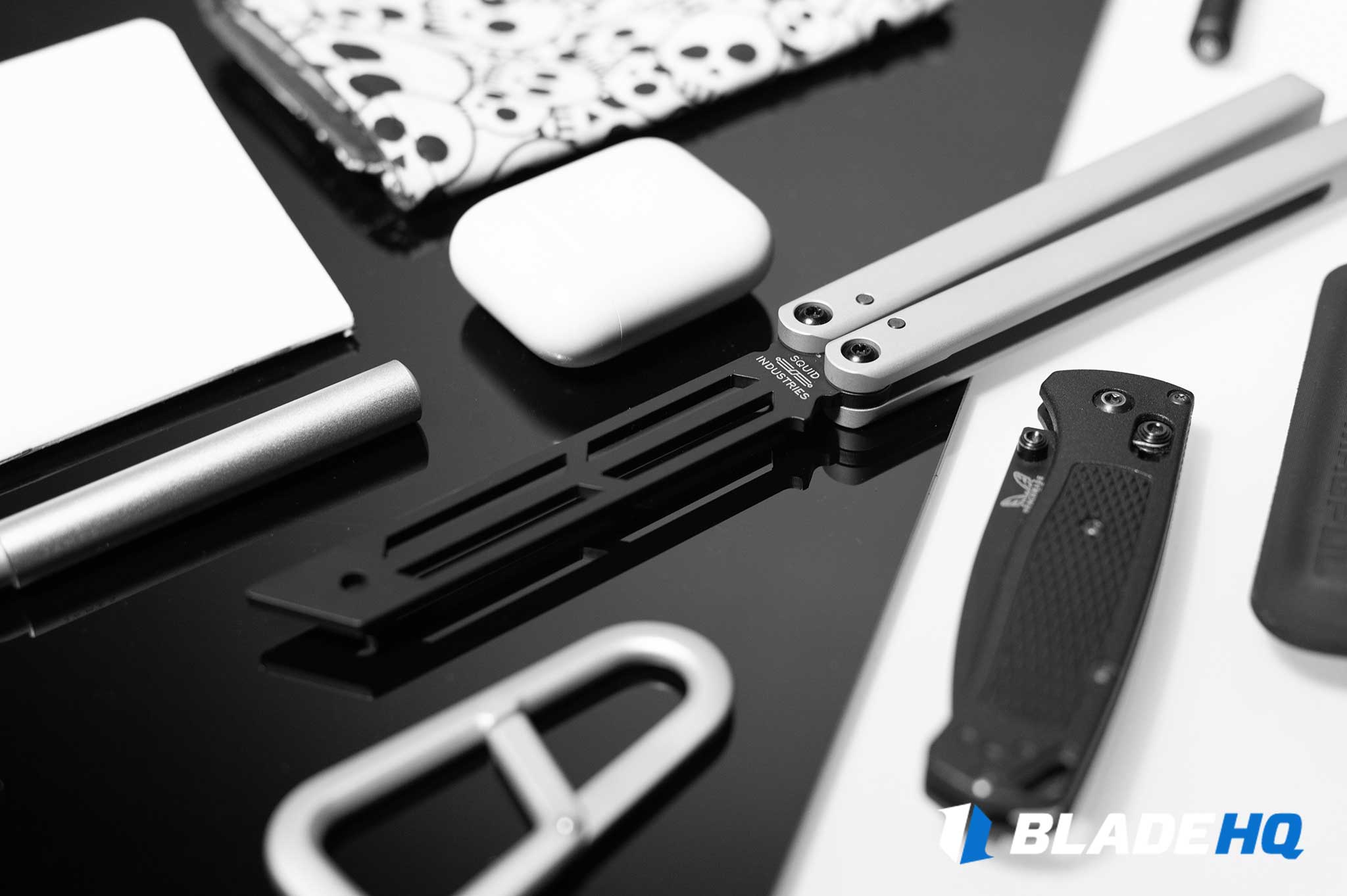 Usually this is the part of the review where we evaluate how the knife performed different cutting tasks and chores. As this is a trainer, we couldnít cut anything, but we flipped the thingÖ A LOT! In the few weeks this was in our pockets, we learned many new tricks and became much more confident with the balisong. The Triton is perfect for learning and progressing quickly.
---
EASE OF CARRY
Score: 8/10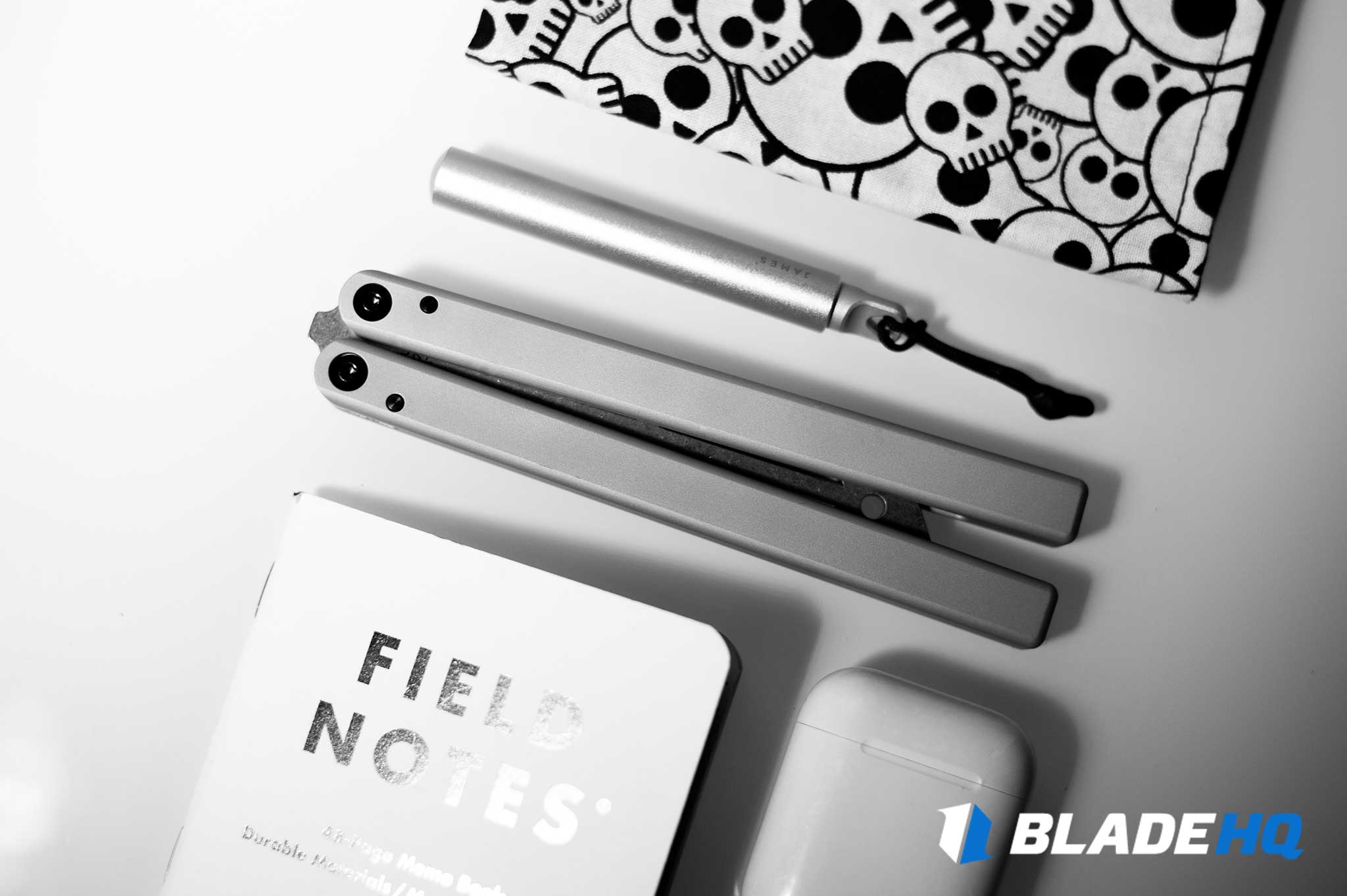 Balisongs in general arenít the easiest knives to carry. They can be cumbersome, and they often take up lots of pocket real estate. The Squid Industriesís aluminum construction helps keep things light compared to other balisongs of a similar size. This knife was easy to carry in the same pocket with my wallet and Bugout. I would put it in the included baggie just to prevent unwanted scratches, but thatís just me.
---
POCKET JEWELRY
Score: 9/10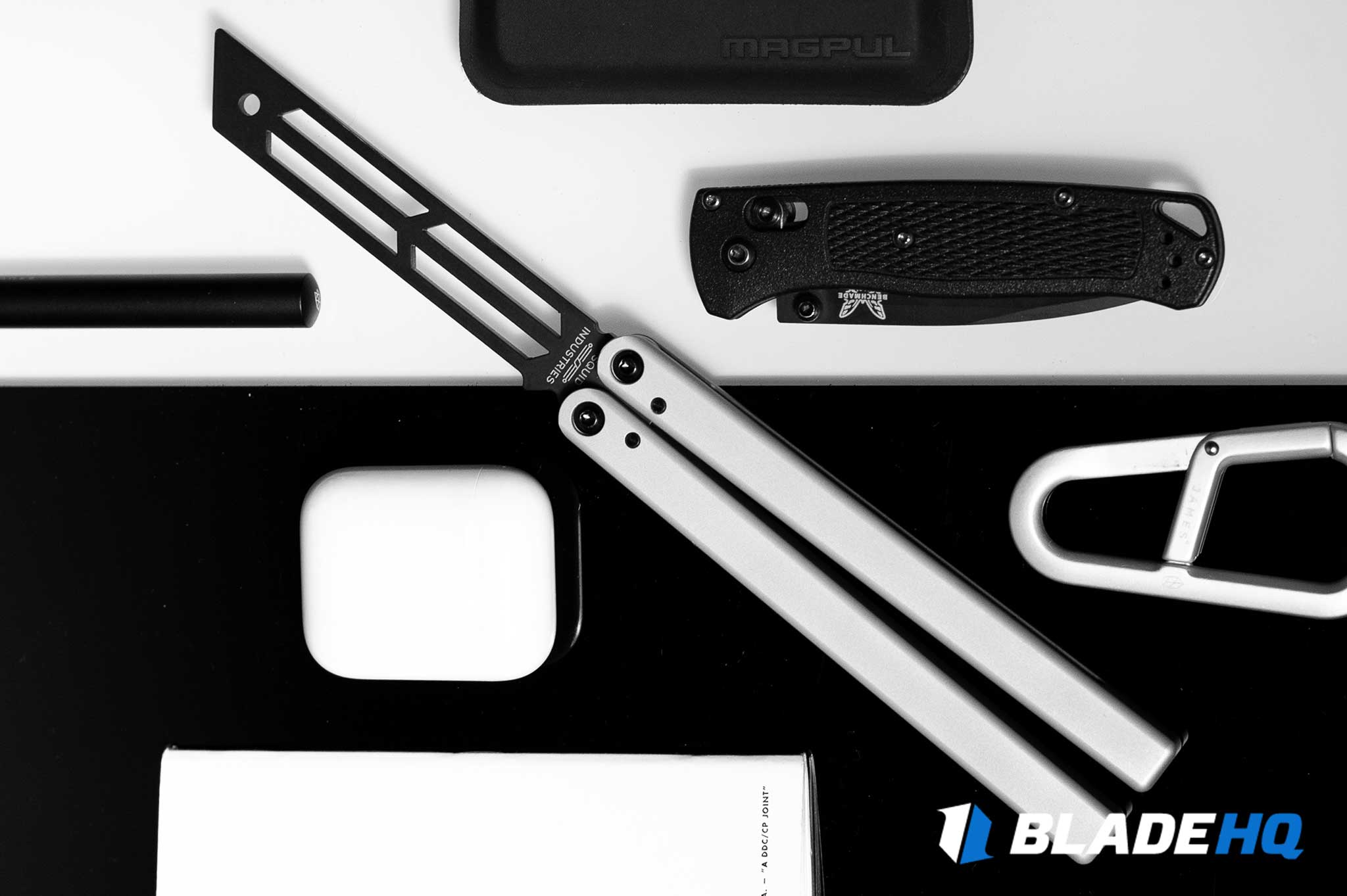 Balisongís command attention. The Squid Industries Triton, though a trainer, is one of those Ďknivesí that people get excited about. It has flash and flare, and when people realize that it doesnít have a sharpened blade (even the most knife-hesitant individual) will think itís coolÖ especially when youíve figured out some tricks.
---
TOTAL KNIFE LIFE SCORE:
91/100

There are a lot of things to be excited about when considering the Squid Industries Triton balisong trainer. The thing is just plain awesome! In the time we got to carry and use it, the Triton felt like it was getting old or boring. Itís easy to fidget with and can become quite relaxing to flip. The Triton is well-made and built to withstand the abuse of learning new tricks. If youíre hesitant to buy the Triton because of the price, donít be. By the time you burn through several low-end balisongs and balisong trainers, you could have bought just one Squid Industries Triton and the thing would be alive and kicking. This is really one of the best balisongs for the money and you wonít be disappointed. Get yours today (or sign up for our wishlist. They are restocked often but get scooped up just as quick as they come in.)! Thanks for reading!
---
Learn More
If you're looking to learn more about balisongs, take a quick minute to watch our interview with Lucas Cao from Squid Industries to learn more about the differences between some of the balisongs we sell. It's an oldie but a goodie!