TOPS Knives Bull Trout Knife Review
Written by Blade HQ Staff Writer Logan Rainey on 7/17/2020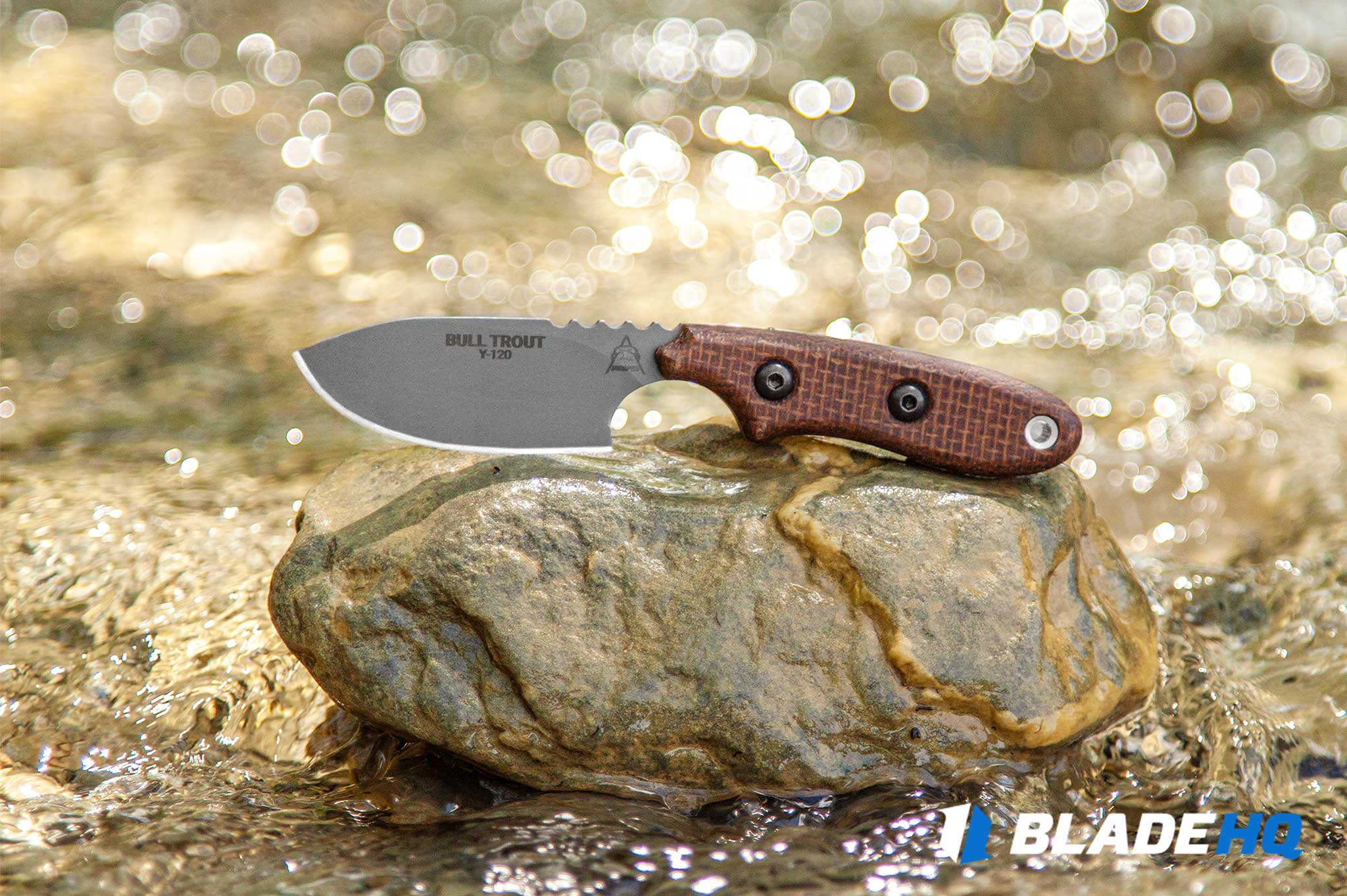 Over the last month Iíve had the opportunity to carry and use the TOPS Knives Bull Trout everyday. Carrying a typical fixed blade knife everyday comes with challenges. Be it strange looks, questions or extra bulk, most fixed blade knives arenít the most convenient to carry or use on a regular basis. In many ways, the TOPS Knives Bull Trout is the epitome of everyday carry fixed blade knives. It is small, strong, useful and lightweight. Originally designed to be the ultimate fishing knife, the TOPS Knives Bull Trout has grown in popularity and found its way onto the belt or pack of many people whether they fish or not. Read on to find out why!
First let's run through the stats...
6.125Ē Overall Length
2.75Ē Blade Length
Drop Point Blade
154CM Steel
Micarta Handle
3.01 oz. Weight
Leather Sheath
Made in USA
KNIFE LIFE SCORE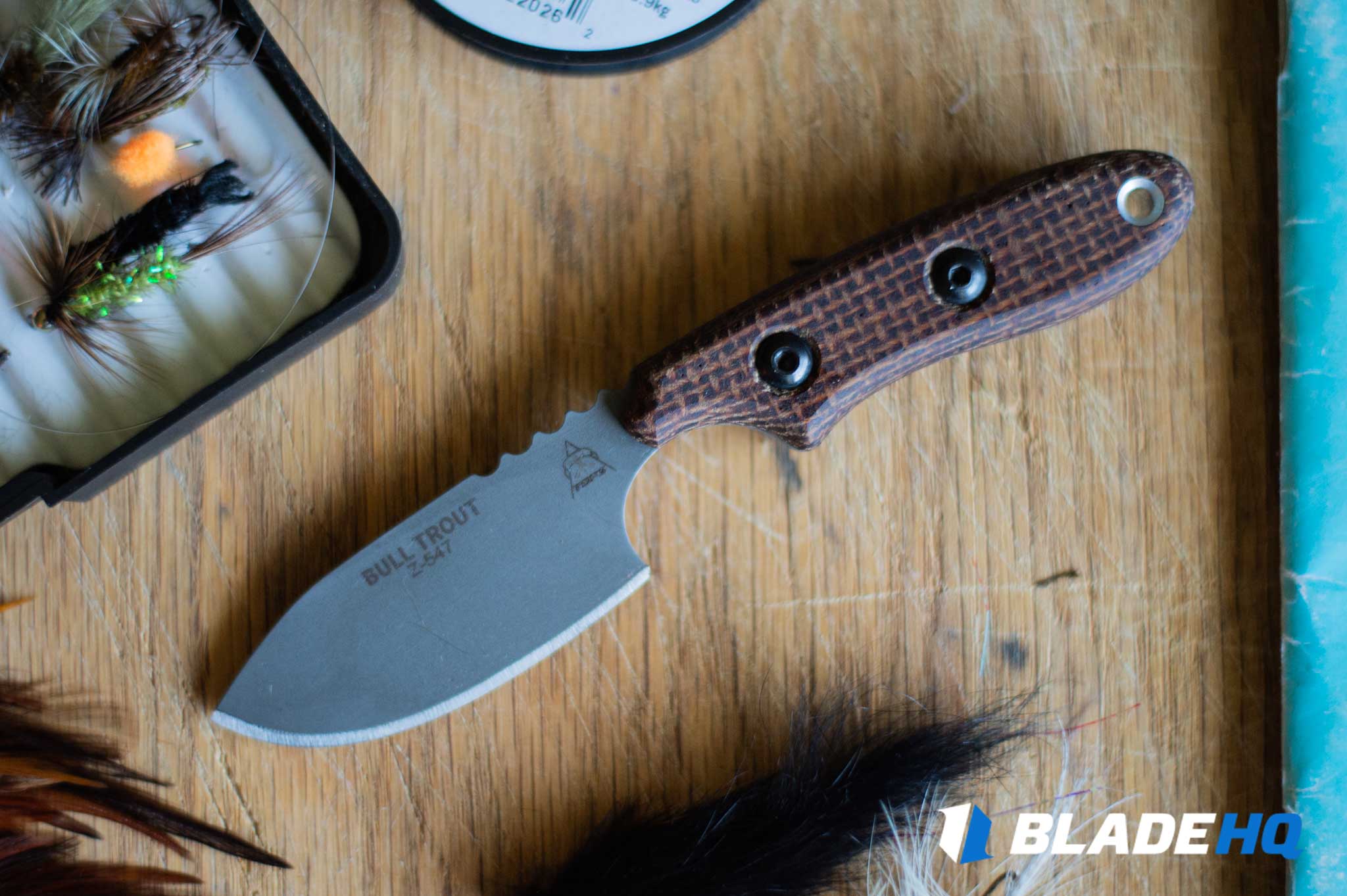 Knife Life is all about representing your personality and passion through the knife you carry in your pocket everyday. Quality and performance are key. Tasteful design and ritzy details are also important. You can be confident carrying any knife with a high Knife Life Score.
UNIQUENESS / IMPORTANCE
Score: 7/10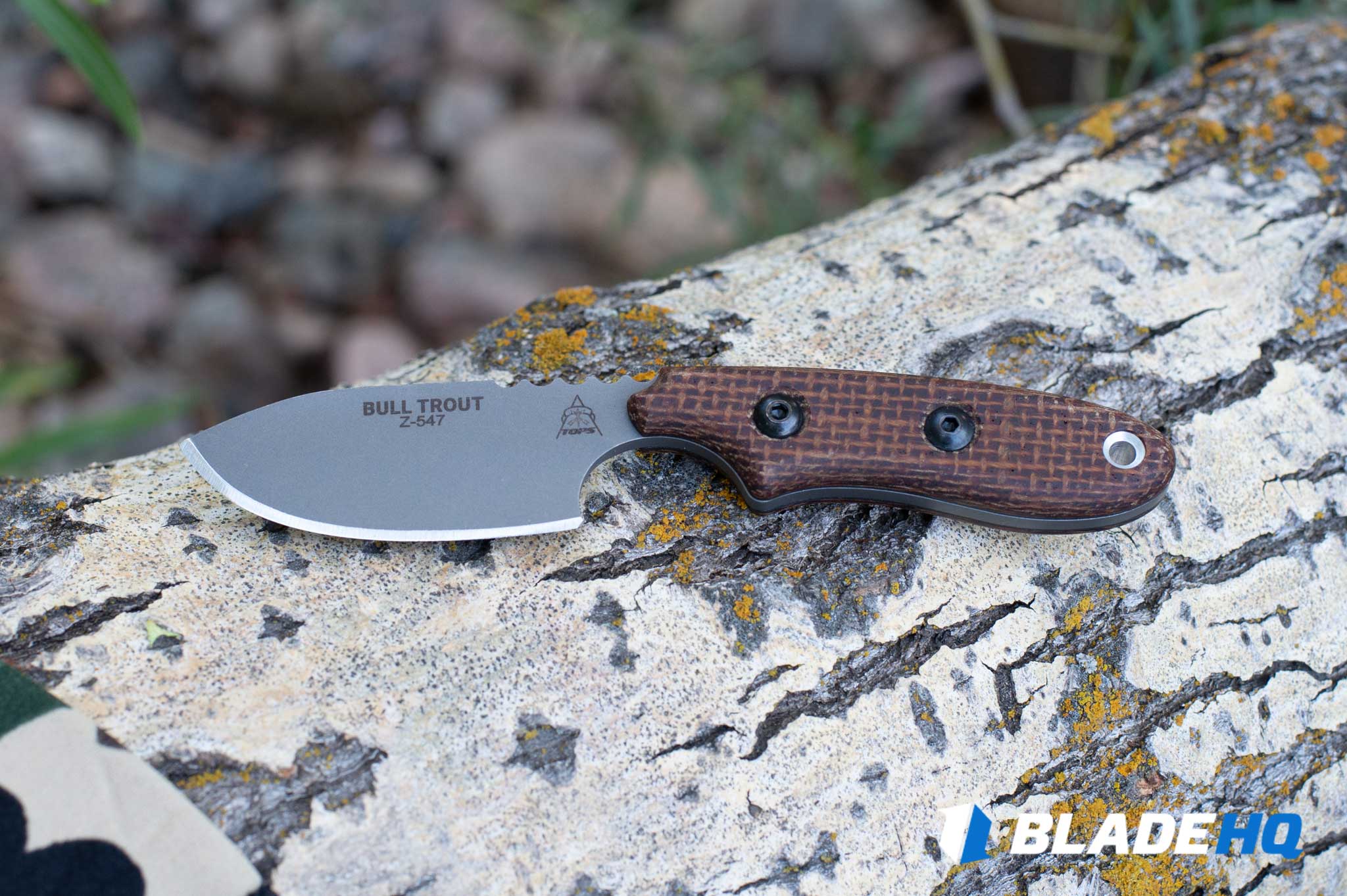 There are tons of small fixed blade knives available today. They all have something unique to offer the user, but many miss the mark when it comes to true usability. The TOPS Bull Trout is unique in the sense that it is truly an amazing small fixed blade knife that can be used for heavier tasks. To put it simply, this knife is built to perform. I used it for cutting fishing line, trimming paracord and prepping food. Other small fixed blade knives are either a challenge to use or just donít perform well. This knife ranks high in terms of importance thanks to its usability and cutting-edge design.
---
MATERIALS
Score: 8/10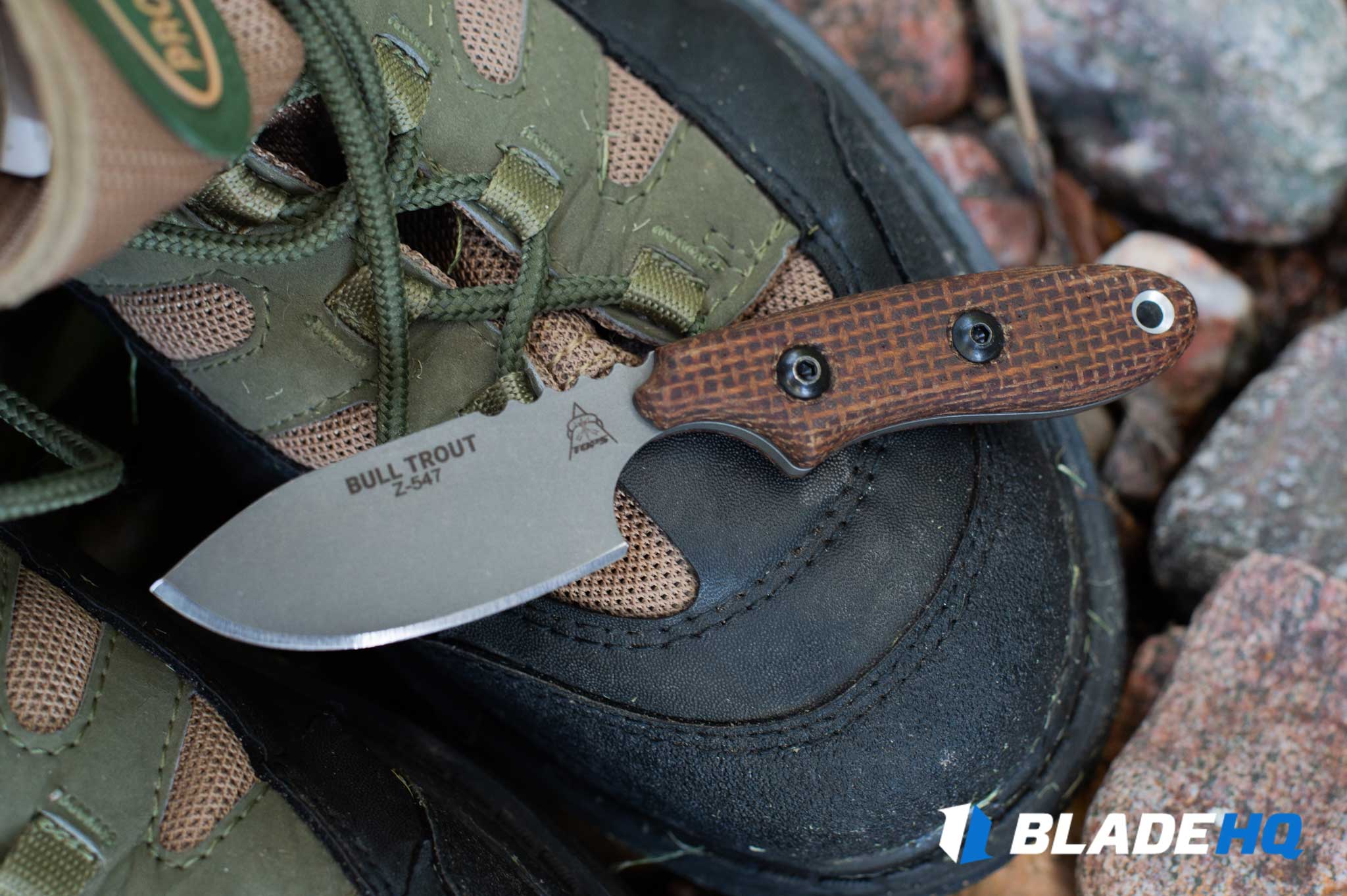 The TOPS Bull Trout features a 154CM steel blade and burlap micarta handle scales. In an industry full of super steels and exotic handle materials, itís nice to see a knife with simple materials that are made to get stuff done. We found that the materials used on the Bull Trout held up to regular use. They arenít indestructible by any means, but they can take quite a bit. When you buy this knife, expect it to last an incredibly long time.
---
LOOK / STYLING
Score: 9/10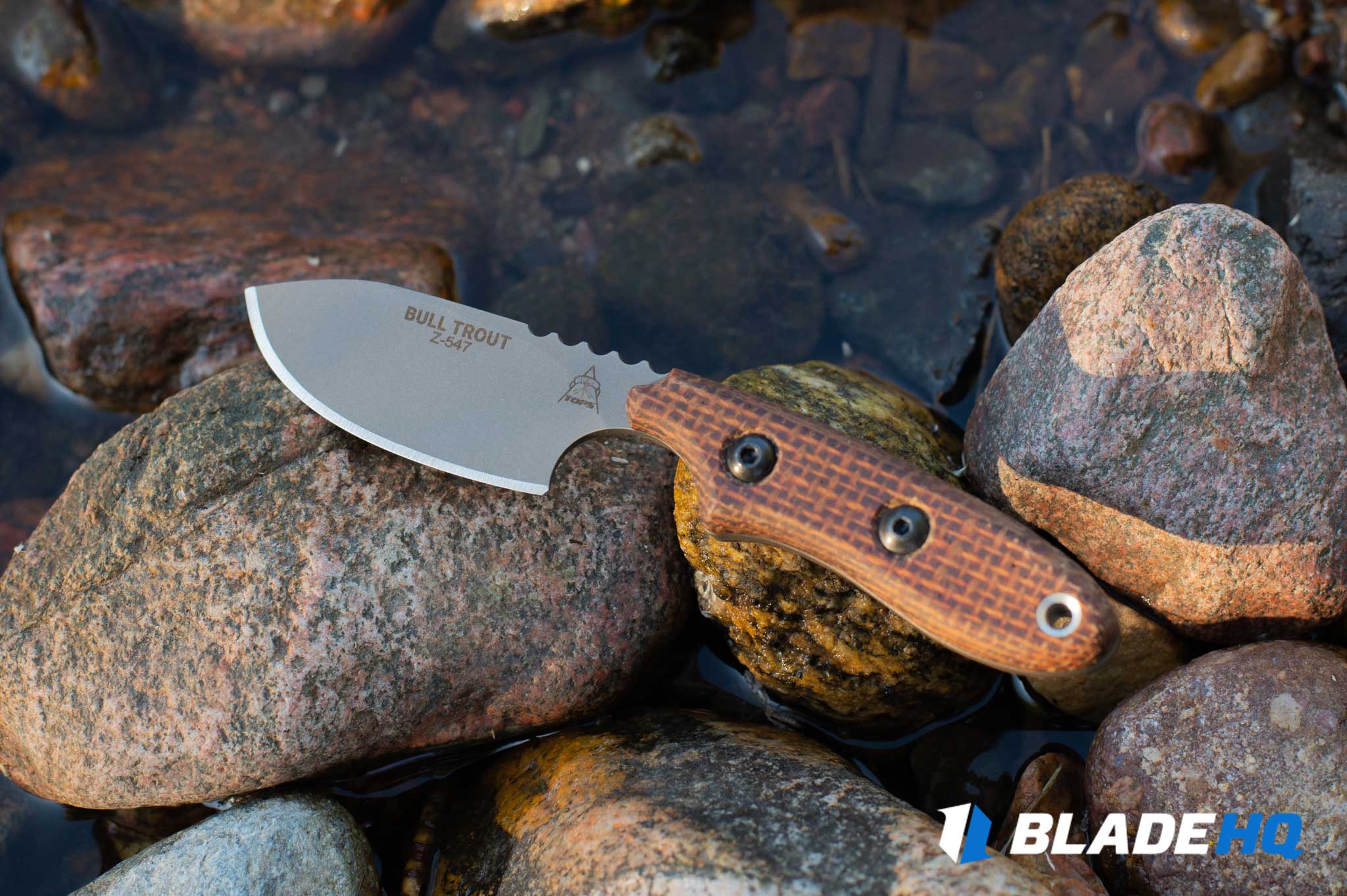 Itís hard to describe the looks of this knife without saying it is just plain cool. The shape of the blade and the materials used on the knife are what we love most about it. It has a nostalgic yet modern feel to it. The combination of natural materials and its unique blade design make this a timeless piece that will look great no matter how old it gets.
---
ERGONOMICS
Score: 10/10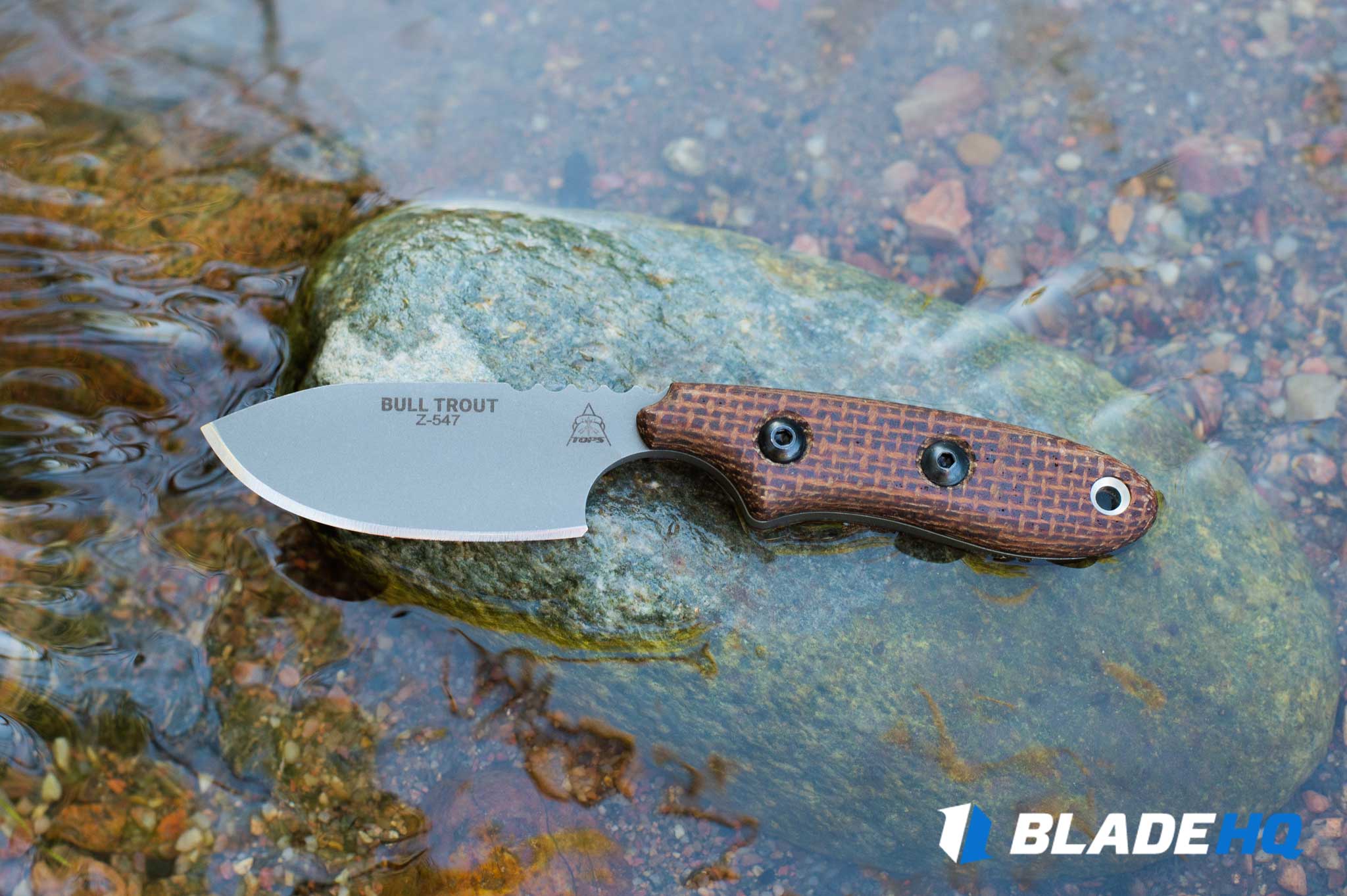 When you pick up the Bull Trout for the first time the thing you notice immediately is how the knife fits your hand like a glove. Thanks to a well thought choil and a reasonably sized handle, the knife feels great in-hand. Itís easy to handle and maneuver, and I never felt like it was going to slip out of my hand. Grippy burlap micarta handle scales give the Bull Trout an added layer of grip and actually become slightly tacky when wet further improving grip. Overall, the ergonomics of this small EDC friendly fixed blade knife are incredible.
---
SHEATH
Score: 7/10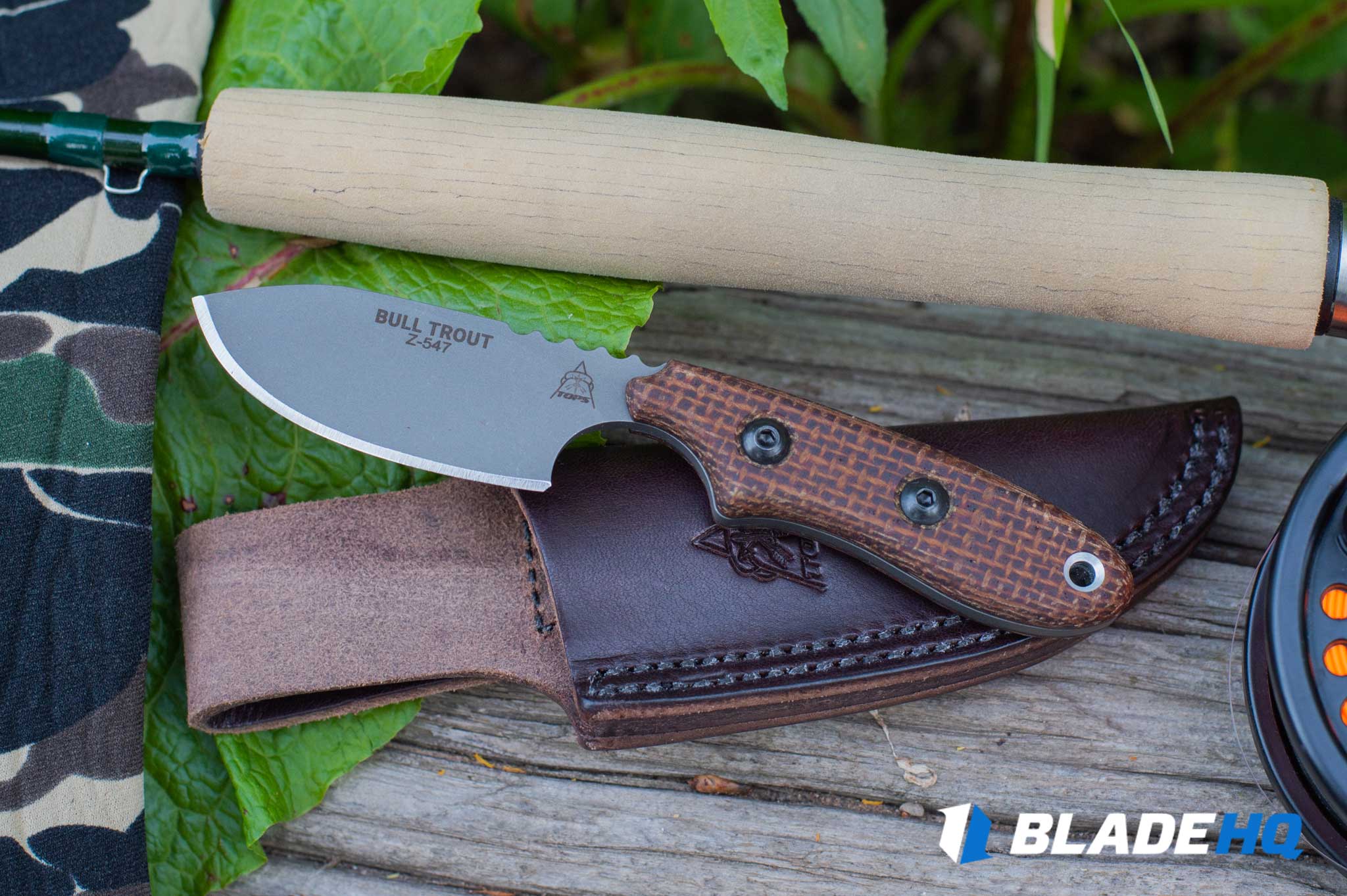 Sheathes are often a hot topic of debate in the knife world. Some prefer leather sheathes to polymer sheathes, and others prefer no sheath at all (you know who you areÖ). The sheath included with the TOPS Bull Trout is made from fine grain, brown leather offering both great looks and durability. Simply treat the leather periodically with your preferred leather conditioner and it will last a long time.
---
BLADE / SHARPENING
Score: 9/10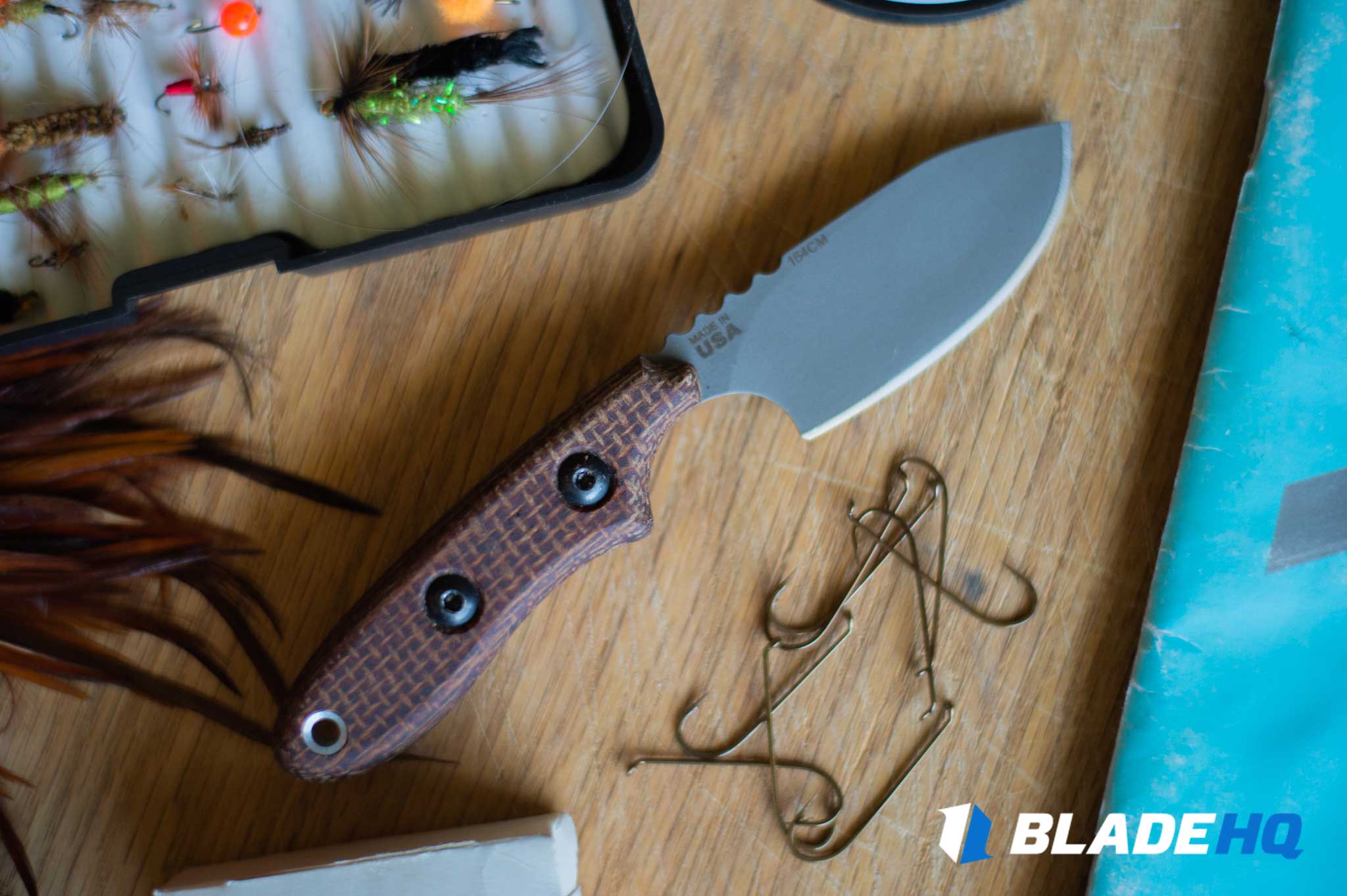 As we mentioned earlier in the article, the TOPS Bull Trout features a 154CM blade. Being that this knife was designed for the outdoors and meant for people who use their knives well, the blade steel chosen is perfect. It is soft enough to sharpen easily but durable enough to tackle hard tasks. Out of the box the knife was shave sharp and ready to go. After some use and our typical cut tests, we were able to restore its shave sharp edge fairly easily with a sharpener and strop. We are quite impressed with the blade quality of the Bull Trout!
---
FIT-AND-FINISH
Score: 10/10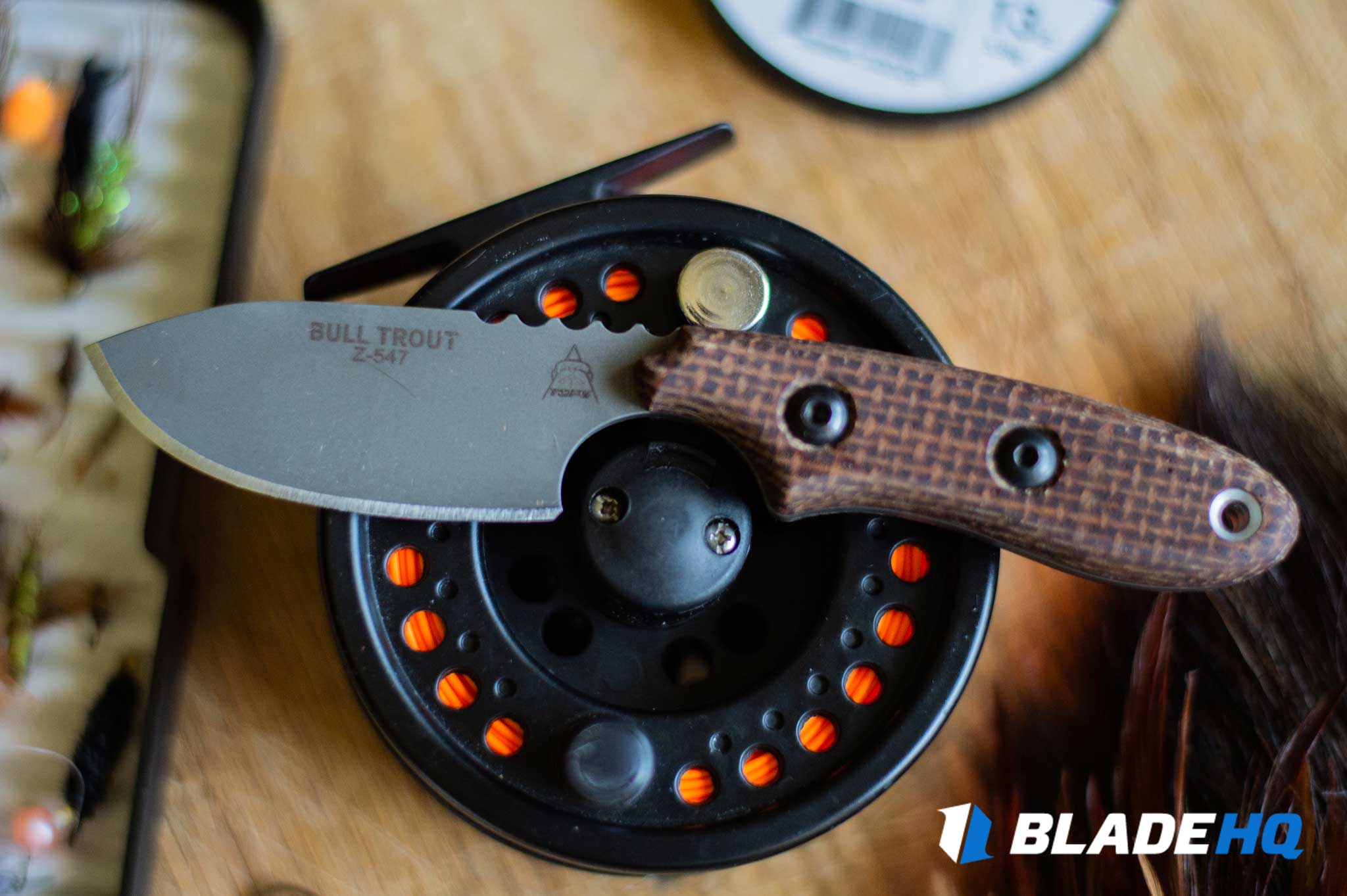 Like other TOPS knives, the Bull Trout comes out of the box just as youíd expect it to. The blade is nearly perfect in terms of grind and bevel. Its handle is expertly cut and contoured and everything just looks and feels right. The Bull Trout features a stonewash blade finish that helps to hide imperfections and wear marks over time. The burlap micarta handle is handsome and features two counter-sunk bolts to hold everything together. Our particular knife was shave sharp out of the box and quite impressive.
---
CUT TESTS
Score: 9/10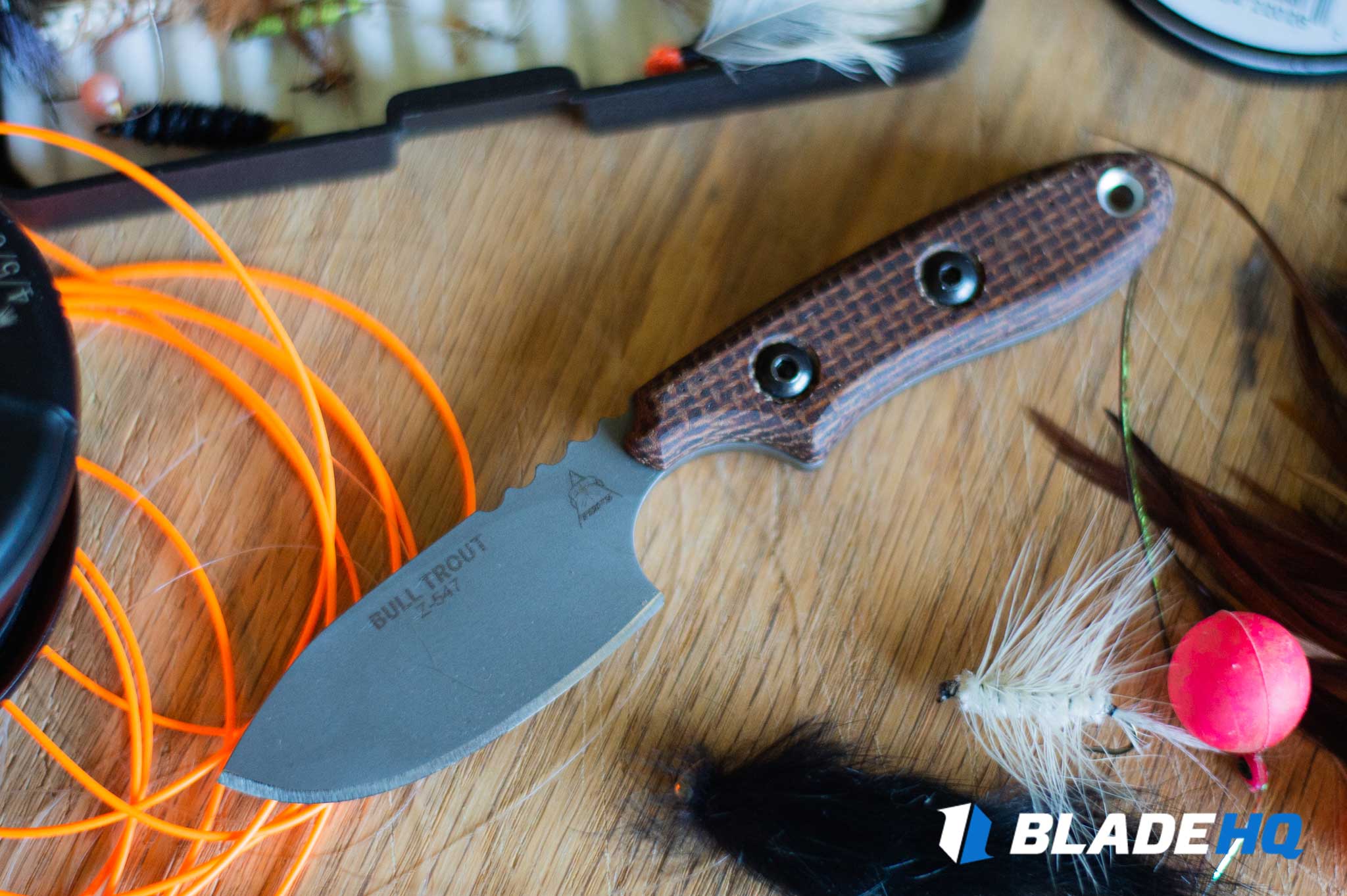 When put to the test, the TOPS Bull Trout truly exceeded our expectations. It is a slicey little knife thatís great for utility tasks and food prep alike. By design, its large belly and flat grind make cleaning and dressing fish a breeze. We felt like we were handling a precision laser when we used this knife to cut through paracord and feather stick. Though small, this knife is just right for most everyday cutting chores.
---
Retention
Score: 8/10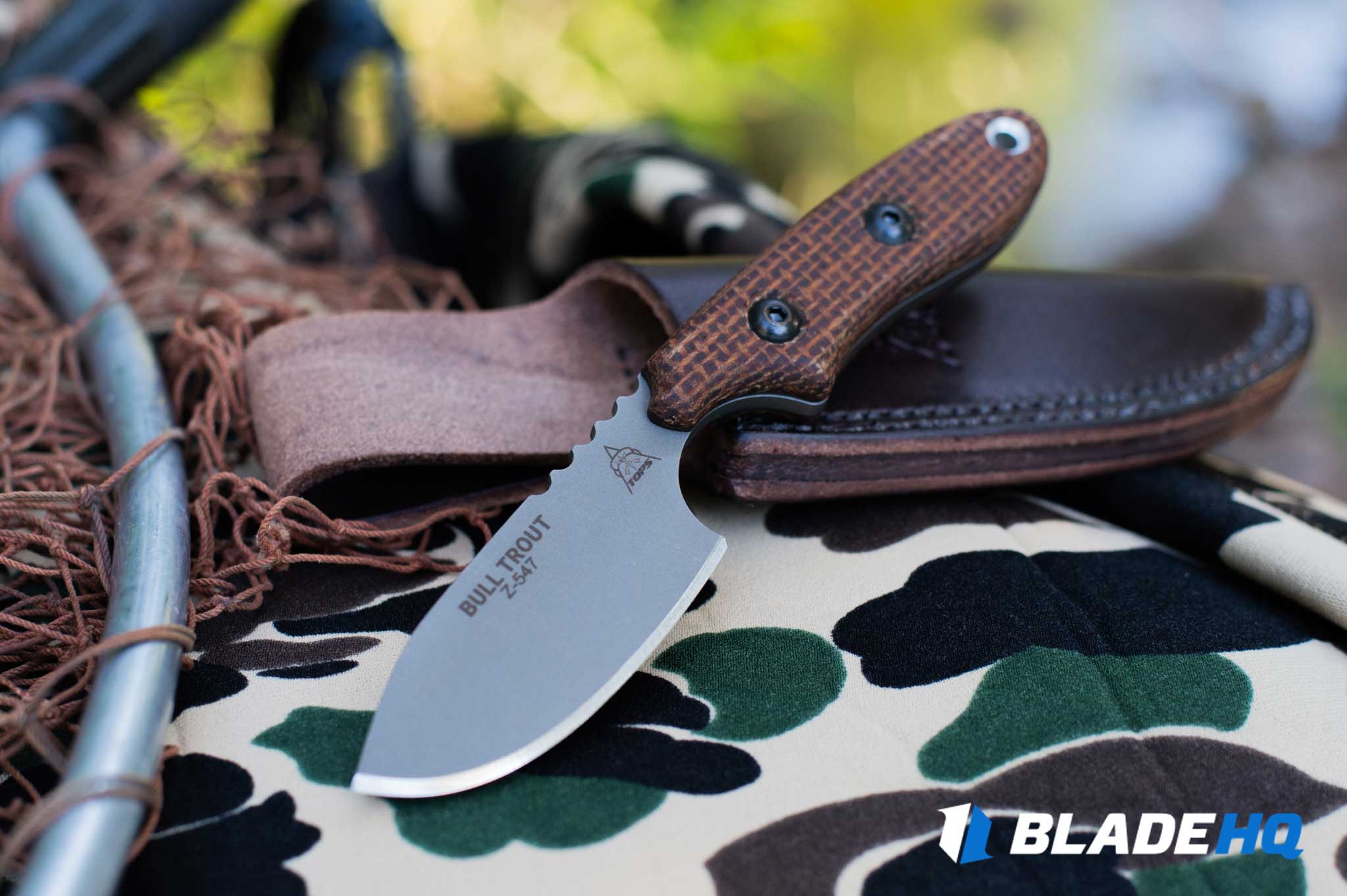 When it comes to the retention offered by the sheath, itís great. Whether I carried the knife on my belt or on the outside of my pack, I found that the knife stayed secure and snug in the sheath. The only downside to the sheath is carry options. It has one single loop that is positioned for drop carry. Being that the knife was designed as a small fishing knife, itís understandable that it is only offered with one carry option, but it would be nice to see a future update of this knife including a sheath with a horizontal/scout carry option.
---
POCKET JEWELRY
Score: 6/10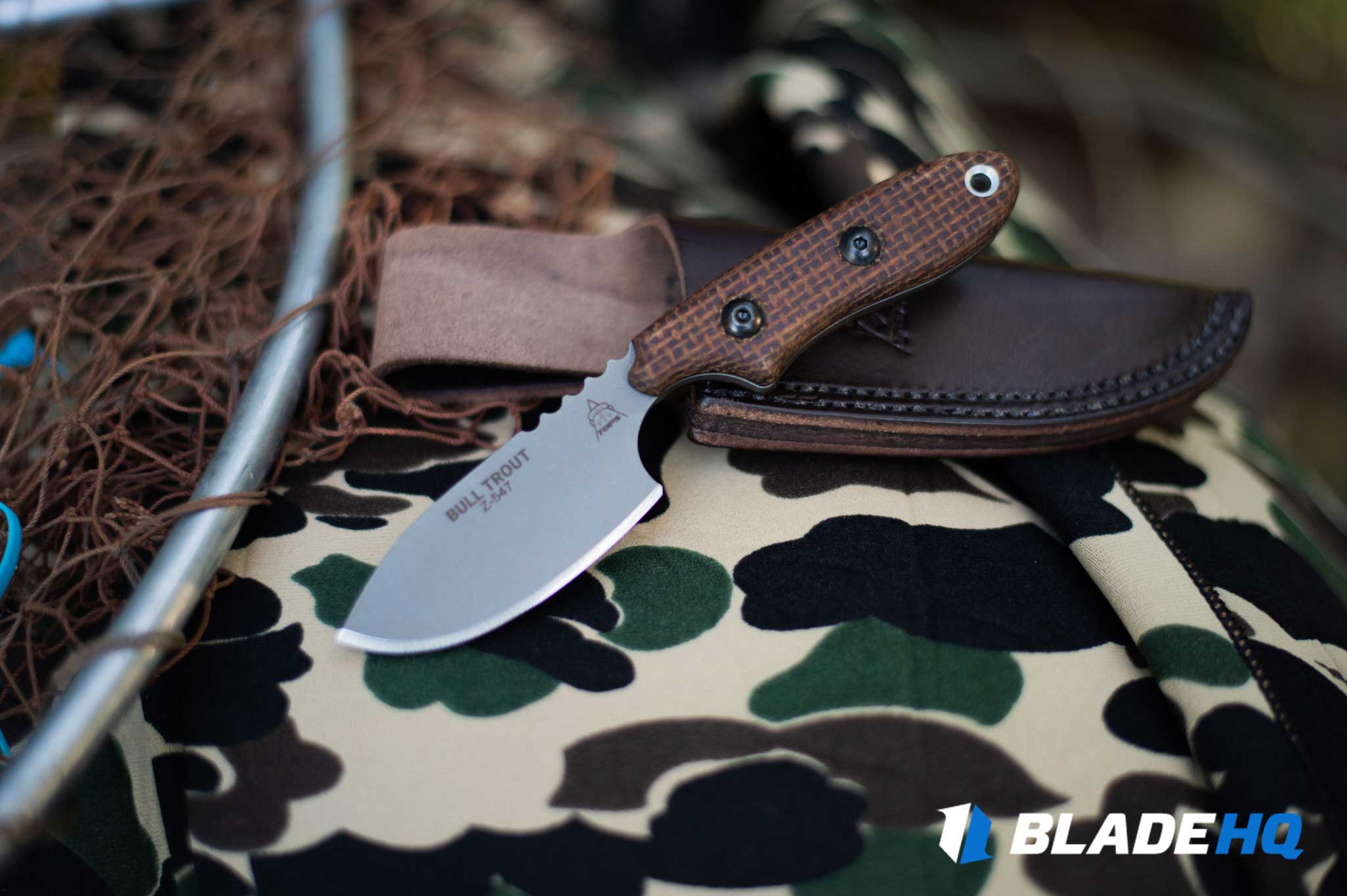 The one area where this knife doesnít quite excel is in the pocket jewelry category. For knife nuts, the knife will stand out and receive compliments. For anyone else, itís just another fixed blade knife and it doesnít command the attention youíd get from other similar knives. To some, the Bull Troutís lack of pizzaz might be a reason to look for a different knife, but to many others, the simplicity and subtly of this unique knife is what makes it so great. No, it wonít draw undue attention, but that might actually be a good thing.
---
TOTAL KNIFE LIFE SCORE:
83/100

Giving a knife a score based on a set of objective requirements can be difficult. To some of us, all knives are great for their own individual reasons. For many of us a knife is an extension of our other hobbies and personality. The TOPS Bull Trout is first and foremost a fishing knife. It was designed by a fisherman for fishermen. The knife is small but built for whatever you have to throw at it. I was impressed by how well the knife performed during everyday tasks. It's a slicey dicey knife and deserves its Knife Life Score of 83.
Other Great TOPS Knives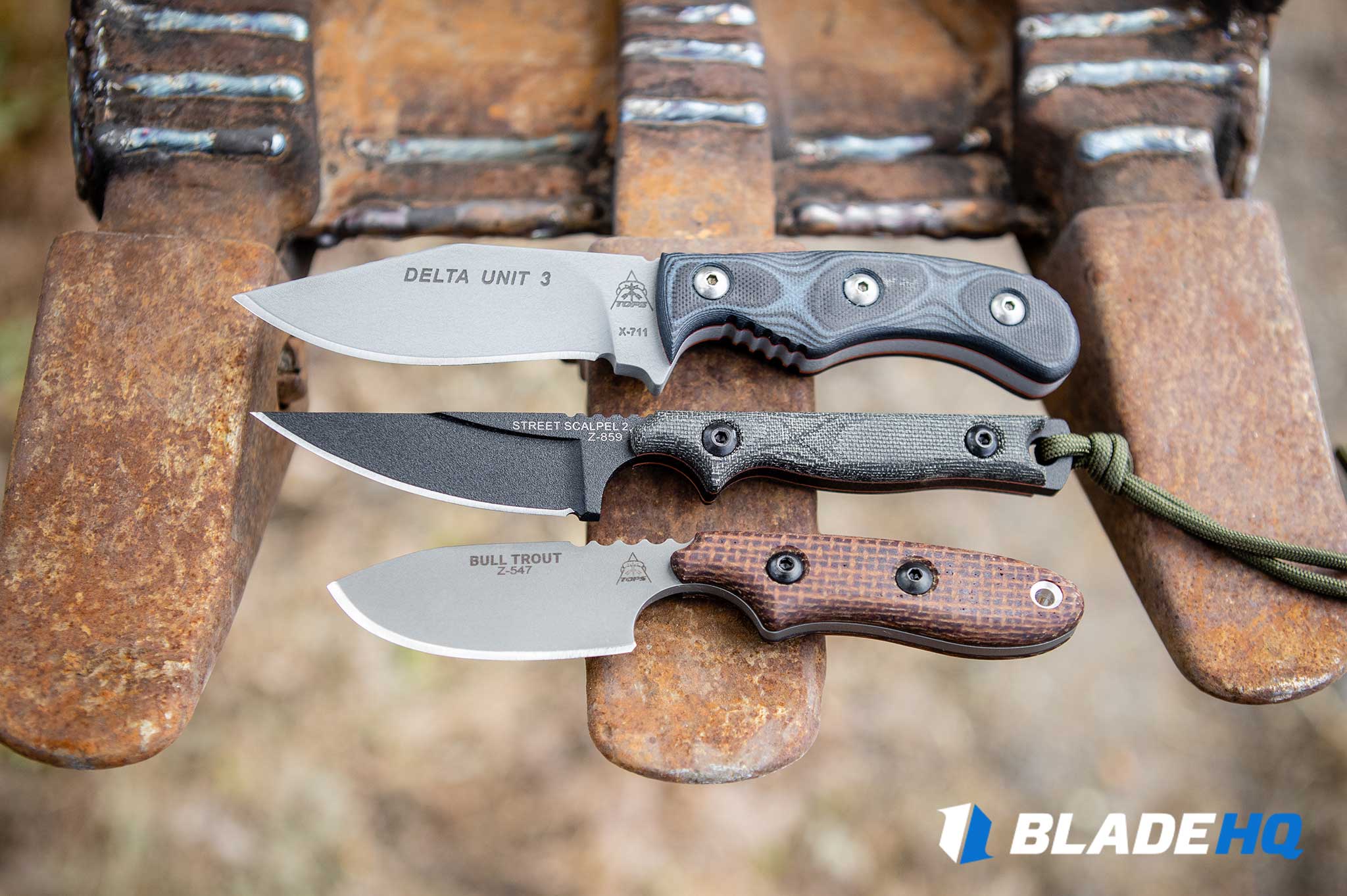 TOPS Knives come in many different sizes and shapes. Whether you're an avid outdoorsman or someone with a taste for beefy knives, TOPS has a little something for everyone. Some of our favorite TOPS knives include the Street Scalpel, Fieldcraft and the Delta Unit 3. Like the Bull Trout, these knives are all super solid fixed blade knives and they're all ready for action. Check out more from TOPS Knives below.
CONCLUSION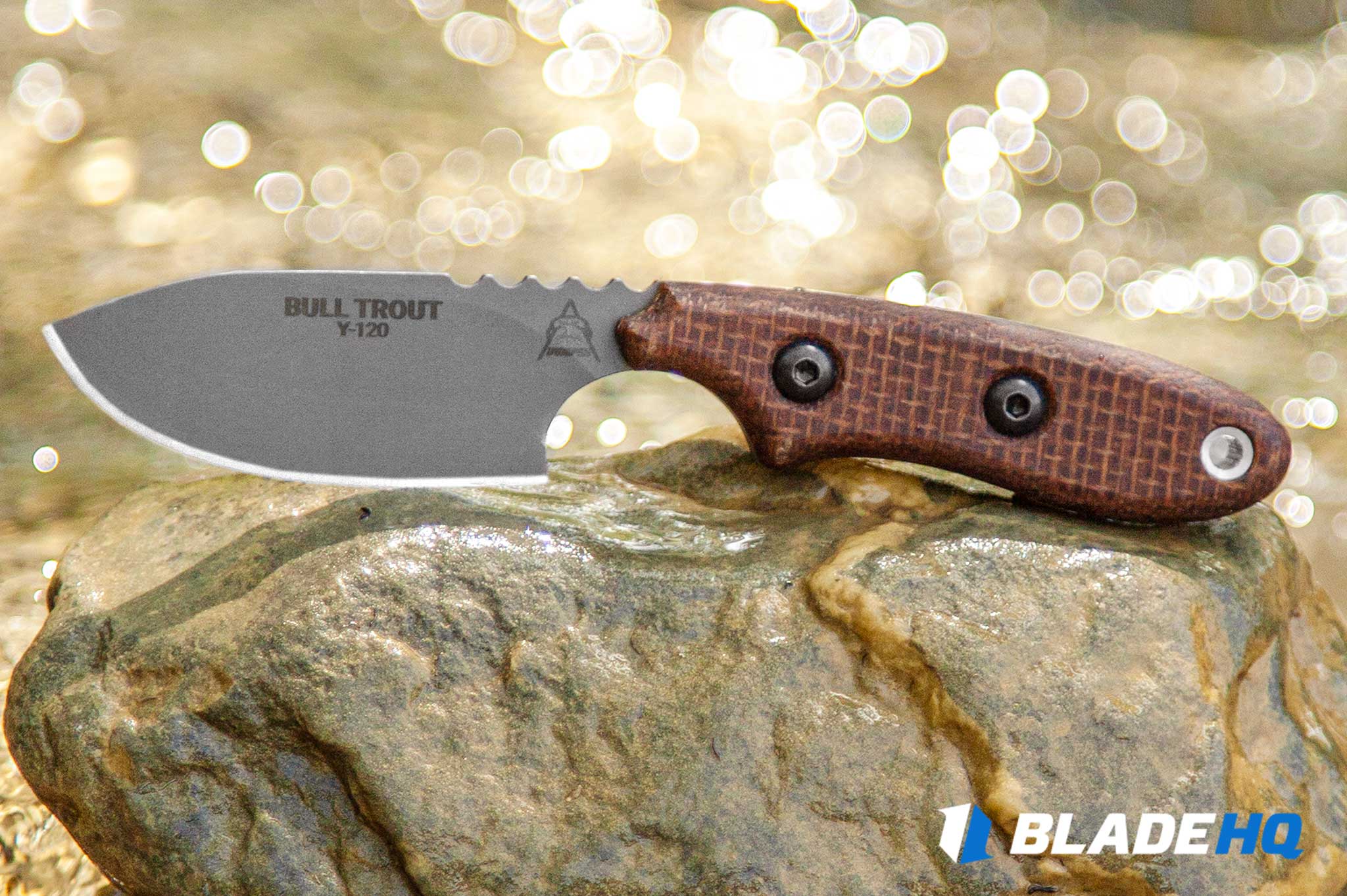 To wrap things up, the TOPS Bull Trout is an excellent little knife. Itís built to last and outperforms many other knives in its same size and class. Originally intended to be the ultimate fishing knife, the Bull Trout has quickly grown into an everyday carry fixed blade favorite. Its simple design and rugged build quality makes this little knife one to be appreciated and used. Yes, use this knife! During this review, it accompanied me on many quick fishing trips and I was absolutely amazed at how well it held up to everything from setting up my line to prepping my dinner. I loved the TOPS Bull Trout and I would honestly be surprised if you didnít.
YouTube
To learn more about TOPS Knives, check out out coverage of SHOT Show 2020. We had the opportunity to take a look at their wares and some exciting new things coming this year. Watch it below!