BEST TRADITIONAL POCKET KNIVES
Traditional pocket knives are those small, practical folding knives that your grandpa always carried. Traditional knives come in both slip joint (non locking folders) and locking(mostly lockback). This buying guide focus on popular traditional knives by style, different types, popular brands, laws, and more.
Before we dive into the popular knives, let's talk about a few common terms in the traditional world. First, jack knife. A jack knife is the general term for a simple folding knife. Jack knives encompass many models of traditional knives and can be single-end opening or double-end opening. Jack knives come in many different varieties, with or without springs and bolsters.
Other common phrases that we mentioned in the beginning are slip joints and lockback knives. Slip joints are simply non locking folders, and lockbacks have a locking mechanism that releases on the back. Other traditional knives have other locking mechanisms like Virobloc, which is found on Opinel knives, and some even have liner locks that are popular in modern knives.
---
Popular Traditional Knives by Style
A Barlow knife is a traditional slip joint that has a lengthened bolster and oval handle. Barlow pocket knives usually can be found with two blades that pivot on the same end of the handle.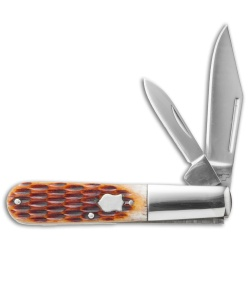 Boker Plus Barlow - The Boker Plus Barlow sports 440C blades, a jigged bone handle, and a stainless steel liner. This knife rocks a clip point blade along with a smaller pen blade for precise cutting.
A Butterbean pocket knife is a slip joint folder that features a spear and a pen blade that open on opposite ends of the handle. The Butterbean style is popular among Case Knives.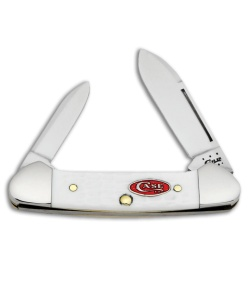 Case Baby Butterbean Canoe - This model is a Butterbean as it features two blades on opposite ends, but it is also known as a Canoe because the handle has a slight Canoe shape. The blades are Tru-Sharp material and the handle is jigged Delrin.
Canoe knives are traditional slip joints that have a handle and two blades, usually a spear and a pen. Sound familiar? If so, that's because Canoe and Butterbean are virtually identical; Case just created a smaller line from Canoe and named it Butterbean.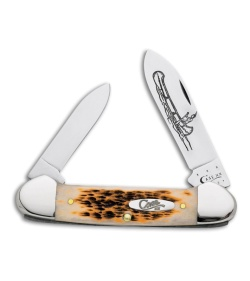 Case Canoe Amber Bone - This traditional Canoe by Case features chrome vanadium blades and a jigged amber bone handle. Other popular manufacturers of Canoe knives are Schrade, Imperial, and Buck.
Traditional Congress knives are recognized by their convex upward-curved handle. These pocket knives are slip joints that have two or more blades, usually being four. Typical Congress slip joints have a sheepsfoot, spear, coping, and pen blade.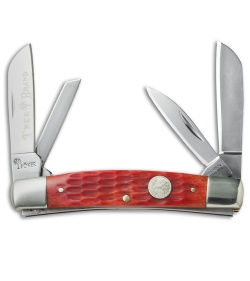 Boker Traditional Congress - This Congress knife by Boker features a stainless steel blade, jigged bone handle, and nickel silver bolsters over brass liners.
Copperhead traditional knives are slip joints with curved designs made to cover every sharp corner to prevent pocket wear. Most models feature two blades, although there are many single blade models as well. Copperhead knives were a very popular carry option for soldiers in the Vietnam War.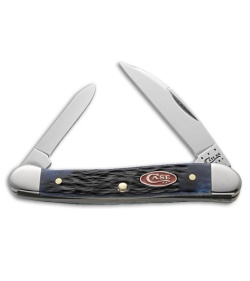 Case Mini Copperhead - This Copperhead boasts two Tru-Sharp blades and a navy blue bone handle. The blade styles are wharncliffe and pen. This is a great lightweight knife for pocket carry.
Equestrian knives are technically the models from Case, although other manufacturers like Buck make knives with hoof picks. These slip joint folders have a clip point blade and hoof pick for for anybody that is around horses.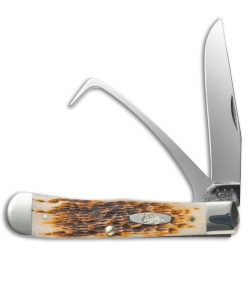 Case Equestrian Amber Bone - This Equestrian slip joint features a Tru-Sharp blade that pivots on the same end as the hoof pick. The handle is amber bone and it is made in the USA.
Hobo knives put a spin on traditional slip joints by adding a spoon and fork. Some models even feature a folding bottle opener.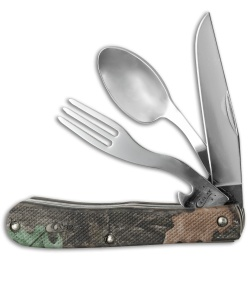 Case Hobo - This traditional folder has a Tru-Sharp blade, zytel handle, and detachable spoon and fork. Each Case Hobo knife is made in the USA with quality materials.
Traditional hunter knives can come in slip joint and lockback. These knives are strong and typically come with one or two blades. Traditional hunter knives are great for skinning and field dressing animals.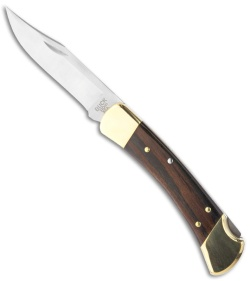 Buck 110 - The Buck 110 model has a rich history in the knife world. The Buck 110 was the first folder that could stand up to the tasks of a normal fixed blade. The 110 is a lockback design with a 420HC blade.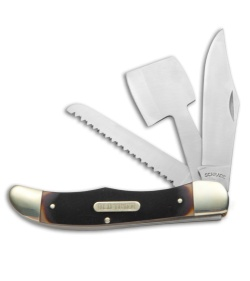 Schrade Old Timer Hunter - If you thought traditional hunters had to be lockback, think again. The popular Schrade Old Timer slip joint comes in a hunting variety as well.
Traditional lockback knives evolved after slip joints to produce a strong locking blade for intense cutting.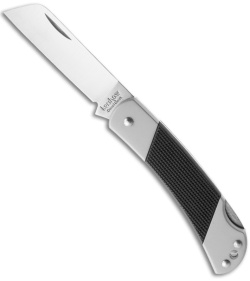 Kershaw Corral Creek - Alongside the Buck 110, the Kershaw Corral Creek is a very popular traditional lockback. The blade steel is 8Cr13MoV and the handle is built from steel liners with polymer inlays.
Muskrats are traditional slip joints that are ideal for skinning animals. It is a double-ended pocket knife with two clip point blades that are usually around the same size. The frames of Muskrat knives are typically identical to Stockman knives, but have different blades.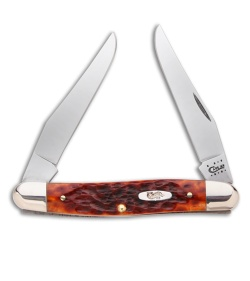 Case Muskrat Chestnut Bone - This Muskrat has Chrome Vanadium blades and a chestnut bone handle.
Peanut knives are traditional slip joints with two blades that pivot on the same side of the handle. Modern versions feature a clip and a pen blade.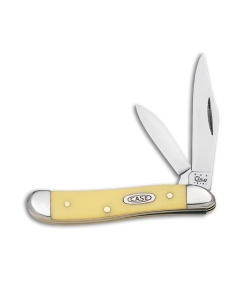 Case Peanut - The Peanut traditional slip joint category is filled with Case knives. The model pictured features a chrome vanadium blade and yellow delrin handle.
Pen knives are an outlier in the traditional knife world. These knives are defined as a small folding knife with blades in both ends. It's vague, but you can count on traditional pen knives having a pen blade on one end. These knives should not be confused with modern pen knives. Pen knives stem from the 1400s when knives were used for quill tip upkeep, although they haven't always been folders.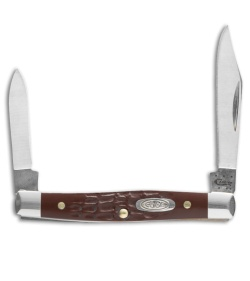 Case Pen Knives - Case is the only company that uses "pen" in the name of some of their traditional knives. This model has Tru-Sharp blades and a delrin handle.
Pruner traditional slip joints have a hawkbill blade with a concave cutting edge. Pruner knives are good for cutting things like carpet and round objects.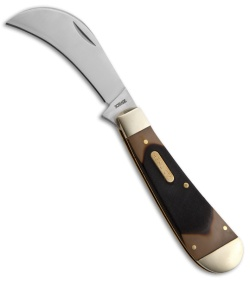 Schrade Old Timer Pruner - The Old Timer is back, but this time in Pruner form. This model has a 7Cr17 blade and delrin handle. It also features brass liners and polished nickel silver bolsters.
Russlock knives are traditional slip joints that have an elongated flipper attached to the blade. These knives are convenient for their easy one-handed opening.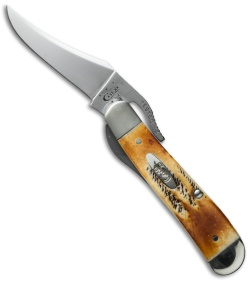 Case Russlock Burnt Bonestag - This popular Russlock has a stainless steel blade and bone stag scales. It also boasts a nickel silver Case inlay shield.
Traditional Sodbuster knives are slip joint and have one skinner blade with a handle and no bolster. The simple function and slim design make Sodbuster knives great for everyday carry. The Sod Buster design dates back to a German knife design called "Hippekniep" that stems from the late 1800s. Fun fact: Case has trademarked the term "Sod Buster" when it applies to folding knives. Other companies have trademarked "Sodbuster" in the past and some in the present.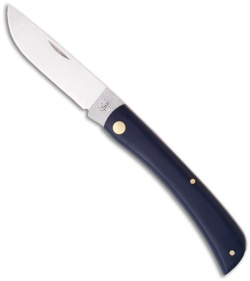 Case Sod Buster - Stainless steel and a smooth synthetic handle. This knife is a traditional Case Sod Buster.
The Stockman knife is arguably the most popular traditional slip joint. Most Stockman knives have three blades: a sheepsfoot, spey, and clip point. The sheepsfoot is used for push cutting and sawing, the spey used for cutting through flesh, and the clip point for everyday tasks.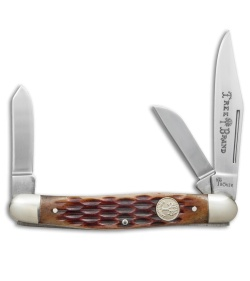 Boker Medium Stockman - A modern build on a traditional folder. This Stockman boasts a carbon steel blade, brown jigged bone handle, and brass linings. It has a clip point, wharncliffe and pen blade.
The Texas Toothpick is a traditional slip joint with a catchy name. It has a noticeably curved handle with one or two blades. The Texas Toothpick is sometimes called a "Switch" or "Tickler."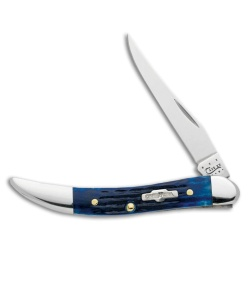 Case Texas Toothpick - The deep blue color on the bone handle really make this knife stand out. The blade is Tru-Sharp steel.
Traditional Trapper knives are usually slip joints with two blades: a clip point and a spey. Trapper knives can be found with anywhere from one to five blades. Trapper knives with longer blades were commonly used for skinning animals.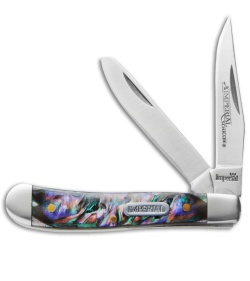 Schrade Imperial Trapper - This affordable traditional knife has a 3Cr13MoV blade and colored acrylic handle. It's compact, making it easy to carry in the pocket, bag, or purse.
A Whittler knife is a traditional slip joint that usually has a long blade on one side and two short blades on the other. Whittlers have two springs; the smaller blades operate on one spring and the larger blade operates on both springs.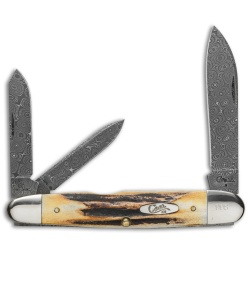 Case Cigar Whittler Damascus - This unique traditional slip joint boasts Damascus blades and a stag handle. This model was limited to 1,000 produced. If you missed out on this collector's item, no worries. You can find many more Whittlers here.
Victorinox Swiss Army knives are about as traditional as knives come. These popular pocket knives often feature blades, scissors, toothpicks, tweezers, and other tools one might need. There are still hundreds of variations of the popular little knife produced today.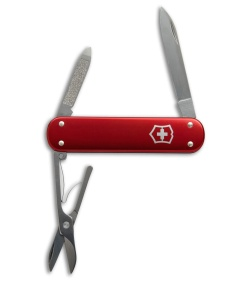 Victorinox Swiss Army - The pictured model is traditional red and has a blade, file, and scissors. It is unique in that it features a money clip instead of a keychain. Swiss Army knives range from $10 to $380.
---
Traditional Knife Types
Traditional knives come in three basic types:
Slip joint
Locking
Multi-tool
Slip joint knives are non-locking folders that are very common traditional knives. They can have one or more blades and often feature different styles. A common style of slip joint is the Stockman.
Locking knives are also popular among traditional knives. The most common type of lock is lockback, where there is a locking mechanism that releases on the back of the handle. Another lock type as seen in Opinel Knives is the Virobloc. This is a safety ring that slides around the open or closed blade. There are other traditional knives with different locks, but these cover the majority you'll come across.
The most common traditional multi-tool is the Victorinox Swiss Army knife. This style dates back to 1884 and often features a blade with other tools like scissors, files, toothpicks, bottle openers, etc.
---
Traditional Knife Advantages
There are many advantages to traditional knives. The beginning to the list is:
Simplicity - Most people don't need large, extravagant knives for everyday use.
Multiple blade styles - Most traditional knives come in slip joint form with multiple blades. Each blade has a different style and use.
Thin blades - Traditional knives are known to be great for slicing. The blades are thin and can be kept sharp.
Loose pocket carry - No pocket clip is an advantage for many people. People that carry traditional knives usually do so loosely in the pocket.
Portable - Traditional knives are usually small and portable. Many modern knives often are bulky and harder to carry.
Easy maintenance - Most traditional knives have construction that is not meant to be taken apart. What this means for the user is a little oil and blade sharpening now and then and they're good to go.
---
Traditional Knife Craftsmanship
Blade Steels
Like modern knives, traditionals can be found in a variety of steels. Common steel types:
440A,B,C
420HC
Tru-Sharp - Commonly used in Case slip joint jack knives
Carbon steel
Stainless steel
Damascus
Sandvik 12C27
Handle Materials
Traditional jack knives are known for their appealing builds and handle materials. When done right, these knives will age extremely well and last decades or even centuries. Common handle materials include:
Ebony
Jigged or smooth bone
Stag
Delrin
Ivory
Corelon
Many forms of wood
---
Popular Brands
Case makes a wide variety of traditional knives in many different styles. Case is a traditional American knife company that started in New York in 1889. Whether it's a slip joint or a lockback, Case has the right knife for you.
Schrade has been making traditional knives since 1904 and is the maker of the famous Old Timer. The Old Timer started as a Barlow and has grown to a full line of traditional and modern knives.
Boker has been making knives since the 17th century and continues to produce quality traditional knives. Boker makes slip joint, lockback, and multi-tool traditional knives.
Buck produces traditional knives in many varieties. Buck is responsible for the popular Buck 110 that was introduced in 1964. It was the first folding knife that stood up to the strength of a fixed blade.
Victorinox Swiss Army knives have been produced since 1884 and are now made by Victorinox. They are considered multi-tools and feature things like blades, scissors, files, tweezers, and more.
Great Eastern Cutlery is focused on creating quality traditional pocket knives that last. GEC carries many popular slip joint models.
Opinel knives are built with simplicity. They feature one blade that is locked by a Virobloc ring that slides around the blade.
Al Mar folding knives combine the look of traditional knives with a touch of modern design. Al Mar uses many different handle materials to create appealing knives.
Queen Cutlery specializes in traditional pocket knives that are elegant and beautifully designed. Queen Cutlery prides themselves on using only quality materials in their knives.
---
Traditional Knife Laws
Knife laws, regardless of the type of knife, vary widely around the United States. Some states outlaw certain styles, while other focus on the length of the blade. Some states are very relaxed with their laws and anybody can carry any type of knife they want.
The good news is traditional knives, especially slip joints, are widely seen to be less dangerous than modern locking knives. Part of this is the size of the blade. Another part is the style and notion that they are used more as tools rather than weapons.
Check your local laws before carrying a knife. As we said earlier, state laws vary with different types of knives.
---
Recap
This guide buyers guide is meant to be an informational resource on traditional knives and popular models. That said, we know it's not the most comprehensive list out there. After all, there have been multiple 600 page books written about traditional knives! We did our best to cover the popular models and then give examples of some great sellers here at Blade HQ.