ZT 0450 POCKET KNIFE REVIEW
Written by Blade HQ Staff Writer Logan Rainey on 11/14/12019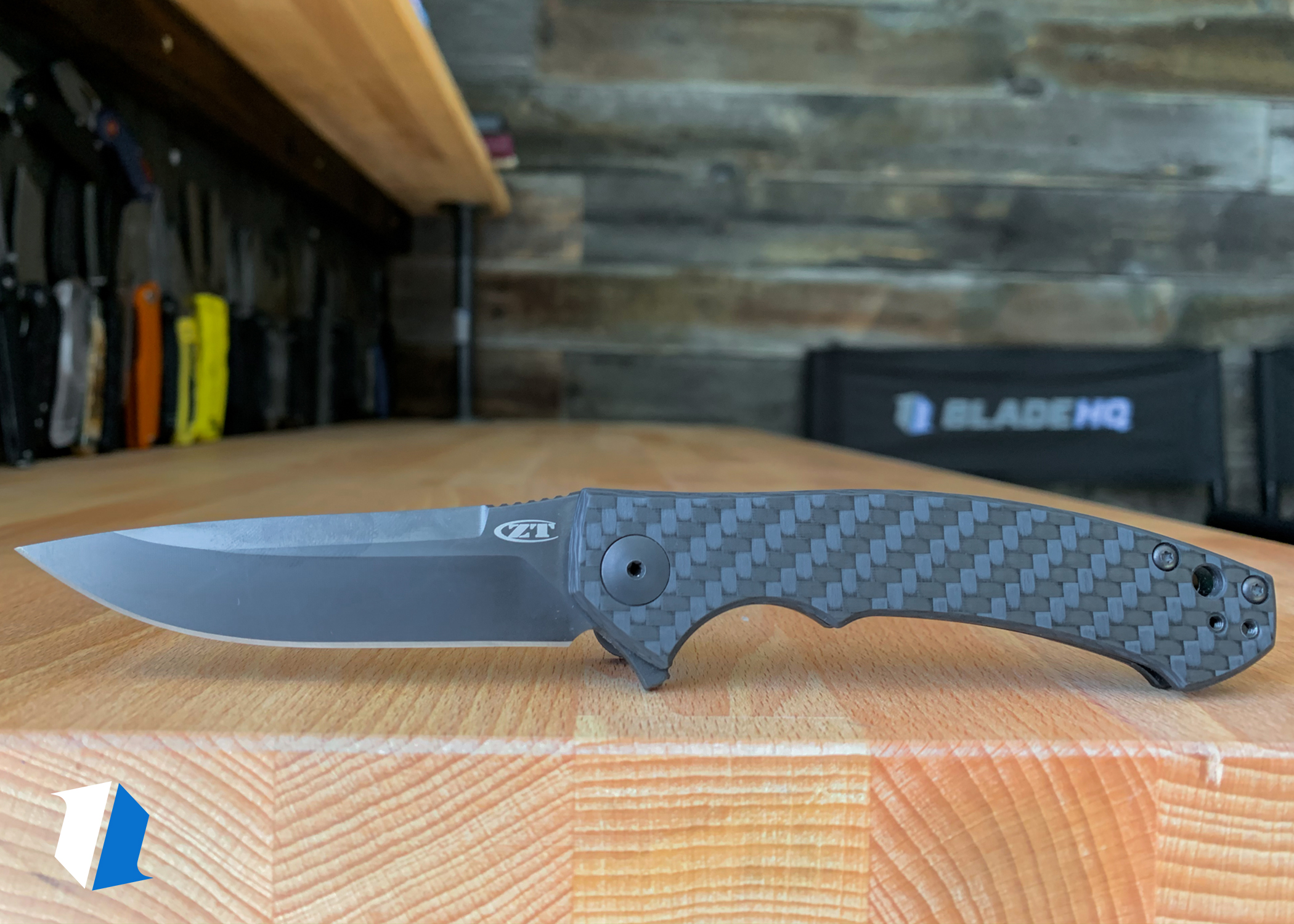 With seemingly endless options for everyday carry knives, it can take a lot for a knife to grab your attention and keep it. Zero Tolerance's 0450 grabbed mine. For several years, it has sat toward the top of various lists – including best EDC knives. While looking for a high-end folder to rotate with my other knives, the award winning ZT 0450 was the knife I couldn't get out of my head. Its design, materials and action check most of the right boxes for me. But can I call it the perfect everyday carry knife? Read on to find out!
Before we start, here are the specs.
7.375" Overall Length
3.25" Blade Length
Drop Point Blade
CPM-S35VN Blade Steel
Carbon Fiber, Titanium Handle
4.125" Handle Length
2.45 oz. Weight
Frame Lock
Dmitry Sinkevich Designed
Made in USA

---
Importance
Score: 9/10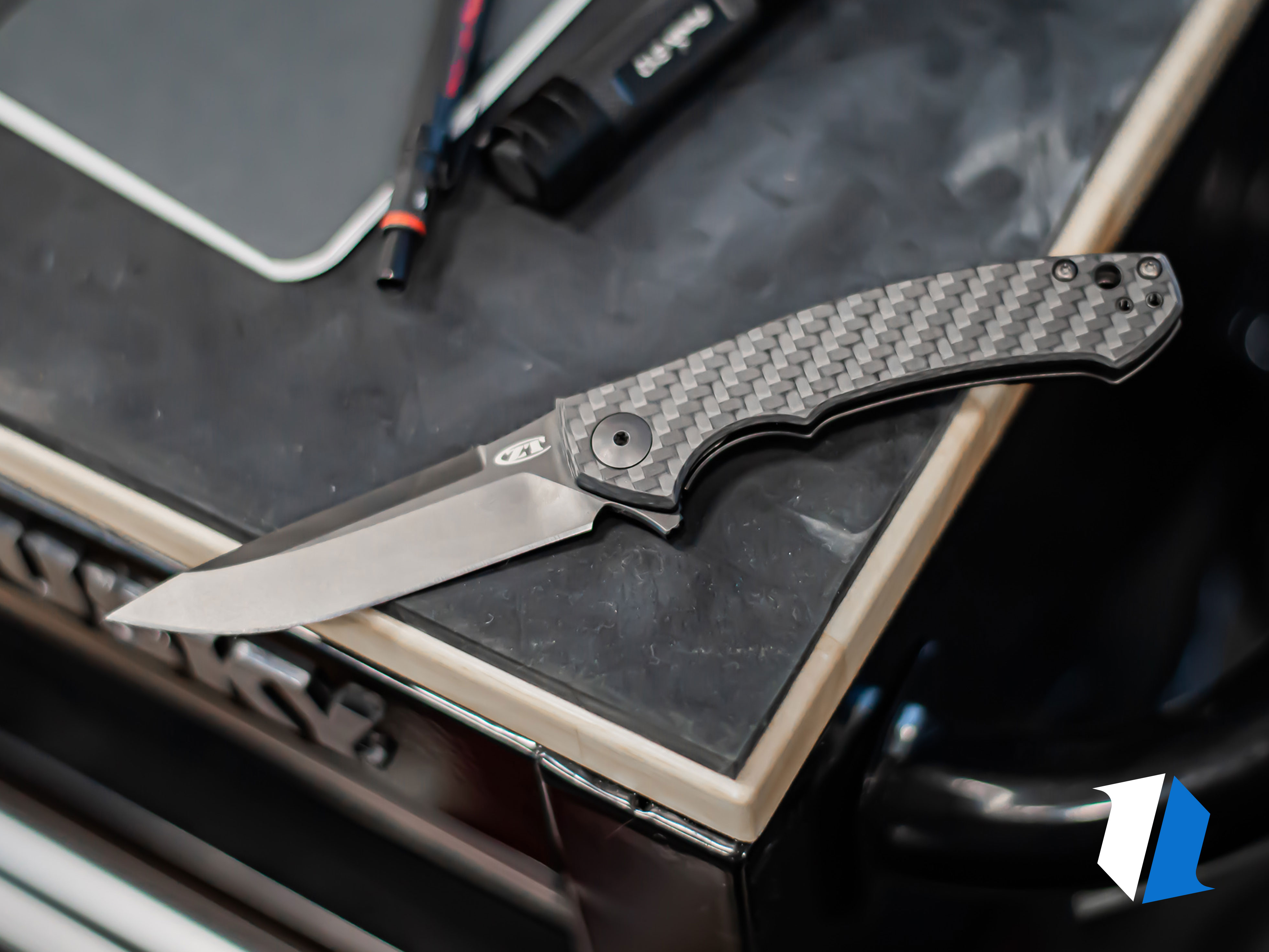 There are few knives that sit at the cusp of affordable and high end. The ZT 0450 is one of those knives. When we talk about the importance of a knife, it's usually regarding the knife's influence on the knife industry or the desirability of the knife to collectors. This knife touches on both while also being somewhat of a gateway into the world of high-end knives. For someone who is new to knives, this is a great beginner "big league" budget knife and one that has influenced everyday carry knives for the better.
Knives that feature carbon fiber, titanium, ball bearings and a premium steel blade usually go for around $300. But this knife sits about $100 less and comes with most of the things found on a more expensive counterpart. For those who have outgrown – or out used – their budget knives, this knife will not disappoint, bore or wear easily.
Fit and Finish
Score: 9/10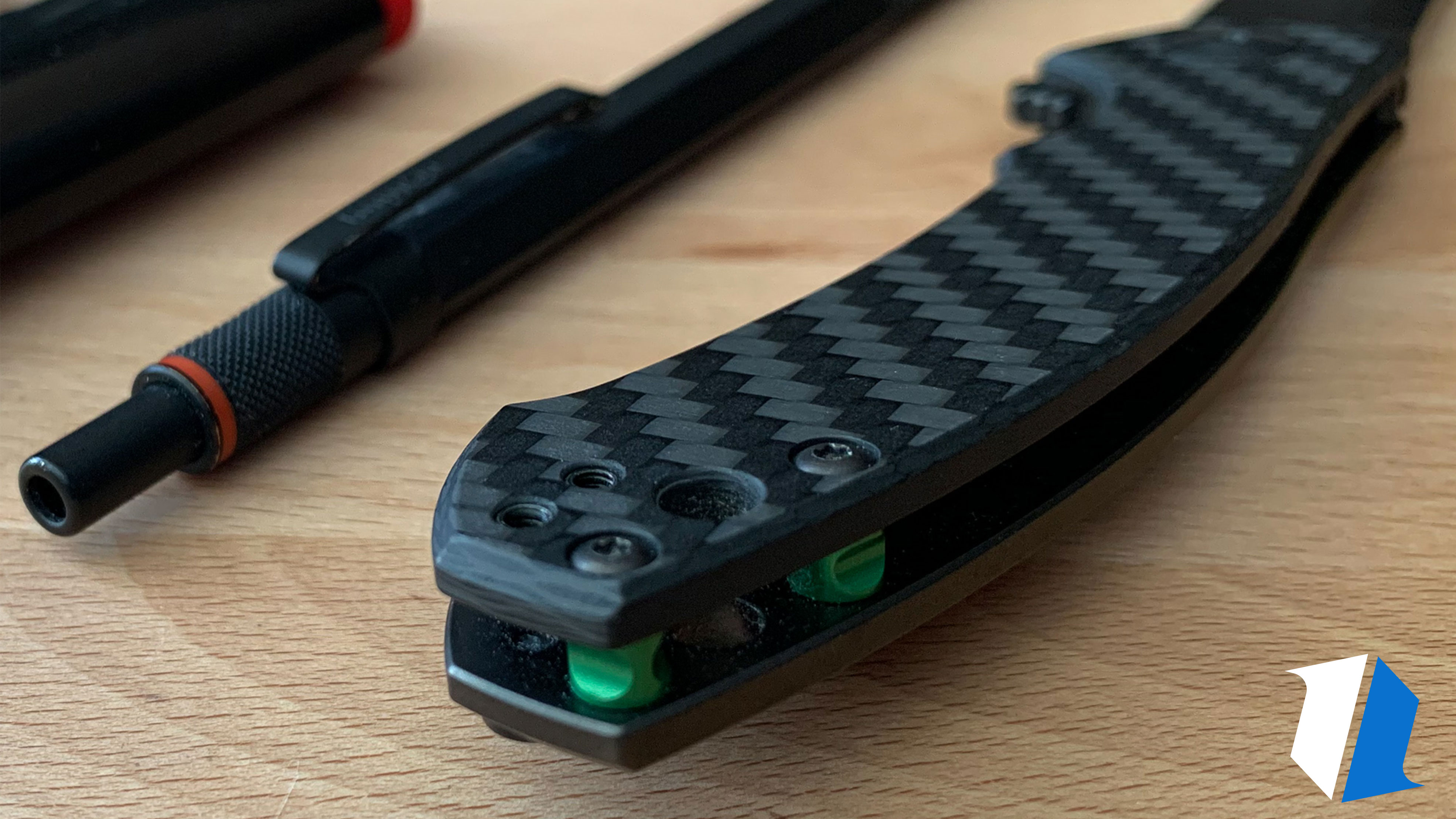 When I first picked up the ZT 0450, I was stunned by the look and feel of this knife. The overall fit and finish is incredible. The carbon fiber scale is precision milled to ensure the tightest tolerances around the body screws and pivot. In addition to the carbon fiber, this knife features a black titanium frame, KVT ball bearings and green anodized barrel spacers. To put it simply, the quality of this knife is incredible.
Deployment and Lockup
Score: 8/10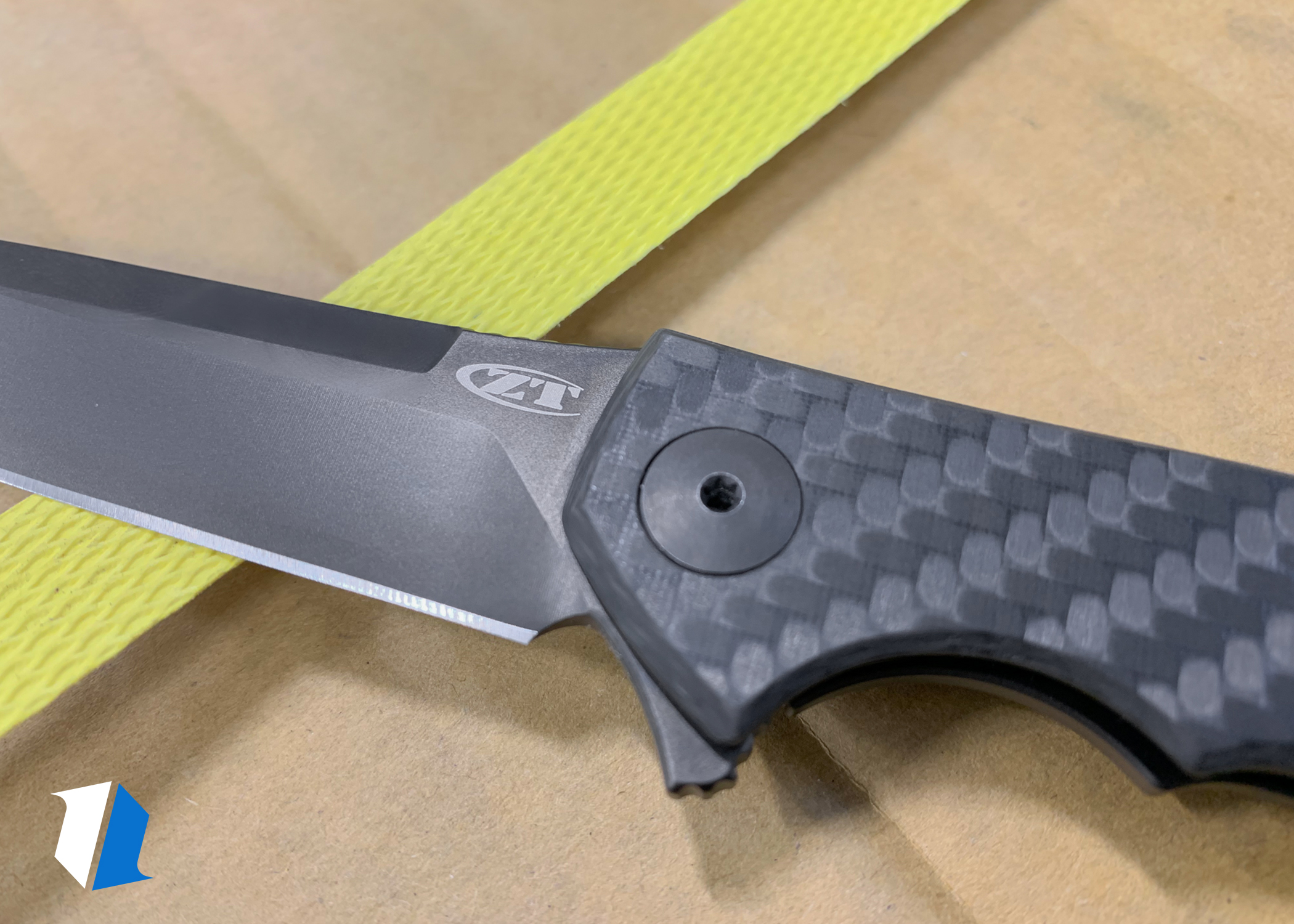 When it comes to flippers, they are either ridiculous to open or hard to put down because they flip open perfectly every time. The ZT 0450 is in the latter category thanks to perfect tolerances, a well-weighted blade, a properly sized flipper tab and those amazing ball bearings.
As far as the lockup on the 0450 goes, I have zero complaints. The titanium frame lock construction of this knife is reliable and consistent every time the knife is opened. This knife also features a replaceable lock bar insert designed to reduce wear on the lock bar itself. Overall, the lockup on this knife is solid as a rock. While testing the knife during this last month, I never once felt like the lock was going to fail on me.
Style
Score: 7/10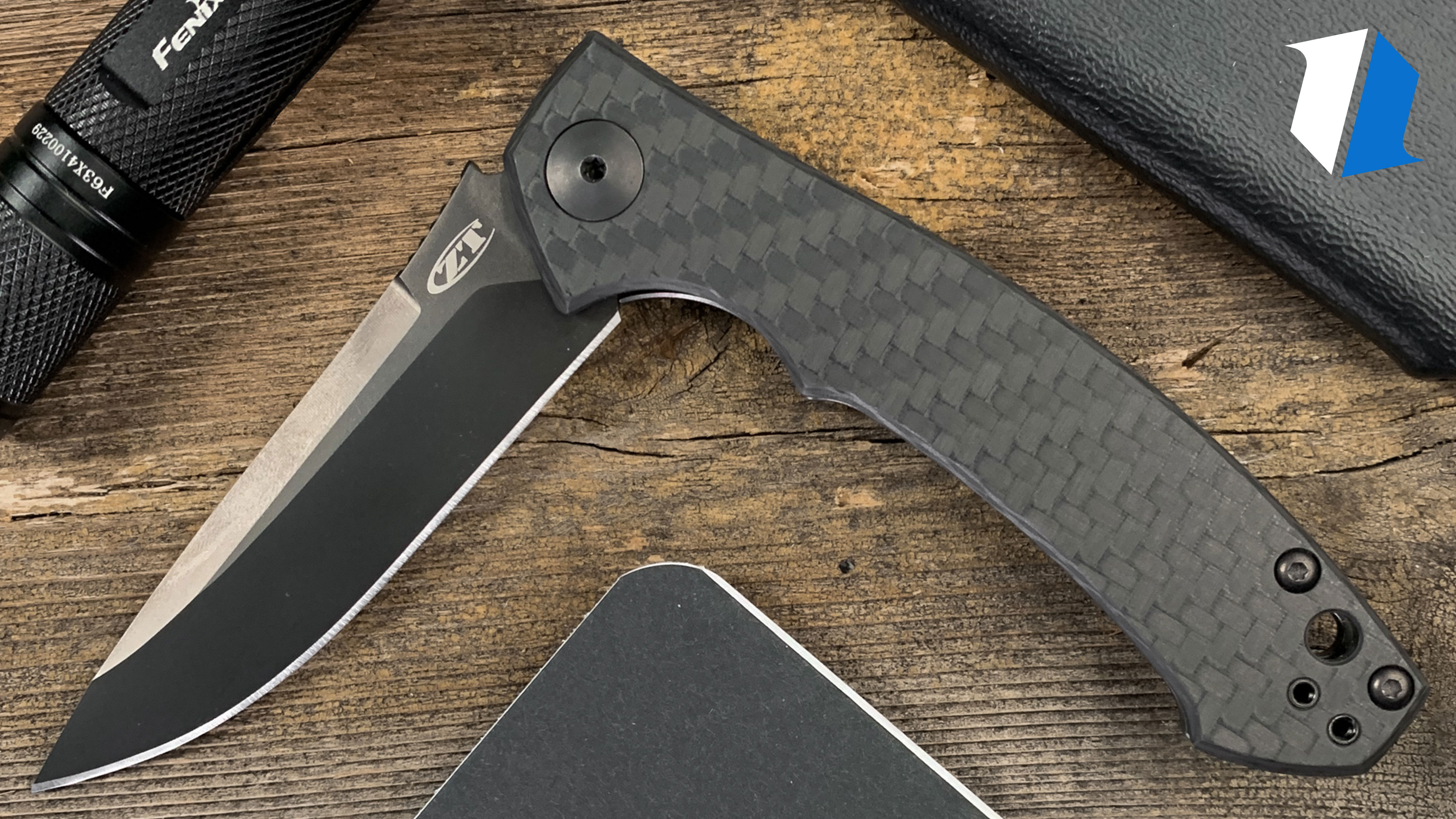 If you are a style conscious person, the way your knife looks may be a big deal. This knife isn't ugly by any means, but it isn't necessarily the most attractive thing for carrying on every occasion. It has that cool, sleek, tactical look that many of us go for, but it doesn't quite fit in for people looking to throw it in a suit jacket pocket. I gave this knife a 7/10 because it didn't have the sophisticated look I like when I wear business professional attire.
The ZT 0450 is a beautiful knife but looks very tactical. I felt like it drew too much attention when I carried it wearing a shirt and tie. If you mostly wear jeans and a t-shirt or simply go for that modern look, the knife is right up your alley.
Ease of Carry
Score: 8/10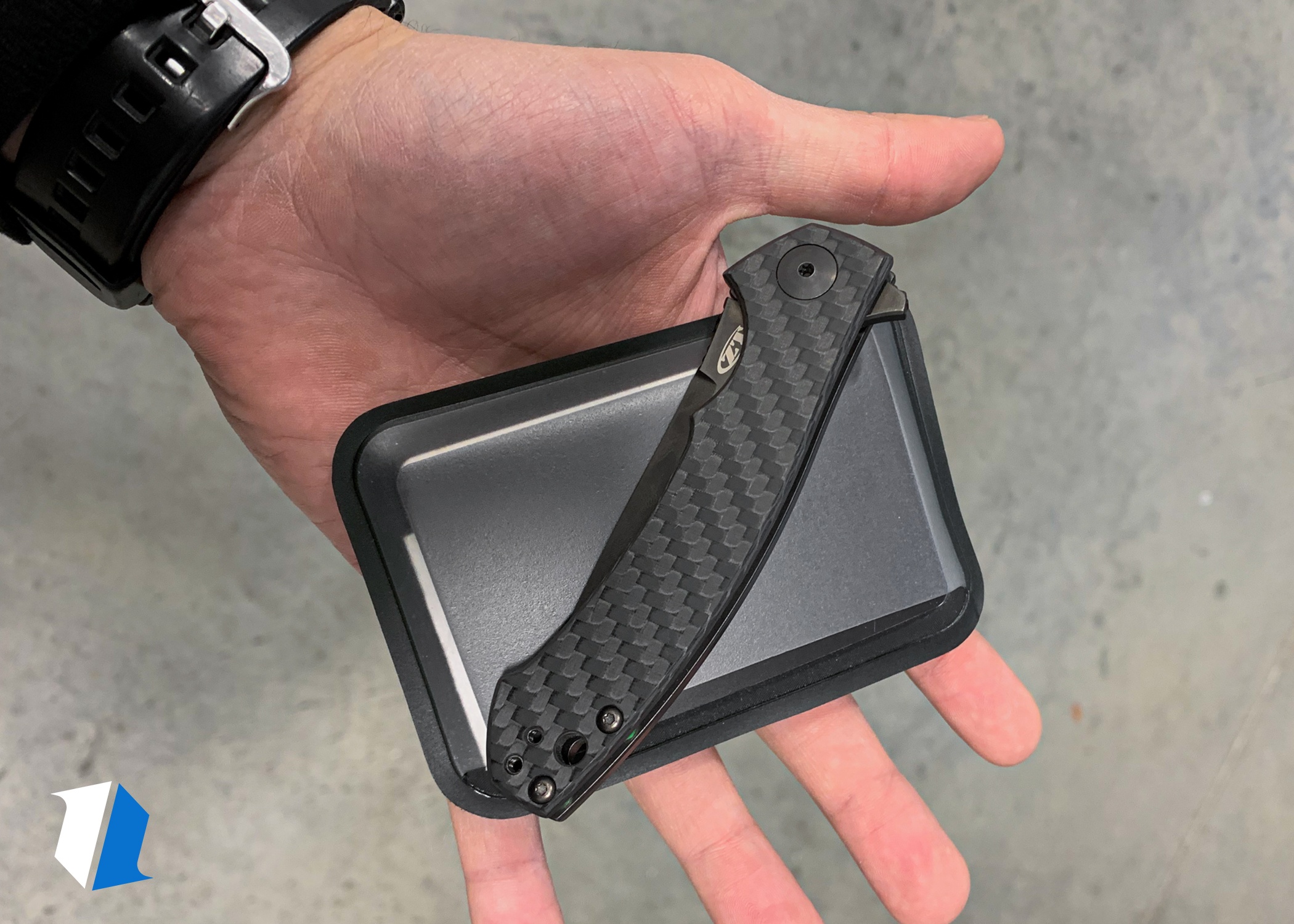 This knife was made to go in a pocket. As simple as that may sound, it's especially true with the ZT 0450. It is designed to be a slim profile, everyday carry knife. The way the handle and blade are designed to minimize the amount of pocket space it takes up so the knife sits closer to the side of the pocket. I was able to carry the knife and my iPhone in my pocket without any trouble. I didn't feel like the knife was getting in the way as I reached in my pocket to pull my phone out. My only complaint with carrying the knife is the standard carry pocket clip. I felt like the knife was sticking out of my pocket a little too much, and a deep carry clip would be a great addition to this knife.
Blade and Steel
Score: 9/10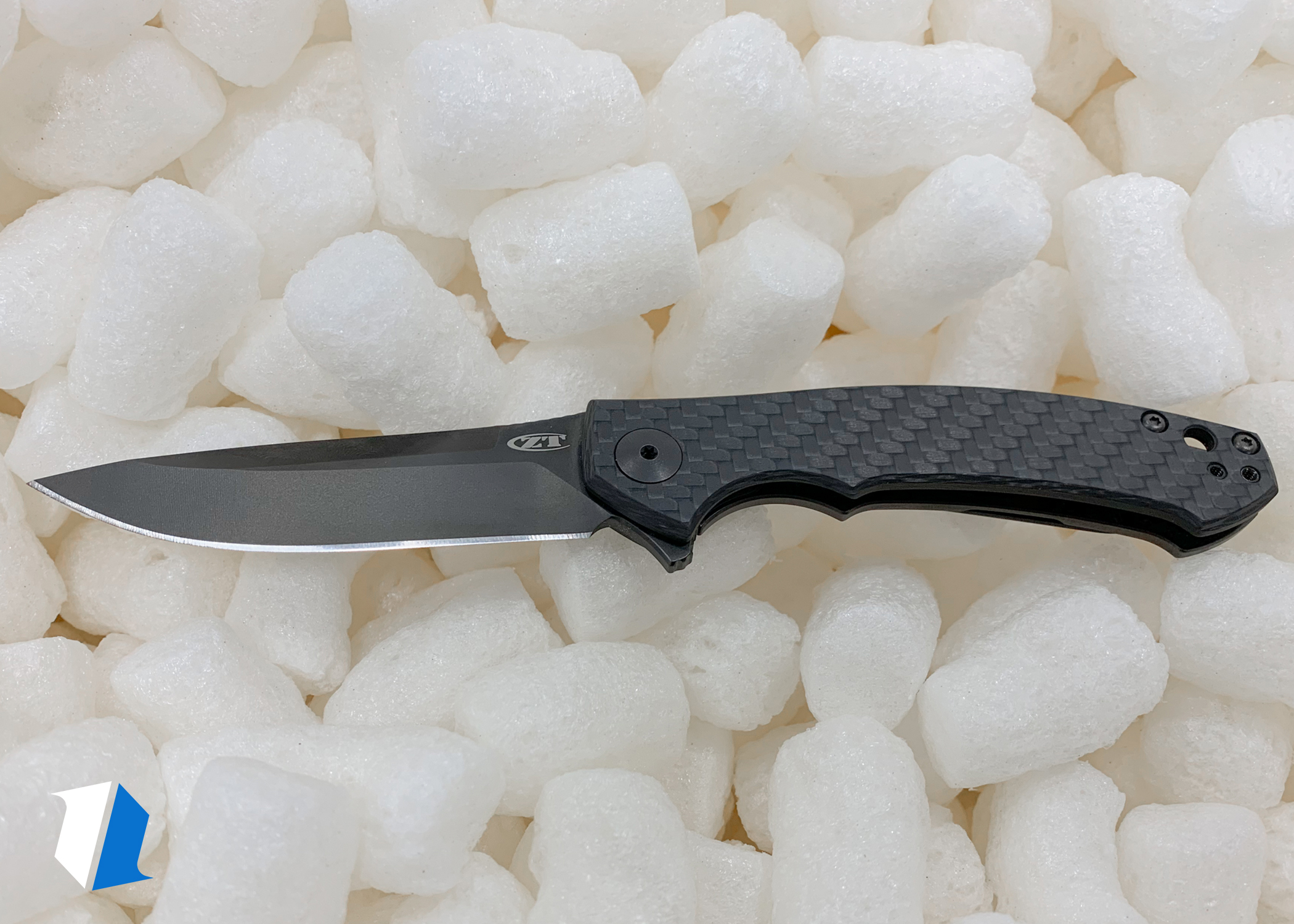 Talking blade steels in the knife community can be like talking politics at the dinner table, so let's go for it! I was amazed at the quality of CPM-S35VN blade steel on the ZT 0450. It wasn't the easiest to touch up when I needed to, but it held an edge much longer than other blade steels I have used. I would consider this blade steel to be a great choice for any EDC knife because it is relatively low maintenance.
The overall shape of the blade is great. I never felt like the blade was struggling to cut through the things I was working with. Its drop point, plain edge design made quick work of basic cutting tasks. For an everyday carry knife, this blade is more than enough to perform basic tasks without much effort.
Materials
Score: 10/10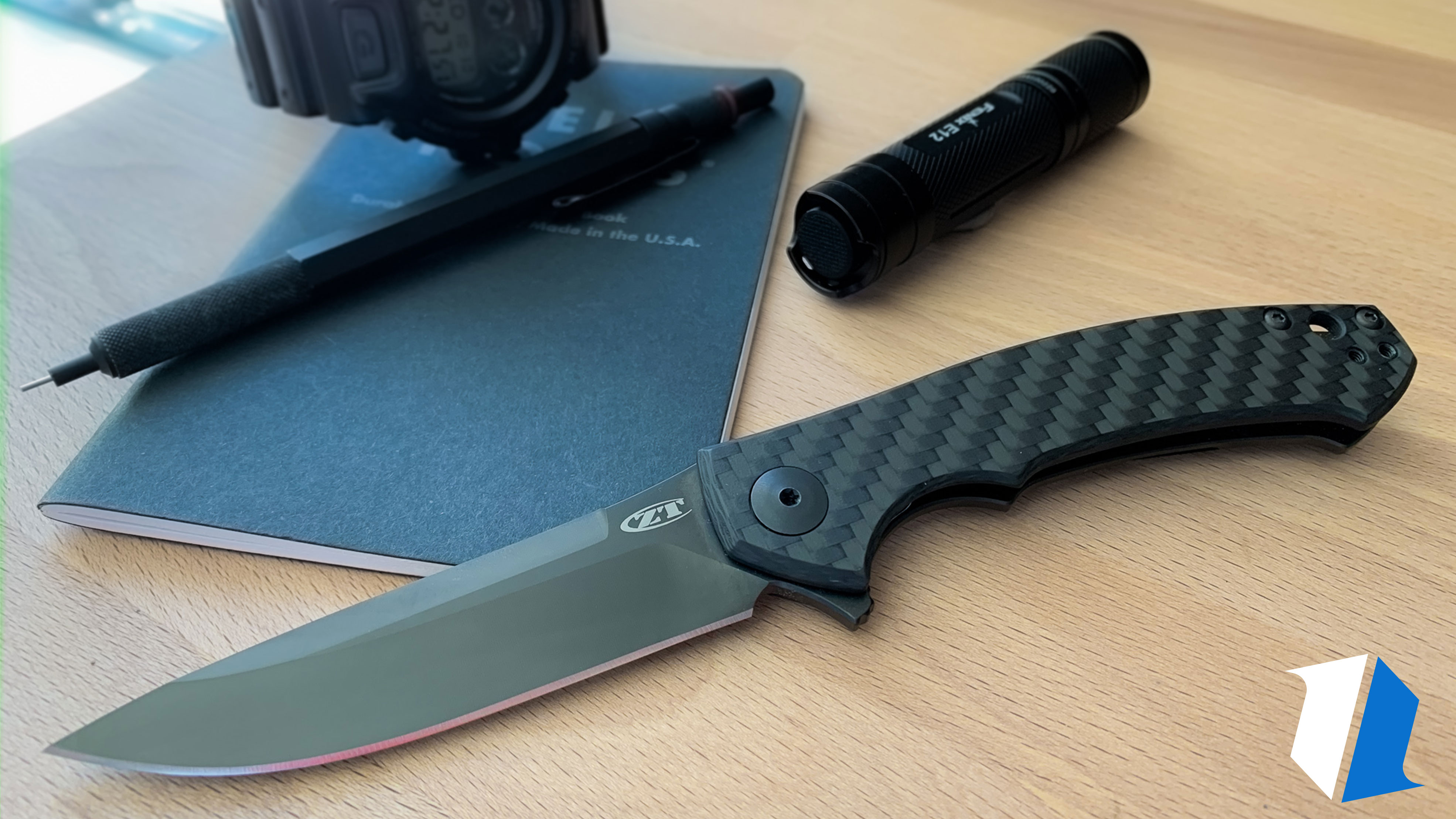 It's a pretty big deal for a knife to get a perfect score in any category on this list. The ZT 0450 is made with all the right stuff. Its carbon fiber handle scale has a beautiful weave that looks and feels great in hand. This knife features a blacked-out titanium frame that adds a level of sleek sophistication you don't get with most other knives.
As previously mentioned, the razor-sharp CPM-S35VN blade steel is great. If you're new to blade steel, check out our steel comparison guide. This knife has precision materials. You would be hard pressed to find another knife under $200 with the same quality and the level of materials.
Ergonomics
Score: 7/10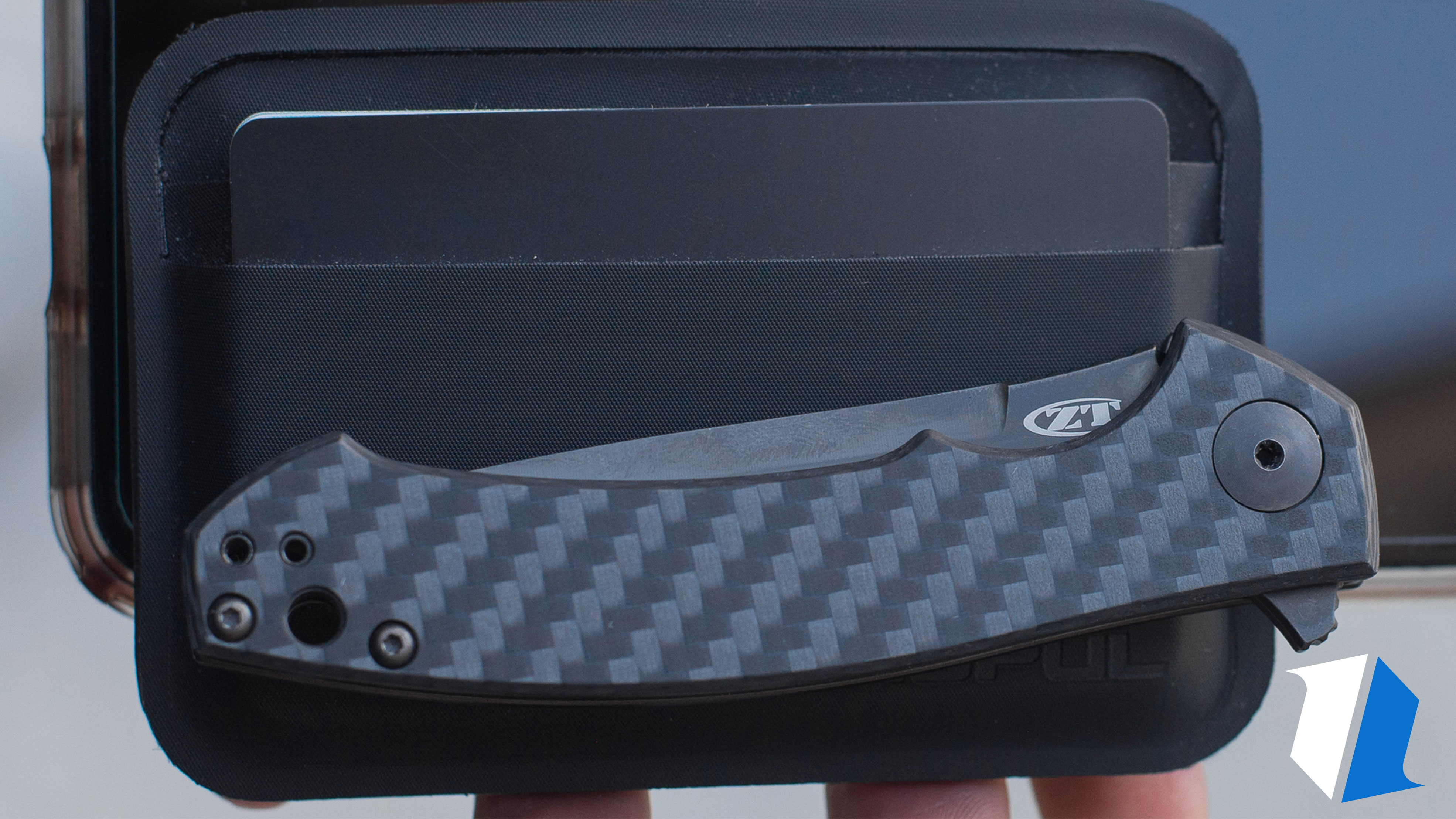 For a knife on the smaller side of the spectrum, the ZT 0450 fits well in the hand. Being a guy with medium sized hands, the knife was a good fit. I had the right amount of purchase on the butt end of the knife and never felt like I didn't have enough grip during cutting tasks. The only problem I had with the knife was the way the handle felt toward the front. On the spine side there were two hotspots where the corners of the handle meet the blade. Though this may just take some getting used to, a little rounding or profiling would make the handle feel better.
Cut Tests
Score: 8/10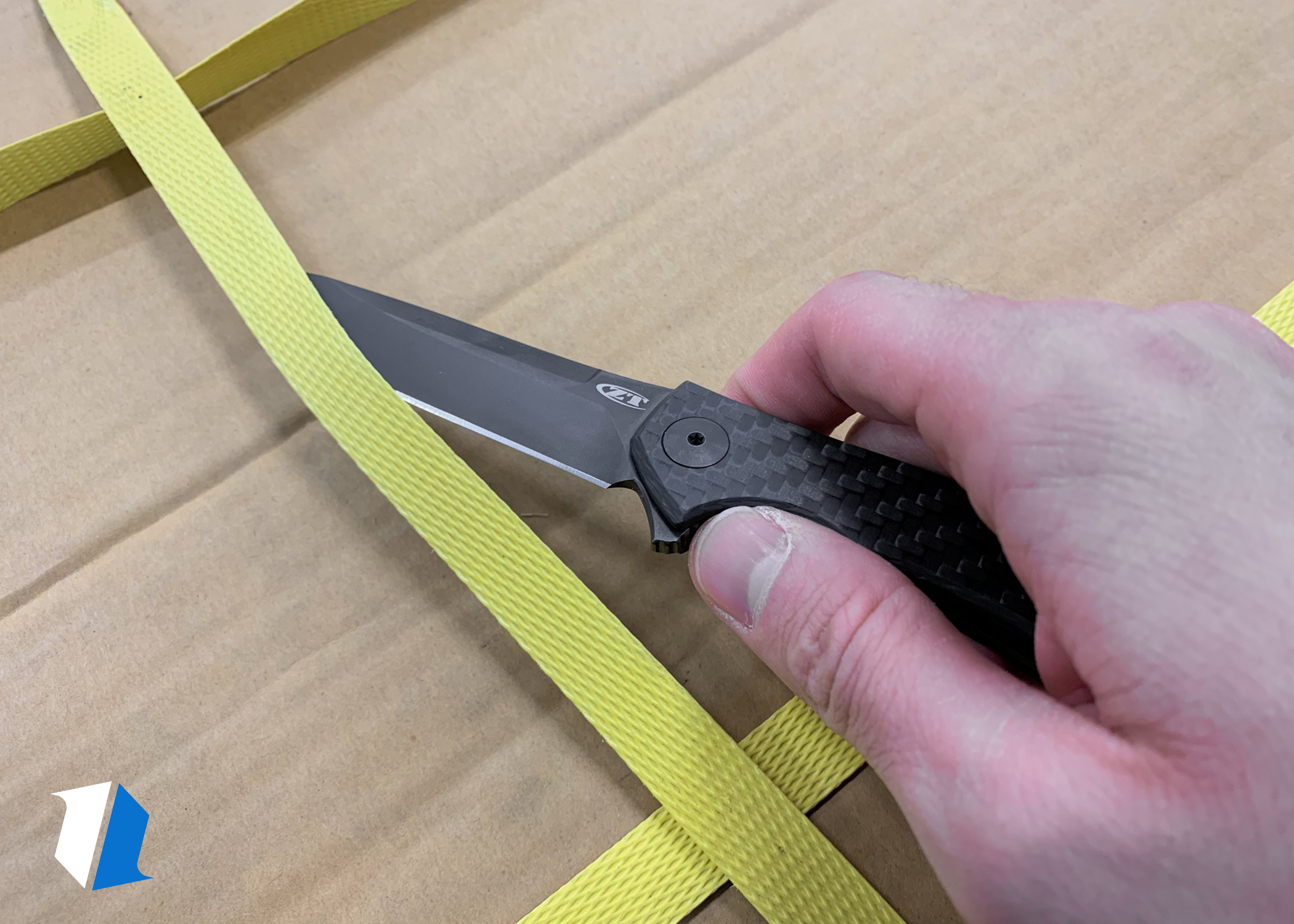 This knife is amazing for everyday tasks. I wouldn't consider the ZT 0450 to be a hard use knife, but it did an amazing job when put to the test. I primarily used the knife to open boxes and letters around the office and at home. The blade stock of this knife is thicker than that of other knives in the same class. With that, it isn't as "slicey dicey" as one would like, but it gets the job done. After a month of regular use, the edge of the knife was practically new. I freshened it up with a strop and some stropping compound, and it was like I had just pulled it out of the box.
Pocket Jewlery
Score: 10/10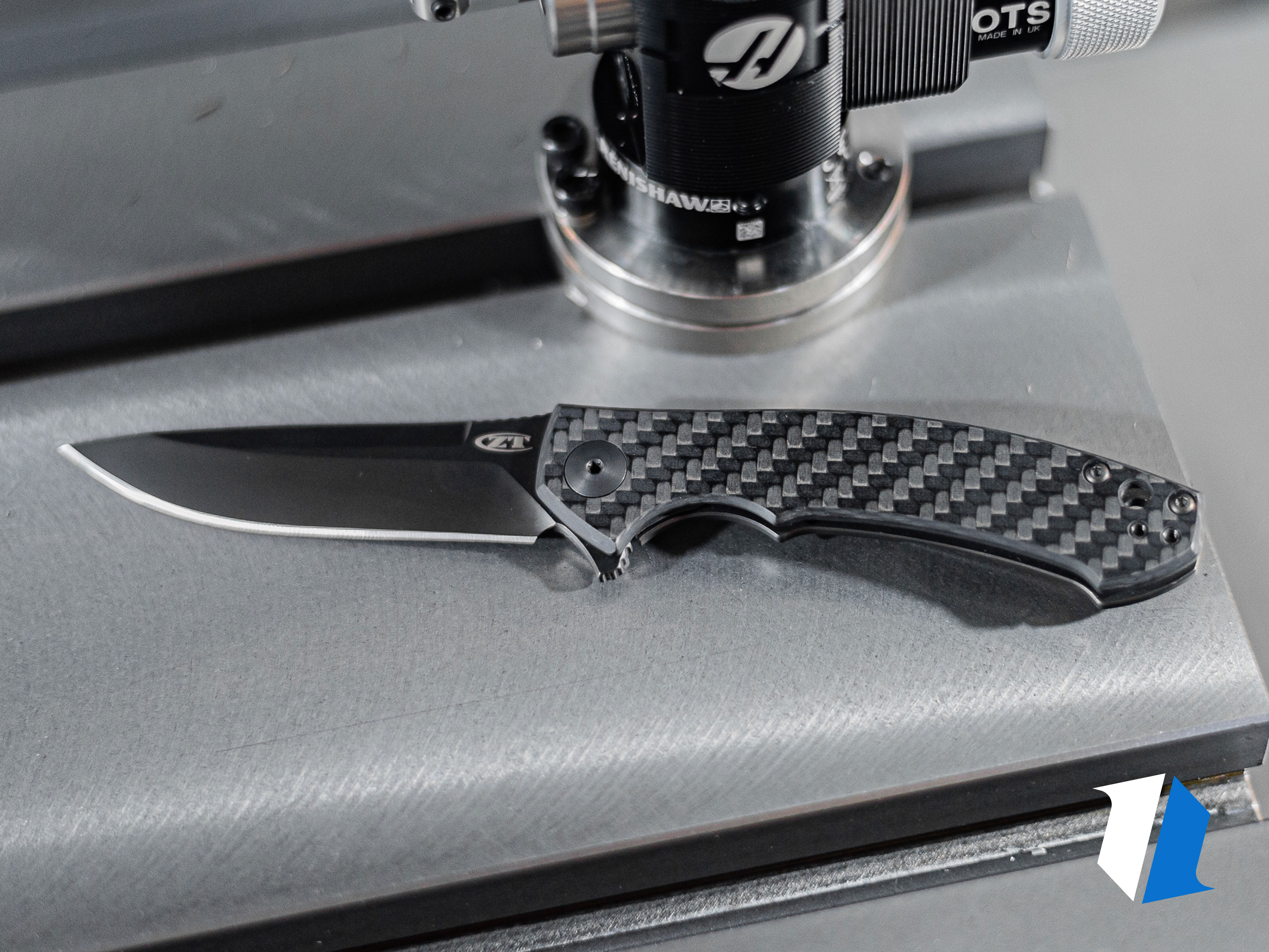 ZT definitely hit the nail on the head with the overall appearance of this knife. Despite some pretty heavy branding on the pocket clip and blade, this knife looks great in hand and in the pocket. Its mix of high-end materials and Sinkevich design give this knife a futuristic, stealth fighter-esque look. On several different occasions, people asked what it was and what it was made of. They would comment on how cool the carbon fiber looked and I got several compliments on the overall "cool" factor of this knife.
---
TOTAL KNIFE LIFE SCORE:
85/100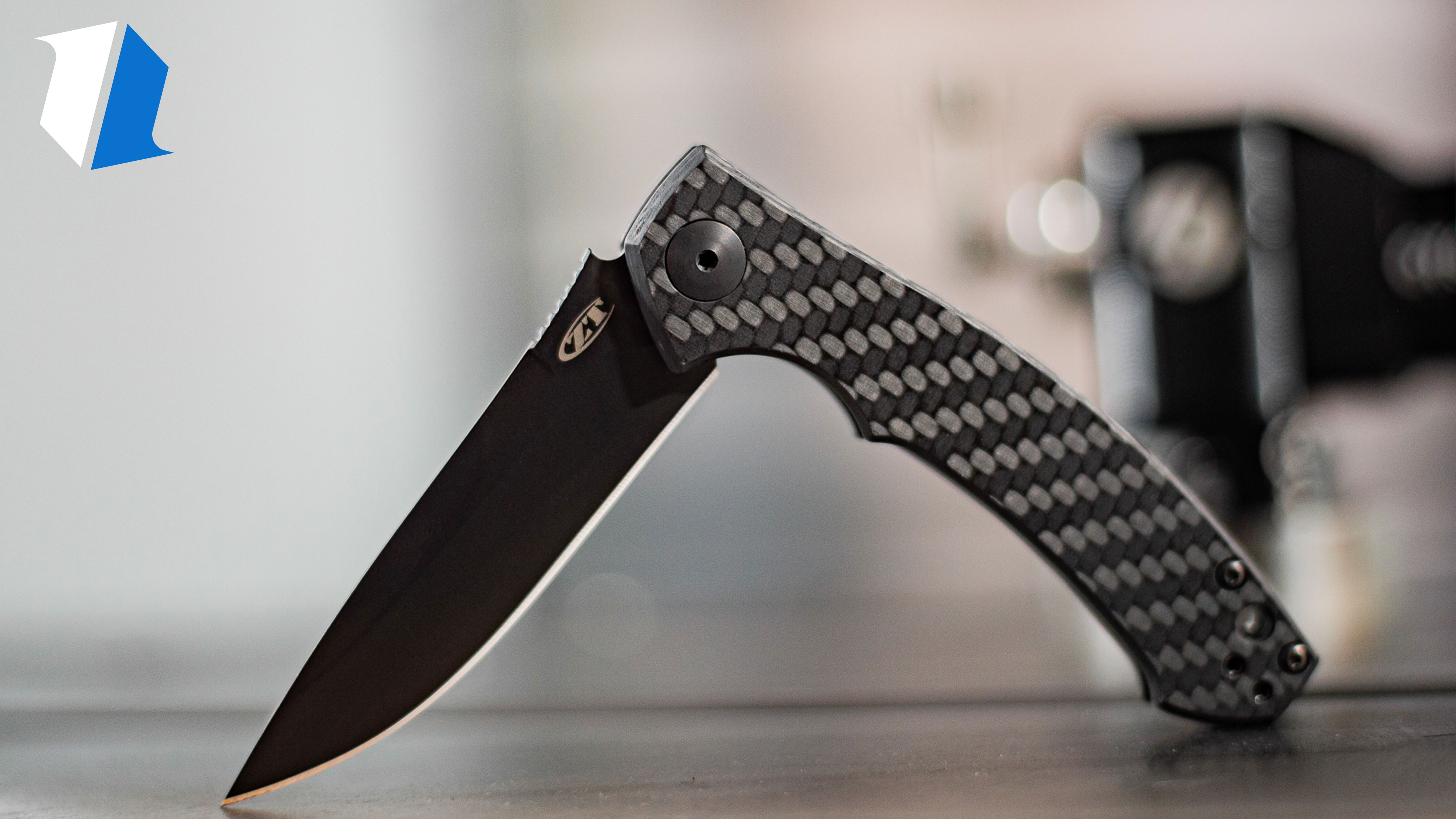 It was a great opportunity to carry the ZT 0450 for a month. The knife feels decent in hand and has one of the smoothest actions I've ever experienced. When I first picked up the knife I was impressed. It had most of the things I look for in a knife and really seemed like it could be my next favorite. As I carried it, there were things I noticed that I would change but could live with. Overall, the knife is amazing. It is built to last. You can use and abuse it and it will keep going. Though it isn't the perfect knife, it's pretty damn good. The ZT 0450 could really use a deep carry pocket clip, but maybe I'm just being picky. If you're looking for an amazing everyday carry knife, this should be toward the top of your list. For more info see how the ZT 0450 fared in our Best American Made Knives article.
Feel free to check out the ZT 0450. If you own one or decide to buy one, leave a review of your experience with the knife!

---
OTHER KNIFE GUIDES