Best edc Knives
Written by Blade HQ Staff Writers Andrew Hamilton and Logan Rainey on 11/18/2019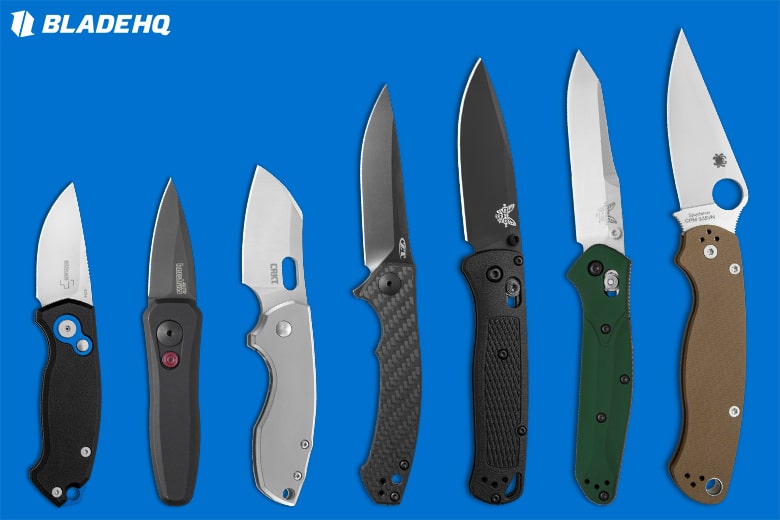 Are you interested in picking up a new EDC (everyday carry) knife? If you're sick and tired of opening boxes with your keys, desperately need an upgrade, or just have some cash burning a hole in your pocket, we've got all the best EDC knives from brands like Spyderco, Benchmade, Kershaw, and more!
In addition to an overview of the specs and details of each knife, we will feature a review of each knife left by one of our beloved customers.
---
1. Benchmade Bugout

The Bugout is a staff favorite here at Blade HQ. It doesn't matter what type of business you get into with your knife. No knife has ever combined such a lightweight package with excellent ergos and premium blade steel. Equally at home in the great outdoors or the office, the Bugout supports a non-threatening, tool-like styling perfect for any EDC loadout. The Bugout takes the cake for the best EDC knife. Check out our comprehensive Bugout Review to see what makes it so great.
7.46" Overall Length
CPM-S30V Drop Point Blade
Polymer Handle
1.85 oz. Weight
Made in USA

Jake C. says...
"I work at a retail store where opening boxes, cutting zip-ties, and other general knife tasks are a common occurrence. After roughly a month of carrying this knife as an EDC, I can say it's the best small knife I've had. The lockup is solid, as should be expected with the Axis-lock. The S30V blade comes out of the box razor sharp. The deep carry clip is a nice touch..."
---
2. CRKT Pilar

The Jesper Voxnaes designed CRKT Pilar takes inspiration from Ernest Hemingway's sailboat, Pilar. This knife is small in form, but big in utility. A large and ergonomic finger choil provides the perfect grip. Thanks, Jesper! Check out our CRKT Pilar Review for a closer look at this knife.
5.90" Overall Length
8Cr13MoV Sheepsfoot Blade
Stainless Steel Handle
4.20 oz. Weight
Made in China

Craig B. says...
"This is my EDC knife. I love the Pilar! This knife feels like it was made for me. Great ergonomics fit my hand perfectly. Great blade shape and built like a tank makes this the perfect knife for my EDC. Great build quality, perfect blade centering and zero blade play. I highly recommend this knife."
---
3. Spyderco Paramilitary 2

The Paramilitary 2 is arguably the most well-known and lauded EDC knife produced by Spyderco. Slicey at the tip and with enough blade to get any EDC job done with ease, the PM2 is a classic everyday carry workhorse worthy of a spot in any collection. If you need a more in-depth dive to the PM2, check out our full Paramilitary 2 Review.
8.28" Overall Length
Clip Point CPM-S30V Blade
G-10 Handle
3.75 oz. Weight
Made in USA

Cody F. says...
"Best EDC hands down. The reason I love the Paramilitary 2 is because it has a slim profile while clipped in my pocket, holds an edge well, and blade length is just right for my needs. Before I placed my order, I thought it might be too big, but when I got it I was happy to feel that it was a perfect fit for both my hand and pocket. This knife has been my EDC for the past three months and I don't see any other knife replacing it anytime soon. If you're the fence about getting this one, just buy it already!"
---
4. Benchmade 940

If you're looking to take a deep dive into the Osborne 940, look no further than the 940 comprehensive review. With a sterling reputation for bombproof durability and Goldilocks, 'just right' sizing, the Osborne 940 is one of the best in any EDC load-out.
7.87" Overall Length
CPM-S30V Reverse Tanto Blade
6061-T6 Aluminum Handle
2.90 oz. Weight
Made in USA

John H. says...
"Classic for a reason. This knife is the perfect combination of materials, aesthetics, and practicality. Sturdy enough for hard use, slim and light enough for an EDC, and pretty enough for a gentleman's folder. This knife covers all of the bases."
---
5. Zero Tolerance 0450

The ZT 0450 shines as an absolutely undeniable value proposition. A made in USA, titanium frame lock knife with premium CPM-S35VN blade steel under $200? Hard to believe it's real, to be honest. And let's not fail to mention it's a design from the always exciting and inspired Dmitry Sinkevich. Check out our comprehensive ZT 0450 Review to see what makes it so great.
7.375" Overall Length
CPM-S35VN Drop Point Blade
Carbon Fiber Handle
2.45 oz. Weight
Made in USA

Eric H. says...
"Perfection? As far as I know, this is the perfect EDC knife. I haven't had the chance to carry and use all of them, but I can't imagine one doing what I need to do better. Action is smooth, lockup great, terrific ergos, looks great, holds a good edge, and I'm confident the warranty would be great if I ever need to use it. Overall, just a great knife."
---
6. Kershaw Launch 4

If grabbing a great knife on a tight budget is your priority, the Kershaw Injection is one of the best EDC knives out there. This knife is slim and grippy with its G-10 handle scales. The blade steel sharpens easily, and resists rust well. For more on this knife, check out our Launch 4 review.
5.10" Overall Length
CPM-154 Spear Point Blade
Aluminum Handle
1.98 oz. Weight
Made in USA

Ariel F. says...
"Love this knife. Super clean lines and fun to carry. The small blade packs a punch. It is smaller than I anticipated.. but a good addition to my collection. I am happy with it."
---
7. Boker Kompakt

New for 2019, the Blade HQ exclusive Jesper Voxnaes designed Boker Kompakt is a push-button auto with great looks and awesome feel. Its ergonomic handle gives the user excellent control while cutting or slicing. This Cali legal auto is a great addition to any everyday carry setup.
5.25" Overall Length
AUS-8 Drop Point Blade
Aluminum Handle
2.11 oz. Weight
Made in China

William C. says...
"Wonderful pocket auto. I found the pocket clip to stiff to be useful. Otherwise it has has a properly sized handle which encourages using it often."
---
Conclusion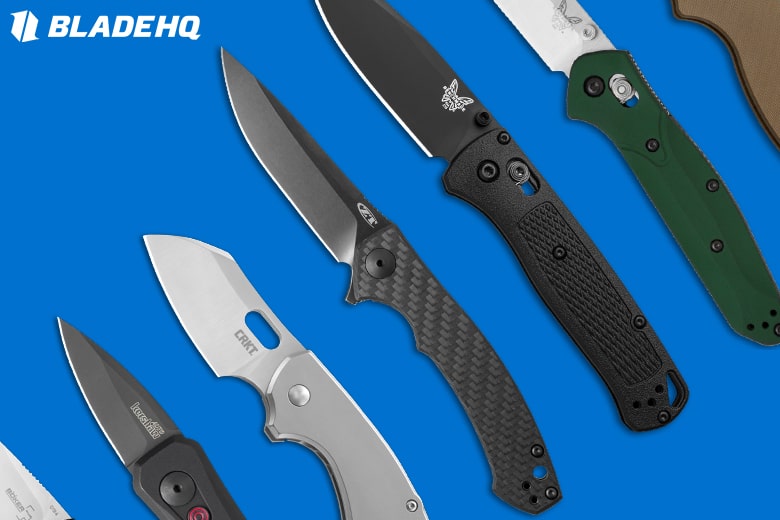 EDC Knife Meaning
Simply defined, an EDC is the selection of items you keep on your person throughout everyday life. It's fun to select items carefully that represent your personal taste and aesthetic. Explore the question, what does EDC mean to you?
So now you've got all our recommendations, but Blade HQ has got way more knives than just the 7 featured here. Give our wares a browse, and find the perfect piece for yourself. Once you've got your EDC knife situation dialed in, leave a review of your knife! Follow us on Instagram, Facebook, and Twitter for all your knife updates.
Learn More
Still unsure of the best EDC knife for you? No sweat. Check out the Week One Wednesday videos below where Kurt and Zac discuss the best small and large knives for everyday carry! Or read our informative article on How To Choose An EDC Knife.
---
Other Best Knife Guides
Still in that information gathering phase? We've got a whole bunch more lists of all the Best Knives! Happy hunting and may you find that one special knife of your dreams!
*Customer reviews may be condensed for clarity and edited for grammatical errors. You know we have to make our high school English teacher proud. Check product listings for current pricing.