Best edc Knives
Written by Blade HQ Staff Writer Logan Rainey on 02/17/2021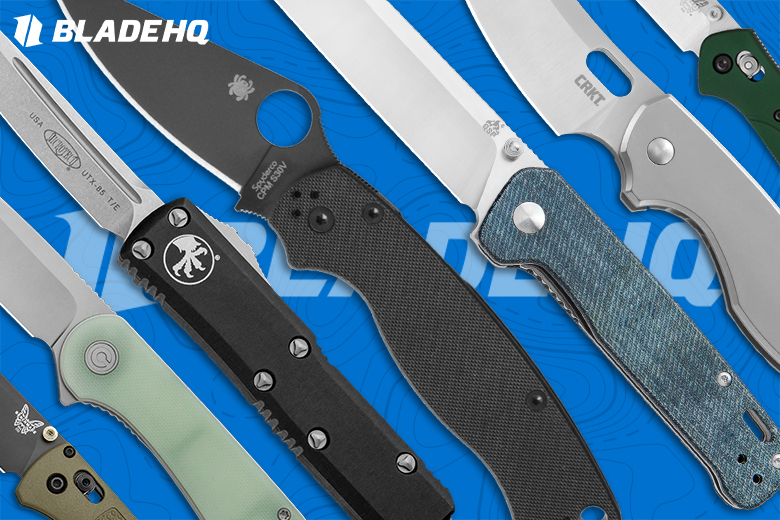 A knife is easily one of the best things you can add to the other stuff you carry everyday. Whether you find yourself using your keys to open boxes or letters, or have a job where you need something to back yourself up should a situation arise, there's bound to be an EDC knife for you. In this "Best Of" we take a look at some of the Best EDC Knives of 2021. Let's get to it!
---
1. Benchmade Bugout

The Bugout is a staff favorite here at Blade HQ. It doesn't matter what type of business you get into with your knife. No knife has ever combined such a lightweight package with excellent ergos and premium blade steel. Equally at home in the great outdoors or the office, the Bugout supports a non-threatening, tool-like styling perfect for any EDC loadout. The Bugout takes the cake for the best EDC knife. Bugout is now available in a full-size or a mini version. Check out our comprehensive Bugout Review to see what makes it so great.
---
2. CRKT Pilar

The Jesper Voxnaes designed CRKT Pilar takes inspiration from Ernest Hemingway's sailboat, Pilar. This knife is small in form, but big in utility. A large and ergonomic finger choil provides the perfect grip. Thanks, Jesper! Check out our CRKT Pilar Review for a closer look at this knife.
---
3. Spyderco Paramilitary 2

The Paramilitary 2 is arguably the most well-known and lauded EDC knife produced by Spyderco. Slicey at the tip and with enough blade to get any EDC job done with ease, the PM2 is a classic everyday carry workhorse worthy of a spot in any collection. If you need a more in-depth dive to the PM2, check out our full Paramilitary 2 Review.
---
4. Benchmade 940

If you're looking to take a deep dive into the Osborne 940, look no further than the 940 comprehensive review. With a sterling reputation for bombproof durability and Goldilocks, 'just right' sizing, the Osborne 940 is one of the best in any EDC load-out. If you already love the 940, don't forget to also check out the Benchmade 9400 if you're looking for a snappy automatic with the same great look and feel, or the Mini-Osborne 945 for that compact carry feel.
---
5. QSP Penguin D2

The QSP Penguin has taken the EDC world by storm thanks to its handsome look, incredible design and affordable price. This knife features a D2 sheepsfoot style blade made for regular use and easy maintenance. Its micarta handle provides ample grip and looks amazing as it wears over time. A deep carry pocket clip rounds out this feature-rich knife. Check it out by clicking below.
---
6. Civivi Elementum

The CIVIVI Elementum has quickly gained popularity in the knife community thanks to its amazing design, action, and affordability. Available with G-10, copper, brass or wood handle scales, there is a CIVIVI Elementum suited for any style or preference. This small everyday carry folding knife features a super-smooth ball bearing pivot and a razor sharp, hollow ground D2 blade.
---
7. Microtech UTX-85

Who doesn't love using an OTF knife?! The last knife to make our list of Best EDC Knives is the Microtech UTX-85 because it's the perfect size for everyday carry and is made with some of the best quality and attention to detail in the industry. The Microtech UTX-85 features a snappy double action and comfortable ergonomics. This knife is relatively slim and fits nicely into the front pocket of your jeans, or in a pocket in your bag or purse. The UTX-85 comes standard with an aircraft-grade aluminum handle and a Premium Bohler M390 steel blade. Check out our selection of Microtech UTX-85 knives by clicking below. (NOTE: This knife is extremely popular and sells out as quickly as we get it. Please be patient. Add the knife you like to your "wishlist" to be notified about our regular restocks. Thanks!)
---
Final Thoughts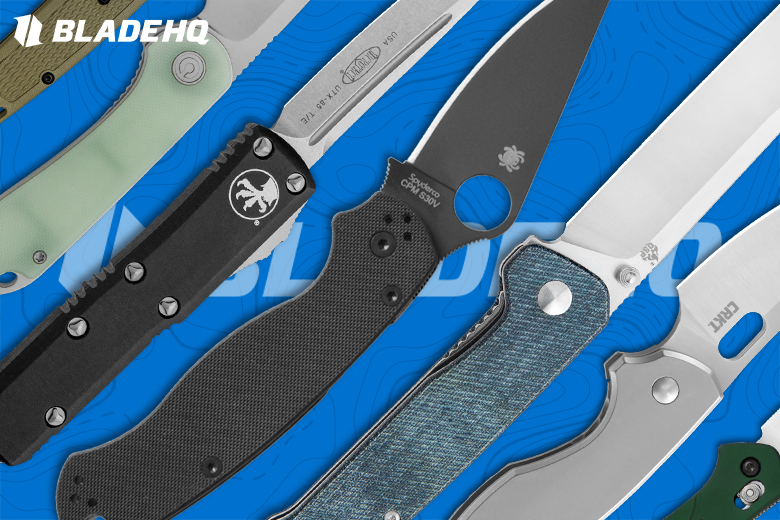 An everyday carry knife is truly an extension of your personality and taste. Each knife on this list serves a different purpose but all are great companions for whatever the day has in store. For some of us we have one knife we take with us everywhere, and for others of us we have a few favorites we like to rotate through. Whichever way you slice it, an everyday carry knife will change your life. Check out our full selection of everyday carry knives by clicking below.
So now you've got all our recommendations, but Blade HQ has got way more knives than just the 7 featured here. Check out our Favorite Knives of 2020 and Best New Knives of 2021 articles for more information. Once you've got your EDC knife situation dialed in, leave a review of your knife! Follow us on Instagram, Facebook, and Twitter for all your knife updates.
---
Learn More
Still unsure of the best EDC knife for you? No sweat. Check out the Week One Wednesday videos below where Kurt and Zac discuss the best small and large knives for everyday carry! If you're looking for even more EDC gear, take a look at our recent articles on the Best EDC Pens and How To Choose An EDC Knife.
---
Other Best Knife Guides
Still in that information gathering phase? We've got a whole bunch more lists of all the Best Knives! Happy hunting and may you find that one special knife of your dreams!
*Customer reviews may be condensed for clarity and edited for grammatical errors. You know we have to make our high school English teacher proud. Check product listings for current pricing.