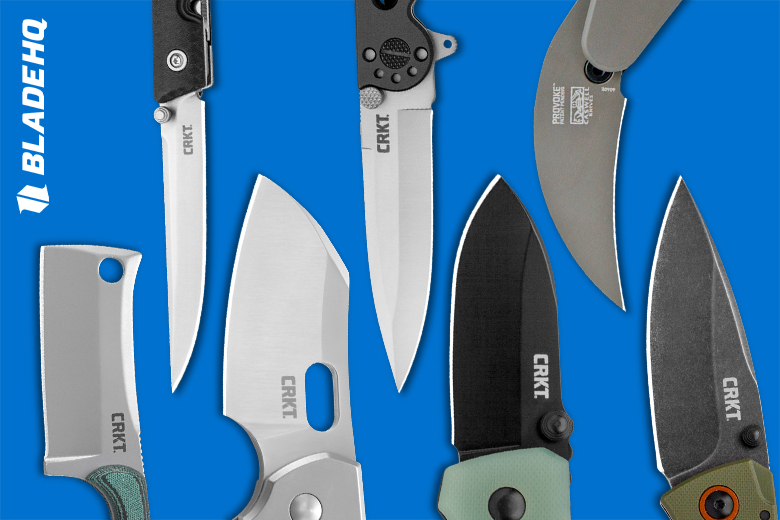 Since 1997, CRKT (Columbia River Knife and Tool… NOT cricket) has been making some of the most innovative and affordable knives on the market. CRKT is known for collaborating with many of knife industry's iconic designers like Ken Onion, Lucas Burnley and Jesper Voxnaes. If you're after great looking, well-made and inexpensive knives, CRKT has got what you need.
Read on to see our list of the best CRKT knives. Plus, a review from one of our beloved customers at the end of each breakdown.
---
1. Pilar

The Jesper Voxnaes designed Pilar is a compact everyday folding pocket knife with incredible ergonomics and amazing looks. The Pilar features a stylish sheepsfoot blade and a rock-solid frame lock. What makes the Pilar so amazing is how easy it is to make it your own. From hand-engraved and colored micarta scales, to copper washed blades and hardware, there are tons of ways to customize the CRKT Pilar. Check out our in-depth review to see why this affordable knife is the perfect EDC and a must-have for any collection.
Overall Length: 5.90"
Blade Length: 2.40"
Blade Material: 8Cr13MoV
Handle Material: Stainless Steel
Locking Mechanism: Frame Lock

Ross S. says…
"Love this knife! Great ergos that big finger choil makes this knife a four finger knife. Very slicey. I can't wait to put a good edge on this knife. A bit heavy in pocket however i like it because I know it's definitely in pocket. Plan on getting the carbon fiber version with D2 steel."
---
2. Squid

When it comes to everyday carry knives, there are few that provide as much bang for their buck as the CRKT Squid. This Lucas Burnley designed knife features a sweet spear point blade and frame lock construction. It's a great knife if you're looking for something small and simple to carry regularly. The Squid features a low-profile deep carry pocket clip, spine jimping for added grip and a convenient thumb stud for easy opening.
Overall Length: 5.75"
Blade Length: 2.25"
Blade Material: 8Cr13MoV
Handle Material: Stainless Steel
Locking Mechanism: Frame Lock

Dennis E. says…
"This knife is awesome. I don't have any hot spots while holding it as all the corners are nice and smoothed. Probably one of the best knives to come out of CRKT."
---
3. Folts Minimalist

If you've ever considered a fixed blade knife for everyday carry you may know how hard it is to find one that's both useful and easy to carry. The CRKT Folts Minimalist fixed blade knife is a great EDC fixed blade knife. Its ergonomic design and slim profile make it great in hand and extremely easy to carry. The Minimalist's hand contoured Micarta scales feel amazing and provide ample grip even in moist conditions. Whether you're looking for a backup knife or an everyday carry fixed blade, the CRKT Folts Minimalist is an awesome and inexpensive option.
Overall Length: 5.125"
Blade Length: 2.125"
Blade Material: 5Cr15MoV
Handle Material: Micarta
Locking Mechanism: Zytel Sheath

Jason E. says…
"I carry this knife around my neck daily. Does not print even under a T shirt, quick to deploy and even after 16 hours it's lite enough not to notice. Sharpens to razor quickly and with normal use, holds the edge well, also even against skin I've never had a problem with rust! I own more expensive neck knives but none better at fulfilling the purpose!"
---
4. Tuna

Boasting great geometry and a blade designed for cutting tasks, the CRKT Tuna is a new addition to the CRKT lineup that has become a fast favorite. This mid-sized folding knife features grippy g-10 handle scales, a slicey spear point blade and orange accents for a pop of color. Additionally, the Tuna comes standard with a deep carry pocket clip and generous lanyard loop. This knife has an incredibly strong lock to its frame lock design, and is built to remain affordable but provide excellent performance. Check out the Tuna by clicking below.
Overall Length: 7.625"
Blade Length: 3.25"
Blade Material: 8Cr13MoV
Handle Material: G-10
Locking Mechanism: Frame Lock

Esteban M. says…
"Wow… the action on this knife is FANTASTIC! I honestly wasn't expecting much from it, but the action alone blew me away. If I were rating it on that alone, it's probably in the top 3 of some 100 knives that I own. The weight of the blade just propels it during deployment with less effort than you'd expect, and smoothly."
---
5. M-16

The CRKT M-16 has been a go-to tactical knife for military and LEO personnel for years. Its simple design has proven itself during many deployments and days protecting the public. M-16 is extremely easy to take apart, clean and maintain. This knife is available with many different blade shapes, edge styles and handle materials. Whether you need a great everyday carry knife or you're looking for a knife that is built to take a beating, the CRKT M-16 has you covered.
Overall Length: 7.125"
Blade Length: 3.125"
Blade Material: 8Cr15MoV
Handle Material: Zytel
Locking Mechanism: Liner Lock

Aaron S. says…
"Had this knife for a year now and have gravitated towards it over all my other knives. Have bought two other M16s because of it. Great knife all around."
---
6. Provoke

Innovation is something that makes CRKT knives stand out in a saturated world of knives. The CRKT Provoke is the brainchild of designer Joe Caswell and was intended to be a fast-opening one-handed operation karambit knife. This advanced tactical knife is built from some of the strongest, most forgiving materials available. Provoke's D2 blade is easy to sharpen and maintain, while the knife's aluminum construction keeps it light and easy to carry on a duty belt or tactical vest. The CRKT Provoke Kinematic folding karambit is built to perform to the needs of military and law enforcement personnel and makes a unique talking piece if you just want to carry a different kind of knife.
Overall Length: 7.37"
Blade Length: 2.41"
Blade Material: D2
Handle Material: Aluminum
Locking Mechanism: Lever Lock

Lucas K. says…
"WHAT A SWEET KNIFE!! Quickly becoming my favorite Karambit style knife! Function is smooth and easy to use. Locks firmly and comes nice and sharp!!"
---
7. CEO

The final knife on our list is the sleek and sophisticated CRKT CEO folding knife. This unique knife is designed with subtlety in mind. Its slim profile makes it easy to carry in a shirt pocket or suit coat and doesn't give the same impression that other pocketknives could give. The CEO features a glass reinforced nylon handle with stainless-steel liners for rigidity and durability. The streamlined drop point blade makes quick work of light cutting tasks and makes a great companion for anyone looking for an affordable everyday carry knife.
Overall Length: 7.54"
Blade Length: 3.10"
Blade Material: 8Cr13MoV
Handle Material: GRN
Locking Mechanism: Liner Lock

Elden C. says…
"With just a little practice it is easily deployable. Light, slim, just a great EDC. Love the blade profile and how easy it blends in. It will see a lot of use!"
---
Conclusion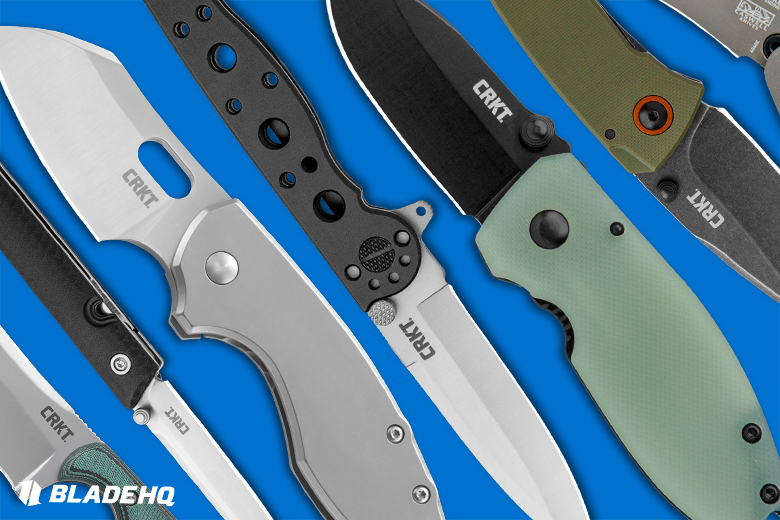 CRKT Knives are both affordable and well-designed. They come in many sizes, shapes and styles giving knife enthusiasts the ability to collect and customize to their hearts' content. Whether you're a desk jockey or a service member, there's bound to be a CRKT knife for you. For more amazing CRKT knives, check out the selection below.
You can't afford to wait any longer. We've got all the best CRKT knives ready to ship at the best prices, right here at Blade HQ. Follow us on Instagram, Facebook, and Twitter for future knife updates!
Learn More
Video more your style? Check out the latest new knives from CRKT in this episode of Knife Banter below.
---
Other Best Knife Guides
Still in that information gathering phase? We've got a whole bunch more lists of all the Best Knives! Happy hunting and may you find that one special knife of your dreams!
*Customer reviews may be condensed for clarity and edited for grammatical errors. You know we have to make our high school English teacher proud. Check product listings for current pricing.