It's been a few years since we published our picks for best fixed blade knives, and we think we're due for an update. As the years slice on by, however, it's harder and harder to choose what knives to include in our compilations. We have genius knifemakers out there upping their game every time we blink, but the old classics never seem to go out of style or quality, either.
With that said, we've added a few new ones to the list this year, but please feel free to reach out to us if you have anything to add . Nothing beats the seasoned experience of our favorite customers.
But let's start with the basics.
Generally, fixed blades are more durable than folding or pocket knives, since there's no lock to fail. If you're putting in the hours and subjecting your blades to hard use, you'd do well to invest in a decent fixed blade. For camping, hunting, and bushcrafting, nothing can beat a durable blade strapped to your side. We're going to look at a few of our favorites, starting with this consistently popular Spyderco.
---
---
1. Spyderco Bow River Fixed Blade

The Spyderco Bow River still makes the list and will probably always make the list. With a versatile fixed blade that was designed to manage a wide range of outdoor cutting chores, the Bow River is a solid pick. Spyderco collaborated with popular custom knife-maker Phil Wilson, who put all his hunting and fishing expertise into this design. This compact fixed blade is built with a full-flat ground blade and an ergonomic G-10 handle. The Bow River comes complete with a high-quality leather sheath for secure belt carry.
8.14″ 8Cr13MoV Trailing Point Blade
G-10 Handle Scales
3.90 oz. Weight
Made in China

Marco R. says…
"This knife is an incredible value. Handles are beautiful. The blade is ground and finished quite nicely. Very well balanced. This is in the top 10 "bang for your buck" list. Not sure how many of these Spyderco will decide to produce, but I suspect these will go like wildfire regardless. Oh yeah, and this thing comes with an incredibly nice black leather sheath."
Shop Spyderco Bow River Fixed Blade Knives
---
2. KA-BAR USMC Bowie Fixed Blade

Introduced in the 1940s, the Ka-Bar USMC marked a move away from dagger-like trench knives and a move towards more utilitarian designs. The Ka-Bar USMC fixed blade bowie is one of the most widely used knives in history with regular issue to soldiers still taking place to this day. It's up to you if you add this piece to your display case or put it to work.
We're also adding an honorable mention here for the KA-BAR Becker this year. We almost swapped out the KA-BAR Becker Series for the USMC on this list because we're big fans, but couldn't quite bring ourselves to make the change. Designed by Ethan Becker, this blade has more of a modern look … but the USMC is a classic we still can't get enough of in our lives. Take a look and pick your favorite KA-BAR. Hopefully, you'll have an easier time choosing than we did.
7.00″ 1095 Cro-Van Clip Point Blade
Leather Handle
11.20 oz. Weight
Made in USA
 

Will B. says…
"If you want a combat/survival knife, this is the classic. You cannot go wrong with the Ka-Bar 1217. It's a sturdy and reliable knife that will last even the most abusive tasks. 1095 Cro-Van steel is a great choice too. Keeps an edge well and is easy to touch up. And lastly, support the Marines with the Ka-Bar 1217. Classic knife. Classic choice."
Shop Ka-Bar USMC Fixed Blade Knives
---
3. CRKT Minimalist
Still popular, and for good reason. This blades fits perfectly into our hands and can take on a variety of jobs. Alan Folts' Minimalist series of fixed blade neck knives are available in several blade styles. There's the classic CRKT Minimalist Cleaver that has the same secure three-finger grip as other models and adds a high utility cleaver cutting profile. Since the original article, we have new killer blade shapes that are rock solid. The Katana has a compound ground with a trailing point that is more versatile than ever. In fact, the Katana's versatility make us choose this updated version as our number one pick. Then there's the Persian with a slicey wicked blade, and there's also the spear point when you need a blade that can punch through jobs with a stronger tip. There's a CRKT Minimalist for every personality. All include a neck carry cord and glass-reinforced nylon sheath.
5.125″ 5Cr15MoV Cleaver Blade
Micarta Handle Scales
1.68 oz. Weight
Made in China

Kyle F. says…
"This has mainly been in my pocket around the house. Been used for boxes, scraping off stickers and that sort of thing and the edge has held up well. I LOVE the grinds on the blade itself and the shape is super cool. Like all the minimalists I own the handle fits perfectly. Great knife for a great price by a great company."
---
4. Benchmade 202 Leuku
The Benchmade Leuku is the first fixed blade to make the list that wasn't here before, and it's an absolute beast with admirable toughness and wear resistance, but it's not so beefy you feel like you're lugging around a huge bowie. We love the super grippy handle that keeps your hand from tiring out and the strong full tang. The best feature of all, the one which makes this knife demand a space on the list, is the superior knife steel. It's off the charts for toughness and has solid edge retention. And, of course, it's a Benchmade with all their expertise coming through in the design and their excellent choice of materials.
5.19" CPM 3V drop point
Santoprene Handle
5.31 Ounces (Knife Only)
Made in the USA

Chad L. says…
"Bought it just because it is a Benchmade and made in 3V. It came almost razor sharp…. I have other knives that cost me much more that are no more capable than this. The handle is comfortable and give a very good grip. It isn't going to slip out of the hand when wet. For the price, there isn't a better value on the market. Sure you can spend twice as much and get a much thicker blade, but why? It is not a chopper. I would definitely buy again."
---
5. Morakniv Basic 511 | Moakniv Robust

It's a crazy world we live in when you can get a bombproof fixed blade for less than cost of a date night at Chili's (No hate. I'm still all about that Skillet Queso and those Southwestern Eggrolls). Anyway … the Moraknive 511 is a great knife. It outsells many a knife just because the value is so mind blowing. It was one of the first knives I was told about when I started here at Blade HQ. For a little more, the Moraknive Robust has rubberized handles rather than polymer, giving you extra grip. Both are amazing knives. Keep one in your car toolkit, take it camping, or give one to Junior as his first blade. You can't go wrong adding one of these on with your next order.
3.50 | 3.625″ High Carbon Clip Point Blade
Polymer | Rubber Handle Scales
2.70 | 3.56 oz. Weight
Made in Sweden

Liam G. says…
"Highest value fixed blade. You'll be hard pressed to find any brand that offers the same value for the money as Morakniv, and this is no exception. While this installment is marketed to a craftsman, it can be easily used for the outdoors. You will need to file the spine for fire-starting though, since it will not be optimal for that usage. Just watch the Dutch Bushcraft Knives review on this to see how truly ROBUST this knife is!"
---
6. Cold Steel SRK

The SRK blade may sound like it's a Bollywood superstar, but the letters really stand for Survival Rescue Knife. Still on our list, Cold Steel's versatile knife can withstand the most extreme abuse, and now you have more options than ever! Blade and handle colors vary. The blade offers a tremendously strong clip point that's fine enough for delicate work, yet possesses enough belly for efficient cutting, slashing, and skinning strokes. At 3/16 of an inch thick, the Survival Rescue Knife provides the sturdiest possible point and edge configuration, without sacrificing sharpness. The SRK's handle sports a single quillion finger guard and a deeply checkered Kray-Ex grip. Item includes a Secure-Ex sheath for comfortable everyday carry. If you love the SRK, but long for a tough tanto instead–check out the Cold Steel Tanto.
10.75″ SK-5 Blade
Polymer Handle Scales
8.20 oz. Weight
Made in Taiwan

Will G. says…
"Incredible blade. SK5 steel is forgiving but very tough, although it will need frequent touch-ups. Originally bought this blade to take out on field exercises while on active duty, but it has quickly become a constant companion in all sorts of adventures. Strong enough to take anything you throw at it, and at the price you never feel bad at putting it through the wringer. I would bet my life on this Cold Steel."
---
7. Gerber StrongArm Fixed Blade

We gotta keep the Gerber. If you're a soldier or just want to own the most rugged and overbuilt fixed blade, the Gerber StrongArm has everything going for it. Grippy as all get-out rubberized handles complement a full tang construction and the bonus striking pommel at the butt of the knife. If you previously owned the Gerber Infantry, this knife feels like the refinement of that already successful formula. Check out our awesome Gerber StrongArm Review where we put it through the wringer and give it a Knife Life Score.
4.875″ 420HC Drop Point Blade
Rubber Handle Scales
7.10 oz. Weight
Made in USA

Baldemar G. says…
"My main camping knife. This is the only knife I take with me when I go camping, and I've never felt like I need anything else. It's strong, sharp, and it carries awesome because of its well thought out sheath. Love this knife."
Shop Gerber StrongArm Fixed Blade Knives
---
8. ESEE Izula

The ESEE Izula is the perfect choice for your survival kit, hiking pack, or bugout bag. This Fire Ant Izula is high-vis and made from coated 1095 steel, a steel known for toughness, durability, and field sharpenability. When you choose ESEE, you're buying into a network of survival training headed up by Mike Perrin and Patrick Rollins. It's one thing to design and manufacture cool knives. It's another thing entirely to push every blade to its limits in life or death survival situations. Slap on some aftermarket scales, wrap it in paracord, or carry it as is. You can't go wrong with the Izula. If you love ESEE as much as we do, be sure to check out our Best ESEE Knives article.
2.875″ 1095 Drop Point Blade
1095 Handle (Micarta Handle Scales Available)
1.90 oz. Weight
Made in USA

Alexander K. says…
"You should give into the knife urges already. This thing was startlingly bright out of the package. Just what I wanted though. The knife came quickly from BHQ. Service was excellent as they even threw in a sticker since I asked for one haha. The knife came hair popping sharp and I'm sure will perform well. Knife comes with a bunch of stickers and information from ESEE as well as a belt clip with hardware. You can orient the knife vertically or horizontally. The knife felt small in my extra-large size hands, but a paracord wrap really helped a lot. It now feels really nice and I think I found myself a new EDC fixed blade. 10/10 Thanks BHQ and ESEE."
---
9. Buck 119
There's a reason the Buck 119 is still going strong fifty years later and I'm delighted to see this beefy beauty make the list this time. Not only does the knife sport a classic look and a wicked sharp blade, the steel has undergone Buck's proprietary heat/cold/heat treatment process that gives you a longer edge life and a dependable blade. The clip point is fantastic for fiddly work, but there's plenty of slicing space. I picked one up for my son last Christmas and was more than pleased with the balance and performance. Your grandpa was right! The Buck 119 ends up on top.
6″ 420 Clip Point
Polymer Handle
7.50 oz. Weight
Made in USA

Mikey Y. says…
"I got this as a X-Mas present in 2019 and wasn't expecting it to be as good as it is … I really am hard on this knife out in the woods, and it always out preforms my expectations .. and for the money it's a damn good looking knife as well as useful."
---
10. Tops Knives
When it comes to Tops Knives, we're not going to pick just one because there are too many fixed blades to choose from! Many soldiers, survivalists, and collectors express a preference for this USA made brand that's made by various experts in their field. Glancing over reviews, you'll see everyone seems to love their Tops Knife, and there just isn't one specific model that rises above the others. There is a fixed blade for every use and kind of person out there, but with Tops Knives you know you're picking a winner. Choose the model based on what you use your knife for the most.

Jimi G. says about his Tops Knife …
"This knife is incredible. Period. There is not one thing I would change on this knife."
---
Honorable Mentions
The Honorable Mentions are knives that either should be on the list and would be if we weren't trying to keep it short, or they are the up-and-comers that very well may overtake the others in popularity. The stellar designs and exceptional knifemaking skills behind each one makes any of these entries an excellent choice.
Conclusion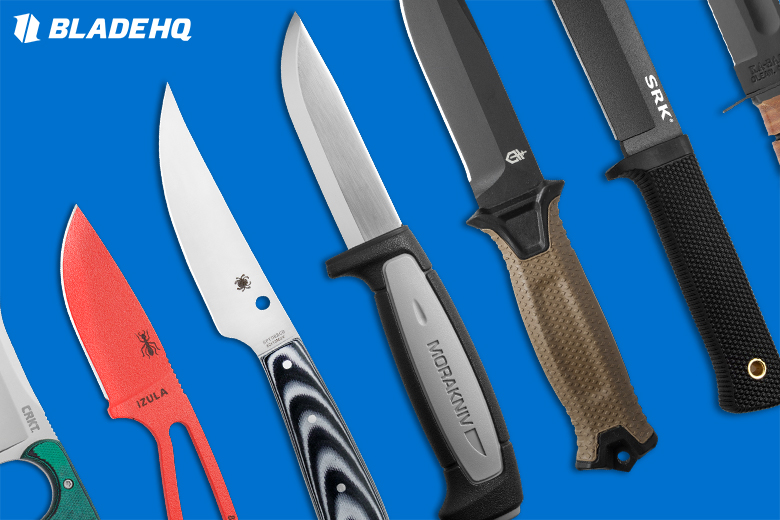 Fixed Blade Overview
We've had a blast picking this year's list and hope you've enjoyed the read. Remember, when it's time to get outdoors, you need to have a fixed blade on your hip. Good luck trying to baton with a pocket knife … It didn't work out so well for us on our camping adventure. Get the right tool for the job, and you'll spend more time having fun and less time hating your life. There's plenty to love about fixed blade knives. But we wouldn't give up our fave folders, either!
You already know Blade HQ has got all the knives. Make it happen, unbox your new EDC, then use it and enjoy. Make sure to check us out on Instagram, Facebook, and Twitter.
For more information be sure to check out our How to Choose a Fixed Blade Knife article, or see the very best American Made fixed blades in the Knife Banter video below.
Learn More
TLDR? If the 10 fixed blades above don't impress you much, check out our Knife Banter below. We highlight more of the most popular models.
---
Other Best Knife Guides
Still in that information gathering phase? We've got a bunch more lists of all the Best Knives! Happy hunting and may you find that one special knife of your dreams.
*Customer reviews may be condensed for clarity and edited for grammatical errors. You know we have to make our high school English teacher proud. Check product listings for current pricing.