Let's talk about Out the Front (OTF) knives. If you're new here, an OTF knife is a type of switchblade. More specifically, OTFs are those addictively fun knives that deploy straight out from the knife's handle with the press of your thumb and that deeply satisfying snap. OTF knives have a long and interesting history, while the earliest models date back to the beginning of the American Civil War, it wasn't until the 1950s that they became popular in the United States, gradually evolving into their modern forms. They became popular for the same reasons we love them today: They're easy to carry, quick to deploy, and that signature menacing aesthetic is almost irresistible.
From John Wick to The Joker, some of Hollywood's most iconic figures rely on OTFs to keep them safe or to do some damage, and for good reason. OTFs strike a perfect balance between practical reliability, tactical intimidation, and being super fun to use. This balance makes the OTF a versatile knife that lends itself well to a wide range of uses including everyday carry, self-defense, and just being awesome.
The only real downside to getting an OTF knife is figuring out which one to get. With such a rich history and so many applications, there are literally thousands of options to choose from and it's easy to get overwhelmed. This is where we come in. To help you find the next addition to your collection, we've come up with a list of our top 10 OTF knives.
Microtech has earned a reputation for being uncompromising in their pursuit of excellence, and the Ultratech reflects that. Always made from premium steel and beautifully crafted aluminum, the Ultratech is the quintessential OTF knife. The Ultratech features one of the smoothest double-action designs available, letting you open and close the knife by pushing on the thumb slide. Speaking of the thumb slide, the Ultratech features a milled thumb slide that is tight enough to prevent unintended blade deployment, without losing the silky-smooth glide that sets Ultratech apart. The quality of the Ultratech is evident not only in the materials it's made of, but in how little play there is in the blade. With all this in mind, it's no wonder that the Microtech Ultratech is Keanu Reeves' blade of choice in John Wick.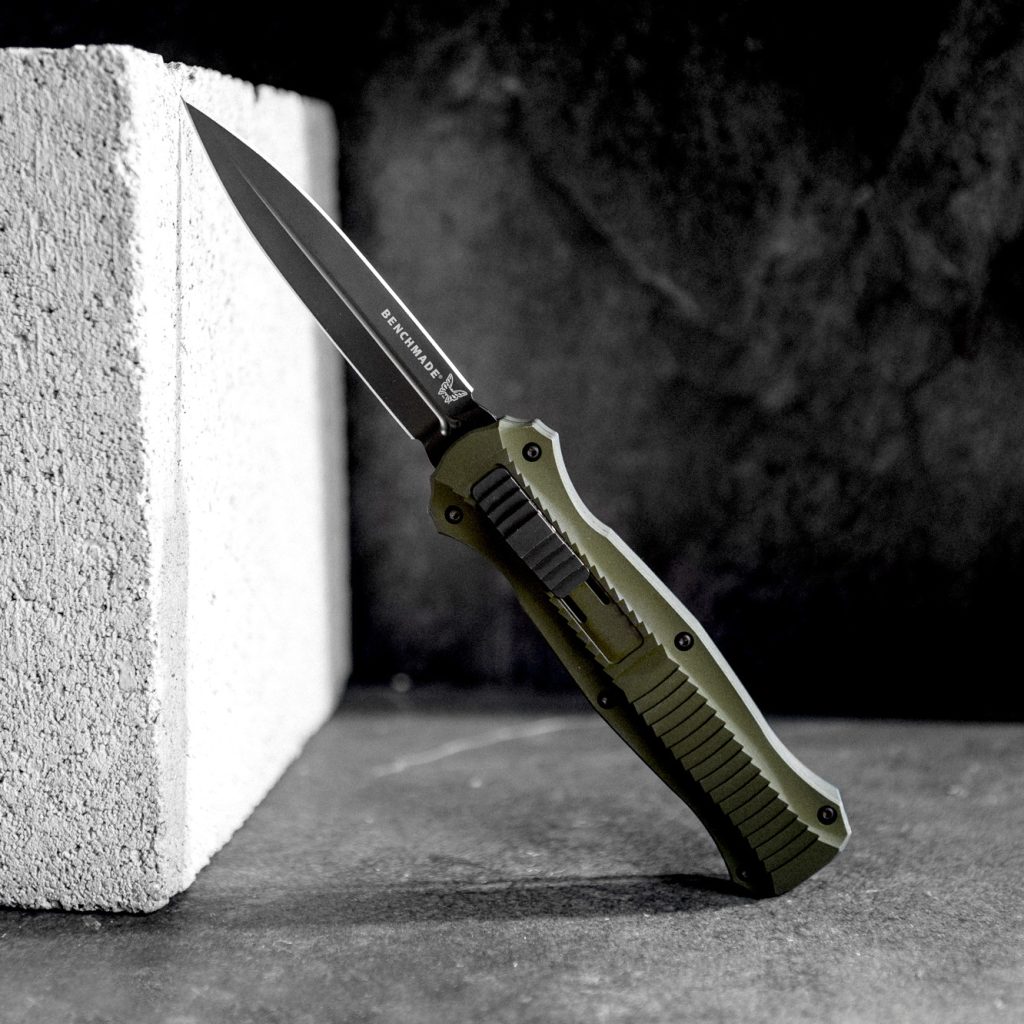 When it comes to sturdy construction and meticulous craftsmanship, you'll be hard pressed to find a more dedicated brand than Benchmade. Even though the Benchmade Infidel is something of a newcomer to the OTF community, making its first appearance in 2006, it quickly stood out as one of the best. The first thing that stands out about the Infidel is the distinctive handle design. The handle's smooth curves and ridged spine feels organic while staying lightweight and comfortable in your hand. Another unique feature of the Infidel is the thumb slide, which has been placed on the face of the handle rather than the side, right where your thumb naturally wants to rest. Another favorite feature of ours is the noise the Infidel makes when it deploys — its loud in the best kind of way, all but guaranteed to keep you entertained for longer than you'd like to admit. As beautiful and entertaining as the Infidel is, the thing that matters most is the blade. Made from Benchmade's specially treated CPM D2 steel, the Infidel is one of the hardest and toughest blades out there that will really hold its edge. For a deeper dive into the Infidel, check out our Benchmade Infidel Review!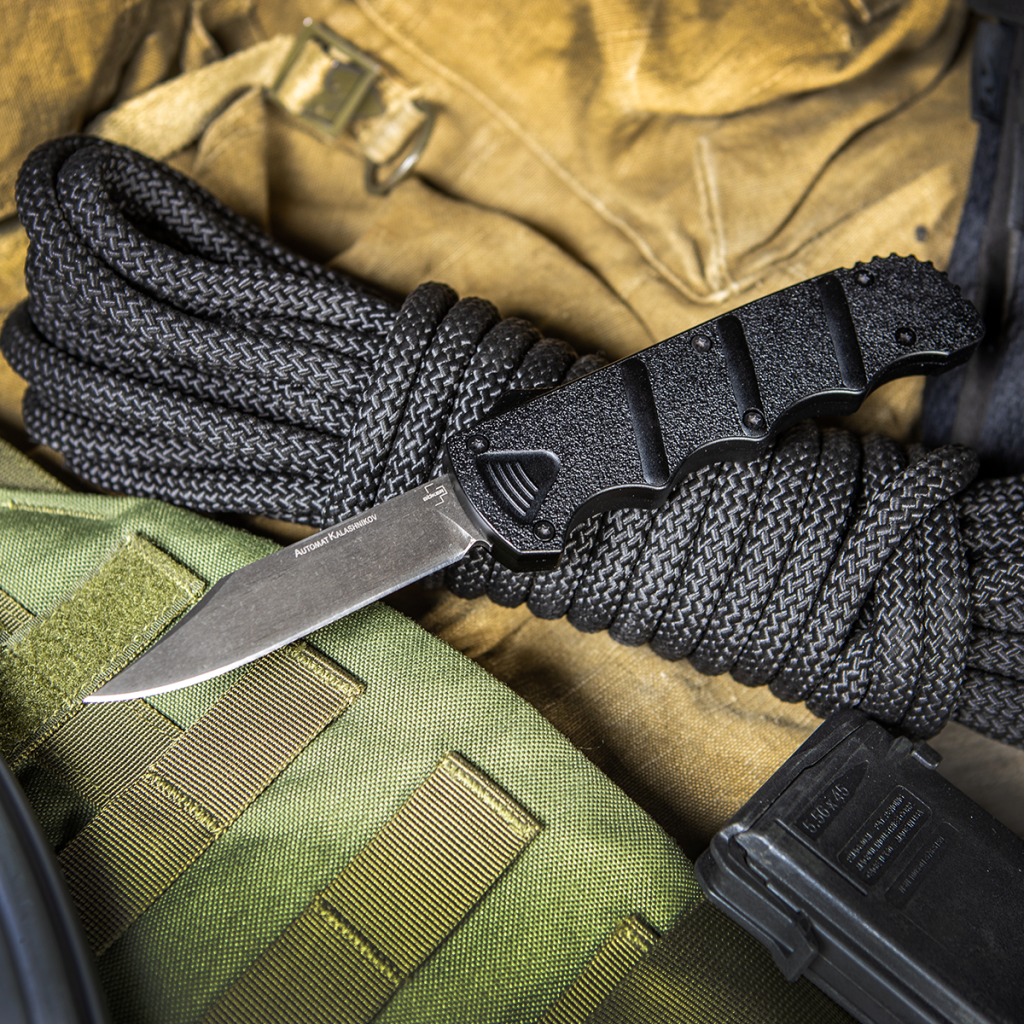 Just like the rifle it's named after, the Kalashnikov OTF Dagger from Boker is incredibly reliable, even in the harshest of conditions. The Kalashnikov OTF Dagger combines the best of German engineering and Russian resilience. Inspired by the AK47's bayonet, the aluminum handle is more than a historical easter egg; it's designed to fit comfortably and securely in hand. The blade is made from D2 steel, a tool steel with a reputation for tough durability and edge retention that is an excellent fit for the Kalashnikov. While a lot of the more budget friendly OTFs tend to develop issues with the knife coming off track quickly, the Kalashnikov doesn't have this problem due to its sturdy and dependable design. With so many tried and tested components, the Boker Plus Kalashnikov OTF Dagger is certainly one of the best OTFs for under $200.
Hogue has been a respected name in the gun industry since the 1960s, where their name has become synonymous with quality grips and stocks. In 2010, Hogue teamed up with expert knife designer Allen Elishewitz and started producing some of the most comfortable and reliable knives on the market. The first thing you'll notice about the Counterstrike is how comfortable it is in your hand, which makes sense given that Hogue has been making gun grips for more than 50 years. What makes the Counterstrike remarkable is more than its comfortable design, it features a CPM MagnaCut steel blade and a carbon fiber handle. The benefit of using CPM MagnaCut steel for the Counterstrike is the incredible toughness and corrosion resistance it offers. Because CPM MagnaCut is so tough, Hogue was able to make the blade thinner and lighter while reducing the amount of force necessary to make cuts. What all this means for you is that the Counterstrike is as tough as it is lightweight and comfortable, making it an ideal choice for an OTF everyday carry.
During the Space Race of the 1960s, there was an urban legend about how NASA spent millions of dollars developing a pen that could write in zero gravity environments while the Soviets simply used pencils. The moral of the story is that sometimes simple, low-tech solutions are the best fit. The Kershaw Interstellar is a manual OTF knife made for rigorous everyday use. The Interstellar features a tanto style, partially serrated blade made from 8Cr13Mov stainless steel. The blade's steel makes it perfect for everyday carry, offering impressive corrosion resistance and ease of sharpening. The glass-filled nylon handle matches the tough durability of the blade and includes an integrated bottle opener. The real strength of Interstellar lies in the manual opening mechanism. Automatic OTFs always have the possibility of being knocked off their tracks, but the manual's simpler design cuts that possibility of failure. The Interstellar's straightforward design and sturdy materials make it one of the best OTFs for under $100.
Smith & Wesson is more than just a gun manufacturer, they're a leading brand in the safety and security industry with a passion for self-defense. This Smith & Wesson OTF was designed with personal safety in mind. Its most distinguishing feature is the safety switch that prevents unintended blade deployments. Just like you'd find on the M&P OTF's namesake, the blade won't fire until you've moved the switch to reveal the signature red dot that lets you know you're ready for action. The M&P OTF is a single-action as opposed to the double-actions already talked about, meaning that when the blade deploys it's locked into place by another safety feature. The blade is made from AUS-8 stainless steel, which strikes a good balance between corrosion resistance and easy sharpening. Pairing the blade with an aluminum handle, the M&P OTF is an excellent OTF knife for workers who need an affordable, high-quality knife.
Switchblades were first made popular in the United States right after World War Two. Soldiers coming home from Europe brought with them the Italian Stiletto. AKC, an Italian knife brand, designed the F-16 to keep the traditional stiletto style while including modern innovations. Earning its name from its rapid blade deployment, the F-16 is both fidget friendly and budget friendly. Starting with a 440A stainless steel blade, the F-16 offers good corrosion and abrasion resistance while staying easy to sharpen. The aluminum handle features textured grips to improve handling as well as a stylish thumb switch, giving the F-16 an elegant feel and a contemporary aesthetic.
Like everything that Heretic Knives makes, the Manticore is wicked. Putting this list together involved a lot of hard choices, and none were as hard as deciding which Heretic OTF would make the final cut. The Manticore won out in the end — and for good reasons which we'll get to in just a second. But it's worth taking the time to mention the Heretic ROC, which is beautifully crafted from Damascus steel with a carbon fiber handle.
Let's get back to the Manticore and how it earned its place on the list of the top 10 OTF knives. Made from premium Elmax stainless steel with an aluminum and carbon fiber handle, the Manticore is a functional piece of art. Elmax steel is widely regarded as a "super steel," due to its impressive edge retention, ease of sharpening, and excellent corrosion resistance. The Manticore's handle is made from anodized aluminum with thoughtfully placed jimping for increased handling and comfort. The textured thumb slide is comfortable, and the double-action is remarkably smooth. All this together makes the Manticore a truly excellent knife, perfect for everyday carry and collectors alike. The deciding factor that solidified its spot on this list was the wide variety of blade styles and sizes included in the Manticore series, which goes to show there's a Heretic for everybody.
Heckler & Koch have made themselves a major supplier of small arms to several NATO countries in part because of their "no compromise" philosophy. When H&K set out to make knives, that same philosophy led them to seek out Hogue Knives to be their exclusive knife manufacturer. Combining German engineering with American craftsmanship is only part of what makes this H&K OTF one of the best OTF knives available. Hogue's expertise in making comfortable and secure handles stands out with the Micro Incursion's aluminum handle, contoured and textured to provide you with an unbreakable grip. The Micro Incursion's blade is shorter than most, coming in at just 1.95 inches long, which is more than enough steel to get the job done if you know what you're doing. The shorter blade makes the Micro Incursion legal in California and thus a widely accessible OTF knife, perfect for everyday carry.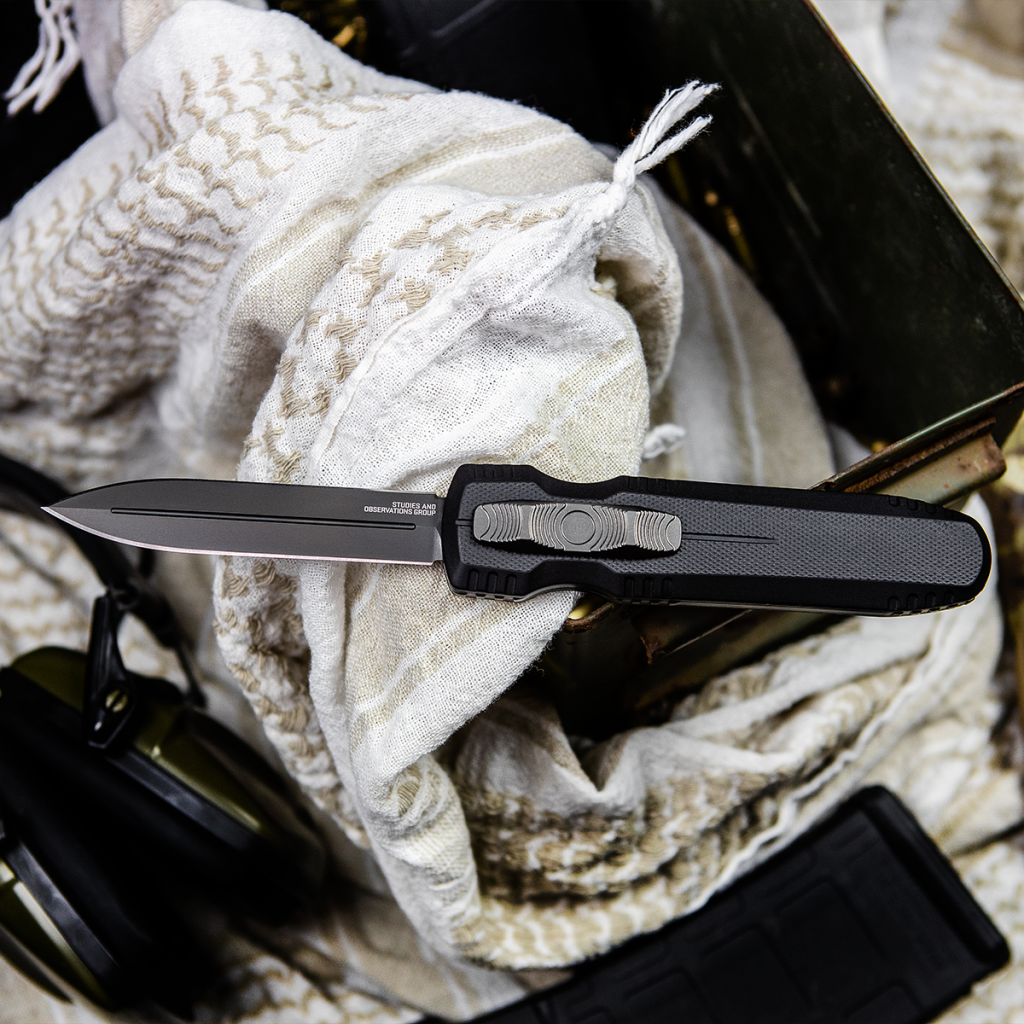 Spencer Frazer was inspired by MACV-SOG, an American special ops unit dedicated to rescuing prisoners of war and other clandestine operations during the Vietnam War. When he founded SOG Knives, the idea was to make knives as tough as the veterans who inspired him. Made for military and law enforcement personnel, the Pentagon OTF is one of the most dependable knives available. With a double-edged blade made from CPM-S35VN steel, the Pentagon has excellent corrosion resistance and is easy to sharpen. The aluminum handle features a large thumb slide opener, which makes opening and closing the blade quick and easy for both right- and left-hand users. What really sets the Pentagon apart is its Dynamic Locking System, which gives you a rattle free experience that keeps the blade quiet when it's closed, and rigidly locked in place when you're using it.
Conclusion
There you have it, Blade HQ's list of the top 10 OTF knives. It doesn't matter if you're looking to spend $50 or $500, we're confident that you'll love your next OTF knife. It's important to keep in mind that OTFs have been making moms nervous since 1958, when Congress passed the Federal Switchblade Act. As you consider which OTF you're going to buy first, be sure to check your local and state laws.
Whether you're an avid collector and a nerd like us or if you're just looking for something you'll use every day, there's an OTF knife out there for you. Knives are an investment — not just in premium materials and artful designs, but in yourself. Knives can keep you safe, protect the people around you, help you get out of tricky situations, and make your daily life more convenient. What makes OTF knives unique is how they combine all the essential functions of traditional pocket knives with the luxury of one-handed use, all with an unforgettable and distinctive style.
If you want to know the in's and out's of one of the newest OTFs our there, get to know the Benchmade Shootout in the video!