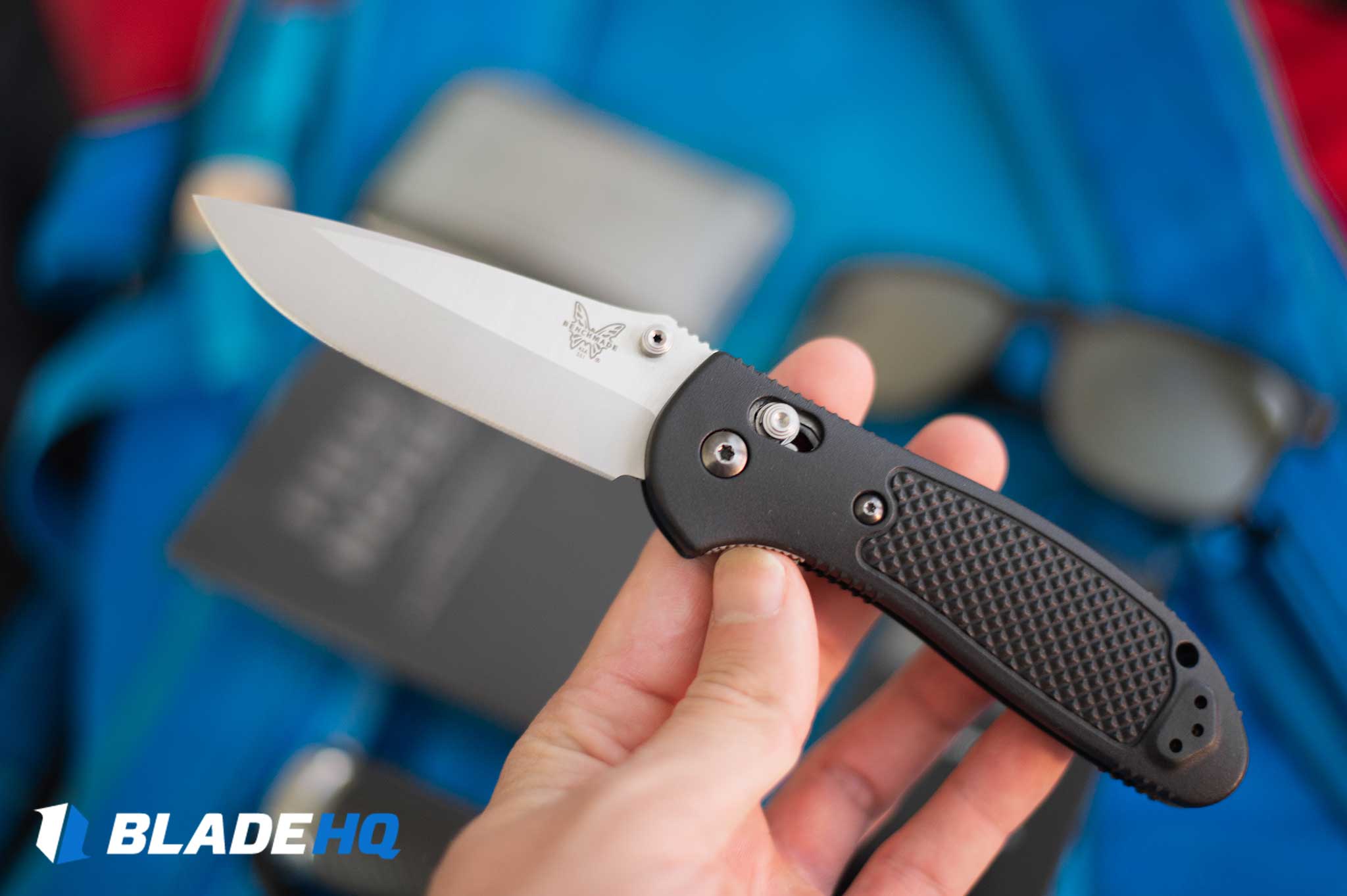 Several years ago, before I started working for BHQ, I found myself getting tired of a well used, hammered looking Boker Kalashnikov. It was my everyday (only) pocket knife and it served me well for everything from opening product at my job to fire building when I was camping. Like anything with that much use, the knife met its day of reckoning and it was time to find a new knife.
After some time thinking about how I use my knives and what I hoped my new knife could do, I landed on the Benchmade Griptilian and I have never thought twice about my purchase. This knife was, for an incredibly long time, my everyday carry knife and has done everything from batoning wood to grooming my fingernails. It's amazing in hand thanks to its ergonomic design and is built like a tank with some of the most rugged materials in the industry. In this article we take a close look at what makes the Benchmade Griptilian such an amazing knife and give it a Knife Life Score. Come on! Let's take a journey!
First let's run through the stats…
Overall Length: 8.07"
Blade Length: 3.45"
Blade Shape: Drop Point
Blade Steel: CPM-S30V
Handle Material: Noryl GTX (polymer)
Weight:3.82 oz.
Lock Mechanism: AXIS Lock
Designer: Mel Pardue
Made in USA
Shop Benchmade Griptilian Knife
KNIFE LIFE SCORE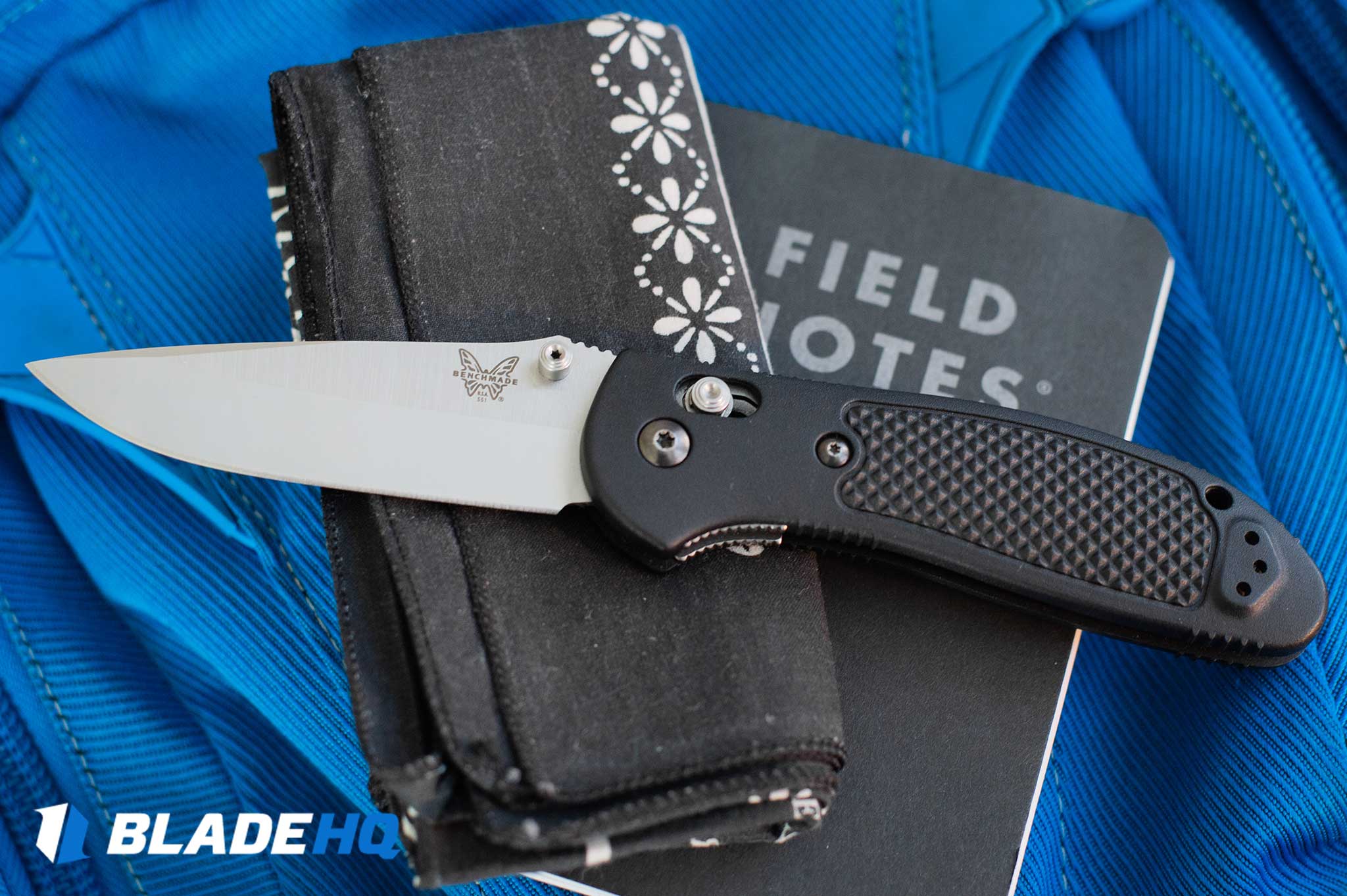 Knife Life is all about representing your personality and passion through the knife you carry in your pocket every day. Quality and performance are key. Tasteful design and ritzy details are also important. You can be confident carrying any knife with a high Knife Life Score. Each section is scored out of 10 with a grand total of 100.
UNIQUENESS / IMPORTANCE
Score: 9/10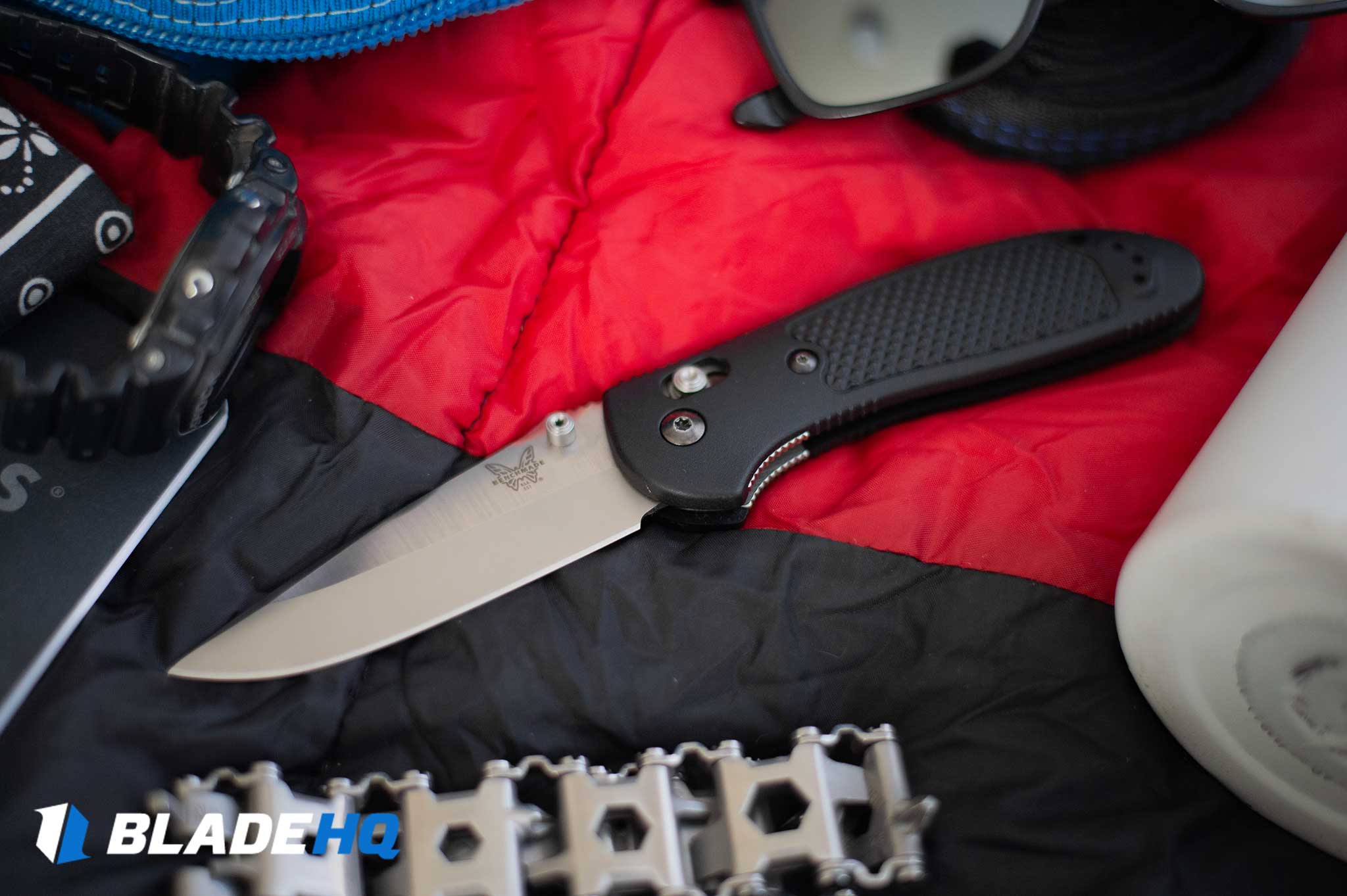 When discussing importance in the knife community, a couple things need to be considered. How long has the knife been around? Has the knife influenced the design of other knives? Is it generally well known and loved? The Benchmade Griptilian is one of Benchmade's longest running knives as it was introduced in 2001. Since that time, the knife has seen a mini version and several updates to blade steel, coatings and handle materials. It has been influential to the look and feel of many other knives throughout the years and is easily recognized by knife nuts the world over. With such rich history and long term success, it's no wonder that the Benchmade Griptilian was the best selling Benchmade knife for much of its existence (I bet it doesn't come as a surprise that it's now the Bugout…).
---
MATERIALS
Score: 8/10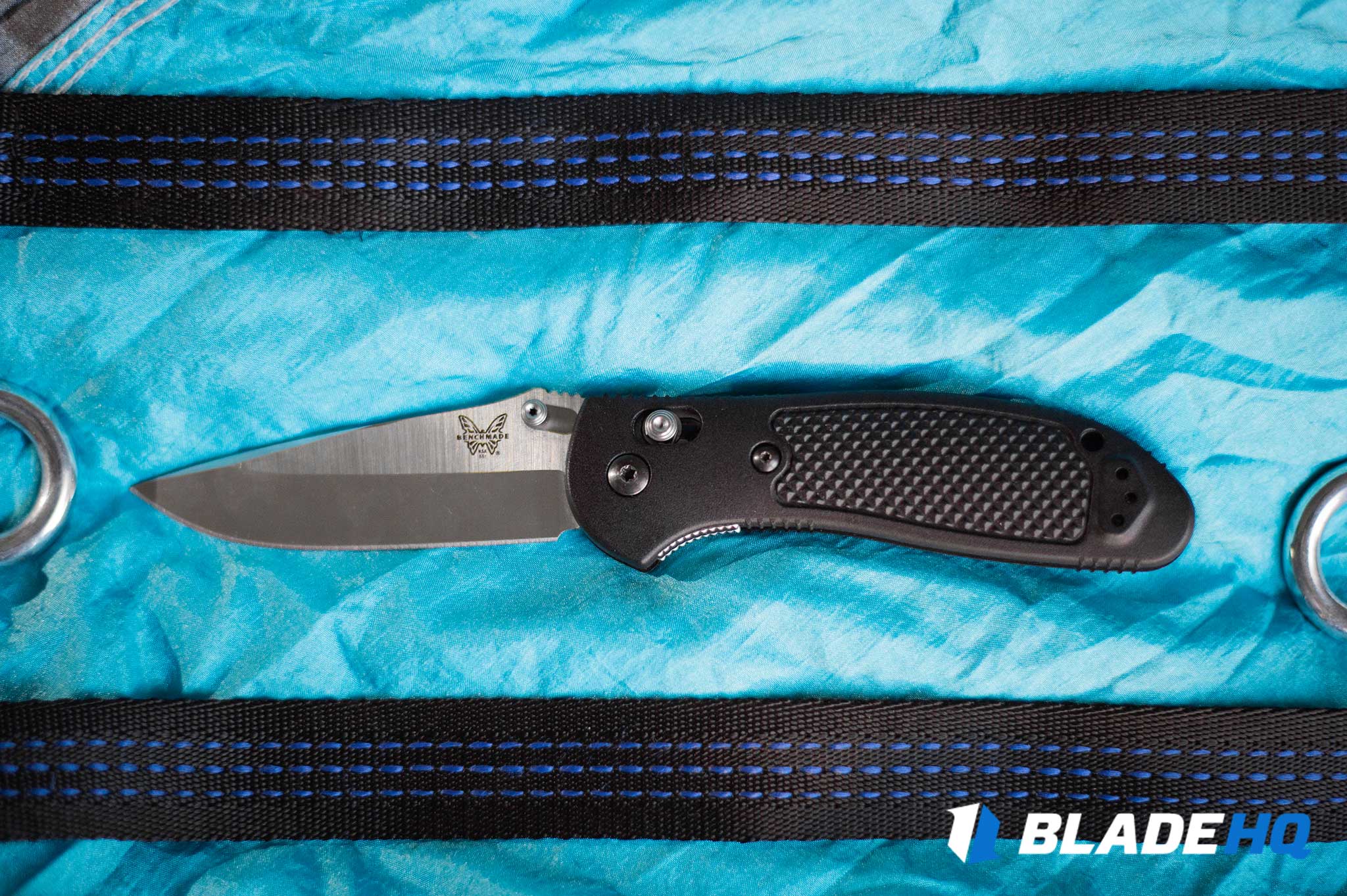 The Benchmade Griptilian is a simple knife. You won't find super-steel or exotic handle scales on it but rather the right materials to get the job done. Standard variants of the Griptilian feature Noryl GTX (polymer) handle scales which are highly durable and provide ample grip, and CPM-S30V steel which is great all-around blade steel offering both impressive cutting power and edge retention. The premium version of the Griptilian features a contoured G-10 Handle and a CPM-20CV blade. If you're someone who really uses their knives and finds them needing to be replaced faster than you hoped, the standard Grip is great, but the premium is THAT much better.
---
LOOK / STYLING
Score: 7/10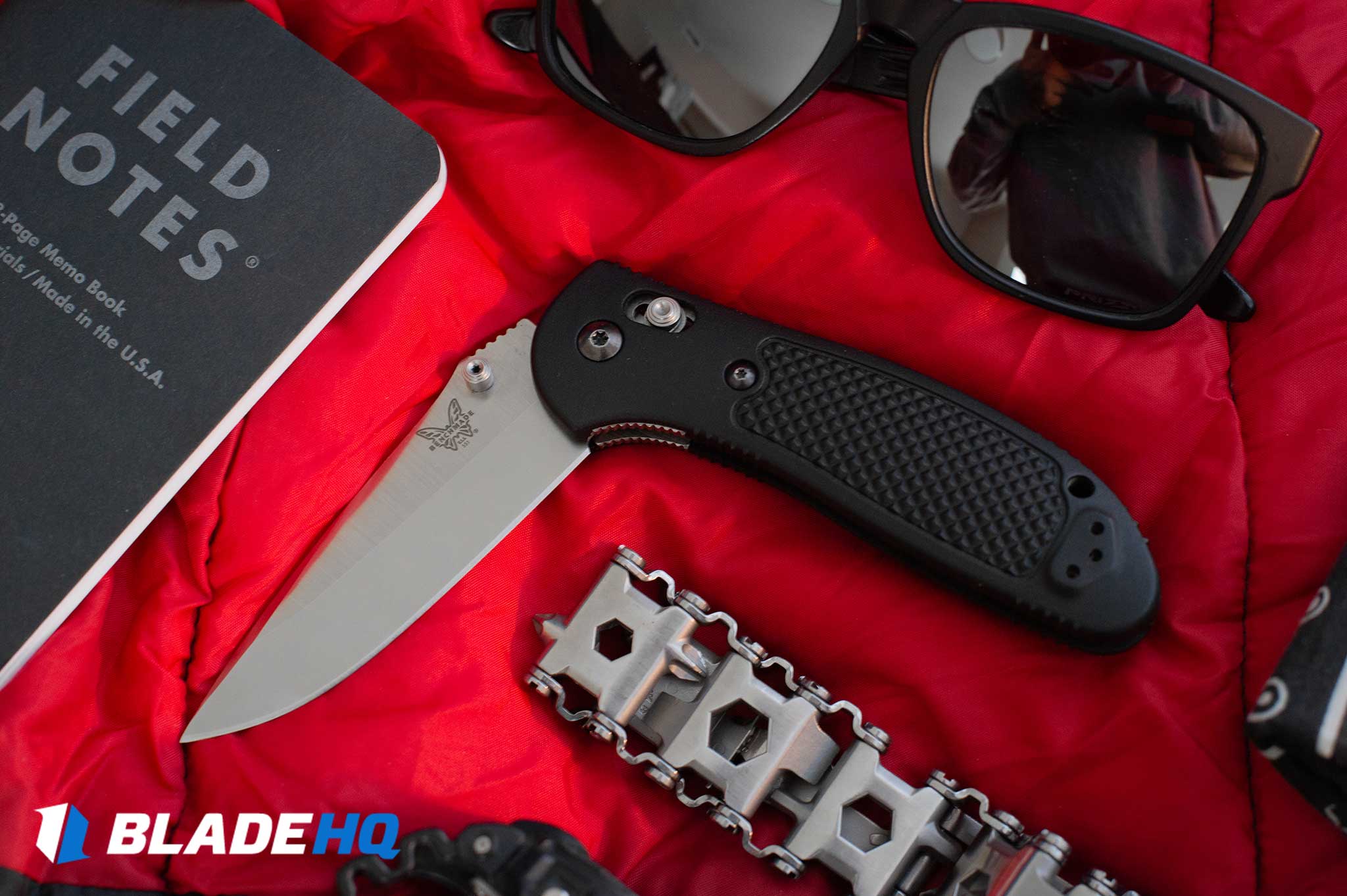 I would be lying if I said the Griptilian was the best looking knife in the world. It's not, but that's not the point of the knife. It's a do-it-all knife built for utility over anything else and it's made to be used. That aside, it is a handsome knife with rugged looks and a beautifully ground blade. Its diamond pattern grip and added jimping give it both a tough look and provide better grip during use. Overall, its a good looking knife, but it isn't going to draw a ton of extra attention if that's what you're looking for.
---
ERGONOMICS
Score: 10/10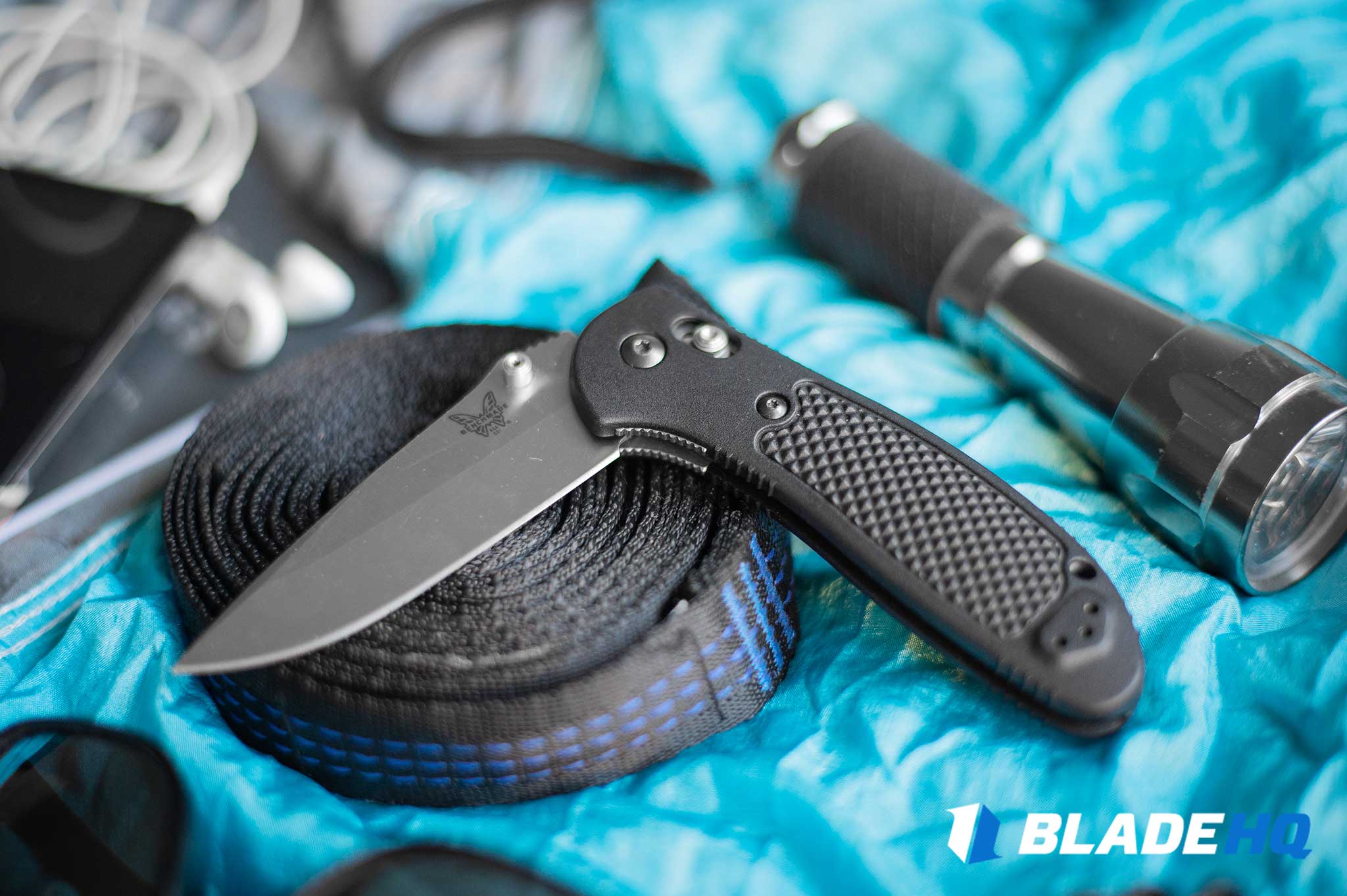 If I had to choose one thing about this knife that stood out over everything else about it is the way it feels in my hand. The Griptilian is a larger pocket knife than some would prefer to carry everyday, but that's why it's so comfortable in hand. Its generous handle and thoughtfully placed textures make it easy to hold and maintain grip on during heavy use. I found that I could confidently hold and manipulate the knife with either hand. Thanks to its AXIS lock, the knife is easy to open and close with one hand and makes it fun to fidget with as well. The Benchmade Griptilian is one of the most comfortable knives I have used.
---
Deployment / Lockup
Score: 10/10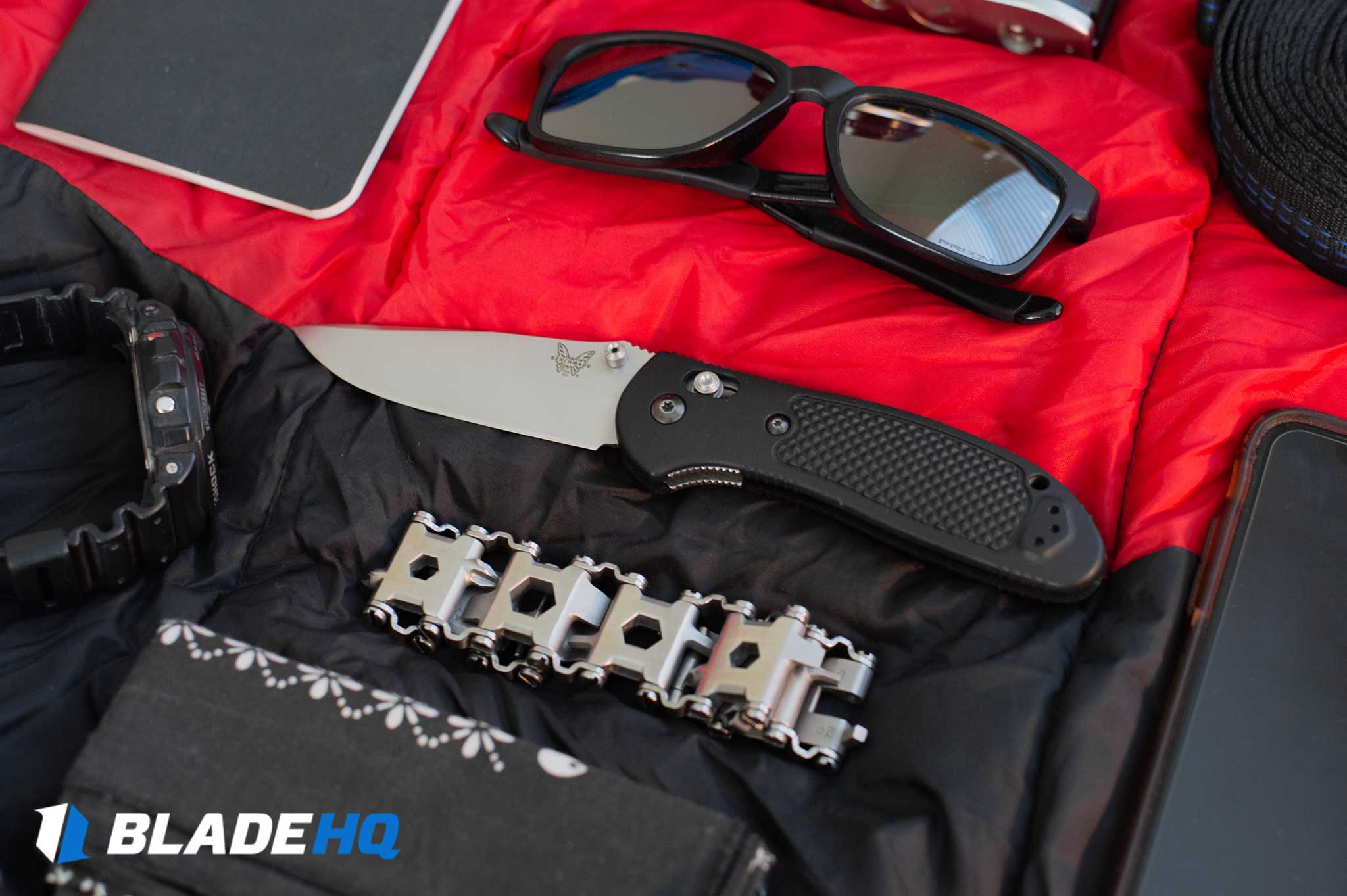 As we touched on before, the Benchmade Griptilian features Benchmade's AXIS lock. This lockbar style mechanism is incredibly strong and held up well when I took the knife camping and used it to build a fire. Deployment is excellent for the same reasons as the lockup. Thanks to the AXIS lock, it is easy to manipulate the knife with one hand and takes very little effort to close the knife when your other hand is busy with something else.
---
BLADE / SHARPENING
Score: 9/10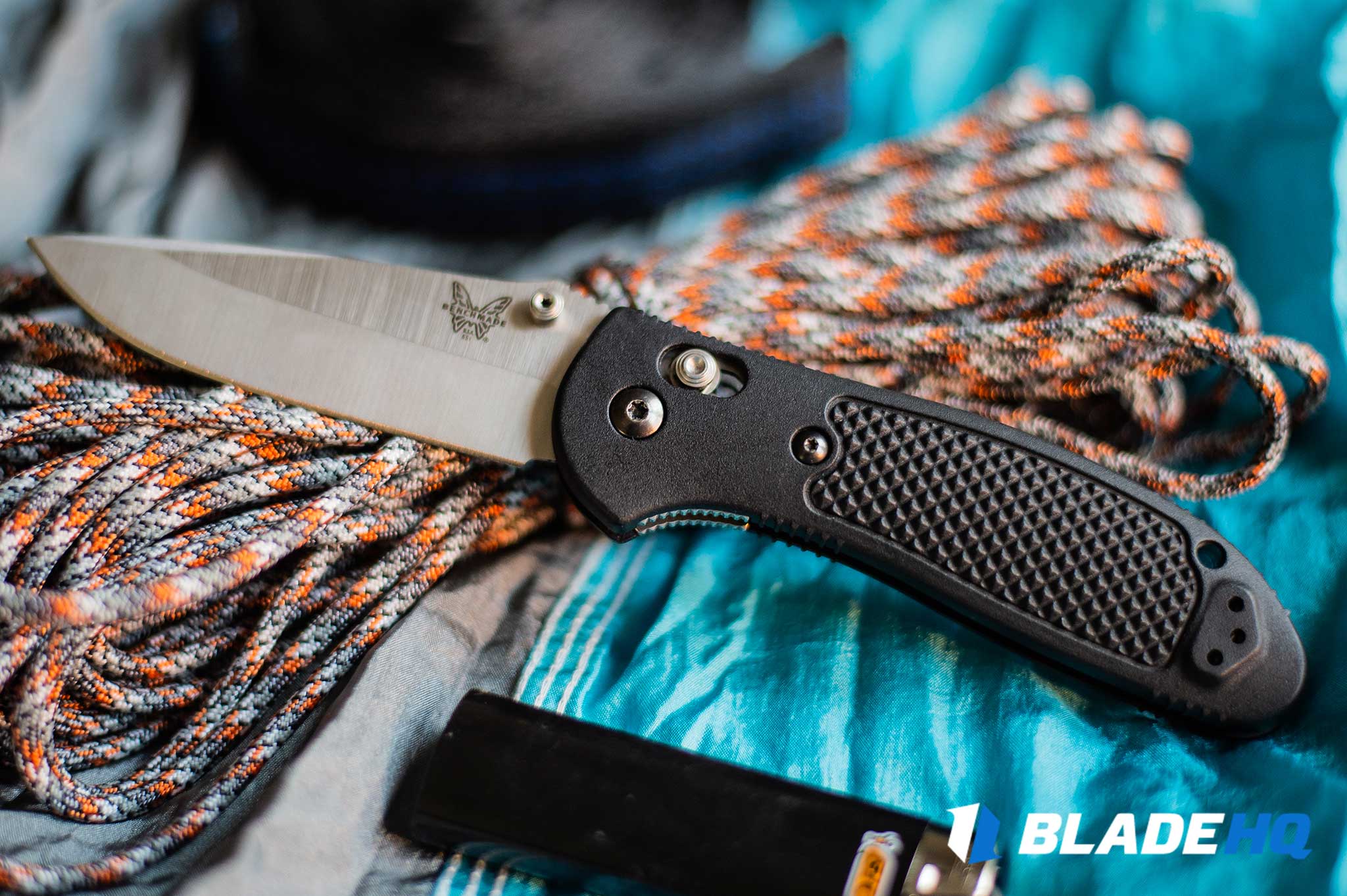 This is another aspect of the Griptilian I found to be quite good. The standard drop point blade on the Grip is versatile and great for everyday use. It measures 3.45" and has a thickness of 0.12" meaning it is strong behind the edge and made to take a beating. When I have sharpened my Griptilian, I have found that it is fairly easy. CPM-S30V is a forgiving steel to sharpen as it is harder than cheaper steels and less likely to chip. When sharpening, a few passes on a fine ceramic rod and a leather strop should freshen it up in no time. Be sure to check out our sharpening guides to find the best methods for sharpening your knives.
---
FIT-AND-FINISH
Score: 9/10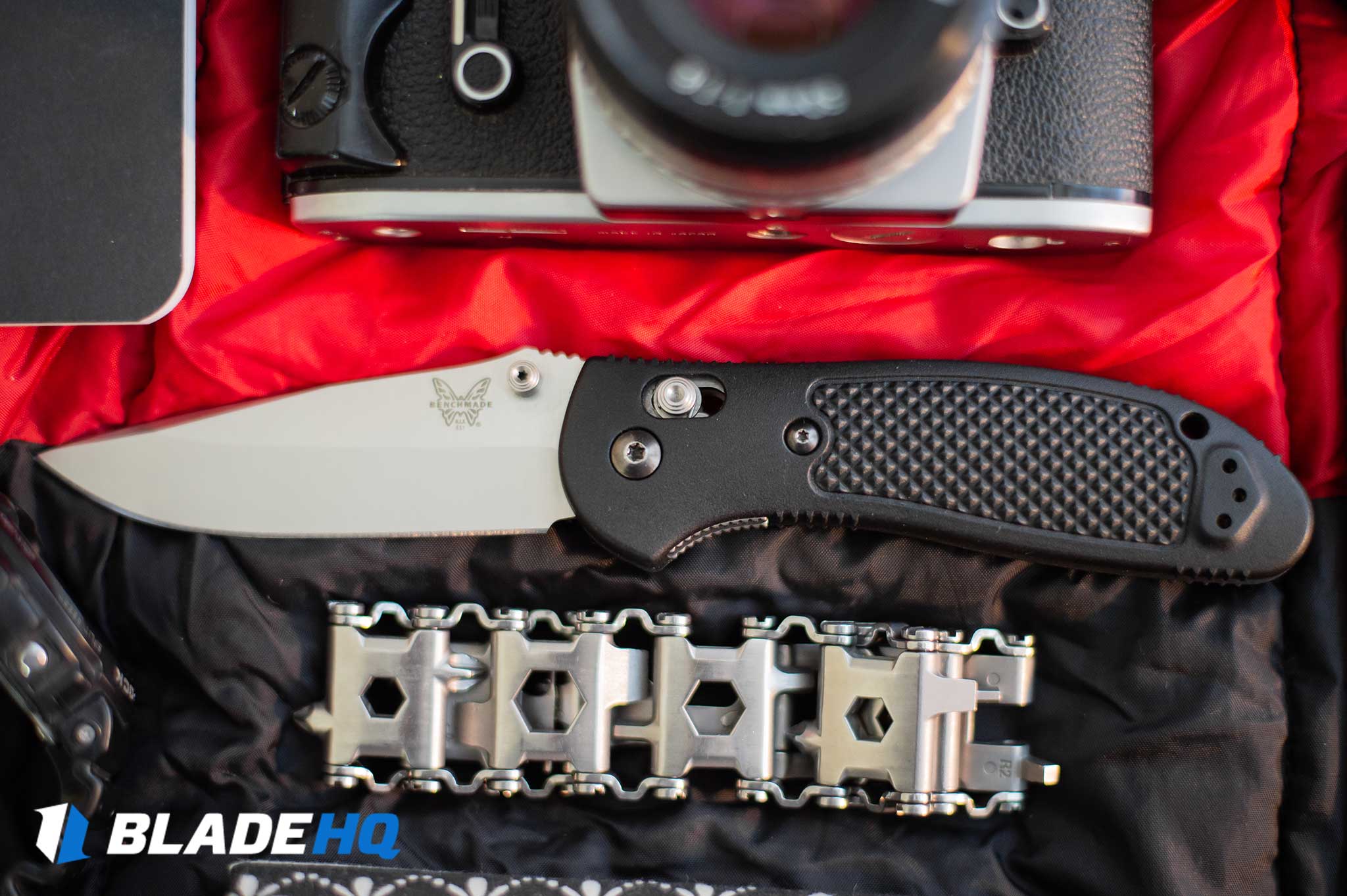 I'm someone who's probably too particular when it comes to knives and my one complaint about my Griptilian is the blade centering. My knife is the exception when it comes to Benchmade Griptilians, but it's still a slight annoyance. That aside, everything about this knife is amazing. The handle is perfectly molded and finished. The blade has a consistent grind and came wicked sharp out of the box. With other Griptilians I've handled, they've all had the same great fit-and-finish (and much better blade centering). For a mass produced knife at a low price point, this knife is really well done.
---
CUT TESTS
Score: 8/10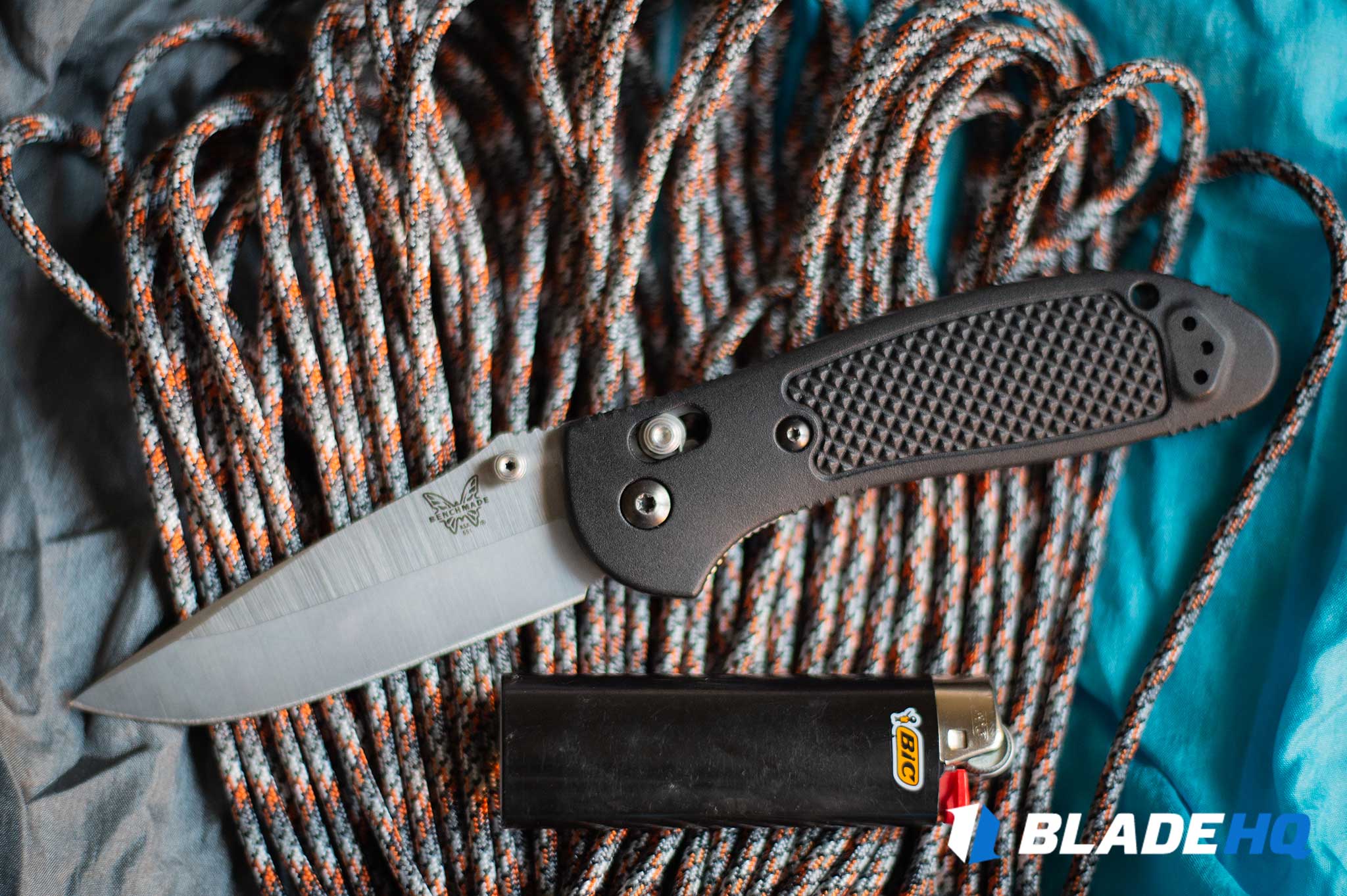 For this round of cut tests, I put the Griptilian through some routine, everyday things then took it out into the wild to see how it performed under pressure. The knife is great for regular duty tasks like breaking down boxes, opening letters, and slicing food. Because of its thicker blade, the Griptilian isn't the sliciest knife in the world, but it does a decent job. When used for heavy use jobs, I was actually impressed. The thickness of the blade gave me confidence while batoning with it, and I didn't feel like I was going to break the knife. Other blade variants found on the Griptilian have serrated edges, and I would suggest these models for individuals who plan to beat this knife up. Overall, the knife was excellent in my tests and I would recommend it for both outdoor and everyday applications.
---
Ease of Carry
Score: 8/10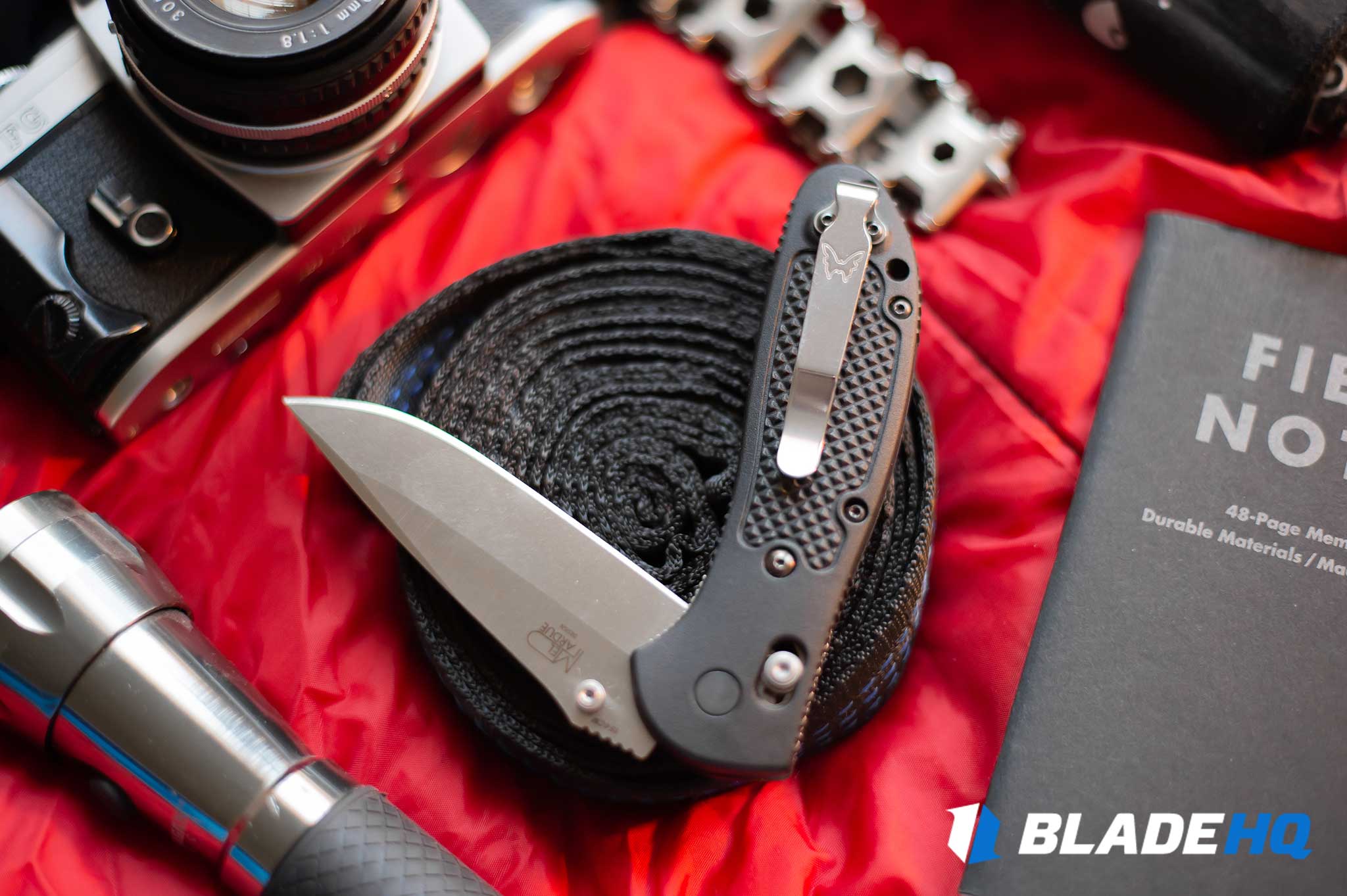 The Benchmade Griptilian is a great knife to carry. It comes standard with a regular carry pocket clip which gets the job done and makes it easy to get the knife out of your pocket. For everyday carry I found that the regular pocket clip made the knife sit too high for my liking, so I swapped it out with a Benchmade deep carry pocket clip. This change made the knife much easier to carry daily and gives the knife a different look than the standard pocket clip. I recommend this upgrade for anyone purchasing the Benchmade Griptilian.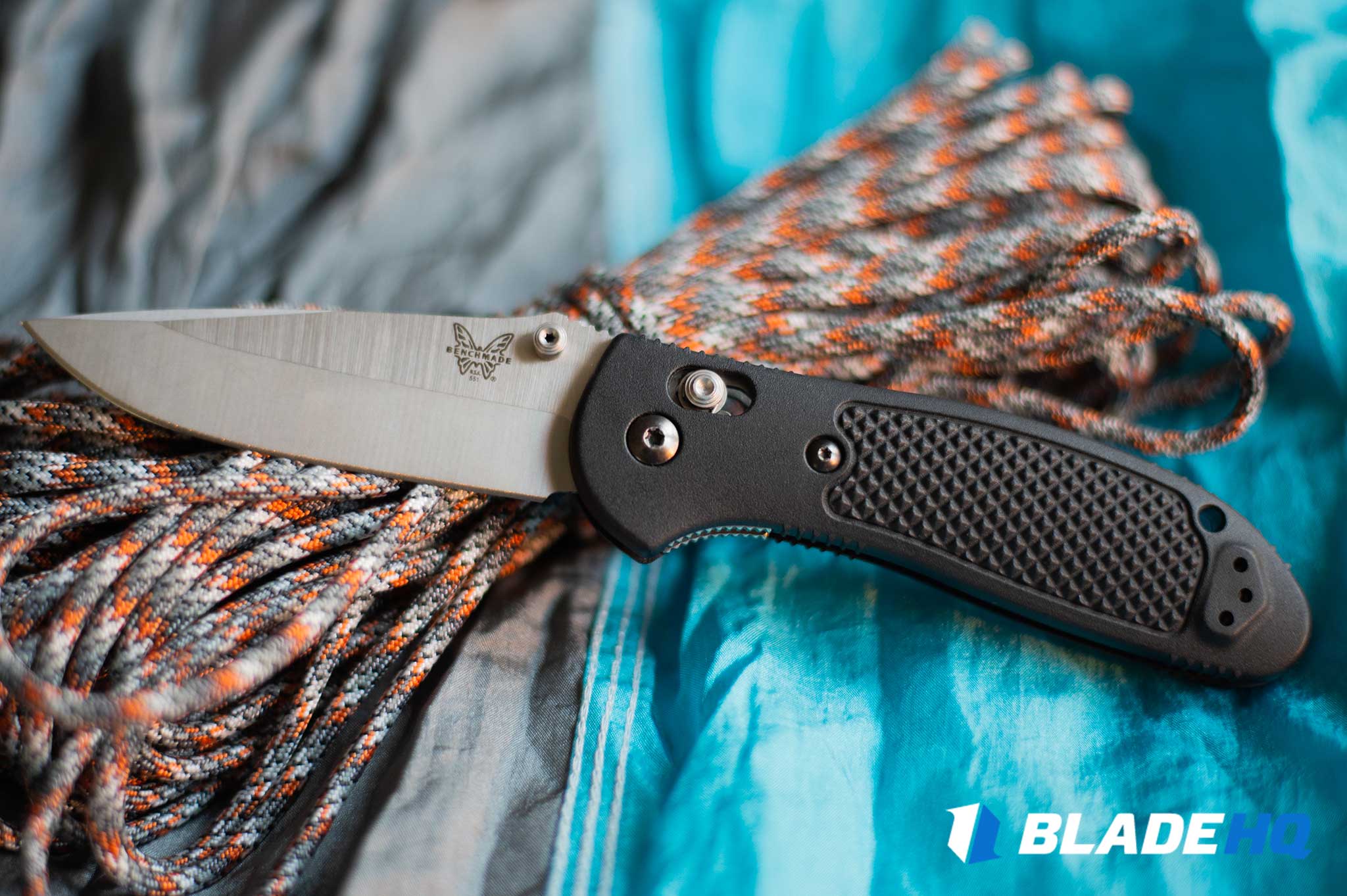 ---
POCKET JEWELRY
Score: 6/10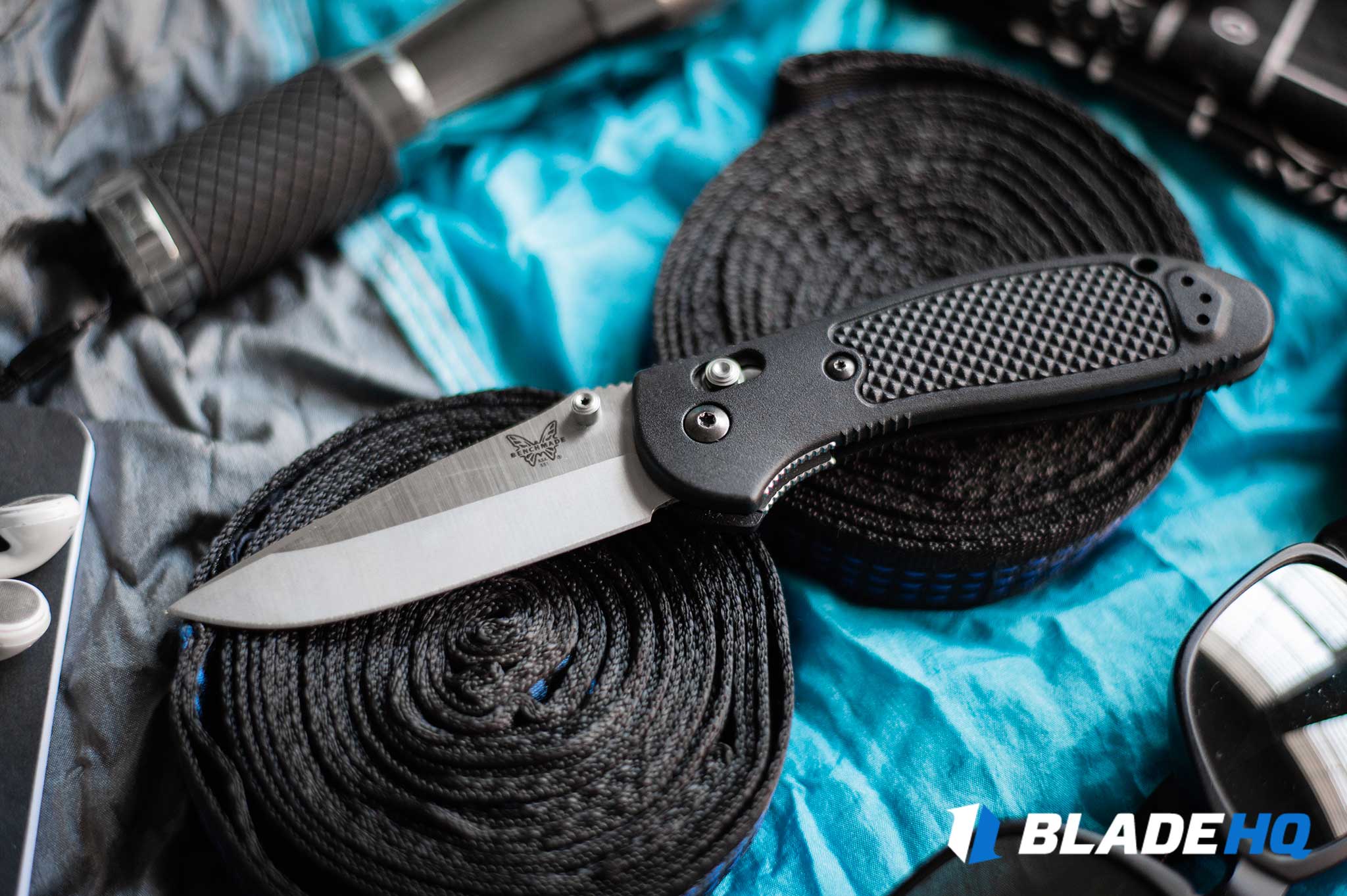 The last things we'll go over in this article is the pocket jewelry factor. Some knives are just plain cool to look at and those knives draw a lot of eyes. I can't say the Benchmade Griptilian is one of those knives. Yes, it's a Benchmade and that alone carries a lot of weight in the knife community, but this knife isn't particularly awe inspiring. Don't, however, take that the wrong way! The Grip is meant to be a high-performance utility knife with the right combination of comfort, durability and usability. It isn't meant to be a safe queen or a knife to carry on special occasion. It is a KNIFE! USE IT! MISUSE IT! Give it character and life by doing the things it was designed to do. This is a do-it-all knife and you shouldn't feel bad beating it up.
---
TOTAL KNIFE LIFE SCORE:
84/100
Giving the Benchmade Griptilian a Total Knife Life Score of 84/100 isn't much of a surprise. It's a solid knife capable of far more than the average pocket knife. It's comfortable in hand, built to last, and ready for the rigors of life. This is one of those knives designed to be taken anywhere. It comes in many variants with a few blade shapes, coatings and handle materials, so you can find the right one for your lifestyle and needs. If I had to pick another Griptilian, I would likely go with a black coated, sheepsfoot blade and an olive green or grey handle, or the premium, G-10 version with the CPM-20CV blade.
---
Benchmade Griptilian Field Test
Some knives are just plain tough. In this video we take the Benchmade Griptilian out into the wild and put it to the test. How did it fare? Check out the video to find out!
Benchmade Griptilian Overview
In this video we take an in depth look at the Benchmade Griptilian, review its stats and look at variants. Check it out to see the knife in action!
OTHER KNIFE GUIDES