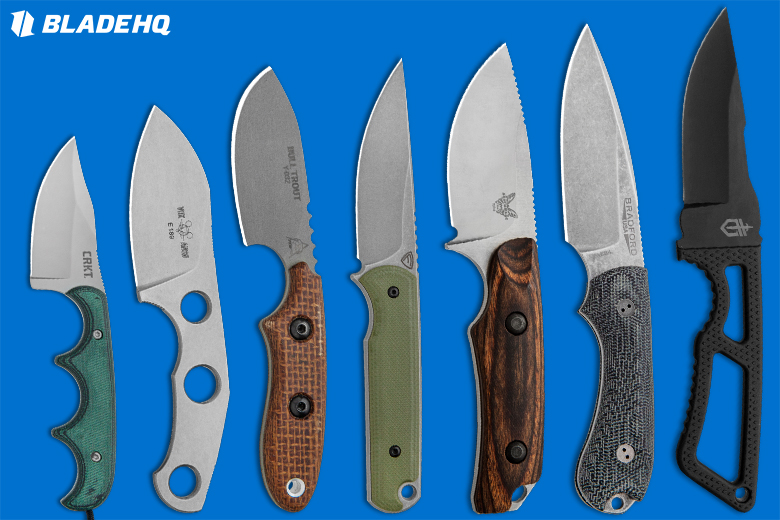 Recently we've had a lot of questions about everyday carry fixed blades and what to look for when choosing one. Fixed blade knives have a look, feel and performance that can be hard to find with folding knives. EDC fixed blade knives tend to be small, compact and easy to use. They are more subtle to carry than a large fixed blade, but more noticeable than a pocket knife. We look at performance, ease of carry, and price point to compile a list of the best EDC fixed blade.
Plus, at the end of each breakdown, find a review from one of our wonderful customers.
Shop All EDC Fixed Blade Knives
---
1. Gerber Ghostrike

Starting off our list of best EDC fixed blade knives is the Gerber Ghostrike. This fixed blade knife is both lightweight and slim, making it the ultimate everyday carry fixed blade. Plus, it's great for those who live in tactical mode or those of us who just love the subtlety of black. This knife features a durable 420HC Stainless Steel Blade with a rubber coated skeletonized handle. Ghostrike comes standard with a low-profile polymer sheath, designed to be carried on back or hip with ease. Also included is a neoprene ankle wrap for a more concealed carry.
3.25″ 420HC Drop Point Blade
Rubberized Handle
3.61 oz. Weight
Made in USA

Eduardo S. says…
"This is possibly one of the best products Gerber has produced. The knife is strong, lightweight and thin, it's very comfortable to carry no matter which carry option you choose you forget you have it on. The sheath is maybe the best sheath on any fixed blade I've seen, horizontal and vertical without an additional Tech-Lok system and the blade can go in any way."
---
2. GiantMouse GMF1

The GiantMouse GMF1 Fixed Blade knife is modeled after the popular Biblio and features a lot of the same great ergonomics. This knife's skeletonized fixed blade design makes it an incredibly lightweight, sturdy fixed blade knife. It slices with ease and makes quick work of most cutting tasks. The GMF1 comes with a sexy leather sheath that fits well in pocket or on a belt. If you're looking for that "WOW!" factor, do yourself a favor and buy a GiantMouse GMF1.
2.60″ N690 Drop Point Blade
Skeletonized Handle
1.90 oz. Weight
Made in Italy

Nathan D. says…
"I'm kicking myself for not picking one of these up sooner than I did. It's definitely a small, skeletonized, 3-finger fixed blade so it won't be perfect for everyone. BUT, it is absolutely perfect for me. The blade is a useful shape and has as slicey a flat grind as you could get on a thick 5mm stock. The jimping is perfectly placed and feels great on the rounded surfaces. The addition of a short lanyard can be easily added if you want an easier grip or removal from the sheath. And the sheath itself is a thing of beauty. I suppose, most importantly, it's just great to use. It's so good in my opinion that I'm toying with the idea of getting a 2nd *just in case* something happens to this one."
---
3. Ferrum Forge Lackey

The Lackey from Ferrum Forge is an amazing fixed blade knife thanks to its slim profile and purpose-built design. The knife features a slender drop point blade for precise cutting and slicing. Lackey's G-10 handle scales and thumb jimping provide incredible grip during use. It comes standard with a black kydex sheath that can be set up for scout or drop carry. This little knife is small but mighty. It provides the right balance of looks, performance and subtlety that all great EDC fixed blade knives have in common.
2.67″ CPM-S30V Drop Point Blade
G-10 Handle Scales
3.52 oz. Weight
Made in USA

Stranton N. says…
"This little knife is a beast. I would dare say it's the perfect dimensions for every day carry. It's light, but not too light. It has just enough blade, and it isn't overly flashy or too traditional. If you're looking for a smaller EDC fixed blade, this is perfect. And the G10 feels and looks great. Comes super sharp out of the box!"
Shop Ferrum Forge Lackey Knives
---
4. Bradford Guardian3

The Bradford Guardian3 is a compact fixed blade designed to handle the workload that might typically fall upon a heavy-duty everyday folder while allowing for easier carry throughout the day. AEB-L Steel is the steel of choice for this Bradford fixed blade knife as it is double tempered and cryo-treated for exceptional blade quality and performance. 3D Micarta scales make the Guardian 3 grippy and comfortable during even toughest of cutting tasks. The Bradford Guardian3 includes a premium leather sheath with a belt-carry loop and plastic blade insert.
3.50″ AEB-L Spear Point Blade
3D Micarta Handle Scales
3.40 oz. Weight
Made in USA

Ricardo A. says…
"Amazing AMERICAN Made knife. Feels like a part of your hand, and sits in your belt without you noticing it's their. Amazing knife; can't recommend it more."
Shop Bradford Guardian 3 Knives
---
5. Benchmade Hidden Canyon

If you haven't noticed already, most of the knives on this list are fairly small. The Benchmade Hidden Canyon follows suit with its short blade and ergonomic construction. Premium CPM-S30V blade steel and Dymondwood® handle scales help this EDC fixed blade knife perform beyond expectations. The Hidden Canyon fixed blade comes standard with a sturdy pressure-fitted leather sheath great for scout carry.
2.67″ CPM-S30V Drop Point Blade
Dymondwood® or G-10 Handle Scales
3.41 oz. Weight
Made in USA