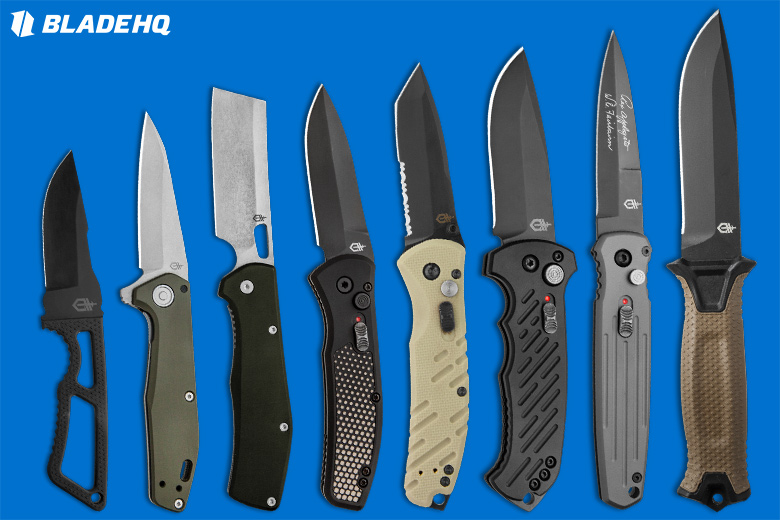 Gerber has been a household name in the knife and outdoor industry since 1939. Their reputation of quality, innovation and design has helped propel (pun intended) them to the front of the knife making pack. With such a rich history and wide range of products, it is no wonder why Gerber knives have been a top choice for knife enthusiasts and the like for nearly a century.
Check out our top 7 Gerber knives below and read a review from one of our beloved customers after each break down.
---
1. StrongArm

Gerber's history of making military grade survival knives started in 1968. The Gerber StrongArm fixed blade knife is a modern take on early Gerber survival knives. Its rugged design features a full-tang 420 stainless-steel blade with a robust injection molded rubberized handle. What sets this knife apart from other fixed blade knives of this size is its included modular sheath system. The sheath allows the knife to be carried on body in a variety of ways or attached to a MOLLE ready pack or vest. The Gerber StrongArm is an amazing fixed blade knife for work, combat or camping. Check out our in-depth review to see how it ranked on everything from versatility to ergonomics.
9.75" Overall Length
4.875" Blade Length
420 Stainless-Steel Blade
Rubber Handle
Modular Sheath System

Baldemar G. says…
"This is the only knife I take with me when I go camping, and I've never felt like I need anything else. It's strong, sharp, and it carries awesome because of its well thought out sheath. Love this knife."
---
2. Empower

Gerber Empower was designed as a lightweight automatic folding knife. It features an anodized aluminum frame with Gerber's Armor Grip stainless steel insert for added grip and durability. This knife has an amazing automatic action that fires with precision and consistency time after time. For added safety, Empower features a thumb safety switch that locks the firing button when locked. A CPM-S30V blade gives this knife a strong cutting edge and amazing versatility.
8.40″ Overall Length
3.25" Blade Length
CPM-S30V Blade
Aluminum & Stainless Steel Handle
Plunge Lock with Safety Switch

Chad O. says…
"For the money this Auto is hard to beat. It has excellent ergonomics, excellent action, and solid lockup. If you need an auto that you can trust, this will serve you faithfully."
---
3. 06 Auto

Easily one of the most popular automatic folding knives, the Gerber 06 Auto features a snappy action and robust construction meant for heavy use and everyday tasks alike. The 06 Auto is built like a tank with its ergonomically designed aluminum handle and drop point CPM-S30V blade. It has a built-in thumb safety for added security when it's not being used, and a stainless-steel pommel strike point. The 06 Auto is built for anyone who demands the most from their gear.
8.60" Overall Length
3.70" Blade Length
CPM-S30V Blade
Aluminum Handle
Plunge Lock with Safety Switch

Nolan H. says…
"This is a rock solid knife!!! Firing was a little slow at first but simply needed some break in time!! Feels really good in the hand. I would definitely recommend!!!"
---
4. Covert

Designed as an everyday carry tactical knife, the Gerber Covert Auto features a slim profile and solid construction that gives it a great feel in hand. This knife features a spear point CPM-S30V blade that's great for both simple tasks and self-defense. The Covert Auto has a snappy push-button automatic action with a safety switch for fast deployment and secure carry. Its aluminum handle features grip enhancing grooves and stainless-steel liners for added strength and rigidity when used. A deep-carry pocket clip helps this knife sit low in the pocket to remain less conspicuous than other knives of a similar size.
8.70" Overall Length
3.78" Blade Length
CPM-S30V Blade
Aluminum Handle
Plunge Lock with Safety Switch

Tyler H. says…
"Knife is well made and has great balance. Love the dark grey with the black blade. This is my new EDC. Gerber is always my go to brand."
---
5. Propel

The Gerber Propel is an amazing all-around automatic folding knife. It was designed as a lightweight tactical knife, but its size and construction make it an amazing everyday knife. The Propel features a durable textured G-10 handle for ample grip in all conditions. Its push-button automatic action makes it easy to deploy quickly with one hand when speed matters most, while its black oxide coated CPM-S30V blade retains a wicked sharp edge without corroding easily.
8.50" Overall Length
3.50" Blade Length
CPM-S30V
G-10 Handle
Plunge Lock with Safety Switch

Joel V. says…
"If you ever had second thoughts, pull the trigger. I know its tanto, I know it has serrations. Twice the pain in the ass to sharpen but trust me it is completely worth it. I absolutely love the G-10. The fit and finish on the blade is okay, wasn't perfect. The handle ergonomics and feel really surpassed my expectations. Not big and bulky/sleek/ but not light and wimpy."
---
6. Ghostrike

The Gerber Ghostrike is designed to practically disappear when you don't need it and still be ready for anything when the need arises. The Ghostrike's slim profile makes it great for carrying on a waistband for everyday carry or tactical use. It features a full tang 420 stainless steel blade with a ceramic coating for wear protection and minimal reflection. This knife has a rubberized grip and a skeletonized handle for great control while in use. An ambidextrous carry sheath is included allowing for either left or right-handed carry.
6.875" Overall Length
3.25" Blade Length
420 Stainless Blade
Rubber Handle
Molded Plastic Sheath

Eduardo S.
"This is possibly one of the best products Gerber has produced. The knife is strong, lightweight and thin, it's very comfortable to carry no matter which carry option you choose you forget you have it on. The sheath is maybe the best sheath on any fixed blade I've seen, horizontal and vertical without an additional tech-lok system and the blade can go in any way."
---
7. FlatIron

Taking inspiration from traditional straight-blade razors and meat cleavers, the Gerber FlatIron is a stylish everyday carry folding knife. Its unique cleaver shaped blade makes it great for daily cutting tasks like opening packages or cutting food. The knife features a stainless-steel frame and a textured G-10 handle making it both comfortable and grippy while used. FlatIron has a rock-solid frame lock that keeps the knife secure during heavier tasks. If looks are your thing and you need a knife for light tasks, the Gerber FlatIron is a great inexpensive option.
8.375" Overall Length
3.50" Blade Length
7Cr17MoV Blade
Aluminum & Stainless Steel Handle
Frame Lock

Adam S. says…
"I love this knife! I've been carrying this knife everyday for over 6 months! It's great for any task you can throw at it! It was very stiff at the beginning but it finally loosened up. I would love to see a premium steel version with a flipper!"
---
8. Fastball

The Gerber Fastball is a change of pace from typical Gerber knives. This unique folding knife features a handsome Wharncliffe style blade with a large flipper tab. Aircraft aluminum handle help shave weight from the knife while helping it retain rigidity and strength. Fastball was designed to be a durable knife for everyday carry. Premium blade steel and incredible ergonomics make the Gerber Fastball a truly incredible pocketknife.
7.10" Overall Length
3.00" Blade Length
CPM-S30V Blade
Aircraft Aluminum Handle
Liner Lock

Hunter G. says…
"I received my fastball and was surprised at the level of fit and finish/build this knife has to offer for the price. Perfect centering, great materials, and it looks beautiful. Gerber hit a home run with this fastball (no pun intended) glad to see more USA products from them. Only thing I would change about it is a deep carry clip. But the fact it can be reversed for lefties is a nice touch."
---
Conclusion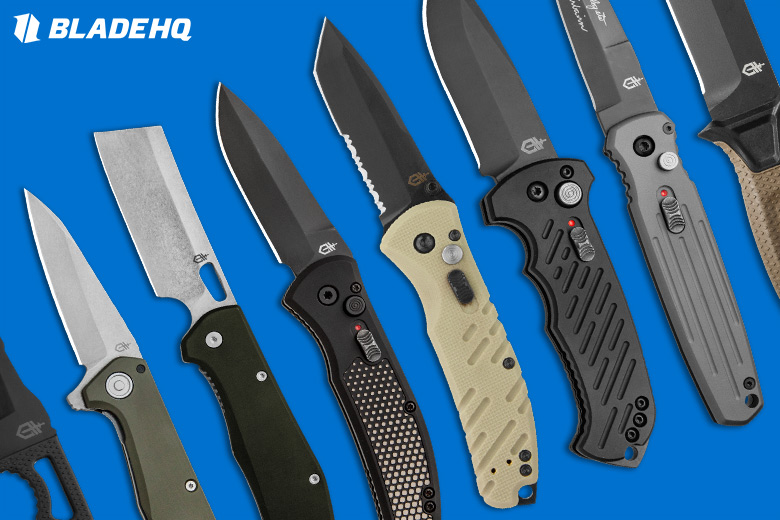 Whether you're looking for your next reliable everyday knife or your next beater blade, Gerber has got it. Gerber's commitment to making excellent and affordable products has helped them maintain status as a household name.
Check out Blade HQ's full selection of Gerber knives and leave a review of your favorite! Follow us on Instagram, Facebook, and Twitter for all your knife updates.
Learn More
Still deciding on the perfect Gerber knife to add to your collection? In this episode of Knife Banter Jamie sits down with Gerber to discuss all of their great new knives for 2021.
---
Other Best Knife Guides
Still in that information gathering phase? We've got a whole bunch more lists of all the Best Knives! Happy hunting and may you find that one special knife of your dreams!
*Customer reviews may be condensed for clarity and edited for grammatical errors. You know we have to make our high school English teacher proud. Check product listings for current pricing.