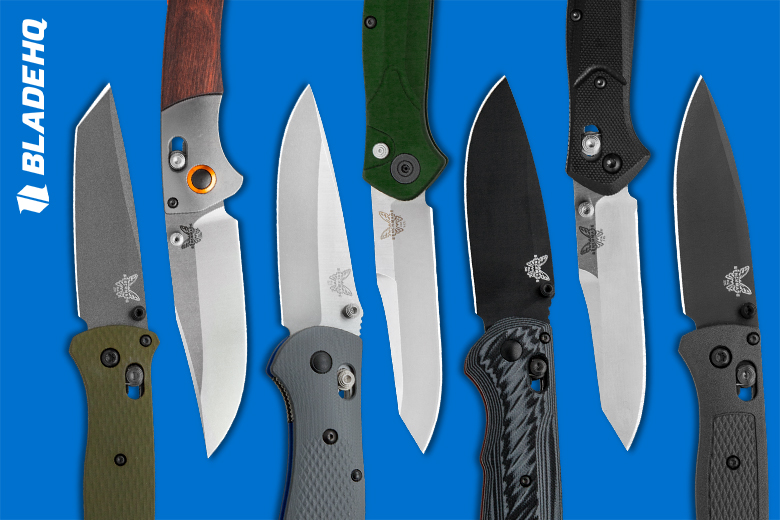 Benchmade folding knives come in all shapes and sizes, and feature some of the best construction and performance money can buy. They've developed everything from classy everyday carry knives to purpose built tactical blades and everything in between. In this "Best Of" we look at some of the Best Benchmade Folding Knives and what they have to offer. Read on to learn more!
In addition to an overview of the specs and details of each knife, I'll also be featuring a review of each knife left by one of our customers.
Shop All Benchmade Folding Knives
---
1. Benchmade Bugout

When introduced in 2017, the Benchmade Bugout was received with mixed emotion and skepticism with many people asking, "Could this knife weighing 1.85 oz. really stack up against the rest of Benchmade's proven folding knife line-up?" The answer, an emphatic, "YES!" The Bugout was designed as an everyday carry and light-duty adventure knife. The idea was to save weight where it could be sacrificed without giving up the performance or strength of the folding knives Benchmade is known for. Bugout features a slender S30V, drop-point blade, AXIS lock mechanism and a mini deep carry clip. Its featherweight polymer handle feels great in hand and provides both strength and rigidity to the slim knife. The Bugout is available in both full-size (pictured) and mini sizes. If you haven't added a Bugout to your collection, you are really missing out. It is just THAT good. Check out our full Benchmade Bugout Review to learn more!
Overall Length: 7.46"
Blade Length: 3.24"
Blade Material: CPM-S30v
Handle Material: CF-Elite or Grivory
Weight: 1.85 oz.
Country of Origin: USA

Ryan D. says…
"The Benchmade Bugout is a very nice knife. It has a great blade and is extremly lightweight; about as light as they come. I had to adjust the tension at the pivot to allow it to drop shut, but, that tends to be normal upon arrival. Five stars. It's a great EDC. You won't be disappointed."
---
2. Benchmade 940 Osborne

Few knives are as iconic or influential as the Benchmade 940 Osborne. For the last 20 years, the 940 has been a must-have knife for knife nerds and everyday carry enthusiasts alike. The knife's unique design, versatile blade and convenient opening mechanism have contributed greatly to its success. Over the years new materials and minor refinements have made their way onto the 940 platform including carbon fiber variants and Gold Class editions. The 940 features a unique reverse tanto blade designed for slicing and carving with ease, and comes with either aluminum or carbon fiber handle scales. Read our Benchmade 940 Osborne Review to learn more.
Overall Length: 7.87"
Blade Length: 3.40"
Blade Material: CPM-S30V or CPM-S90V
Handle Material: G-10, Aluminum or Carbon Fiber
Weight: 2.90 oz.
Country of Origin: USA

Matthew S. says…
"I almost always prefer knives 3″ and under but the ergonomics of the 940 are so good that it's become my go to for daily use. The green aluminum is beautiful in person and the purple backspacer is a great touch aesthetically. The knife has a great balance and the blade is super easy to flick open, even more so than the rest of my Benchmades. I highly recommend this knife."
Shop Benchmade 940 Osborne Knife
---
3. Benchmade Freek

The Benchmade 560 Freek is marketed as a reliable everyday carry knife for people who really use their knives. Made with rugged, durable materials, the Freek is built to last and meant for hard use. It features either a Versaflex handle or G-10 handle that has been designed to fit will in hand providing incredible grip and confidence while using the knife. Its large drop point blade is available in S30V or M4 steel and performs extremely well during tasks like cutting rope or zip-ties, and carving feather sticks. Benchmade's Axis lock and a two-way reversible pocket clip round out this feature packed knife. The Freek is also available in a more pocket-friendly Mini version. Stay tuned for a full review of the Benchmade Freek!
Overall Length: 8.46"
Blade Length: 3.60"
Blade Material: CPM-S30V, CPM-S90V or CPM-M4
Handle Material: Polymer or G-10
Weight: 3.72 oz.
Country of Origin: USA

---
4. Benchmade Griptilian

For some, the Griptilian is the ultimate Benchmade knife. It feels great in hand thanks to its ergonomically focused handle and textured grip, and performs incredibly well when used for tasks ranging from picking gunk out from under finger nails to processing firewood. The Benchmade 550 features a CPM-S30V blade, phosphor bronze washers and the Benchmade AXIS lock. Additionally, the Griptilian is available in more variants and styles than there are jelly bean flavors, and can be purchased in mini and full-sized versions. If you're looking for an amazing all-around knife meant for everyday carry or hard outdoor use, look no further than the Griptilian. Keep your eyes peeled for a Benchmade Griptilian carry review… it's coming soon!
Overall Length: 8.07"
Blade Length: 3.45"
Blade Material: CPM-S30V
Handle Material: Noryl GTX or G-10
Weight: 2.56 oz.
Country of Origin: USA

Harry W. says…
"This knife is so good for EDC. The AXIS lock is really convenient and easy to use. It has amazing value for the price you pay. I've used this knife for over 3 years now, edc, camping trips, fishing, you name it. This knife has done an amazing job helping me out."
Shop Benchamde Griptilian Knife
---
5. Benchmade Bailout

Finding a tactical or duty knife that's both lightweight and strong enough to hold up to the rigors of saving and protecting lives is a battle in and of itself. The Benchmade Bailout was introduced at a time when lightweight, everyday carry knives were really gaining popularity. It was introduced to help LEOs and military personnel reduce weight on their load out while providing the same utility as bigger, bulkier knives. Despite its smaller size, the Bailout can carry its weight and then some. Its super tough tanto blade cuts through seatbelts and pries open ammo boxes with ease without the worry of it breaking. Available with either polymer or aluminum handles, the Bailout is built and ready for action. Add one to your collection today!
Overall Length: 8.07"
Blade Length: 3.38"
Blade Material: CPM-M4 or CPM-3V
Handle Material: Aluminum or Grivory
Weight: 2.05 oz.
Country of Origin: USA

Daniel I. says…
"So light and slim but tough. Perfect for my EDC. If I was going to spend this much for a knife, I wanted it to feel good quality in hand so I went with this over the Bugout and the aluminum does not disappoint. The action is superb, opening with just a slight flick of the thumb stud or using the axis lock and a flick of the wrist. The drop close is excellent. So easy, I find myself fidgeting with it with my off (left) hand as easily as my right. I worry that playing with it is so addictive that I'll wear out the lock springs. As for the glass breaker, some hate it but I'm glad to have it just in case because this knife will be with me always. Love the colors and quality. I now understand why benchmade is so expensive. Worth it!"
---
6. Benchmade Crooked River

Classic, old timer looks and modern tech have made the Benchmade Crooked River one of the most pocket-friendly, EDC knives to date. The Crooked River is designed to be a knife you can carry no matter what the day has in store. Technically part of the Benchmade Hunt Series of knives, the Crooked River was originally intended for hunting chores, but its unique design and versatile shape have lent it to being a great knife for daily tasks. Its CPM-S30V blade and dymondwood handle not only look great, they perform to the highest level of Benchmade quality giving this knife both incredible cutting ability and feel. The Benchmade Crooked River is available in both a regular and a mini version, as well as a limited edition Gold Class variant with luxury materials. Check them out by clicking below.
Overall Length: 9.30"
Blade Length: 4.00"
Blade Material: CPM-S30V
Handle Material: Dymondwood
Weight: 5.41 oz.
Country of Origin: USA

Max O. says…
"This is what a knife should be, Nice contoured handle, big blade, and of course and super important GORGEOUS, this has to be the prettiest knife in my collection -and the biggest one- bigger than a Gerber 06, bigger than a PM2. This is an excelent piece of equipment and what a knife should be, NICE WORK BENCHMADE!"
Shop Benchmade Crooked River Knife
---
7. Benchmade 9400 Auto

Last but most certainly not least on our list is the Benchmade 9400 Auto. One of the newest knives to come out of Benchmade's Oregon manufacturing plant, the 9400 auto is the long awaited, push-button automatic version of the incredible 940 Osborne. Its design and construction are nearly identical to the 940, but include the addition of a plunge lock and safety lever. This knife features a green anodized 6061-T6 handle and a reverse tanto, CPM-S30V blade. Though new to 2020, the 9400 Auto will likely be one of the best Benchmade Folding knives for years to come. Click below to buy one today!
Overall Length: 7.87"
Blade Length: 3.40"
Blade Material: CPM-S30V
Handle Material: Aluminum
Weight: 2.65 oz.
Country of Origin: USA

Ed K. says…
"This is the smoothest opening blade I have. It doesn't try to jump out of your hand but opens quickly and smoothly. I now use it as my EDC."
---
Final Thoughts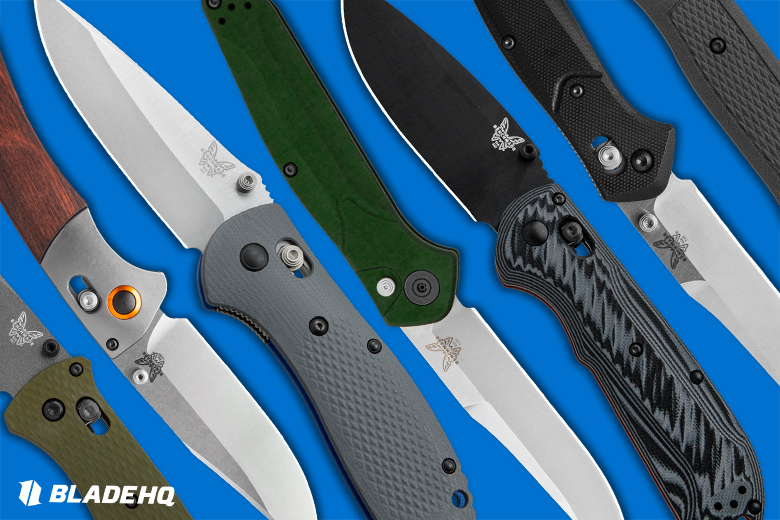 Benchmade makes some of the best folding knives money can buy. Whether you're looking for an everyday carry knife or something to take on a camping trip, there's a Benchmade knife for the job. Benchmade's dedication to quality and performance has brought many great knives to the world and many of them are on this list. If you're looking to add another great knife to your EDC rotation or you just need a new work knife, you can't go wrong with any on this list. Click below to get one today!
Now you've got all our recommendations, but Blade HQ has got way more knives than those featured here. Give our wares a browse, and find the perfect knife to suit your needs!
Learn More
For more information check out the latest Benchmade releases for 2021 in the video below!
Shop All Benchmade Folding Knives
---
Other Best Knife Guides
Still in that information gathering phase? We've got a whole bunch more lists of all the best knives! Happy hunting and may you find the knives of your dreams!
*Customer reviews may be condensed for clarity and edited for grammatical errors. You know we have to make our high school English teacher proud. Check product listings for current pricing.