Best Hunting Knives
Updated by Blade HQ Staff Writer Logan Rainey on 09/22/2020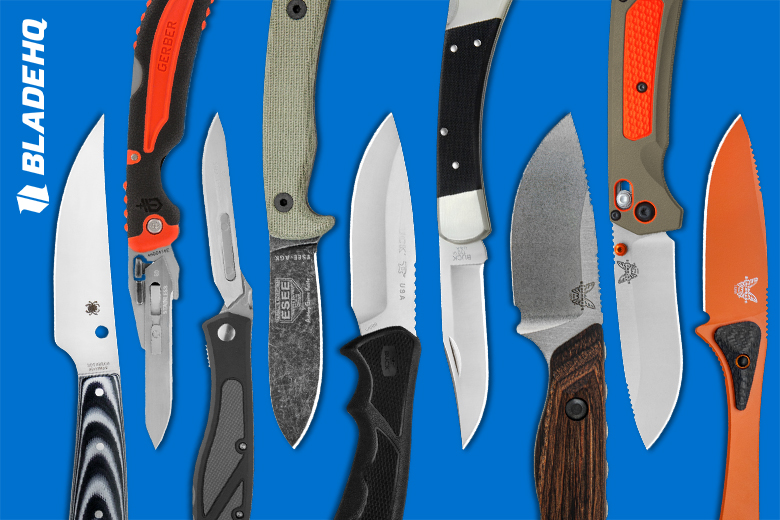 Having the right tools for the job is especially important for anyone who hunts. Whether you bow, rifle or spear hunt, having a knife to process game is a necessity. In this guide, we break down our top hunting knives from Benchmade, Spyderco, Buck, and more!
In addition to an overview of the specs and details of each knife, we will also feature a review of each knife left by one of our awesome customers.
---
1. Benchmade Altitude

Pack it in, pack it out. The Benchmade Altitude's ultra-lightweight design makes it a great companion to hunters who measure every ounce. Its flat ground, drop point, CPM-S90V blade makes processing game a breeze. Carbon fiber/G-10 mini scales provide excellent grip while cutting and slicing. Plus, this knife really is ultra-lightweight. Don't let your gear weigh you down this hunting season.
1.67 oz.
CPM-S907 Blade
Steel handle with CF/G-10 Mini Scales
Made in USA

Kevin B. says...
"This knife is so light and so sharp its like carrying a scalpel with you. For those of you worried about every ounce when going into the back country this is the knife for you. I have cleaned multiple whitetail deer with this knife and the edge is still as sharp as new."
---
2. Benchmade Hidden Canyon

With the success and popularity of the Benchmade Hidden Canyon fixed blade, it only made sense for Benchmade to apply some feedback to the platform and provide a more comfortable and ergonomic version of the knife. Like the original Hidden Canyon, the Hidden Canyon (2.0) features a large bellied, drop point blade with full tang construction. This new version has a more ergonomically designed handle with a better grip and ridges on the spine for added security during cutting and caping. This knife retains its incredible CPM-S30V steel and handsome wood scales. Check it out by clicking below.
2.81 oz.
CPM-S30V Blade
Steel handle with stabilized wood scales
Made in USA

Joshua C. says...
"I love this little knife. I have had it for about a week now. The vertical leather sheath fixes the sag problem with he horizontal leather sheaths. the retention is good and the finish is pretty good. The knife has a good sharp edge on it. fits my hands very well and is comfortable to use. I cant wait to test it out more. but for the money it is a solid knife."
---
3. Benchmade Grizzly Ridge

When it comes to high-end hunting folders, there are few that match up against the Benchmade Grizzly Ridge for overall build quality and performance. This capable knife is made for the most serious hunters. Its Givory/Versaflex handle provides incredible grip as you work, allowing for safer, cleaner cuts. A CPM-S30V blade and Benchmade's stellar Axis Lock round out this feature-rich folder.
3.77 oz.
CPM-S30V Blade
Polymer Handle
Made in USA

Tyler R. says...
"I have had this knife for about 10 months now and it has been one of my go to knives ever since I first got it! The grip and lock in on the knife is amazing, and it will not go anywhere in your hand. I don't mind the recurve on the blade and I think it helps with the cutting power. The jimping is great, and you should just buy one already! You will not regret it."
---
4. Spyderco Bow River

Whether chasing record bucks or casually fishing, the Spyderco Bow River is an amazing fixed blade knife for any outdoor enthusiast. Its trailing point 8cr13MoV blade and G-10 handle give it the right combination of feel and performance without absolutely breaking the bank. The Bow River comes standard with a high-quality leather sheath.
3.90 oz.
8Cr13MoV Blade
G-10 Handle
Made in China

Marco R. says...
"This knife is an incredible value. Handles are beautiful. The blade is ground and finished quite nicely. Very well balanced. This is in the top 10 "bang for your buck" list. Not sure how many of these Spyderco will decide to produce, but I suspect these will go like wildfire regardless. Oh yeah, and this thing comes with an incredibly nice black leather sheath."
---
5. Havalon Piranta-Z Pro

Considered one of the "sharpest knives you'll ever use," the Havalon Piranta-Z Pro offers hunters the same level of precision cutting that comes from a surgeon's scalpel. This knife tops our list for skinning and caping knives. Its ultra-lightweight, open back design allows for easy cleaning after dressing game. A unique Zytel handle with rubber inlays provides ample grip, even on those extra chilly days.
1.69 oz.
Stainless Steel Blade
Zytel Handle
Made in Taiwan

No reviews yet!
Be the first to write a review!
---
6. Gerber Vital Pocket Folding Knife

The Gerber Vital line of products was designed for serious hunters. The Vital Exchange-A-Blade folding knife features a unique, interchangeable blade system that is useful and safe. It is often dubbed the safest exchangeable blade replacement in the knife world. Orange rubber handles increase grip and dexterity while also making it easier to find should you ever set it down.
1.30 oz.
Stainless Steel Blade
Rubber Handle
Made in China

No reviews yet!
Be the first to write a review!
---
7. ESEE Ashley Game Knife

New to the ESEE lineup, the Ashley Game Knife (AGK) is a great all-around hunting knife. Its 1095 carbon steel construction is both durable and easy to maintain. This knife's weatherproof canvas micarta handle scales are extra grippy for those less-than-ideal conditions. This knife is versatile, great for hunting both large and small game. Premium leather sheath included.
5.10 oz.
1095 Blade
Micarta Handle
Made in USA

No reviews yet!
Be the first to write a review!
---
8. Buck Bucklite Max II

A solid hunting knife shouldn't cost an arm and a leg. The Buck Bucklite Max II is a budget friendly fixed blade with all the necessities and no B.S. Its 420 HC blade holds an edge well but isn't a nightmare to field sharpen. This knife's Dynaflex handle is built to stand up to use and abuse while hunting and camping. If you're after a budget friendly hunting knife built to get the job done, this is the one for you.
4.70 oz.
420 HC Blade
Rubber Handle
Made in USA

No reviews yet!
Be the first to write a review!
---
9. Buck 110 Folding Hunter Pro

Rounding out the list of best hunting knives is the ever-iconic Buck 110 Folding Hunter Pro. This knife is a classy update to the already-high-quality original Buck knife folding model. Premium CPM-S30V blade steel provides excellent edge retention and corrosion resistance over that of regular 110 knife models. Replacing traditional wood scales with modern black G-10 scales gives this knife an amazing look and feel. This knife is the perfect combination of traditional design and modern innovation.
7.70 oz.
CPM-S30V Blade
Steel handle with G-10 Scales
Made in USA

No reviews yet!
Be the first to write a review!
---
Conclusion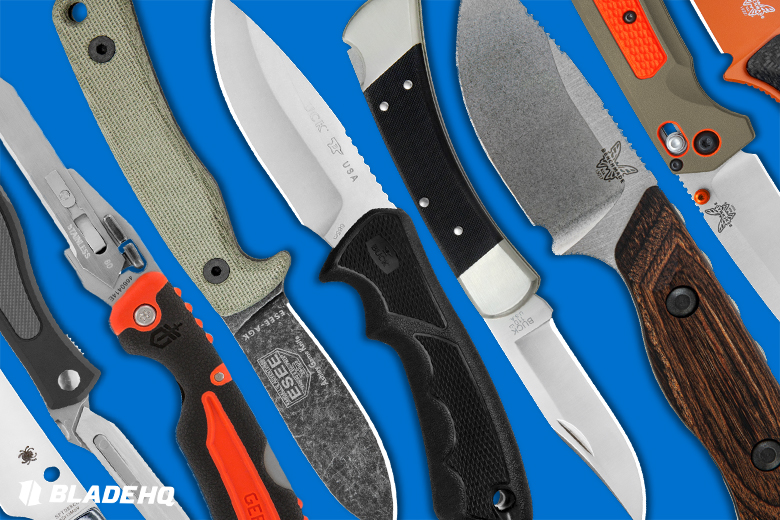 Though not a comprehensive list of hunting knives, this guide should give any hunter a good start for what to look for when it comes to picking the right tool for the job. Each of these knives has something unique to offer the hunter and would all be a great addition to any hunting setup. Whether you're after a knife for skinning with surgical precision or a knife to do bulky cutting tasks, we've got what you need. Check out our full line of Hunting Knives!
Follow us on Instagram, Facebook, and Twitter for updates.
Learn More
Still unsure of the best hunting knife for you? No sweat. This video shows you some of the best knives for cleaning game.
---
Other Best Knife Guides
Still in that information gathering phase? We've got a whole bunch more lists of all the Best Knives! Happy hunting and may you find that one special knife of your dreams!
*Customer reviews may be condensed for clarity and edited for grammatical errors. You know we have to make our high school English teacher proud. Check product listings for current pricing.