Best Pocket Knives
Written by Blade HQ Staff Writer Andrew Hamilton on 2/14/2019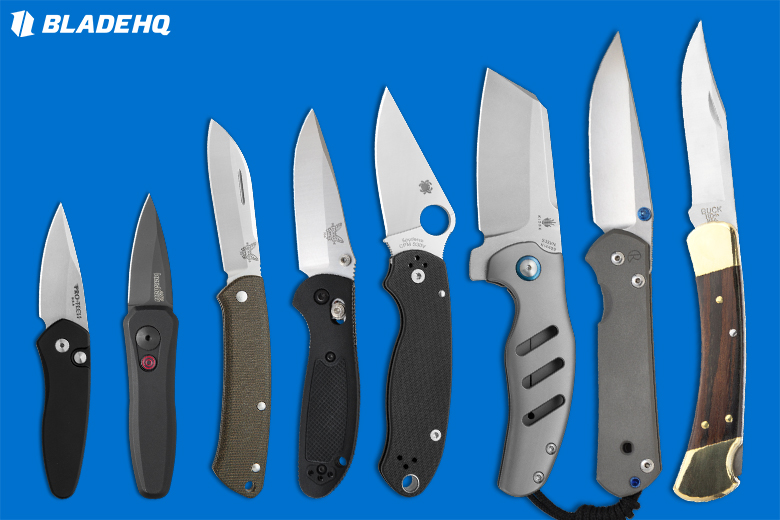 Grandpa always used to say, "Why ya got a pocket if there ain't a pocket knife in it?". Man…grandpa was wise beyond his years and he was also pretty up there in terms of his age so that's saying something. We're going to break down all the best pocket knives that any self-respecting gentleman would carry. Don't make grandpa sad–put a knife in that pocket.
---
1. Benchmade Mini Griptilian
When considering a pocket knife purchase you might think about cost, weight, blade utility, and warranty. The Mel Pardue designed Benchmade Mini Griptilian really knocks it out of the park when you consider its value against performance. With true blue American heritage, the Mini Grip has long been the pocket knife of choice for hikers, campers, and EDC (everyday carry) geeks. For these reasons, the Mini Grip is a lock at number 1 for our best pocket knife for most knife enthusiasts.
6.78" Overall Length
CPM-S30V Drop Point Blade
Polymer Handle Scales
2.56 oz. Weight
Made in USA

Morris P. says…
"It's hard not to get excited about this one - Benchmade's legendary quality and design for under $100.This one has smooth, comfortable action, and the blade is seriously sharp. This knife shows why Benchmade is at the pinnacle of consumer-purchased knives."
---
2. Victorinox Swiss Army Cadet

The Victorinox Swiss Army Knife Cadet is far from the same pocket knife you carried as a youth. This bad boy has been upgraded with grippy stippled aluminum handle scales for a premium, classy look and hand feel. At less than 2 oz., clip this ultralight little guy to your keys and you've got one of the most low-profile pocket knives ever. Bonus points for its completely nonthreatening aesthetic.
2.50" Blade
Aluminum Handle
1.60 oz. Weight
Made in Switzerland

Eric B. says…
"The Cadet is a great swiss army knife to carry with you on a daily basis. It's (super) slim profile lets it disappear in your pocket, and also isn't intimidating to others. It contains all the necessary tools while maintaining a small yet effective package. The blade's size is perfect and highly usable, in addition to being razor sharp. In the short period that I've owned it, the Cadet has far exceeded my expectations and I would definitely buy it again!"
---
3. Kizer Sheepdog

The Kizer Sheepdog is one of the most distinctive and eye-catching knives to be released in the last few years. With a tall cleaver/sheepsfoot style blade, this pocket knife will stand up to any imaginable EDC chopping tasks. An ergonomic and lightweight titanium handle is complimented by subtle blue accents on the pivot screw. Flipping this beastly pocket knife open is sure to put a smile on your face, and if it doesn't, there's a mini version that will.
7.75" Overall Length
CPM-S35VN Cleaver Blade
Titanium Handle Scales
6.17 oz. Weight
Made in China

Al W. says…
"This is the knife you need... The heft on this knife is undeniable. From the style of the blade, to the contoured handles, and the feeling you get when holding this piece is absolutely fantastic. The blade right out of the box is extremely sharp and ready for any cutting task you can throw at it. The ever so slight color from the pivot collar really puts a nice touch on this piece. Having a blank canvas of titanium is nice if you plan on anodizing..."
---
4. Benchmade Proper

Ah yes… The distinguished gentleman sits in front of a crackling fireplace. He swirls his glass of single malt and gives it a sniff. A pedigreed hound lazily snoozes at his feet. The man leans over to an ornate mahogany side table and puts his book, Faulkner of course, away for the night. What pocket knife does a man of such class carry? The only answer is a Benchmade Proper! All jokes aside, the Proper is beloved for its tasteful synergy of modern and traditional.
6.69" Overall Length
CPM-S30V Sheepsfoot Blade
Micarta Handle Scales
2.32 oz. Weight
Made in USA

Aaron I. says…
"I was back and forth between several knives as an after Christmas present to myself and I just kept coming back to the simple design of the proper. I don't regret my decision one bit. While some online have been critical of benchmade for their fit and finish mine is flawless, as in I can find nothing out of place on this knife. Lock up is good and positive, blade grind is spot on, and I am absolutely in love with micarta! If you are at all interested in picking up a "traditional" style knife you will not be disappointed. Can't wait to start out 2019 with this as my new edc."
---
5. Spyderco Para 3

The Spyderco Para 3 shines as perhaps the best EDC pocket knife in the Paramilitary family. The Military came along as a 4" behemoth primed for war, hard use, and pretty much anything else you could throw at it. When the Paramilitary 2 dropped, people couldn't get enough. With a more practical blade size, 4 way reversible clip, and the incomparable Compression Lock, it quickly became one of the most popular knives in history. But what about an even smaller and more refined knife that keeps all the great qualities of the PM2? That's the Para 3. Yeah, it's just as great as it sounds.
7.27" Overall Length
CPM-S30V Clip Point Blade
G-10 Handle Scales
3.40 oz. Weight
Made in USA

Michael L. says…
"When I first got into knives my first premium knife purchase was a blacked out paramilitary 2, Awesome knife. Came with good steel, perfect grind, ergos on these models are perfect for me (can't live without a finger choil), Spyderco G-10 is still the best I've handled and let's not forget the compression lock. So when I learned of the Para 3 and got my hands on one it was love all over again, perfection was perfected... Perfect size, perfect ergos, just about perfect all around for me."
---
6. Chris Reeve Sebenza

For longer than lots of knife guys have been alive, the Chris Reeve Sebenza has stood proudly on the metaphorical Mount Rushmore of knives. I'm not sure if the Sebenza would be Honest Abe or maybe good ol' George Washington, but honestly, no knife collection is complete without a Sebenza in the ranks. In a culture where even $40 knives have lightning-fast ball-bearing action, the Sebenza coyly smiles with its oh-so-satisfying hydraulic action. The Sebenza is perfection. If you want one, nothing else will scratch the same itch.
8.335" Overall Length
CPM-S35VN Clip Point Blade
Titanium Handle Scales
4.70 oz. Weight
Made in USA

Cynthia Y. says…
"This is my first Chris Reeve knife and I couldn't have been happier with it. I have carried it for 9 days straight since receiving mine from Blade HQ. It has gotten smoother, and I have been able to open one handed now. Cutting is fantastic and the titanium scales are a treat. The blue accents are beautiful. I am trying not to think about another Sebenza but this wonderful knife makes it hard."
---
7. Buck 110

There's just something about a classic. Baseball, hotdogs, apple pie, Chevrolet, and the Buck 110! Uhhh…I think that's how the quote went? Anyway, your grandpa probably carried a Buck 110 every single day of his life. From the yearly deer hunt to package opening duty on Christmas morning, the Buck 110 was just kind of there for us the whole 20th century. When we needed to cut or slice, there was the Buck 110 ready to put in work. If history is any indication, this could be the pocket knife you hand off to your own grandson in 45 years.
8.50" Overall Length
420HC Clip Point Blade
Rosewood Handle Scales
7.50 oz. Weight
Made in USA

Aaron P. says…
"I cannot see giving this knife anything but 5 stars. It's an American icon. Anyone who hunts, collects knives, or is even mildly interested in knives knows this knife when they see it. Typically, their response is positive, like "ohhh nice knife...classic". It's such a solid design and it's so tough. I grew up watching my father use one, and I had to have one for myself. Beautiful knife that ages very well."
---
8. Kershaw Launch 4

How much can you really do with a tiny pocket knife? In the case of the Kershaw Launch 4, you can do a whole lot more than you might expect. In hand, the Launch 4 is small but fits most hands with a secure 3 finger grip. The blade is thin ground with a sharp point to make for an awesome box opener. The automatic action kicks like an angry mule, and it's even legal to carry in California, believe it or not.
5.10" Overall Length
CPM-154 Spear Point Blade
Aluminum Handle Scales
1.98 oz. Weight
Made in USA

Andrew C. says…
"A nice automatic pocket knife that's legal in most states. Durable and convenient. You won't regret getting this small knife, especially if you're replacing a dated folding knife."
---
9. Protech Sprint

Is it a mistake to put the Protech Sprint back-to-back with the Kershaw Launch 4? Jeez it feels like putting the Jets and the Sharks in the same NY dance club and telling them to sort it out through some Leonard Bernstein musical numbers. Luckily we live in a world where multiple automatic knives can coexist! The Protech Sprint features a beautifully refined design with graceful lines from handle to blade. The blade is made from CPM-S35VN steel (a personal favorite of the author) and boy does it slice. This pocket knife makes for a great office carry.
5.00" Overall Length
CPM-S35VN Spear Point Blade
Aluminum Handle Scales
1.65 oz. Weight
Made in USA

Paschal C. says…
"This was given as a Christmas present, is my second Protech and is amazing. It's small enough to keep anywhere without you yourself noticing it, or anyone else. Also extremely sharp and the action is insanely fast. I love it. 2/2 for Protech for me."
---
Conclusion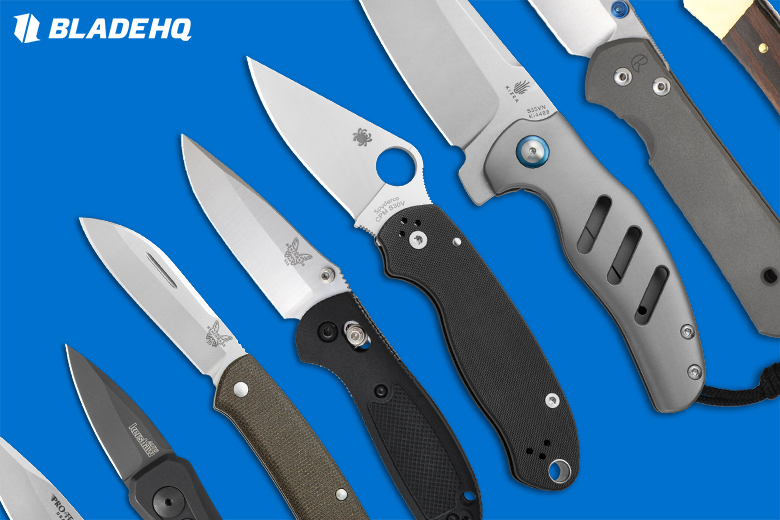 Best Pocket Knives Overview
Just thinking about the Sebenza in my pocket gives me that butterfly feeling in my belly. At the same time, I'm also feeling some irrational jealously that the guy sitting 5 feet away from me has a super rad Benchmade Proper on his desk. I want it…
With so many awesome options, it can be hard to pick only one. Knife guys tend to carry a bigger, hard-use knife paired with a smaller backup piece. As they say, two is one and one is none. So fill those pockets with pride! Pockets are for pocket knives!
You can't afford to wait any longer. We've got all the best pocket knives ready to ship at the best prices, right here at Blade HQ. Once you've got that new knife, email me a picture and a few words about what went into your decision (AHamilton at BladeHQ.com). We'll feature submissions on our Instagram, Facebook, and Twitter.
Learn More
Still searching for the perfect pocket knife? Check out our knife banter with the best knives of 2018. Kurt and Zac talk about many of the above, as well as some classic knives that are beloved in the knife industry.
---
Other Best Knife Guides
Still in that information gathering phase? We've got a whole bunch more lists of all the Best Knives! Happy hunting and may you find that one special knife of your dreams!
*Customer reviews may be condensed for clarity and edited for grammatical errors. You know we have to make our high school English teacher proud. Check product listings for current pricing.